Italy is one of the most visited countries in the World. There are countless cities with history, coastal towns for summer vacations, unique places like Venice, exceptional Italian cuisine for foodies, and the Alps for hikers and skiers—a lot of variety of things to do and experience while backpacking Italy.
From this backpacking Italy travel guide, you will find loads of things to see and do, approximate travel costs, how to get around, average daily budget, travel tips, and how to say hello in Italian.
---
Quick Facts About Italy
Language: Italian
Currency: Euro (€)
Capital: Roma
Population: 60 mln (2021)
Highlights in Italy: historical cities, coastal towns, Italian cuisine, colorful fisher villages
What Italians like: pizza, wine, coffee, cooking, fashion
What Italians never do? Order a cappuccino afternoon.
---
Things to Do and See in Italy
From here you will find mostly lesser-known places in Italy with some famous must-visit spots from all over the country. What to see and do in Italy?
1. Seek the Roman Colosseum in Rome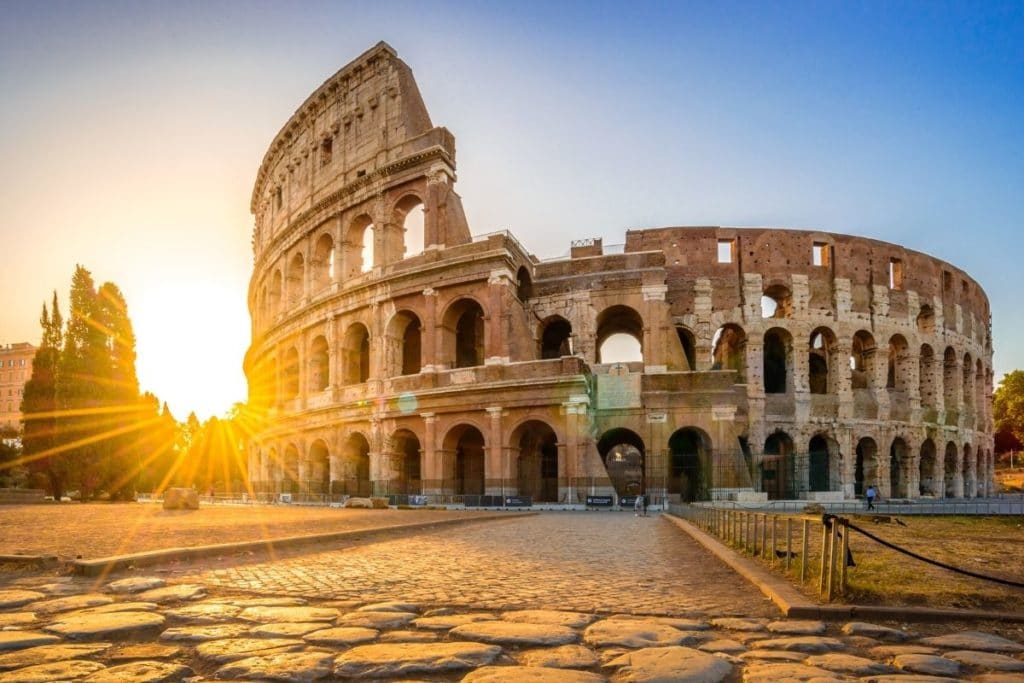 Rome is the capital of Italy. The historic city has a lot of things to see and experience. It's a perfect place to behold ancient history with top sights like the Roman Forum, Pantheon, Catacombs of Rome, and Colosseum. It also includes all the romantic sights to capture beautiful photos like Trevi Fountain, the Spanish Steps, and Piazza Navona.
If looking for Rome nightlife, then the hotspot during the night is Trastevere with a bit different vibe as you have seen around classical Rome. Also, don't forget to visit another country, Vatican City, which is in the middle of Rome.
Read more: Best places to visit in Rome.
2. Admire the beautiful Sirmione Castle
Sirmione is located on a narrow peninsula on the shore of Lake Garda. From there, visitors can find a car-free town with the picturesque Sirmione Castle. Also seek colorful houses peculiar to Italy, lavender shops, and at the end of peninsula archaeological ruins and Jamaica beach. It's a great place to chill around a charming town and admire a peaceful Lake Garda.
3. Find Italy's hidden gem – Castelmezzano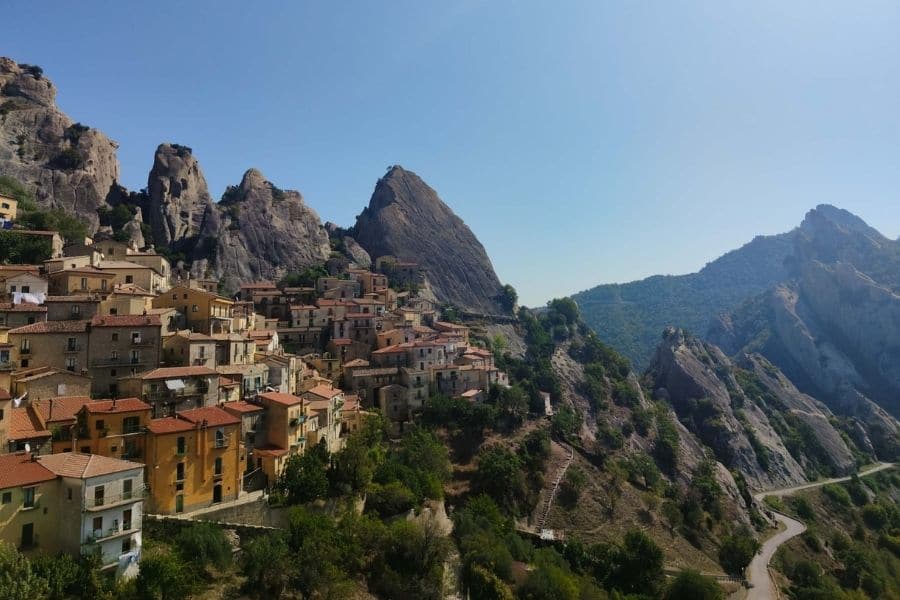 Italy is filled with loads of remarkable villages and one of the hidden gems is settled in the south in the Basilicata region. The mountain village Castelmezzano is titled one of the most beautiful places in Italy. It has its honors thanks to surrounding Dolomiti Lucane mountains, a scenic charming village with a laid-back atmosphere itself, and nature trails. Worth mentioning is a local landmark Gradinata Normanna, where it opens atop views over the Castelmezzano and dolomite mountains. Another adventurous thing to do is a high-speed zip line, Volo'dell Angelo. It takes "pilots" at speeds of 120km/h to neighboring village Pietrapertosa and back.
Read more: Castelmezzano travel guide.
4. Soak in Bagni san Filippo Thermal Springs
When backpacking Italy you will find a few thermal springs, especially around the Tuscany region. The most popular thermal baths are in Saturnia. However, it can get a bit too overcrowded during the peak seasons. For a unique thermal spring experience with fewer crowds, it's recommended to visit paths in Bagni San Filippo. Also known as the Fosso Bianco is in the Val d'Orcia region between the historic city Sienna and Lake Bolsena. An extremely beautiful area with a "hot river" can be visited at any time without any fee.
5. Cross hundreds of bridges in Venice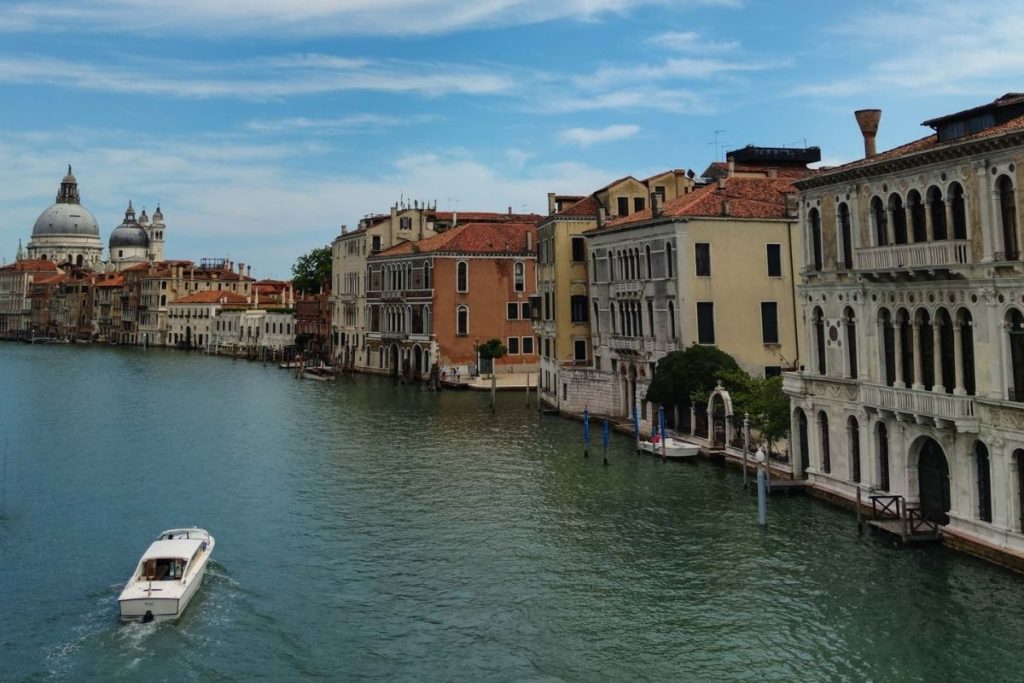 A world-famous floating city Venice is visited by tourists from all over the world. It gets overcrowded at the peak summer months, but it's because of the reason. It should be a must-visit place in any Italy backpacking bucket lists. Venice is such a unique city with a history that hasn't been seen anywhere in the world.
There aren't many specific spots to look after, for the Venice itinerary it's recommended to just wander around, cross hundreds of bridges, and get lost. It takes a full day to stroll around islands on foot. To avoid loads of crowds, it's better to visit Venice during the shoulder season, before (April to May) or after (September) summer months, or even during the winter times.
6. Scenic views of Seceda Mountain
An iconic mountain in the Italian Dolomites is a must-visit in North Italy. Around the Dolomites Mountain range are several peaks and scenic landscape views, but it doesn't get close to Seceda Mountain. The shape of a saw-toothed mountain rises to 2500 meters above sea level and an ordinary hike around Seceda takes about 5 hours. Also, it's possible to save legs and reach there by cable cars.
Read more: Hiking in the Alps.
7. Italian Riviera road trip from Genoa to Cinque Terre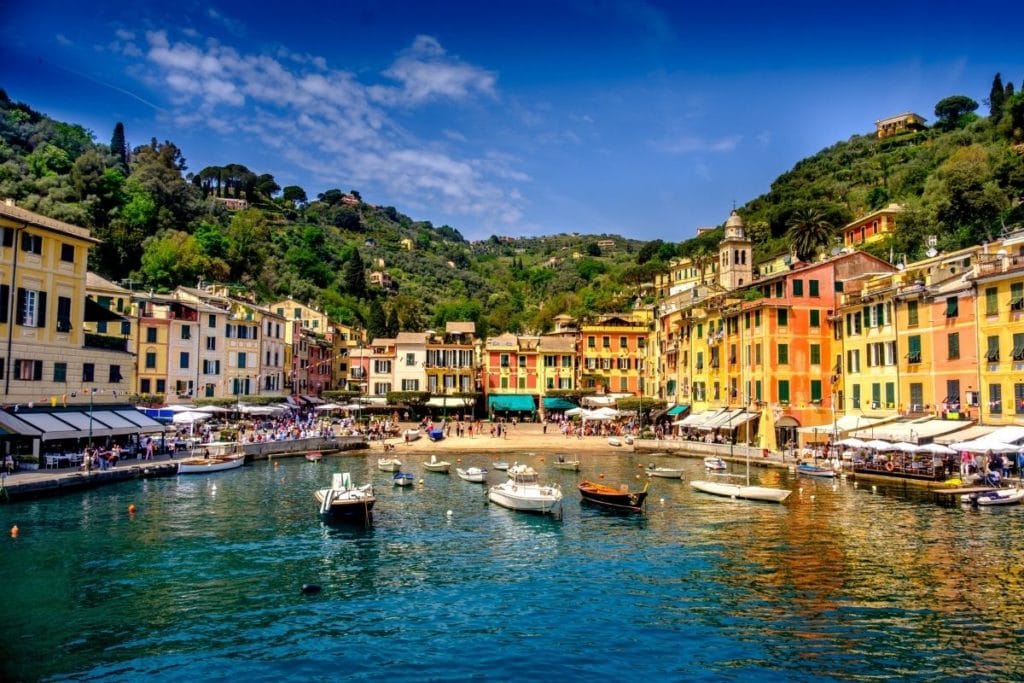 If you like the Mediterranean breeze, beautiful and colorful coastal towns, and scenic landscape views. Then a road trip from Genoa to Cinque Terre along the Italian Riviera is highly recommended. It's about a 90 km long road trip and on the way are some places to visit and things to do. Starting with ancient Genoa, stopping by beach towns like Boccadasse, Bogliasco, Rapallo, and Sestri Levante. Taking a quick turn to the harbor town Portofino. Trying out local focaccia in Camogli. Finally, finishing a trip with full adventures in scenic Cinque Terre. The backpacking Italy road trip can be done easily with smooth Italian Railways.
8. Visit the dying city – Civita di Bagnoregio
Civita di Bagnoregio is an isolated town in central Italy that has only a dozen permanent residents. However, it's not an abandoned settlement, because it's visited by hundreds of thousands of visitors each year. The only way to get to the hilltop village is through a 366-meter footbridge, with a small entrance fee of 5€. The main reason why there are so few residents is that it lies on an unstable foundation that often erodes. Due to that, it's also called the Dying City. Visit that unique place until you still can.
9. Explore the Naples Underground tunnels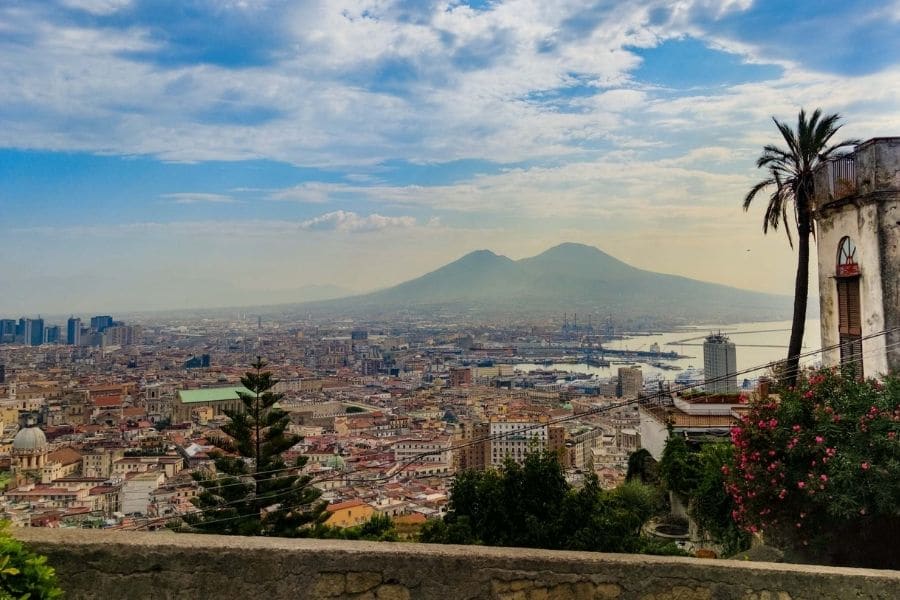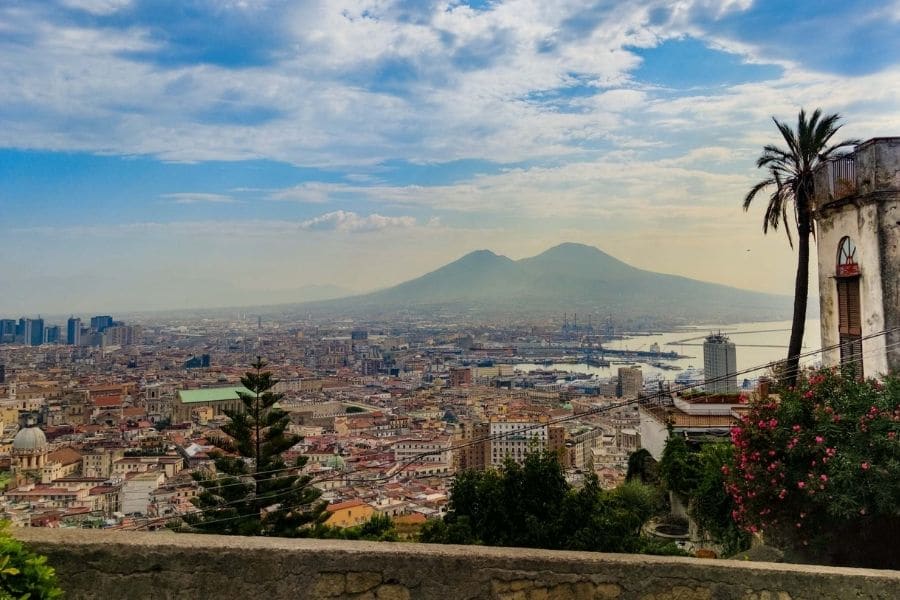 Naples is known for its poor standard of living, hectic traffic, and a lot of history. It's a special place because it's so different from classical Italy, but at the same time, you can experience an authentic local lifestyle. In the city are many prominent castles like Castel Nuovo and Castel dell'Ovo. Narrow ancient and popular shopping streets like Via San Gregorio Armeno. Several sights under the ground like Naples Underground, Fontanelle Cemetery, and The Catacombs Of San Gennaro. Other than sights, it's the most authentic place to taste the local cuisine. A well known fact about Italy is that pizza was also invited in that city. In addition to unique Naples, it's surrounded by several landmarks and places like Pompeii, Amalfi Coast, Mt. Vesuvius, and Capri.
Read more: Naples travel guide.
10. Discover the White City – Ostuni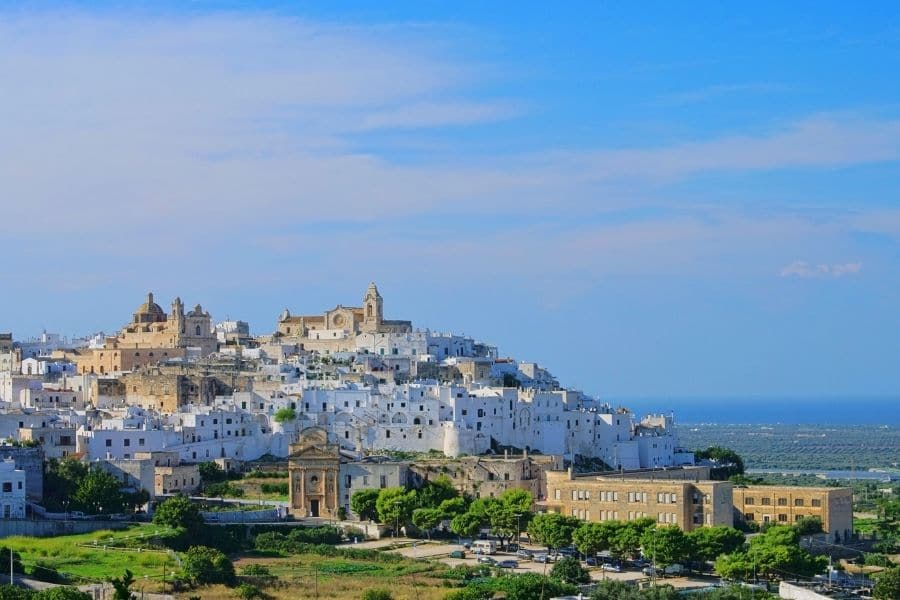 Ostuni is located in the Puglia region, at the heel of Italy. What makes that city special is a fact that the historic center of Ostuni is colored all white. From that, it's also called "the White City". The main sight in the city is the old town itself, which is surrounded by high stone walls, a maze of narrow streets, and many "instagrammable" spots. Ostuni is placed at top of the hill and from there you can admire views of the Adriatic Sea.
Read more: Less known towns in Italy.
11. Take a boat trip to volcanic island Stromboli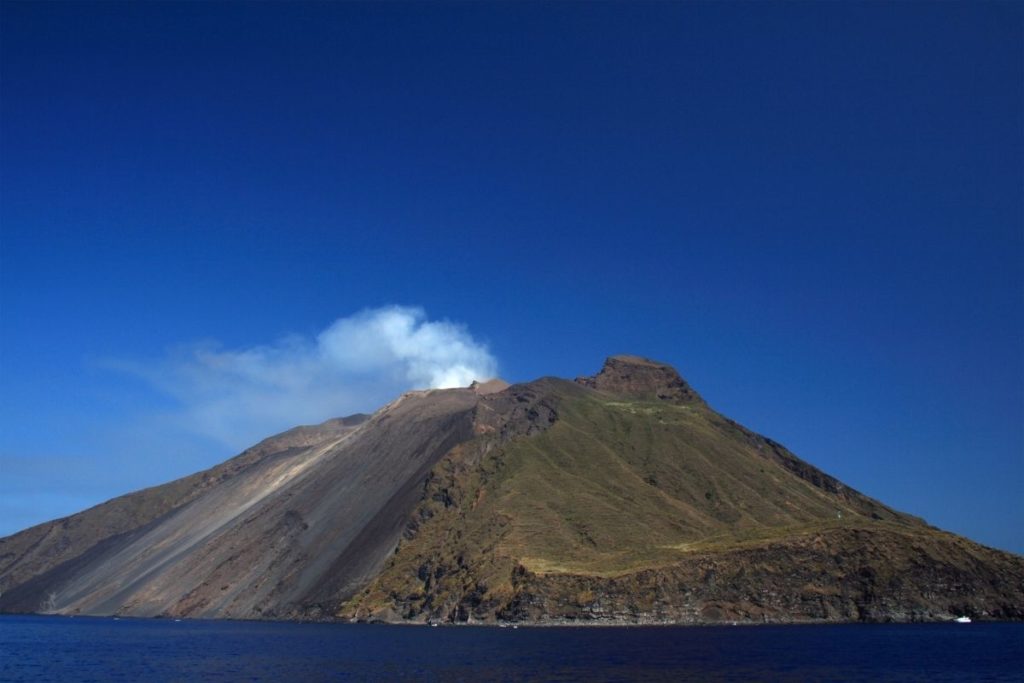 Stromboli is an island in the Tyrrhenian Sea at the north of Sicily. A small 12km2 island is almost fully covered by Mount Stromboli, which is one of the most active volcanoes in Italy. A great place for adventure travel in Italy. The rounded 924-meter tall volcano has been active for some years with minor eruptions.
Due to visible constant eruptions, it has got the nickname "Lighthouse of the Mediterranean". Because it's a highly active volcano, the hikers are allowed to reach the top only by guided tour, which costs around 30€ per person. The most preferred departing port to Stromboli is from Sicily's Milazzo.
Read more: Best hikes in Italy.
12. Visit the picturesque Amalfi Coast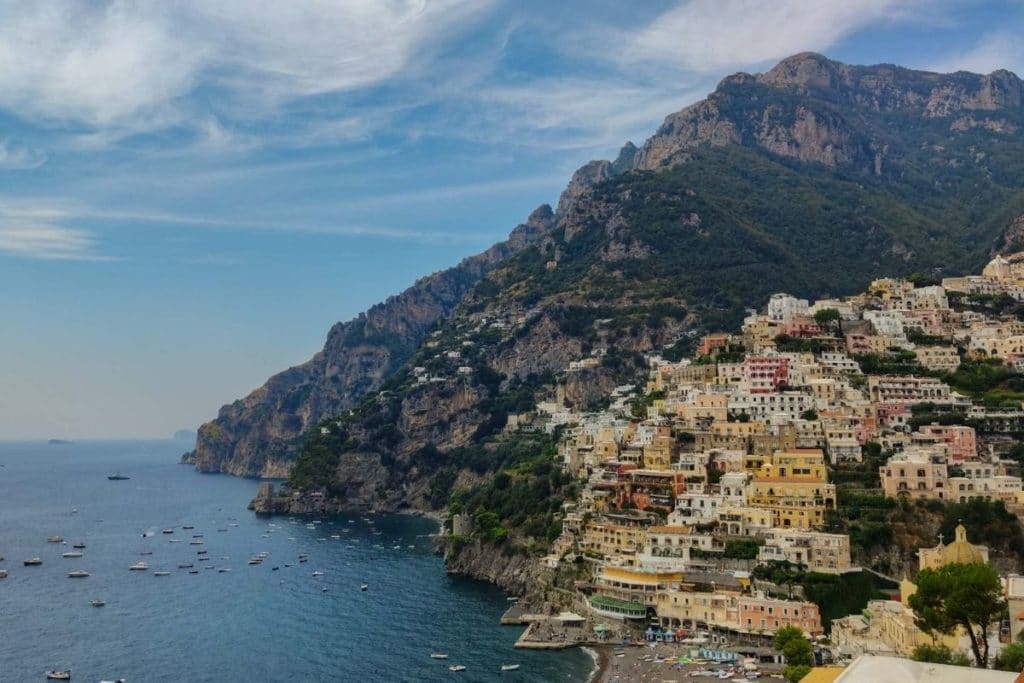 One of the most photographed places in the world. Many people will recognize Amalfi Coast by its pearl town Positano. An elegant town is located in a mountainous coastal area with loads of colorful houses. It's a romantic place to stroll around the streets and look over the scenic city from viewpoints. But Amalfi Coast isn't only Positano, find time to also explore towns like Amalfi, Atrani, and Ravello. It's also highly recommended to hike on one of the most beautiful hikes in Italy – The Path of Gods. Where it's seen exceptional coastal landscape views over the Amalfi Coast, the area can be discovered by a well-connected public transportation system.
Read more: Best hikes on the Amalfi Coast.
13. Wander between the cave houses in Matera
It is believed that the Matera region was the first inhabitants in Italy. Their most known part of the town is called Sassi di Matera. It's a different Italian city with unique architecture. There are ancient buildings carved into caves and wandering around historic streets makes you think that you have taken a step back in time.
The southern town has to be in any backpacking Italy bucket lists because there aren't many places in the world where the whole town's ancient buildings are so well-preserved. There are so many things to see and do, that it takes at least two days to explore the old city.
14. Hike between Cinque Terre villages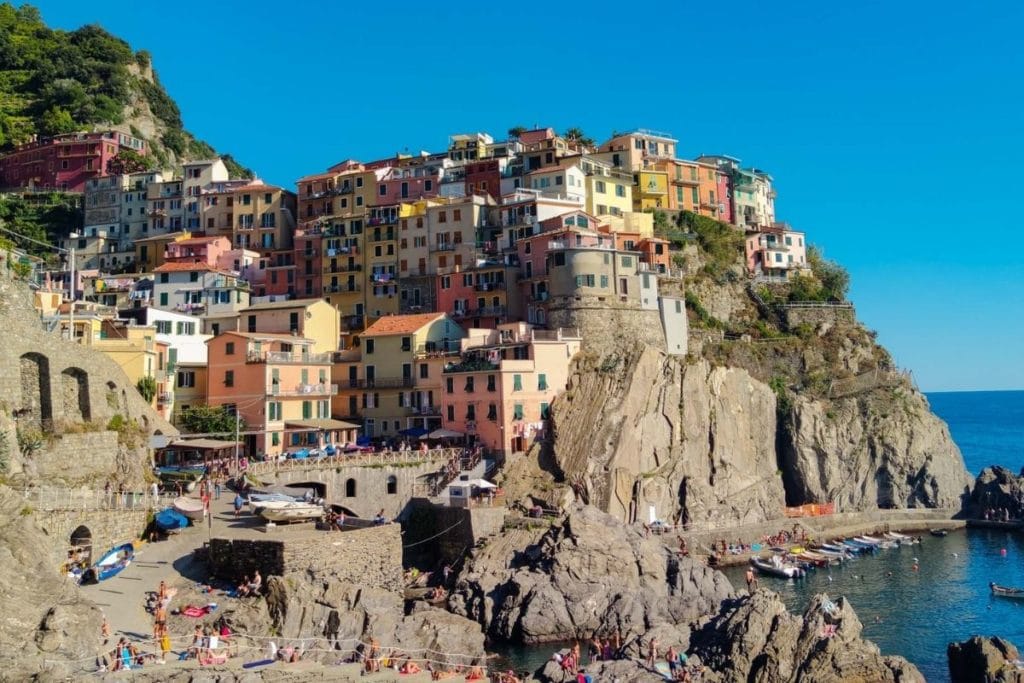 Cinque Terre is known by five colorful fisher villages: Monterosso al Mare, Vernazza, Corniglia, Manarola, and Riomaggiore. Every village has its characteristics and chill vibe. Apart from the colorful villages, there are loads of scenic hiking trails. The Blue Path trail is the most popular among visitors and connects all the Cinque Terre villages. Find out more information about the 12-km long trail from hiking the Cinque Terre guide. All these villages and surrounding National Park are listed on UNESCO World Heritage Site.
Read more: Cinque Terre travel guide.
15. Hike up to volcanic Mount Etna
Mt. Etna is the highest peak in South Italy and also the tallest volcanic mountain in Europe (3326 m). It's located on the largest island, Sicily. Even though it's a pretty active volcano, Mt. Etna is surrounded by several agricultural fields of olives, orchards, and vineyards, due to fertile volcanic soil.
Climbing on the edge of the active Mt. Etna crater is a popular activity among adventurous tourists. There are many ways to reach the top from guided cable car tours to hiking up independently.
16. Visit Isolated The Abbey of San Fruttuoso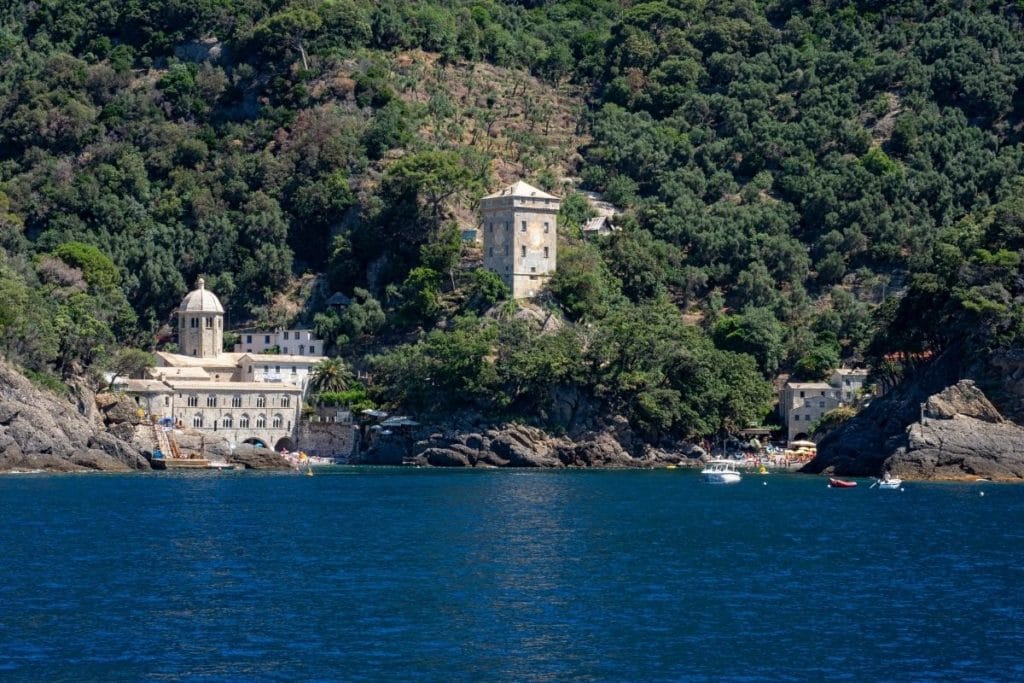 San Fruttuoso is a less-known place in Italy due it's only reachable on foot by hiking trails or by the sea with boats. In an isolated coastal settlement are only the Abbey of San Fruttuoso, a beach bar, a few buildings, and a pebbled beach. Also when you are a good diver then about 15-meters above sea level is the underwater statue Christ of the Abyss. A small village is located between well-known coastal towns Camogli and Portofino. From these towns, the isolated San Fruttuoso can be discovered by sufficient boat transport or from hike trails.
17. Swim in magical Lake Como
The most iconic lake in Italy has been a famous vacation area for centuries. Nowadays, visitors can see several sights, admire the surrounding Alps landscape, or relax on the shore of Lake Como. Check out the villas and palaces like Villa Carlotta, Villa Olmo, and Villa Serbelloni. Also don't forget to visit Lake Como towns like Bellagio, Como City, Nesso, and other smaller towns.
18. Wine tasting in Tuscany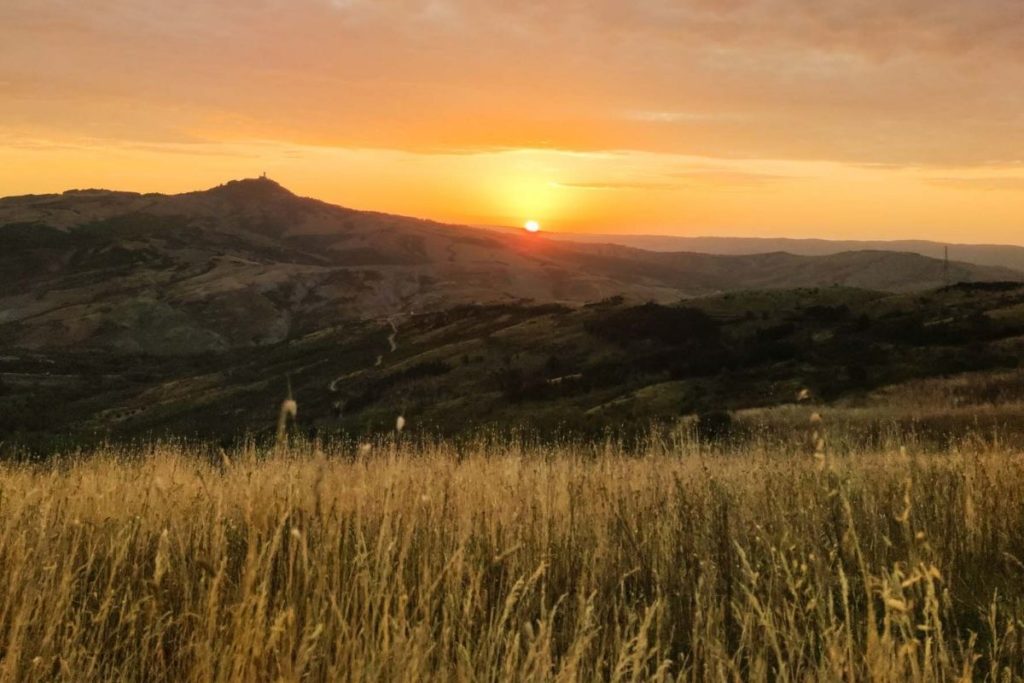 Tuscany has a rich history with the Italian Renaissance, magnificent landscape of a variety of fields, and has been home for famous artists and novel writers. There are several towns and cities to seek like San Gimignano, Siena, and Florence.
If you have 10 days in Italy, that would be a perfect place to experience this magnificent country. Apart from the landscape and famous spots in Tuscany, the region has been known also for its notable wine traditions. There are several wineries over Tuscany to try out local famous wines. For example, find wine farms around San Gimignano, Montalcino, and Empoli. During your trip to Tuscany, I recommend spending at least 3 days in Florence, the heart of Tuscany.
19. Hike around Gran Paradiso National Park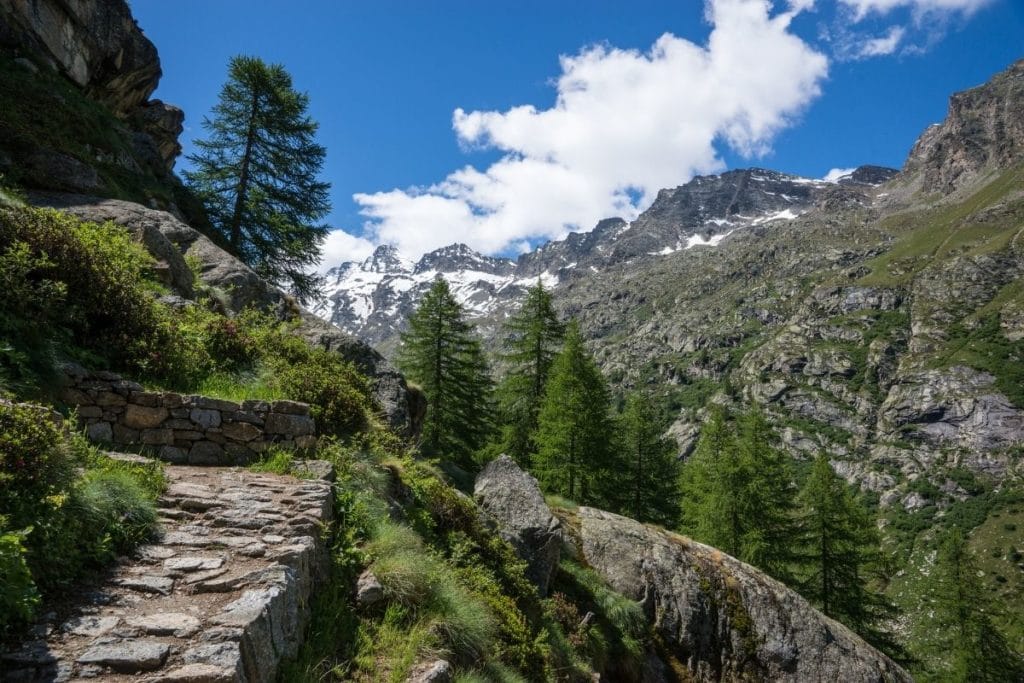 An Italian National Park is located in the Graian Alps, just on the edge of the France border. Around the scenic park are countless hiking trails, lakes, waterfalls, and other adventurous activities like mountain climbing and skiing. Visitors can see breathtaking landscape views, high peaks, and some wildlife. A great place to escape from a busy Italian lifestyle.
20. The ruins of Pompeii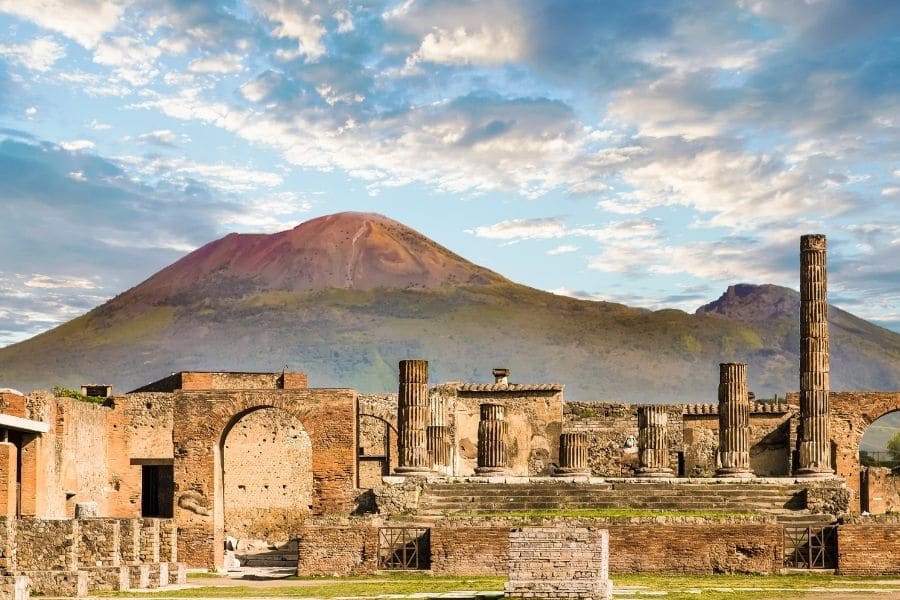 Pompeii was an ancient city near Naples until the disastrous Mt. Vesuvius eruption in AD 79 destroyed surrounding areas. Nowadays there is an Archeological Park where you can see ancient ruins and horrific sculptures of ashed people. There aren't many places to see and learn about Roman history with well-preserved ruins when backpacking through Italy. Because of that, taking a guided tour is recommended for the best experience.
21. Walk on The Stair of the Turks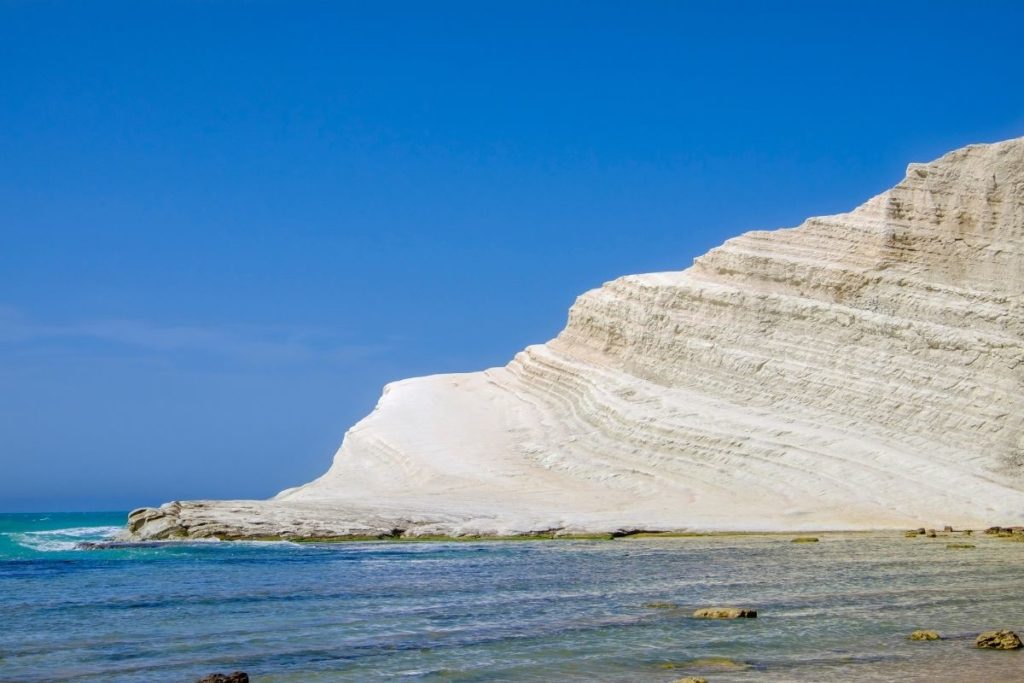 Sicily is blessed with another less-known natural wonder. The White Cliff has gained more popularity year after year and has become an iconic landmark to Sicily's seaside tourism. The rocky cliff is covered by sedimentary rock, called marlstone. That stone has given the landmark a white color. There you can walk on the cliffs but don't take a part of the marlstone with you as a souvenir because it's forbidden.
22. Visit Milan Cathedral
Milan is a vibrant and lively city that offers something for everyone. From its famous shopping districts to delicious cuisine. For those looking for nightlife, visit the many bars and clubs around the canals of Navigli. Also, don't forget to visit the city's icons Piazza del Duomo with the cathedral and Galleria Vittorio Emanuele II. You should add all of these to your Milan itinerary.
---
Backpacking Italy Travel Costs
To be honest, a backpacking Italy trip is a pretty expensive destination in Europe. However, it's a big country and the prices can vary significantly in different regions. The known truth is that the southern part of Italy is more affordable than the northern part. The invisible line separates the country somewhere near Naples, with some expensive exceptions like Amalfi Coast and Capri.
Accommodation Costs
The best option for backpacking Italy on a budget would be staying in a hostel. Travelers will find many hostels in bigger cities and have some tourist spot options. The cheapest bed in a shared dorm is around 10€ to 15€ in bigger cities. The average price for a hostel in Italy is around 20€ per night.
Budget hotel prices are on average around 40 – 50€. For more mid-range hotels expect to pay around 60-70€ per night. Note that these prices vary a lot depending on the season and location.
Food Costs
Italian cuisine consists of various pasta, panini, pizza, cannelloni, and many others. For the full Italian experience, looking away from local dishes is impossible. Prices again vary in the south and north Italy.
The prices of simple street food like bread, paninis, and focaccia are around 3 – 4€. Pizza prices vary on toppings from 4 to 10€. A mid-sized gelato costs around 3€. Different pasta prices in restaurants start around 10€. Meals with wine in restaurants cost on average 20€ per person.
The most authentic place to taste Italian cuisine is from the pizza's home Naples. The prices are relatively affordable according to average restaurant prices in Italy. For example, a full pizza Margherita price starts in Naples as low as 4€. It's the cheapest place in Italy to have a full local cuisine experience.
Also be aware of additional costs in restaurants, like sit-down fees (service and bread on the table). In touristic areas and city centers also expect to pay more.
The best budgeting option for backpacking in Italy would be to cook by yourself. Find ingredients for simple pasta in discount groceries like Lidl and Eurospin.
Attraction Costs
Travelers will find loads of attractions all over Italy. Many sights that are must-visits like Colosseum in Rome, Naples Underground, Pompeii, or Doria Castle in Vernazza (Cinque Terre) have some entrance fee. If you take into account about 10 – 20€ for attractions (museums, castles, archeological sites) per day, then it's enough. For guided tours expect to double the costs. Find out several tours from Get Your Guide.
Another tip for backpacking Italy on a budget is for the people under 25, cause there are a lot of discounts for the younger generation. Also keep in mind that there are free entrances for the museums, art galleries, and other sights on the first Sunday of the month.
---
How to Get Around Italy
For short trips look for budget public transportation companies. For long-haul routes, the best way to get around Italy is by trains or budget flights.
Getting to Italy
The best way to travel to Italy on a budget is by plane. Airports with high traffic in the north are in Venice, Milan, Bergamo, Bologna, and Turin. In the central region are Rome and Naples. In the south are Catania (Sicily), Bari, Palermo (Sicily), and Cagliari (Sardinia). Check out schedules and cheap prices from Kiwi.
Another way to travel to Italy on a budget is from the north by public transportation. The country is well-connected with neighboring countries France, Switzerland, Austria, and Slovenia. Check out the schedules and cheap prices from Omio.
Most of Italy's border is covered by the Mediterranean Sea, so the alternative option to reach the country is by boat. High-traffic ports are in Genoa, Bari, Naples, Civitavecchia (close to Rome), Brindisi (Puglia), and Ancona. Find prices from Direct Ferries.
Getting around Italy
Domestic trains operate all over Italy from north to south and west to east. Traveling around Italy by train is the best option for long-haul routes, as it's the fastest and cheapest public transport option. Keep in mind that in Italy are two types of trains: fast and standard. The standard ones are cheaper. The main national railway company is Trenitalia and you can plenty of schedules from Trainline.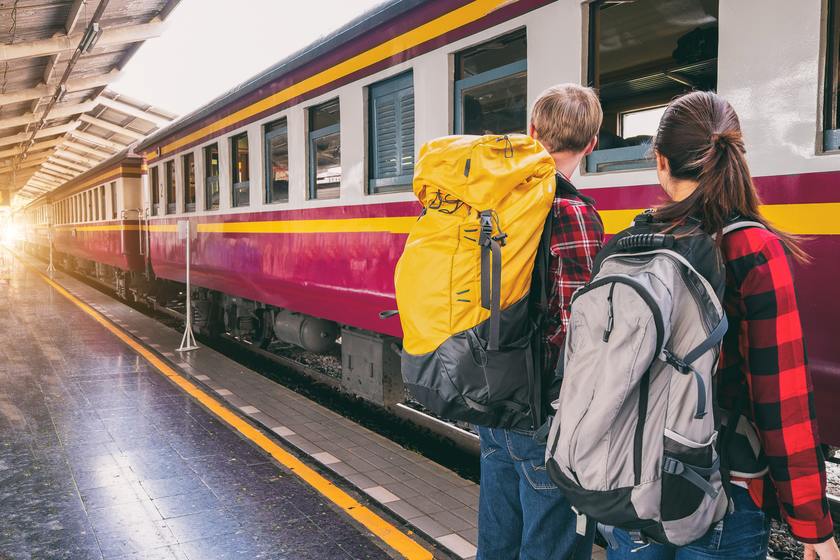 Domestic busses are useful when you are wandering around regions, where there are no railway systems. Also, check out budget bus companies like FlixBus. Sometimes they offer discount tickets on long-haul routes between bigger destinations. For a wider range of schedules all around Italy use Rome2Rio. With that, you find all the local busses that operate around the country, for example in the middle of Tuscany countryside.
Domestic boats – Italy has many islands that are visited mostly by boats like Capri, Stromboli, or Procida. A variety of ferry schedules around the country are found from here.
Domestic flights should be taken into account when the domestic distances are too long to use transportation on the ground. Budget airlines like Ryanair and EasyJet also operate in Italy domestically. Find schedules and cheap prices from Kiwi.
Car rent is also an option while traveling around Italy. Prices are pretty reasonable and you can find deals from Rentalcars.
Ridesharing is also used in Italy. International BlaBlaCar is covered with rides all over the country and the carpooling cost is traditionally cheaper than public transport. Cheapest way to travel in Italy fast and safely.
Hitchhiking is another alternative option to backpack through Italy. Although it's not that common in Italy to hitch a ride and could take a lot of time. Recommended is to pitch up drivers face to face, for example from gas stations. Check out more tips for hitchhiking in Europe.
---
Best Places to Stay In Italy on a Budget
---
Italian Traditional Food & Drinks
Italian cuisine is world-famous. Many dishes from Italy have spread all over the world. Here are some of the highlights of traditional foods and drinks.
Pizza – has taken over the whole world. As the original Margherita pizza was first done in Naples, it's the most authentic place to try that dish out.
Pasta – Probably the main dish for Italians. They know how to cook it by heart with the utmost precision. Different variants of pasta like ragu alla bolognese, tagliatelle, linguine can be tasted all over Italy.
Cannelloni – Pasta tubes with filled minced meat, tomato sauce, spinach, and ricotta. It's mainly eaten in the Campania region, more precisely in Sorrento, where it was invited.
Lasagne – Another dish that originated from Naples is a layered pasta with typical cheese, tomato sauce, and meat.
Focaccia – It's a traditional flatbread with a variety of toppings. It is eaten as a fast takeaway or as an appetizer. Some Italians say that the best focaccia is from Genoa, others say that from Bari.
Gelato – The most widely known and eaten dessert in Italy. Gelato shops are found all over Italy around tourist spots. A must-try dessert in Italy.
Tiramisu – When gelato is eaten mostly in the summer, then tiramisu is eaten year-round. The coffee-flavored cake is typically a dessert after dinner or next to the coffee.
Limoncello – A lemon-flavored limoncello liquor is widely tasted in the Campania region. The best place to drink that sweet liquor is from Sorrento.
Aperol Spritz – A popular Italian cocktail consisting of Aperol, soda water, and Prosecco wine. It's widely drinked in southern Italy, especially in Naples.
Espresso – Italians have a big coffee culture and usually they take a quick sip of espresso to start a day.
Local beer – Even though Italians like more wine, then there is still a good range of breweries like Peroni, Nastro Azzurro, Birra Moretti, Birreria Poretti, and Menabrea.
Italian wine – There is no shortage of good wine in Italy as they are the largest wine producers in the World. There are a large number of wineries all over the country. The most authentic place to try out traditional Italian wine is around the Tuscany region.
---
Daily Budget for Backpacking Italy
It's one of the most expensive countries in Europe, however, there are still ways for backpacking Italy on a budget. Keep in mind that prices range between north and south Italy. The south part is known as more affordable, especially for housing and food.
A tight budget traveler should keep Italy's travel budget around 30€ per day. On that occasion, you have to stay in a budget hostel, Couchsurfing, or wild camping. Make pasta yourself or have some paninis or focaccias from the street food section. Many cities or any other touristic places can mostly be discovered on foot. Between longer distances use public transport, ridesharing app BlaBlaCar, or hitchhiking while backpacking around Italy. Also, there are a lot of sights and landmarks for free like Cinque Terre villages.
A rational backpacker who wants to have a bit more comfort should start with a daily budget of 55€. On that occasion, you would stay in an average hostel. Chance to have food experience in restaurants for a while. Also eating takeaway street foods like slices of pizza or other paninis. Using reasonable public transportation or carpooling with BlaBlaCar. Also, have a budget to enjoy some attractions while backpacking Italy.
A mid-range traveler who wants to have even more comfort and privacy with private rooms should start with a daily budget of 95€. On that occasion, while backpacking Italy you can have a private room in a mid-range hotel, experience some Italian cuisine in restaurants, move around with public transport and seek attractions daily.
| | Housing | Food | Transport | Attractions | Daily Budget |
| --- | --- | --- | --- | --- | --- |
| Tight budget | 0 – 15€ | 15€ | 0 – 10€ | 0 – 10€ | 10 – 50€ |
| Backpacker | 20€ | 15€ | 10€ | 10-15€ | 55 – 60€ |
| Mid-range | 40 – 60€ | 20 – 30€ | 15€ | 20 – 30€ | 95 – 135€ |
---
Italian Language
Knowing some basic phrases and words in local languages is always good. Italian is a popular language to learn and even essential in some lesser touristy areas, where locals only speak their native language. Locals will respect you more if you know how to greet, thank, or surprise you with some learned Italian phrases. Here are some mostly used Italian words and phrases:
Buongiorno – Good morning!
Ciao – Hi
Buonasera – Good evening!
Si – Yes
No – No
Grazie – Thank you!
Per favore – Please
Buono! – Delicious!
Prego – You're welcome!
Mi scusi – Excuse me!
Mi dispiace – Sorry
Parla inglese? – Do you speak English?
Mi chiamo… – My name is…
Come sta? – How are you?
Sto bene, grazie! – I'm fine, thank you!
Piacere – I am pleased to meet you!
Quanto costa? – How much is it?
Dov'è… – Where is….
Non capisco – I don't understand.
Buona giornata! – Have a nice day!
You can easily learn new languages through different travel apps. With language apps like Duolingo, it's super easy to learn all the basics in several languages.
---
Best Time to Visit Italy
Italy has nice weather all over the country from mid-April till the end of September. The peak season everywhere in Europe is during the summer months. Then the tourist crowds are extremely high as Italy is one of the most visited countries in the whole world. Also, the prices reach their peaks.
The best time for backpacking Italy trips as a whole country is during shoulder seasons before (April to May) or after (September) the summer months. Then hot tourist spots start to cool down a bit with lesser traffic and prices are also healthier for your wallet.
During the winter Italy is still visited for a variety of reasons. In the north around the Alps are opened loads of ski resorts. In the south, you can escape for example to Sicily for the winter sun.
After all, there isn't a bad time to backpack across Italy. If you are looking to discover Italy as a whole including all the attractions, beach days, hiking then the months close to summer would be the best fit. But visiting Italy in the off-season months is better if you are looking for city getaways.
---
Italy Visa Requirements
Italy is a European Union country and also a part of the Schengen Area. If backpacking to Italy from another European Union country then there will be no check and you can enter the country without a stop. Italy also has a tourist visa, but before planning a backpacking trip, check out more information about visas in Italy.
---
Is Italy Safe to Travel?
Countries in Europe are for the most part safe to visit. As a traveler, it is the same with backpacking Italy, because the country depends highly on tourism. You may have heard about organized crime or mafia in old Italy days, but it's nothing to worry about. The locals will be friendly when you use common sense and respect people. But as everywhere, you must be aware of scams, keep your things safe, or avoid other tourist traps. After all, Italy will treat you well.
Anything can happen when traveling abroad and backpacking Italy is no exception. Having travel insurance is a must (anywhere you go). I always have travel insurance, but luckily I haven't used it yet. For me it's okay to spend a little for my safety (if anything happens), then to pay afterward for extremely high medical bills.
---
Travel Tips for Backpacking Italy on a Budget
Couchsurfing – That would be my first recommendation in any country. It's not about a free couch, but more about the awesome people you met through that. In short, it's an app or more community where locals host travelers in their homes. It's an easy way to interact with local Italians and have fun together with them.
Student ISIC Card – This can be helpful in Italy to save money. With that will be found discounts in transport, attractions, or even on accommodation. Check out which discount options with an ISIC card you have.
Carpooling – Cheapest way to backpack around Italy fast and safely. The most used carpooling app is international BlaBlaCar.
Walk as much as possible – Loads of attractions are mostly around the centrum area of bigger cities. It's also possible to see more surroundings and even crash "by accident" into some hidden gems.
Free entrance to the museums – On the first Sunday of each month is typically museums, art galleries, historical sites without an entrance fee. Start your day early to avoid long queues.
Use refillable water bottles – Loads of water fountains around popular spots all over Italy. Also, tap water is drinkable particularly everywhere. If not then there is written "non-potabile" (not drinkable).
Local food experience out of the tourist area – In every city or town, the highest prices are around tourist hotspots (centrum and main attraction). One of the greatest travel tips that work everywhere is to eat there where the locals do.
Be the chef – Food in Italian restaurants is pretty expensive. If you don't have deep pockets, cooking by yourself is the easiest way to cut down on food expenses. Get your ingredients from discount groceries and for example cook pasta in the hostel kitchen.
Free Walking Tours – The best way to get to know about the city is through guided tours. Most of the cities in Italy have free guided tours around the main sights. I recommend using that, but make sure to tip the guide in the end.
---
PIN IT
---
Read more about Italy: