Italy is a dream vacation spot for many people who seek beautiful beaches, colorful villages, big cities, historic sites, and also a variety of natural landmarks. Hikes in Italy offer a variety of diverse landscapes from big alpine mountains to short and low walking paths.
On the current list of best hikes in Italy, you will find spectacular trails from north to south, from easy to difficult levels, and from short to long treks.
Disclosure: This article features affiliate links, including Amazon.com. If you decide to buy through one of these links, I'll earn a small commission at no extra expense to you. For more details, please see my disclosure policy.
1. Cinque Terre hike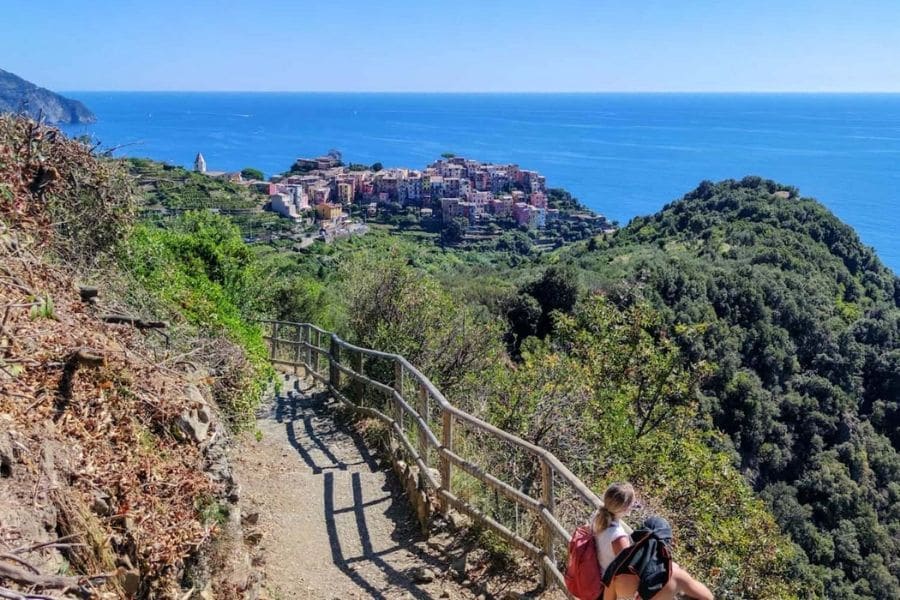 Location: Italian Riviera, Liguria.
Distance: 12 km (7.5 mi).
Duration: 3 hours to 1 day.
Maximum elevation: 220 m (722 ft).
Difficulty: Easy.
Cinque Terre in the Italian Riviera is one of the most visited places in the country. The area is attractive due picturesque five villages, surrounding beautiful landscape, and the deep blue Mediterranean Sea. From there you can also find one of the best hikes in Italy.
There are several hiking options around Cinque Terre from short walks to multi day treks. The most busiest and attractive is the Blue Path trail that connects all five fisher villages. The 12 km hiking path is divided into four sections, connecting all the villages.
The Blue Path trail is doable each way, either starting from Monterosso al Mare on the north or Riomaggiore on the south. It's a relatively easy trail and you don't need any special hiking experience or training, just a bottle of water and some energy. Also, many people only do some sections, so you don't need to complete the whole 12 km trail.
Keep in mind that it's mandatory to wear proper shoes. So leave your flip flops and wear at least some sports shoes. Also on two tracks, you have to pay a small fee to enter the trail.
Hiking in Cinque Terre is extremely scenic all the way. You can wander between the fields of lemon, grapes, and olives. Also, enjoy the views over the steep Cinque Terre National Park, admire the infinite Mediterranean Sea, and these beautiful five villages.
Read more: Hiking in Cinque Terre.
2. Tre Cime di Lavaredo Loop hike
Recommended by Jurga from FullSuitcase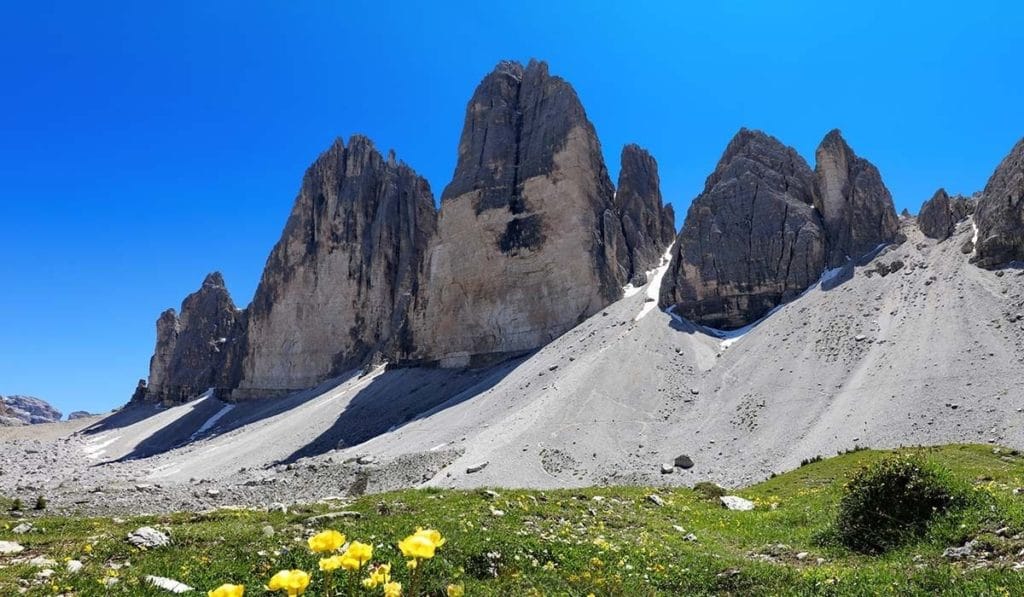 Location: Dolomites, Northern Italy.
Distance: 10km (6.2 mi).
Duration: 3 h.
Maximum elevation: 2,454 m (8,050 ft).
Difficulty: Moderate.
The three peaks of Tre Cime di Lavaredo are the symbol of the Italian Dolomites and one of the most visited places in the region. Tre Cime loop hike is also extremely popular, attracting big crowds. So if you are planning to hike here, be sure to arrive as early in the morning as possible.
The circular hike starts and ends at Rifugio Auronzo. You can either get here by car or – in high season – by public transport from Cortina d'Ampezzo via Misurina. If driving by car, you'll have to pay a fee (30 € at the moment of writing), but there are no extra fees for parking or similar.
The views along the Tre Cime di Lavaredo hike are phenomenal from start to finish. One of the best hikes in Italy also offers more variation than it looks at first sight – from rocky barren landscapes to streams and mountain lakes surrounded by colorful wildflowers. There are also a few mountain huts along the way, with restaurants serving regional specialties.
And while Tre Cime loop is a moderate hike with some short steeper sections, it's not too strenuous. A total elevation gain is less than 400 meters. If you take your time, you can easily do this hike with children from about the age of 6 as well.
Good hiking shoes are a must and you should always carry a light sweater and a rain jacket – the weather can change quickly. Please also note that due to elevation, the best season to hike here is between June and September. Furthermore, there's always a risk of thunderstorms in the afternoon – another good reason to start the hike early.
Read more: Hiking in the Alps.
3. Lagazuoi Circuit hike
Recommended by Dean and Laynni from Routinely Nomadic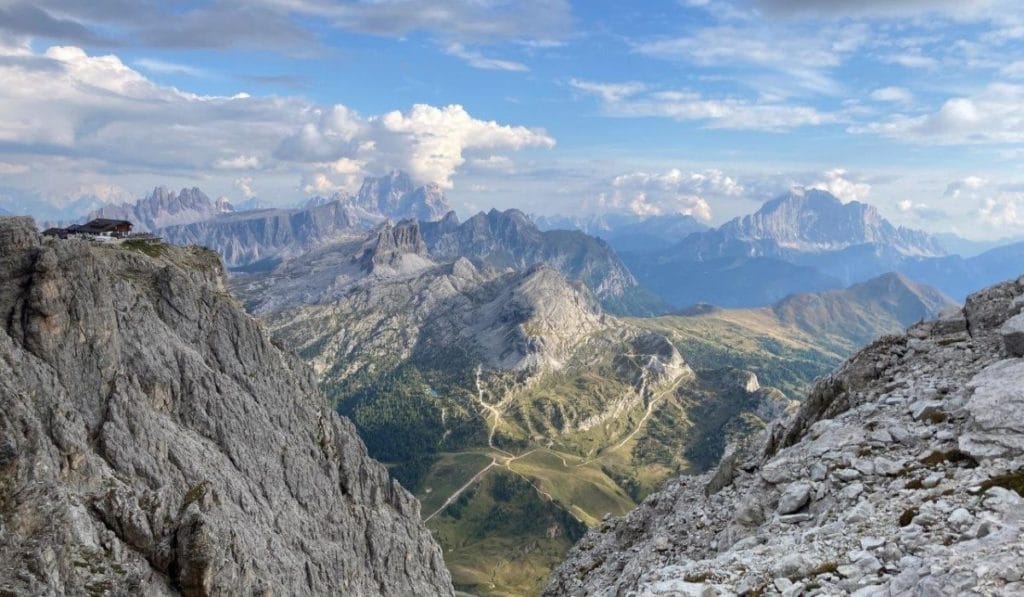 Location: Cortina D'Ampezzo, Dolomites
Distance: 15 km (9.3 mi).
Duration: 5-6 h.
Maximum elevation: 2,800 m (9,200 ft).
Difficulty: Difficult.
Some of the best and most varied hiking to be found in the Dolomites is around famous Mount Lagazuoi. With a checkered past as the front lines of the fighting in World War I this wildly scenic area offers incredible views, challenging climbs, and fascinating history. Often completed as part of the world-famous Alta Via trek, it is also possible to hit all the best spots on a single day hike.
Starting from Passo Falzarego, just a short drive from popular Cortina D'Ampezzo, take the cable car up to Rifugio Lagazuoi. You can hike the entire way if you choose but with several more big climbs to come, you may want to save your energy. History buffs can explore the Lagazuoi Tunnels before continuing up to Piccolo Lagazuoi, one of the most extraordinary panoramic viewpoints in Italy.
From there it is a long, rocky downhill to reflective little Lago Lagazuoi. Give your legs a short rest before tackling the big climb to Forcella del Lago, a stunning notch in the mountains with fantastic views back toward Lagazuoi.
Then, after carefully making your way back down, retrace your steps as far as Forcella Lagazuoi (about 150m below the rifugio. Then head east to enjoy pleasant meadows and more great mountain scenery on an easy trail around Col de Bois before starting down direct views of Cinque Torri and Mount Nuvolau looming in front of you the entire way.
This is a strenuous hike over rough terrain with steep, exposed sections so be sure to wear good hikers and pack food and water in case it takes longer than planned. It's also recommended to take hiking poles to help on the steep slopes.
4. Lake Sorapis hike
Recommended by Caroline from Veggie wayfarer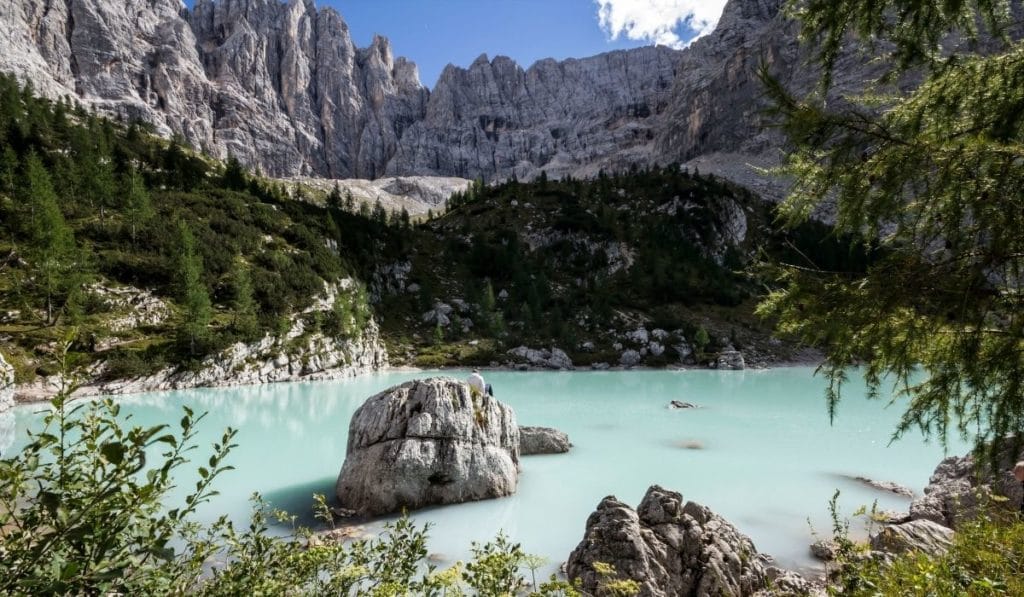 Location: Veneto region, Italian Dolomites
Distance: 14 km (8.7 mi).
Duration: 4.5 h.
Maximum elevation: 1,923 m (6,309 ft).
Difficulty: Moderate.
Lake Sorapis is one of those amazing lakes in the Dolomites the region is known for. Except that to get to witness the beauty of Lake Sorapis, you will need to undertake a 14km hike (roundtrip). Do not let that stop you though, as one of the best hikes in Italy is beautiful and the Sorapis Lake is just the cherry on top of the sundae.
Reaching the starting point for the hike is relatively easy in both car and public transport (bus). Should you be driving, simply put Passo Tre Croci in your GPS. If you are taking the bus, leave from Cortina and take bus number 30, get off at bus stop Passo Tre Croci. There are no toilets or stores on the trail, so your best is to stock up on anything you need at the little restaurant 200 meters from the trailhead.
Time to get started! The first part of the trail will lead you to wind paths in the forest, slowly creeping up. Clamber across a few rivers and a few (slightly rickety) stairs to reach your end goal of Lake Sorapis. You will need to wear proper footwear as the path is unpaved and there is a little climbing involved here and there (minimal). The rocks on the path can get slippery when it has rained, bear that in mind.
For those who suffer from vertigo, this is perhaps a hike you will want to skip. There are more than a few narrow paths and staircases that offer the most majestic views over the valley below, but can be daunting for those who are afraid of heights.
5. Monte Subasio hike
Recommended by Sophie from Just Heading Out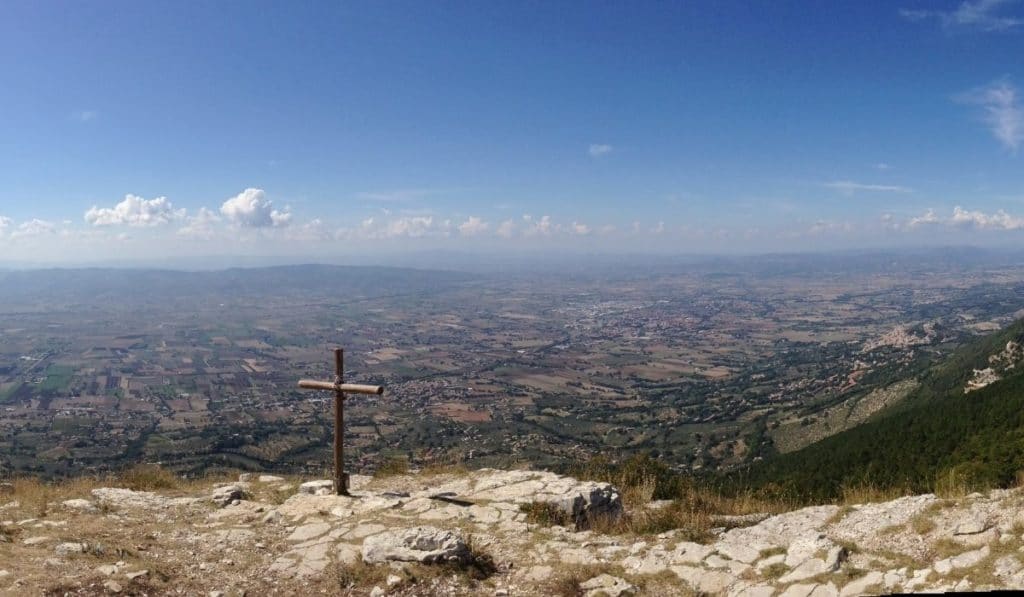 Location: Assisi to Spello, Umbria.
Distance: 17.3 km (10.8 mi).
Duration: 6 h.
Maximum elevation: 1290 m (4230 ft).
Difficulty: Moderate.
Monte Subasio is a mountain in Umbria, just east of Assisi. The mountain is part of a protected nature reserve called Parco del Monte Subasio and connects to the Apennine Mountain Range.
The mountain is known for its flattened dome shape, making it a popular spot for paragliders and hikers. Some hiking trails connect to the longer Via Francescana, a pilgrimage trail named after the famous St. Francis of Assisi.
A network of trails runs along and up the mountain. The most popular trail, nr. 50, goes over the summit, from Assisi to Spello. The trail is well maintained and marked. It leads you along with several points of interest and viewpoints. The summit of Monte Subasio offers a stunning 360-degree view of the surrounding landscape, with the Sibillini Mountains on one side and the Valle Umbra on the other.
It's one of the best hikes in Italy, not too difficult but with an elevation gain of over 1000 meters. The lack of shade at the top makes this hike more strenuous during the hot summer months. Several water points along the trail are turned off during drought and frost, and there is no option to buy food or drinks on the mountain. So be sure to bring plenty of water and food. It gets very windy at the top of the Monte Subasio, so wear good hiking boots and layered clothing.
Both the start and finish points are connected to the local railway system.
6. Portofino to San Fruttuoso hike
Recommended by James Ian at Travel Collecting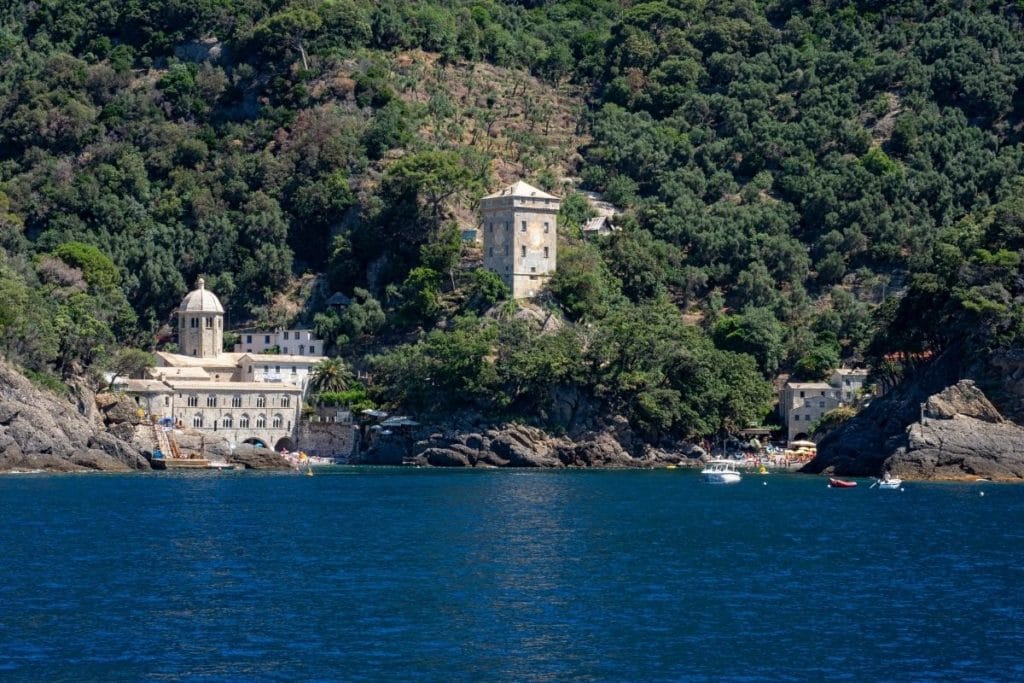 Location: Italian Riviera, Liguria.
Distance: 4 km (3 mi).
Duration: About 2 hours one way.
Maximum elevation: 263 m (863 ft)
Difficulty: Moderate
One of the great things about this hike is that you can do it one way only. If you are coming from Rapallo, you can take a ferry to Portofino, via Santa Margherita Ligure. The trail ends at San Fruttuoso and you can take a boat back to Rapallo or Portofino directly from there rather than having to hike back.
One of the best hikes in Italy, the trail heads up a steep staircase leading up from the boat dock in Portofino. It passes terraces with tiny patches of olive trees before heading into the hills past wildflowers, lemon groves, and more olive trees. It soon flattens out, and most of the trail is easy, hugging the tops of cliffs with the Mediterranean Sea sparkling in the sunshine far below.
After the final viewpoint over the Mediterranean, the trail heads down through a forest in a series of steep switchbacks to the hidden cove of San Fruttuoso. The bay can only be accessed on foot or by boat. There are glimpses of the 10th-century abbey at San Fruttuoso before you arrive at the abbey and tiny beach. There are a few restaurants there, so you can spend the day relaxing on the beach before taking the boat back.
Although the trail is steep at the start and end, it is well-maintained and mostly flat, so you don't need any special equipment for the hike.
7. Path of the Gods hike
Recommended by Terri at Female Solo Trek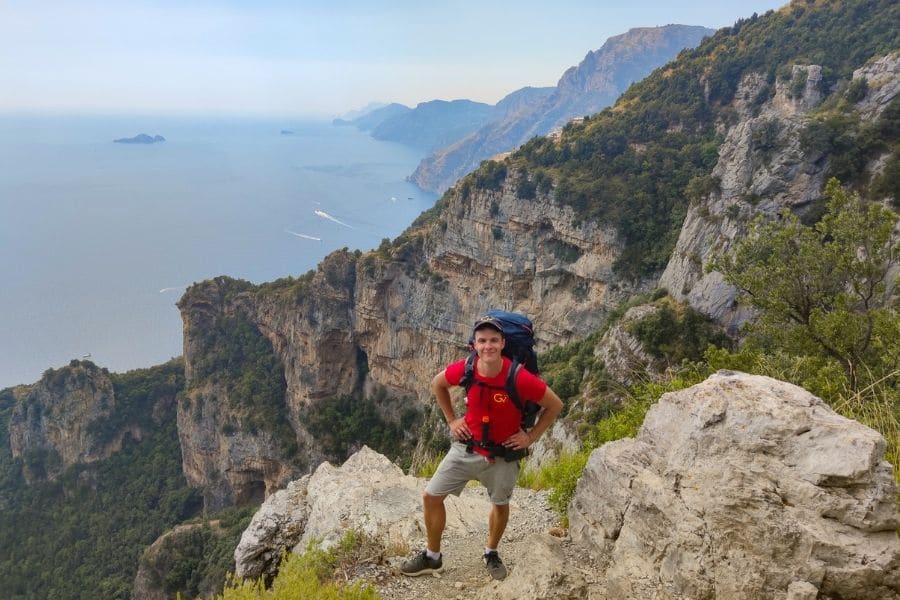 Location: Amalfi Coast, Campania.
Distance: 8 km (5 mi).
Duration: 4 h.
Elevation gain: 291 m (950 ft).
Difficulty: Easy.
The Sentiero Degli Dei, which is translated as the Path of the Gods, is truly a heavenly walk and of the best hikes in Italy. This cliff top trail leads down from Bomerano (in Agerola) to the magnificent Positano.
The famous trail is located next to the beautiful Amalfi Coast winding along the Mediterranean Sea. The five-mile hike is considered moderate if the hiker is climbing down the trail, but it might be difficult for the knees when ascending. For the beginner Sunday hiker, it may take 4.5 hours to walk the trail.
The elevation gain for the trail is 291 meters (950 feet), and it doesn't stop any hiker from completing the scenic track. During the peak tourist months (April-September), it may be heavily trafficked, as it's one of the most popular trails in Italy.
On the trail, you can sniff the lemon trees that bloom with fruit and listen to the donkey's bray. On a clear day, you can also see colorful Capri and the endless Mediterranean Sea. The hike starts in Bomerano, a medium-size town high in the mountains offering restaurants, small hotels, and friendly dogs.
Wear hiking boots and bring a ski jacket if it is cold. There is a steep decline down 1,500 stone steps at the end to reach Positano. So promise yourself an espresso as your reward for completing the trail.
Read more: Best hikes on the Amalfi Coast.
8. Villa Jovis hike
Recommended by Lori at Travlinmad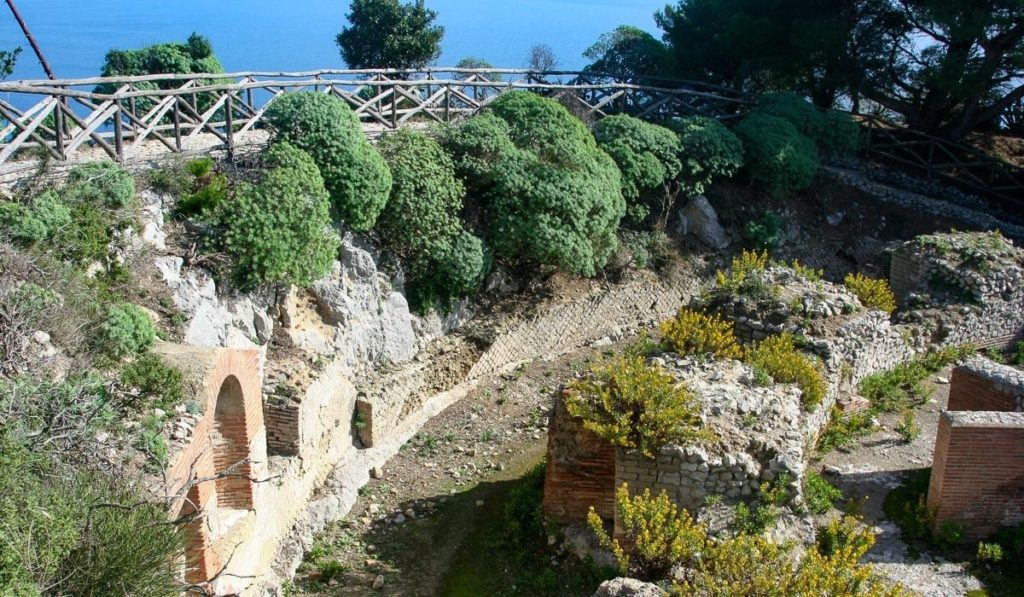 Location: Capri, Campania.
Distance: 4.5 km (2.8 mi).
Duration: 45 min to 1 h.
Max elevation: 334 m (1095 ft).
Difficulty: Easy to moderate.
One of the most scenic and best scenic hikes in Italy is a trail on the picturesque island of Capri to the palace Villa Jovis (Villa of Jupiter) built by the emperor Tiberius in 27 AD. It's one of the most unique things to do in Capri and a literal hike back into Roman history.
The palace is in the northeast of the island perched on the second highest peak on the island, Monte Tiberio. To reach the trail follow the signs from the Piazzetta until reaching Via Tiberio. From there it's a gradual uphill walk to the palace.
Along the way, there are the homes of residents with beautiful gardens, flowers, and vegetables. If you get lucky, there will be enticing aromas coming from kitchens. And there is the inescapable blue of the Mediterranean from every vista along the trail.
The trail is best from around April through September, and light clothing and sturdy footwear are all that is required.
Just before the palace entrance watch for the entrance to Parco Astarita. It's free and the view from the final terrace is spectacular. You'll have company. Free roaming Capri mountain goats will accompany you while you're in the park.
9. via Degli Dei trek
Recommended by Lori at ItalyFoodies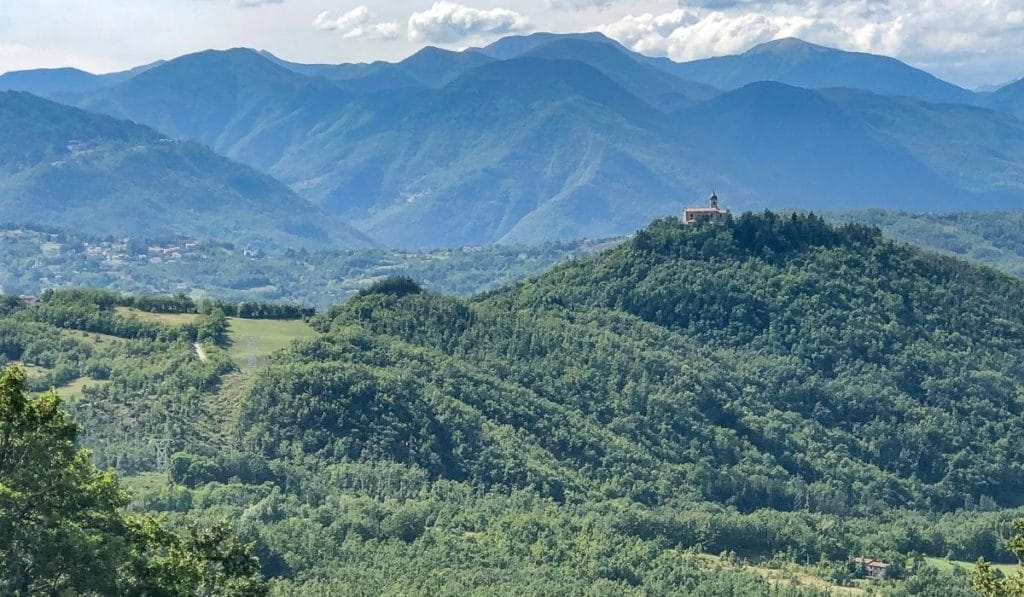 Location: Bologna to Florence, Tuscany.
Distance: 135 km (84 mi).
Elevation gain: 900 m (2,952 ft).
Duration: 6 or 7 days.
Difficulty: Moderate.
Connecting the cities of Bologna and Florence, Via Degli Dei or "Route of the Gods" is a scenic hiking trail that meanders through the Tuscan-Emilian Apennines. The trail follows the 2000-year old Flaminia Military Roman Road between Bologna and Florence, and there are places where that road can still be seen.
Along the way, the trail winds through natural parks and crosses over several mountains – Mount Venus, Monzuno, and Monte Luario.
The trail is well marked and has alternate paths to take if you like. Water fountains are few and far between so be sure to pack sufficient water. You can resupply your food and water in the small towns along the trail, or stay in small hotels and B&Bs.
This is slow travel at its best, a way to enjoy the scenery and absorb the history and culture, and of course, all the amazing Italian food and wine of the Emilia Romagna and Tuscany regions.
One of the best hikes in Italy includes some fairly long inclines and declines on uneven rocky surfaces. Be sure to wear good hiking boots. Spring and Fall are mild so you won't need heavy clothing. In summer it can get very hot so only light clothing is needed.
10. Monte Cofano Reserve hike
Recommended by Zoe from Together In Transit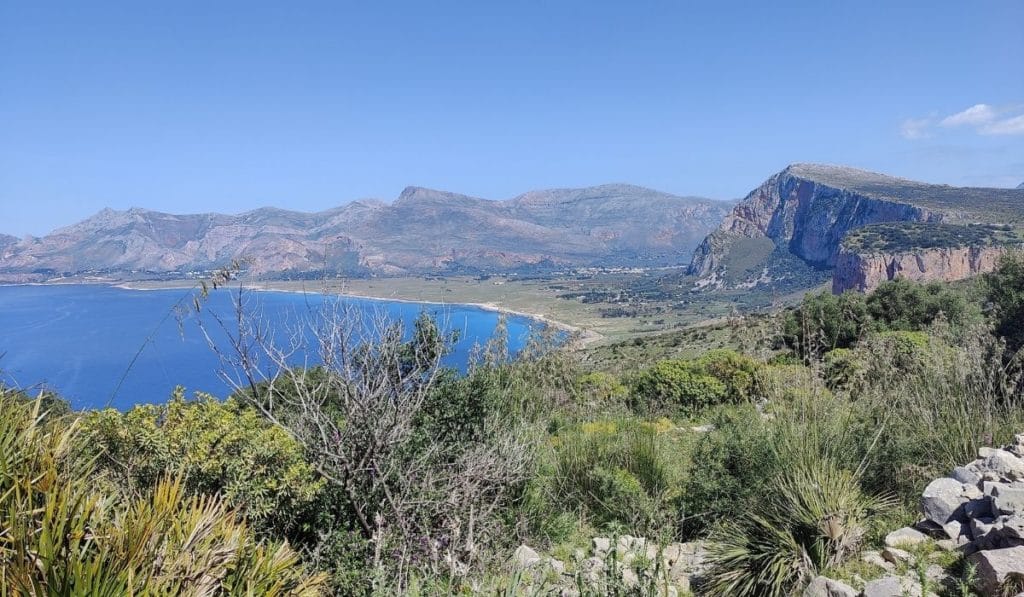 Location: Monte Cofano Reserve, Sicily.
Distance: 12 km (7.46 mi).
Duration: 4-5 hours.
Maximum elevation: 659 m (2162 ft)
Difficulty: Easy to Moderate
A lovely and one of the best hikes in Italy well worth doing on the island of Sicily is the Monte Cofano reserve loop near San Vito Lo Capo. Located at the North West of the island, the whole area is perfect for hiking, whether route loops like this one to other more adventurous hikes taking you right to the top of the peaks.
The Monte Cofano reserve is a beautiful nature area that many locals head to for the beach as well as hiking. Starting the hike from the beach area near the Tonnara del Cofano, you can follow a dirt path that first follows the route along the rock edge with the gorgeous blue waters below. This is the prettiest part of the route as you can see the coastline to San Vito Lo Capo.
Further along the route, you arrive on the coast looking towards Cornino. Here it is just as beautiful with the mountains in the distance. If you're lucky, you will enjoy the hike with some local wild cows that wander the area. They are pretty friendly but keep your dog on a leash for safety if you're hiking with your four-legged friend.
From here you can choose to hike to the top of the peak of the Monte Cofano or head over and back down to where you started. Either way, stop here for some beautiful views from both coastlines and to enjoy the nature of wildflowers.
In total it's roughly 4 to 5 hours to hike if you have a good level of fitness for the 12-kilometer loop. Always remember to take some snacks and water with you too, as well as dressing appropriately for hiking with good walking shoes.
11. Hike to Gorropu Gorge
Recommended by Greta from Greta's Travels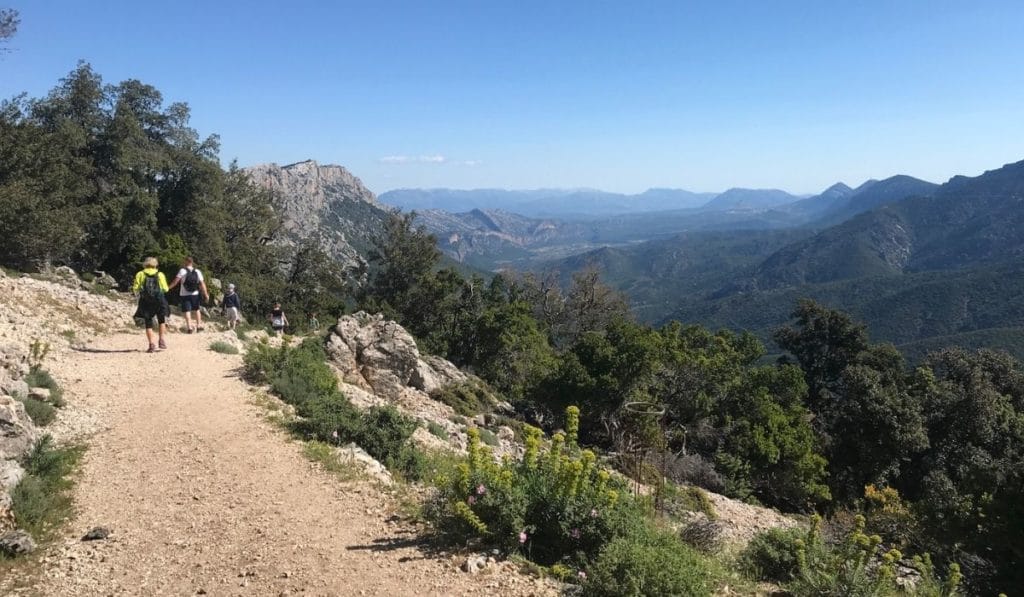 Location: Province of Nuoro, Sardinia.
Distance: 10 km (6.21 mi).
Duration: 5-6 hours.
Maximum elevation: 1,018 m (3340 ft).
Difficulty: Difficult.
Su Gorropu is a canyon 450 m (1476 ft) tall, it's the deepest gorge in Italy and amongst the biggest ones in Europe. This alone would make it a must-see on any Italy itinerary, add to that the stunning views, and you have an all round winner.
The start of Gorropu Gorge is deep in the mountains and forests of Sardinia. To reach it, you have to either hike one of the many trails or do a jeep tour starting from the Gorropu Gorge base camp.
It's recommended to start the trail from Bar Silana. You will start at the top of the mountains and hike down almost 5 km (3.1 mi) for a 700 m (2300 ft) elevation change to reach the entrance of the gorge.
The hike from Bar Silana to the entrance of Gorropu Gorge is amongst one of the best hikes in Italy. You will enjoy stunning views over the Sardinian mountains and cliffs, as well as walking through trees that will give you enchanted forest vibes.
This is all before reaching the actual gorge! Once you reach the gorge it's up to you how deep you want to walk into Gorropu Gorge. The deeper you go, the wilder the trail becomes and you'll have to climb over rocks to keep going. Walking into the gorge for about 500 m (1640 ft) is enough to see the majestic canyon sides towering above us.
Once you're done enjoying Gorropu Gorge, it's time to hike back up to Bar Silana. The trail is challenging, but well maintained and well marked so it's easy to follow and hike along. The best time to hike Gorropu Gorge is early morning in spring.
12. Alta Via dei Monzoni hike
Recommended by Claudia from My Adventures Across The World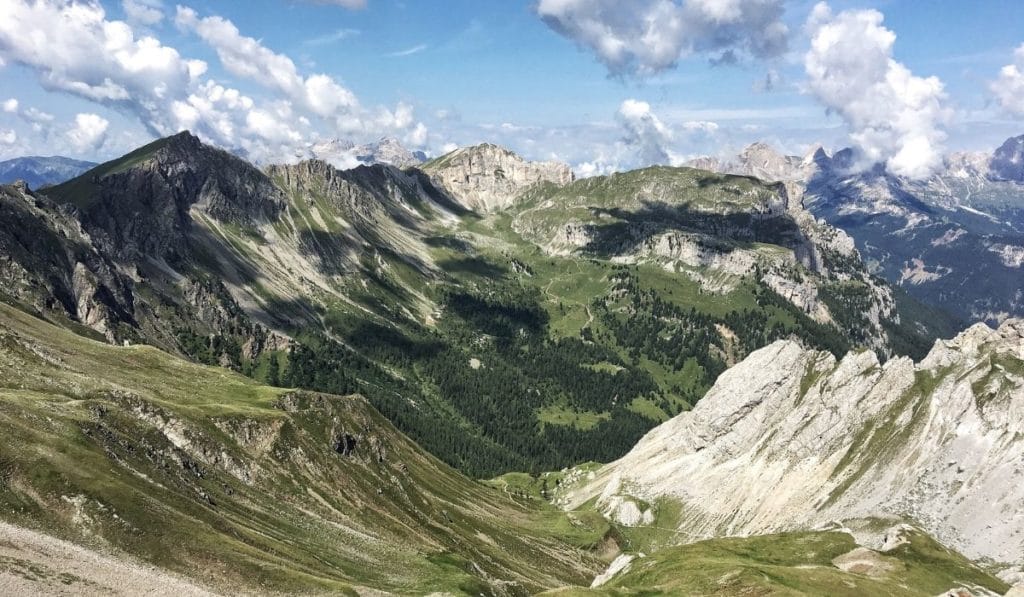 Location: Dolomites of Trentino.
Distance: 13 km (8 mi).
Duration: 5 h.
Maximum elevation: 2,528 m (8,294 ft).
Difficulty: Moderate.
Among the best hikes in the Dolomites, the trail of the Alta Via dei Monzoni starts at Seggiovia Costabella, in Passo San Pellegrino, where you can take the chairlift to the starting point to save yourself one hour walking.
From there, it's a nice moderate hike that goes along what once were the Italian / Austrian trenches of World War I. On one of the best hikes in Italy, you can admire stunning views of the Cimon del Bocche massif, Lagorai, Latemar, Catinaccio, and Pale di San Martino peaks.
You will need to be appropriately geared for this hike, which is only accessible in the late spring and summer months (it's all ski-slopes in the winter). Make sure to wear layers and hiking boots. Bring water as there are no fountains along the way, but you can stop for a meal at one of the local "rifugi".
For a better experience, you may want to enquire locally with your hotel to book a guide for the tour – this area is of great historical relevance, so you can put together hiking and love of nature with a more cultural experience to learn about the history of WWI.
13. Cala Luna hike
Recommended by Claudia from Strictly Sardinia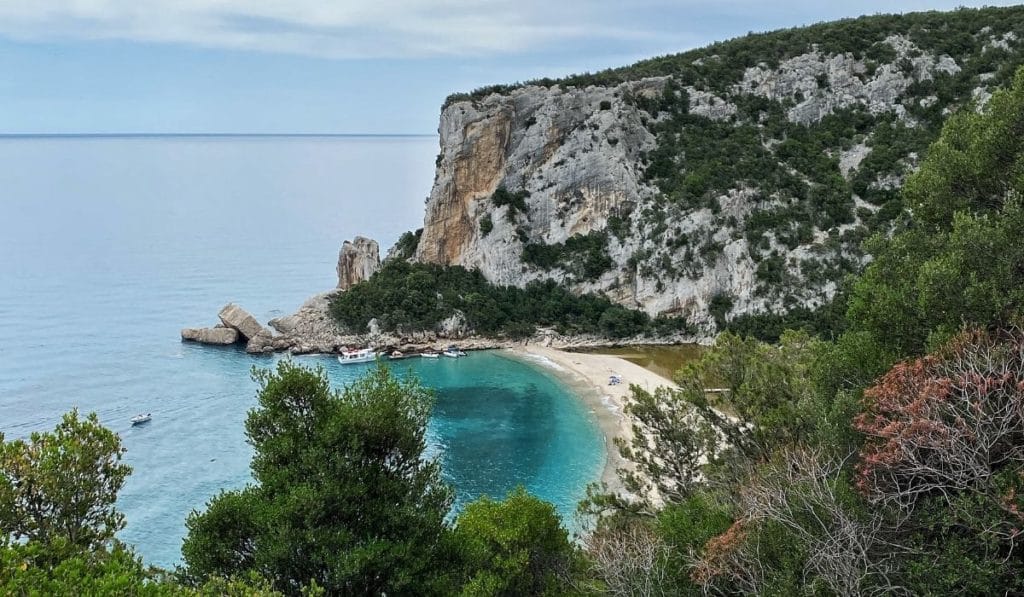 Location: Sardinia.
Distance: 12 km (7.5 mi).
Duration: 10 h.
Maximum elevation: 141 m (462.5 ft).
Difficulty: Moderate to difficult.
The hike to Cala Luna is one of the most charming coastal hikes in Sardinia. The gorgeous Cala Luna beach can only be reached by boat or on a hike, so this is an extremely rewarding experience.
The hike starts in Cala Fuili beach, the last cove you can reach by car from Cala Luna, a seaside village about 30 minutes drive from Dorgali. Once you park your car, you will have to go down some (at times) steep steps to get to the beach where the trail begins.
One of the best hikes in Italy winds along mostly in the shade, but it's nevertheless best to avoid this hike in the peak summer months as it will be too hot. You will need good hiking shoes, water, and food for the duration of the hike. Make sure to carry your swimsuit and a towel as you will be able to swim once in Cala Luna.
Should you decide to hike there in May, beginning of June, or September, you can also make use of the boat that will take you back to Cala Gonone, from where you can hop on a shuttle to the parking lot in Cala Fuili – that will save you a good 5 hours of walking and allow you to spend more time at the beach!
14. Mount Etna hike
Recommended by Samantha from The Wandering Wanderluster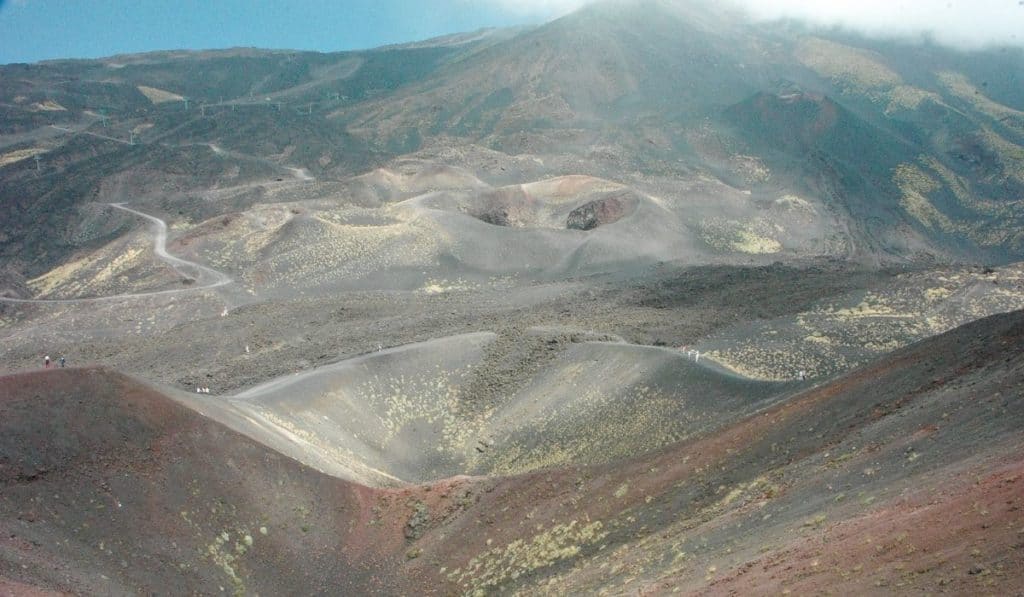 Location: Sicily
Distance: 5 km (3.1 mi)
Duration: 5 – 6 h.
Elevation gain: 1000 m (3280 ft)
Difficulty: Moderate
Hiking is all about walking and connecting with nature and your surroundings. But what if your surroundings were the most active volcano in Europe? As the largest and most active volcano in Europe, Mount Etna in Sicily is one of the most popular and best hikes in Italy.
There are several hiking options on Mount Etna, some of which can be done independently and with little hiking experience. The most popular independent hike begins at Rifugio Sapienza and ends at Torre del Filosofo at 2,920 meters (9,580 ft), which is currently the endpoint for solo hikers without an experienced guide.
The trail is of moderate difficulty and is well marked and has a well trodden path to follow. Its moon-like landscape is a sight to behold but hikers should be prepared for unpredictable weather and limited views over the 1000m elevation gain.
Due to its high altitude, appropriate clothing and footwear should be worn. Layers that provide warmth, wind, and rain protection are advised as the weather changes the higher up you walk, and proper hiking boots are essential. Hiking poles are non-essential but many people benefit from using them especially on the descent.
Experienced hikers can expect to complete a round trip hike in approximately 5 to 6 hours, or less if they decide to take the cable car back down to the Rifugio instead.
15. Laghi d'Olbe hike
Recommended by Daniel from Urban Abroad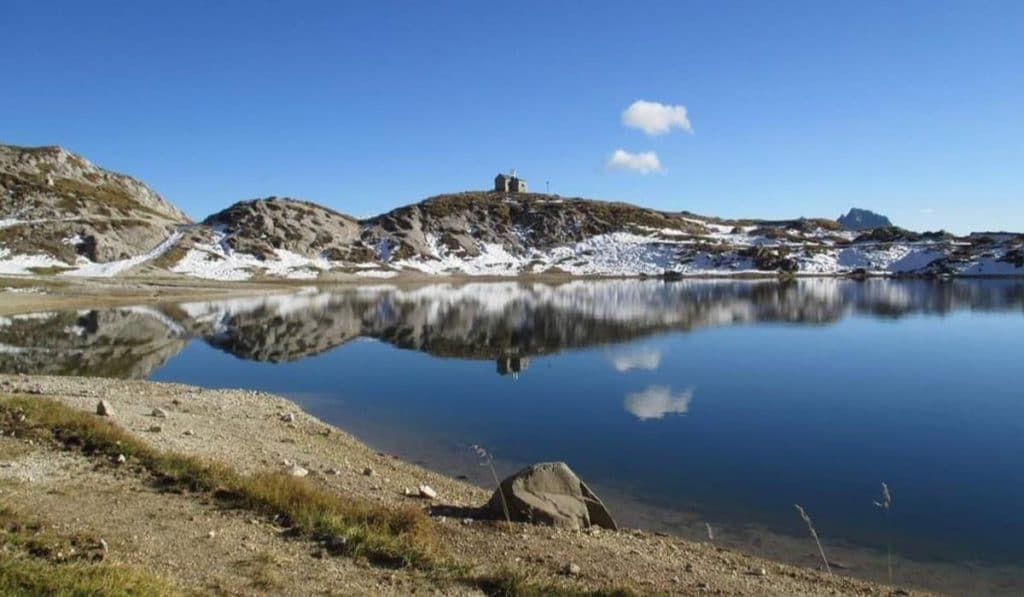 Location: Sappada, Udine.
Distance: 18.8 km (11.71 mi).
Duration: 3h.
Maximum elevation: 2146 m (7040 ft).
Difficulty: Medium
There are a few beautiful hikes you can choose from to reach Olbe Lakes from Sappada which are located 130 km (81 miles) north of Venice and are close to the border with Austria.
The Olbe Lakes are three glacial lakes nestled in the mountains of the Carnic Alps, located on a plateau of karst origins surrounded by some of the most scenic peaks of Friuli Venezia Giulia, Monte Lastroni, and Monte Chiadenis.
The first option is to start one of the best hikes in Italy from Borgata Granvilla in Sappada (path n. 141). The village road connects to a dirt road that leads to the Monte Ferro Refuge. A little further up, a path leads to the meadows. Keep walking along the moraines of the Righile ridge on the left until you reach the Olbe Lakes (altitude 2146 m).
Alternatively, start from the Rododendro Refuge (path n. 138), reach Pian delle Bombarde, and walk in the woods. After some hairpins, the path gains altitude up to a panoramic ledge and connects to the chair lift Sappada 2000 path.
The easier option is the one which involves taking the chair lift Sappada 2000 (ticket cost with return: €8 adults, €4 children) and arrive at the Sappada 2000 Refuge. From here, follow path n.135 and in about 1 hour, you can easily reach the first lake.
16. Hike of the 5 falls of Cerveteri
Recommended by Lisa of Travel Connect Experience
Location: Cerveteri-Bracciano, Rome.
Distance: 17 km (10.56 mi).
Duration: 6 h.
Maximum elevation: 112 m (367 mi).
Difficulty: Moderate.
The ring-route of the so-called "5 waterfalls of Cerveteri" allows you to discover some underrated naturalistic and archaeological sites about 40 km northwest of Rome.
The starting point of the trail coincides with the " Way of the Underworld", a free and open-access part of the Etruscan Necropolis of Cerveteri, which is a UNESCO World Heritage Site since 2004 and also the largest necropolis in the Mediterranean area.
For about 300 meters, the path is dug through a wall of tufa rock, and on the right and left, on different levels, hundreds of burial chambers can be visited with a flashlight, dating back to the 7th-4th centuries BC.
Once past this part of the necropolis, you reach the walls of the ancient Etruscan acropolis of Caere and then you go down in an uncontaminated gorge where you meet 5 waterfalls, the highest of which reaches 25 meters. This walk crosses the territories of Cerveteri and Bracciano.
Given the distance, adequate equipment including good hiking shoes, food, and water for one day is recommended. It is also necessary to consider that cell phones do not have a signal for most of the route.
There is a small ford to be made across a stream that does not exceed 10 cm in height, many hikers carry fairly thick garbage bags to wear on their shoes, but you won't need them if your boots are waterproof. Where the water around the waterfalls is high enough it is possible to get wet, so if you visit these places in the summer bring everything you need for swimming.
To reach the starting point to this one of the best hikes in Italy, the best way is to hire a private car. There is a free, big parking space at the entrance of the Necropolis of Cerveteri.
17. Stromboli Volcano hike
Recommended by Diana from The Globetrotting Detective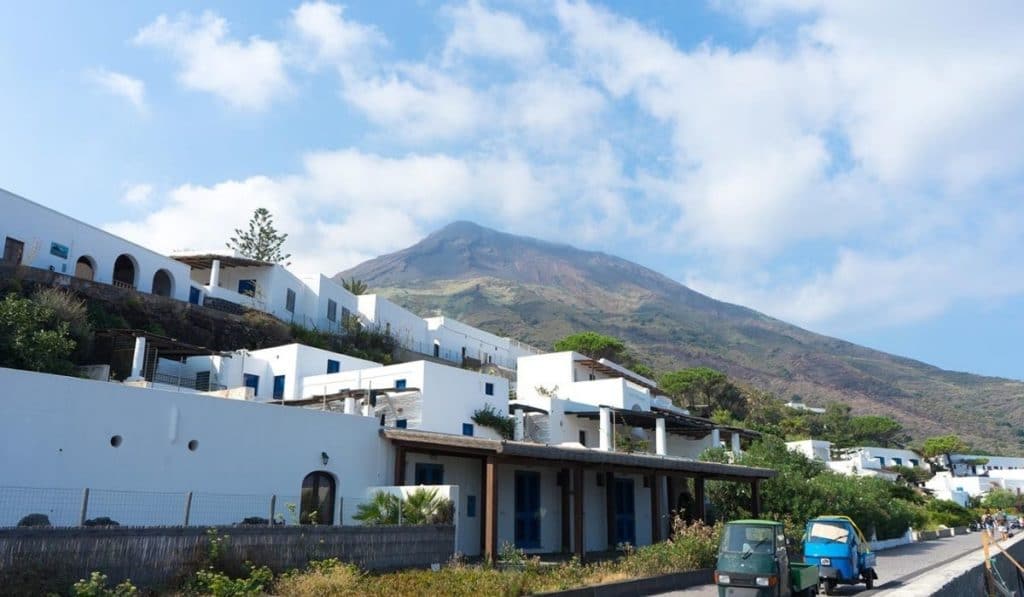 Location: Aeolian Islands, Sicily.
Distance: 8 km (5 mi).
Duration: 5 h.
Maximum elevation: 400 m (1310 ft).
Difficulty: Easy.
To get to the island of Stromboli, you need to take a ferry. You can easily get there from the Sicilian port town Milazzo by slow ferry or by speed boat. Hiking Stromboli is not your average hike as it's one of the best hikes in Italy on an active volcano.
Stromboli is one of the most active volcanoes in the world and one of the three active volcanoes in Italy. It's been erupting for 2,000 years now and it doesn't seem it will stop anytime soon.
The most popular hike on Stromboli is hiking to its craters as close as possible. The hike should start at 4:00 pm before sunset from Piazza San Vincenzo.
The highest crater of Stromboli is situated at 926 meters high above sea level. Today, due to the powerful volcanic explosions and molten lava flows, you can only hike up to 290 meters without a guide, and up to 400 meters above sea level with a tour guide.
Once you are up there, you will have the chance to sit down and admire the beautiful sunset over the island and witness its fiery explosions.
You will see a couple of short and energetic bursts. They are a few hundred meters high and contain ash, incandescent lava fragments, and small-sized stones.
It's a spine-chilling experience to hike a volcano constantly making noises similar to thunderstorms, smoking, and generating small avalanches. This experience is a hike you should not miss.
As it is an easy hike, there is no special equipment needed but hikers on Stromboli use a helmet for safety reasons and a headlamp for lighting the path in front of you at night.
---
More about Italy
---
PIN IT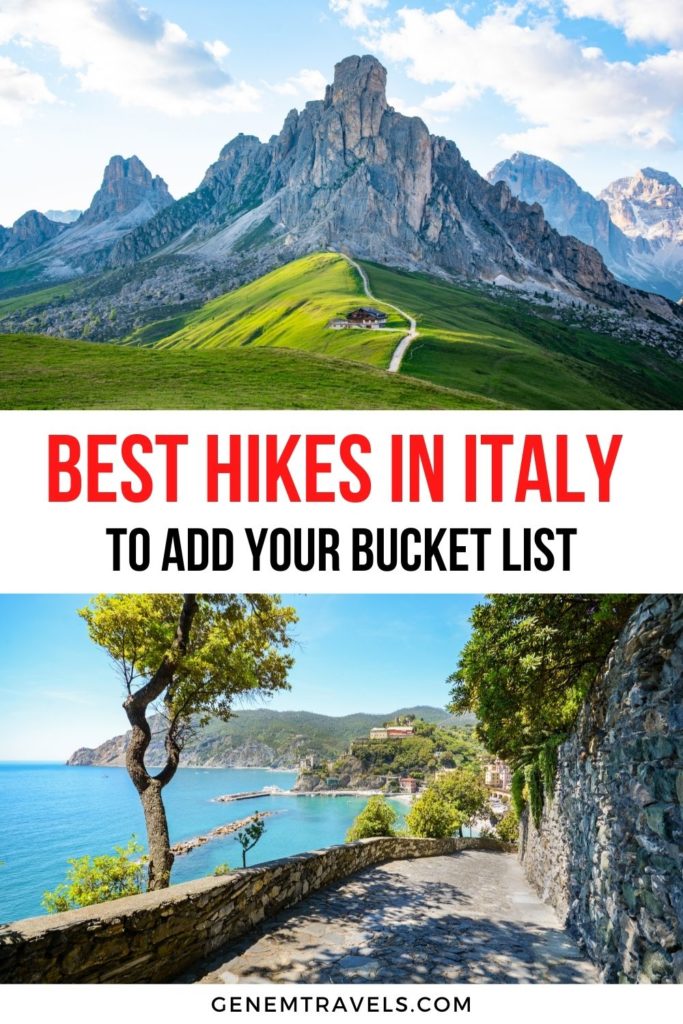 ---
Recent Posts about Italy: