Cinque Terre is truly a dream spot for Italy lovers. To be honest, that's no surprise, because it is a magnificent Italian Riviera coastal area with five towns, Italian cuisine, wine, beaches, and trails for hiking in Cinque Terre.
The area is blessed with picturesque views and the Cinque Terre trails are something that every visitor can't miss during their stay in those magical villages. The whole area lies on the 20 km coastline and is covered with different levels of trails between the five villages, which will satisfy every hiker's needs. But what are the options?
Disclosure: This article features affiliate links, including Amazon.com. If you decide to buy through one of these links, I'll earn a small commission at no extra expense to you. For more details, please see my disclosure policy.
Cinque Terre Hiking Trails
Hiking in Cinque Terre contains two main pathways: the Blue Trail (Sentiero Azzurro) and the High Trail (also known as Path 1). When hiking in Cinque Terre, the Blue Trail is more popular and easier to complete, then the High Trail requires more endurance to finish. Nevertheless, both trails are doable for everyone, even those without any experience.
Read more: Cinque Terre travel guide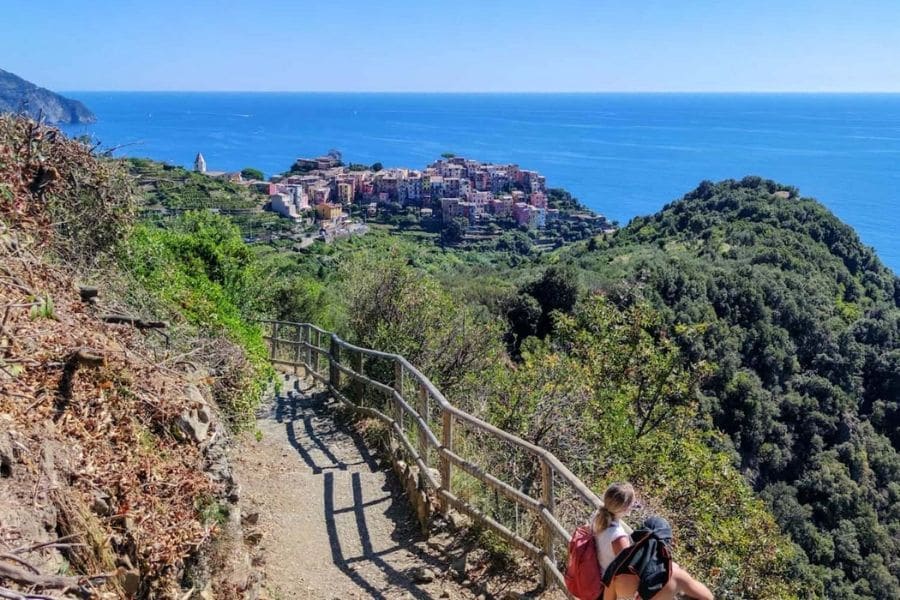 Cinque Terre Blue Trail
The hiking trail connects the Cinque Terre villages, from Monterosso al Mare to Riomaggiore, straightly. It is also the most popular and probably the busiest pathway. The 12 km long trail is divided into four sections, connecting each town.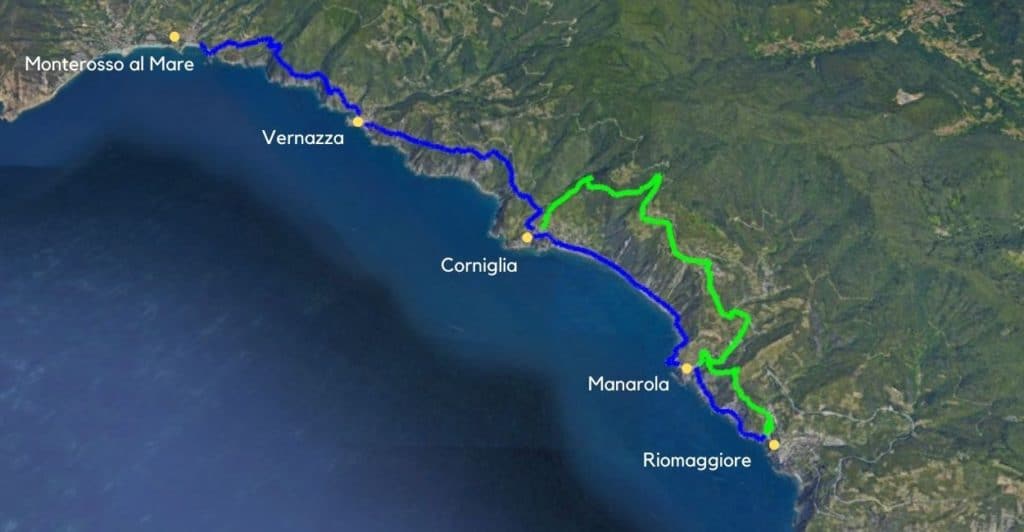 Hiking trails between five villages:
Monterosso al Mare – Vernazza
Vernazza – Corniglia
Corniglia – Manarola
Manarola – Riomaggiore
Hike between Monterosso al Mare to Vernazza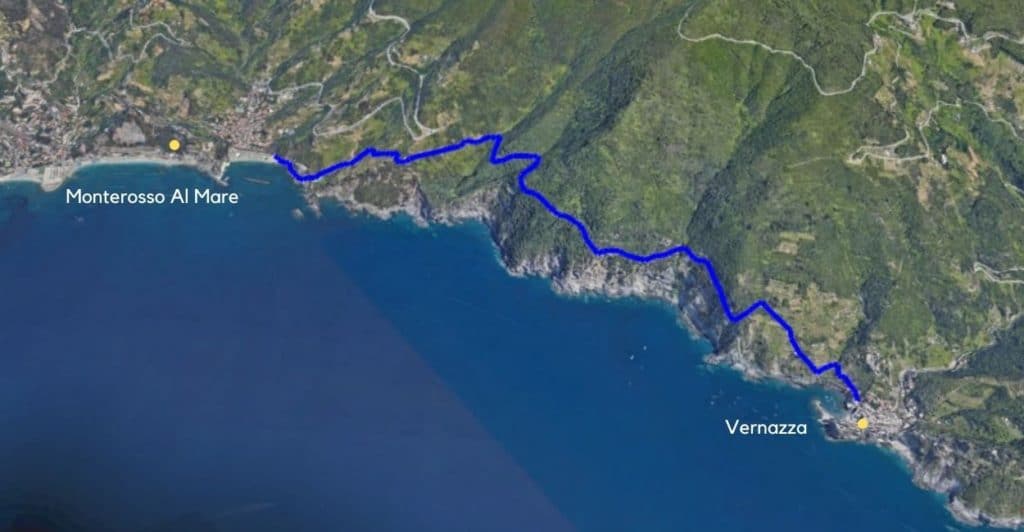 The hike starts from the older part of Monterosso on Via Corone Road. After the beach area, on the right, some signs will lead you to the track. The length of the track is 3.5 km and it requires some climbing, but the difficulty is average and there is nothing to worry about. It takes approximately 1.5 hours to reach Vernazza. The trail ends near Santa Margherita di Antiochia Church. There is a small fee for adults – 7.5 euros. However, with a Cinque Terre Card, it is free.
Hike between Vernazza to Corniglia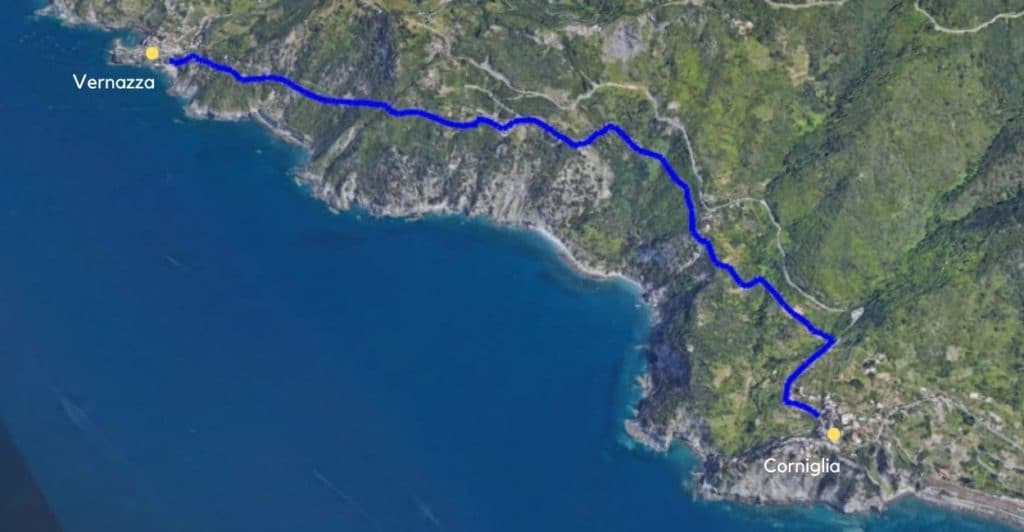 The track starts from Vernazza via M. Carattono Road. It is nearly the same difficulty as the previous one, with some uphill and downhill walks. It is 4 km long and takes approximately 1.5 hours to reach the end of the hike at Chiesa di San Pietro in Corniglia. For this track, there is a fee of 7.5 euros for adults. However, with a Cinque Terre Card it is free again.
Hike between Corniglia to Manarola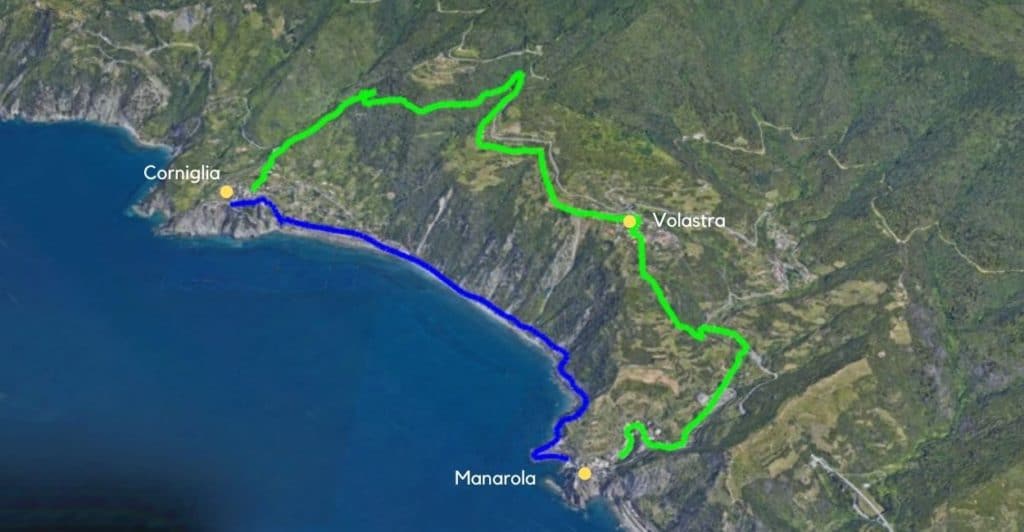 That small hike in Cinque Terre starts from Corniglia beach next to the railway. The length of the trail is 2 km and due to its particularly easy walk, it takes roughly one hour to complete. It passes close to the sea and does not take hikers too high in altitude. It ends in Manarola close to the Cemetery.
An alternative way to hike from Corniglia to Manarola
Another option to hike between the villages of Corniglia and Manarola is through Volastra. It starts from Via Fieschi Road right after Chiesa di San Pietro (on the way to Manarola). Take the first road on the left to track 587 for the Corniglia-Volastra-Manarola hike. It is a bit more difficult than the other trails since it goes slightly uphill (Volastra is 335 meters above sea level). The length of this trail is about 5 km and it will take around 2.5 hours to complete. After arriving in Volastra, the trail continues from Via Montello Road. Across the mini-market goes a small, narrow road to Manarola. The journey will end next to the cemetery.
Hike between Manarola to Riomaggiore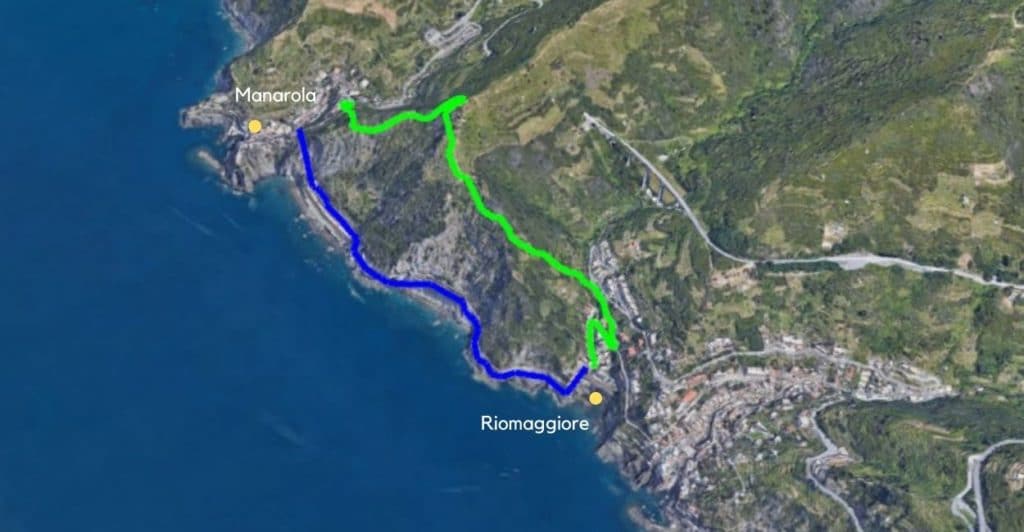 The easiest and shortest track on the Blue Trail, also known as Via dell'Amore or Lover's Lane, is the most popular hiking trail in Cinque Terre. This 1.5 km hike takes about 30 minutes, and runs between Manarola and Riomaggiore train stations.
Attention: This one has been closed due to past floods and heavy rains; it is estimated to be reopened approximately in 2023.
An alternative way to hike from Manarola to Riomaggiore
To see the Cinque Terre from a higher point, then taking Beccara is a great option. Start via A. Rollandi road, right before via Antonio Discovolo road. The maximum height on the trail is 250 meters above sea level, offering magnificent views along the way. The track length is 1.4 km and takes about one hour to finish. The pathway ends at Riomaggiore train station.
Cinque Terre High Trail
The second most popular pathway is officially known as Path Number 1. The 35 km hike starts from Portovenere and passes by every Cinque Terre village until Levanto. It is divided from Portovenere to Levanto into five hiking trails:
1/a. Portovenere – Pass of Telegrafo
1/b. Pass of Telegrafo – Cigoletta
1/c. Cigoletta – Termine
1/d. Termine – Cape of Mesco
1/e. Cape of Mesco – Levanto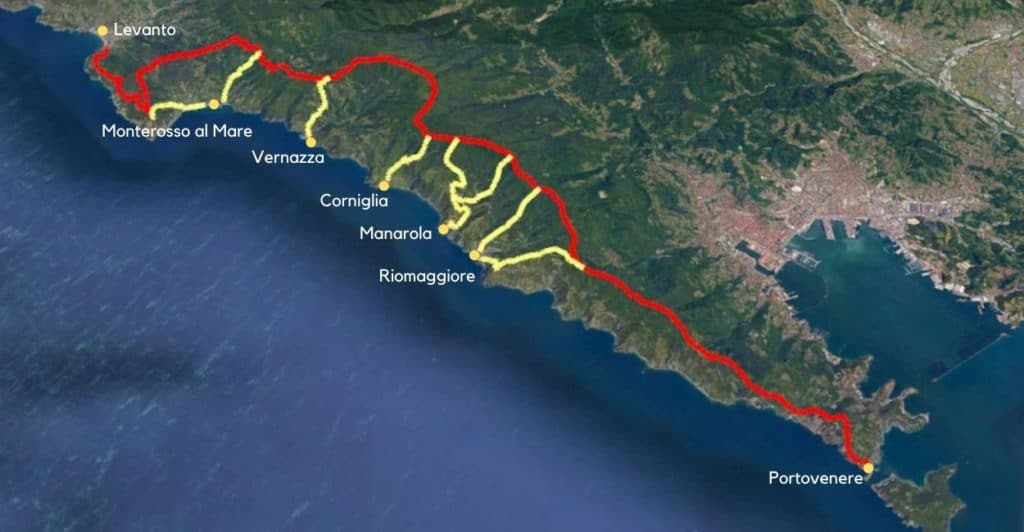 Most of it winds along with a border of Cinque Terre National Park, up on the hilltop with an altitude rising over 800 meters. It is possible to connect with a track from each town, although some additional climbing is required to reach Path 1 or taking regional buses near the pathway checkpoints to do some additional hiking in Cinque Terre. Regional buses are free with a Cinque Terre Card.
1/a. Portovenere – Pass of Telegrafo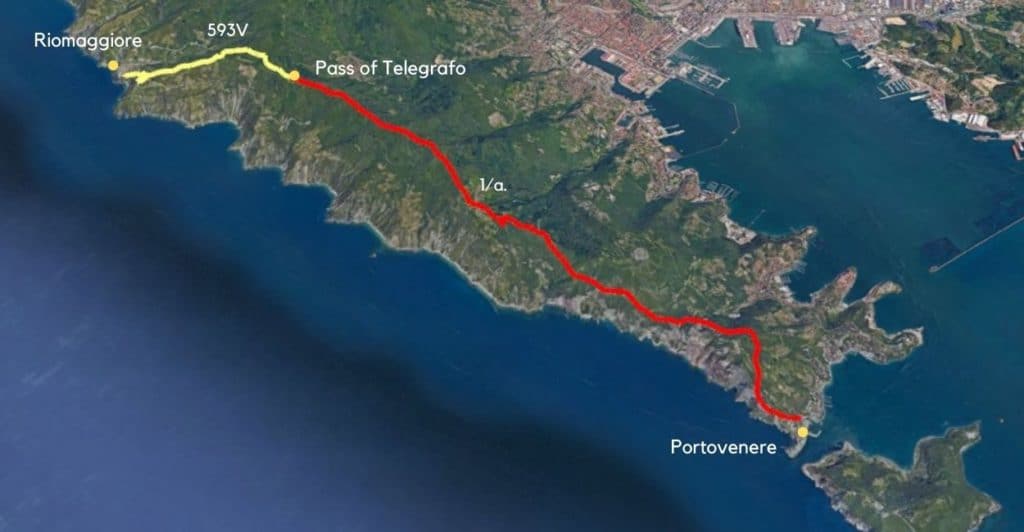 The most popular route on the Path 1 trail starts from the picturesque Portovenere. It's 8.5 km long and takes about 3 to 4 hours to complete. On the way, there are some landmarks such as Campligia Village, many viewpoints, and a place to take the stairs down to the beach in Monesteroli. Section 1/a ends at the Pass of Telegrafo, where hikers can take busses to Riomaggiore or hike down from there on the 593V.
1/b. Pass of Telegrafo – Cigoletta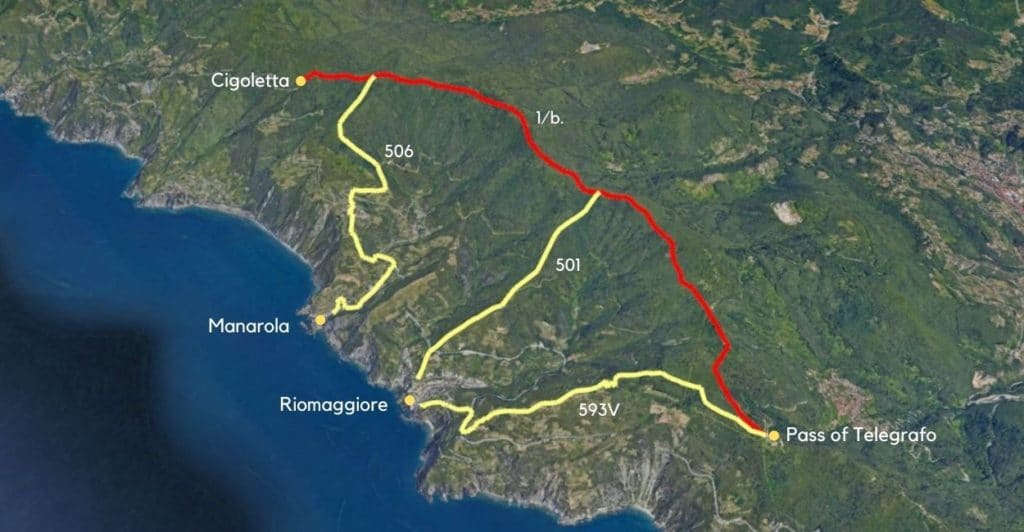 The next hiking trail starts from the Pass of Telegrafo, where there is a bus station and a bar. The length of this certain track is 7 km and it can be completed in over two and a half hours. The track sweeps along at the top of the hill, where there are views from both sides (to the coast line and the other side of the mountain). The altitude is around 600 meters. Section 1/b ends at Cigoletta.
Hikers can join the section from Riomaggiore. It is a 3.2 km long hike that starts from Riomaggiore, through the Sanctuary of Montenero to the Pass of Telegrafo. You can choose between a one-and-a-half-hour hike on track 593V or the local bus, which operates between the village and the Pass of Telegrafo.
Another option from Riomaggiore is Path 501, a 2.4 km long track that takes about an hour and a half to reach Trail 1. It starts near the Riomaggiore castle and reaches Trail 1 at Sella La Croce.
From Manarola goes Pathway 506, which starts from the village and takes you through Volastra. In total it's a 4 km hike that should take over two hours, with the ending point being called Sella di Monte Marvede. There is also an option to save some legwork and start from Volastra (busses operate between Manarola and Volastra).
1/c. Cigoletta – Termine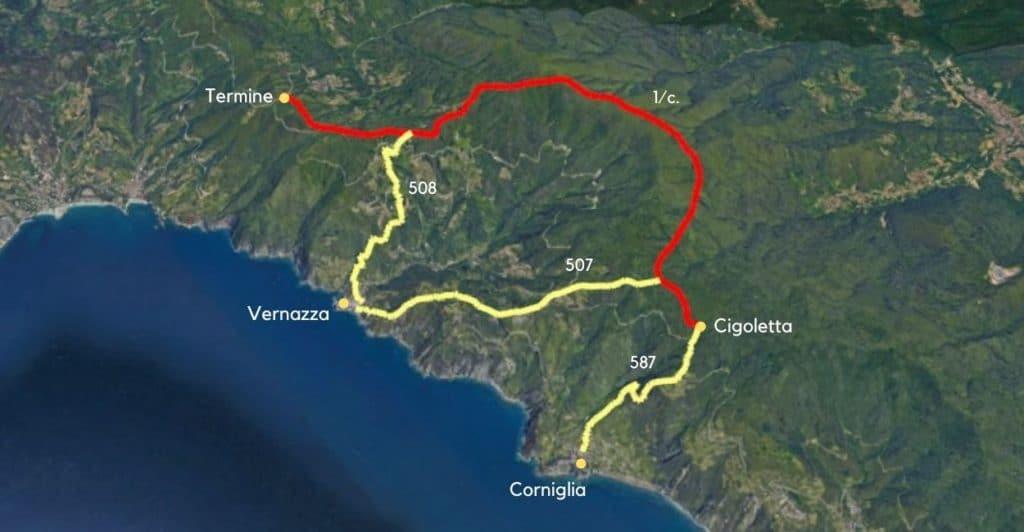 At the beginning of Cigoletta, there are no proper landmarks that point out the starting position. The closest village is Corniglia and the route is easily found. The length of the section is 7.5 km and it takes about 3 hours or a bit more to complete. Another track goes along the top of the hill, where the highest point rises over 800 meters. Section 1/c ends near the village of Puin in Termine.
Hikers can join the section from Corniglia. Path 587 from Corniglia to Cigoletta takes about an hour to climb, and the trail starts from Corniglia near Chiesa San Pietro (the same starting point as that of Corniglia–Volastra–Manarola).
From Vernazza to join with 1/c., the section has two options. The first is through San Bernardino and Fornacchi. Pathway 507 is a 3.3 km track and takes just a bit over an hour to reach there. It starts from Vernazza (on the way to Corniglia) with the Blue track, but after a short hike, it goes onto another hiking trail to the left of San Bernardino. Another option is to save energy and take a bus to San Bernardino.
Another option to join the exact section is through Reggio Sanctuary. Path 508 is 2.9 km and takes about an hour to reach Path 1. It starts from Vernazza railway station and, through Via Brigate Partigiane road, it takes hikers to the right track. Additionally, local buses operate regularly between the village and Reggio Sanctuary.
1/d. Termine – Cape of Mesco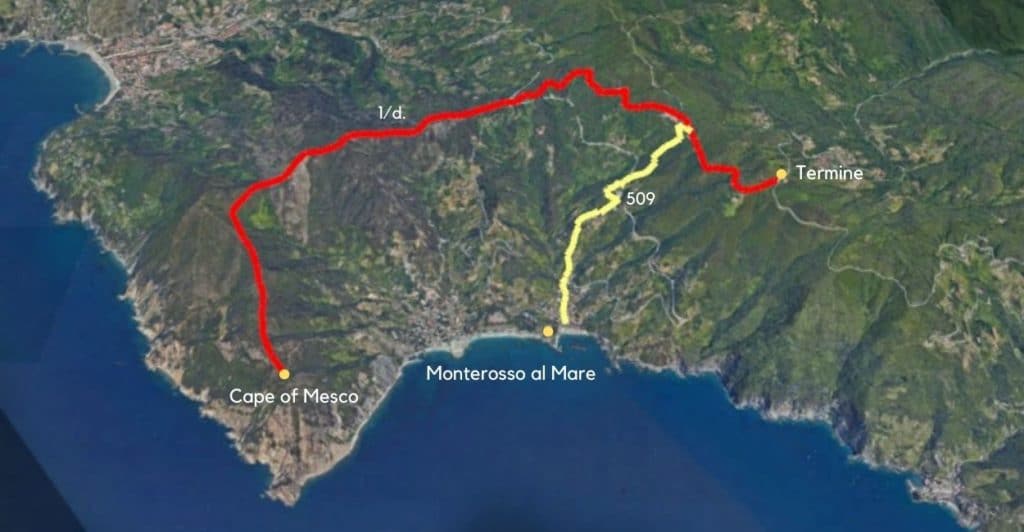 The 1/d trail starts near the village of Puin in Termine. It is 7 km long and takes about 2 hours to complete. The altitude is around 400 meters, and on the way there is Liguria's most ancient temple, The Sanctuary of the Madonna of Soviore. Hikers can join a track from Monterosso by foot in about one and a half hours through path 509, or they can take the easier option and move there with official buses that operate regularly between Monterosso and the sanctuary. The trail ends at the scenic viewpoint of Punta Mesco.
1/e. Cape of Mesco – Levanto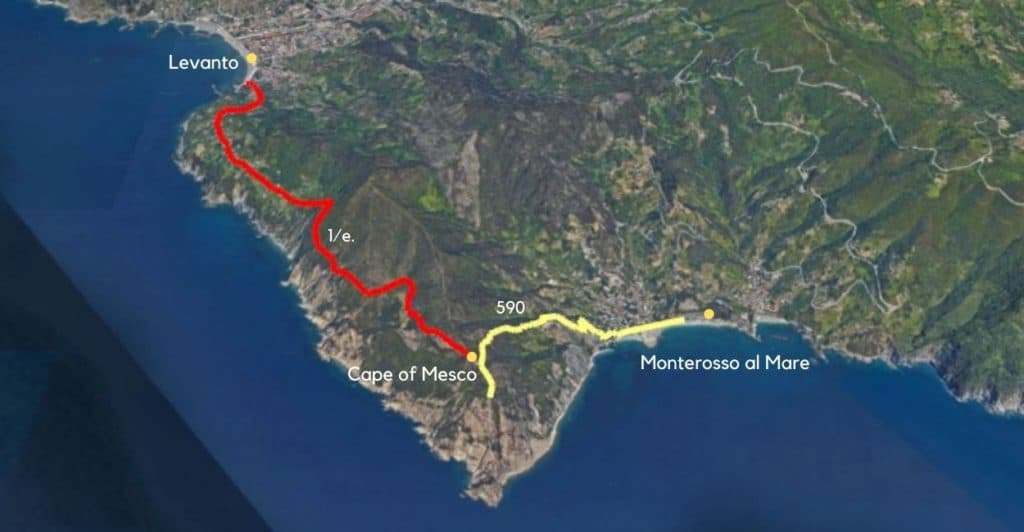 The Cape of Mesco, also known as Punta Mesco, is a viewpoint where one of the best views over all five villages can be found. This is why it is a popular spot among tourists. Hikers can climb to the viewpoint from Monterosso al Mare along Path 590, starting near Hotel 5 Terre. The total length of this section is five kilometers, and with sharp legs, it can be completed within two hours. This pathway leads around the coastal line and in the end, there are some vineyards. Hiking in Cinque Terre's High Path ends in Levanto.
Disclaimer: There is no need to do hiking in Cinque Terre in that manner. Both trails, or any other tracks are feasible in either direction.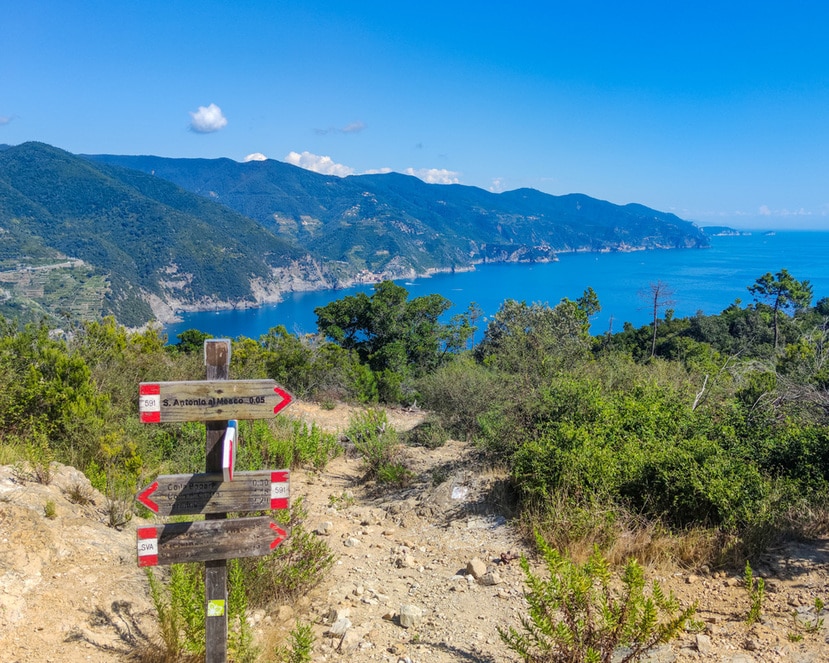 Some reminders
Before you start exploring and hiking on Cinque Terre trails, know some travel tips to have fewer hassles on the path.
Fees in some trails
There are two trails where fees are required to pass through. On the Blue Trail, all hikers must pay a fee to walk between the villages of Monterosso al Mare and Vernazza, as well as between Vernazza and Corniglia. The cost for an adult is 7.5 euros. However, it is free with a Cinque Terre Card.
Wear proper shoes
Don't be another crazy tourist with flip-flops on a trail. Even though the tracks aren't challenging, it is written in local law that hikers need to wear proper shoes. Otherwise, they will be fined by officials. Anything that covers toes and is strictly around a foot is okay, from regular or sports shoes to special hiking shoes.
Water
Some parts on the Blue Path can take about two hours and make you sweat. There aren't any water tanks along the tracks, so make sure to bring a water bottle. On the High Path, there are some places where it's possible to fill water bottles (like houses or water tanks).
Stay on the marked trail
Cinque Terre trails are marked; they might not appear to be dangerous, but there are some steeper parts as well. Going wandering in unmarked areas and getting lost or stuck can cause problems and incur additional expenses. Rescuing oneself from foolishness isn't cheap.
Benefits of Cinque Terre Card
As previously mentioned, there are additional fees for hiking trails in Cinque Terre. It is possible to reduce expenses by obtaining a Cinque Terre Card with two options; a trekking card at 7.50 euros per day or an additional train access card at 18 euros per day. The Cinque Terre trekking card has no fees for hiking trails or bus services within the National Park. With an additional train access card (18 euros) comes unlimited train rides between the villages each day.
Moving during the warm season
The high season is during the summer months and, as everywhere in Europe, it is the warmest season. Blue Path tracks are relatively easy, but with uphill and downhill climbing hikers will be sweating. Temperatures can go over 30 degrees Celsius, so it is essential to bring at least water on the track.
Respect the nature
Trails in the Cinque Terre are part of a National Park. That means there is protected fauna, landscape, animals, and so on. It is not allowed to wander around unmarked areas, pick up trees or other fauna, throw trash on the ground (it is unfortunately everywhere), and harm any nature. Respect nature and nature will respect you in return.
Taking all together
Hiking in Cinque Terre is fun. There are hike trails for anyone, from easy strolls to some more challenging tracks. Bring a water bottle and a fun mood on the track; it will be enjoyable while hikers can also relish these magnificent views of Cinque Terre.
There are pointed out the most commonly used trails, but there are more additional tracks. If there is a real desire, then every enthusiast will find extra tracks to satisfy their needs when hiking in Cinque Terre.
Read more about Italy
---
PIN IT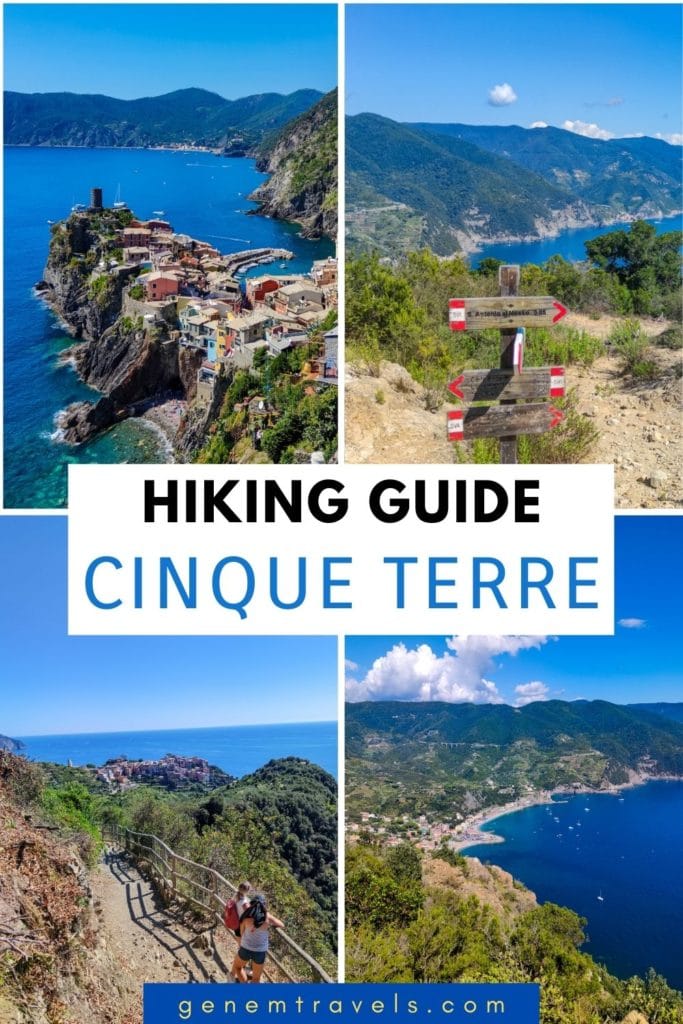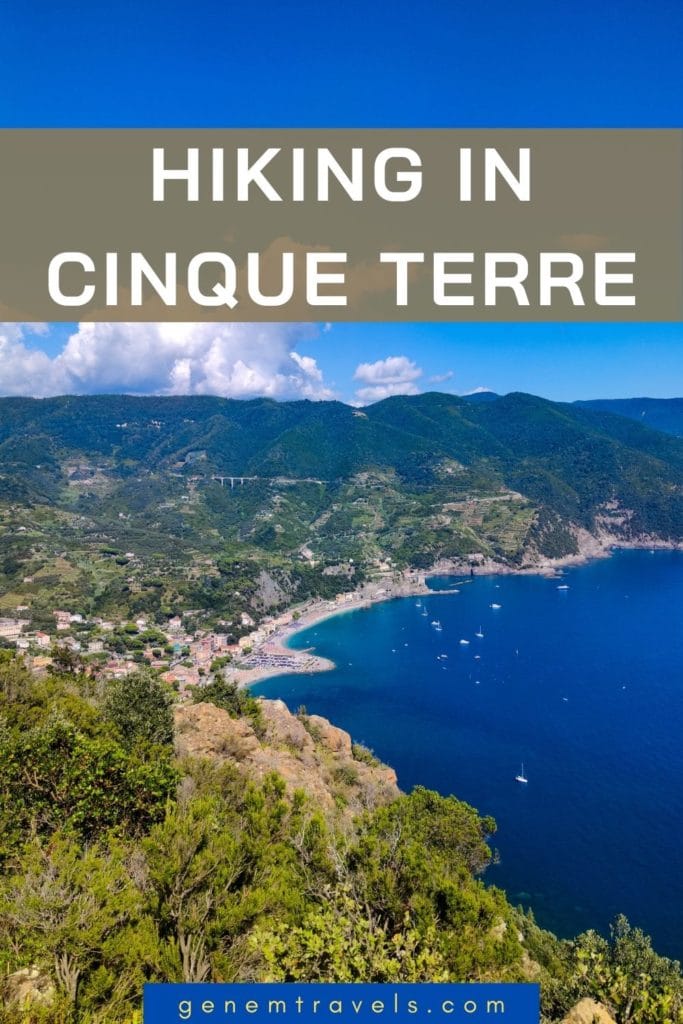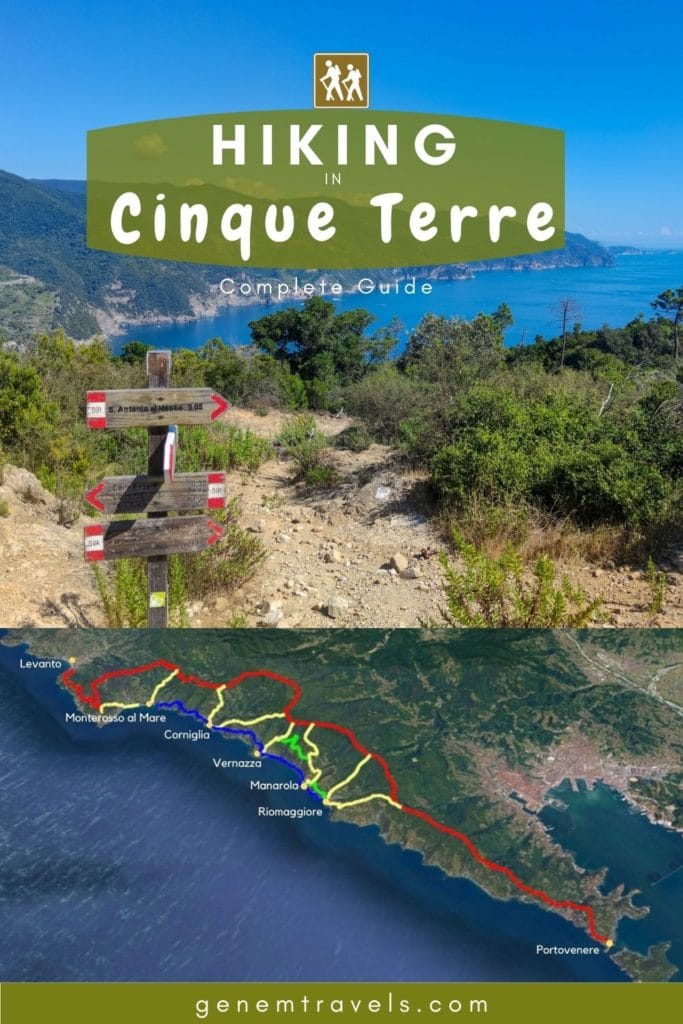 ---
Recent Posts about Italy: