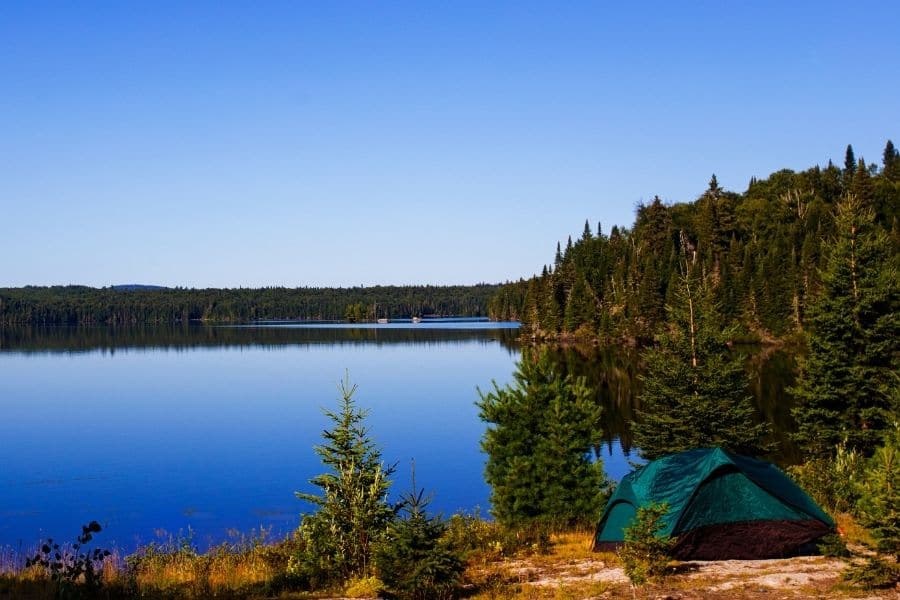 What is wild camping? The most dumb proof answer would be when you are camping in the wilderness. When you are sleeping under the stars while listening to the voices of nature. Taking it easy and being relaxed, because you lost the sense of time.
You only need some wild camping essentials to spend nights with. You will take yourself a bit out of your comfort zone because it's not exactly spending your one night safely in your home. But after all, many people still like to go wild camping, like you I guess, well because it's a great feeling.
From this beginner's guide to wild camping, you will find everything you need to know about camping in the wilderness. Also essential wild camping equipment, and different tips and tricks to deal with situations. This guide will be helpful for any kind of wild camping trip. Is it a short weekend getaway, solo backpacking trip, spending a nice time with friends, or any other who seeks some adventures.
---
Where to do wild camping?
It's pretty much possible to do it everywhere. In the forests, beaches, fields, next to water sources, or camping anywhere in nature under the stars. However, it doesn't mean that it's free land for anyone if there isn't privately owned property. Some countries have their own rules and customs about camping in the wild.
Is It Legal To Camp Anywhere
For example, Estonia is a camping-friendly country, but on the other hand in Italy, it's forbidden to camp anywhere you want (there are also fines). Is wild camping legal? It's not legal exactly everywhere in the world. To have the safest experience then I recommend researching wild camping regulations in current destinations.
Camping friendly countries in Europe
For example, when you do wild camping Europe, you can do it without any major problems in Scandinavian countries, Estonia, France, Ireland, Poland, Scotland, Spain.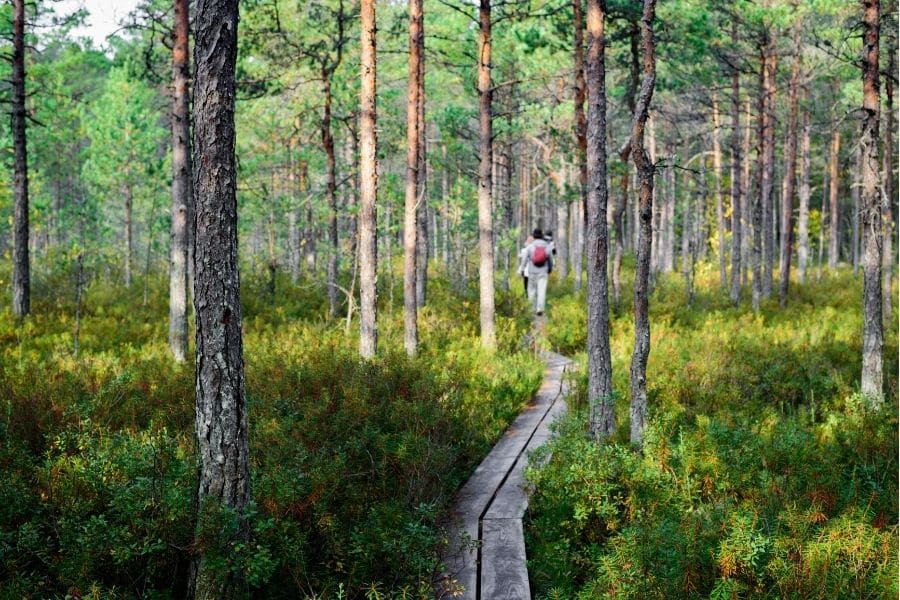 Find camping sites from the web
Take it as camping in the wild or not, but most of the countries has their separate wild campsite grounds for campers (unfortunately usually it's not free, but cheaper than any other accommodation option). It's also possible to ask the landowners if you have permission to camp on their land. Another alternative is websites, apps, and Facebook groups, where people let wild campers camp on their land and even some for free. A great wild camping app for finding a place for outdoor sleep is CampSpace. 
---
Homework before wild camping
Any preparation before adventures is essential to have an almost carefree experience. Also depends on how you plan your wild camping. When it's just a weekend getaway from home, then you should not go crazy and plan over. If you forget something at home, then you can live without it for a couple of days.
But if you are planning a backpacking trip for a longer period then some homework has to be done. Most important is to have everything essential in your backpack.
Do some investigation about potential wild camp spot
But for both occasions, you can investigate potential camping spots with backpacking apps (like Google Maps or Maps.me). You can assume how and where it's possible to pitch your camp. Also, some research about the location can be helpful. Like is it even legal to camp there (a protected area or national park), is it safe, how is the wildlife (if the bears also like this place, then I would recommend avoiding that spot) etc.
Check for the weather
When you have everything essential and a perfect wild camping spot, then the bad weather can change your mood fast. Forecasts are nowadays pretty accurate enough to predict hurricanes.
---
Is wild camping safe?
Overall, it's safe. But of course, it depends a lot, where you are camping, in which conditions, and how your preparation is done. Also when going solo, then here is an article about on how to stay safe while camping alone.
The safest option would be to let someone know where you are wild camping. But when there isn't anybody to rely on, for example, a solo backpacking trip, then my best recommendation would be to use a gut feeling. When it feels safe, then you should not worry about anything.
---
What do I need for wild camping?
Wild camping means that you need to carry some camping equipment. Things where you sleep, survival kits, or some additional equipment that makes camping more comfortable. Starting with the essentials for wild camping.
Basic camping kit list
The basic kit list includes everything that makes wilderness camping possible. Like a sleeping bag, tent or bivy bag, mattress. These are the main things you need to spend a night under the stars or you can just lay on the ground and hope for the best.
Sleeping bags – These are the first things you need to pack for camping. It will get really cold over the night and this one will help you to have a warm sleep. The main thing when acquiring a sleeping bag is to check in which temperatures it's meant for. It's good to have one that is resistant to near zero degrees. The worst thing when camping wild is to feel cold over the night. If you have a quality sleeping bag then you can already do successful wild camping without a tent. Recommended: Ferrino Levity 01.
Sleeping Mat – Good quality mattresses have two perks.
One is of course for comfort. Even grassy soil or even a beach isn't good for a quality night's sleep. Your body sides will hurt in the morning.
Another thing is that it keeps a better body temperature. The soil will not be so warm at night. But a quality mattress will make a huge difference to keep your body warm during the night. Recommended: Ferrino Superlite Air Mattress.
An alternative for the mattress can also be a hammock, where you can bind it next to the trees. Recommended: Grand Trunk Nano 7.
Tent – It would be the safest option for any wild camping experience. When you are buying one, then you should check out some things. Firstly, the size of the tent, water resistance, how easy it is to put up, and the weight of the tent. Recommended: Pandaman Ultralight tent.
Bivvy bag – Alternative for a tent. It looks like a sleeping bag, where you can put in everything: mattress, sleeping bag, and your backpack. It's more for those who are backpacking and have additional room for a bivvy bag. Recommended: LytHarvest Ultralight Bivvy Bag Tent.
Additional gear
Wild camping isn't just sleeping and spending a night, some additional things are needed for comfort or some things just in case.
Water bottle – Humans can live some days without food, but not without water. It also should be one of the first things you put on your camping checklist. You can use refillable water bottles, but in the forest unfortunately you don't have water tanks. However, with a water filter, you have more options to have drinkable water from nature. Recommended: LifeStraw Go Water Filter Bottle.
First aid kit – Always good to have, because anything can happen everywhere, even at home. Also, you're not safe in the wilderness. From a small scratch to fighting with bears. Obviously, the last one happens rarely, but if it happens, then I would add a knife also to the list. From the first aid kit I would recommend adhesive bandages, pain medicine, anti-diarrhea medicine, insect repellent, antiseptic creams, and gauze pads.
Head torch – It is much easier to navigate around the camping area during the night. If you need to pitch up your camp, or you have to "use the toilet" when it's already dark. You can also do these activities with mobile light, but it's more comfortable when you have a head torch. Recommended: GearLight LED Headlamp.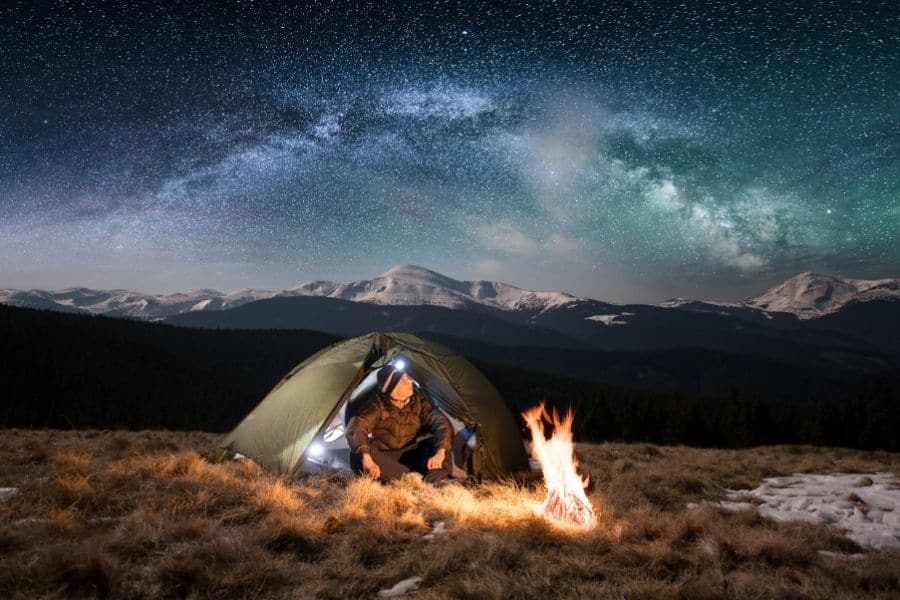 Power bank – Surprisingly a lot of important stuff can fit into your mobile. All the backpacking apps to navigate, to watch forecasts, or google how to pitch up tents in current conditions. Unluckily forests aren't filled with electrical plugs, so we need power banks to keep our technical stuff alive. My recommendation would be to take a power bank with built-in small solar panels. The alternative to mobile is to take camping guides, map and compass, but it will require additional room from a backpack. Recommended: Hiluckey Power Bank.
---
Clothing for wild camping
First of all, you need to take into account choosing clothes for daytime and nighttime. Because temperatures can vary a lot.
What to wear during the day?
For the daytime when you are active around the camping area, then wear something light. So you don't either feel cold nor warm. For the best comfort and "breathing", I recommend wearing quality hiking or sports clothing, which dries fast.
What to wear at nighttime?
The first golden rule is to pack yourself in layers. Starting from underwear, long pants, warm socks, a sweater, and even a jacket. When during the day it felt like Africa, then the night sometimes feels the opposite, like Antarctica. It is an extreme example, but feeling cold is much worse than feeling warm. Again there is much quality hiking clothing available which insulates your body well. No need to go wild and dress like eskimo.
What to wear in a sleeping bag?
There are two opinions on that. Some guys would say sleep naked and the others would say that to stay in layers. Again it depends on the outside temperature. For example, when it's cold then definitely it's warmer in layers. Even in warmer countries, it's better to sleep in layers, because your body doesn't put out so much energy to warm up yourself while sleeping. So in layers wins the debate if you want to have warm sleep.
Make sure you have warm socks in layers
Another extra tip would be to have nice warm socks. It's the furthest body part from the heart and because of the blood circulation, it takes the most time to get warm to your toes. You will feel cold toes first. Doesn't matter how well you have dressed anywhere else, if you feel cold in your toes you won't get a nice sleep.
---
Kitchen gear and food
In case you don't release your inner primordial instincts to find food spontaneously like hunting, then as a beginner make sure to bring some food. Of course, you can always buy ready-made food, but then it wouldn't be fresh or is that a dry cracker. What kitchen equipment to have when cooking around a wild camping area?
Cooking equipment
Backpacking stove – It's the alternative for a campfire, but it's not safe or allowed to make a fire everywhere. It's the smallest camping heating stove with fuel to cook pasta, heat water for tea, or heat ready-made food. Fits very well in any backpack. Be careful with fuel and read instructions, before pitching up your camping kitchen. Check out Jetboil Ultralight Backpacking Stove.
Cook pot/Frying pan – Have something to cook your meals. Different sizes, depending on how many hungry stomachs you need to fill. Recommended: MSR Reactor Cooking Pot.
Lighter – If you can make fire with rocks then you don't need a lighter. Otherwise take lighter with you. It is necessary!
Plates/bowls – To eat your pasta or when you have soup then it's easier to eat it from a bowl.
Mugs/cups – If you want to enjoy hot drinks then these are also essential.
Forks, knives, spoons – Some producers do make 3 in 1 eating utensils to save room in your backpack. If you are not planning to use them, make sure to sanitize your hands before eating with your fingers.
Knife – A good sharp knife it's not only useful when cutting some food ingredients, but also can be useful when pitching up your tent. A knife is always a thing to take to wild camping, just in case. Recommended: RoverTac Pocket Knife Multitool.
Read more: Wild Camping Essentials: Lightweight gear for camping.
About wild camping food
If you are not skilled as Bear Grylls, bring some food. First, you have to look away from the cold section in stores, because there isn't any place to put up a fridge in the wilderness. Of course, there is the possibility to bring coolers, but these will take a lot of extra room. It's not possible for every wild camping trip. But there are a lot of options to make delicious meals in the wild. Some simple ingredients examples:
For breakfast
Cereal/granola
Fruits
Coffee/tea
Eggs for omelet
Organic milk, that doesn't need to be stored in the fridge
Water
For lunch/dinner
Vegetables like cucumber, tomato
Noodles
Macaroni for a pasta
Tomato sauce with different ingredients
Nuts, chocolate, biscuits, bread for snacks
Beer/wine for enjoying the night
SAFETY TIP: Don't leave any food ingredients outside, because animals also like free food.
---
Keeping hygiene while camping in the wilderness
Everybody can live without a shower for a day or two, but of course, it would be much nicer if you can do some hygiene, for example after a hiking day. After all, you don't want that somebody would faint after days in camping when you arrive back in the civilized area.
What do you need to stay clean while camping wild?
Hand sanitizer: It would be a good idea to sanitize your hands before eating. Well because in the forests or any uninhabited area there aren't any sinks to wash hands. Hand sanitizer works well to keep away unwanted bacterias.
Toothpaste and brush: Camping in the wild doesn't release you from that habit to keep your teeth healthy. It's really easy to forget it at home, but it's essential. After a day it feels uncomfortable when you haven't brushed your teeth. Plus if you meet another person accidentally, then you don't need to hold a hand in front of your mouth.
Baby wipes: Moisturizing baby wipes are good to get rid of bigger dirt. It wouldn't magically clean yourself totally, but it's better than nothing. You will feel much better after wiping the dirtiest places over yourself.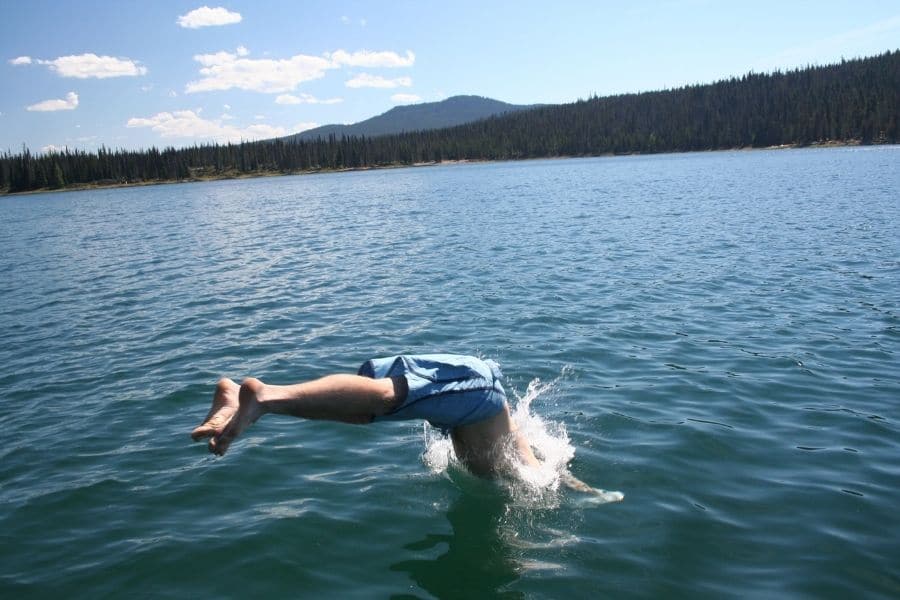 Search for the lake, river, or sea
The best idea to keep hygiene is to pitch your wild camping spots near the water source. Then you can wash your hands, or jump in the water and do everything together. It's the best way to get a clean and nice feeling afterward. But keep in mind to leave no trace and think about the environment. Don't use chemicals, try to use natural ingredients as much as possible.
---
How to deal with poop when wild camping?
It's possible to schedule it for a day without any need for this business in the wilderness. But you never know when nature calls. Can come and knock-in unexpected times after bad food or after some stomach errors. Well, you got a point, it can happen.
What do I need for this business?
Toilet paper – It's the easiest way to deal with "number two". If you forget that home, then the alternative would be to use leaves from the trees. It needs some practicing, but Bear Grylls would be proud of you.
A small shovel or stick – It's for digging a hole to bury your poop and paper. Nobody wants to deal with your business on their foot. So better leave no trace.
Professional way of doing a business
First of all, don't do it next to the wild camp. Do your number ones and twos at least 100 meters away. Also, don't do it next to the water source for nature. Dig a sufficient hole to hide your stuff, no need to dig it to another side of the world. After that of course use hand sanitizer.
Doing your business away from a wild camping site also has small safety reasons. Wild animals have a good nose for business. So you will keep out uninvited guests. If you don't know what positions to take if doing number two, there are seven ways to poop outdoors.
---
Choosing the right wild camping spot
As beforehand mentioned to do some research about the location on the web, then the real and final picture is painted when standing on the spot. Choose a convenient spot to pitch up your camp.
Check the wild camping surrounding
First thing is to find an area that suits yourself best and looks safe. Again the best thing there is to use gut feeling. For example, if you have some wild animal poop on the ground, then maybe it's their place to do business. I would look away from that spot.
Check the ground
First thing is to avoid lower places, like lowlands, holes, or anything else that is lower from the surrounding ground. The thing is that these places will get wet faster. You can find yourself wet in the middle of the night when there wasn't any rain. So the opposite, finding a place that is a bit higher than the surroundings or just flat soil is the right place for pitching your camp up.
Extra wild camping tips and tricks
I recommend collecting some leaves for the camping site for extra safety for a dry night. These leaves also work as insulation to keep your body warmer, as you are not connected straight with the ground. 
Finally when you have found the one spot to camp, then make sure there aren't any sharp things on the ground or the rocks that you feel the next morning with some back pains.
---
Leave no trace
From the time you arrive in the wild camp area till you pack your things together just make sure you will leave no trace. The camping area should be the same clean, well-maintained, without any waste and nature should move in the same rhythm as it was there before.
All the business you do (pooping), cooking, eating, drinking, cleaning or getting campfire material. Everything can be done in a professional wild camping way without any harm to the environment.
Don't make nature angry, otherwise next time you will get the worst unexpected weather, angry animals, you stump someone's poop, or the wind takes your camp away.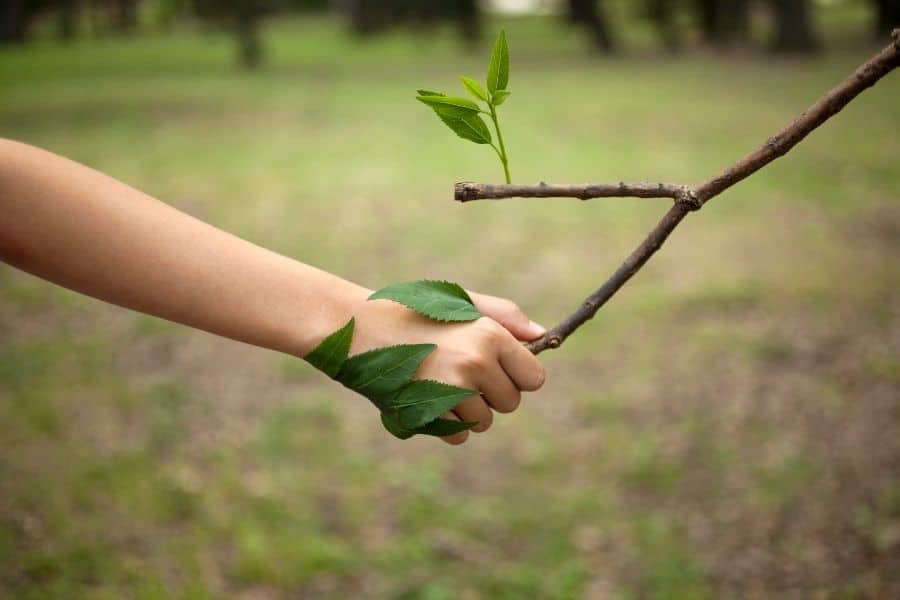 ---
A complete wild camping kit list
Here is the total light wild camping checklist. Everything can fit into a backpack:
Sleeping bag
Sleeping mat or hammock
Tent or bivvy bag
Water bottle with filter
First aid kit
Head Torch
Power bank
Hand sanitizer
Toothpaste and brush
Baby wipes
Toilet paper
Clothes for a day and night
Backpacking stove
Cook pot/Frying pan
Lighter
Plates/bowls
Mugs/cups
Eating utensil
Sharp knife
Food and water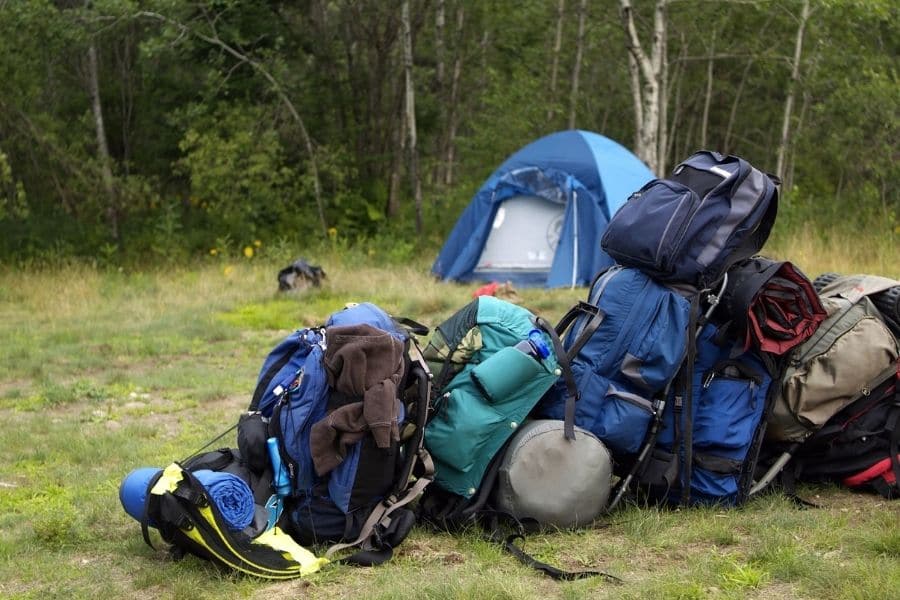 These are for the very successful wild camping experience. No need to take everything, if you feel that you don't use some things, then it's okay to leave some things at home. Our life is improved so well, that all the wild camping essentials have been made so cleverly small, that all the stuff can fit into one backpack.
---
Conclusion
Take wild camping as a quality time spent in nature. It's a fun experience to understand how few things you need to spend nights. I hope from this guide to wild camping for beginners you found some good tips and ideas to also have only great memories when sleeping under the stars.
---
PIN IT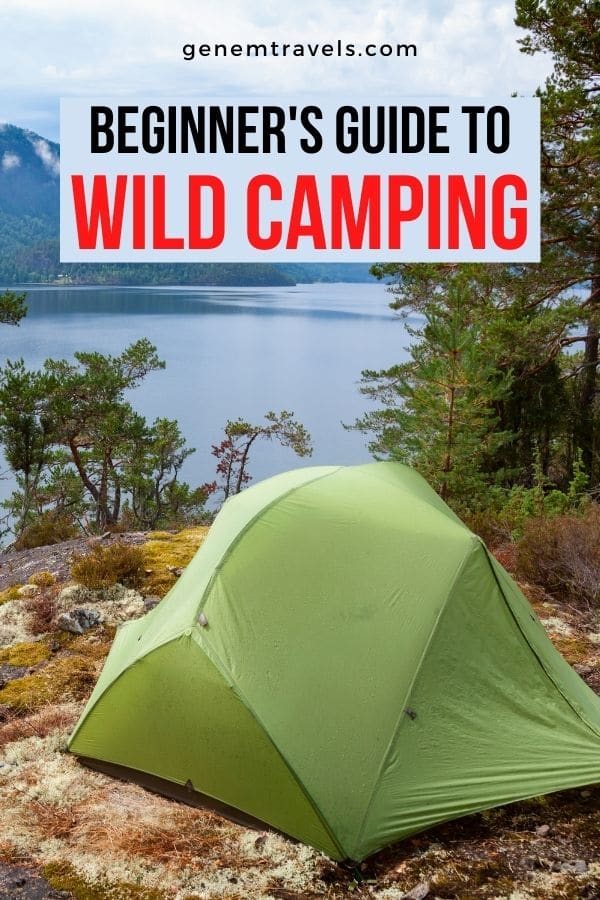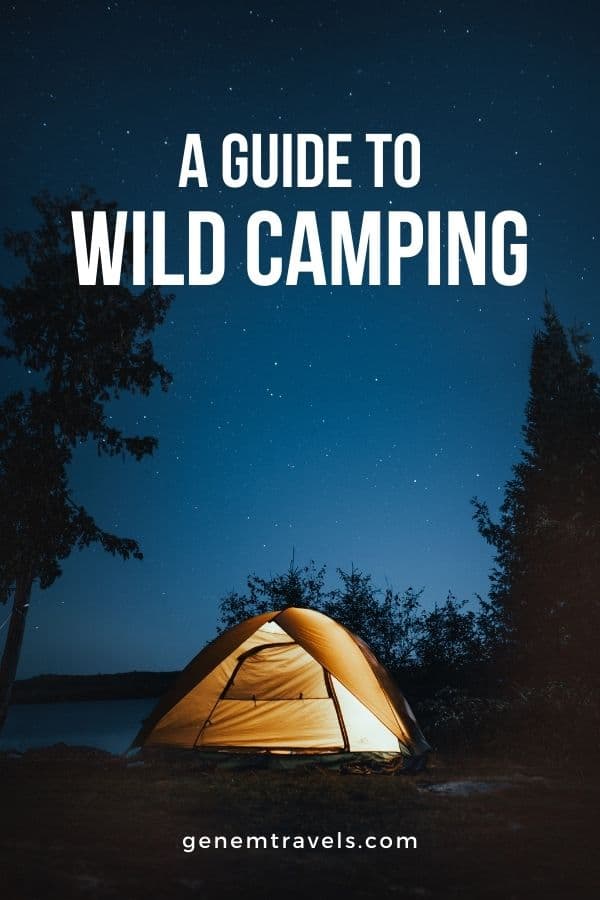 ---
Recent posts about Adventure Travel: