What a simple time we live. There is no need for big maps, depending on local sights, guide books, or dictionaries while going on an adventure. Everything necessary can be done with phone and backpacking apps.
There are many available apps for adventure solo backpacking trips, quick city getaways, or classical two-week trips. Here you can find a list of best apps for backpackers (android and ios phones) that will be beneficial to every traveler.
1. Google Maps
Google Maps is the most popular and known particularly by everyone as a free app for navigation. Mostly used when there is a need to get directions from the starting point to the destination. It contains more than just a navigation app. Works well even without an internet connection, when there is a GPS signal (whenever there is a mobile signal). That app allows you to find easily important places (and saves time), like typing in atm near me, supermarket near me, hostels near me and so on. Organizes routes by walking, with a car or public transportation. One of the best backpacking apps for travelling available. A lot of research can be done when you use the app correctly.
Accommodation
The main question while travelling is where to spend the night? Unless there is used wild camping or hosting networks like Couchsurfing then there will be a need to download some backpacking apps for housing to acquire a roof. Luckily there are several apps for backpacking to choose from, but down here are some that are mostly usable everywhere.
2. Booking
Booking is probably the most well-known and wide company for housing. Anything from hostels to villas. It's really easy to compare prices. Choose from thousands of references. Search from the map for the best quality ratio between price and location. Good fit, when you are in the middle of nowhere.
3. HostelWorld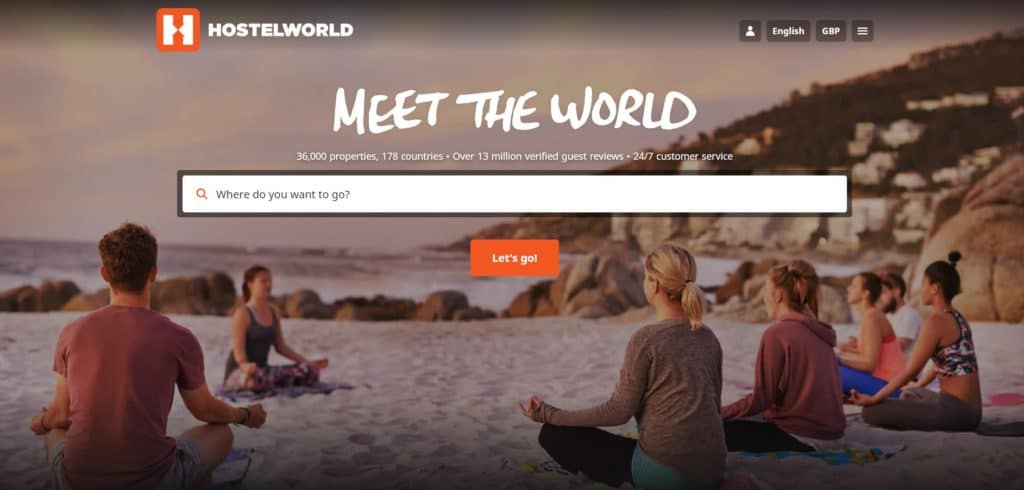 HostelWorld is one of the best hostel apps for budget travelers to find a suitable (and cheap) night bed. With a hostel app, it finds rooms from all around the World, and it will get the best match for the place and price (read also references). From cheap backpackers hostels to more "luxurious" premium hostels. Great app for a budget backpacking trip.
4. Airbnb
Airbnb is more concentrated on renting apartments or houses. But when there is a need for more privacy and have a bigger company then it would be an idea to consider. Can save a lot of money, when costs are shared.
Transport in Ground
Being a backpacker, then the biggest part of your transport is your legs. Every traveller, not only backpackers need transport to move around. Again endless options to acquire tickets, but some backpacking apps are here to make life a lot easier. Here are some applications to download that will give you more time to travel.
5. Rome2Rio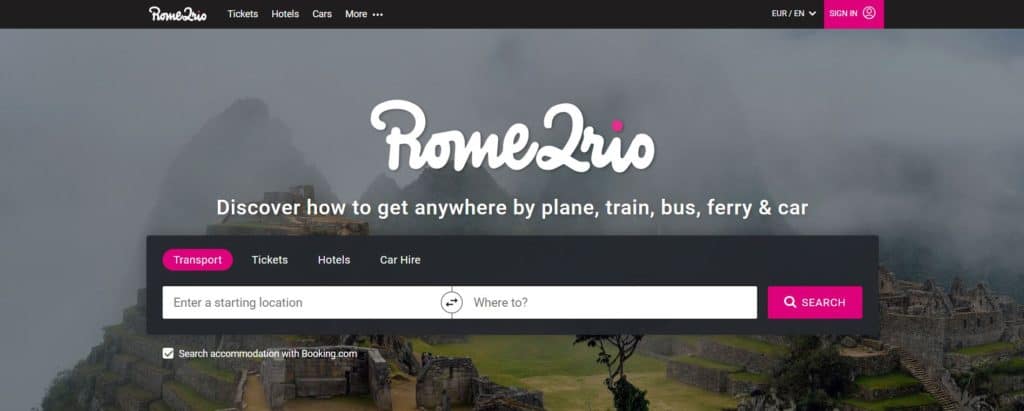 Rome2Rio finds nearly all the local transportation options. All short distances, local small bus companies, trains, flights, boats, and cars.  A convenient app, which will save a ton of time. Don't need to search in deep Google for local bus companies, everything is in that app with schedules, locations, and estimated prices. There is also an option to buy tickets online, but when they don't have the authority to sell exact company tickets, then there is a link where it's possible to be done.
6./7. Omio / Trainline
These two are the same apps for backpacking as the previous one but they work better in-between well-known destinations. Omio and Trainline can not find transportation in the middle of Italy's Tuscany countryside. But it's good to have because they have many licenses to sell tickets online. It's good to have both of them (Omio and Trainline) to compare prices, and sometimes one app feels better than the other.
8. BlaBlaCar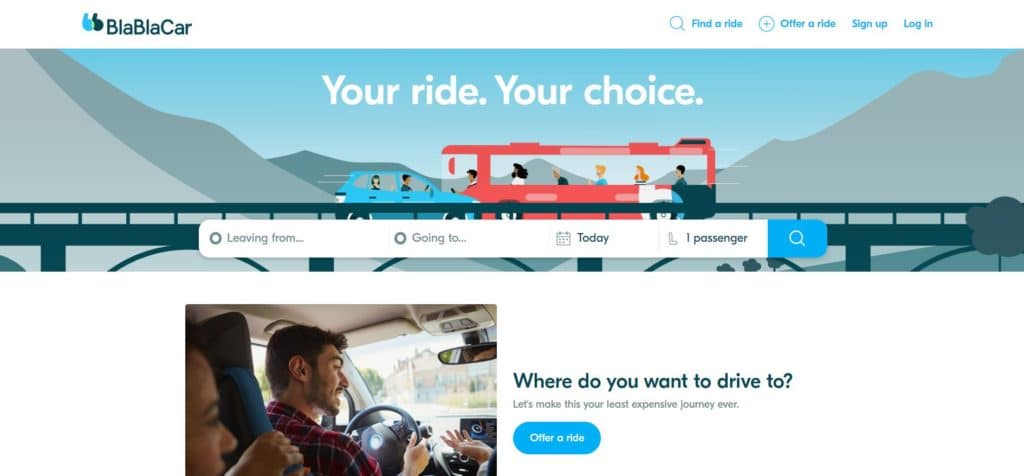 Carpooling with strangers sounds like a good idea, then BlaBlaCar is a good fit. Somebody is driving from point A to B and has some available seats in their car. A budget traveler with a matching destination can have it at a small price. That carpooling app is a cheaper option than public transport, plus interacting with local people.
9. Rail Planner
It's a must-need app for those who have a Eurail pass. Rail Planner is as the name says travel planner app for trains. It schedules all trains from the starting point to the desired destination. Finds which trains to take, plan the whole trip, and do all reservations in one app.
Cheap flights
At the beginning of the journey or just traveling afar from the starting point. Reasonable would be to catch a flight. Doing some research before buying tickets can lead you to the point where saved money can be spent additionally while traveling. Here are some backpacking apps that offer you deep research and possibilities to budget.
10./11. Skyscanner / Kiwi
Both Skyscanner and Kiwi are the best backpacking apps for flights. These are used mainly for searching and comparing cheap flights around the Globe. There are also additional options to search for housing and car rent. Good to use both for searching for the best choice, because prices can vary a lot between backpacking apps. Will find the best option, whatever is needed. Would it be the cheapest ticket or best match for time and quality.
12. Google Flights
Google Flights have one significant benefit over previous backpacking apps. It's also a place to search and compare flights. These all have the same option to reach more reasonable tickets when changing flight dates. But with Google Flights it's more user-friendly and easier to track prices in the calendar. Changing the date by just one day and price can be twice as low. When being flexible with flight dates, then it's a great place to claim the best offer.
Making fresh connections
What would be a backpacking trip without meeting local people? That way you understand more about the local lifestyle, explore some hidden places with locals, additional tips or just spend a nice time together. There are plenty of backpacking apps to meet new people. It would be a meeting with the same interests, hangouts, or a date.
13. Couchsurfing
Couchsurfing is the best app for backpackers when looking for new local connections and some seriously awesome memories. It's a community, where locals host travelers at their homes for free. In addition to housing, there is also a section called Hangouts. A place where other wanderers or the local people have the same intentions as you, to meet new people. Local guys can be open to show their home area, take a beer with you, or just hangout. With the Couchsurfing app, it's an easy way to meet new people and also a place to spend a night.
14. Workaway
WorkAway is meant for work and travel, where for example farms or families are searching for extra hands. Volunteering cultural exchange. It's a big community with hosts and volunteers. In addition to volunteering jobs, there is a section called travel buddies. Feel free and start a conversation.
15. Tinder
Tinder works everywhere. There are tons of free dating apps around the Globe, but this one is most used internationally. No need to use it exactly like for dating. You can use this free app to find some buddy to just hang out, have some drinks, or just use it in a way it's meant. Finds new people around in new locations.
16. MeetUp
All kinds of events around the World and of course it's filtered by current location. From the MeetUp app, you can find basketball groups, meetups around the beer table, big meetings about innovation, improving public speaking groups. There are so many variations and alternatives to find something for every person. Finding people with the same interests, make new contacts, and spend time with local people.
Local guide
Wandering around the new area without any knowledge looks like a headless chicken. Of course, there are plenty of options. Could waste some time, if googling something and then doing some research. But some backpacking apps for travelers are available that are easy to use to find out the things and places whatever the need is.
17. FourSquare City Guide
Being in the middle of the city and having no idea where to eat, what to see. With the FourSquare City Guide app, you will find different restaurants with ratings and references given by other users. A trip planner app that finds some hidden spots around, where every tourist doesn't get lost. Another big section is for party spirit people or the ones who enjoy spending the night in the bars.
18. Trip Advisor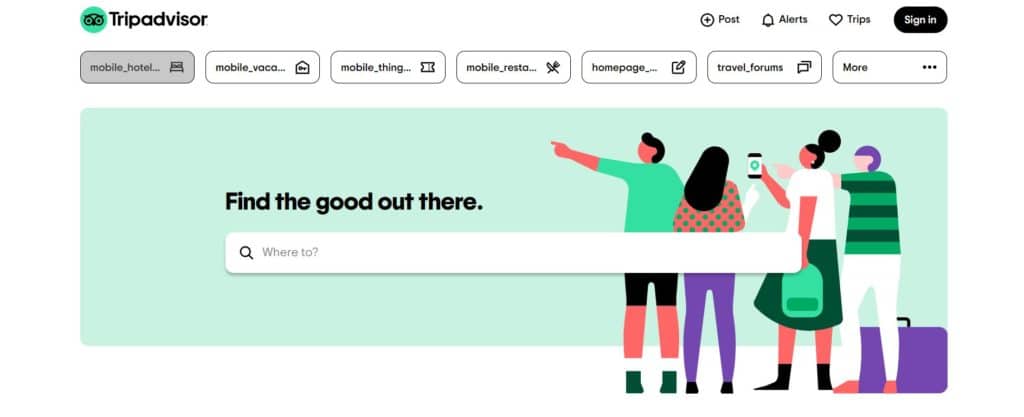 TripAdvisor is the most used app worldwide to find activities, things to do, restaurants, clubs, housing. There are tons of reviews by users who have already been there or done that. Great way to choose activities by reading reviews, is it something for you or not. Also if it looks decent for you and you want to receive the same experience, then it's possible to acquire tickets directly from Tripadvisor. One of the best trip planning apps.
19. Pocket: Save. Read. Grow
Pocket is the best app for saving websites, articles, or anything else to read it later. Just hit the share icon and then push the Pocket icon. Let say that before departing you found a good city guide for example weekend in Budapest travel guide from Google. Later when already in that city and want to refresh memory about the things to do or see, then just open that article from the Pocket app and get these additional tips. A convenient place to store useful information.
20./21. Get Your Guide / Viator
Every place offers so many things to do. Sometimes it doesn't feel very good if you haven't tried some local activities. Get Your Guide and Viator are the best apps for backpackers to book tours, activities, and attractions everywhere. Is it a pub crawl in Budapest or a bakery tour in Paris. There will be variations for every type of person. You will get a better feeling about the new place, when trying out local things or activities.
Learning Local Language
The shortest way to local's hearts is to use some of their languages. Just some phrases and basic words will make travelers more respected by the locals. No need to take thick dictionaries, when there are apps for backpackers to learn a new language. Going total polyglot or just getting to know some words. Good to get to know some local words from language learing apps.
22. Duolingo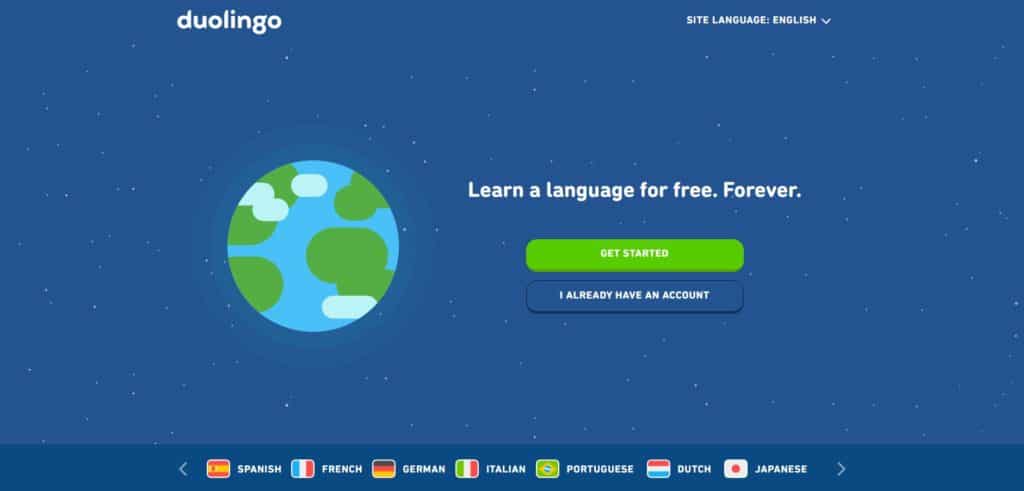 Duolingo is one of the best language-learning apps. There are over 30 different languages to learn. Is it Italian, French, Spanish, or Finnish. Learning a language from Duolingo is a long process, not meant for quick phrases or helping out in language barrier situations. Would be a good fit if staying in exact countries longer, where a new language is spoken.
23./24. Google Translate / Google Lens
Who wouldn't have used Google Translate in any situations, when a translation is needed. Also really helpful when being in a language barrier situation, then Translate is quick to help with dealing with misunderstandings. Google Lens however helps translate writings. For example, the menu is only in the local language. Pointing Google Lens to the menu and it translates the whole script.
25. Travel Phrasebook
Learning local phrases might be helpful and more welcoming by locals. Travel Phrasebook is for quick learning some basic phrases while being in a restaurant, asking help from locals, reservations, and so on.
Financial Backpacking Apps
Unfortunately, travelling isn't for free. There will be more or less used some financial resources (money). Would you be a budget backpacker or a regular traveler. Before the trip, there will be some numbers in the budget, but at the end of the trip, there is another number (bigger). You wouldn't be so surprised by the final budget when some backpacking apps are used to handle money well.
26. Travel Spend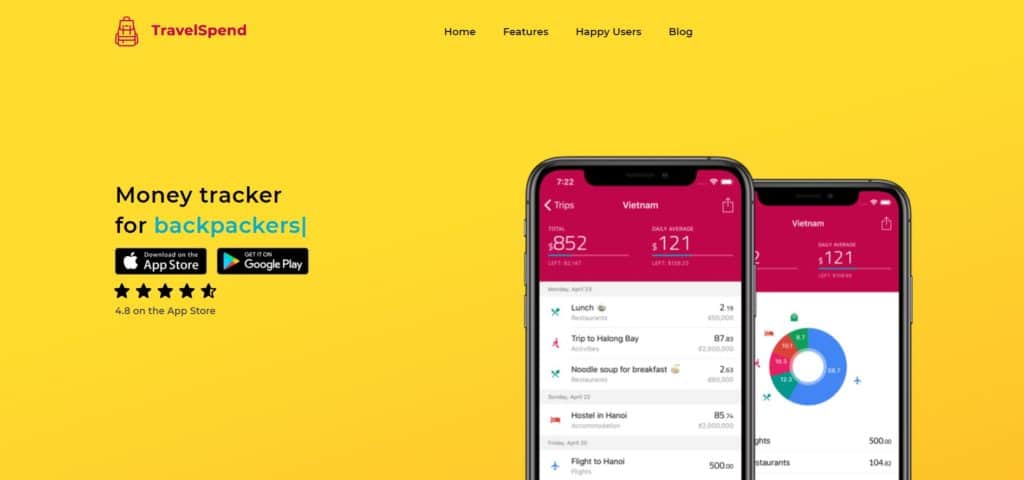 Travel Spend is a travel expens tracking app. Starting with setting up your total budget for a trip and how many days it will be. Automatically calculates the daily limit. Then start marking down expenses by categories like food, transport, and entertainment. That budget calculator for travel is essential for budget backpacking or wanting to keep an eye on where spending are made.
27. Wise
Wise financial app is useful for everyone who travels around often or has money transfers in different currencies. Wise aims to keep exchange rates as low as possible and save from these small fees. Being an expat, traveling around the Globe, a businessman with money transfers, or even living and working in the home country. Wise is there to keep unwanted expenses as low as possible.
28. XE Currency

XE Currency financial app is to calculate currency rates. Being in a shop, renting a car, making housing reservations – you want to make sure that you are paying an honest price. When your brain isn't working as a calculator, then it's good to have an application that does the work for you.
29. Splitwise
Splitwise is a financial app to share costs between travel buddies, flatmates, or meals in restaurants. While traveling with a group, one will be paying for car rental, and another for housing, restaurants, or entertainment. With that app and written down expenses, it's easier later to see who and how much you have to pay to someone. There will be no conflict about debt when the app keeps an eye on that.
Apps for backpacking outdoors
Backpackers already looks like a hiker. It's also strongly recommended to do some hiking while traveling when equipment is already in the backpack. About hiking apps, there is one used in many ways: Google Maps. But it's not trail-friendly and doesn't give you guides when lost in the mountains. Google Maps isn't a total offline hiking app with every pathway, such as hiking in Cinque Terre in Italy. Here are some best hiking apps that will not get you lost in the middle of trails.
30. All Trails
All Trails is the best hiking app. There are tons of maps for hiking trails worldwide. You can download offline maps, then it works perfectly in the mountains. It shows where you have to make turns so that you won't get lost. You can download maps. An outdoor app for offline use is like getting directions from Google Maps, but Alltrails is for hiking trails.
31. Maps.me
Maps.Me is a simple outdoor app with the same benefits as Google Maps. But it's more hiker-friendly with more trail maps and information included. There are elevations, approximate times, distances, and many offline maps for hiking. Adventure travel apps will be beneficial when using more off-beaten tracks and having shortcuts through trails on foot.
Taking it all together!
Apps for backpackers are here to make adventures easier. Many important data and stuff fits easily in your pocket. Take advantage of useful backpacking apps and enjoy more journeys with less hassle.
---
PIN IT
---
Recent posts about Travel Tips: