Naples is located in the Campania region of southern Italy, home to over three million people. Backpacking around Naples offers a unique experience compared to other Italian cities. The atmosphere and culture starkly contrast to the nearby capital, Rome.
Nevertheless, Naples has a rich historical significance. As you stroll through its narrow streets, you'll notice the chaotic traffic, a lack of cleanliness, and the hustle and bustle of its residents.
Despite all this, Naples remains a beautiful city. It boasts a unique atmosphere and mouth-watering local cuisine and is ideally situated for exploring nearby renowned sights.
From this backpacking Naples travel guide, you will discover various things to do and see, which dishes to sample, tips for staying safe, and ways to save money.
Disclosure: This article features affiliate links, including Amazon.com. If you decide to buy through one of these links, I'll earn a small commission at no extra expense to you. For more details, please see my disclosure policy.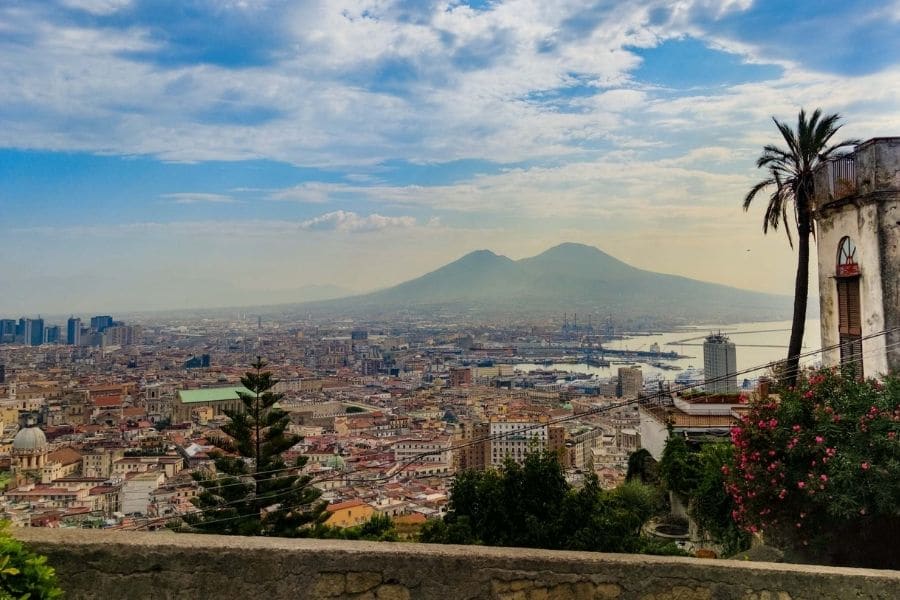 ---
Things To Do and See in Naples, Italy
Naples is a city that boasts a historical old town, shopping streets, delectable Neapolitan cuisine, underground sites, catacombs, and many churches. Additionally, it offers numerous options for day trips to islands, archaeological parks, and the magnificent coastal area.
1. Visit Naples Castles
Naples boasts several well-preserved castles: Castel Sant'Elmo, Castel Nuovo, and Castel dell'Ovo.
Castel Sant'Elmo is a medieval fortress situated on Vomero Hill. The castle houses several exhibitions, and from its vantage point, one can enjoy spectacular views of Naples with Mount Vesuvius in the background. Find tickets for Castel Sant'Elmo.
Castel Nuovo and Castel dell'Ovo are both seaside fortresses. Castel Nuovo is a massive structure with five large, rounded towers. It's the oldest fortress in Naples, and throughout history, it has served various purposes, from bolstering the city's defenses to being used as a royal palace and a prison. This castle, situated on an island, has no entrance fee. It is recommended to visit at least the latter two castles.
2. Wander around the Santa Lucia District
The Santa Lucia District offers a seaside promenade, hotels, and restaurants serving Italian cuisine. It's the perfect place to take a break from Naples' noisy and hectic streets. Nearby attractions include Castel dell'Ovo, Piazza del Plebiscito, and the San Carlo Theatre. You can stroll along the promenade or sit down and enjoy a pizza at one of the local restaurants.
3. Get Souvenirs from Via San Gregorio Armeno
This renowned shopping street lies in the heart of Naples and is steeped in historical traditions. The charming, narrow street is lined with artisan shops on both sides, showcasing figurines of famous football players, actors, politicians, and other celebrities. The street becomes even more bustling during Christmas, filled with religious figurines. Undoubtedly, it's one of the most unique shopping streets in Italy and is worth visiting any time of the year.
4. Discover Underground Naples
In the fourth century, the Greeks carved a labyrinth of tunnels spanning about 450 km. Back then, this subterranean city was named Neapolis (New City). Over the centuries, it served as aqueducts to supply water to Naples and as an underground shelter during wartime. Underground Naples (Napoli Sotterranea) is one of the city's primary attractions today. It's a must-visit when backpacking through Naples. Located in the city center, it lies 40 meters below ground level. Find tickets from GetYourGuide.
5. Skulls at the Fontanelle Cemetery
This ancient cemetery is nestled within a hill in the Materdei region. Thousands of skeletal remains were placed in this expansive cave centuries ago, primarily because the city had no space for burials. Years later, a devastating epidemic exacerbated the burial space shortage, leading to the cave's use as a mass grave. Today, it is a landmark in Naples, housing around 40,000 skulls and skeletons. It offers a captivating glimpse into the city's history, and there is no entrance fee.
6. Explore the Catacombs of San Gennaro
Located in the northern part of Naples, this remarkable underground site spans two levels and showcases paleo-Christian ruins. It's another must-visit spot during a trip to Naples. The tickets for the Catacombs of San Gennaro are found here.
7. Savor the Local Neapolitan Cuisine
Naples is rich in historical landmarks and intriguing culture and boasts exceptional food. It's one of the best places to sample classic Italian dishes, from various pastas and cheeses to the iconic pizza. After all, this is where the world's first pizza was created. Moreover, food prices in Naples are pretty affordable.
8. Stroll around Via dei Tribunali
This avenue in Naples offers numerous attractions within a short distance. Spanning almost a kilometer, the street is lined with prominent structures such as the Naples Cathedral, Church of San Pietro a Majella, and Duomo di Napoli. This bustling avenue also boasts several restaurants where you can sample local Italian cuisine.
9. Ascend Mount Vesuvius
Mount Vesuvius is considered one of the most dangerous volcanoes in the world due to the millions of residents living near its danger zone. It has erupted several times, with the last eruption in 1944. Its most catastrophic eruption occurred in AD 79, decimating many Roman cities. Today, visitors can approach the crater's edge. For a richer experience, consider joining a guided tour. Find tickets here.
10. Discover the Ruins of Pompeii
Although not directly within the city, Pompeii Archaeological Park is a top destination for those backpacking through Naples. The ruins emerged after Mount Vesuvius' massive eruption in AD 79. Given the park's vastness, exploring these well-preserved Roman-era remnants typically takes a day. A guided tour is recommended for the best experience. You can find tickets for Pompeii here.
11. Delve into the Ruins of Herculaneum
Herculaneum shares a similar history with Pompeii. It's lesser-known, and its area is roughly ten times smaller than Pompeii's. Additionally, it tends to attract fewer visitors. The entrance fee for the Herculaneum Archaeological Park is less than Pompeii. If you have ample time in Naples, visiting both archaeological parks in Pompeii and Herculaneum is advisable, but not on the same day. Find tickets here.
12. Embark on Day Trips from Naples
Naples' strategic location offers a plethora of nearby attractions. Apart from the aforementioned Mount Vesuvius and the archaeological parks in Herculaneum and Pompeii, the picturesque town of Sorrento is also within reach. Additionally, the stunning islands of Capri, colorful Procida, and enchanting Ischia beckon. And let's not forget that Naples is the nearest major destination to the renowned Amalfi Coast. With so many day trip options, your backpacking adventure in Naples could span several days or weeks.
Read more: Italy travel guide.
---
Backpacking Naples Travel Costs
While Italy can be relatively expensive for travelers, Naples stands out as one of the most affordable major cities in the country. It's also one of the less affluent cities in Europe. Backpacking in Naples is reasonable for a wallet, making it an ideal destination for those exploring Italy on a budget. However, venturing outside the city to places like the Amalfi Coast or Capri can be considerably pricier.
Accommodation Costs
For budget-conscious backpackers, hostels are the best choice. While there aren't a plethora of hostels available, there are still some affordable options. Prices for shared dorm rooms typically range from 20 to 30 euros.
If you're seeking private rooms in hostels or budget hotels, anticipate paying roughly twice as much. Rates for private hostel rooms are around 35 euros, while budget hotels charge 40 to 60 euros per night.
Food costs
Fortunately, food prices in Naples are reasonable for travelers of all budgets. Traditional meals in restaurants typically range from 8 to 15 euros. A classic Margherita pizza costs between 5 – 8 euros. Pairing coffee with a pastry will set you back about 2 to 4 euros. Beer purchased in stores is roughly 1 euro, while it's around 3-4 euros in bars. Inexpensive wine in shops falls between 3 to 5 euros. It's worth noting that prices tend to be higher in tourist zones and city centers. Other street food options are priced similarly to pizzas.
Main Activities Costs
Naples boasts a range of attractions, from grand castles to intriguing underground tunnels, as well as day trips to Vesuvius, archaeological parks, and nearby islands. Some attractions, like the City Walking Tour or Fontanelle Cemetery, are free. However, it's worth budgeting for paid experiences like Mount Vesuvius, the Archaeological Parks in Pompeii and Herculaneum, Castel Nuovo, and Underground Naples.
If you opt for additional guided tours, anticipate higher costs. For more attractions, island day trips, and tours, consider checking out Get Your Guide.
Read more: Budget backpacking in Europe [tips]
---
Getting Around Naples, Italy
Naples boasts numerous attractions within walking distance. However, to save energy or time, using public transport occasionally is advisable. When venturing outside the city, public transport can also be cost-effective. But first, search for flight tickets to Naples on Kiwi:
Public transport within Naples
Two companies manage public transportation in Naples. This includes buses (AMV), the Metro (lines 1, 2, and 6), Circumvesuviana, Circumflegrea, Cumana train lines, and the funicular. Visitors can use all these public transport options within the Naples area with the official TIC tickets.
Monthly and annual tickets are also available. You can purchase TIC tickets from tobacco shops (tobacconists), newsstands, and ticket machines.
Transport for Day Trips Outside of Naples
When backpacking in Naples, it's highly recommended to embark on several day trips to destinations like Mount Vesuvius, the historical sites of Pompeii and Herculaneum, the picturesque Amalfi Coast, or a boat trip to nearby islands such as Capri.
While various shuttle options are available, these places are also accessible via more affordable public transport. Renting a car is another option for exploring the area without constraints. Check out deals on RentalCars.
Transport to Pompeii and Mount Vesuvius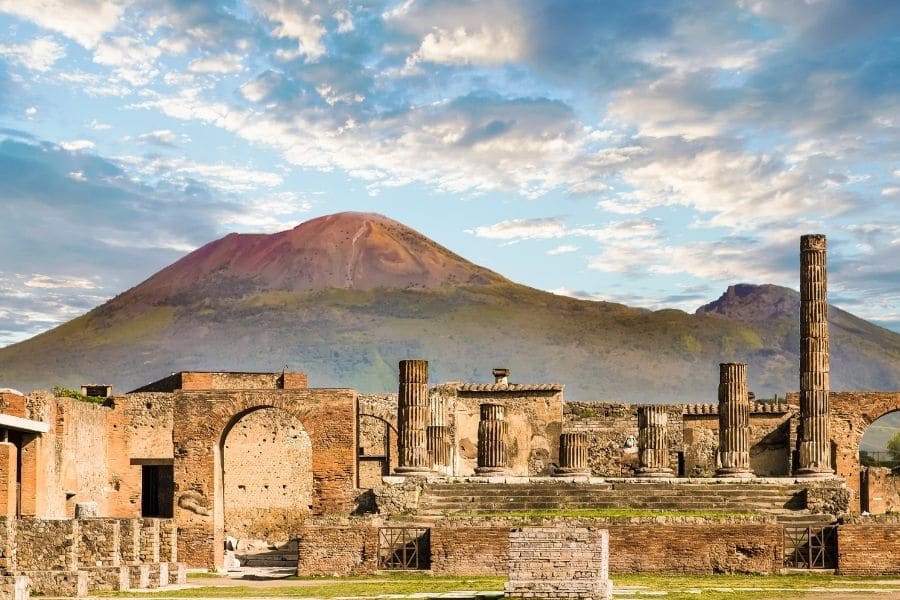 Pompeii is approximately 24 km from Naples, and the most convenient way to reach it is by taking the Circumvesuviana trains. A one-way trip costs 4 € and takes about 30 minutes. Tickets can be purchased at train stations.
Public EAV buses operate between Pompeii and Mount Vesuvius. A one-way journey lasts about 50 minutes. EAV schedules can be found here. Tickets are available for purchase on the bus.
Transport to Sorrento and the Amalfi Coast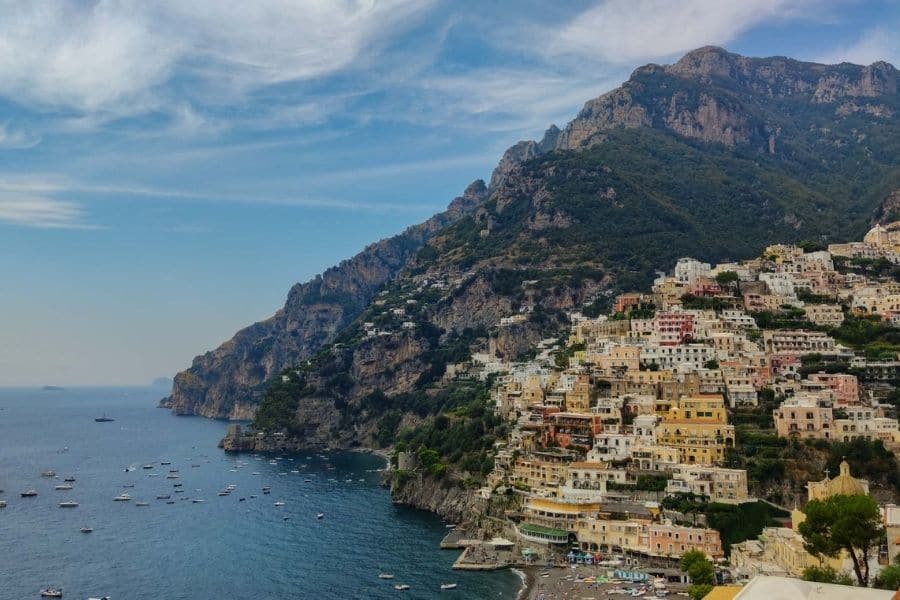 The world-renowned and highly photogenic Amalfi Coast is just 58 km from Naples and easily accessible by public transport.
Before heading to the Amalfi Coast, it's recommended to make a brief stop in Sorrento, a picturesque Italian town known for its exceptional cuisine. The most convenient way to reach Sorrento is via the Circumvesuviana trains. A one-way journey takes about 1 hour and 10 minutes. Another option is the Campania Express Train, which is slightly more expensive but reduces the travel time to 45 minutes.
SITA SUD buses operate between Sorrento and the Amalfi Coast. Given that there are multiple towns (and stops) along the coast, purchasing a 24-hour ticket for unlimited rides throughout the enchanting Amalfi Coast region is advisable. This 24-hour ticket can be acquired from tobacco shops, newsstands, cafes, and restaurants. Note that tickets cannot be purchased directly on the bus! Schedules can be found here.
Read more: Best hikes on the Amalfi Coast.
Reaching the Nearby Islands
Naples is surrounded by beautiful islands such as Capri, Procida, and Ischia. The primary way to access them is by sea. Ferries depart from the Port of Naples, fluctuating prices based on the season. You can refer here for more information, including prices and schedules for the ferries.
---
Where To Stay In Naples, Italy
Naples offers a range of accommodations, from budget to luxury. Prices begin at approximately 20 euros per night for budget hostels and can go up to around 60 euros for mid-range hotels. Here are some budget accommodation recommendations:
Hostel of the Sun – Near to port with great additional benefits.
Tric Trac Hostel – In the heart of historic Naples.
Fabric Hostel & Club – Old fabric turned into a hostel.
Hotel Ginevra – Budget private rooms.
B&B Miseria e Nobiltá – A mid-range housing in the center of Naples.
---
Naples Cuisine
Naples boasts a rich history of authentic local cuisine. Many renowned dishes were invented there, and its culinary style is recognized as Neapolitan cuisine. It would be a significant oversight not to sample some of these local flavors during your visit.
The Home of the Pizza
There's one dish that almost everyone loves. It was also invented there and is now enjoyed worldwide: pizza. Naples is the most authentic place to savor a classic pizza Margherita or explore variations with different ingredients. The prices are incredibly affordable, starting from 5 euros for an entire pizza.
Variety of Pasta Dishes
Italy offers a vast array of pasta dishes to savor. Pasta is celebrated throughout the country and is a must-try wherever you travel within its borders.
In Naples, a classic pasta dish is Pasta Alla Genovese. Its origins are debated: some believe it was concocted in Genoa, while others argue it first emerged in Naples, crafted by Genoese chefs. The latter seems the most plausible. It is one of Naples' most authentic dishes, regardless of its origins.
Other notable regional pasta dishes include local lasagne, cannelloni, spaghetti alla puttanesca, and various seafood pasta creations.
Authentic Naples Street Food
One of the most distinctive street foods in Naples is Cuoppo. It contains various fried ingredients, including fish, mozzarella, meat, and vegetables. A vital characteristic of this dish is that it should be dry enough to eat with your hands. Traditionally, it's served in a cone-shaped paper bag, making it a perfect quick bite while backpacking around Naples.
---
When is the Best Time to Visit Naples?
Located in southern Italy, Naples generally enjoys pleasant weather throughout the year. The peak tourist season spans the summer months from June to August. However, this period also sees the highest influx of tourists, leading to crowded attractions and elevated prices.
For a more relaxed backpacking experience in Naples, consider visiting either before (April to May) or after (September to October) the summer rush. During these months, the weather remains relatively warm, and popular sites like Pompeii, the Amalfi Coast, and Capri Island are less crowded. Additionally, accommodations and other expenses tend to be more budget-friendly.
Winter in Naples is characterized by its mild Mediterranean climate. While it's naturally the coldest and rainiest season, it's an ideal time for travelers who prefer exploring archaeological sites and other attractions without crowds of tourists and at a reduced cost.
---
How to stay safe in Naples
Naples is known for having one of the highest crime rates in Italy. The city's chaotic traffic, dirty streets, and narrow alleyways might seem intimidating initially, especially compared to Italy's more polished cities and towns. But is Naples safe for backpacking?
Despite its reputation as one of Italy's most dangerous cities, it's essential to remember that media portrayals can sometimes exaggerate reality. In truth, most visitors find their time in Naples relatively trouble-free.
However, as with any major city, it's wise to be alert. Be aware of pickpockets and avoid flaunting expensive jewelry. Keep valuables like phones, cash, or cameras secure and close. Dressing casually can also help you blend in with the local crowd.
Traffic in Naples is notoriously chaotic. Always be cautious of vehicles and scooters, even when crossing at designated pedestrian crossings or navigating the city's narrow streets. There's a tongue-in-cheek saying about Neapolitan traffic: "There are no rules." So, always be alert to ensure your safety amidst the bustling traffic.
Lastly, never underestimate the importance of travel insurance. Unforeseen incidents can occur anywhere, and Naples is no exception. While I always carry travel insurance, I've been fortunate not to need it. In my view, investing a little in ensuring safety is better than facing potentially exorbitant medical bills later on.
---
Naples Travel Guide: Naples Budget Tips
Naples Pass is a valuable option if you visit numerous sights and museums, use transportation, or engage in other attractions. Explore more about the Naples Pass to determine if it offers value for your itinerary.
Couchsurfing – This is a top recommendation for any traveler. It's not just about securing a free place to stay but more about the incredible connections you can make. Couchsurfing is a community where locals offer travelers a place in their homes. Since Naples is one of the best cities in Europe for solo travel, you'll be sure to find some buddies from this app.
Student ISIC Card – This card is recognized internationally. It provides discounts on transportation, attractions, and even accommodations.
Walk as much as possible – Naples is predominantly pedestrian-friendly. Many attractions are centered around the city core. Walking allows you to immerse yourself in the surroundings and potentially stumble upon hidden gems.
Experience local food outside tourist zones – Typically, the steepest prices are in tourist-centric areas. A universally applicable travel tip is to dine where the locals do.
Be Your Chef – One of the most straightforward ways to reduce food expenses. While dining out isn't expensive, preparing meals can save significantly.
Free Walking Tours – One of the best introductions to a city is through guided tours. Many cities offer free walking tours of major attractions. It's a valuable resource, but remember to tip your guide at the end.
---
More about Italy
---
PIN IT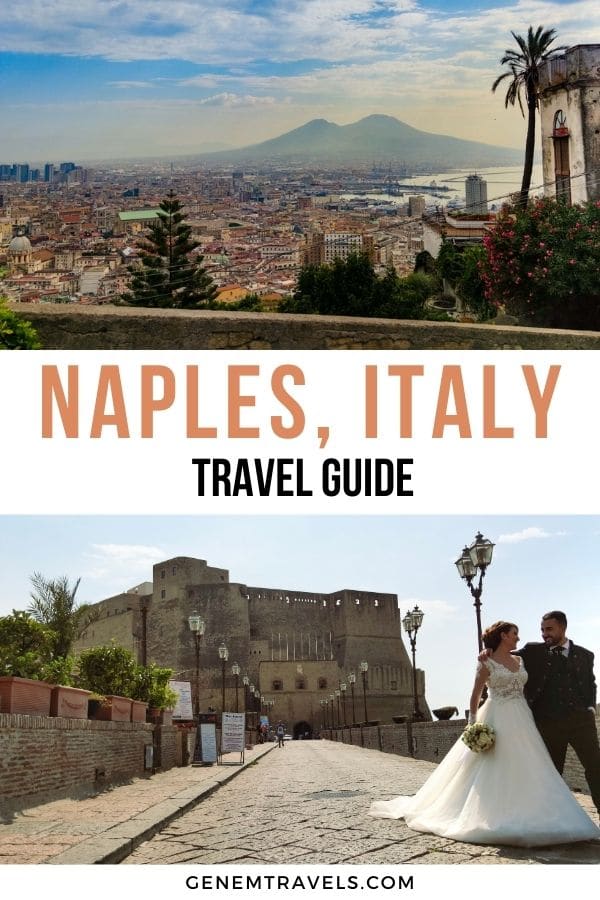 ---
Read more about Italy: