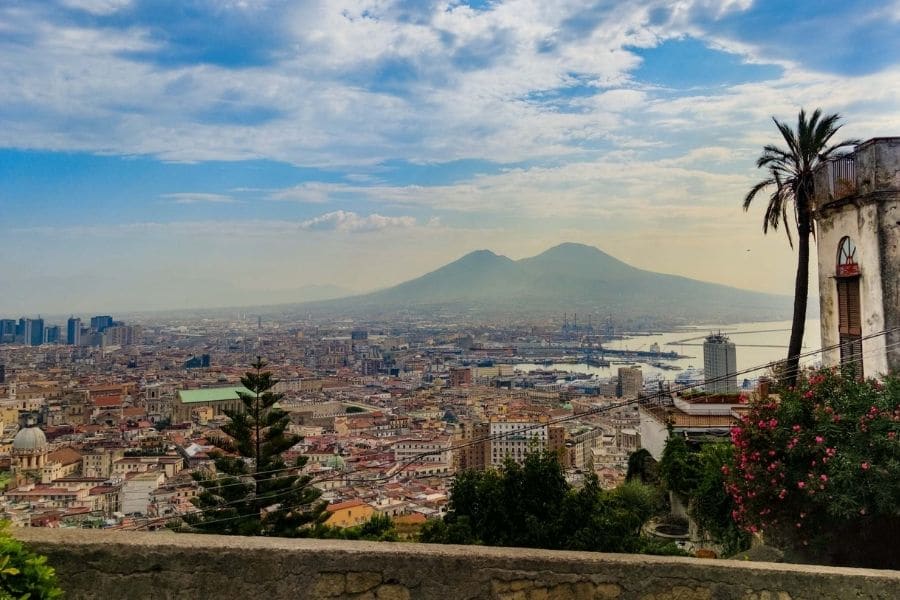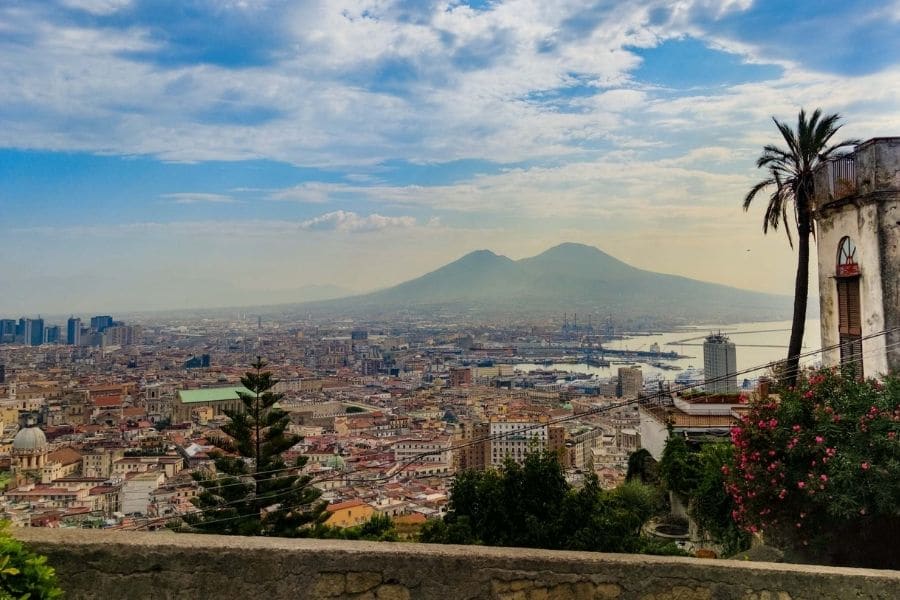 Naples is located in southern Italy in the Campania region. It's a home for over three million people, where they are living their busy lives. Backpacking around Naples is something different from what you have seen in other Italian cities. The atmosphere and culture are like a day and night compared to close-by capital Rome.
However, Naples still holds a strong position when it comes to history. But you will see a difference when strolling around the narrow streets, where the traffic is pretty chaotic, it's not the cleanest, and people seem to be in a rush.
Despite all of that, it's still a wonderful city. It has a unique atmosphere, mouth-watering local cuisine, and it's located in perfect location to explore close-by famous sights.
From that backpacking Naples travel guide, you will find different things to do and see, what dishes to try out, how to stay safe, and how to save money.
Things To Do and See in Naples, Italy
Naples is a city with highlights of historical old-town, shopping streets, delicious Naples cuisine, undergrounds and catacombs, and a variety of churches. Including all the options to do day trips to islands, archeological parks, and to the magnificent coastal area itself.
1. Visit Naples Castles
Naples has several well preserved castles: Castel Sant'Elmo, Castel Nuovo, Castel dell'Ovo. Castel Sant'Elmo is a medieval fortress located on Vomero Hill. In the castle are several exhibitions and from there are spectacular hilltop views of Naples and on the background Mount Vesuvius. The full price for the castle is 5 euros.
Castel Nuovo and Castel dell'Ovo are both seasided fortresses. Castel Nuovo is a massive building with five huge rounded towers. One of the main landmarks in Naples entrance fee is 6 euros. Castel dell'Ovo is the oldest fortress in Naples which has served the city's defending abilities, also used as a royal palace, and the prison. A castle that stands on the island has no entrance fee. Recommended is to visit at least two last-mentioned castles.
2. Wander around Santa Lucia District
A seaside promenade, hotels, and restaurants with Italian cuisine. A perfect place to have a break from noisy and hectic Naples streets. Around the area are also several attractions to see like Castel dell'Ovo, Piazza del Plebiscito, and San Carlo Theatre. Do there a long promenade walk or just sit down and have pizza in one of the restaurants.
3. Get Souvenirs from Via San Gregorio Armeno
A famous shopping street in the heart of Naples with historical traditions. That charming narrow street has artisan shops on both sides. Loads of figurines of famous football players, actors, politicians, and other celebrities. That street is even more popular during the Christmas period, when there are loads of religious figurines. For sure, it's one of the most unique shopping streets in Italy and worth visiting all year round.
4. Discover Underground Naples
A network of about 450 km labyrinth tunnels was formed by Greeks in the fourth century. Back then the city below the ground was named Neapolis (New City). Over the centuries it has been used as aqueducts to provide water to Naples, and as underground shelter during war times. Nowadays Underground Naples (Napoli Sotterranea) is one of the main places to visit in the city. Definitely can't miss that place when backpacking Naples. It's located in the center of the city, 40 meters below ground level. The entrance fee is 13 euros.
5. Skulls at the Fontanelle Cemetery
It's an ancient cemetery located inside the hill in the Materdei region. Thousands of human skeleton ruins were settled centuries ago in the spacious cave for a very simple reason. There weren't any places in the city to bury people. Years later a terrible epidemic caused even more shortcomings to bury people, so this place was used as a mass grave. Nowadays it's one Naples landmark with about 40,000 skulls and skeletons of buried people. A fascinating place to learn a bit about the city's history and There is no entrance fee.
6. Seek the Catacombs of San Gennaro
Another remarkable underground sight is located in the northern part of Naples. Tunnels are in two levels, where there are exposed paleo-Christian ruins. Another thrilling place to discover during a backpacking Naples trip. The entrance fee for the Catacombs of San Gennaro is 9 euros for adults.
7. Try local Naples Cuisine
Naples is a fascinating city with historical landmarks, interesting culture, underground, and exceptional food. That is one of the best places to try out some classic Italian dishes. Different varieties of pasta, cheese, and pizza. After all, there was the first pizza made in the world. The food prices are affordable in Naples.
8. Stroll around Via dei Tribunali
One of the most fascinating avenues in Naples has so many places to see in a short distance. The almost one-kilometer-long street has a variety of prominent buildings like Naples Cathedral, Church of San Pietro a Majella, and Duomo di Napoli. A busy street is also packed with several restaurants to try out some local Italian cuisine.
9. Walk up to Mount Vesuvius
Mount Vesuvius is titled the most dangerous volcanoes in the world due to millions of inhabitants living around the danger zone. It has erupted a few times (1944 was last) and the most disastrous eruption happened AD 79 when it destroyed many Roman cities. Nowadays visitors can seek the crater on the edge of Mount Vesuvius. It's recommended to join with a guided tour for a better experience. There is also an entrance fee, which is 10 euros.
10. Ruins of Pompeii
Even though it's not straight in the city, it's one of the most visited places when backpacking Naples. Pompeii Archeological Park ruins were "formed" after the big eruption of Mount Vesuvius in AD 79. The park area is huge and it takes approximately a day to visit well-preserved Roman-aged ruins. Recommended is to take a guided tour for the best experience. A ticket for the Archeological Park is 14.50 euros.
11. Explore the ruins of Herculaneum
Herculaneum has the same history as Pompeii. It's lesser-known and the area is about ten times smaller than Pompeii. Also, there are fewer crowds. The price for Herculaneum Archaeological Park is 14.50 euros. If having more time in Naples, then it's recommended to visit both Archaeological Parks in Pompeii and Herculaneum. But don't visit them both in one day.
12. Day Trips from Naples
Naples is located in a very convenient place. Around the city are various interesting sights to be discovered. Just next to Naples is previously mentioned Mount Vesuvius, archaeological parks in Herculaneum and Pompeii and close by is also beautiful Sorrento. Not to mention beautiful islands like magnificent Capri, colorful Procida, or charming Ischia. Last but not least, Naples is the closest big city to the famous Amalfi Coast. Plenty of day trip opportunities. This way your Naples backpacking trip can last several days or even weeks.
Read more: Best hikes on the Amalfi Coast.
---
Backpacking Naples Travel Costs
To be honest then Italy is pretty expensive to travel around, but backpacking Naples is one of the most affordable big cities in the country. It's one of the poorest cities in the whole of Europe as well. Backpacking in Naples is healthy for the wallet and a great place to travel around Italy on a budget. But when going outside of the city like Amalfi Coast or Capri, then the probability of breaking a bank is significantly higher.
Accommodation Costs
For the budget backpacking trip, the best option would be a hostel. There aren't loads of hostels to choose from, but still, there are some cheaper places. Prices range in shared dorm rooms are between 15 to 25 euros.
For private rooms in hostels or budget hotels expect to pay about double. Prices for a private room in a hostel starts from 25 euros. Budget hotels are between 25 to 50 euros per night.
Food Costs
Luckily food prices are reasonable for every traveler. Traditional meals in restaurants vary from 8 to 15 euros. Traditional Margherita pizza is from 4 to 8 euros. Coffee with pastry is about 2 to 4 euros. Beer in shops is approximately 1 euro and bars 3 euros. Cheap wine in shops is between 3 to 5 euros. Keep in mind that more expensive prices are around tourist zones and city centers. Other street food options are in the same price range as pizzas.
Main Activities Costs
Naples is full of magnificent castles to captivating underground tunnels. Also, day trips to Vesuvius, Archaeological Parks, or the nearby islands. Some of them are also free like the City Walking Tour or Fontanelle Cemetery. I would consider taking into account some paid tours as well: Mount Vesuvius, Archeological Parks in Pompeii and Herculaneum, Castel Nuovo, Underground Naples.
Expect to pay more when taking additional guided tours. Find other attractions, island day trips, and Get Your Guide tours.
---
Getting Around Naples, Italy
Naples has many sights within walking distance, but for saving legs or time, it's better to use public transport for a while. When going outside of the city, then it's even more necessary to use public transport for saving money. But first find flight tickets to Naples from Kiwi:
Public transport within Naples
Two companies organize Naples public transportation. Including busses (AMV), Metro (lines 1, 2, and 6), Circumvesuviana, Circumfegrea, Cumana train lines, and funicular. Visitors can use all these public transport options around the Naples zone with official TIC tickets. Different ticket types are:
Hourly (Biglietto Orario): costs 1.50 €, valid for 90 minutes from the first stamp.
Daily (Biglietto Giornaliero): costs 4.50 €, valid on the current day the ticket was stamped (not 24 hours!)
Weekly (Biglietto Settimanale): costs 15.80 €, valid until midnight of the last day of the week.
Tickets for monthly and annually are also available. You can claim your TIC tickets from tobacco shops (tobacconists), newsagents, and ticket machines.
Transport for Day Trips Outside From the Naples
When backpacking Naples then it's also recommended to do several day trips to either Mount Vesuvius, historical landmarks in Pompeii and Herculaneum, scenic Amalfi Coast, or a boat trip to close-by islands like Capri. Between them are many shuffle options, but these places are also reachable by cheaper public transport. Also renting a car is option to discover area without any hassle. Check deals from Rentalcars.
Transport to Pompeii and Mount Vesuvius
Pompeii is about 24 km from Naples and the best way to get there is with Circumvesuviana trains. One-way costs 4 € and the journey lasts about 30 minutes. The ticket can be bought from train stations.
Between Pompeii and Mount Vesuvius operates public EAV busses. One-way costs 2.7 € and takes about 50 minutes. EAV schedules are found here. Tickets can be bought from the bus.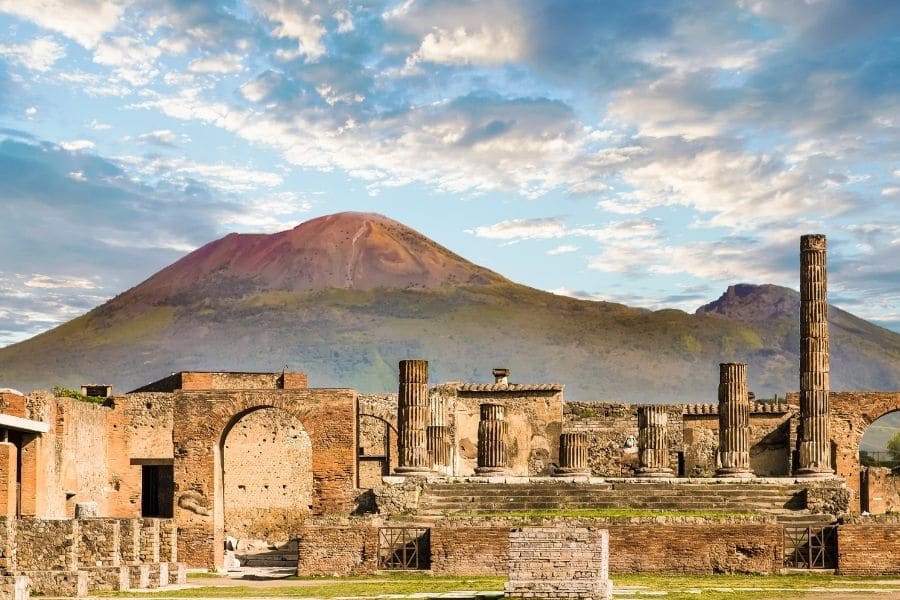 Transport to Sorrento and Amalfi Coast?
World-famous and one of the most photographic spots, Amalfi Coast is just 58 km away from Naples. It's easily reached by public transport.
Firstly it's also recommended to do a quick stop in Sorrento before the Amalfi Coast. It's a beautiful Italian town with exceptional cuisine. The best way to get to Sorrento is again by Circumvesuviana trains. One-way ticket costs 3.6 € and takes about 1 hour and 10 minutes. Another alternative is Campania Express Train which is a bit more expensive (8 €) but takes less time (45 minutes).
From Sorrento to Amalfi Coast operates SITA SUD busses. Therefore, since there are several towns (and stops), it's recommended to buy a 24-hour ticket for unlimited rides between the magical Amalfi Coast region. The 24-hour ticket costs 10 € and can be bought from tobacco shops, newsagents, cafes, restaurants. Can't buy directly from the bus! Schedules are found from here.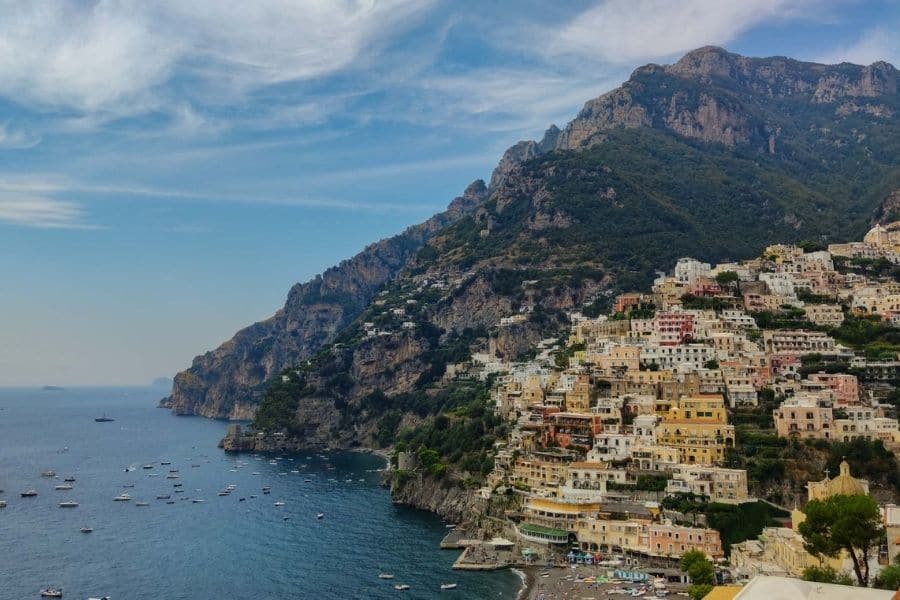 Reaching to the close-by islands?
Beautiful islands like Capri, Procida, and Ischia surround Naples. The only way to explore them is by seaways. All the ferries are departing from the Port of Naples. Prices vary a lot depending on the season. More information, prices, and schedules about ferries are found from here.
---
Where To Stay In Naples, Italy
Naples has several options from budget to luxury. Prices start from about 15 euros per night in budget hostels to about 50 euros in mid-range hotels. Here are some budget housing recommendations:
---
Naples Cuisine
Naples has a long history with local authentic food. Many famous dishes were invited there and their kitchen is known for its name, Neapolitan cuisine. It would be a total miss when you don't try out some local tastes.
The Home of the Pizza
One dish which everyone mostly likes. It was also invited there, and it's eaten everywhere in the world. It is a pizza. It's the most authentic place to try out a simple pizza Margherita or something else with other ingredients. The prices are extremely affordable, starting from 4 euros per whole pizza. Try out the most famous Italian dish in Pizzeria Starita. 
Variety of Pasta Dishes
There are a great variety of pasta dishes to try out. Pasta is popular all over Italy and should be tried out everywhere you go in that country.
In Naples, a classical pasta dish is Pasta Alla Genovese. There is debate about where it was originally done. Some say it was invented in Genoa, others say it was first made in Naples, and the most logical opinion is that it was first made in Naples by Genoa chefs. Who knows, but it's one of the most authentic foods in Naples. Prices for that are around 8 euros and it can be eaten for example in Anonymous Trattoria Gourmet.
Other remarkable pasta dishes are local lasagne, cannelloni, spaghetti alla puttanesca, and seafood pasta dishes.
Authentic Naples Street Food
The most characteristic street food in Naples is Cuoppo. It's fried food with varieties of ingredients like fish, mozzarella, meat, vegetables. The main rule for that food is that it should be dry enough to eat it with your hands. It is traditionally served in a cone-shaped paper bag. An ideal quick food when backpacking around Naples. Try out local Cuoppo in Il Cuoppo Friggitori Napoletani.
---
Budget For Backpacking Naples
Italy as a whole isn't a cheap country at all. However, backpacking Naples is one of the best options for budget travelers. It is known that prices in southern Italy are more affordable than in the north side. How would the average daily budget look like from a tight budget to a mid-range traveler?
A tight budget traveler should consider having around 25 euros per day. On that occasion, a wanderer has to stay in a budget hostel or Couchsurfing. Making food by themselves or having a traditional pizza or other street food. Exploring Naples on foot or using public transport. Visiting free attractions or some extra affordable sites like Fontanelle Cemetery or Castel dell'Ovo.
A rational backpacker who doesn't want to go too extreme with a tight budget I would recommend about 40 euros per day. On that occasion, travelers would stay in a budget hostel, eat affordable traditional pizzas or street food, use public transport, and have some tourist attractions.
A mid-range traveler who wants to have a bit more comfort and privacy should start with an average daily budget of 60 euros. Then the traveler can have a private budget hotel, eat in restaurants, move around with public transport, and visit several attractions.
| | Housing | Food | Transport | Attractions | Daily Budget |
| --- | --- | --- | --- | --- | --- |
| Tight budget: | 0 – 15 € | 10 € | 0 – 5 € | 0 – 15 € | 10 – 45 € |
| Backpacker: | 15 – 20 € | 10 – 15 € | 0 – 5 € | 5 – 20 € | 30 – 60 € |
| Mid-range: | 25 – 40 € | 15 – 25 € | 5 € | 15 – 25 € | 60 – 95 € |
NOTE! If you are planning day trips out of the city then the average daily budget will be higher due to transport and attraction costs. Also, these places are higher priced than Naples. For example when traveling to Amalfi Coast, then add at least additional 20 euros for only transport.
Read more: Traveling around Italy on a Budget.
---
Best Time To Visit Naples
Naples is located in southern Italy and due to that in terms of weather, it's mostly nice all year round. The peak season is during the summer months (June to August). However, it's also the busiest crowded period. Also, the prices reach their peaks.
The best time for a backpacking Naples trip would be right before (April to May) or after (September to October) the summer. The weather is still relatively warm and there will be fewer crowds around attractions like Pompeii, Amalfi Coast, or Capri island. Of course, prices are also more affordable.
Winter in Naples is pretty mild as it is peculiar to the southern Mediterranean climate. It's logically the coldest and rainiest months. But it would be ideal if the traveler intends to visit archaeological sites or other popular activities without crowds and therefore spend less money.
---
How to stay safe in Naples
Naples has one of the highest crime rates in Italy. Including chaotic traffic, dirty streets, and narrow streets. It might look a bit daunting at first because it's not so fancy nor elegant as you have seen around Italy. But is it safe for backpacking Naples?
Nonetheless, it's been titled as the most dangerous city in Italy. Well, sometimes the media can influence our thoughts too much. It's not that bad at all, everybody will be safe while wandering around Naples streets.
But as everywhere, pay attention to your things, because there are still pickpockets. Don't wear any expensive jewelry or keep close to your valuable things when walking on the streets (like a phone, a lot of cash, or a camera). It's also better to wear casual clothes to blend in well.
Traffic is pretty chaotic. Be aware of passing cars and scooters, when crossing roads (even on zebras), or when walking in narrow streets with traffic. There is one unofficial rule for traffic (as a joke), that there are no rules. Be extra alert with staying safe from busy traffic.
Travel insurance is a must. Anything can happen when traveling abroad and backpacking Naples is no exception. I always have travel insurance, but luckily I haven't used it yet. For me it's okay to spend a little for my safety (if anything happens), then to pay afterward for extremely high medical bills. I recommend using trusted World Nomads.
---
Naples Travel Guide: Naples Budget Tips
Naples Pass – That will come into play when you plan to see many sights, museums, use transport, or any other attraction. Passes are available at the price of 42 euros (3-day passes). Check out more about Naples Pass, to see if it would be money-saving for you.
Couchsurfing – That would be my first recommendation in any country. It's not about a free couch, but more about the awesome people you met through that. In short, it's an app or more community where locals host travelers in their homes.
Student ISIC Card – Can use it in any country. With that will be found discounts in transport, attractions, or even on accommodation. Check out which discount options with an ISIC card you have.
Walk as much as possible – Naples is a mostly walkable city. A lot of attractions are around the centrum. It's also possible to see more surroundings and even crash by accident into some hidden gems.
Local food experience out of the tourist area – In every city, the highest prices are around tourist hotspots (centrum and main attraction). One of the greatest travel tips that works everywhere is to eat there where the locals do.
Be your own chef – Easiest way to cut down expenses on food. Even though food isn't that expensive, cooking by yourself will save a ridiculous amount of money.
Free Walking Tours – The best way to get to know about the city is through the guided tours. Most of the cities have free guided tours around the main sights. I recommend using that, but make sure to tip the guide in the end.
---
More from Naples Travel Guide
Getting ready for a Naples city trip? Here you will find several posts about Italy, destinations, guides and budgeting tips.
---
PIN IT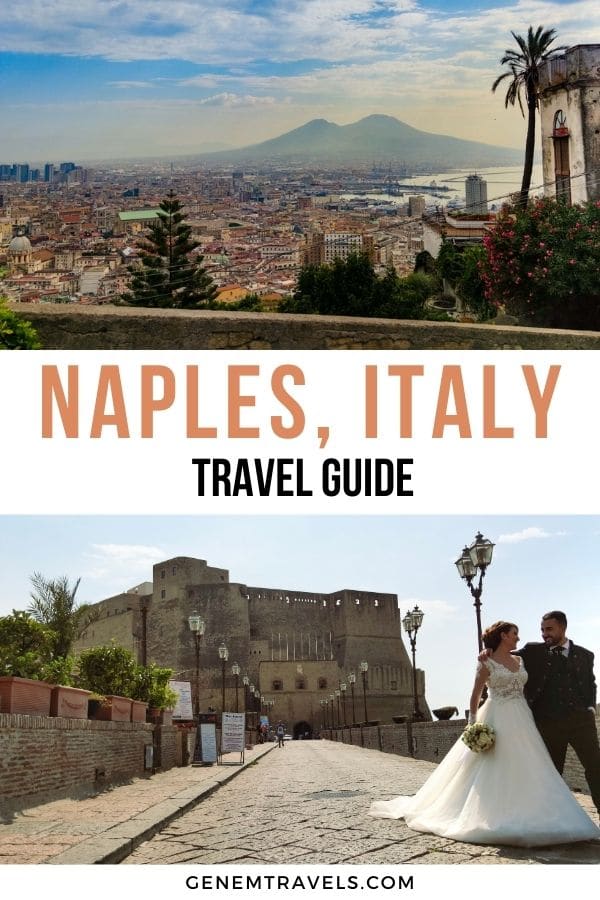 ---
Read more about Italy: