The Amalfi Coast is a beautiful stretch of coastline located in the southern part of Italy and is known for its stunning views, vibrant culture, and rich history. The area is also a popular destination for outdoor enthusiasts, with a wide range of hikes on the Amalfi Coast that offer breathtaking views and unique experiences.
Whether you are an experienced hiker or just looking for a leisurely walk, the Amalfi Coast hikes have something to offer everyone. In this blog post, we'll take a closer look at some of the best places to hike in this magnificent region.
1. Path of the Gods (Sentiero degli Dei)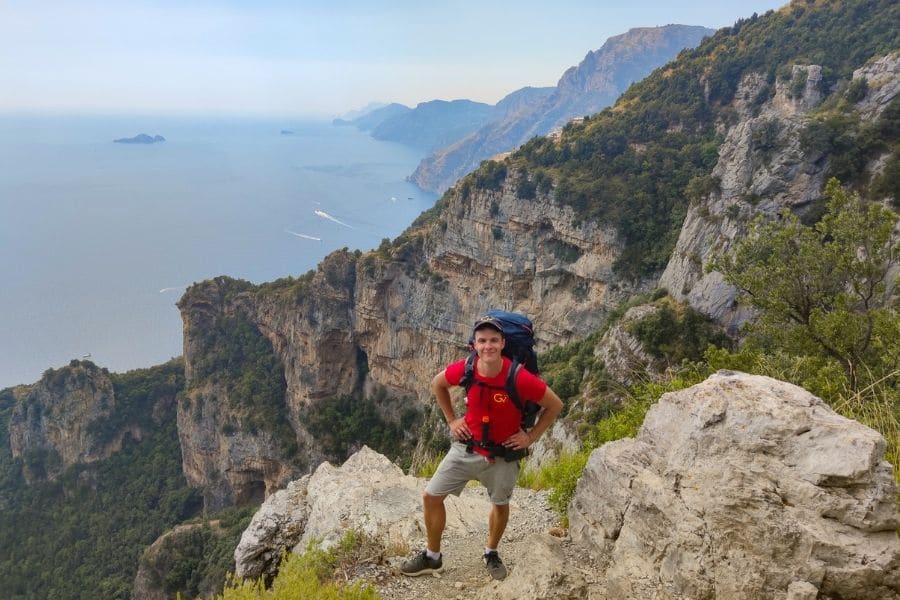 The Path of the Gods is one of the most popular hikes on the Amalfi Coast, and for good reason. This stunning trail winds its way along the cliffs, offering panoramic views of the Mediterranean Sea, the lush countryside, and the nearby towns. The hike starts in the town of Bomerano, near the famous town of Positano, and stretches for 9 miles (14 km) to the town of Nocelle. The trail is relatively easy, with well-maintained paths and gently sloping hills, making it suitable for hikers of all ages and skill levels. It is considered one of the best hikes in Italy and cannot be missed by anyone who visits that area.
2. Pimonte to Mount Molare
For those who are looking for a more challenging hike, the Mount Molare trail is a great option. This strenuous trail takes you to the top of Mount Molare mountain, which stands at an elevation of over 4,760 feet (1,450 meters). It's also the highest point on Amalfi Coast. The trail starts in the Pimonte area from the Sanctuary of San Michele Arcangelo and follows a series of steep switchbacks, offering breathtaking views of the surrounding countryside. The trail is about 2.7 miles (4.3 km) in total and the elevation gain is about 1,150 feet (350 meters). A moderately challenging route taking approximately two hours should be on your list when you want to be at the top of the Amalfi Coast.
3. Ravello to Minori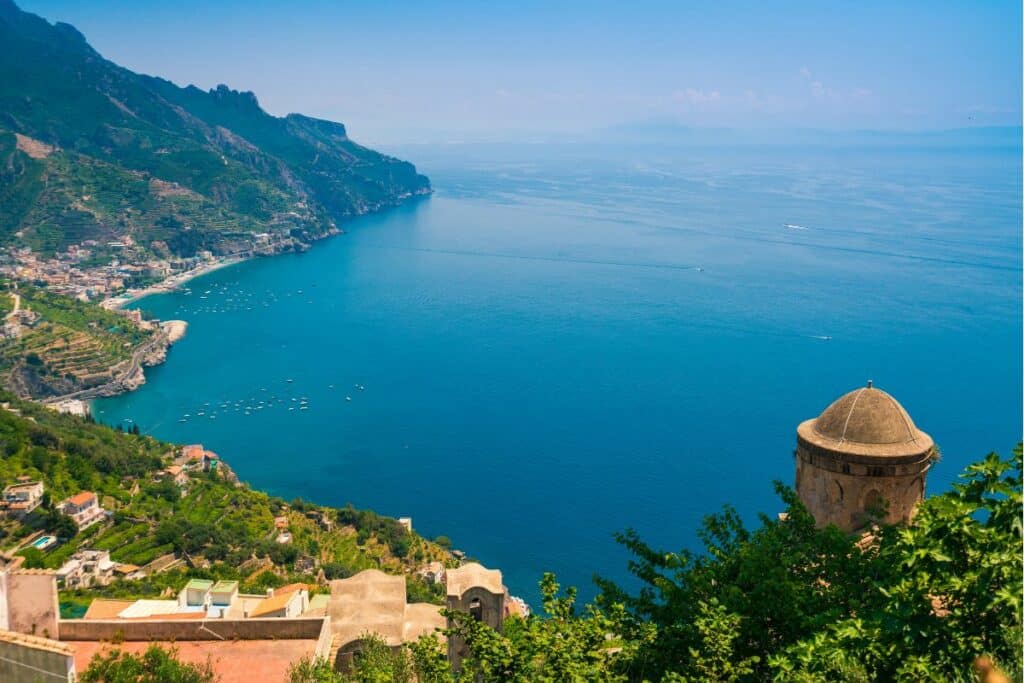 A hike from Ravello to Minori is a beautiful trail that takes one through the rolling hills and forests of the area. The Amalfi Coast hike starts in the town of Ravello and follows a series of paths that offer breathtaking views of the coastline and the surrounding countryside. The trail is about 4 miles (6 km) in total, and is relatively easy, with well-maintained paths and gentle hills. This hike is perfect for those who want to experience the natural beauty of the Amalfi Coast in a peaceful and relaxed setting. One of the best hikes on the Amalfi Coast takes approximately two and a half hours to complete.
4. Valle dei Mulini
Villa dei Mulini is one of the greatest hikes on the Amalfi Coast for those who want to have an easy walk and admire breathtaking views of different waterfalls. It starts near Amalfi town and the starting point can be reached by heading towards the main road Via Pietro Capuano until you find the signs for Valle dei Mulini. The distance of this easy walk is approximately 3.7 miles (6 km) and it takes approximately 2 to 3 hours to complete.
As you meander on the meticulously paved path, ancient buildings, and lemon trees will border your journey. After a kilometer of walking, the pavement will cease as you enter into a wilderness that is alive with sounds from Canneto River splashes. Then, after just a few more steps and turns, several waterfalls will appear.
5. Punta Campanella
The Punta Campanella hike is one of the best hikes on the Amalfi Coast, offering stunning views of the Mediterranean Sea and nearby islands. The trail takes you to a rocky promontory, where you can admire spectacular views of both Capri Island and Ischia Island. The 30-minute trail starts in the town of Termini. This hike also passes by an ancient temple dedicated to Poseidon which was built during Hellenistic times.
Meandering across the lush terrain of Italy's countryside, from olive groves and small gardens to stunning coastline vistas, this trail is relatively flat making it a breeze for even Sunday walkers. As you traverse along the tranquil shoreline, you'll be able to take in breathtaking sights of the azure sea that will stay with you long after your journey concludes.
6. Circuit of Tre Calli
The Circuit of Tre Calli starts in Bomerano, which is almost the same point as the ending of the Path of the Gods trail. This trail takes you much higher than the previously mentioned popular hike and offers panoramic views over the coast. The moderate circuit trail in Amalfi Coast is approximately 9 km long and takes around 4 – 5 hours to complete.
When you look out from the mountaintop, all directions offer an unparalleled sight. To the west lies Positano with its vibrant structures; to the east, Agerola sparkles in red-tiled homes. In the south stretches an endless expanse of the Mediterranean Sea merging into a sky that is fit for daydreams. Meanwhile, in the north stand Mt Lattari Chain's mighty mountains delivering a majestic view unlike any other!
7. Sentiero dei Limoni
Amalfi Coast hike, Sentiero dei Limoni is an easy 2.4-mile (3.9 km) walk connecting Maiori and Minori through beautiful residential areas with breathtaking sea views. As its name suggests, you'll wander past iconic lemon groves of the Amalfi Coast that are bursting with color and fragrance. Also if you're lucky enough, some generous locals may even invite you in for a taste of their homemade limoncello! A real authentic experience!
Enjoy a delightful hike through the Costiera and observe how people used to live here, surrounded by nature's tranquil pace. The best time to do this Amalfi Coast hike is during spring or summer when you can witness the traditional harvesting of lemons!
8. Santa Marina del Castello
For experienced hikers, the Santa Marina del Castello trail near Positano is an invigorating experience with a thrilling reward. Soar 1.9 miles uphill and be rewarded with stunning views of the hanging cliffs below you when you reach your destination – all within 2 to 4 hours depending on your speed!
One of the key benefits of taking this hike during summer is that much of its beginning offers ample shade, making it a pleasant experience. As you progress, Positano's hills will be visible just ahead in all their glory – an ideal photo opportunity! Finally, when you reach your highest point on the trail which is Santa Marina del Castello village, you can relax and rejuvenate at one of the local bars before heading back down.
9. Ring of Faitho
Embark on an awe-inspiring adventure around Mount Faito – one of the most magnificent hikes on the Amalfi Coast. This 8 km loop starts from a cable car and takes you to heights above 3,300 feet (1,000 meters)! Reach for new horizons with your ascent to the summit of Mount Molare at 4,760 feet (1,450 meters) where you can marvel at dazzling 360° views over this wondrous region.
You will be rewarded with breathtaking views of the islands of Capri, Ischia, and Procida as well as the entire Amalfi Coast and Sorrento. On top of that, you will also catch a glimpse of Naples with its Gulf in all its glory. Not to mention the world-famous Mt. Vesuvius standing majestically next to Naples.
---
Where to stay on Amalfi Coast
The Amalfi Coast offers a wide range of accommodation options to cater to all kinds of travelers, from luxurious villas and resorts to cozy bed-and-breakfasts. If you're looking for a more traditional experience, stay in one of the characteristic villages such as Ravello or Positano where you can get lost among the cobblestone streets and enjoy the stunning views of the sea. For a more secluded setting, opt for a villa in one of the hillside towns.
When prices on the Amalfi Coast seem to be over budget, then also search for a pleasant spot in Sorrento or even the region's capital, Naples. From the big city, you will find accommodation options for all kinds of budgets.
Conclusion
In conclusion, the Amalfi Coast offers a wide range of hiking opportunities, from leisurely walks to challenging treks, making it a perfect destination for outdoor enthusiasts and when backpacking in Italy. Whether you are looking for breathtaking views, a chance to explore the natural beauty of the region, or just some exercise, the Amalfi Coast has something to offer everyone. So, pack your hiking gear, grab your friends and family, and head to the Amalfi Coast for an unforgettable hiking experience!
---
PIN IT
---
Read more about Italy: