Italy has many famous places and big cities. Hotspots like Rome, Venice, Milan, or Amalfi Coast aren't unknown to anybody. However, there is a region in Italian Riviera which is not so well known for the people who are not familiar with Italy. It's called Cinque Terre. Even though it gets more and more crowded every year, it's still not so well-known as the similar scenic place Amalfi Coast.
From this Cinque Terre travel guide, you find information about five villages, things to do and see, how to get there, and some tips and tricks.
What is Cinque Terre?
The history lies back to the 11th century when the first Cinque Terre villages in Italy were settled in the Liguria region. These villages of Cinque Terre were meant for the fishermen and their cottages, also to grow on the steep slopes grapes, olives, and lemons. Over time the economy didn't go well, because they were isolated and it was complicated to keep up with bigger towns that had better transportation. Everything changed in the 1970s when the area was discovered as a tourist attraction. From that time that area is fed by tourism.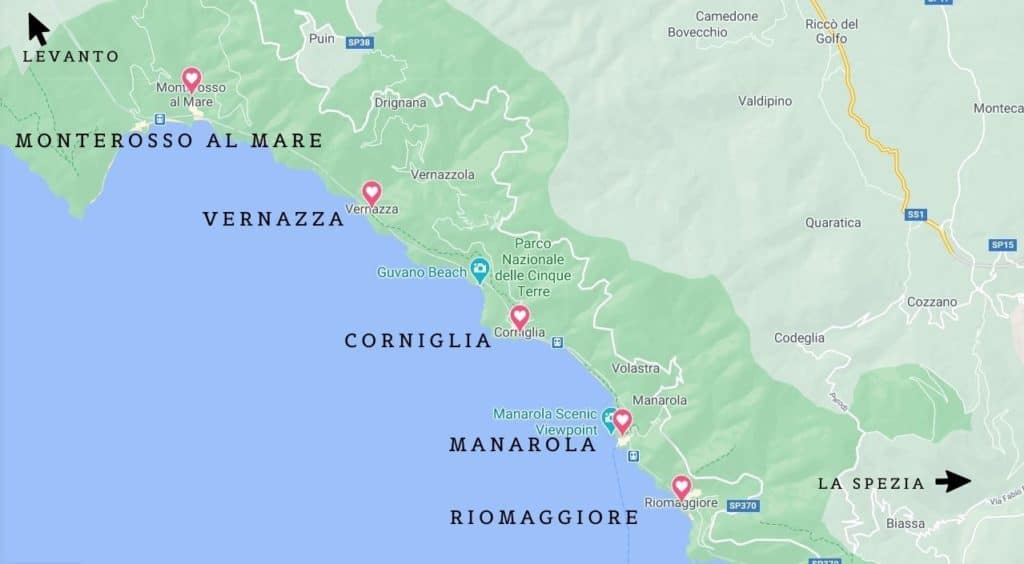 Cinque Terre villages in Italy
It also means Five Lands. So the name already gives you a little hint that it has five separate "lands", consisting of five villages:
Monterosso al Mare
Vernazza
Corniglia
Manarola
Riomaggiore
Not to mention that these five towns, coastline, and the surrounding hillsides are sited to UNESCO World Heritage and are part of Cinque Terre National Park.
Monterosso al Mare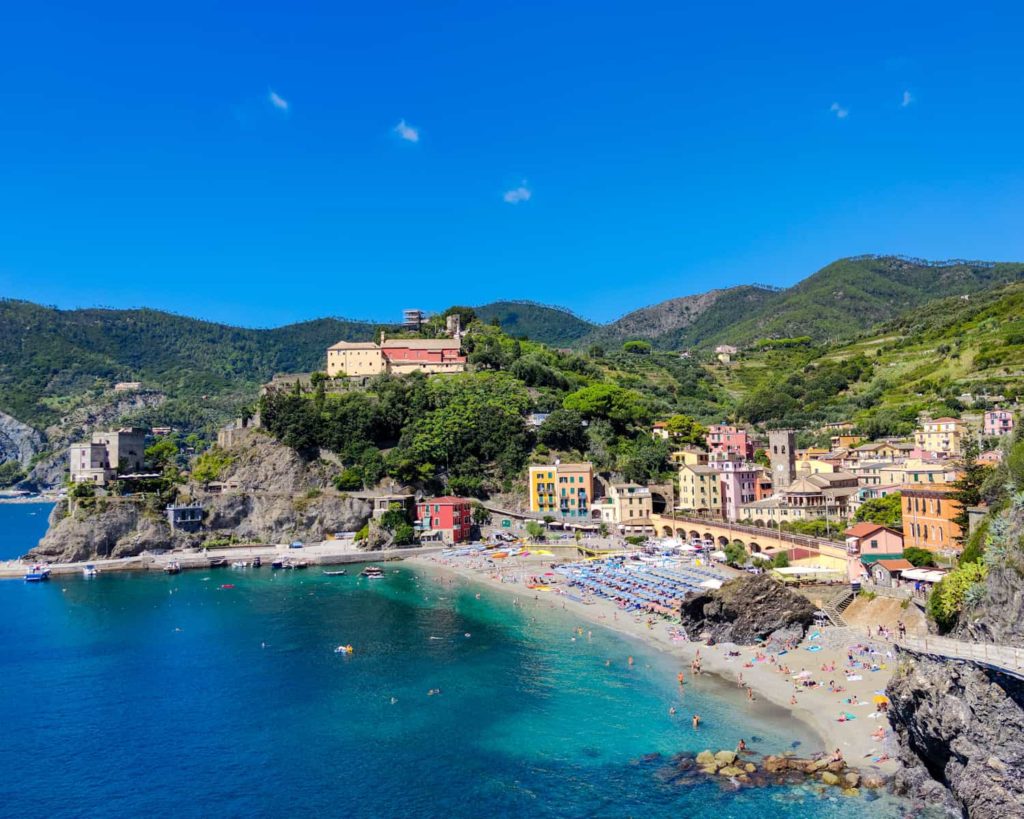 It's the northernmost village of Cinque Terre. Biggest among five towns. Monterosso is divided by a tunnel into two: the newer part is known as Fegina and the older part Paese Vecchio with typical narrow medieval streets. The Fegina area is more crowded in the coastal line with several restaurants and accommodation options. Surroundings are dominated by lemon trees with some additional grape and olive fields.
What to see in Monterosso?
The Aurora Tower – Going back in history then all the towers next to the coast were built due to defensive reasons. There were many towers back in days, in total 13, but now there are only 3 left. It's located between the old and new part.
Monterosso Giant – The statue is located at the end of Fegina beach. The Giant represents Neptune, known as the God of the Sea.
Church of St. John the Baptist – Gothic-styled church is located in the main square of the older part of Monterosso.
Convent of the Capuchin Friars – Located atop of the hill between two sides (old and new part). From there you have views of the sea.
What to do in Monterosso?
There is the biggest and longest beach through all the five villages. It might be a good location to spend your lazy day on the beach.
Monterosso al Mare area is well-known for admiring lemons. You will find several lemon-related shops. Also one of the biggest festivals in the Cinque Terre village, Sagra dei Limoni (The Lemon Festival) is related to lemons. The Festival is held at the beginning of May.
You can also join with kayak tours, starting from Monterosso. You can paddle to the next Cinque Terre village or all those five towns.
Monterosso is also a popular town for weddings. For sure that is one of the most unique and picturesque places for a special day.
What to eat in Monterosso?
Variations for different tastes:
Seafood lovers, which are also traditional for the five towns: Ristorante Belvedere, Trattoria da Oscar, Miky.
Searching for regular restaurant: L'Ancora della Tortuga, Da Eraldo, San Martino Gastronomia.
For morning cafe: M.G. Bar, Pasticceria Laura, Bar Della Stazione.
There is always room for a gelato: Slurp!, Il Golosone, Gelateria La Scogliera.
Vernazza
Vernazza is one of the truest and some say even one of the most beautiful among Cinque Terre fishing villages. Surrounded by very steep olive and grape field slopes. Narrow streets, vivid fisherman cottages, and a beautiful harbor are the things that make it to agree with the title as being even one of the most beautiful places in Italy.
What to see in Vernazza?
The Tower of Doria Castle – Another tower built with defending reasons back in days. Nowadays it offers the best views around the Vernazza and its surroundings with steep fields. You get to the Vernazza viewpoint and fantastic photos for 1.5 euros (entrance fee).
Vernazza Harbor – Beautiful harbor lies right in the heart of the Vernazza. There you can just walk on the edge of the harbor line to the end of the mule.
Church of Santa Margherita di Antiochia – Roman-style church located in the main square right next to the coast.
What to do in Vernazza?
For beach people, there are two spots to get tanned and refreshed by the Mediterranean Sea. One is right in the city center (before harbor) and the other one is a bit further but close to Vernazza.
Vernazza has two main festivals: Feast Santa Margherita di Antiochia on July 20 and Feast of Pirates. The last festival celebrates its defending and fighting back attacks by pirates many centuries ago.
If you are interested in local wine production, then don't miss a chance and try wine tasting in some of the shops called enoteca. Wine in the Five Lands area is mostly white.
What to eat in Vernazza?
Some more local and traditional places to eat:
Interested in local seafood: La Torre, Belforte, Gambero Rosso, Gianni Franzi.
Restaurants with wide range options: Piadiamo Vernazza, Il Pirata delle Cinque Terre, Vulnetia.
For a coffee break or quick toast in the morning: Ananasso Bar, Lunch Box, Blue Marlin Cafe.
Gelato & chill: Gelateria Il Porticciolo, Gelateria Vernazza
Corniglia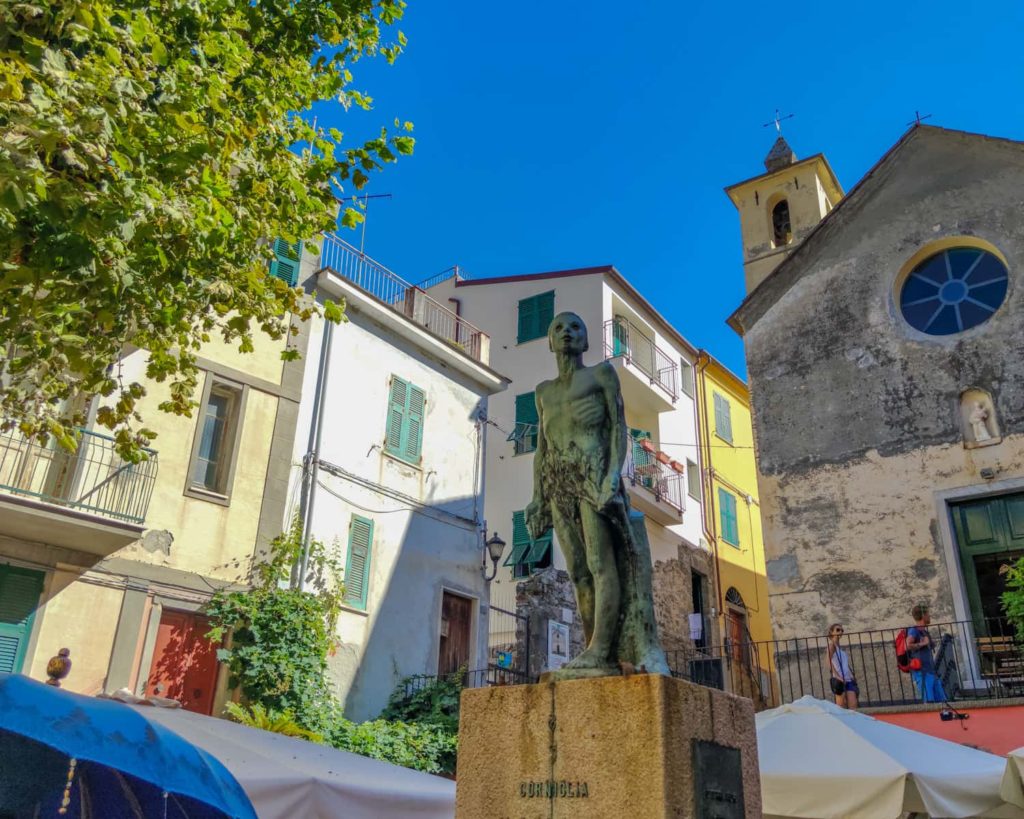 Corniglia is the only village in Cinque Terre coastline that is not accessible directly from the sea. The middle village of five is 100 meters above sea level. A hilltop village is surrounded as peculiar to Five Lands by vineyards. Because there is no port, the locals were more focused on farming than fishing.
What to see in Corniglia?
Chiesa Di San Pietro – Gothic-style church located at the beginning of the Cinque Terre village and it's on the way of hiking trails. From there you have marvelous views of Corniglia.
La Torre – Official viewpoint in Corniglia to the sea and the upcoming coastline to Manarola.
Scalinata Lardarina – Can't miss that place when you are moving between five towns. While you take down around 400 steps from the spot to either the beach or railway station, you can enjoy views.
What to do in Corniglia?
Even though Corniglia is not exactly next to the shore, it is still possible to taste a touch of the sun from the local beach. It's located on the way to Manarola, next to the railway station.
Corniglia has also some festivals like San Pietro and Paolo Feast on June 29 and N.S. delle Grazie Feast on September 8. The first event tradition is to make a huge cake, "Torta dei Fieschi", where every person can taste the cakes made for the special day.
What to eat in Corniglia?
Corniglia is the smallest Cinque Terre village but still, there is plenty of options to taste local cuisine:
Want to try out Italian local food from restaurants: Terra Rossa, Bar La Terza Terra Corniglia, Km 0.
Cafe in the morning or something quick during the day: Bar Pan e Vin, Er Posu Cafe, Caffe Matteo.
A day without a gelato wouldn't be a proper day: Alberto Gelateria, Gelateria Artigianala Un Mare di Yogurt.
Manarola
It's believed that Manarola is the oldest among all the villages of the Cinque Terre. The local economy has thrived for ages with fishing and wine-making. While fishing might not be the main thing anymore, then the opposite, wine production is still essential. With local wine, multicolor buildings, and rocky shore – Manarola is one of the most unique among 5 towns of Cinque Terre.
What to see in Manarola?
Church of San Lorenzo – Gothic Ligurian styled church, where the cornerstone was put down in 1338.
Torre Campanaria – The opposite side of the church of San Lorenzo. A tower with a bell built for defensive reasons.
Punta Bonfiglio – Manarola scenic viewpoint to vivid buildings and rocky shore. Best place to relish views of the Meditteranean Sea and to do pictures with Manarola as a background.
What to do in Manarola?
Manarola is a more rocky shore, because of that, there is no sandy beach. But you can still have a tan there and swim. The coast is also deep and there is an opportunity to release your adrenaline with cliff jumping.
The main event in Manarola is the San Lorenzo Feast on August 10.
During the winter times from December 8 to the end of January, hills are illuminated with over 300 characters made of recycled materials. Biggest lighted nativity in the World.
Manarola is surrounded by grape fields and the locals still keep up with wine-producing tradition. As already mentioned before, in the area you can taste mostly white wine. The local signature sweet wine is called sciacchetrà.
What to eat in Manarola?
It's one of the most popular town among the tourists, so there is plenty of variations of local cuisine:
Traditional seafood: Da Aristide, Trattoria dal Billy, Marina Piccola, Il Porticciolo.
Regular restaurants: Aristide, Pizzeria & focacceria La Cambusa, Nessun Dorma Cinque Terre.
Cafe in the morning: Aristide, Nessun Dorma Cinque Terre.
Why not for another gelato: Gelateria Enrica, Gelateria 5 Terre.
Riomaggiore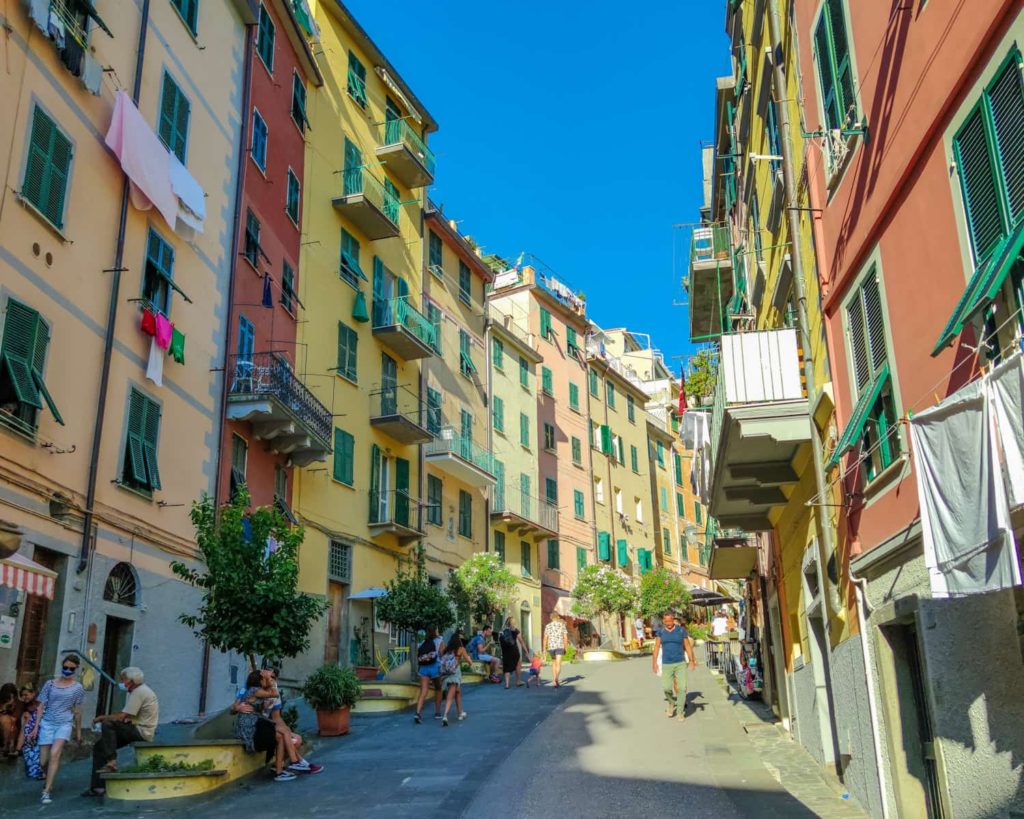 Riomaggiore is the southernmost village of the Cinque Terre. It's characterized as peculiar to five towns with colorful buildings, narrow maze streets, and rocky shore. Because buildings are built together, it looks like the biggest village of all Cinque Terre (Monterosso are more separated and scattered). Riomaggiore offers the most magical sunsets.
What to see in Riomaggiore?
Castle of Riomaggiore – Castle was built in 1260 and right now is open for tourists. It's atop of the hill which offers magnificent views of the Riomaggiore and to the sea.
Church of San Giovanni Battista of Riomaggiore – Gothic-style church was built in 1340.
Santuario di Nostra Signora di Montenero – That temple stands on a hill, 350 meters above sea level. It needs a bit of a walk and hike to reach there because it's not exactly in the center of the Riomaggiore. From there you have marvelous views of the whole coastline and panoramic views of the sea.
What to do in Riomaggiore?
Riomaggiore is located on a rocky shore, but a bit further to the south is also a local Riomaggiore beach.
Riomaggiore celebrates The day of San Giovanni Battista on June 24.
If you skipped the wine tasting in previous Cinque Terre towns or you want to have more. Then you have alternative options in Riomaggiore as well.
Hike along the coast on Via Dell'Amore trail.
What to eat in Riomaggiore?
Tasting local cuisine in Riomaggiore:
You can't look away from seafood: Dau Cila, Il Pescato Cucinato.
Trying some traditional Italian cuisine: Colle del Telegrafo, Rio Bistrot, La Cantina del Macellaio, La Lampara.
Having a breakfast in cafe: Bar Stazione, Vertical Bar Riomaggiore, Giammi Caffe.
Gelato on more time: Old School Riomaggiore Gelateria & Snack Shop, Gelateria Centrale Di Germani E Giaccio, Gelateria Sottozero.
---
Accommodation in Cinque Terre
Now it comes down to a question: where to stay in Cinque Terre? Villages aren't big, buildings have kept their old aura, no new buildings, and no big hotel chains. Because of its high tourist area and villages of the Cinque Terre are small, means that there is a high demand for accommodation. This is an opportunity to put higher prices on that unique area.
In short, it's not a budget traveler spot. However, there are some options for tight wallets.
Main types of accommodation:
Camping sites – The cheapest alternative to spend a night. Some places are around the area and close-by places like Levanto. Prices for one night are around ten euros.
Hostels – There aren't many hostel choices around villages of the Cinque Terre. There are few, but due to it's a touristic area, these spots run out fast. My recommendation would be 5 Terre Backpackers. Close-by La Spezia has more hostels when you don't get your spot there.
Hotels – the most expensive choice but with that, you have service and can have magnificent views. The price depends on your needs. You can have a four-star hotel with picturesque views of a Cinque Terre village and sea. Recommended: Cinqueterre Residence.
Bed & Breakfast – A cheaper option than hotels. Price again depends on your needs. You can also have great views and one thing that is common for every Cinque Terre village, that location is perfect. Recommended: Amanarola.
Apartments and villas – It can be the cheapest and also the most expensive alternative. With an apartment, you can cut expenses down with shared costs. With a villa, you will probably pay more. Recommended: La Vista di Marina by The First.
It all depends on the season (summer is high season), the time you booked in advance, and are there any events nearby. It isn't something that will make you broke. With accommodation, you can taste these magical five towns at its fullest.
---
How to get to Cinque Terre
It's located in northwest Italy. The biggest cities around the villages of the Cinque Terre are in the northwest way Genoa (about 90 km away), in north Milan (230 km away), and in southeast way Firenze (180 km away). All these big cities mentioned above are well connected in addition to cars with Italian Regional Railway. Check out the trains from Omio.
If you decide to be more flexible, then I recommend renting a car, because it's the best way to discover all corners of Italy. From DiscoverCars you will find a range of options that suit well for Italian roads. In Cinque Terre, I recommend parking the car at Monterosso al Mare.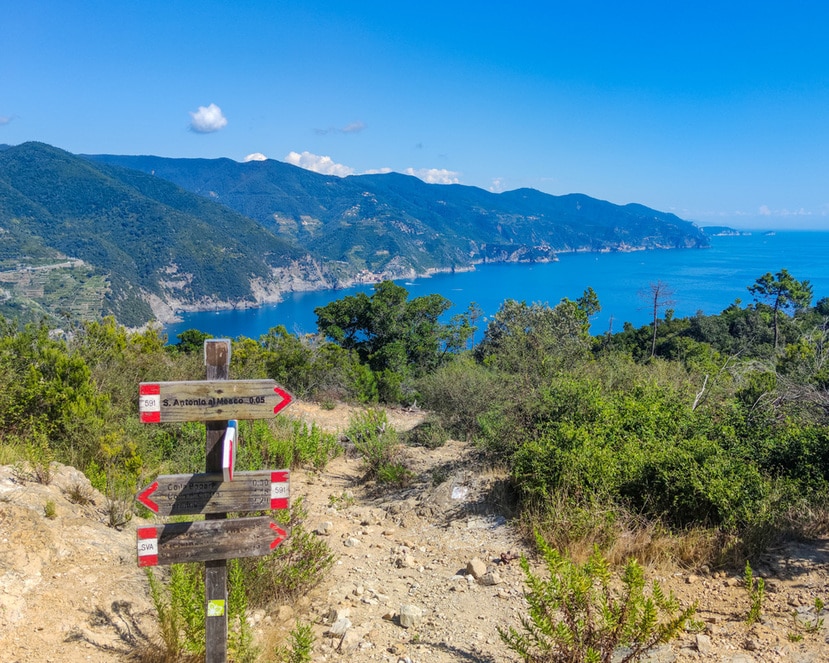 ---
Moving between five villages
Villages of the Cinque Terre are situated on a rocky coastal side and back in the days, these fisher villages were only reachable on foot by walking paths or by the sea with boats.
Nowadays you have more convenient options to discover the area. They stand close together on a 20 km coastline. There are some reasonable and some not so reasonable ways to move around.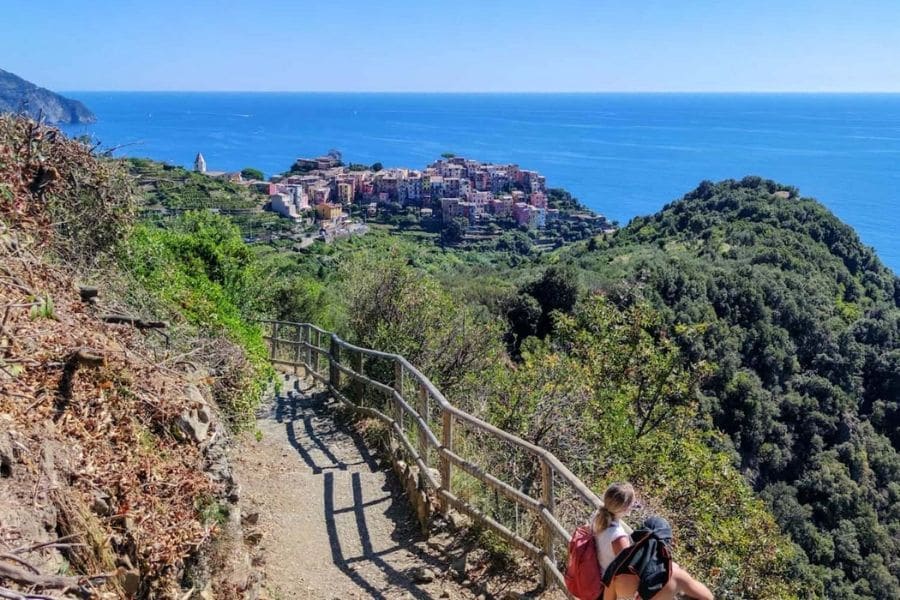 Options to move between Five Towns
Hiking in Cinque Terre – Probably the best way to move around the Cinque Terre National Park. There are hiking trails between every village. Even though some hiking trails are closed due to past floods and stormy seasons. For hike enthusiasts, there are some additional opportunities.
Read more: Hiking in Cinque Terre.
Cinque Terre trains – All villages of the Cinque Terre have train station and express trains will stop in every five villages. It takes only some minutes to get to the other hotspot. Trains run between La Spezia – Cinque Terre – Levato and vice versa from about 4:30 am to 00:30 pm in a high season. More information about the train tables. A single ticket for adults is 4 euros or you can have a Cinque Terre Card with free train rides.
Boats and other options – You can move between five villages with public boats, rent a private boat, or a previously mentioned group tour with a kayak. Information about public boat prices and timetables are found here.
By car – It's the worst among alternatives. Villages of the Cinque Terre aren't connected directly with roadways as trains. You need to take a ride back and then take another one-way road to the next village. With a car, there is a cost for wasting time on driving and finding parking space, also paying high fees for parking. It's better to leave the car in one of the five villages or nearby places like Levato or La Spezia. After that, you can continue to explore this magical place with the opportunities mentioned above.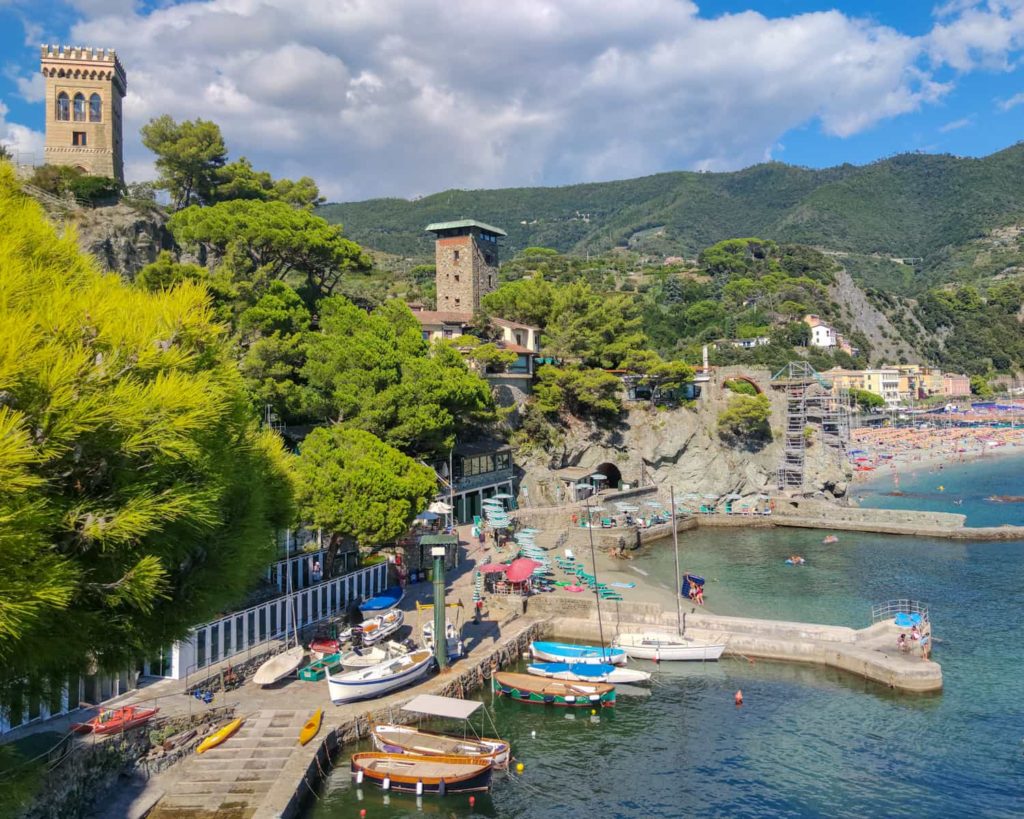 ---
Cinque Terre Itinerary
How long to stay in Cinque Terre? From below you will see how your days look like, depending how long is your trip around the five towns.
One day
In that case, you don't spend a night in any five villages. You have to start your day early in either Levanto or La Spezia or other close-by locations. It is possible to discover all places with rail transportation and you even have time to hike between villages of Cinque Terre, see local sights, try some local food or wine and have a lazy time on the beach.
I wouldn't recommend scheduling everything in one day. Firstly you only have a couple of hours to spend in each five towns. You will miss and skip some landmarks. Last but not least you will be in the rush and you can't feel relaxed.
Two days
Going there for two days, you don't have to stay in either of the Cinque Terre villages. There is a chance to stay also either in La Spezia or Levanto and move from there by reasonable train. With a train schedule, you can spend a long days in five towns and even witness that magnificent sunset. But with accommodation, you will be in the center of the Five Lands atmosphere all day and night.
On the first long day, you can explore three villages of Cinque Terre and taste and feel local culture, food, wine. You name it. The next day complete your mission with two last villages and feel relished from the magical "Five Lands".
Three days or more
Again when it comes to spending a night then there are two logical options. But now I highly recommend spending at least one night in either village. In that case, you are taking it slow and enjoying your moment in these villages of the Cinque Terre, like one vacation should be.
With no rush, you can have a lazy beach day in Monterosso, have gelato for a warm day in Vernazza, hike to Corniglia, taste local white wine in Manarola, eat local seafood in Riomaggiore. Take your time and feel the local life.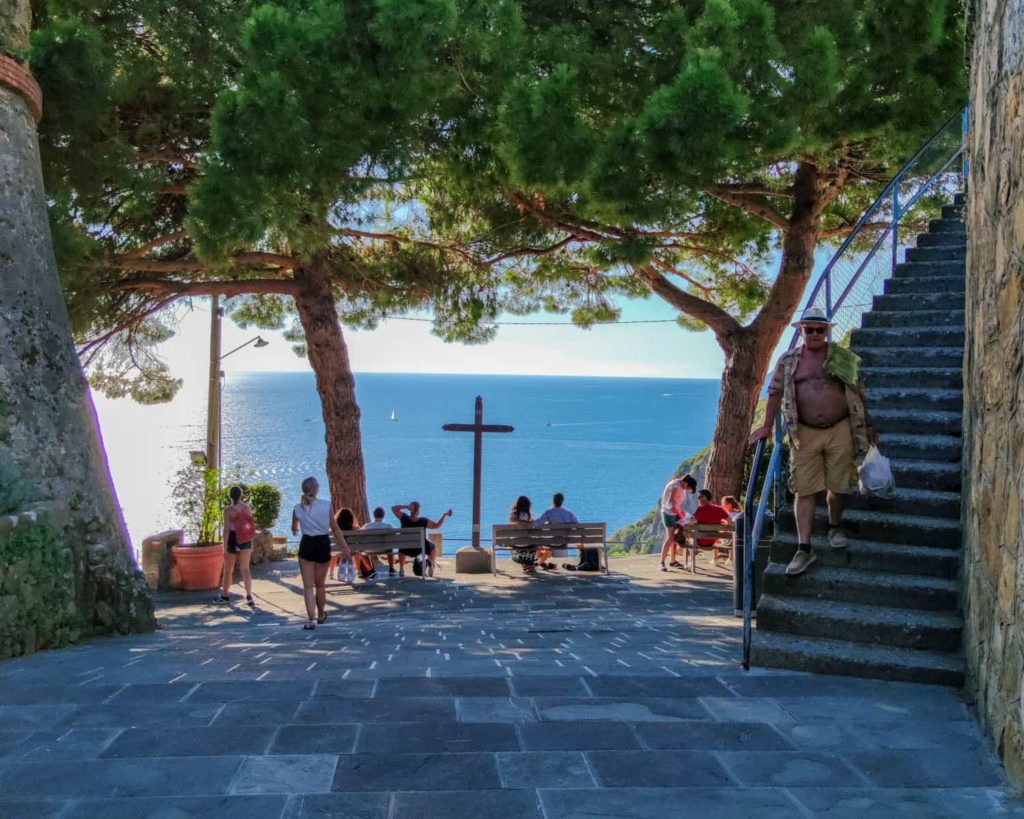 ---
Cinque Terre Tips & Tricks
It's pretty expensive place, not so many budgeting options. But there are always some options to spend less, and so it with Cinque Terre.
Cinque Terre Card
There are additional costs for hiking trails and trains (single tickets responsively 7.5 and 4 euros). To cut down these single costs you can buy Cinque Terre Cards for trekking only or trekking and free train ride cards. Trekking card includes no entrance fees for hike trails, free bus services within the parking area, and reduced fee to the Civic Museums in La Spezia. From trekking and train cards you have the same benefits as previously mentioned, plus a free train ride between La Spezia – Cinque Terre – Levanto and vice versa.
The cards will be money-saving when you want to hike and use the train over two times. Adults prices for trekking cards for one day 7.5 euros and two days 14.50 euros. Trekking plus train express card prices for adults are for one day 16 euros, two days 29 euros, and three days 41 euros. More information about the cards.
Budget tip in visiting Cinque Terre Towns
If you are a budget traveler and want to keep expenses as low as possible, then you might start your adventures to five towns from La Spezia. It's the closest bigger town to Cinque Terre with cheaper hostel prices. You can spend long days and even look at the sunset thanks to the train system.
Cinque Terre day trips
Five villages stand on the beautiful coastal area and around are many different small picturesque places. Going to the north along the Italian Riviera and keeping next to the coastal area you can hop around in some lesser known Italian villages like Sestri Levante, take a turn to Portofino, explore the hidden beach San Fruttuoso. In the south is another hidden gem Porto Venere, the famous Pisa tower and historical Firenze.
---
Taking all together
Cinque Terre isn't something that you just hop in, see some villages and sights. Then get checked as done. Here you take it slow, get a feeling, having a good amount of time, and aren't in a rush. Be relaxed and enjoy your vacation in the beautiful Italian Riviera.
Are you a solo traveler, with a partner, friends, or family? It is always a good idea to spend your quality time villages of the Cinque Terre. Read more about Italy:
---
PIN IT
---
Recent post about Italy: