The story about Castelmezzano's history lies back to the 5th to 6th century BC when Greek habitants settled in the valley of Basento. A new town, back then, ancient Maudoro, was born — a town name meaning a world of gold. 
Nowadays, it's named Castelmezzano, and unfortunately, no gold can be found. But by the atmosphere and looks, it's a scenic sight in Italy. The exact town founded in the 10th century is now referred to as one of the most beautiful villages in Italy.
Where Is Castelmezzano?
Castelmezzano is located in southern Italy, in the Basilicata region, surrounded by the magnificent Dolomiti Lucane mountain range in the valley of Basento. It is still a hidden gem in Italy, mainly because big famous spots do not surround it.
Read more: Unpopular Villages in Italy you haven't seen yet.
How To Get to Castelmezzano?
Castelmezzano is a bit off-track from the main road, and because of that, there are short options for public transport. But local bus services do operate between the Basilicata region. The local bus company is SITA SUD, and in that link, you can find schedules to Castelmezzano village from two main close-by cities. Two main starting points to a scenic Italian village are Potenza (38 km away) and Matera (84 km away). The best option is to have a car. Then it's also possible to look around close-by beautiful villages like Pietrapertosa.
Things to do and see in Castelmezzano
Castelmezzano in Italy has a charming medieval town with churches, landmarks, colorful buildings for living, restaurants, and accommodation.
1. Walk up to Gradinata Normanna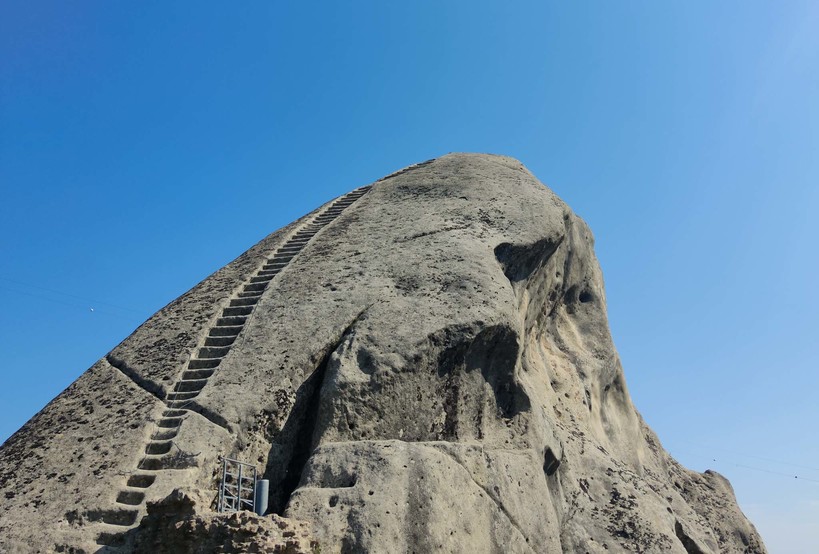 A small, easy climb from a village to Gradinata Normanna is a must when strolling around the area. The pathway starts from the village. The stairs take you to the top of the landmark. You have a spectacular view of Castelmezzano and the surrounding landscape from there.
2. Seek the Churches
Most of the Italian villages' cornerstone buildings are churches. The most prominent church in Castelmezzano is the Mother Church of Santa Maria dell'Olmo. It's right next to the main square. The Church of Santo Sepolcro is a smaller one in the village. Also worth mentioning is the Chapel of Madonna dell'Annunziata, which is just a bit outside of the village, close by surrounding hike trails.
3. Viewpoint In The Center Of The Village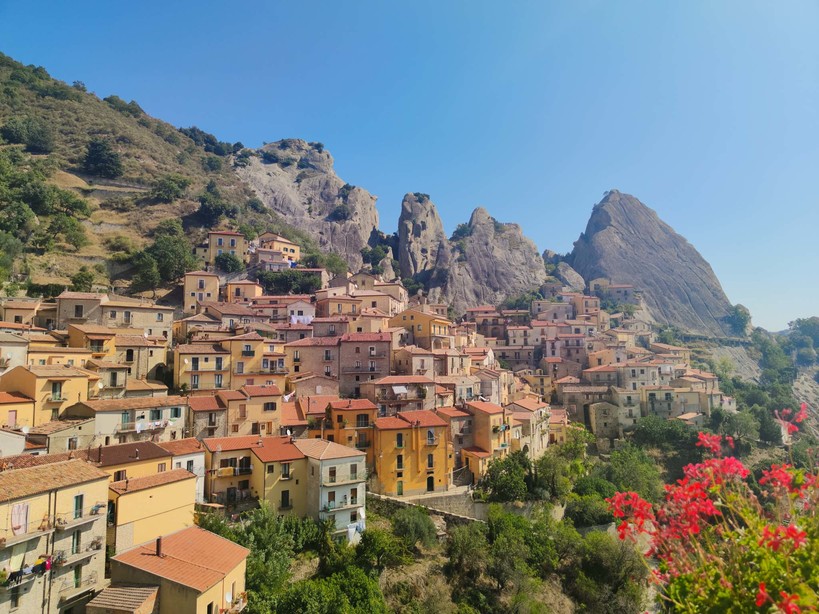 The viewpoint from the village's main square is a place to stop and admire the beauty of Castelmezzano. Witnessing panoramic views over the charming vivid buildings and surrounding dolomite mountains. A scenic spot to take pictures, look around the beautiful village and rest after some hikes.
4. Stroll around the Medieval Village
Castelmezzano has a medieval atmosphere, thanks to the architecture of the maintained buildings. Strolling around on the narrow streets, next to the cluster of stone houses, is something different that hasn't been seen everywhere. It's a mountain village with many narrow steps up and down. An excellent location to wander around and breathe that small village atmosphere.
5. Visit Neighboring Village Pietrapertosa
Look-alike beautiful village is just a stone's throw away. Some logical and unusual ways to visit Pietrapertosa from Castelmezzano. Take a 10 km car ride, shortcut from hike trails, or speed up with a high-speed zip line. Pietrapertosa is entirely built on bare rocks, so all the houses are shaped by nature. Worth visits are the Mother Church of San Giacomo Maggiore, the Convent of San Francesco, and the Castle of Pietrapertosa.
6. Hike Around Lucanian Dolomites
Around the Lucanian Dolomites, have several hiking paths. From small walking trails up to the climbing to Dolomiti Lucane mountains. As previously mentioned, small hikes are a walk to Gradinata Normanna, and trails around Castelmezzano starting from the Chapel of Madonna dell'Annunziata. Because these are just like walks with some gains, there is no need for any additional equipment.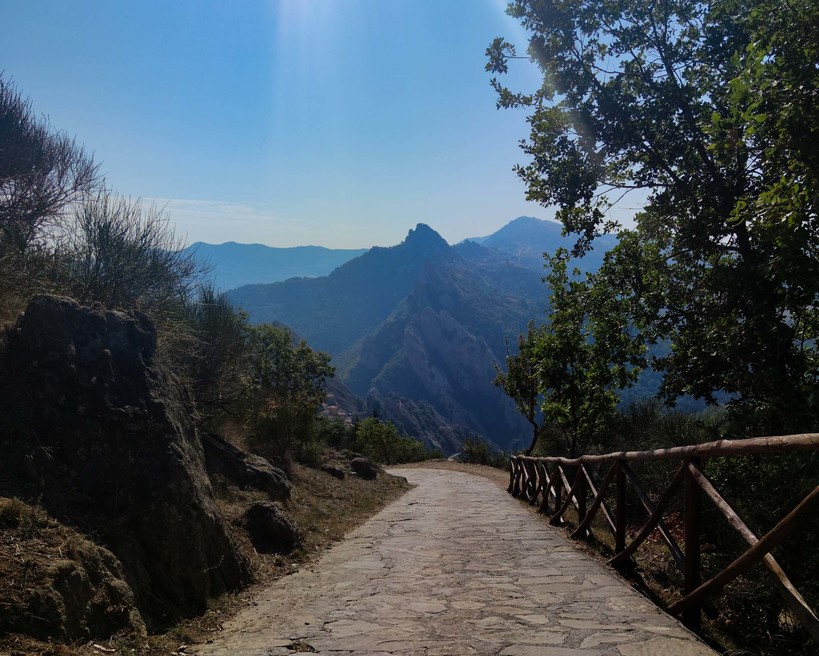 Via Ferrata Salemm
However, there is also something for real climbers (you don't need to be a certified climber, anyone can go there), and it's essential to wear proper climbing equipment. For that, there is the Via Ferrata Salemm pathway. Starting from the village's dolomite mountains to the close-by village Pietrapertosa. You can only climb the mountains. PS: You don't have to take a full path if you don't want to.
Seven Stone Path
A bit longer walk is the historical Seven Stone Path. It starts from Castelmezzano to the neighboring village Pietrapertosa. It's a relatively stroll between two beautiful Italian villages. Offers some scenic views on the way.
7. Volo Dell'Angelo High-Speed Zip Line
A more unique and adrenaline-filled activity in Castelmezzano is the high-speed zip line Volo dell'Angelo. Also called the angel flight. It's an activity for adrenaline junkies that starts from the hill near the village, and it's connected over the valley with neighboring Pietrapertosa. Although it also ends in Castelmezzano. During a flight, it takes "pilots" above 400 meters from the ground with speeds reaching over 120 km/h (70 mph) — an exclusive thing to try out in that hidden gem in Italy.
---
Where To Eat?
In Castelmezzano, a belly can be filled with classical Italian and Mediterranean food. But as it's a small town, mainly the restaurants are run by local families. A warm, welcoming greeting will be guaranteed. There are restaurants for budget travel with classics and some local cuisine like Trattoria da Spadino, Trattoria dal Vecchio Scarpone, Peperusko.
With a population below 800, Castelmezzano is still blessed with Michelin-star restaurant. Al Becco della Civetta gained that honorable sign to their walls in 2020 — a special time for a romantic dinner.
Where To Stay In Castelmezzano?
Despite its small and remote destination, there are still a couple of places for housing. It's more known and visited by local Italians rather than tourists. There are more likely guesthouses and bed & breakfasts, run again by local families. My recommendation would be with exceptional views Casa delle Stelle.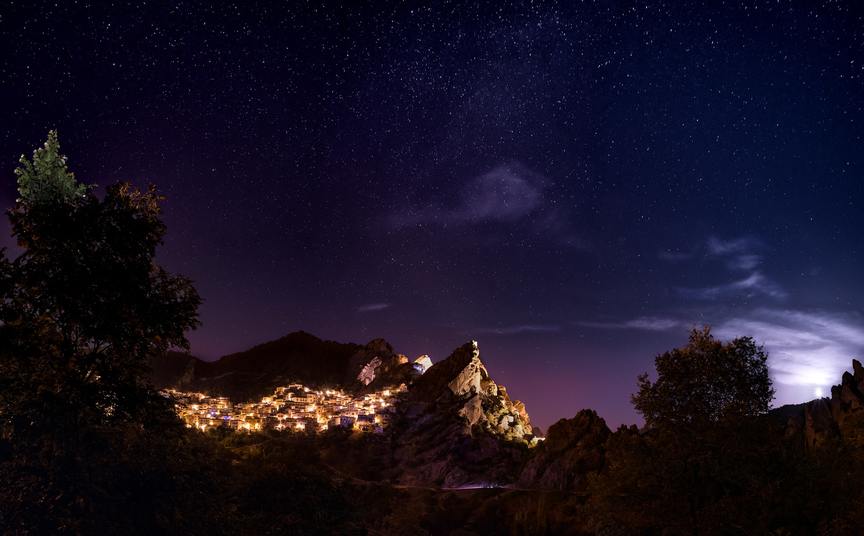 How To Spend A Perfect Day Or Days?
Castelmezzano in Italy would be ideal for families, couples, or those who enjoy a quiet getaway. Also, for people looking to have fun in high-speed zip line Volo dell'Angelo or climbing Dolomiti Lucane mountains. It would be a perfect day trip from historic Matera or a place to spend a few nights. During the night, when the scenic town is full of lights, then the scenery is impressive. Activities will be found around the charming village and nearby Pietrapertosa for some days.
---
More about Italy
---
PIN IT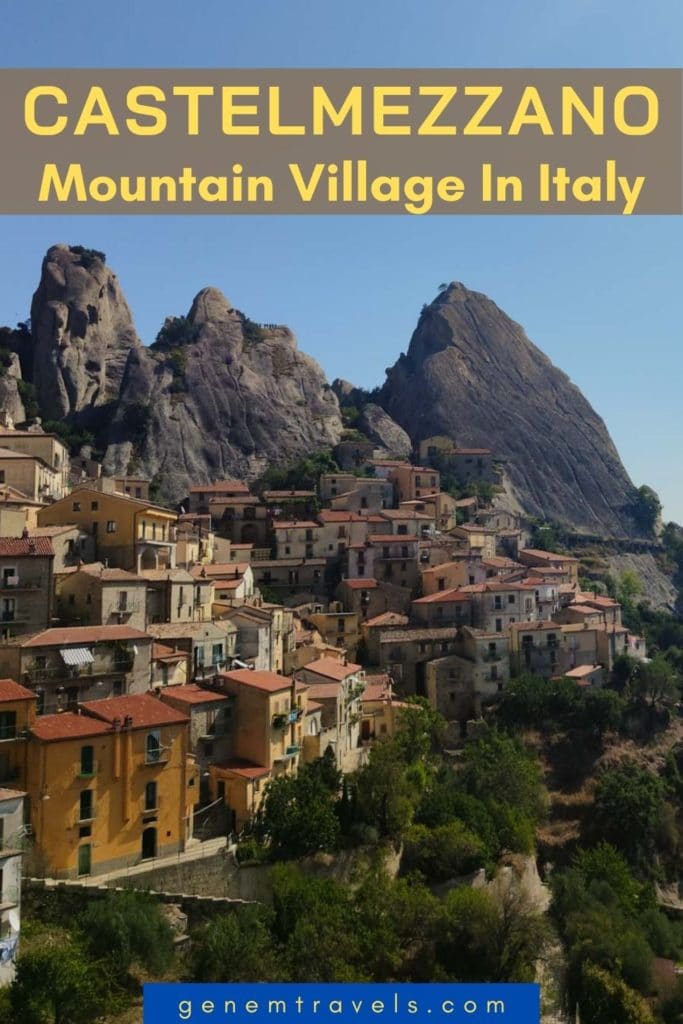 ---
Recent posts about Italy: