Italy is the place to take some time off, relax, enjoy warm and sunny beaches, and discover beautiful villages in Italy. Also, to explore towns like historical Rome, fashion capital Milan, crazy Naples, or picturesque Venice. It's an urbanized country with many famous small towns like Positano from Amalfi Coast or the fishing village Manarola from Cinque Terre.
But there are many unknown beautiful villages, which are not overcrowded (like many famous places). It's a perfect time to visit these small towns in Italy.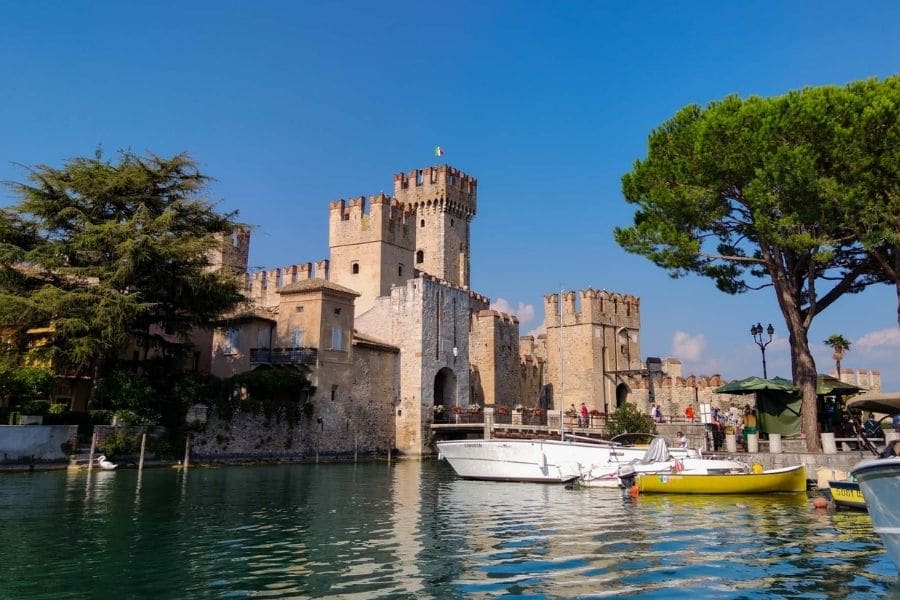 1. Sirmione, Lombardy
Sirmione is located on a narrow peninsula in the southern part of Lake Garda. That lake should also be on your must to see lists, so why not connect these two? In the beginning, you will see one of the prettiest castles built on the water. You can walk in the lovely Sirmione streets. Take an Instagram shot on the lavender wall. You can explore archaeological ruins at the top of the peninsula or enjoy your day at crystal-blue Jamaica beach. 
How To Get To Sirmione?
You can easily reach there by car at the beginning of the Sirmione. It's not allowed to drive or even cycle in Sirmione. It's reachable from bigger cities on either Verona or Brescia.
2. San Gimignano, Tuscany
In the heart of Tuscany lies in the middle of wildness, a true masterpiece, San Gimignano. An old Tuscan village with a medieval aura, surrounded by scenic fields and blessed with delicious food and wine. There is everything you would assume from the magical Tuscany villages. One thing to do in San Gimignano is to try local food and, more importantly, to try local wine production. It's in their blood, and their wine is made with all love.
How To Get To San Gimignano?
San Gimignano is easily reachable from Firenze, one of Italy's most beautiful towns. You really can't skip those two. San Gimignano is really in the heart of the Tuscany countryside, and on the way, you can enjoy all the nature that this unique region will offer you.
3. San Fruttuoso, Liguria
That tiny village in Italy is worth visiting. It's located in the famous Italian Riviera area, with numerous stunning villages in Italy's coastal region. San Fruttuoso is a small place with a couple of buildings. But just the unique ancient Benedictine monastery, Abbey San Fruttuoso, is worth putting on your bucket list. Strolling around in the undiscovered seaside village and on the pebbled beach is a huge bonus. Plus, if you are a good diver, don't skip the underwater statue, Christ of the Abyss. It's near the village and needs just a 15-meter dive.
How To Get To San Fruttuoso?
It's between Camogli and Portofino, and the nearest bigger city is Genova. There are two options to visit San Fruttuoso: to go on foot from hiking trails or with sea transportation. Hiking trails start from each side. The first one is from San Rocco, and another from Portofino. Boat traffic is also from both sides.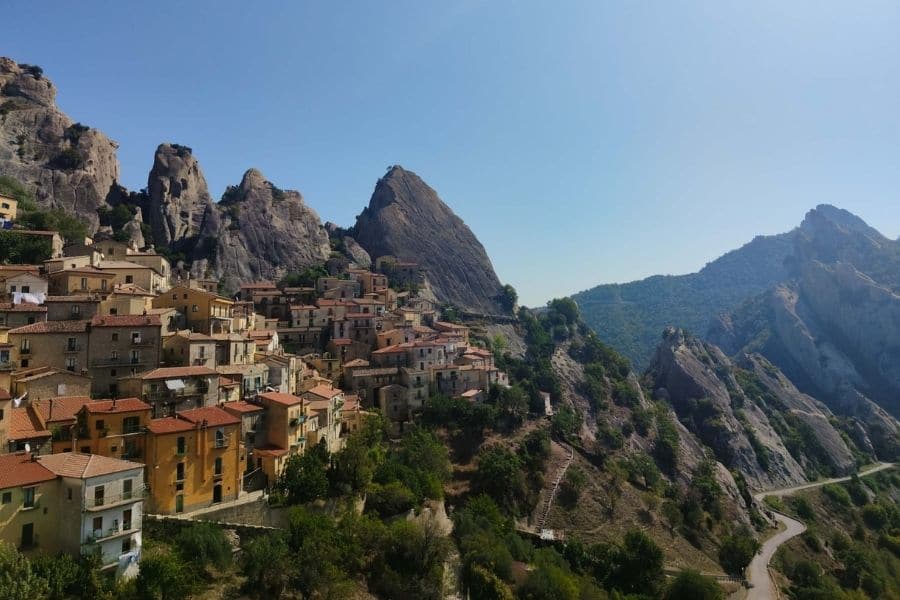 4. Castelmezzano, Basilicata
The first time you turn your head after the tunnel on the left and look at that breathtaking medieval village, you drop your jaw. From afar and the Castelmezzano center, you are witnessing how well a village and surrounding nature fit in. One of the most beautiful villages in Italy. The small town is charming, and you can see how locals live their simple lives. It's not overcrowded, and you have lots of breathing space.
If you love nature and hiking, it offers impressive Dolomite mountain views and untouched fields in a quiet atmosphere. If you want to experience adrenaline, there is a high-speed zip line, The Volo dell'Angelo, connected with the neighboring village Pietrapertosa, also a place to visit. For sure, Castelmezzano is one of Italy's most beautiful villages.
Read more: Castelmezzano Travel Guide.
How To Get To Castelmezzano?
The village in Basilicata is a bit off track, and you need to take a turn down from the main road and drive about 10 km to reach there. The closest bigger city is Potenza. Another option is to take a day trip from picturesque Matera.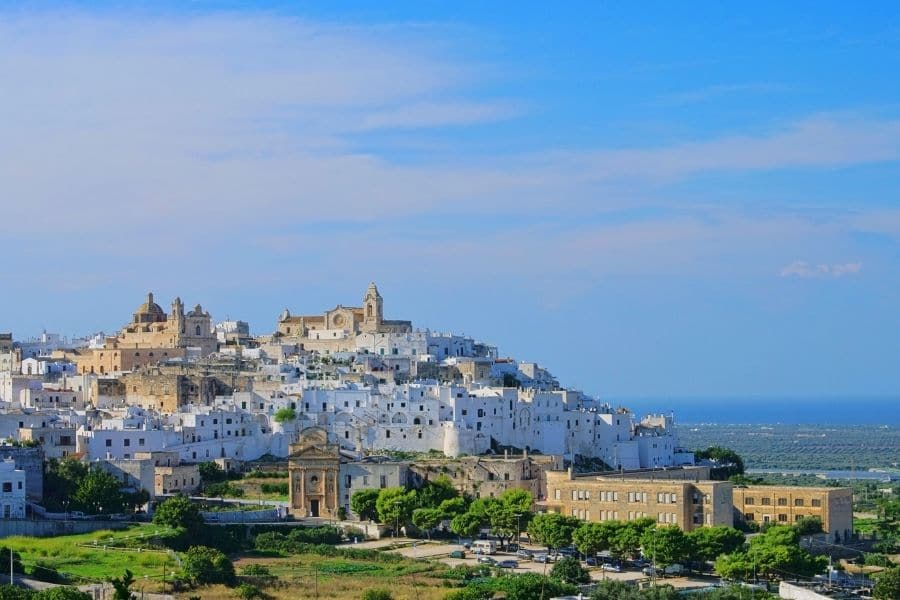 5. Ostuni, Puglia
Puglia is such a magnificent area, where there is no shortage of beautiful Italy towns, and Ostuni is not an exception. Wandering around the circular part of old Ostuni, you feel a kind of Greece vibe. You will get the point when you hear it is called "the White City". Everything is colored white, and getting lost in the streets is so lovely. It's also not overcrowded by tourists, and you will have lots of space. It's on the top of the hill, and it already looks astonishing from afar. Not to mention the views from Ostuni to the Adriatic Sea. It's a different-looking city, and I was amazed by its uniqueness.
How To Get To Ostuni?
The biggest city close by is Bari. Ostuni is located in a very convenient place. Around it has many small towns, which are also worth visiting. Locorotondo, Alberobello, Monopoli, and Polignano a Mare are just a couple of small towns in Italy of many.
6. Monteriggioni, Tuscany
Looking from afar, it looks like another castle at the top of the hill. If we are going back to history lessons, then… It was a fortress with defending ability (kinda logical). Nowadays, Monteriggioni is an Italian medieval village with buildings around supporting circular walls. Don´t worry, you are not disturbed by traffic noise, because it's on the top of the hill, and its walls work as a silencer. Around the Italian village, there are beautiful Tuscany fields with grapes, olives, and cypresses. So if you close your eyes, you feel like you have gone back to the medieval age, and you can truly take time off and enjoy the moment.
How To Get To Monteriggioni?
Monteriggioni medieval village is close to the bigger city of Siena. Another historical medieval town worth visiting. There are many places to visit around that charming village. Many small towns in Italy and breathtaking Tuscany fields.
7. Matera, Basilicata
Before I went there, I had high expectations, and lucky I wasn't disappointed. When looking for "something different" from ordinary towns in Italy, Matera is the place to see. To be true it should be on your bucket list. There aren't many cities in the world as unique as Matera. There is one part of the city you are amazed by, called Sassi di Matera. The old part of the town where it is known that there were first inhabitants in Italy many-many years ago. You can see their old buildings carved into cliffs and caves. It doesn't come as a surprise when it is also listed as UNESCO World Heritage. 
How To Get To Matera?
The most convenient way to get to Basilicata town is from Bari. I recommend staying there for at least one night and seeing that charming Sassi di Matera is full of light in the dark. The ancient small town is something different, and you can feel that vibe in the city differently than it was during the day.
8. Portofino, Liguria
How do ordinary towns in Italy look alike? Bright and colorful, right? It's not the only thing you see in Portofino. It's a coastal village with a picturesque harbor. Stroll around a small village, discover Castello Brown, take an excellent picture at Chiesa di San Giorgio, and walk to Portofino Lighthouse. I would recommend taking a hike from Portofino to San Fruttuoso as well, as mentioned before. That village is a magical place where trendy and famous people have been getting lost. 
Who? Go there, and in the pictures, you will recognize some faces. 
How To Get To Portofino?
It's a bit of an isolated place. There is only one roadway to reach there. But no worries, you will enjoy your ride there from Santa Margherita Ligure or even from the biggest close-by city Genova. When you are wandering around that area, it's for sure a must-see town in Italy.
9. Sestri Levante, Liguria
Italian seaside, Italian beaches, boat harbors, colorful Italian houses, the Mediterranean vibe – it's something you will never get enough of. Sestri Levante has everything to spend a perfect vacation day. It's close to Cinque Terre, and that would be an ideal spot to take a break, have lunch, or even spend the whole day. The main street is getting lively during the night.
How To Get To Sestri Levante?
It's basically between Cinque Terre and Genova. I recommend doing a layover when heading to the famous Cinque Terre. The roadway next to the Italian coast is spectacular, and you want to stop everywhere.
10. Bolsena, Lazio
Bolsena is located next to the easter shore of Lake Bolsena. Lakeside village offers an excellent walk in the older part of Bolsena, with a medieval castle and narrow streets. A peaceful promenade to chill, swim on the beaches, and enjoy that serene lake from the mule. If you are visiting Rome and want a day trip away from a city, then that area is a perfect match for a peaceful day.
How To Get To Bolsena?
The biggest city nearby is Viterbo, which is reachable by bus. You can take a train from Viterbo, and it can take you anywhere, for example, to Rome. If you have a car, I can also recommend visiting Civita di Bagnoregio. It's just a half an hour's ride.
11. Gallipoli, Puglia
Gallipoli is divided into the new modern side and the old city. In the new area, everything looks modern, with new buildings. On the other hand, the older part of the city is located on an island, which is a place to visit. Over there, you have medieval houses with a friendly vibe. In the evening, it's even more unique, the streets are so bright with all the lighting, and it's lively mainly by the locals. There is also one shop with Christmas stuff, in the summer.
How To Get To Gallipoli?
The closest bigger city is Lecce, which some call the pearl of Puglia. It has a pretty old town, and the prices are reasonable. Gallipoli is also connected to the regional railway system so that you can reach it everywhere.
12. Rapallo, Liguria
Mediterranean sandy beaches, vivid Italian houses, strolling around in the promenade with a gelato in your hand. That is how peaceful and pleasant a moment looks when chilling in Rapallo. It's again a wonderful Liguria coastal village with a pleasant holiday vibe. It stands in a convenient place. It's in the center of surrounding hotspots, and from there, you can easily explore Portofino and San Fruttuoso, Sestri Levante, and the one Cinque Terre. Worth visiting places in Italy.
How To Get To Rapallo?
Well connected with the roadway and regional railway from Genova. Easy to move between your hotspots. There is a comfortable railway system between the beautiful village.
---
There Are More
These are some unpopular villages in Italy. This country is a perfect place for small scenic village lovers. You will be amazed by the beauty, atmosphere, and vibe these places will offer you. Go and explore! Also, read more about Italy:
---
PIN IT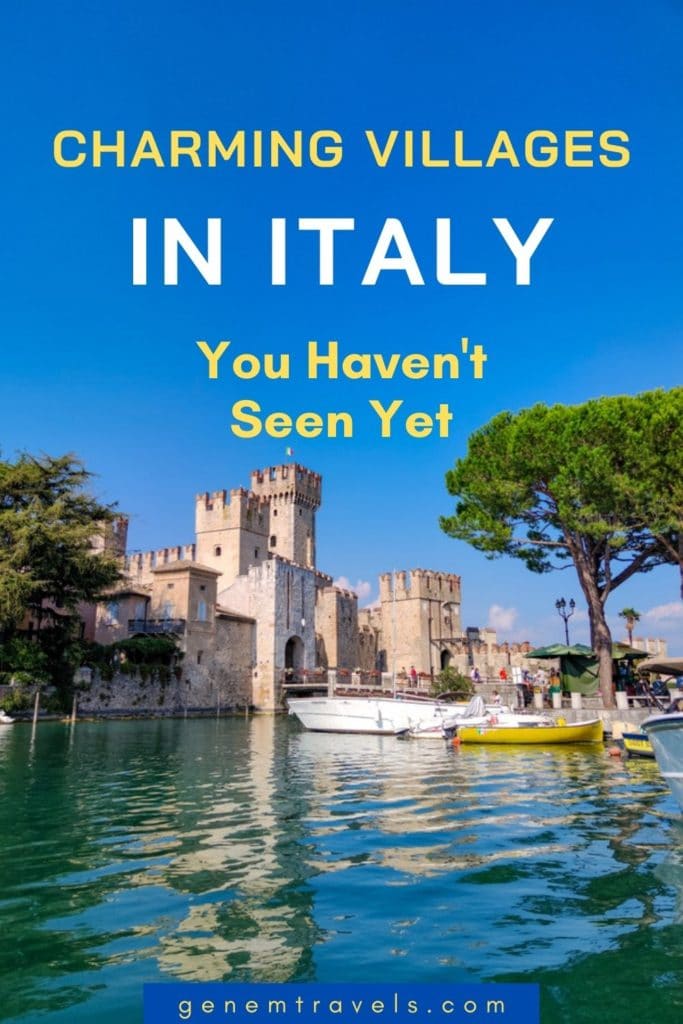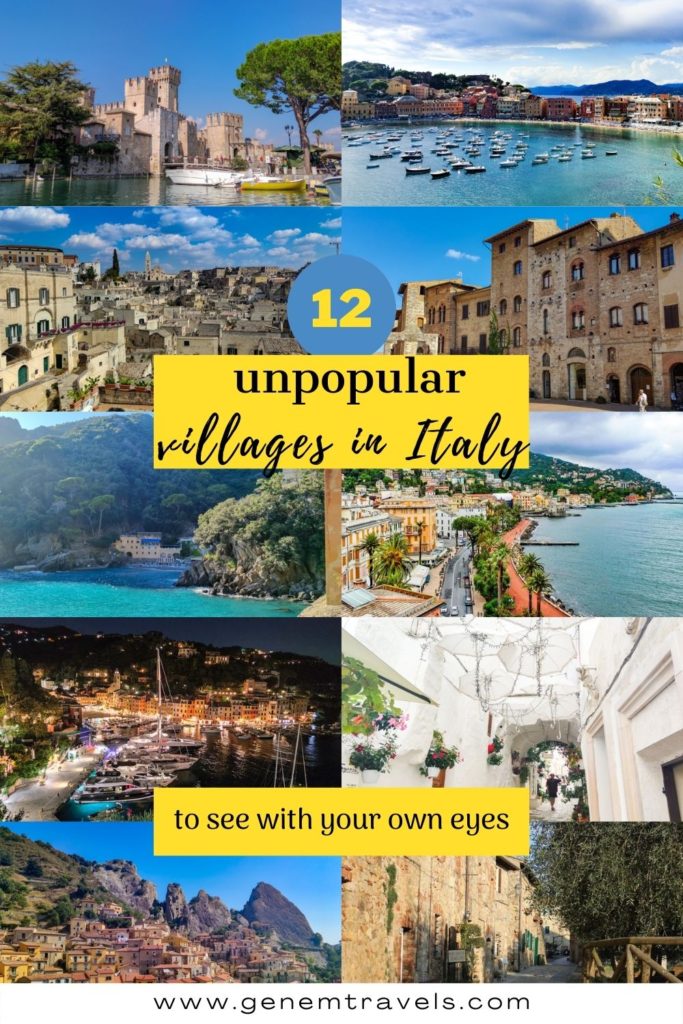 ---
More about Italy: