There is a saying: "He who would travel happily must travel light".
A saying that comes more accurate when planning a backpacking trip. There is no possibility to bring the whole wardrobe, only essentials. What you need is lightweight backpacking gear to smile after a long day of traveling.
Technology and innovation upgrades every year and the same happens with backpacking gear as well. All these essentials that you need are made so tiny and efficient that they fit into one backpack. No need for two or three different bags!
What to pack and choose? That part can be the hardest! That is why I have made this for you to know what lightweight backpacking gear list is essential in every backpacking trip. From the backpack itself to all the small accessories that make lightweight backpacker life more sufficient and easier.
---
Backpack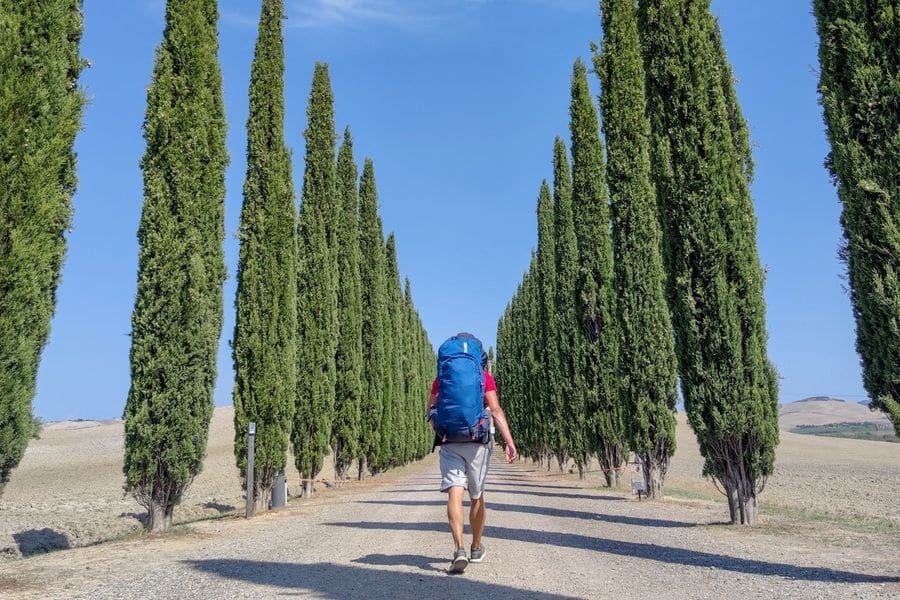 Acquiring a backpack is the first thing to do when planning a backpacking trip. But why is it not the last one to pick? Wouldn't it be easier to buy essentials first and then a backpack?
It's not a good idea and there is a very simple reason.
When you are planning a trip for the very first time then you would probably have a long backpacking gear checklist. You might be surprised that many things go under the section "just in case scenario".
Coming back to the beginning. The reason why it's essential to pick a backpack first is that then you need to take into account the size of your chosen backpack. Then you can't go overweight and pick only essential lightweight backpacking gear.
What to take into account when choosing a backpack?
Size of a backpack – Backpacks are measured by liters. For traveling, you need to look for anything from 40 to 70 liters. The size depends on a variety of things, like gender, weight, and height. An average backpack for a woman is from 40 to 55 liters. For men's 50 to 70 liters.
Pockets -Look for pockets. The more pockets you have the more you have different abilities according to backpacking. Look where you can put your important documents, is there an additional place for electronics, or does there exist a pocket for a water bottle, etc.
How easy it's to arrange your things – When thinking of a traditional backpack, then you need to load everything from up to down. So if there is a need for something that is at the bottom, then you need to take everything else out that is above.
It's recommended to acquire a backpack that is also opened from below (to reach footwear). Even better when it's also opened like luggage, vertically from the top to down.
Additional benefits – An important thing is also to check if it's water-resistant enough. Maybe it's already done with water-resistant material (it's probably more expensive, but more comfortable), or at least there is a waterproof coat for a backpack.
Also, check if you can make your backpack into a smaller daypack. Much lighter to walk around, when you have a smaller backpack.
Recommendation: Thule Guidepost (65L). Super comfortable with loads of space for lightweight backpacking gear. Also possible to turn it into a smaller daypack.
---
Lightweight Camping Gear
The second thing to acquire is having lightweight camping gear. Because for a backpacking trip assume to do wild camping as well. It's one great way to keep expenses down and it's kind of an adventurous thing to do. Luckily on the market, there is much lightweight backpacking gear to choose from.
Sleeping bag
There are few things to look at. Firstly check which temperature it's resistant to. It's easy to pick a sleeping bag when you know your destination's temperature (like sunny summer in southern Europe). If you do not know your destination then it's recommended to pick anything comfortable to sleep with a temperature around zero degrees (Celsius).
Another thing is to look for the smallest size possible. Small-sized sleeping bags are a bit more expensive, but if having the smallest versions of lightweight backpacking gear, then it's possible to fit everything into one backpack. That's a huge win!
Recommendation: Ferrino Sleeping Bags. Small-sized, but resistant to colder temperatures.
Sleeping mattress
There are mostly two types of mattresses: closed-foam and air sleeping mattresses. For small-sized and lightweight backpacking gear look for air mattresses. It takes much less space and you can drop it into a bag.
When choosing one, then first check the quality of the material. It's better to have a good quality mattress that can hang on some sharper rocks. Also for better and warmer sleep, check if there is also a thermal insulation layer.
Recommendation: Ferrino Superlite Air Mattress. I have lots of warm and comfortable sleep with that and it fits easily in any backpack.
Tent
That's one thing that can be left at home if you already have a sleeping bag and mattress. But it would be a huge help when there are rainy days or you need more privacy.
The most important feature of a tent is to check if it's water-resistant, otherwise, you can pretty much sleep "without a roof".
Recommendation: Pandaman Ultralight tent for backpacking. Water-resistant tent for backpacking trips. Fits two persons.
Additional backpacking gear: Hammock
A hammock would be a great alternative to a sleeping mattress, but there is one disadvantage. You need to find at least two trees, or anything else vertically stable elements to pitch up your hammock. It's super lightweight, so if you have extra room in your backpacking equipment, then think about that option as well.
Recommendation: Wise Owl Travel Hammock. Ultralight and durable hammock.
---
Kitchen gear
One of the greatest tips for a budget backpacking trip is to cook by yourself. Kitchen gear comes essential when being in the middle of the forest and for example having some pasta ingredients.
Backpacking stove
Backpacking stoves are the best fits for lightweight backpacking gear to cook a fresh and warm meal. Fits well in your backpack, but be careful with fuel and read the manual before using one.
Recommendation: Jetboil Ultralight Backpacking Stove. Extra small and light to carry on your backpack.
Cooking Pot
Cooking pot size depends on how many hungry stomachs you need to fill. Get the smallest as possible, because unfortunately, you can't fold ceramic pots into smaller ones. Search for something where you can cook several meals from boiling water to cooking pasta.
Recommendation: MSR Reactor Cooking Pot. Cooking pot for two.
Eating Gear
At least have a bowl where you can eat everything. If eating with your fingers isn't your thing, then also get eating utensils like a spoon and fork. For hot coffee and tea look also for a cup.
Water bottle with filter
A water bottle is one of the most essential travel gear. You need to drink daily and having a refillable water bottle saves you money from buying daily plastic water bottles. Also saves the environment.
Tap water is drinkable mostly everywhere in Europe. But if you are traveling around for example third-world countries, then you can never be sure of the quality of tap water. To be sure every time, get yourself a water bottle with a filter.
Recommendation: LifeStraw Go Water Filter Bottle. Removes waterborne bacteria and protozoan parasites.
Knife
A knife is not only essential for cooking but it can also do wonders in several other tasks, like pitching up a tent or a hammock. You never know when you might need a knife. Get yourself a multifunctional "swiss knife" with different tools.
Recommendation: RoverTac Pocket Knife Multitool. Helps you with several tasks.
---
Electronics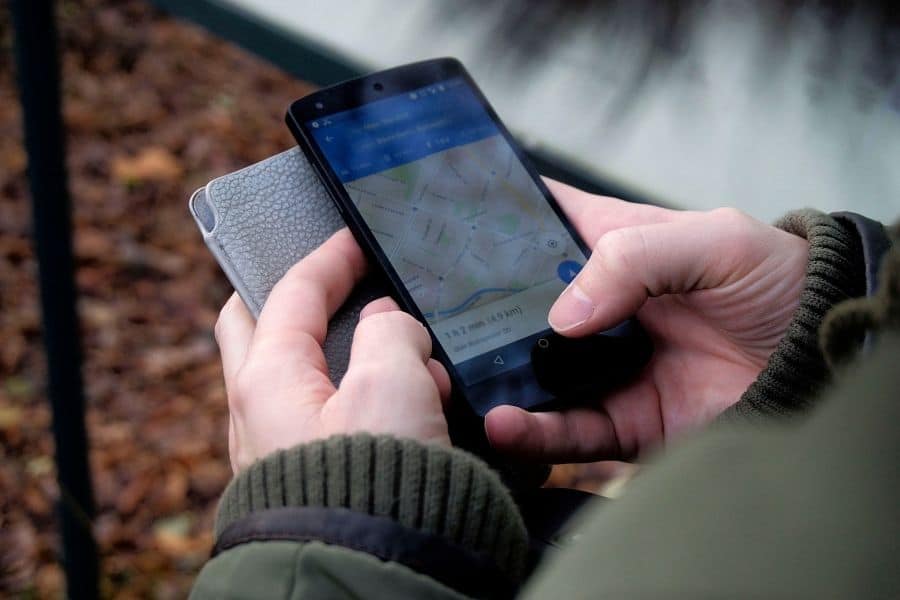 Nowadays it's pretty impossible to leave electronics at home. A phone is something that can help you to be in touch with friends and family. Also, it includes so much beneficial data and information. After all, it's lighter to carry some electronics than for example a big map or travel guide books.
Laptop
There is only one reason to carry a laptop. If you have to do some work while traveling, like writing a blog or other digital nomad job.
If you are planning to use the laptop only for scrolling in social media or being in touch with your home country then a smartphone can handle all these tasks!
If there is still a need to carry a laptop, then it can be the heaviest thing in your backpack. It's super essential to choose a laptop that is as lightweight as possible.
Recommendation: MacBook Air. A safe choice for power and durability, which is also super light.
Camera
If you are the one who likes to capture different visuals for the memories, then a camera is a thing to pack. It's also possible to shoot with your smartphone, but if you take photography more seriously, then you can't look away from the camera.
It takes an extra room in your backpack, but on the market are also extremely small-sized powerful mirrorless cameras to choose from. I am using Canon M50, which is one of the best cameras for backpacking.
Recommended: Canon EOS M50. A small mirrorless camera is a perfect fit for your backpack. Read a quick review of a Canon M50 camera.
GoPro
It's another extra piece of electronic equipment for your backpack. But it takes so little space and gives so much value. Any video shots underwater, hiking in the mountains or having other extreme situations will be captured with that small adventure camera. Also if not having a vlogging camera, then it does that work as well.
Recommendation: GoPro HERO9. The newest model with screens on both sides.
Telephone
You can leave any other electronics at home, but it would be convenient to take at least a smartphone for easier travels. As mentioned, there is also an option to take with you a big map, books, and other resources. But when you are not an old school guy and thinking about saving weight then the first thing in your pocket is a smartphone.
Recommendation: iPhone 12. For great performance and photo quality.
Solar Power Bank
What if you are in the middle of nowhere and your electronic devices are empty. Would be great if you have a power bank to charge your electronics.
Most of the things that are under the list of "just in case", leave home, but with one exception. A power bank will save a day and get you back on track if you are lost.
Traditionally you also need to charge a power bank and it wouldn't be any help if it's also empty. But with a solar power bank, there wouldn't be any that hassle. It works anywhere and you don't need to plug it somewhere to charge it up. One of the best backpacking gadgets, that will be a lifesaver, when you are out of the beaten path for days.
Recommended: Power Bank with Solar Panels.
Additional backpacking gear: Kindle
If you are a big reader then a reasonable investment for the lightweight backpacking gear checklist would be Kindle. Greatest backpacking accessories for readers that fits easily between your clothes, or next to the laptop.
Recommendation: Kindle.
---
Clothing and Footwear
After all these essentials you also need to leave some room for clothing. Keep in mind that these are taking the most space in your backpack. So keep on track of what you need, how many pairs of clothing, and search for small-sized alternatives for lightweight backpacking gear. A reminder: the more it takes space, the more there are opportunities to save room with better alternatives.
Footwear
Think of three different types of footwear: hiking, walking, and leisure.
When you are a big fan of hiking then search for footwear with ankle protection. It's an essential feature for footwear and it's even mandatory in some hike trails.
For regular walks wear something comfortable and breathing. Anything that goes under sports shoes will do fine.
For leisure and days off from walking have a pair of flip-flops or similar. It's good for the feet to have some "fresh air" for a while.
Recommendation: Salomon Men's X Ultra 3. Lightweight hiking boots for men. Salomon Women's X Ultra 3. Lightweight hiking boots for women.
Pants and Shirts
The golden keyword for any clothing and footwear is breathing material. There will be a lot of sweating after long walks with a backpack.
A recommendation is to wear more sports clothing because they are again breathing and dry faster. It's also normal to wear sports clothes for some days in a row. Sports clothes are meant for sweating.
When searching for more lightweight backpacking gear, then there are many options from hiking pants to ultralight water-resistant jackets. I would look for these clothes if you plan to hike a lot in mountains, where it can be very unexpected weather. 
---
Anything else to take
After packing everything into a backpack, don't forget to leave some space for other essentials. Like fitting important documents in a safe pocket. Extra room for backpacking supplies like food and water. Also, a good idea is to leave some space for unexpected backpacking equipment.
---
Read more about Backpacking
---
PIN IT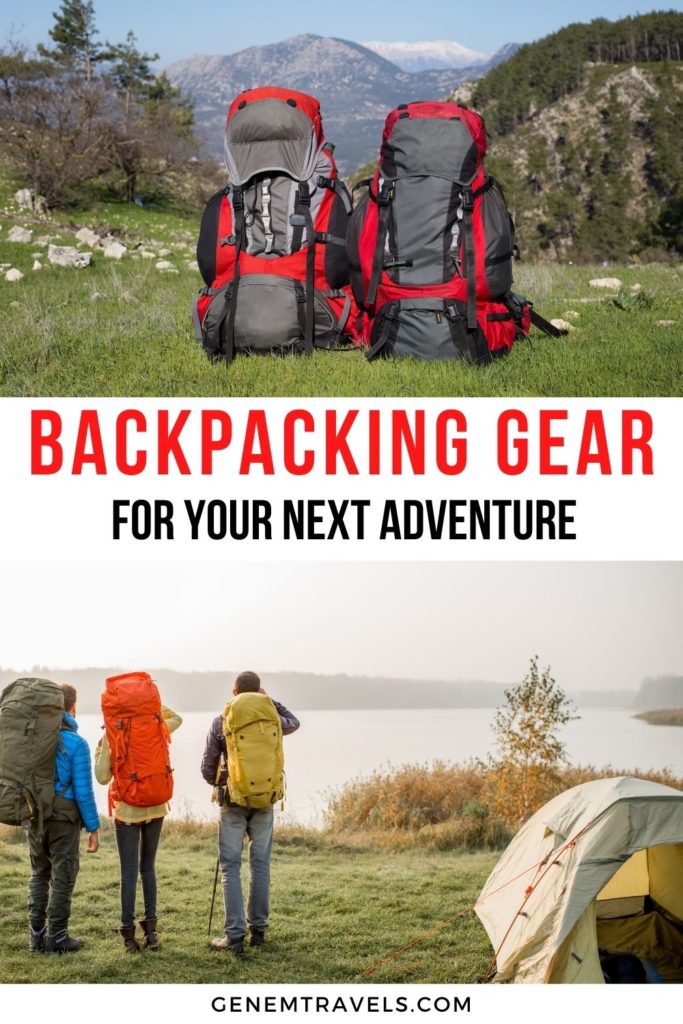 ---
Recent posts about Backpacking: