Venturing into the wilderness on a backpacking trip is a liberating experience. But in today's digital age, staying connected and charging devices like GPS and smartphones becomes challenging. Thankfully, there is a solution: solar chargers.
Choosing the best solar charger for backpacking is challenging because not all are equal. The ideal ones are a harmonious blend of portability, durability, and efficiency. But in the end, it all comes down to your needs.
With myriad options available, which one should you choose? This buying guide narrows down the best solar chargers for backpacking. Here, you'll find the best options for your lightweight backpacking gear, ranging from panels to power banks with built-in solar chargers. Let's dive in!
Disclosure: This article features affiliate links, including Amazon.com. If you decide to buy through one of these links, I'll earn a small commission at no extra expense to you. For more details, please see my disclosure policy.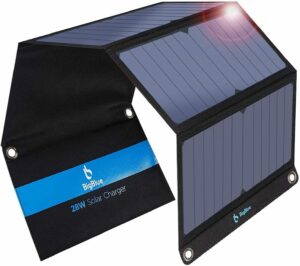 For those who find solace in the great outdoors, whether backpacking through rugged terrains, trekking up mountains, or simply camping under the stars, staying connected is crucial. The BigBlue 3 USB-A 28W Solar Charger is an indispensable companion for adventurers. With its five-panel design, this ultralight solar charger for backpacking promises portability and efficiency.
High Efficiency: The SunPower solar cells stand out, boasting a conversion rate of up to 24%, ensuring that a significant portion of the sun's energy is harnessed effectively.
Multiple Charging Ports: Three USB ports are designed to cater to travelers who often carry multiple devices. Whether it's your smartphone, headlamp, or other USB-powered gadgets.
Digital Ammeter: A unique feature that sets BigBlue apart is its digital ammeter. This allows users to monitor the charging speed, which can be particularly useful in varying sunlight conditions.
Durability: Designed for the outdoors, it's water and dust-resistant, ensuring that a little splash or dust doesn't hinder its performance.
Pros
Versatility in Charging: The ability to charge multiple devices simultaneously is a boon, especially when traveling in groups.
Optimal Performance: Even under minimal sunlight or sporadic cloud cover, the BigBlue impresses with its charging capabilities.
Lightweight Design: While it might not be the most compact, its weight is manageable, making it suitable for long treks and hikes.
Value for Money: Given its performance, the price point is commendable, offering users excellent value.
Cons
No Electricity Storage: One of its limitations is the inability to store electricity, which means it can't charge devices like laptops or the iPad Pro.
Weather Dependency: Its performance can be affected by cloudy or rainy conditions, making direct sunlight the ideal scenario for optimal charging.
No Kickstand: This might make positioning the charger challenging in some terrains.
Additional Requirements: Apple device users might need an extra original cable.
In conclusion, the BigBlue 3 USB-A 28W Solar Charger is not just a device; it's a statement of efficiency and reliability. While it has its limitations, its pros far outweigh the cons. If you're seeking a blend of performance, durability, and value, it's one of the best solar chargers for backpacking.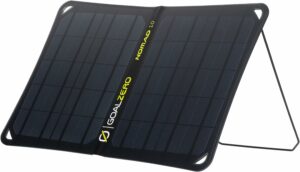 The Goal Zero Nomad 10 is a reliable choice for individuals seeking sustainable energy solutions during outdoor activities. Developed by a US-based team with years of experience in the solar energy sector, this backpacking solar charger reflects a blend of thoughtful design and functionality.
High-Efficiency Panel: The Nomad 10 boasts a high-efficiency panel, ensuring your devices get the power they need, especially when sunlight is abundant.
Built-in USB Port: This feature simplifies the charging process, allowing users to plug in small devices like smartphones and tablets directly.
180° Adjustable Kickstand: A unique feature that ensures optimal solar absorption. Whether you're resting or on the move, you can adjust the panel to get the best angle towards the sun.
Durable Construction: Made with rugged materials, it's designed to withstand the challenges of outdoor adventures.
Pros
Versatility: Whether you're backpacking, hiking, or simply traveling, its lightweight and packable design ensures it fits seamlessly into your journey.
Optimal Solar Connection: The built-in kickstand is not just a stand but a tool to ensure the panel is always angled perfectly towards the sun.
Durability in Extremes: The Nomad 10 promises consistent performance from scorching heat to cold.
Direct Charging: Charging devices directly from the panel is a boon, especially when on the move.
Cons
Variable Output: While it promises 10 watts, the output might vary, especially in suboptimal conditions.
Weight Concerns: Compared to some competitors, it's slightly heavier. However, this is a trade-off for its robust construction.
Stand Stability: On uneven terrains, adjusting the kickstand might be challenging.
Battery Bank Dependency: To harness its full potential, coupling it with a separate battery bank is recommended.
In essence, Its design reflects a deep understanding of the needs of outdoor enthusiasts. While it has its limitations, its strengths, like durability and adaptability, make it a top choice for those who venture into the wild.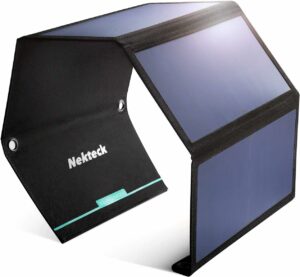 The Nekteck 28W Portable Solar Panel Charger is a dependable energy solution for outdoor enthusiasts. With a weight of 1.44 pounds, it offers a blend of portability and functionality.
Superior Conversion Efficiency: The inclusion of the SunPower Maxeon solar cell sets this charger apart, given its known efficiency advantage over many conventional counterparts.
Safety and Device Compatibility: The intelligent IC chip technology ensures a safe and optimized charging experience. However, potential users should be aware that the charger's efficacy is intrinsically linked to sunlight quality and consistency. Given its non-storage nature, direct exposure to sunlight is pivotal for peak performance. To circumvent this limitation, pairing with a power bank is advisable.
Upon inspection, one might notice its striking resemblance to the Big Blue model in design and specifications. However, the Nekteck slightly edged out the Anker in performance metrics but didn't quite match up to the Big Blue. In comparable conditions, while the Anker registered 733 mAh, the Nekteck delivered 834 mAh.
Pros
Efficiency: With Maxeon cells offering a 24% efficiency rate, the charger promises a commendable charging experience, even in less-than-ideal sunlight conditions.
Simultaneous Charging: Its dual ports allow charging two devices concurrently, a feature particularly useful for group travelers.
Compact Design: Its foldability and zippered pouch make it easy to carry and store.
Cons
Limitation: The absence of a USB-A to Lightning cable in the package might be a drawback for some users.
Variable Charging Rate: Depending on the device, the charging rate might be slower than expected.
Build Concerns: The durability of the carabiner clips and eyelets might be a point of contention for those planning rugged use.
Further enhancing its appeal, the Nekteck charger is fortified with IPX4 technology, ensuring resistance against water, dust, shocks, and temperature extremes. This resilience makes it apt for various outdoor activities, from backpacking to camping.
Moreover, its compatibility spectrum is broad, accommodating a variety of USB devices, from smartphones to tablets. The embedded IC Chip technology guarantees safe charging and tailors the charging process to the specific needs of the connected device.
The Nekteck 28W Portable Solar Panel Charger is a viable option for those prioritizing efficiency and portability in their outdoor gear. While it has areas of improvement, its overall features and performance make it a notable contender in the market.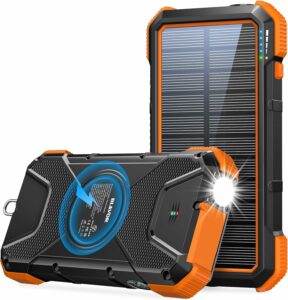 The BLAVOR Solar Power Bank offers a strong 20,000 mAh capacity designed for outdoor use. It's compatible with various devices, featuring USB C and Qi Wireless charging. One of the best solar chargers for backpacking offers a waterproof and dustproof build, and its built-in flashlight and compass enhance its utility for outdoor adventures.
18W Fast Charging: The power bank's 18W charging capacity ensures rapid device charging. Its multiple outputs allow for concurrent charging of several devices, while dual inputs facilitate quicker power bank recharging.
10W Fast Qi Wireless Charger: This feature offers users a convenient, cable-free charging experience. It's compatible with various devices.
20000mAh Solar Charger Bank: A significant battery capacity ensures prolonged device usage. The integrated flashlight and compass further enhance its value, especially in emergencies.
Pros
Reputation: BLAVOR, with over a decade in the solar power bank industry, has established trust among a vast user base.
Charging Capabilities: The device boasts leading USB C Input and output Tech and Qi Wireless, ensuring faster charging times and compatibility with a wide range of smart devices.
Durability: The IPX5 waterproof, dustproof, and shockproof design ensures resilience against various outdoor conditions.
Additional Features: Including a flashlight and compass enhances its utility for outdoor enthusiasts.
Cons
Solar Charging Limitations: The solar charging capability might not be as efficient as some users expect, making it unsuitable as the sole charging method.
Flashlight Brightness: Some users have found the flashlight's brightness could have been more impressive.
In summary, the BLAVOR Solar Power Bank is a comprehensive solution for those needing a reliable charging source for backpacking. Its overall design, features, and performance make it a worthy investment for those prioritizing functionality and versatility.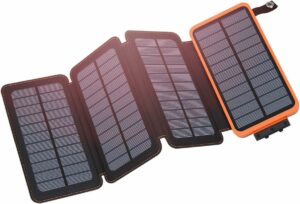 The Hiluckey Outdoor USB C Portable Power Bank is a dual-function device, combining the capabilities of a backpacking solar panel with a substantial 25,000 mAh battery. Its four efficient solar panels aim to provide a supplementary charge in sunlit conditions, while its multiple output ports offer versatility in charging various devices simultaneously.
The Hiluckey Solar Charger stands out for its impressive battery capacity, making it a reliable power source for longer trips. Its compact design, combined with a 5W solar panel, offers a balance between portability and functionality. However, solar charging efficiency can be a concern, especially for those relying solely on solar power. The device's weight, primarily due to its large battery, might be a consideration for weight-conscious backpackers.
The leather casing provides a protective layer, ensuring durability. However, there were concerns regarding the LED indicator lights, which needed to be easier to read but also raised questions about the product's longevity. Despite these concerns, its price point and features make it a value proposition for those seeking a combination of a solar panel and a power bank.
Pros
High Capacity: With a 25,000mAh battery, it can charge devices multiple times, making it suitable for extended trips.
Efficient Solar Panels: The four solar panels can provide a decent charge in direct sunlight, ensuring some power level in off-grid areas.
Fast Charging: The 15W output can quickly charge devices, and the multiple ports allow for simultaneous charging of up to three devices.
Cons
Solar Charging Efficiency: The backpacking solar panels might take a significant time to fully charge the power bank, suggesting a pre-trip USB charge is advisable.
Lack of Attachment: The absence of a built-in hook or carabiner means users must find a solution to attach it to backpacks.
LED Light Consumption: The integrated LED light, while helpful, can quickly deplete the battery if used extensively.
Weight: Its weight of 18.7 ounces might be a consideration for backpackers who prioritize carrying lighter gear.
The Hiluckey Solar Charger combines charging speed and capacity, establishing itself as an outstanding budget solar charger for backpacking. However, its full potential is realized when the battery pack is pre-charged. While it offers good value, potential users should know its solar charging limitations and weight.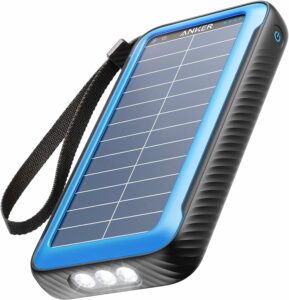 Anker, a renowned name in the power bank industry, has consistently delivered reliable and durable products. Its robust construction and stylish design, characterized by Anker's signature blue tones, make it both a functional and aesthetically pleasing device.
Including USB-A and USB Type-C ports ensures compatibility with a wide range of devices, and its charging efficiency aligns with Anker's claims. The trickle-charging mode, activated with a double power button press, is a thoughtful addition for low-power devices.
However, while the solar charging feature adds to its appeal, potential users should know its limitations. Given its size, the backpacking solar panel can only harness a limited amount of sunlight, making full recharges via this method lengthy.
Pros
High Capacity: The 20,000 mAh battery can charge a smartphone multiple times, ensuring you're not powerless during extended backpacking trips.
Durable Construction: Built with rugged materials, it's designed to withstand the challenges of outdoor environments.
Versatility: The power bank can be charged via its solar panel or a wall outlet, offering flexibility in various situations.
Built-in Flashlight: An integrated three-mode flashlight adds to its utility when, for example, wild camping during backpacking.
Cons
Solar Charging Efficiency: Relying solely on its backpacking solar panel for charging can be time-consuming, taking days for a full recharge.
The Anker PowerCore Solar 20000 offers a blend of reliability, durability, and functionality. Its robust construction and the added flashlight feature make it a valuable addition to any outdoor kit. Whether for everyday carry or outdoor adventures, this power bank is a dependable charging companion. However, those relying heavily on solar charging might need to manage their expectations regarding recharge times.
Ryno Tuff's 21W Solar Charger emerges as a top contender in the lightweight solar charger category. Its 21 watts, spread across three panels, offers a charging speed that rivals many of its larger counterparts. The dual USB ports enhance its versatility, allowing for the simultaneous charging of two devices.
However, its reliance on direct sunlight can be a limitation. In conditions without strong sunlight, charging efficiency may drop. Pairing it with an external battery pack for consistent energy storage is advisable.
The charger's build quality is commendable. It's designed to be both stylish, with subtle blue tones, and rugged, ready for the challenges of outdoor adventures. As reflected in real-world tests, the charger's performance aligns with its specifications, reinforcing its reliability.
Pros
iSolar Technology: Ensures even power distribution for safe and efficient charging.
Durable Construction: Its rugged build ensures resilience against the unpredictable conditions of the outdoors.
Lightweight: Weighing only 17 ounces, it's one of the lightest 21W panel kits.
Affordability: Offers impressive performance at a competitive price point.
Cons
Solar-Only Charging: The charger relies solely on solar panels for power, making a separate battery bank a recommended addition for consistent energy storage.
The Ryno Tuff 21W Solar Charger offers an impressive blend of performance, durability, and affordability. Its lightweight design and efficient charging capabilities make it a valuable companion for backpackers. While its solar-only charging might require some planning and pairing with an external battery, the overall package ensures that users have a dependable power source on the go.
The SunJack 15W Foldable IP67 is a robust and versatile solar charger for backpackers. With a power output 15W and a weight of just 15.2oz, it's designed for portability without compromising performance.
SunJack, less widely recognized than brands like Anker or Goal Zero, has carved a niche with reliable solar chargers. The SunJack 15W stands out for its durability, thanks to its ETFE-coated panels that promise longevity and efficiency. The UV permeability of 95% ensures that the panels harness sunlight effectively.
The charger's design is thoughtful, with a magnetic closure system replacing the often cumbersome Velcro, making it easy to pack and carry. The dual USB ports are a boon for those who need to charge multiple devices on the go.
However, its reliance on direct sunlight can be a limitation, especially in inconsistent weather conditions. Pairing it with an external battery pack can remedy this, ensuring you have power even when the sun isn't shining brightly.
Pros
Durable Construction: The ETFE coating on the solar panels enhances efficiency and ensures the charger withstands temperature stress and chemical aggression better than typical PET-coated panels.
Waterproof: Mostly water-resistant, making it suitable for unpredictable outdoor conditions.
Device Protection: A mesh pocket and elastic band ensure your devices are secure during charging.
Efficient Charging: The built-in IC chip identifies devices and optimizes charging speed, allowing two devices to charge simultaneously at 2A each in good sunlight.
Cons
No Built-in Battery: The charger relies solely on solar panels, making a separate battery bank recommended for consistent energy storage.
Positioning Challenge: Lacks a kickstand, which makes positioning towards the sun challenging.
The SunJack 15W Foldable IP67 blends efficiency, durability, and portability. Its design and features make it a reliable companion for various outdoor activities, from hiking to camping.
---
Solar Charger for Backpacking Buying Guide
Backpacking is an adventure that takes you away from the hustle and bustle of city life, but it doesn't mean you have to be disconnected entirely. You can keep your essential devices powered up with a suitable solar charger. Here's a comprehensive guide to help you choose the best solar charger for your backpacking needs.
Why You Need a Solar Charger for Backpacking
Staying connected is essential, especially with devices like phones and GPS. For safety reasons, keeping your mobile charged for emergencies is crucial. A solar charger is also an environmentally friendly way to charge your devices.
Key Features to Consider
Power Output: This is measured in watts and determines the charging speed. A higher wattage means faster charging, essential for larger devices like tablets.
Portability: Your solar charger should be lightweight and compact, making it easy to pack and carry.
Durability: The charger must withstand outdoor conditions. Features like being waterproof and dustproof are essential.
Charging Time: This depends on the solar charger's power output and the strength of sunlight. Chargers with integrated batteries can store energy when the sun isn't shining.
Compatibility: Ensuring the charger is compatible with your devices is vital. Always check connector types and device specifications.
Additional Features: Some chargers come with built-in flashlights or multiple USB ports. It's essential to consider what features will be beneficial for your trip.
Types of Solar Chargers
Panels-only: These chargers can directly charge devices or power banks. Before purchasing, ensure it's compatible with your devices.
Panels with integrated battery pack: These compact designs combine solar panels and a battery. They are not modular, meaning you can only use one with the other.
Panels with detachable battery pack: These come with a power bank but can also be used without the included power bank.
Other Important Considerations
Size and Weight: While larger panels might charge faster, they can also be bulkier. It's essential to find a balance between size and charging capacity.
Type of Solar Panels: There are rigid and semi-flexible panels. The latter can be folded, making them more portable.
Solar Panels Output: A higher output means the panels can convert sunlight to electricity more efficiently.
Attachment Options: Look for chargers that can be easily attached to backpacks. They should be exposed to sunlight for maximum efficiency.
Battery Pack: Storing electrical energy for nighttime use is crucial. Consider both storage capacity and power output when choosing.
Price and Value for Money: Consider your budget and ensure you get good value for the features offered.
Integrated Battery or Power Bank: These provide a steady power source and protect devices from surges. Pre-charged batteries offer added convenience.
Final words
Choosing the best solar charger for backpacking is essential for a hassle-free and safe adventure. Consider your needs, the devices you'll be charging, and the conditions you'll be backpacking in. With the right balance of power, portability, and durability, you'll have a reliable power source to connect you on your journey.
Further reading about backpacking:
Budget Backpacking Tips
Solo Backpacking Tips
Best Apps for Backpacking
How To Pack A Tent For Backpacking
Best Cameras For Backpacking
How to Plan A Backpacking Trip
---
PIN IT