When you are thinking about the best cameras for backpacking, then the first features you are looking at are the camera size and weight. Simply because there isn't that much space for additional lightweight backpacking gear.
But these are not the only things that backpackers are looking for. Important are also the image quality, durability, video capabilities, and also price. Everyone has their needs and wants so here are listed different cameras with different benefits.
You will find from this article budget, action, and more advanced cameras for backpackers.
Canon M50
The Canon M50 is a mirrorless camera with several benefits which can be used for professional photography and it's also great for beginner videographers. Its lightweight and small sized design make it an ideal partner for backpacking trips.
As already mentioned, the greatest benefit is its weight, which is just 390g. That small sized camera has a fast DIGIC 8 image processor, which offers burst up to 10fps in a Single AF mode. Canon M50 sensor is 24.1 MP and maximum image pixels are 6000×4000.
For better and sharp image quality the camera also has dual pixel autofocus with three modes: face tracking, zone, and one-point autofocus. Face-tracking is super fast which makes vlogging easy.
The camera mounts with Canon EF-M lenses. You can have a wide range of lenses for different occasions from macro to telephoto. The kit lens for the camera is EF M15 – 45mm f/3.5 – 6.3.
Video specs are also pretty good for an entry level camera. It records a maximum of 4K resolution at 25fps. The only minus for the 4K video is that it has a 1.6 crop. Canon M50 also has a vari-angle touch screen, which especially benefits vlogging.
The biggest disadvantage of that camera is its short battery life. With one charge it lasts approximately 230 shots. For longer backpacking trips it is recommended to acquire at least one additional battery.
In conclusion, the Canon M50 is one of the best cameras for backpacking, when you are on a budget. There aren't that many cameras at that affordable price, which includes several top class features, like dual-pixel autofocus, fast image sensor, and you have the option to upgrade your camera with several accessories.
Read more: Best lenses for Canon M50
PROS
A good value for the money,
4K video,
Additional benefits: mic input, flash, interchangeable lenses.
CONS
Short battery life,
4K video crop.
---
Nikon D5600
Recommended by Rachita from MeanderWander
Nikon D5600 is an entry-level DSLR camera that was released in April 2019 and has several amazing features such as GPS, Wi-Fi, longer battery life, tilted screen, and more. With a high-resolution 24.2 MP sensor and 39-point AF system, this camera allows you to take detailed images.
It has a sturdy and weather-resistant body, so it allows you to take sharp pictures in different weather conditions. And the comfortable hand grip lets you hold the camera comfortably for hours at a time. It weighs just 465 grams, so it is lightweight and easy to carry on backpacking trips.
But one of the best things about this backpacking camera is that it can be connected to your mobile phone using Snapbridge to take shots, videos, or even transfer media to your phones directly.
Read more: Best lenses for Nikon D5600
PROS
Amazing image quality
Comfortable hand grip
Touchscreen interface
CONS
Slightly expensive compared to similar models
Only 1080p videos
---
Sony A5100
Recommended by Danny from Danny Explores
Sony A5100 is the perfect solution for someone looking for a powerful and reliable camera for backpacking, which also takes up minimal space.
The A5100 is a mirrorless camera that offers power and fantastic image quality more than expensive DSLRs. A compact design and high spec sensor make this camera one of the best budget camera options for blogging, backpacking, and other general photography needs.
The Sony A5100 has a 24.3mp APS-C CMOS sensor. The camera also has a 3-inch touchscreen LCD which can flip 180 degrees. A perfect option for those who want to take high quality selfies or record vlogs.
The video features are impressive for a budget camera as the A5100 supports 1080 at 60 fps, which will give you perfect videos to share with your friends back home.
PROS
Affordable price
Has a great autofocus
Compatible with Sony E-mount lenses
Vari angle LCD Screen for vlogging and selfies
CONS
No External flash compatibility
Not great for sports photography
Only 1 SD card slot
---
Nikon Z50
Recommended by Victoria from Guide your Travel
The Nikon Z50 is the most affordable camera of Nikon's Z-Series. It's lightweight and small-sized as peculiar to mirrorless cameras with a weight of 397g.
The camera has a 20.9MP CMOS sensor and EXPEED 6 image processor which is fast enough for the entry level camera. It shoots fastest at 11fps and has a reliable autofocus system with eye-tracking. Nikon Z50 also supports 4K video at 30fps.
Nikon Z50 pairs with Z-mount lenses. The kit lens for the Z50 is a small wide-angle NIKKOR Z DX 16-50mm f/3.5-6.3 VR lens with image stabilization. It's a great starter lens if you're not sure which ones to buy. If looking for more accessories for a camera, then polarisers would be a great addition to your camera gear.
If you're a backpacker who wants to take photography more seriously then this is a fantastic camera. However, it does not have a full-frame sensor so it's a great step in between a beginner's camera and an expert.
Luckily you can easily upgrade your camera body later on and still keep your Z-Series lenses. The Nikon Z50 is a great camera for backpackers who are looking for high-quality photos but who don't want to carry a heavy bag.
PROS
Lightweight
Great image quality
Records 4K video at 30fps
CONS
Not full-frame
Yet so few Z-mount lenses
---
Sony a7III
Recommended by Jiayi from The Diary of a Nomad
The Sony a7III is a full-frame mirrorless camera that weighs around 650 g (22.9 oz.) and has a 24.2MP sensor. It features a 610-shots battery life, 4K video resolution, and a tilting LCD touchscreen. Its ISO range goes from 100 to 51,200.
This is one of the best cameras for backpacking because it is compact for the quality it delivers, doesn't take up too much space in a backpack, and produces incredible colors and details. Its image quality isn't any less than that of a standard DSLR, yet it's a lot more portable and compact.
A camera is nothing without its lenses, and the wonderful thing about the camera is that there's truly an incredible amount of Sony a7III lenses that you can pair it with. For photos of landscapes and nature, consider getting a wide-angle lens like the premium Sony FE 16-35mm f/2.8 GM or the more budget-friendly Tamron 17-28mm f/2.8 Di III RXD.
Moreover, the Sony a7III performs spectacularly in low-light situations. If you're planning to go stargazing during your backpacking trip, or simply want to shoot some sunrises or sunsets, you can count on this camera to deliver smooth and noise-free images, thanks to its impressive ISO range.
If you're into vlogging, you will love this camera's tilting LCD touchscreen and 4K resolution. It also has tons of vlog-friendly features, such as a microphone port and a headphone jack.
PROS
Incredible image quality even in low light
Wide range of compatible lenses
Very vlog-friendly
CONS
Leaning towards the pricier side
The shutter can be a bit loud
---
Fujifilm X-T3
Recommended by Alexander and Cynthia from Travel your Memories
Fujifilm is known for producing high quality cameras with fast autofocus and processor. Fujifilm X-T3 is no exception and it's guaranteed that the camera has everything to capture the highest quality images.
It weighs only 539 grams and takes less space in your backpack. The image quality and colors of the photos are ridiculously good as it has a 26.1 MP APS-C sensor and X-Processor 4 image processor. It also records 4K videos at 60fps.
Fujifilm X-T3 pairs with X-mount lenses, where you have several options to upgrade your gear. The kit lens for the current camera is XF 18-55mm f/2.8-4 OIS. If looking for an upgrade, then a perfect all-rounder lens for the camera is Fujifilm XF 16-80 mm F/4.0 R OIS WR.
In conclusion, it's a great camera for backpacking if you are a more advanced photographer. As it has many high-quality features, it's also more pricey. But if you are already professional and can hold it in backpacking situations, then it's one of the best cameras for backpacking with all these features.
PROS
Photo quality is extremely good
Lightweight mirrorless camera
A discreet camera that is multi-purpose
CONS
Very pricey for beginners
Fujifilm's lenses are also pricey.
The camera body does not contain image stabilization
---
Canon EOS 2000D
Recommended by Dymphe from Dymabroad
Canon EOS 2000D (also known as the Canon Rebel T7) is a camera that comes in handy when capturing beautiful places around the world, including the most Instagrammable places in LA.
The camera has a 24.1 MP APS-C sensor and Digic 4+ image processor. In addition to technical specs, it also has convenient features, such as built-in WiFi. That allows you to connect the camera to your phone.
Moreover, it's compatible with Canon EF-S lenses, which give you a wide range of options from macro to telephoto lenses. The default lens that you get with the camera is an 18-55 mm f/3.5-5.6.
What's also great about this camera is that it is one of the most affordable DSLR cameras on the market. This is one of the reasons why it is a great camera for backpacking. When something happens to the camera while traveling, you can get it replaced without losing a lot of money.
The built-in WiFi function is also great for backpacking. That's because you don't need a laptop if you want to share or edit photos, which makes traveling easier.
PROS
Affordable DSLR
Built-in WiFi function
Compatible with other Canon EF-S lenses
CONS
Basic default lens
No input for external microphone
---
Panasonic GX85
Recommended by Shimona from Sidecar Photo
The Panasonic GX-85 is an excellent camera for backpacking for several reasons. For maximum versatility, this is an interchangeable lens camera and yet, it is one of the smallest ones available.
The camera has a 16 MP APS-C sensor with max image resolutions of 4592 x 3448. ISO ranges between 200-25600. It also records 4K videos.
Other than basic specs, it's packed with features you often won't see in small-sized cameras. One of the key features is in-built image stabilization. It's a big help for sharper images when shooting without a tripod, and even when you have low light conditions.
In-camera HDR and panorama features to ensure that you won't miss the shot you want and will save your precious time processing afterward.
The camera is affordable and in addition, it has a massive lineup of Micro Four Thirds lenses. The same lenses are shared by Olympus and Panasonic. Also, it's compatible with third party lenses like Tamron and Sigma.
PROS
Interchangeable lenses.
In-camera features: HDR, Panorama, Image Stabilization, Focus Peaking.
Charges through USB for easy on-the-go recharging.
CONS
Not weather-proofed so you should be careful in heavy rain.
Battery life isn't the longest. Recommended is to have an extra battery.
---
Panasonic Lumix TZ80
Recommended by Becki from Meet Me In Departures
Panasonic Lumix TZ80 is a compact camera that can conveniently fit in a small bag or pocket. It's a great deal for backpackers who are short in space and want to backpack as light as possible.
The camera is fantastic because of the optical zoom lens and the pre-set options. One of the key features of the camera is the fast autofocus system and image stabilization. Valuable benefits for starters to capture sharp images.
There are so many reasons why the Panasonic Lumix TZ80 is one of the best cameras for backpacking. For example, it has a zoom up to 30x and it records in 4K video. Which is more than enough for starters, who don't want to spend much for the first camera.
Even though it's compact, the camera can still shoot in RAW mode and has an ISO range from 80-3200 (with an option to boost up to 6400), an aperture of F3.3-6.4, and a focal length of 24-720mm. Considering the price and size, it's a great option when it comes to convenience, price, and versatility.
PROS
Optical Zoom up to 30x,
Small-sized.
CONS
Not good in low light,
No input for mic,
No vari-angle screen for selfies and vlogging.
---
Canon G7x Mark II
Recommended by Daniel from Layer Culture
When looking for the best camera for backpacking it is important to choose one that not only suits your style of photography but something which is also portable and will stand the test of time.
Aside from the camera's 4X camera zoom, this particular model offers an amazing wide-angle view with f1.8 speed which works great in low light conditions. The 3-inch touchscreen display is useful as it enables you to flick through any technical settings with ease whilst on the move.
It also makes sense to use a secure camera bag if going on longer journeys through different terrains. One of the main features of the camera is the fact that you can download images directly to the phone, using the Canon Camera Connect application.
The battery life is also adequate and it's possible to charge via USB which means that you can use a power bank to keep the camera charged whilst on the road.
All in all the Canon G7x Mark II makes a great camera for backpacking and doesn't break the bank when compared with other cameras on today's market.
PROS
Good image quality, shoots in RAW
Built-in flash
Internal charging via USB
CONS
Not great for shooting fast subjects
Not much grip when holding the camera
Battery life considerably shorter when shooting video
---
DJI Osmo Action
Recommended by Debbie from World Adventurists
A tough adventure camera that will stand up to the elements on a backpacking journey is the DJI Osmo Action. An exceptionally rugged and compact 4K action camera.
A rival of the GoPro, it has many of the same features, as well as a few extras. One of the best features is that the camera screen has a hyper-sensitive display, and with a couple of taps of your finger, or holding down the Quick Switch (QS) button on the side, you can flip the screen for a selfie, group shot, or to record a vlog.
Waterproof up to 11 m (36 feet), you can go from shooting on land to shooting in the water instantly. The DJI Osmo Action is also shockproof up to 1.5 meters (5 feet) and dustproof.
A great feature is the custom mode selection. You can set specific profile settings and can easily switch between them. This means less time playing with the camera settings and more time capturing those incredible memories you will cherish for years to come.
The battery is removable. You can bring extra batteries with you to keep up with your usage demand so that you will not miss a beat.
Even if the DJI Osmo Action is powered off, you can start shooting in seconds by pressing the shutter button or using the "start recording" voice command.
The 4K30 quality is incredibly clear and vibrant, whether shooting landscapes and waterfalls, watersports, or exploring the underwater world.
PROS
Front-facing full-color screen
Dedicated slow-mode
Waterproof up to 11 meters (36 feet)
CONS
Short battery life
Display lag when RockSteady is active on 4K
Mounting requires housing
---
GoPro Hero9 Black
Recommended by Corritta from It's a Family Thing
As a backpacker, one of the most crucial things is space. You don't want to take up too much space with a bulky camera, lens, lighting, and tripod. When taking into account the size, quality, and durability, then the best camera for backpacking is the GoPro Hero9.
As the most popular action camera, the GoPro Hero9 is the ultimate camera for both photos and videos. GoPro Hero9 Black key features are 20 MP photo resolution, waterproof up to 10 m (33 ft), immaculate video quality (4K 60f, 5K 30f), hyper smooth feature, 1080p live streaming, voice control, and built-in mounting.
This camera is small enough to fit in your pocket yet powerful enough to record epic action videos. You can take it anywhere without much effort.
The interchangeable lens is a game changer for this model, offering backpackers the option to have a variety of lenses for different occasions.
If you record videos, the front-facing camera makes it easier for you to take flawless vlogging videos or the ultimate selfie.
PROS
Waterproof without a case
HyperSmooth 3.0 capability
Interchangeable lens
Front-facing screen (makes taking selfies easier)
CONS
Need several batteries
Accessories are expensive
---
PIN IT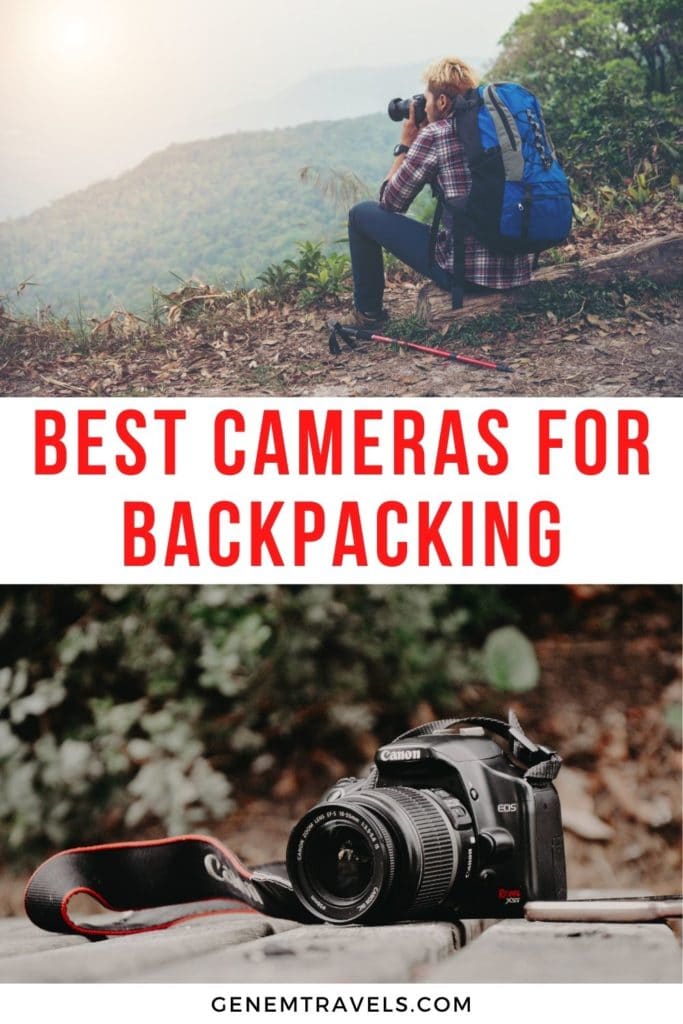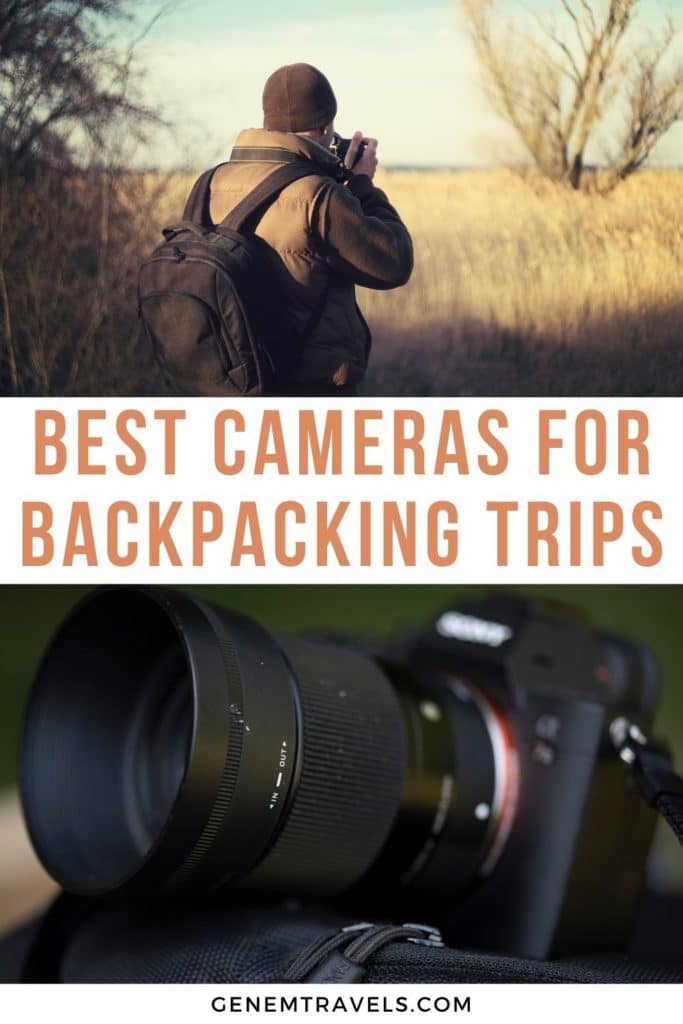 ---
Recent posts: