Going on an adventure with no distractions, walking around the lively nature, and overall taking some time off. Everything feels perfect and now you are searching for a place to pitch up a wild camp. But your mood takes a quick turn due to you realizing that you are missing some wild camping essentials.
It's not the end of the world, but let's be honest you would be at least a bit pissed.
So when you are planning a wild camping trip, you need to be sure that there aren't any necessities left at home. Even more crucial when you are camping alone. Of course, everything doesn't need to be perfect, but you are going to miss some essentials for wild camping when these are sitting safely at home.
What to include in a wild camping essentials kit?
---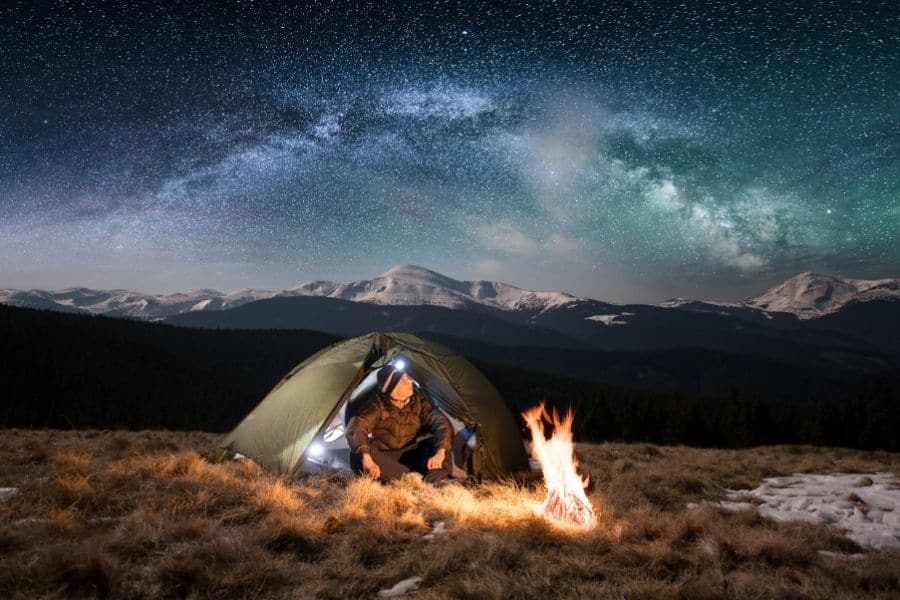 Wild Camping Essentials: Tent
Recommended by Soumya from NatureDiary
A camping tent is one of the most crucial wild camping essentials among all of them. Many travelers prefer to sleep under the sky, but if the weather turns ugly, you need to get a tent to sleep comfortably and safely. It is a shelter in the wild with full coverage from all sides to protect you from harsh weather conditions, harmful insects, and even in some cases, the wildlife. So, you need not worry about the gusting of the wind, rain, blizzards, and intense sunlight while camping.
Tents are available in different sizes, suitable for solo travelers as well as group people. Most importantly, you can fit a quality camping tent inside your rucksack. Also, being lightweight, they can be easily carried around. While choosing a tent for camping, the material plays an important role as it needs to be waterproof, and less prone to wear and tear. Therefore, get a tent that fits your specific needs perfectly for a wild camping trip.
Recommendation: Pandaman Ultralight tent.
---
Lightweight Travel Hammock
Recommended by Martina from PlacesofJuma
One of the best travel items for relaxing and sleeping is a portable hammock! These useful camping gadgets are really small and ultra-light and specially designed for campers, outdoor, trekking, and hiking enthusiasts. But globetrotters love this thing too! Especially if you travel a lot and like to sleep under the stars in nature, then a travel hammock is a must for every camping trip!
Finding the perfect travel hammock is not easy, as there is a wide range on the market. First of all, it has to be easy to take along and you should be able to hang it up without any complications. Whether for hiking, camping, or the beach – they offer a comfortable place to sleep almost anywhere in the world. Really cool and especially practical for camping are hammocks that also have a mosquito net.
However, weight is also important! If you want to take it with you when backpacking or hiking, make sure it is ultra-light, preferably weighing less than a kilo. When it comes to size, make sure your travel hammock is as small as possible so it will fit in any hiking backpack or other luggage. Of course, it's also great if this travel hammock is very easy to use because you don't want to waste your precious time fixing this item!
Recommendation: Wise Owl Travel Hammock.
---
Air Camping Mattress
One of the most useful wild camping essentials for a warm and comfortable sleep is a mattress. It isn't just for a comfortable sleep, it also provides an extra layer to prevent a cold from the ground.
Many would think of the mattresses in foam form that takes a lot of room and usually, it has to stay outside from a backpack. However, for lightweight and small size travel gear I recommend using an air camping mattress. It's possible to compress it into a small package that takes a little space in your backpack.
I recommend paying attention to mattress material because it would ruin your comfortable and warm sleep when the air whizzes away from the first sharp stone. Good quality air mattresses aren't so expensive and worth an investment when searching for lightweight camping gear.
Recommendation: Ferrino Superlite Air Mattress.
---
Sleeping bag
Recommended by Rachita Saxena from MeanderWander
A sleeping bag is essential wild camping equipment that you simply cannot miss out on. It is an insulator that will ensure that you don't lose your body heat to your environment when camping out in the wild. When you are camping at night, you will often come across places which would be cold and your tent won't be sufficient to keep you warm at night. In such situations, a sleeping bag will keep you warm and cozy through the night so that you are well-rested for the next day.
Sleeping bags are quite portable and lightweight and can often fit inside your backpack, so you don't have to worry about carrying them separately on your camping trips.
It acts as a comforter or a quilt when you are sleeping to ensure that you are warm and comfortable. One important thing to note about sleeping bags is that different models are suited for different temperatures. So, make sure you choose a sleeping bag that can handle the desired temperature for your camping trips.
Recommendation: Ferrino Sleeping Bags.
---
Base layer
Recommended by Cecily from Groovy Mashed Potatoes
On those chilly wild camping nights, you will be relieved to have your base layer on. A base layer is a long sleeved top and pants made of merino wool or synthetic fabric that acts as a second layer of skin. It works to maintain the right body temperature by trapping in heat and wicking away moisture from your skin. After sweating from hiking to your wild camping spot you won't have to worry about the dampness setting in thanks to your base layer. When paired with a down puffer coat and waterproof jacket you will be able to withstand all of the elements!
When looking for a base layer, look for 100% merino wool. The fabric is antibacterial, breathable, and is excellent at retaining heat even when wet. It is also very comfortable and doesn't make you feel itchy which is great for sleeping in your tent. Icebreaker is one of the leading companies for merino wool outdoor apparel. They have an incredible selection of 100% merino wool base layers for both men and women. You won't regret bringing your base layer along with you for your camping adventure.
Recommendation: Icebreaker Base Layer.
---
Camping Cookware Set
Recommended by Luke Storey from Wild About BC
A great set of camping cookware is essential when you are camping in the wild. You will want to find a set that weighs very little and packs down small while also providing enough pieces so that you can cook a decent meal after a long hike. Many people will settle for just boiling water and cooking a dehydrated meal while out wild camping, but if you get a good set of camping cookware you can do so much more and you won't even notice the extra space getting taken up in your bag.
You can find a set that caters exactly to your needs, so if you want to cook some more gourmet food while out in the wilderness you can buy a set that comes with several pots and a frying pan. This allows you to cook a wide range of food and there are few things better than a nice hot meal at the end of a tough day of hiking or backpacking. A set like the GSI Bugaboo Backpacker will give you several pots, a frying pan, mugs, and bowls so you have everything you need to cook up a storm.
Even if you only want to cook more basic meals it is still great to have a decent cook set that includes a pot and some bowls that all nest together. It doesn't have to break the bank and a quality camping cookware set should last you for years.
Recommendation: GSI Bugaboo Backpacker Cookware.
---
Small Camping Stove
Wild camping essentials that you can not miss from the kitchen department. A warm meal per day is healthy for your body because it gives loads of energy to survive long days in the wilderness.
Even small sized and ultralight backpacking camping stoves give a huge boost in preparing a meal. You just need a bit of fuel and a lighter and it warms up your food pretty quickly.
I recommend using a lightweight, but effective Jetboil Ultralight Backpacking Stove. It's so small that it fits without any trouble in your backpack.
Recommendation: Jetboil Ultralight Backpacking Stove.
---
Filter Water Bottle
Recommended by Sarah from ASocialNomad
Water is key when camping, whether it's for rehydrating, cooking, or washing up – you or your camping gear. Access to potable water isn't always certain too, so that's why carrying a filter water bottle allows you to restock water safely. Filter water bottles can be attached to the pocket of a daypack or backpack and they're easy to carry but perform a vital function.
Filter water bottles not only allow you to filter out bad tastes in water but also bacteria and germs that can make you ill. Using a filter water bottle is a lightweight way of carrying water, and also reduces the use of single-use plastic bottles and the cost of buying bottled water too! All good filter water bottles come with replaceable filters, which are also lightweight, easy to fit, and a cost-effective way of staying safe while camping.
Recommendation: LifeStraw Go Water Filter Bottle.
---
Camping First Aid Kit
Recommended by Louis from Outdoor Explorer
While not the most glamorous of items, the camping first aid kit is essential when going wild camping. Keeping one of these in your pack can make the difference between your trip being a fantastic success and an absolute disaster.
For example, it's very easy to slip over and cut yourself on some wet rocks while out hiking. While this wouldn't be a big deal at home, a bit of dirt or stagnant water getting into the wound while out on the trail can mean a high risk of infection. Untreated infections are life-threatening and will require you to abandon your trip immediately to seek medical attention.
However, if you have packed a first aid kit, you can just pull out some disinfecting liquid, apply it to the wound, bandage it up and be on your merry way!
First aid kits are also very useful for preventing blisters, treating snake and other animal bites, insect and plant stings, heatstroke, hypothermia, and diarrhea.
First aid kits designed for camping and hiking are typically very compact and light, so they won't add too much bulk or weight to your pack. I highly recommend that you pick one up before heading out on your next trip!
Recommendation: Camping First Aid Kit.
---
Lightweight Poop Shovel
Recommended by Katy from A Rambling Unicorn
When camping in the wilderness, knowing how to use the bathroom properly is essential. Most wilderness locations are miles away from bathrooms with flush toilets. If you're lucky, an outhouse may be available – but chances are you'll have to use the bathroom the natural way. This is where proper hiking bathroom etiquette comes in.
It is critical to leave wilderness areas the way you found them for the next visitors to enjoy. Never leave toilet paper behind or a pile of poop for someone to step in. If you have to poop in the wilderness, dig a cathole about 15cm to 20cm (6″ to 8″) deep that is at least 60m (200 feet) away from streams, lakes, trails, and your camping area. After you've finished your business, cover the hole with dirt and pack out used toilet paper or wet wipes.
Be sure to bring a trowel with you to dig the cathole. Some hikers skip this step and try to dig a hole with a sharp stick or hiking pole. This is not recommended and rarely results in a proper hole. When selecting a shovel, The Deuce Ultralight Potty Trowel is a good choice as it only weighs (17g) (.6oz) and does an excellent job.
Be aware that some wilderness areas have different rules about bathroom etiquette. In some sensitive areas, digging holes is not allowed. Check with the land management agency before setting out to ensure you understand local regulations.
Recommendation: The Deuce Ultralight Potty Trowel.
---
Emergency Blankets
Recommended by Megs from Packing up the Pieces
A small, yet essential item that you should never leave home without is an emergency blanket. This item is perfect for wild camping or on a multi-day trek in Peru. They have so many diverse uses and can ultimately save your life.
Emergency blankets are compact, so make sure to pack at least a few for wild camping. One of their most valuable assets is that they help to protect against frigid temperature, reflect harsh winds and ultimately help maintain your body temperature.
The best thing about emergency blankets is the many versatile uses. During heavy rains, emergency blankets can be thrown over your tent and act as a tarp. If the weather changes drastically and the cold is unbearable, lay it underneath a sleeping pad for an extra layer of warmth and protection. They can be used to assist in simple first aid, as trail markers, a rain jacket, rope, or a makeshift emergency bivvy.
While they work great for adventurous wild campers, they are so small and efficient, that these life-saving devices can fit into all daypacks for day hikers. Never leave for a hike or camping without a few emergency blankets.
Recommendation: Emergency Camping Blankets.
---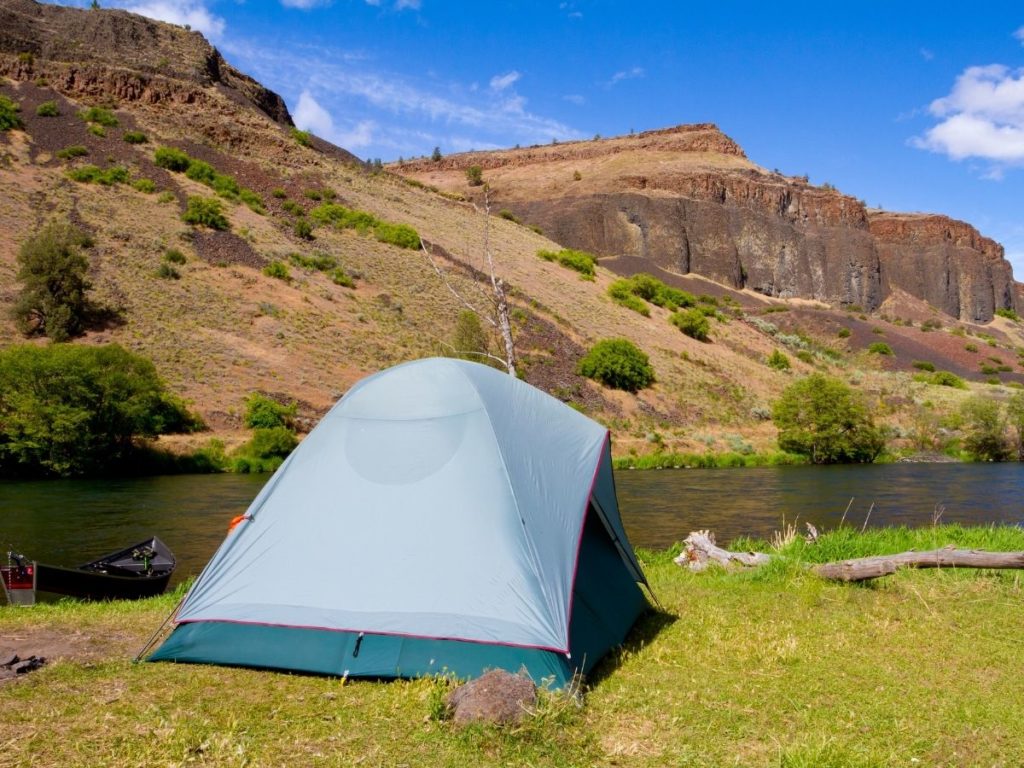 Backpacking Water Filter Pump
Recommended by Lina from Bucketlistplaces.com
One of the most critical wild camping essentials to have when going into the backcountry is a backpacking water filter pump. The way that the pump works is that it allows you to filter running water from a stream or river into clean, drinkable water.
Filtering out dangerous bacteria, a water filter pump will ensure that you have the needed water supply no matter where your wild camping destination takes you. This is especially useful for long, multi-day treks which require you to carry all of your gear.
Bringing a lot of water would make wild camping especially difficult as it would add a lot of weight. A water filter pump allows you to refill water at any available stream along the way to ensure you always have the necessary supply. The best part is that they are very compact and low-weight making the trip far more enjoyable.
Recommendation: Backpacking Water Filter Pump.
---
Camping Headlamps
Recommended by Utkarsh from Journeys From Heart
Camping headlamps might seem something as trivial and not so important as wild camping gear, but that little piece of the item will make a huge difference in efficiency and comfort during the night period. These are lightweight and fixed over a ribbon that could be worn over your head and show you the light when doing wild camping necessities during the night like pitching up a tent.
For example, the greatest benefit that they provide is freeing your both hands which you could use for other important activities while staying overnight. There is also an option to use a phone as a light source, but it would drain the important battery life, and in addition, it's not comfortable to do wild camping tasks with one open hand. That one of the most important wild camping essentials during the night is super lightweight and you don't even notice nor feel that it's around your head.
For sure it's a must have wild camping gear which could save you so much effort and let you focus fully on your night adventures like camping, trekking, and climbing.
Recommendation: Petzl Actik Core Headlamps.
---
Bear Bag
Recommended by Val from VoyageswithVal
If you will be backpacking or overnight camping in bear country, then one beginner backpacking mistake you do not want to make is forgetting one of the wild camping essentials of a bear bag or bear canister! All smelly items (soap, scented sprays, etc.), as well as any food, should be placed in your bear canister or bear bag and placed safely away from your tent. If you use a bear bag, be sure to know how to hang it properly so that bears cannot reach it. Bear-resistant bags and containers have the additional benefit of keeping out all other smaller critters such as mice and raccoons that may be interested in your food.
Be sure to check the requirements of the wilderness area you are visiting, as some have restrictions about what type of bear bag or canister is allowed. If you will only be backpacking a few nights, many places have bear canisters for rent, such as REI. Storing your food properly is essential for both your and the bear's safety, so make sure to do your research before your overnight!
Recommendation: Bear Bag for Camping.
---
Microfiber Towel
Recommended by Victoria from Guide Your Travel
One of the wild camping essentials that any backpacker or camper should carry with them is a lightweight towel. While you might not have the luxury of daily showers a towel will come in handy when you do get the chance to cool off somewhere. Regular towels are bulky and take a long time to dry. Microfiber, however, is quick-drying and super lightweight.
Even a large towel only takes up as much space as two or three t-shirts and the small ones are tiny. A micro-fiber towel fits in any backpack and you can even clip it to the outside while you're walking to make it dry faster. These towels are durable and don't get dirty very easily compared to a regular towel. You could even use them as a blanket to sit on or a sun protection screen which will make them dry faster and give you some valuable shade.
Recommendation: Microfiber Towels for Camping.
---
Power Bank
A power bank is one of the lifesaving wild camping essentials that you don't want to forget home when you are trekking for days around the wilderness. Even though it's better to stay away from the internet and enjoy the moment while camping, then the phone is still essential to your safety.
The best wild camping areas are the places that are free of noise and hustle, but only the sounds of nature. It means that you would probably stay away from living areas. So you need at least a phone to not get lost or for unexpected help. Also the most important is to keep your electronics alive, so a power bank is one wild camping essential item.
My recommendation is to acquire a power bank that can be charged through solar panels. It's the safest way to have power wherever you go.
Recommendation: Power Bank with Solar Panels.
---
Conclusion
It's the basic wild camping equipment list and you can always add some additional items, depending on your needs and if you have any room in your backpack. The most important thing to carry with you is a good attitude to enjoy your camping adventures to the fullest.
When you already know what essentials for wild camping to take, but don't know how to "survive", then read next a guide to wild camping.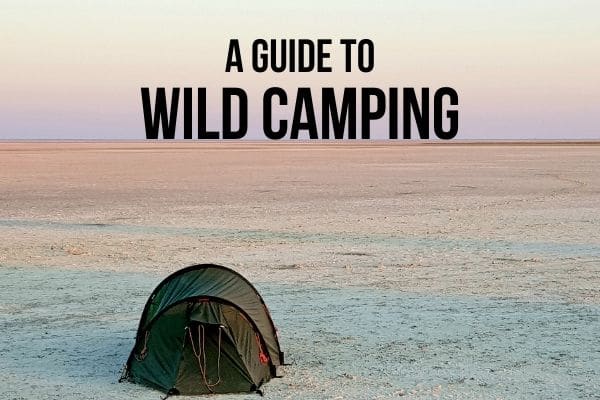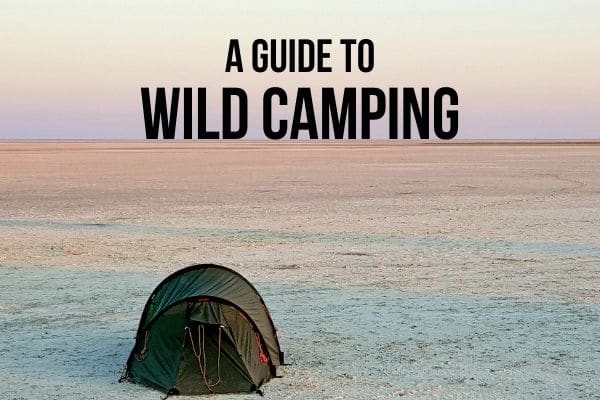 ---
PIN IT
---
Read more about Adventure travel: