What are the best hiking places in the USA? The States are covered with different national parks, mountain ranges, and places with beautiful nature. Here is a list of 21 different hiking destinations all over the United States. Options vary from easy hikes to longer and more difficult treks.
Best hiking places in the USA
1. Olympic National Park
Recommended by Chantelle from Flannels or FlipFlops.
Olympic National Park is one of the best hiking places in the USA. This beautiful park is located in the state of Washington and offers hikers a wide variety of landscapes to explore.
This beautiful park is great for hiking due to its beauty and diversity. Olympic National Park is one of the most diverse parks in the country, which means that you'll never grow bored of the scenery. You can hike through old-growth forests, up snow-capped mountains, or along a pristine coastline. And each landscape offers its own unique set of flora and fauna and wildlife to discover. 
Some of the most popular hikes in Olympic National Park are:
The Hoh Rainforest – One of the most popular hikes in Olympic National Park. This temperate rainforest is one of only a few remaining in North America. There are several different trails ranging from easy to difficult that allows hikers to explore different parts of this majestic forest.
Hurricane Ridge – Another great option for hikers is Hurricane Hill (via Hurricane Ridge). This 3.4-mile roundtrip hike takes you to the top of Hurricane Ridge where you are rewarded with stunning views of the mountains and valleys below.
Ozette Triangle – This 9.4-mile loop takes you through some of the most beautiful parts of the park including old-growth forests, beaches, and lakes.
Olympic National Park is a nature lover's paradise and should definitely be on your list of places to visit. With something for everyone, from easy walks through temperate rainforests to challenging mountain hikes, there is no shortage of adventure to be had in this park.
2. The Adirondacks
Recommended by Samantha from PA on Pause.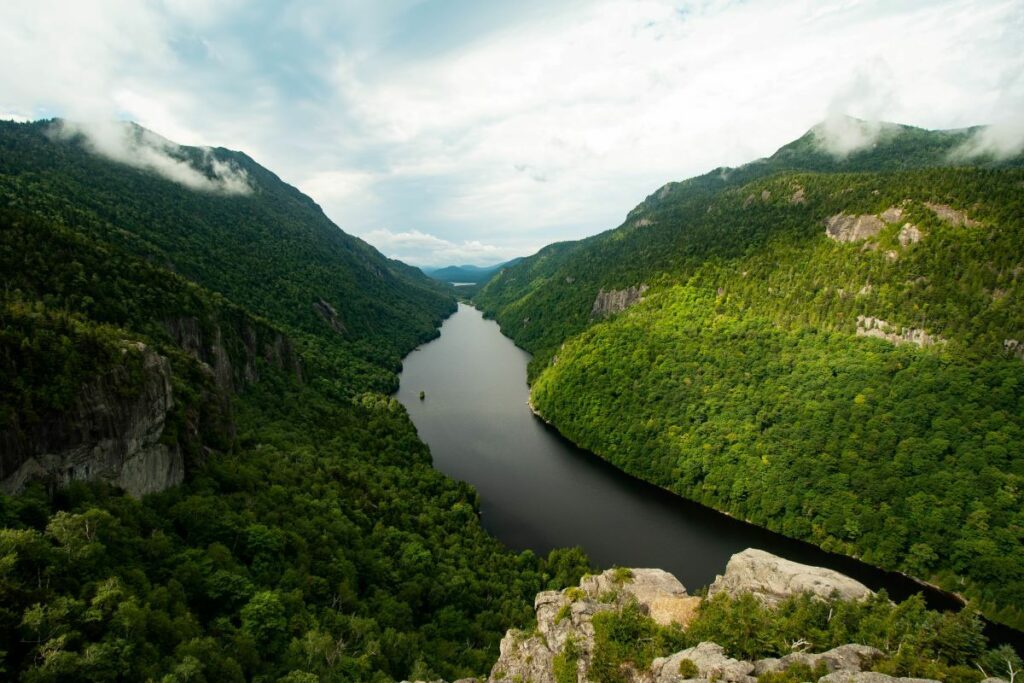 One of the best hiking places in the northeast USA can be found in the Adirondack Mountains. Located in upstate New York, there are hundreds of miles of hiking trails in the area.
Become an "Adirondack 46-er" by completing summit hikes to each of the Adirondacks' 46 peaks over 4,000 feet tall. Included in these hikes is the tallest point in New York at the Mount Marcy summit, which can be reached on a long day hike or combined for an overnight adventure. Be prepared for some steep, rocky terrain!
Whether you'd like to chase waterfalls or hike to a destination resembling a Norwegian fjord, the Adirondacks have the hike for you. Trails throughout the region are well-marked and easy to follow.
You can use one of many lakeside towns throughout the region as a home base, including Lake Placid, Lake George, and Saranac Lake. While the summits aren't as high as the fourteen thousand footers in the Rockies, these hikes still offer a great range from leisurely strolls to technical climbs without spending days acclimating to the altitude.
You can even hike Whiteface Mountain, which was host to the 1980 Winter Olympics ski and snowboard events. You could spend months, even years in the Adirondacks and not hike the same trails twice. With miles and miles of trails, you can certainly select a great route. Easily accessible especially for those on the east coast, the Adirondacks are one of the best hiking places in the US.
3. Hocking Hills State Park
Recommended by Jenn from Those Johnson Boys.
Whether you're an avid hiker or someone who wants to stroll and marvel at amazing scenery, Hocking Hills State Park in Ohio is the place for you. Located about an hour southeast of Columbus, Ohio, you'll find hikes that suit every type of hiker.
When you head out to explore the different trails, you'll be surrounded by huge rock formations, waterfalls, towering trees, and lush greenery. It truly feels like you've been transported to a different world.
There is a wide range of difficulty and length with each of the hikes at Hocking Hills. Some even handicap accessible, so everyone can experience this beautiful area.
Hocking Hills State Park can be enjoyed at all times of the year, as each season brings something unique to the hikes. From the blooms in the spring to the warm weather in the summer and from the colorful foliage in the fall to the snow-covered ground in the winter, you can't pick a bad time to visit.
When you're not hiking, there are several other outdoor activities to do such as rock climbing, cliff rappelling, kayaking, and canoeing. You can also go stargazing at the John Glenn Astronomy Park, where you can easily see the Milky Way on a clear night.
There are plenty of lodging options in the area including cabins, geodomes, yurts, and even a train caboose. Make sure to book your stay early if you're visiting in the spring, summer, or fall.
4. Denali National Park
Recommended by Dan from Cabin Critic.
If you're looking for an unforgettable outdoor adventure, look no further than Denali National Park in Alaska. With its awe-inspiring scenery and abundance of wildlife, Denali is a hiker's paradise. There are plenty of trails to choose from, so whether you're a beginner or an experienced hiker, there's something for everyone.
When it comes to accessing the Denali National Park trails, you can start at the visitor's center, drive to the Savage Alpine Trail area or take a bus deeper into the park and start at various trailheads along the way.
There are multiple options for the rest areas like the Mountain Vista Rest Area or you can get an amazing view of Denali from the Eielson Visitor Center after a short steep hike. You can find hikes that will last for 30 minutes or hikes that will take all day long or multiple days even.
The best way to hike in Denali is actually on an unmarked trail. Simply find an area off the road and start hiking, when you are done simply wave down a shuttle bus to take you back to the visitors center.
Denali is a wilderness area, which means there are very limited facilities or services once you leave the developed areas near the entrance gate. That means you need to bring everything you need with you, including food, water, shelter, and first-aid supplies.
If you are lucky you might even spot some wildlife that can be spotted on the bus ride into the park or while you are on the trail. You can run into caribou, bears, sheep, wolves, and small mammals like squires and foxes.
5. Bonners Ferry Idaho and Kootenai Wildlife Refuge
Recommended by Mary from BR by Mary.
If you are looking for some of the best hiking places in the USA, visiting Bonners Ferry, Idaho is, without a doubt, a great idea! Bonners Ferry is a small town located in North Idaho about 30 minutes from Sandpoint and 30 minutes from the Canadian border.
This small town is surrounded by nature and wildlife making it a great spot for hiking. Due to the number of lakes, mountains, and waterfalls in the area, there are endless hiking possibilities.
One of the closest hikes to the town is at the Kootenai National Wildlife Refuge located just near Bonners Ferry. The trail around the refuge is rated as easy to moderate with a couple of climbs. It passes the river and a waterfall. Depending on the season you are visiting, you can observe different animals. During spring, visitors are particularly excited to see bears, elks, and moose. 
Another popular hike right by Bonners Ferry is the Bottleneck Lake and Snow Lake hike. It is 10.7 miles long and follows a river. There are bears in the area so be prepared if you are heading there.
To get to Bonners Ferry, you will need to fly into Spokane airport as it is the closest international airport. Then, the easiest and cheapest option is to rent a car and drive to Bonners Ferry. The drive takes about two hours. As it is moose territory, it is recommended to be extra careful on the road, especially at night.
The best time to hike in the Bonners Ferry area is either spring or summer. During these two seasons, trains are dry and wildlife is present. However, if you are well equipped, hikes in the snow during winter are just as fun!
6. Half Dome, Yosemite
Recommended by Cassie from Cassie's Compass.
As one of the top 10 most visited US National Parks, there's no question that Yosemite is one of the best hiking places in the USA. And the most bucket list-worthy hike in Yosemite is Half Dome. Half Dome is iconic because it involves scaling a sheer cliff face using metal cables to reach the top of the famous granite dome.
Known as one of the most difficult and best day hikes in the USA by the National Park Service, Half Dome is not for the faint of heart. It is a strenuous 18-mile round-trip hike with an elevation gain of over 4,800 feet from Yosemite Valley.
Even before you get to the cables, the last part of the hike requires scrambling up steep granite rocks at the subdome. However, the views from the top are simply breathtaking and well worth the effort.
If you are planning on tackling Half Dome, you will need to be prepared. Be sure to get a permit using the park's lottery system in advance. A limited number of permits are available each day, with applications only open one month per year in March. In the off-season, you can hike Half Dome without a permit, but it requires special skill as the cables are down.
If you're willing to prepare and ready for an unforgettable hiking experience, Half Dome should be at the top of your bucket list.
7. Kanab, Utah
Recommended by Christine from Live Love Run Travel.
Kanab, Utah, is one of the best hiking destinations in the USA thanks to its proximity to several national parks and national monuments.
Surrounded by Zion National Park, Bryce Canyon National Park, and the north rim of the Grand Canyon, there are plenty of hikes in these three parks alone to keep you busy. Add on Grand Staircase Escalante and Vermilion Cliffs National Monuments for even more incredible hikes.
Zion is most famous for Angel's Landing, but you will need to get a permit to hike it now and to be okay with heights. The Narrows is another popular hike, but you'll need to make sure you have the right shoes or equipment for this water hike. If you can get a permit for it, the Subway is another beautiful Zion hike.
Bryce has several beautiful overlooks, but you can also hike down among the hoodoos which are beautiful up close. Hiking from Sunrise Point to Sunset Point (or vice versa) allows you to see a good amount of the formations, but you can also add on to it for more mileage.
The south rim of the Grand Canyon may be more famous, but the north rim has several great hikes as well ranging from an easy hike to Bright Angel Point to the bucket list South Rim to North Rim hike.
Some of the other popular hikes in the area include the slot canyon hike at Wire Pass which can also connect to Buckskin Gulch. The Wave (North Coyote Buttes) and South Coyote Buttes both require permits but are unique hiking areas with crazy formations. White Pocket Arizona is also accessed from Kanab and is worth the trip, especially if you can't get a permit to North or South Coyote Buttes.
8. American River trail, Sacramento
Recommended by Ossama from Awesome Traveler.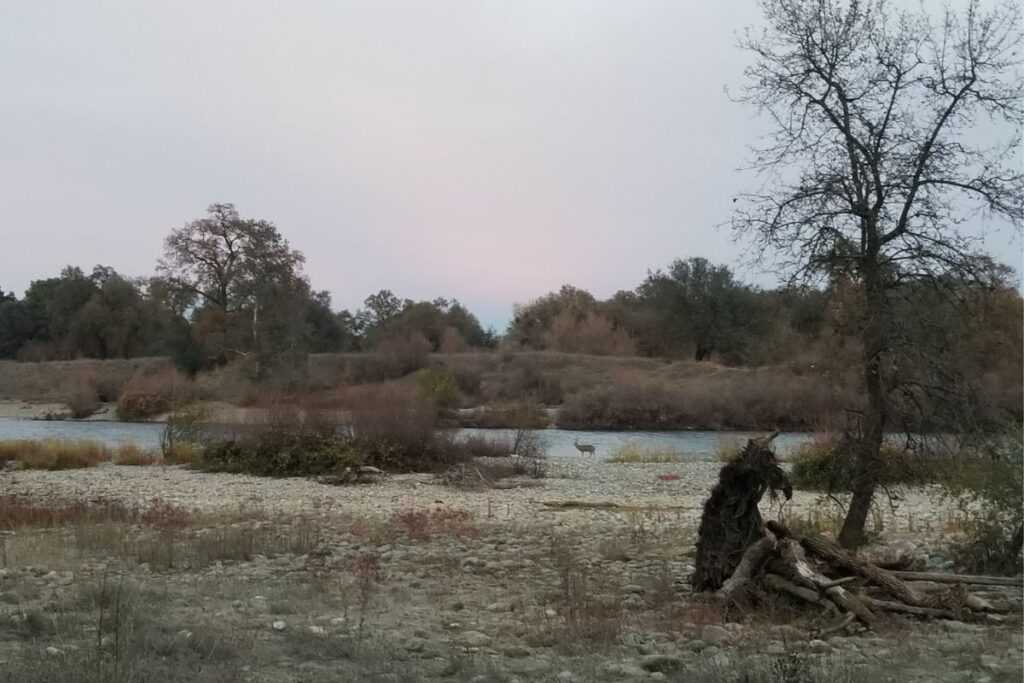 Gather your gadgets for hiking and join an amazing hike around the American river trail. It is lush with greenery in every corner, which adds to your hiking experience. You should definitely add it to your list of the best hiking places in the United States. It is located in Sacramento, the Capital of California.
The American hiking trail is rich in flora and fauna. There are many species of plants that you can spot within the distance, such as Conifer, Oaks, Shrubs, and broad-leaved herbs. The American River trail extends for more than 30 km along the river and passes through many parks and lakes. It starts at Folsom Lake on one side and ends at Discovery Park on the other side.
Parallel to the American River trail is the Jedediah Smith Memorial Trail, which passes through many important landmarks, such as Old Sacramento, Discovery Park, and Folsom Lake. It is 32 miles in length, and you can access it from many different points. The most significant point that hikers enjoy is Paradise beach.
Jedediah Smith Memorial Trail contains many animals that roam around it, such as deer, western rattlesnakes, woodpeckers, and coyotes. It is voted the number one bike trail in Sacramento.
The conference between the Sacramento River trail and the American river trail is known as Old Sacramento. You can take a break from hiking at old Sacramento for delicious Ice or tasty candy at the local stores.
9. Carson Valley, Nevada
Recommended by Angela from Fitting in Adventure.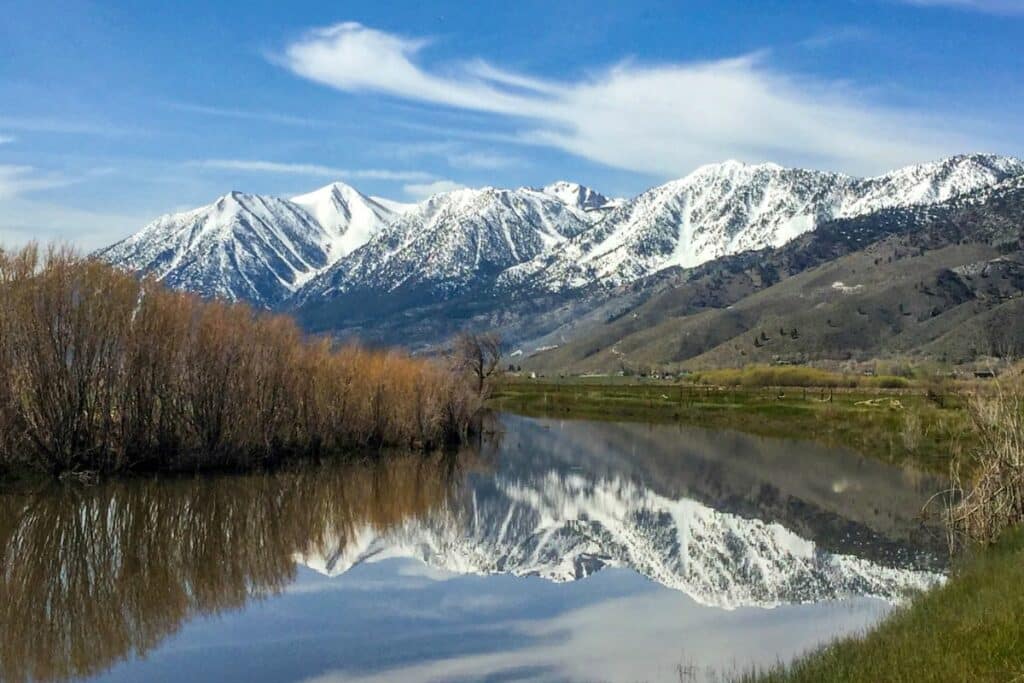 Tucked below the eastern Sierra just below Lake Tahoe sits a valley you may not have heard of, but should add to your "must-see" list. Carson Valley is a hiking mecca with ample history and great places for after-hike libations.
Start with the Genoa Trail to hike into the mountains and view the valley. After you're done, at the end of the trail sits Genoa Bar. Grab a drink where Mark Twain, Teddy Roosevelt, and many more threw some back in what is known as Nevada's Oldest Thirst Parlor. 
The decor remains virtually unchanged as dust covers the old oil lamps and diamond-dust barback mirror. The mirror is a twin to the nearby mirror in Virginia City. (Ask the bartender to show you the sparkles with a flashlight.)
When you're ready for a new trail, Carson Valley offers more than 60 miles of trails. Extending throughout the valley and nearby mountains with year-round access.
10. Sedona, Arizona
Recommended by Brittany from Travel by Brit.
It is by far one of the best places to go hiking in the United States. With its fabulous red rocks, gorgeous scenery, and warm sunshine, it's no wonder that travelers and hikers alike flock to this destination to embark on some of the best hikes in Sedona during all times of the year.
When it comes to hiking in Sedona, there is no shortage of trail options—from easy trails for beginners to more challenging treks for experienced hikers. However, a few of the most popular trails include Devil's Bridge, Cathedral Rock, and West Fork Trail.
Devil's Bridge is a moderate out-and-back hike that's roughly a four-mile climb. However, at the end of the hike, you'll reach a famous red rock bridge that stretches over the gorgeous landscape. You can walk across the bridge or even have someone take a photo of you on the bridge from the other side!
Cathedral Rock is more challenging. While this out-and-back hike is only 1.2 miles long, you will climb 744 feet in elevation in the process! However, this hike offers one of the most stunning views of the red rocks.
If you're looking for a change of pace, consider hiking the West Fork Trail in Oak Creek Canyon. Just north of Downtown Sedona, this out-and-back trail is just over seven miles long, but instead of red rocks, you'll see beautiful trees and cross over a stream at least a dozen times. At the trail's end, you'll find yourself in a canyon!
11. Boulder, Colorado
Recommended by Amber from Amber Everywhere.
Set at the edge of the Rocky Mountains, Boulder, Colorado is one of the best places in the US for hiking enthusiasts to visit. From the center of the city, you can walk from your hotel to several Boulder hiking trails. Royal Arch, Sanitas, and the Mesa Trail are all very popular trails that you can access without a car from most parts of Central Boulder, so long as you're willing to walk.
Stay near Pearl Street in Boulder, where you may even have a room that faces the infamous Flatirons. This will give you the best options for restaurants, shops, and local hikes. Once you've explored the trails near your hotel, head deeper into the Rocky Mountains and visit Rocky Mountain National Park to hike Emerald Lake. 
Another local favorite hiking trail is the 4th of July Trail, which offers stunning views from the peak. If you have a car and are willing to drive further into the mountains, Brainard Lake offers beautiful hikes, including Mount Audubon, a 13,229 foot peak in the Indian Peaks section of the Rocky Mountains. Alternatively, strong hikers and experienced mountaineers might enjoy summiting the twin 14,000 foot peaks of Grays and Torreys.
When hiking in Colorado, take care to drink plenty of water, bring snacks, and prepare for rapid changes in the weather. Always get down below the treeline if you see signs of storms, and tell someone where you're planning to hike.
12. Joshua Tree National Park
Recommended by Debbie from World Adventurists.
It's one of the USA's premier destinations for outdoor adventure. Located in the Mojave and Colorado Deserts, in southeastern California, the park is home to a ruggedly beautiful landscape that attracts hikers from all over the world. From towering Joshua trees and delicate yucca plants to imposing cliffs and rocky boulder fields, its otherworldly scenery sets a perfect stage for exploration on foot.
There are several hiking options in Joshua Tree suitable for any ability level, with options ranging from easy wanders to epic treks into the remote backcountry. Everywhere you go in Joshua Tree National Park, you'll find stunning vistas of the surrounding desertscape.
You won't want to miss the easy wanders around Skull Rock and Cholla Cactus Garden, or a morning trek to the stunning 49 Palms.
Plentiful wildlife sightings add even more charm to the experience – some of the best hikes feature possible sightings of bighorn sheep, cactus wrens, desert hares, and kit foxes.
The best time to visit Joshua Tree National Park is between Fall and Spring. With milder days and starry nights, the temperatures are more comfortable for exploring. During the summer months, temperatures can reach well over 100 degrees Fahrenheit, in the shade.
Regardless of the time of year, it can still get quite hot, so always bring more water than you think you will need and start your hikes early so that you are not dealing with the heat of the desert in the afternoon.
Whether you're looking for a short family outing or an extended wilderness escape, Joshua Tree National Park offers something unforgettable to hikers across America and beyond.
13. Heart Lake Hike, Colorado
Recommended by Melodie Rush from Travel Must Do's.
If you're searching for an unforgettable hike in the USA, look no further than Heart Lake along the South Boulder Creek Trail in Rollinsville, CO. This beautiful 9.6-mile out-and-back trail starts at the Moffat Tunnel and offers lovely vistas and demanding sections to keep even the most experienced hiker contentedly challenged.
One of the best parts of taking a trip to Heart Lake is getting to see the continental divide at Rogers Pass.  Along the way, you'll traverse through forests filled with footbridges and creeks along the path. Not only are there stunning views, but it's a great chance to explore the wildlife that this part of Colorado offers – from fish (or maybe even a moose) to wildflowers. Dogs are welcome on the hike but must be kept on a leash.
Once you make it to Heart Lake, you'll have a chance to take in its beauty and snap some photos with an incredible backdrop. There are plenty of opportunities to do wild camping around the lake if you choose to spend the night – just remember that this is bear country so be sure to take precautions. Regardless if you choose to stay the night or not, remember to take some time to enjoy the views from Heart Lake and soak in all of its beauty!
Make sure you have checked off all of your travel must-do's before your hike and come prepared with plenty of snacks and water for a safe trip!
14. Arches National Park
Recommended by Anwar from Beyond my Door.
With hundreds of miles of trails and over 2,000 sandstone Arches, there's so much to explore within Arches National Park.
Some of the best hikes in Arches National Park are day hikes with some incredible short hikes to many of the best known Arches. For those looking for early morning hikes, the Delicate Arch is a perfect option for sunrise. The 3 mile round trip hike takes visitors to the famous arch (also on the Utah license plate) and tends to be one of the quieter times at this popular spot.
For some other great hikes, the Devil's Garden hike is one of the best hikes in the entire park. The hike takes visitors past several iconic arches such as delicate arch as well as has the option of extending past along some primitive trails to view several more. Some easy hikes such as the window trail, balanced rock, and double arch make for quick excursions for those with limited time or for warmer times of the day.
For those with extra time, a ranger led hike of the fiery furnace is a highlight of the park. The hike takes visitors through an incredible maze of slick rocks and sandstone fins. While you can do it independently (requires a permit), it's great with a ranger who can both lead and discuss the area you are exploring. If you have a proper vehicle you can also explore the Tower Arch, down an 8 mile unpaved road (unpassable after storms) that will truly take you away from most other visitors.
During peak season (April – October), Arches requires timed entry between the hours of 6am and 5pm. Entry before or after is possible without a reservation and does not require you to exit once already in the park.
15. Rocky Mountain National Park
Recommended by Kassidy Olson from The Hiking Helper.
Found in the heart of Colorado, you'll find the state's most beloved area, Rocky Mountain National Park. The park is located in northern Colorado, just over an hour from Denver.
Filled with views of expansive mountains, roaming wildlife, and beautiful alpine lakes, this park is well-known for its epic hiking trails. It has over 350 miles of trails that vary in difficulty from beginner to hard, for visitors to enjoy and explore during their visit.
Hikers will have the opportunity to take in some of the most memorable views and see animals such as bighorn sheep, elk, and marmots anywhere from on the trail to the side of the road.
One of the best hikes to embark on during your visit to Rocky Mountain National Park leads you to three beautiful alpine lakes. The trail is just under 5 miles in length and allows you to take in the beauty of Emerald, Nymph, and Dream Lakes. It's just the right length that you can stop and enjoy a nice hiking lunch near one of the lakes.
Another fantastic trail is to Alberta Falls, which is 1.6 miles and is rated as easy, for those looking for something a bit simpler. Other popular trails include Bear Lake, Gem Lake, and Sky Pond.
Even just a drive through the park allows you to see the beautiful views that the Rocky Mountains have to offer. So take some time to rest your legs between hikes and drive the scenic route through the park.
Overall, Rocky Mountain National Park is a fantastic place for hiking, just north of the state's most populated city.
16. Mount Rainier National Park
Recommended by Jess from Uprooted Traveler.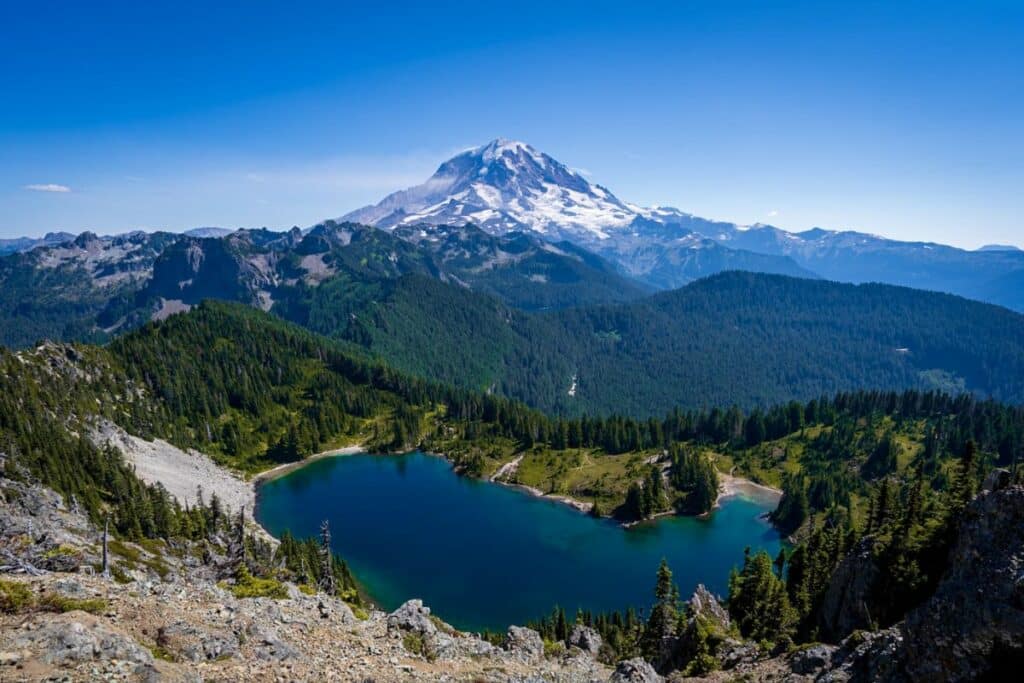 It's one of the most stunning places in the United States, offering fields of colorful wildflowers, dense pine tree forests, and the tallest mountain in the Cascade Mountain range. It should be no surprise, then, that this incredible park also has seemingly endless trails for hikers of all skill levels to enjoy.
One of the most popular trails here is the Highline Loop trail, which takes you through meadows, densely packed with vibrant wildflowers, as you climb higher and higher along the mountain, you'll get an up close and personal view of the Nisqually Glacier, rushing waterfalls, and plump little marmots. The primary viewpoint along the trail is at the aptly named Panorama Point, where you'll have 360-degree views of the surrounding Cascades and behind you, Rainier towering at 14,411 feet.
Some incredible trails that are a bit more off-the-beaten path. For example, the Summerland Trail takes you through a dense forest to a backcountry camp, with rolling meadows, mountain-top tarns, and glaciated peaks as your backyard for a night or two. The Pinnacle Peak hike, in the famed Paradise section of the park, is also frequently overlooked and yet, given its location a bit farther away from Rainier's base, offers some of the most jaw-dropping views of the mountain.
While Rainier's best hiking is found in its short but glorious summer months (usually July through early October), you can still enjoy its incredible landscape in the cooler months – there are plenty of incredible snowshoeing opportunities here as well, come winter.
Regardless of whether you're looking for some hardcore mountaineering to the top of the tallest mountain in Washington or just an easy hike to a beautiful lookout, Mount Rainier offers so many incredible hiking opportunities.
17. Blue Ridge Mountains
Recommended by Stephanie of The Unknown Enthusiast.
The Blue Ridge Mountains of North Georgia are an excellent and definitely underrated spot for hiking in the US. This area is full of gentle mountains, hiking trails, waterfalls, and beautiful lookout points. The most well-known, and iconic, hiking trail in Georgia is the Appalachian Trail, as the southern terminus of this epic trail is in Georgia.
Many people come to the Blue Ridge Mountains to hike sections of the Appalachian Trail. Beyond the Appalachian Trail, there are a host of other great waterfall hikes in the Blue Ridge Mountains.
Amicalola Falls is a must do, as it's the tallest waterfall in Georgia and cascades down multiple different ledges and drops. There's even a staircase and bridge so you can hike right up and along the falls. 
Or, you can visit Duke's Creek Falls, a beautiful double waterfall, where the trail is wide and easy, and follows the stream almost the entire way.
Another great hiking area is at Tallulah Gorge State Park, where you can hike into the 1000 foot deep gorge, admiring the river, waterfalls, and scenery.
In the fall, the Blue Ridge Mountains are stunning – filled with vibrant reds and yellows as you drive through the winding mountain roads. And after you're done hiking, you can enjoy the many cute little small towns scattered throughout the area, including favorites like Dahlonega, Helen, Blue Ridge, and Rome.
18. Great Smoky Mountains
Recommended by Victoria of Southern Trippers.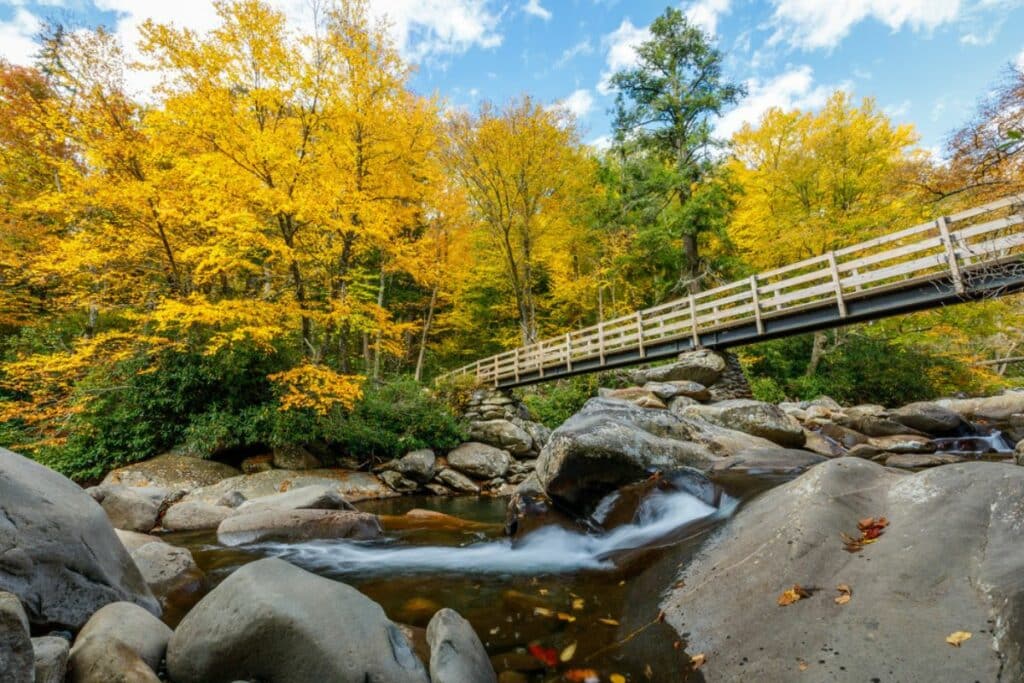 Located on the border between Tennessee and North Carolina, the Great Smoky Mountains is home to one of the best hiking places in the USA.
This incredible range of mountains derives its name from the stunning morning fog that seems to appear daily.
Additionally, it is an area that is known for its exceptional beauty and for its unique southern Appalachian culture.
And if you love hiking then you'll adore this region since you can easily do sections of the Appalachian Trail while exploring local landmarks like the Newfound Gap near Gatlinburg, TN.
Another great section of the Appalachian Trail that you'll love hiking is an 8-mile track that will take you to Charlies Bunion.
It's a gorgeous overlook that will give you unparalleled views of the area. Just know that that hike is a bit intense so do come prepared when enjoying one of the best things to do in the Smoky Mountains.
Alternatively, visitors could head to Clingmans Dome and conquer the highest mountain in the entire range, which stands at 6,644 feet.
However, if you're not feeling overly energetic then you could always drive to the summit any time between May and November.
Additionally, another great mountain to conquer within this amazing region is Mt. LeConte. At 6,594 feet tall it stands at the third tallest mountain in the range and can be summited using one of five different treks.
But, the most popular is the Alum Cave Trail since it offers the quickest way to the top. Also, be on the look out for the Alum Cave Bluffs and Arch Rock as you ascend to the top.
And if you really want to relax, stop into LeConte Lodge at the top of the mountain and marvel at sweeping panoramas from Cliff Tops and Myrtle Point overlooks."
19. Zion National Park
Recommended by David & Intan from The World Travel Guy
Zion is one of the most scenic national parks in the United States, and it also has some of the best hikes in the country! This park is located in a desert canyon in south Utah, about 160 miles from Las Vegas or 300 miles from Salt Lake City.
Some bucket list trails in Zion include the Angels Landing hike and The Narrows, which is one of the world's most popular slot canyon hikes, with 2,000 foot high rock walls. It involves walking through the Virgin River for miles, and it's a very unique experience. However, these hikes can be very busy and permits are now required for Angels Landing, so it's not always easy to access.
If you want to escape the crowds in Zion and do some lesser known hikes, one of the best is Observation Point. It has some of the best scenery in the whole park, and it's actually higher than Angels Landing, but there aren't as many people and you may even have the trail all to yourself!
Another underrated hike to check out is the Canyon Overlook Trail. This is a short and fairly easy hike that ends with amazing views of Zion Canyon. It has some of the same scenery as other more famous hikes in the park, without being quite as difficult.
Last, but not least, you'll want to drive the wonderful Zion-Mount Carmel highway. The highway and tunnel were built in the 1920s. This is a scenic drive where you can enjoy some amazing views of the national park without doing any hiking!
20. Glacier National Park
Recommended by Maggie from Pink Caddy Travelogue.
Montana's Glacier National Park is undoubtedly one the best hiking places in the USA. The park is a haven for nature lovers – its pristine lakes, jagged mountain tops, alpine wildflower meadows, and abundance of wildlife remind make this feel like one of the last untouched places on earth. It begs to be explored by beginner and advanced hikers alike.
One of the most famous trails in the country is in Glacier, the Highline Trail. It gives hikers 16 miles worth of unobstructed views as the trails winds along the park's "Garden Wall." There is also an optional offshoot trail to an overlook of Grinnell Glacier.
The Iceberg Lake Trail is a great moderate hike – this 10-mile loop takes hikers to a hidden lake that has icebergs floating in it year-round.
For those who prefer more gentle hiking options, visitors can walk around one of the park's beautiful lakes, like Lake McDonald or Two Medicine Lake. For those hikers looking for an extra dose of adventure, consider taking a backcountry hike to one of the park's original chalets for a night under the stars.
While the best hiking is available in the summer when the trails aren't covered in snow, the park is open year-round. If you want to do some hiking without all the crowds, pack up your snowshoes and feel free to visit when Glacier is a winter wonderland!
---
PIN IT
---
More about destinations: