Greece is a well-known vacation destination in Europe. A country where guaranteed sunny days and warm weather attract visitors from all over the world. While backpacking Greece you will find beaches and sun and a place full of diversified sights.
Backpacking in Greece is a kind of thing if you enjoy many adventures, unique hiking trails, exploring ancient archaeological sites, having a good party, and spoiling yourself on picturesque islands. A very diversified country that suits every kind of traveler.
What can you find from this backpacking Greece travel guide?
What places to see in Greece? Approximate travel costs in main areas. How to get in and get around Greece. Travel tips for wandering around on a budget. Average daily budget. How to say hello in Greek, and many more.
---
Quick Facts About Greece
Language: Greek
Currency: Euro (€)
Capital: Athens
Population: 10.3 mln (2021)
Highlights in Greece: archaeological sites, Greek Islands, turquoise beaches, tasty local cuisine
What Greek people are like: Hospitable, into good food and coffee, start the day slow, and enjoy the outdoors.
Fun fact about Greece: During the summer, there are more visitors in Greece than local Greeks.
---
Things to Do and See in Greece
Greece is a country with various things to do and see. There are the most archaeological parks in the world, many picturesque islands, and other options for a perfect trip. Check out what places to visit on a map:
1. Visit the most prominent landmark in Greece – The Acropolis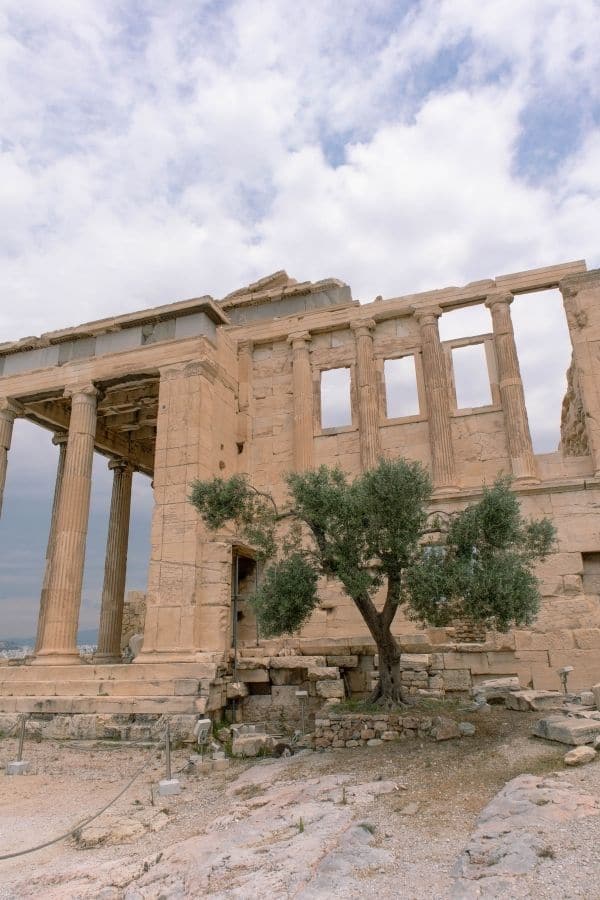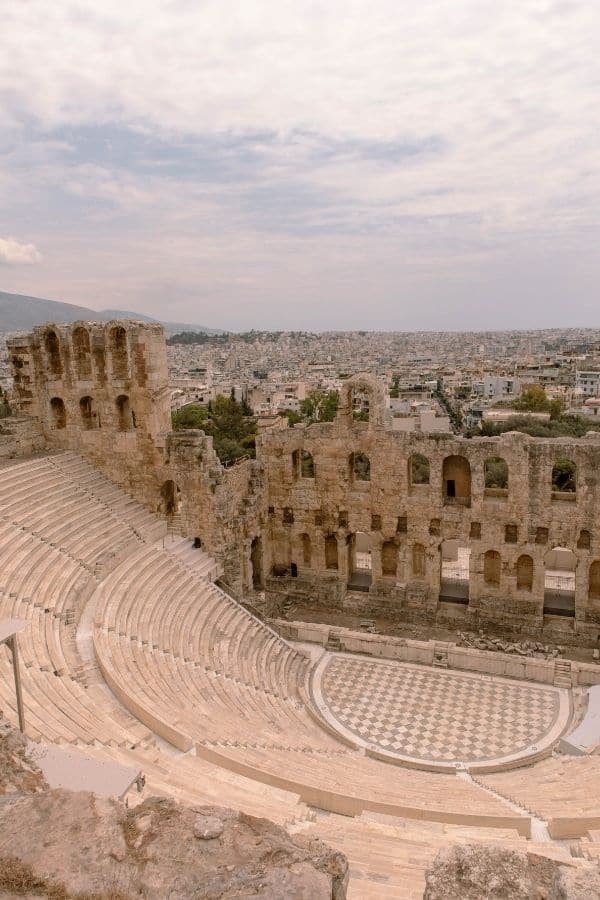 The symbolic landmark in Greece shines up on a hill in the middle of Athens. The most famous ancient citadel stands on the freestanding hill and is seen at other favorite spots like Ancient Agora, Filopappou Hill, Lycabettus Hill, Monastiraki Square, The Temple Of Olympian Zeus, and more.
The citadel is mainly recognized by Parthenon Temple, the most iconic landmark. The entrance fee to the famous Acropolis is 20€, but you can save money overall when you claim a combined ticket (30€ for seven ancient parks).
Read more: Athens travel guide.
2. Try windsurfing on Lefkada Island
Like the other Ionian Islands in western Greece, Lefkada Island is mainly known for its sandy and turquoise water beaches. The most scenic one is Porto Katsiki Beach, with a white cliff. Other places to visit are charming mountain and fisher villages like Nidri, Vasiliki, and Englouvi, where you can taste delicious Greek food.
Besides nature, Lefkada is favored in water sports, especially kite- and windsurfing. Moderate winds through the summer make it a great place to try out these water sports from beginners to more advanced surfers. The two main spots are Agios Ioannis and Vasiliki beach.
Read more: Cheap Greek islands to visit.
3. Conquer the Mountain of Gods – Mt. Olympus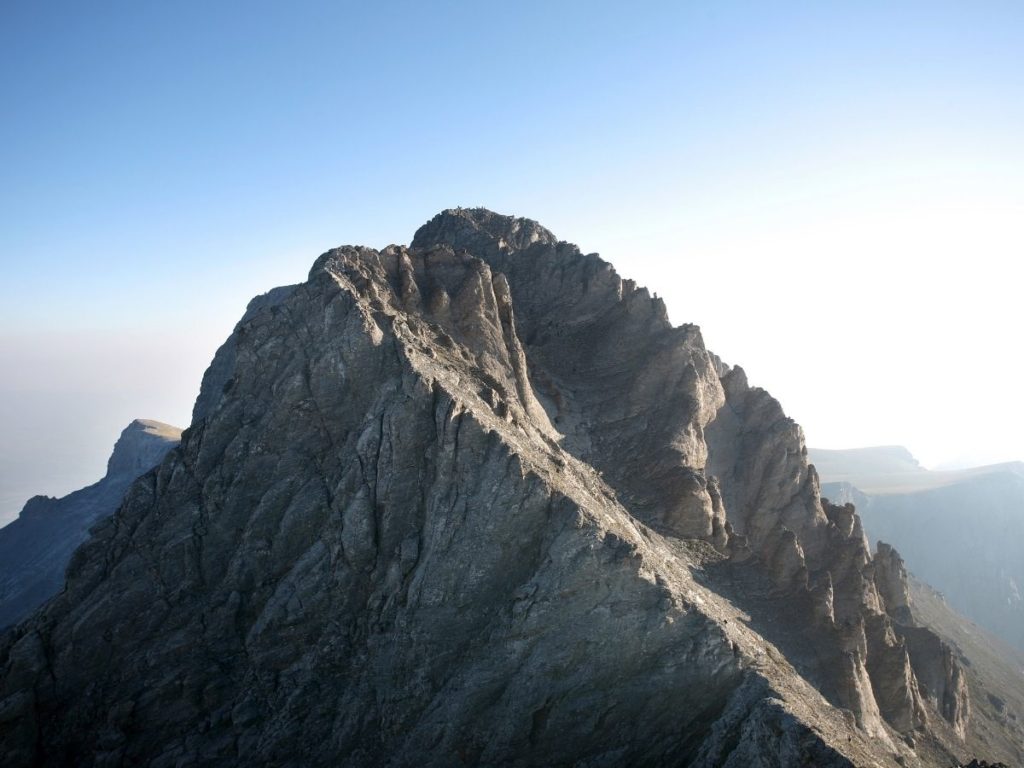 There is a legend that Mount Olympus was home to 12 Greek Gods. It used to be an important place in Greek Mythology. Now it's a national park where visitors see its beauty and reach the highest point in Greece.
Mytikas peak is the highest, with 2917 m (9570 ft) among the Olympus peaks and the believed home for the Greek mythological Gods. The most popular E4 hiking trail to Mytikas peak starts at Prionia at 1100m(3.608ft).
4. Seek the Monasteries of Meteora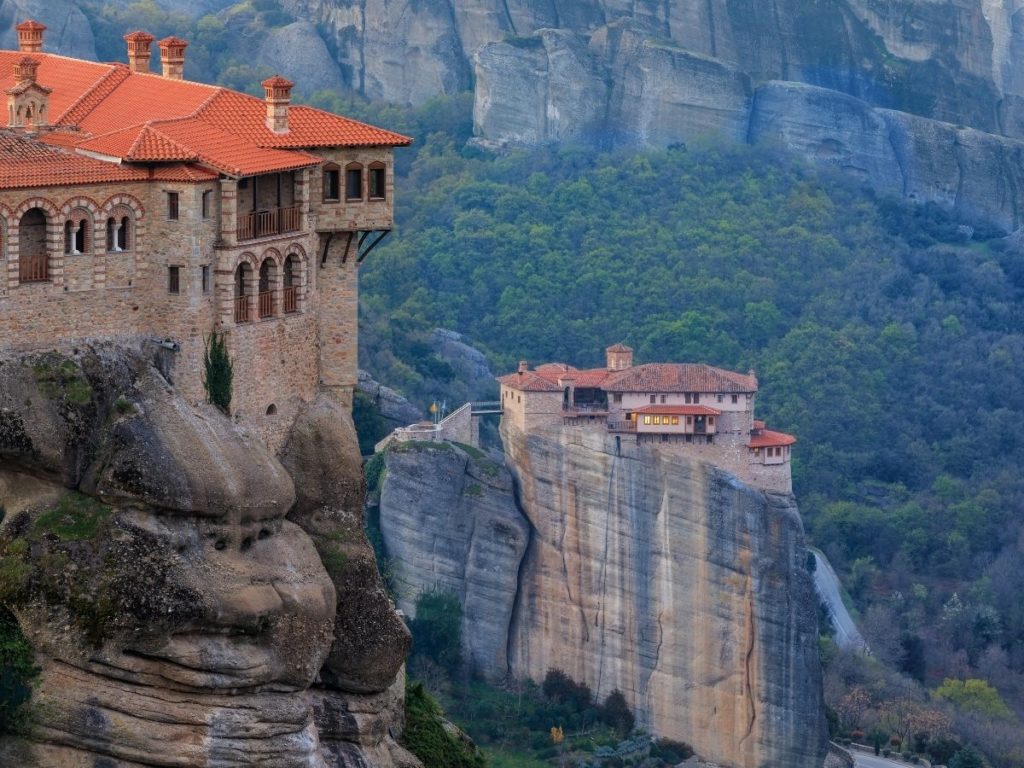 One of the most visited places on Greece's mainland is the six monasteries in Meteora. But just the monasteries themselves aren't that attractive why millions of visitors per year are visiting them. It's because these monasteries are built in unusual places.
These monasteries are situated on the top of separate steep rocky hills to have a safe and isolated place for monks. Six monasteries have been active since the 14th century and are open to visitors. Around the area are also several hiking trails with scenic views over the Meteora hills.
5. Hiking in Samaria Gorge
Samaria Gorge trail is one of Greece's most popular hiking paths, which leads you through steep canyons. The spectacular hike is on the island of Crete, near Chania town.
The 16km (10 miles) trail is relatively easy and takes about 6 hours to complete. On the road, you will see some abandoned villages, friendly wildlife like mountain goats, and narrow gorge rock formations. One of the most incredible experiences when backpacking Greece for hikers.
Read more: Best Greek islands for Hiking.
6. Explore the ancient Greek at Ancient Agora of Athens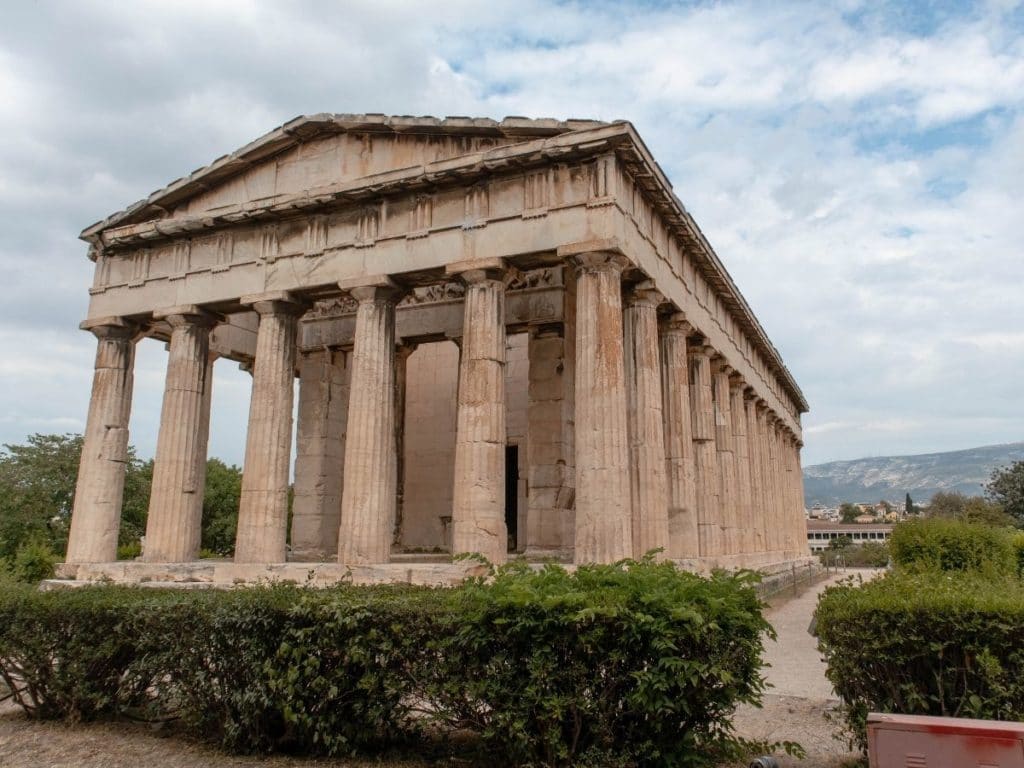 In ancient times, Agora was a gathering public square with many important buildings. Nowadays, it's one of the must-see places in Athens. So much ancient history in that one archaeological park. From there, you will find a museum with sculptures, miniatures of different ancient landmarks (Ancient Agora, The Acropolis), and a well-preserved Temple of Hephaestus.
7. Enjoy the nightlife at Ios Island
Ios is part of the Cycladic islands and has been a favorite for young travelers due to its vibrant nightlife. It's a genuine hotspot during the summer for people who like to party at beach clubs, pubs, taverns, or other clubs.
Besides nightlife, it's also a great place to chill, wander around all-white streets, and see some sightseeing. You can also visit ancient sites like Skarkos and the Tomb of Homer, seek windmills, or soak in beautiful beaches.
Read more: Best Greek islands to party.
8. Ancient landmarks at Delphi Ruins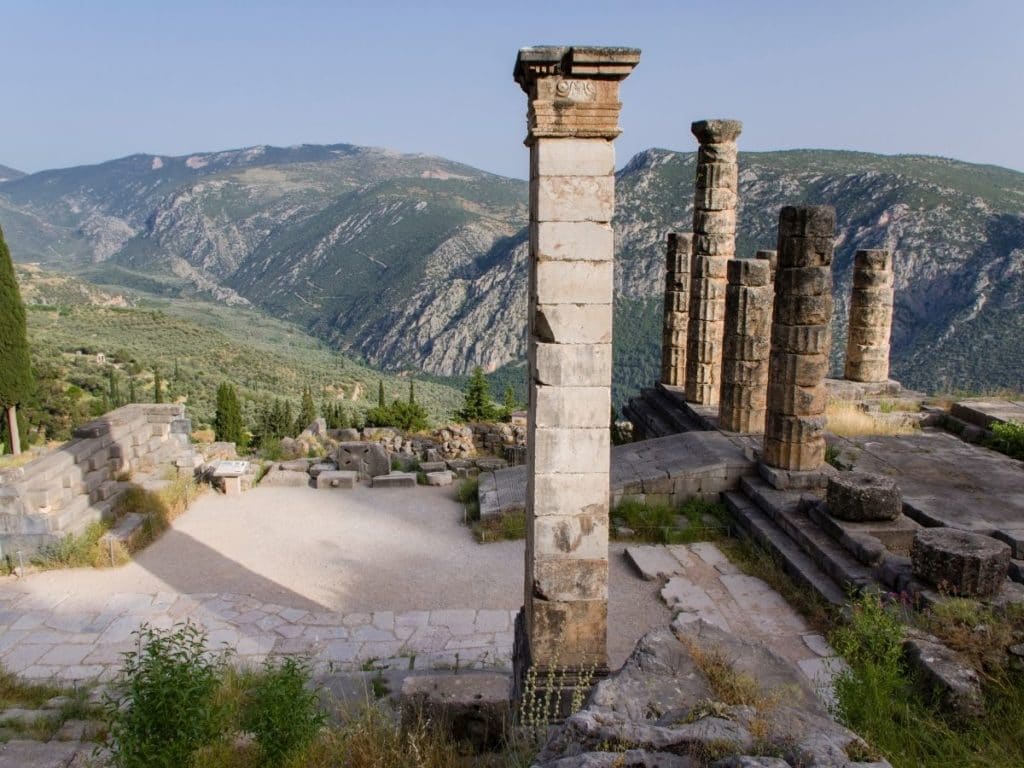 It's one of Greece's most important archaeological sites to learn about ancient Greek history. The importance of the site illustrates the fact that ancient Greeks believed it was the center of the World.
It's a pretty sizeable archaeological site with many ancient ruins of temples, theater, stadion, walls, and many others. In addition to ancient ruins, it's situated on the foothill of Mount Parnassus, which offers magnificent landscape views.
9. Enjoy the famous Santorini
Santorini is probably the most iconic Greek island. When thinking about that island, you will paint a picture of all-white buildings with light blue roofs. It's one of the dreamiest places for every traveler around the world.
In addition to the famous Oia village, there are plenty of things to do in Santorini. You can visit the Ancient There, have a wine tasting, seek the Santorini volcano, discover Red Beach, or hike up to the island's highest point, 565m (1,900 feet) above sea level. Even though it's costly, it's still worth visiting.
10. Shipwreck at Navagio Beach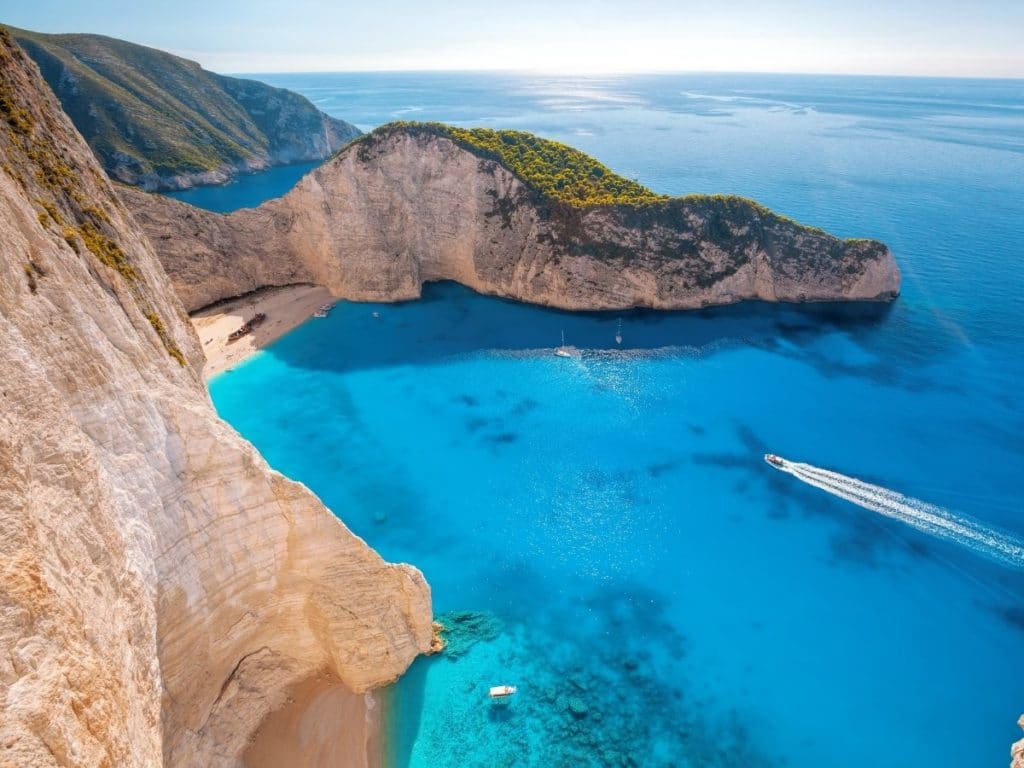 You have probably seen a postcard scenery picture of the beach with a rusty ship. The "hidden beach" is located on Zakynthos island. All the fame goes to the boat Panagiotis, which crashed into the picturesque beach due to stormy weather in 1980.
The shipwreck is only accessible through seaways and gets overcrowded during the peak season. There are trails above the beach, where you can capture the world-famous desktop picture.
11. Vacation on the low-key island of Naxos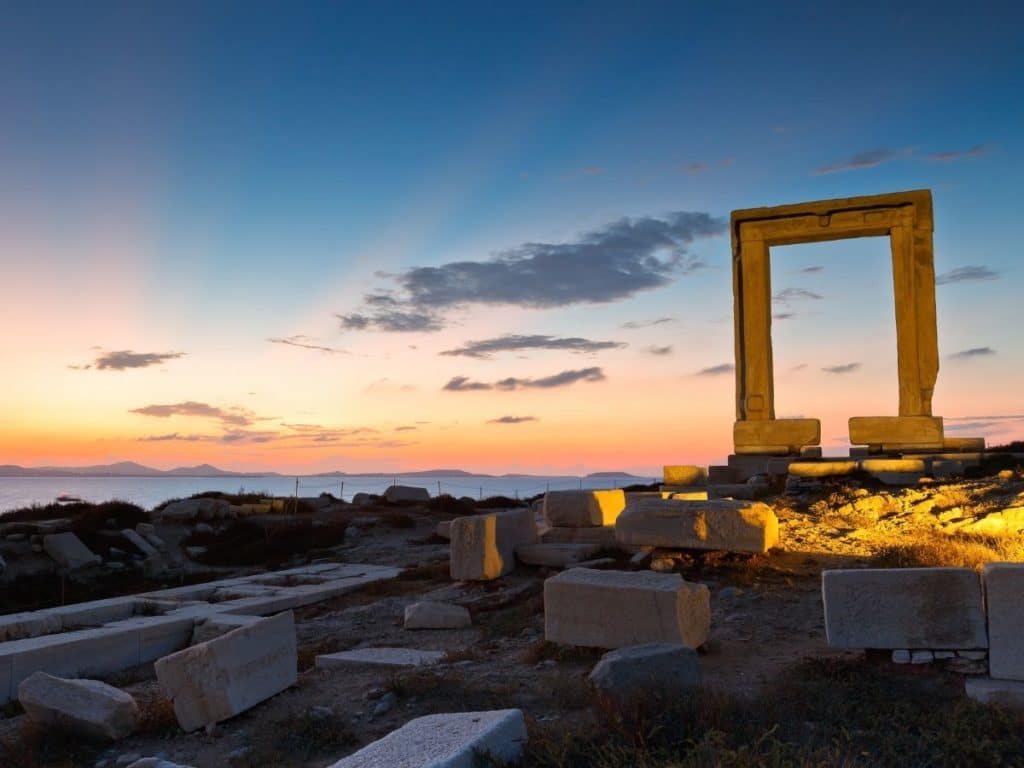 It's the largest among the Cycladic islands in the Aegean Sea. It's the perfect island for a more low-key and relaxing vibe. As it's one of the largest islands compared to the surrounding, then there are more diverse things to do for every kind of traveler.
There are countless sandy beaches, villages to stroll around (Apiranthos, Halki, Chora), ancient sightseeing (Portara, Demeter temple, Panagia Drosiani church, Kalamitsia Monastery), learning how to kitesurf, or hiking in the mountains.
12. Find a laid-back vibe at Folegandros Island
As usual, the Greek Islands get extremely busy during the summer months. Then from Folengrados, you will find a more secluded island with beautiful beaches, white villages, and delicious Greek cuisine. It's located between the famous islands of Milos and Santorini.
More off-beat destination than usual for Greek Islands because there isn't that adequate transportation in between. It would be an excellent place for those looking for a Greek island paradise with less traffic.
Read more: Quiet Greek islands to visit.
13. Explore the car-free island of Hydra
It's the most common island for day trips from Athens. It's a quaint island because there are no cars. They are banned. The only transportation options are boats, donkeys, or your legs.
Hydra offers a different lifestyle with stone mansions, art, various retreats, charming villages, and donkeys. It's an elegant island where you can escape from traffic noise.
14. Discover the Cosmopolitan Corfu Island
Corfu is the northernmost Ioanin Island, known for its green hilltops, cosmopolitan Corfu Old Town, turquoise beaches, and multi-cultural influences. It's a scenic place surrounded by the crystal clear Ionian Sea.
A few highlights peculiar to Corfu: Visit the Old Town listed on the World Heritage site. Explore wineries and do some wine tasting. Scuba diving to explore the rich sea world. Hike some parts on the long Corfu Trail. Don't forget to taste some delicious local dishes like Bianco fish.
Read more: Best Greek islands for solo travel.
15. Hike up the Lycabettus Hill in Athens
The highest point in Athens is at the top of Lycabettus Hill. Getting to the 277-meter hill has several options. You can go with a car near the top, use a cable car, or hike up on foot. It's a relatively easy climb, and up there, you can enjoy 360-degree views of Athens, visit Saint George's Chapel, and have a meal in a restaurant. Best place to seek a sunset at Athens.
16. See the Aqueduct of Kavala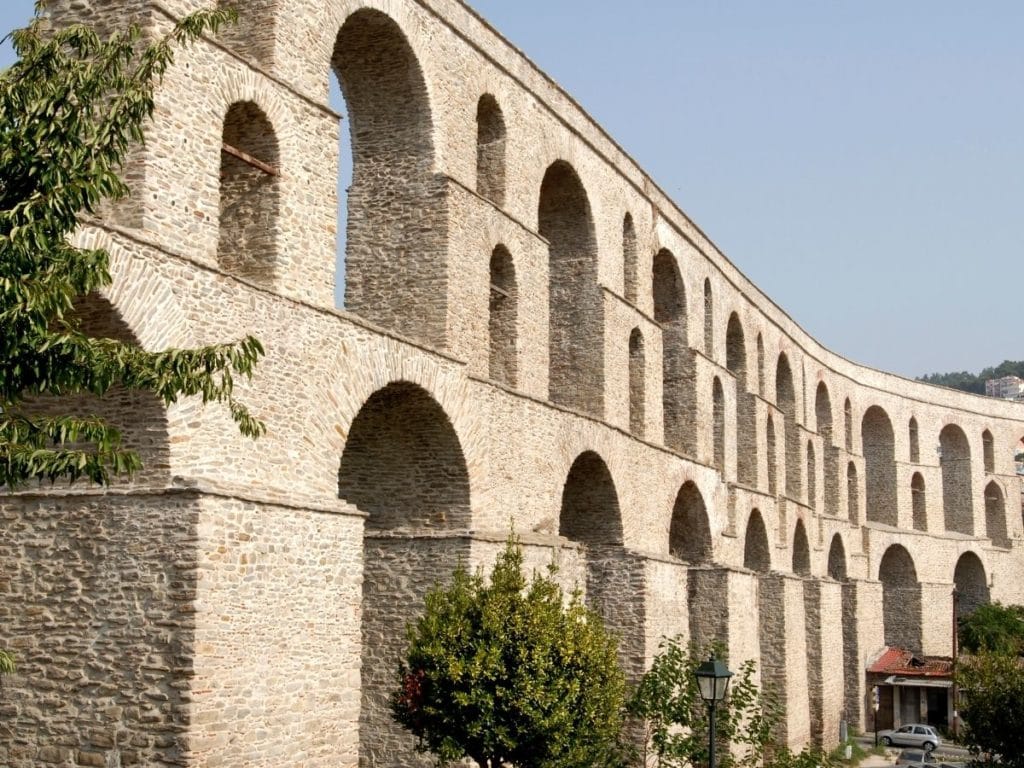 A small city located in northern Greece on the shore of the Aegean Sea. Kavala has an exciting history, ancient architecture, and many options for lazy beach days.
The main sights to look at in the city are the Aqueduct of Kavala called Kamares, the Imaret complex of buildings, the iconic Kavala Fortress, the Ancient Theatre of Philippi, and the charming old town.
17. Visit Balos Lagoon and Learn to Surf in Kissamos
Balos beach is arguably the most beautiful place to have a beach day on Crete Island. Blessed with long white sandy beaches and turquoise waters, it's been a long favorite for many visitors.
Balos Lagoon can be visited primarily in two ways: by car or boat. The lagoon is on a narrow peninsula, and ground transportation is the only way. The closest place to start your journey to Balos is Kissamos, where you will find a charming little village and even a surf school where you can learn to surf.
18. Walkthrough the Lion Gate at Mycenae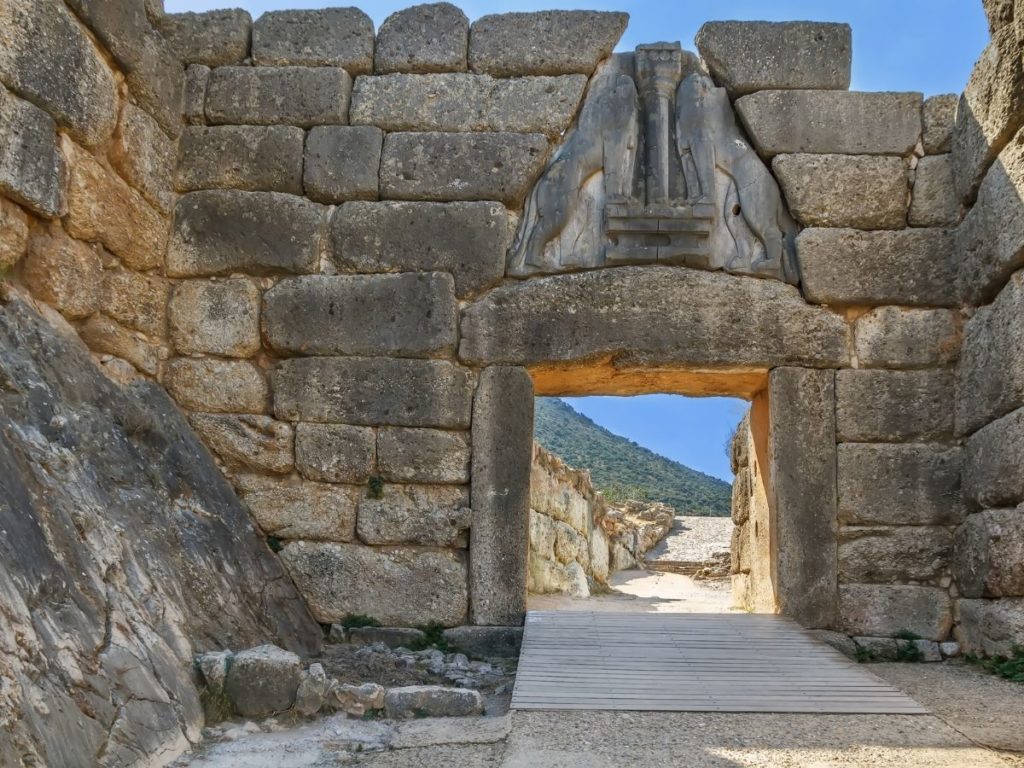 The Lion Gate marked the entrance of the Mycenae citadel. The gates of glorious Mycenae weren't used for lions, as the name says. The name came from the two lions sculpture at the top of the gate.
Mycenae was a wealthy town in ancient times and had an important role in Greek history. It was also a hometown for legendary king Agamemnon, who led Greek troops in the Trojan War. Currently, you can find a popular archeological site that can be visited as a day trip from Athens.
19. Find the hidden Monemvasia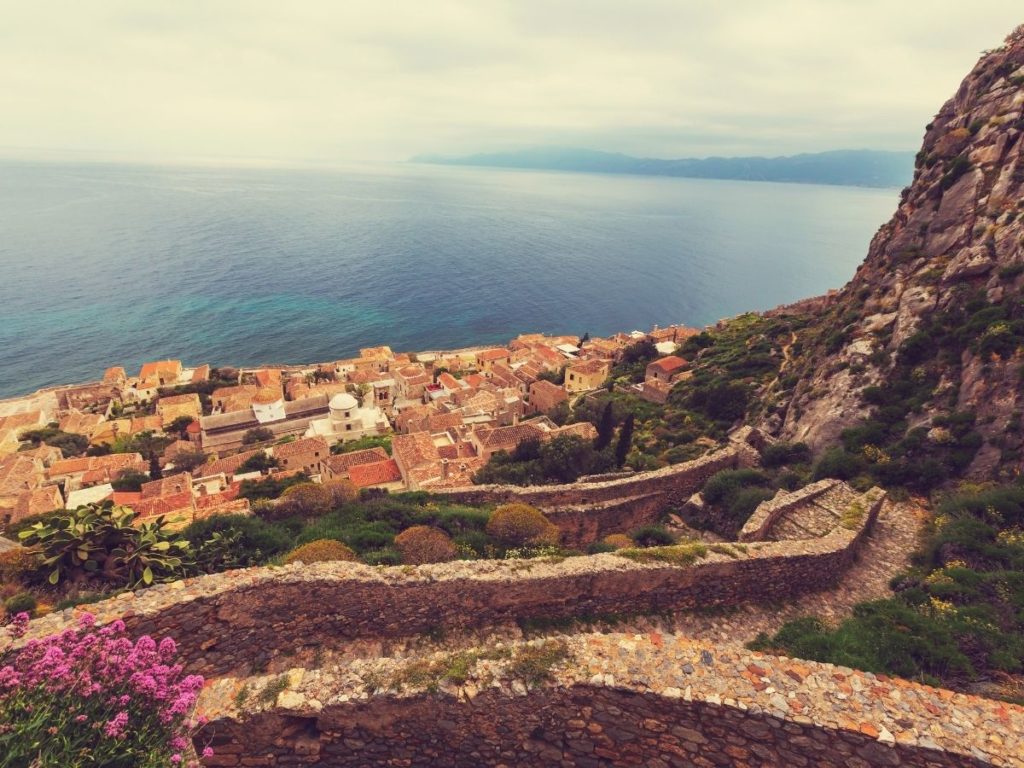 A remote town was constructed in Middle Ages on a small island. The town wasn't seen from the mainland; the only way to get there was by boat. Just to be protected from the enemies. It got its name from the Greek words mone and emvasia, which means "single entrance".
Now Greece's hidden gem is connected with the mainland, and these old mansions are turned into guest houses, hotels, and shops. The best thing to do there is to explore that fascinating middle-aged Monemvasia town and search for a couple of churches and other ancient landmarks.
20. Visit the Acropolis of Lindos at Rhodes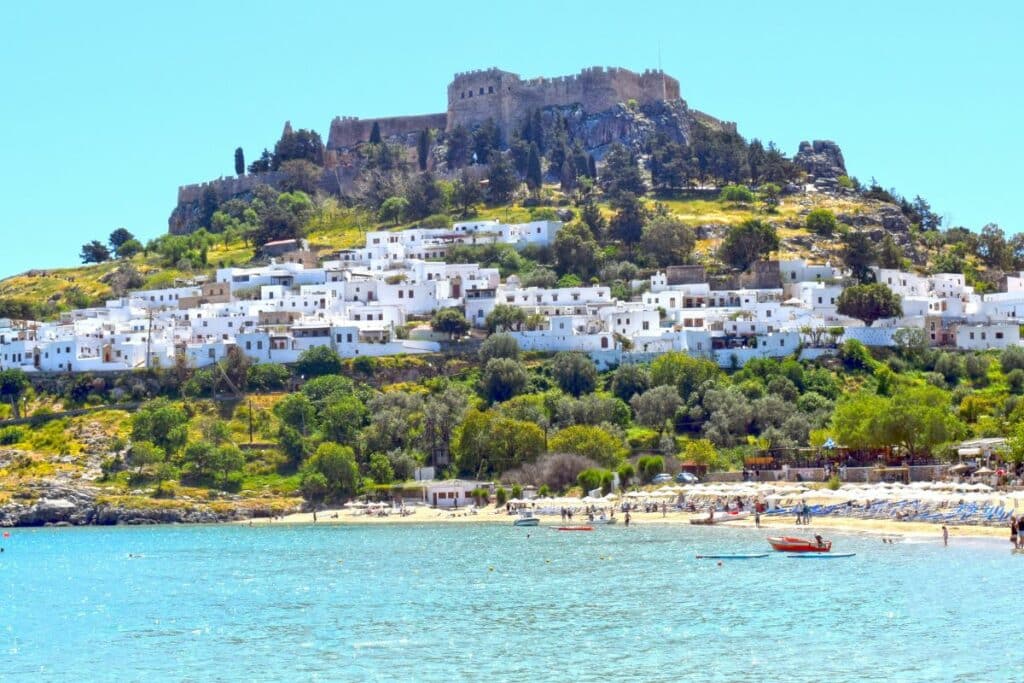 Rhodes is the largest Greek Dodecanese island and a stunningly beautiful destination for travelers. Rhodes has something to offer everyone: its soft sandy beaches, crystal-clear waters, ancient ruins, and charming villages.
One of the main things to see in Rhodes is the Acropolis of Lindos. Located atop a hill overlooking the Aegean Sea, this ancient citadel is one of the most impressive sights on the island. Take panoramic views of the village below and explore stunning ruins, including a 13th-century castle and a 5th-century temple.
As is usual for Greek islands, there are many places to stay in Rhodes. The best fit would be the main capital, Rhodes Town, where you can find accommodation for any budget.
21. Restricted Mount Athos peninsula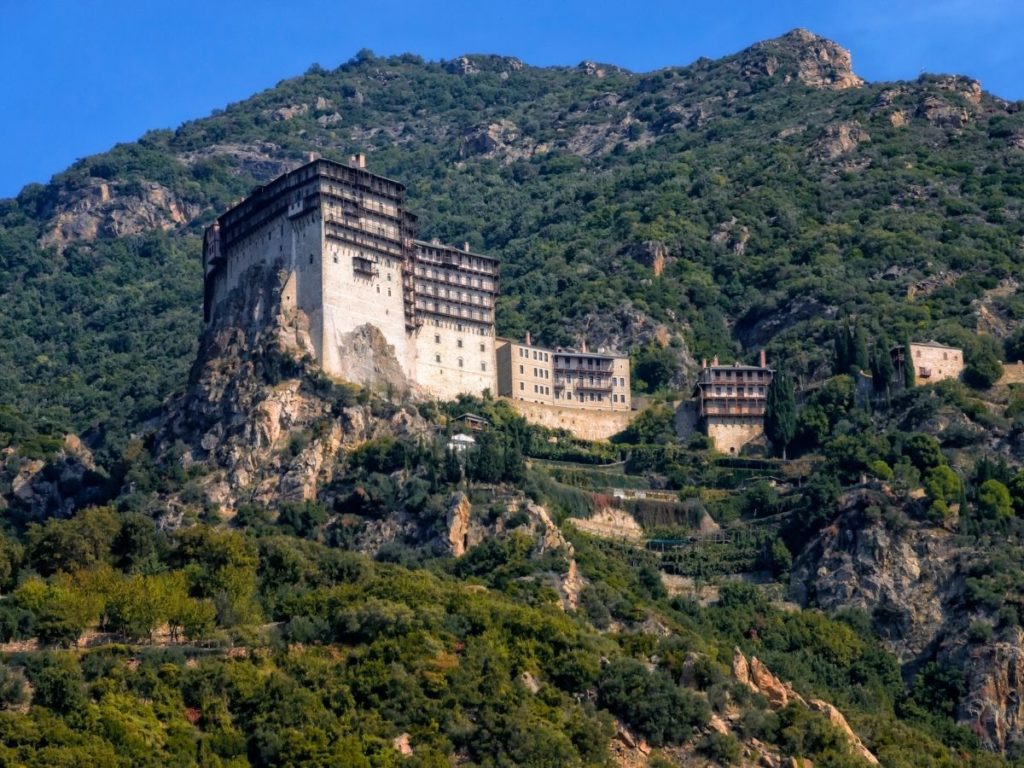 Mount Athos peninsula is an isolated area with 20 active monasteries and is home to approximately 2000 monks. There is a spiritual community that dates back to the 5th century AD.
Mount Athos might be one of the most challenging areas to get into in Greece. It has its particular jurisdiction with some restrictions. First, only men are allowed to enter the monastery area, and you need a permit to visit it, which takes about six months. But when you want to see a different lifestyle of monks, then it's worth a visit.
22. Hike the Vikos Gorge
If you are interested in hiking somewhere special, this might be the perfect place. You will be amazed when hiking through Vikos Gorge trails, the World's deepest canyon.
The trail length is 12 km and takes about 6 hours to complete, starting from the village of Monodendri and ending in Vikos. On the way, you will find scenic views of the gorge, vibrant wildlife, and cooling springs to jump into.
---
Backpacking Greece Travel Costs
Greece is a touristic country, where the economy lives on that. On average, it's a pretty affordable country, but remember that the travel costs get expensive in the peak season, and summer months, and vary a lot in different destinations. For example, Greek Islands are typically more expensive.
But let's find out what the average travel costs are in Greece.
Accommodation Costs
When backpacking Greece on a budget, then apparently, the best option for accommodation are hostels. These are cheaper everywhere you travel in Greece. It would be enough already if considering throughout Greece 15€ – 25€ (18$ – 30$) for a bed in a shared dorm per night.
For example, hostel prices in Athens start at 8€, in Santorini from 10€, in Crete from 10€, in Mykonos from 13€, in Paros from 9€, in Ios from 8€, in Corfu from 6€.
If you want a private room, budget hotel prices stay approximately 30 – 50€ around Greece. However, remember that some Greek luxury islands like Santorini and Mykonos have different price lists, especially during the peak season.
Food Costs
Greek cuisine typically includes appetizers, the main meal, and a dessert. So, in other words, a full 3-course meal. Also, an option is to budget with street food.
Greek cuisine experience in a restaurant starts with appetizers. You will typically find a Greek salad, Tzatziki, Saganaki, or Spanakopita on the menu. The price for starters is around 5€.
For the main meal like Moussaka, Yemista, Pastitsio, Souvlaki, and Tiropita in a mid-range restaurant, expect to pay around 10€. Greek main dessert, baklava is typically given by a restaurant as a gesture when you have finished your dishes. But if not, then you can have it for a couple of euros.
For budgeting, you can also look for some Greek street food. The most common getaway is gyros, perfect for backpacking Greece on a budget. The price stays around 3€, and it fills your stomach very well.
Attraction Costs
As Greece has a solid and exciting history, you can find many archaeological sites to learn about its glorious ancient Greek times. For example, the most popular Acropolis in Athens costs 20€ per person. However, many other sites cost less than 20€.
Another peculiar activity in Greece is yacht cruising. It might not be the most budget attraction in Greece, but I would highly recommend it if you have that kind of money. Expect to pay at least 70€ for a place for one-day cruising.
Other activities include kayaking, SUP boarding, diving, windsurfing, hiking, and more.
NOTE! As mentioned, average prices vary greatly depending on the season and location. The most pricey months are during the summer in the luxury Greek islands.
---
How to Get Around Greece
Greece is one of the most visited countries in Europe, which gives you plenty of options to get there by plane, boat, or train. When backpacking through Greece, you have a well-connected public transportation system and sufficient boat transport.
Getting to Greece
A plane is the most efficient and cheapest way to travel there. There are two international airports in Athens and Thessaloniki. However, throughout Greece, there are many smaller airports on the mainland and also on the islands, even with direct connections to international airports in Europe. Check out schedules and prices from Kiwi.
Boat transport is used often in Greece, mainly because of the countless islands. But you also have the option of getting to Greece by ferry. Italy and Turkey are the closest countries to Greece by sea. Find schedules and tickets from Direct Ferries.
Public transport on the ground isn't so common in Greece because it's doable only when reaching Greece on the north from neighboring countries Albania, Macedonia, Bulgaria, and Turkey. You can find train and bus schedules from Omio.
Getting around Greece
There are many ways and options to backpack around Greece. Are you staying on the mainland and seeking more historic sites or choosing more vacation and island hopping? Both ways, you will find several alternatives.
Plane
Domestic flights are expensive, but they could be the best option when you are short on time. Even though it's the most expensive way to travel around Greece, they sell out fast during the peak season. So it's better to book in advance, saving you money. Check flights from Kiwi:
Ferries
When planning Greek island hopping, ferries are the cheapest way to hop around. Prices vary a lot depending on where you are heading. Because some of the islands are far away and take a couple of hours to reach there. The biggest departing port is in Piraeus (Athens). The best place to look for boats is the Ferry Scanner.
Public transportation
When staying on the mainland, the best way to travel around Greece on a budget is to use public transportation. Buses operate between main destinations with infrequent schedules. KTEL operates domestic buses.
The train system isn't the greatest, because there aren't many connections. Greek Railways Organisation operates trains.
City transportation in Athens is well-organized. Options are to use buses, trams, and the metro. Check out the Athens travel guide for more information about Athens city transport.
Car rent
Car rental would be an ideal option for making day trips around Greece. Whether on the mainland or island, exploring the area is the most comfortable way. For example, the cheapest cars cost 30€ per day in Athens.
Renting a scooter, moped, or ATV is an alternative for the budget. A great way to discover one of the islands. Rent a car from Rentalcars.
Hitchhiking in Greece
When having a tight budget, hitchhiking is an alternative way of backpacking through Greece. Recommended is to pitch drivers face to face, for example, from gas stations. Check out more tips for hitchhiking in Europe.
---
Where to Stay In Greece on a Budget
---
Greek Traditional Food
Moussaka – Probably the most iconic and must-try dish in Greece. It has many recipes and even something for vegans. A legendary recipe consists of layered potatoes, meat, tomato, and sauteed eggplant, and it's topped with feta cheese.
Tzatziki – The most popular sauce, eaten as an appetizer or a side meal. It's made of Greek yogurt, cucumbers, and garlic.
Greek Salad – The most traditional starter and must-have in every meal. Consisting of tomatoes, olives, cucumber, peppers, and large feta cheese as a topping.
Yemista – Made of stuffed tomatoes and peppers traditionally filled with rice, herbs, and minced meat.
Pastitsio – Traditional Greek dish that looks like lasagne and is eaten all year round. It's baked pasta with meat and bechamel sauce.
Souvlaki – Grilled meat on a skewer usually served with french fries and a salad. You can find it almost in every restaurant.
Spanakopita – A spinach pie is perfect as a side meal. A traditional recipe also includes feta cheese, onions, and eggs.
Courgette balls (kolokithokeftedes) – Crispy outside and creamy inside. That traditional Greek appetizer will activate your taste buds with melted feta cheese.
Gyros – The most popular Greek street food. Served with pita bread, you can have various ingredients like chicken, tomatoes, french fries, onions, sauces, and lettuce.
Baklava – The most usual dessert in Greek cuisine. Consisting of nuts, butter with sugar, and crispy layers of filo. The sweet is eaten by coffee or at the end of a restaurant course.
Halva cakes – A simple dessert made with sugar, water, syrup, olive oil, and semolina. It looks like a pudding, which is afterward studded with nuts.
---
Daily Budget for Backpacking Greece
Greece is a well-known tourist destination in the whole world. It has different seasons and different prices. Overall, costs in Greece are pretty affordable, not overly expensive. However, you might be shocked when you see prices during the peak season on the islands.
A tight-budget traveler should keep Greece's travel budget around 25€ per day. On that occasion, you must stay in a budget hostel, go Couchsurfing, or wild camping. Make meals by yourself or have some street food Gyros. Many cities or other tourist places can mostly be discovered on foot. Between longer distances, use public transport or hitchhiking while backpacking around Greece.
A rational backpacker who wants to have a bit more comfort should start with a daily budget of 45€. On that occasion, you would stay in an average hostel. Have a Greek cuisine experience in restaurants for a while. Also, eating street foods like gyros. Using reasonable public transportation. Also, have a budget to enjoy some attractions while backpacking Greece.
A mid-range traveler who wants even more comfort and privacy with private rooms should start with a daily budget of 70€. On that occasion, while backpacking Greece, you can have a private room in a mid-range hotel, experience some local cuisine in restaurants, move around with public transport, and seek attractions daily.
| | | | | | |
| --- | --- | --- | --- | --- | --- |
| | Housing | Food | Transport | Attractions | Daily Budget |
| Tight budget | 0 – 12€ | 10€ | 0 – 10€ | 0 – 10€ | 10 – 42€ |
| Backpacker | 12€ | 15€ | 10€ | 10-15€ | 47 – 55€ |
| Mid-range | 30 – 50€ | 15 – 25€ | 10€ | 15 – 25€ | 70 – 110€ |
---
Greek Language
It's always good to know some basic phrases and words in local languages, even though Greeks are pretty decent in English. But still, you will be more respected by locals if you know how to greet, thank, or surprise with some learned Greek phrases. Keep in mind that Greek uses a different alphabet, but here are some mostly used Greek words and phrases in the Latin alphabet:
Hello – Yásas
Good morning! – Kaliméra
Good evening! – Kalispéra
Thank you! – Efharistó
Please – Parakaló
All right! – Endáxi
How are you? – Ti kánete?
Fine, and you? – Kalá, esís?
Yes – Ne
No – óhi
Pleased to meet you! – Hárika polí
I want… – Thélo…
Cheers! – Yámas!
How much is this? – Poso kani?
What is your name? – Pos se leneh?
Excuse me – Signomi
You can easily learn new languages through different travel apps. With language apps like Duolingo, it's super easy to learn all the basics in several languages.
---
Best Time to Visit Greece
Greece has nice weather all over the country from mid-April till the beginning of October. The peak season is from mid-June till the end of August. During the summer, the tourist crowds are extremely high as Greece is one of the favorite vacation destinations in Europe. As you can guess, the prices also reach their peaks.
The best time for backpacking Greece is during the shoulder seasons before (April to June) or after (September – beginning of October) the summer months. Then you will find more space with a bit less crowd. Prices are also more affordable. Temperatures are mostly still 20 – 30 degrees Celsius (68 – 86 Fahrenheit)
During the winter, Greece is still visited for a variety of reasons. For example, it's the best time to discover archeological sites, wander around Athens streets, and spend less money than usual. However, it's not so warm to have beach days. The average temperature in winter stays around 10 degrees Celsius (50 Fahrenheit) in the capital Athens.
After all, there isn't a bad time to backpack across Greece. If you intend to discover Greece as a whole, including all open attractions, soaking on the beach, and hiking, then the months close to summer would be the best fit. But it's better to visit Greece in the off-season months if you are looking for short city getaways and exploring archaeological sites.
---
Greece Visa Requirements
Greece is a European Union country and part of the Schengen Area. If you are backpacking to Greece from another European Union country, there will be no check, and you can enter the country without a stop. Greece also has a tourist visa, but before planning a backpacking trip, check out more information about visas in Greece.
---
Is Greece Safe to Travel?
Countries in Europe are, for the most part, safe to visit. As a traveler, it is the same with backpacking Greece because the country depends highly on tourism. The locals will be friendly when you use common sense and respect people. But as everywhere, you must be aware of scams, keep your things safe, or avoid other tourist traps. After all, Greece will host you well!
Anything can happen when traveling abroad, and backpacking Greece is no exception. Having travel insurance is a must (anywhere you go). I always have travel insurance, but luckily I haven't used it yet. Spending a little for my safety (if anything happens) is okay, then paying for extremely high medical bills afterward. I recommend using trusted World Nomads.
---
Backpacking Greece Travel Tips
Couchsurfing – That would be my first recommendation in any country. It's not about a free couch but more about the awesome people you met through that. In short, it's an app or more community where locals host travelers in their homes. It's an easy way to interact with local Greeks and have fun with them.
Student ISIC Card – This can be helpful in Greece to save money. With that, you will get discounts on transport, attractions, or even accommodation.
Hitchhiking – A fun way to travel around Greece. Also safe to do it when backpacking Greece, but don't forget to use your gut feeling when using that alternative way of traveling.
Walk as much as possible – Attractions are mostly around the centrum area of bigger cities like Athens. It's also possible to see more surroundings and even crash "by accident" into hidden gems.
Use refillable water bottles – Tap water in Greece is mostly drinkable. If not, there is probably written "non-drinkable" or something like that. Also, there are a few water fountains in bigger places to fill your tanks. If not sure, then ask locals.
Local food experiences out of the tourist area – In every city or town, the highest prices are around tourist hotspots (centrum and main attraction). One of the greatest travel tips that work everywhere is to eat there where the locals do.
Be the chef – Food in Greece restaurants is pretty affordable. But if you don't have deep pockets, the easiest way to cut down expenses on food is by cooking by yourself. Get your ingredients from discount groceries and, for example, cook moussaka in the hostel kitchen.
Free Walking Tours – Guided tours are the best way to learn about the city. Most of the bigger cities in Greece have free guided tours around the main sights. I recommend using that but don't forget to tip the guide.
---
More about Greece and Backpacking
---
PIN IT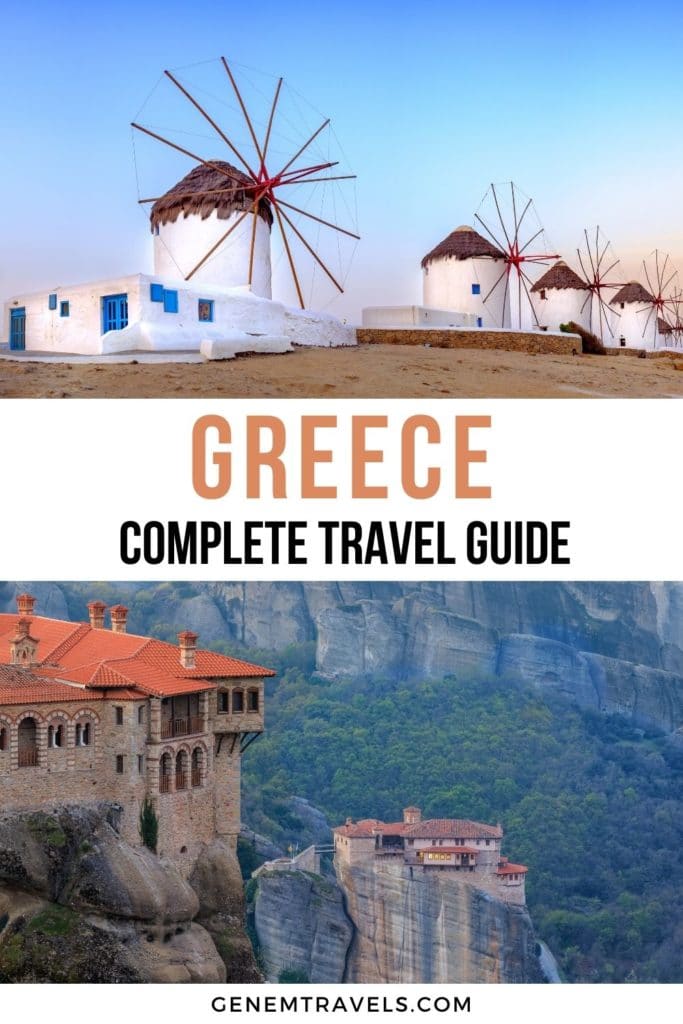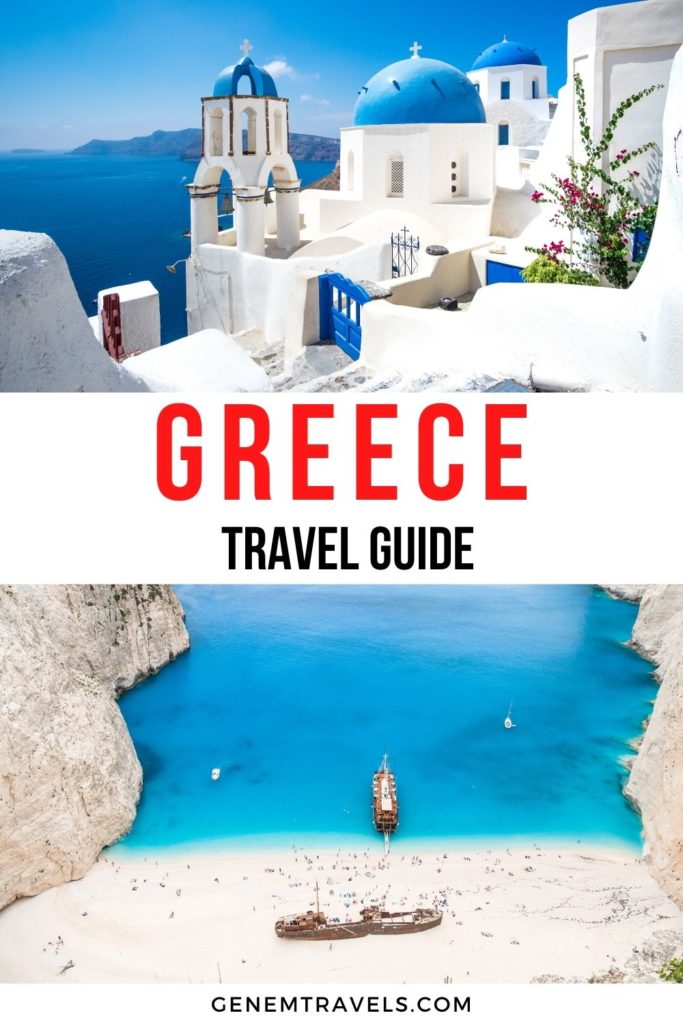 ---
Read more about Greece: