Athens is one of the most populated capitals in Europe. The city is full of ancient Greek history, astonishing architecture, a vibrant lifestyle, and tourists from all over the World seeking the oldest capital in Europe with their own eyes. Backpacking Athens is one place that any traveler can't miss!
What you can find from a backpacking Athens travel guide? You will get to know what places to see, insights into different travel costs, how to get around in a big city, what meals to try out, and some budgeting tips.
---
Quick Facts About Athens
Country: Greece
Population: 3 mln (urban)
Currency: Euro (€)
Language: Greek
Highlights in Athens: Acropolis, Ancient Greek History, delicious cuisine.
What do locals like? Have a fritto in the morning, chill in restaurants and pubs.
Fun fact about Athens: It's the oldest capital in Europe.
---
Things To Do and See in Athens
The primary highlights in the city include the famous Acropolis, temples, and other archeological sites and museums. It's the best place to learn about ancient Greek history. But there are also other things to seek. So what to see and do when backpacking Athens?
1. Wander around Filopappou Hill
Filopappou Hill is a public area with lots of greenery and some historical sites to look for. It is located right next to the Acropolis, and it's free of charge. On the hill, you have a variety of walking paths, so it's easy to get a bit lost.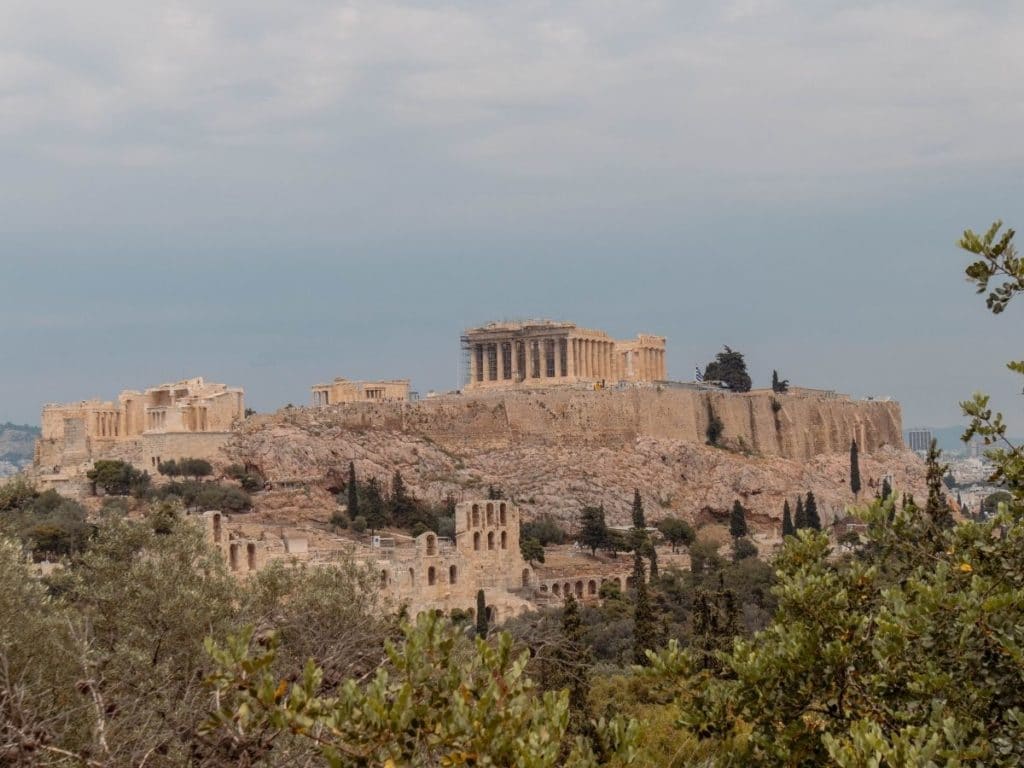 But my recommendation would be to wander around Filopappou Hill and to see some landmarks. On the top of the hill is the Monument of Philopappos where you have views of the Acropolis, the city, and also the seaside Piraeus. Also worth mentioning on the hill are The Prison of Socrates and The Pnyx.
2. See the Temple and Roman History at Ancient Agora of Athens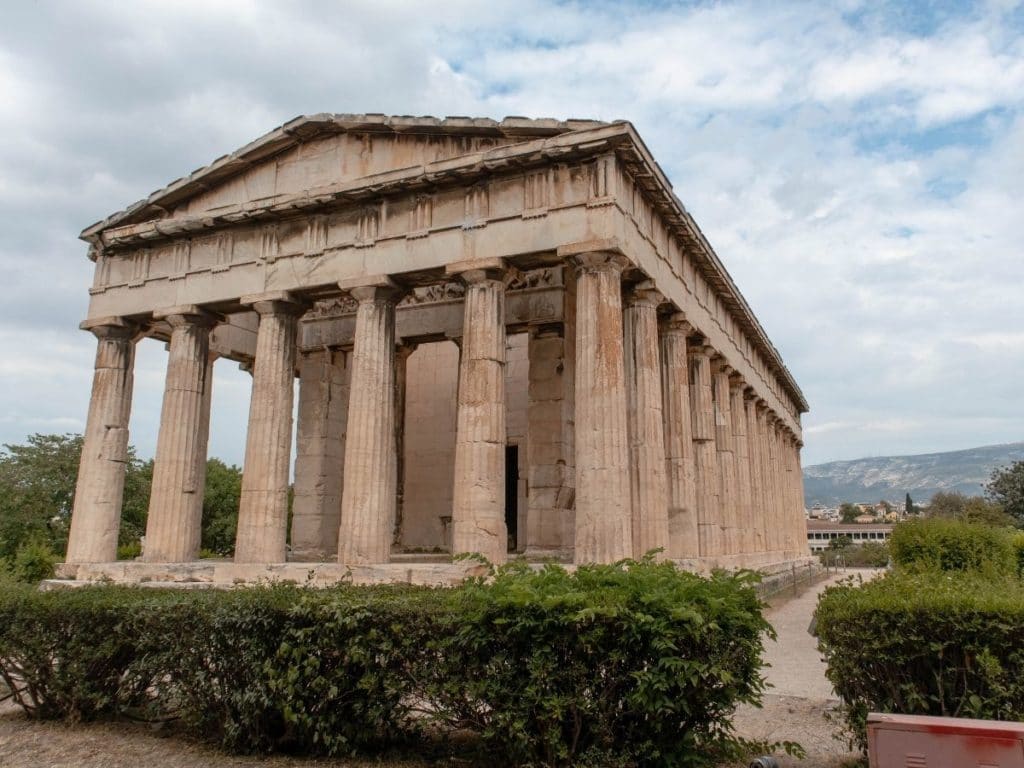 Agora is known as a gathering place in ancient Greek periods. A central public place was surrounded by Peristyle Court, Stoa of Attalos, and several temples. Nowadays there is a museum located in the old Stoa of Attalos.
It's a renovated building where you can find sculptures of ancient Greek times and also miniatures of different sites like the same ancient Agora and Acropolis. With these, you will paint a picture of how these impressive sites looked like in ancient times. Also from there, you will find one of the most well-preserved temples in Athens – the Temple of Hephaestus.
3. Seek the Temple of Olympian Zeus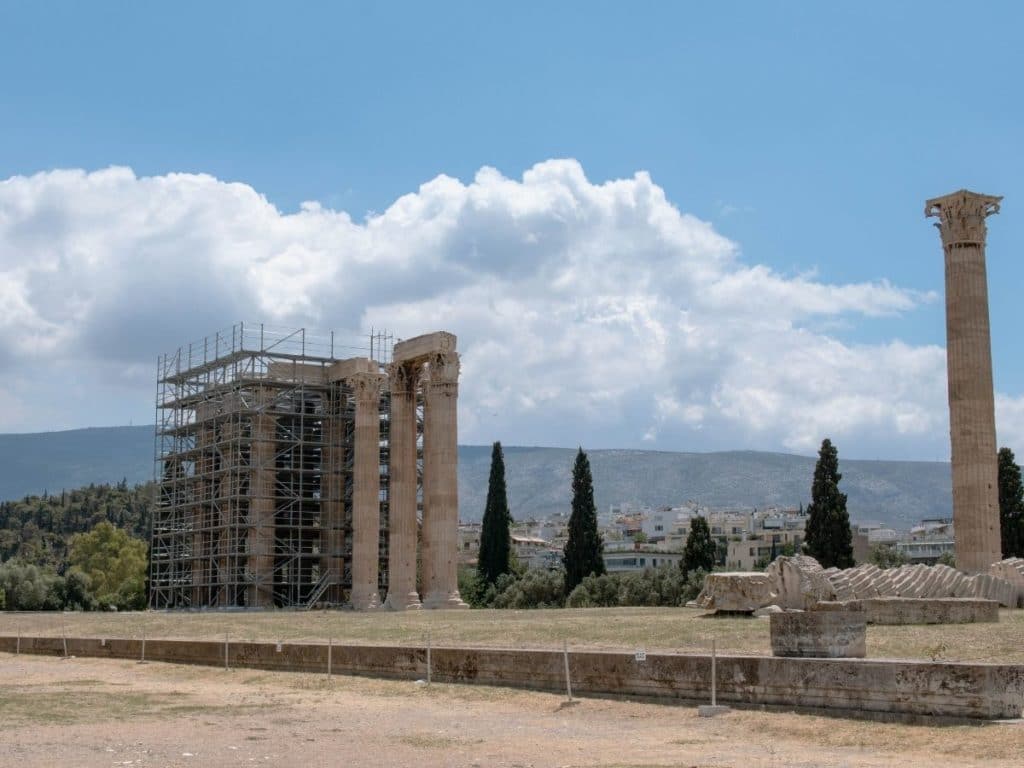 The Temple of Olympian Zeus was once the biggest and the most prestigious in ancient Greece. As the name says, the temple was dedicated to the head of the Olympian god. Nowadays there are just some remaining columns of the original 104. But you can imagine how the glorious Temple of Olympian Zeus looked back in ancient Greek times.
4. Touch the marble at Panathenaic Stadium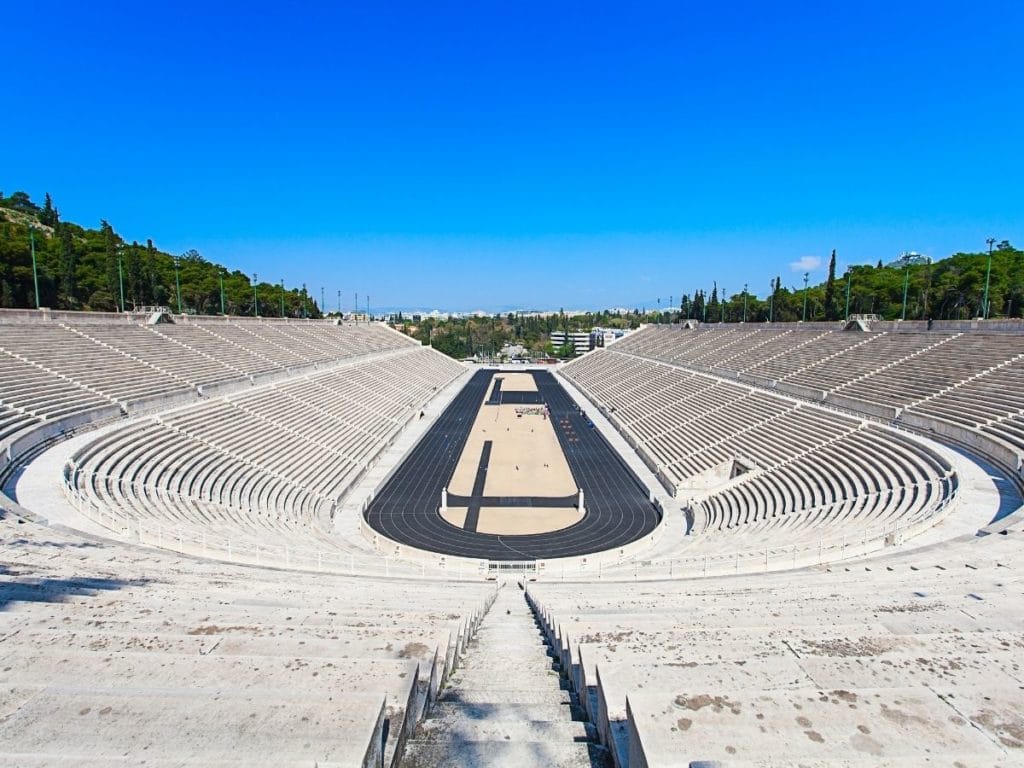 An ancient Greek stadium that is entirely built of marble. It's mainly been used as a multi-purpose stadium and also hosted two Olympic Games in 1896 and 2004. Although the current oval-shaped stadium was built in 1870, that place was first used for the Panathenaic Games in 330 BC. Nowadays it's primarily used as a historic tourist attraction, and every visitor can wander around the stadium for a small entrance fee of 5€.
5. See the busy Monastiraki Square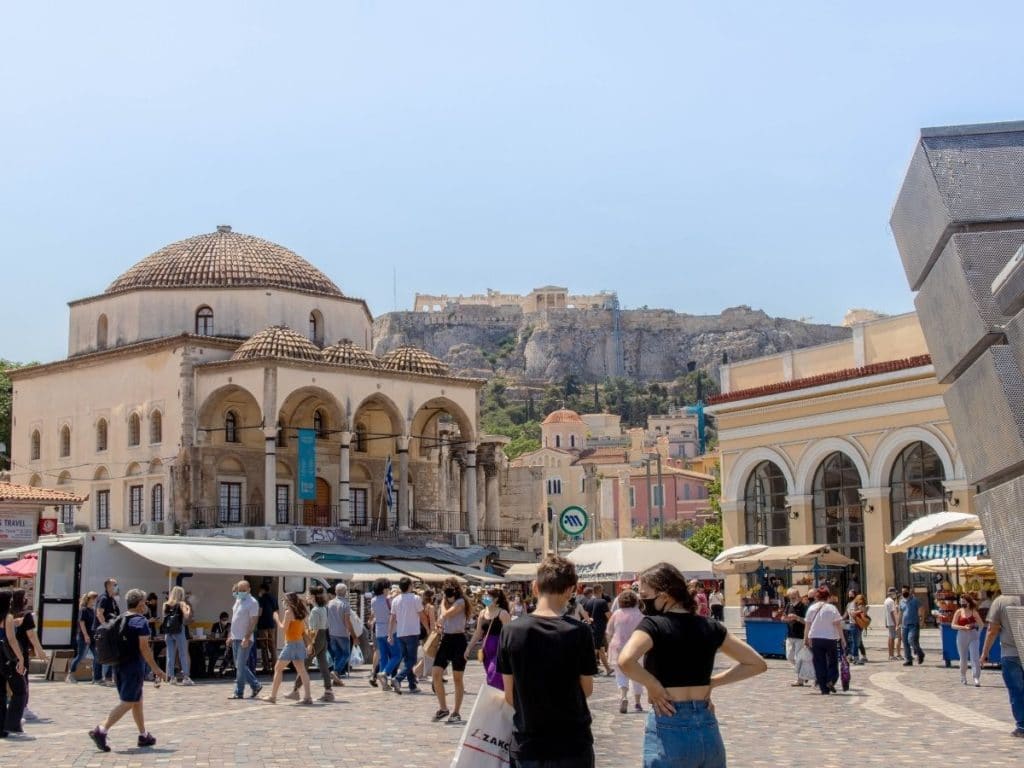 Monastiraki is one of the main squares in Athens. It's a starting place for several flea market streets, where several vendors sell souvenirs, clothing, and accessories. The square is often busy with locals, tourists, and as mentioned by street vendors. Pretty often there are also various street performers like musicians and dancers.
From an architectural point of view, you will see the beautiful Pantanassa church and Tsisdarakis Mosque, and from there, you have a scenic view of the Acropolis. Also, within some steps from the square, one of the historical sites in Athens is Hadrian's Library.
6. Take a tour around the Acropolis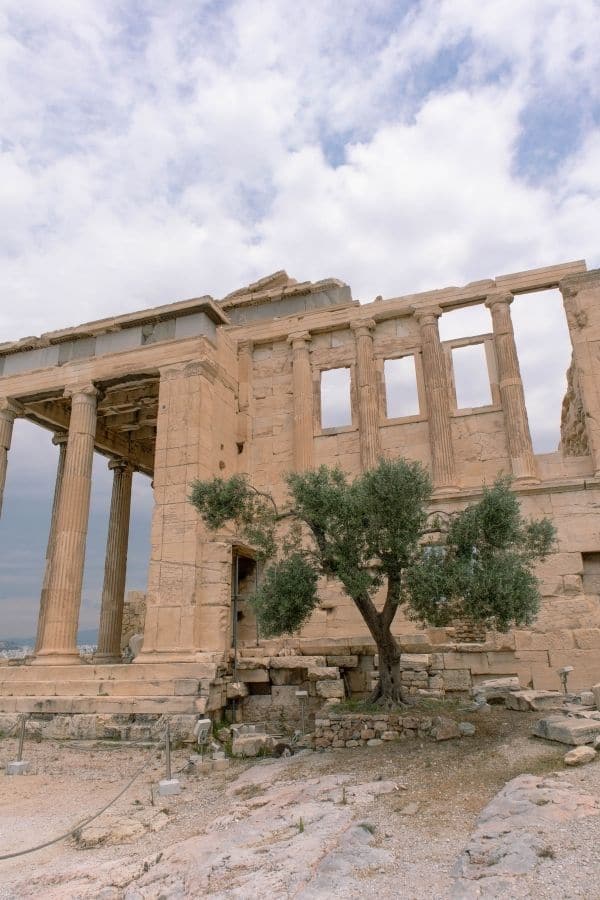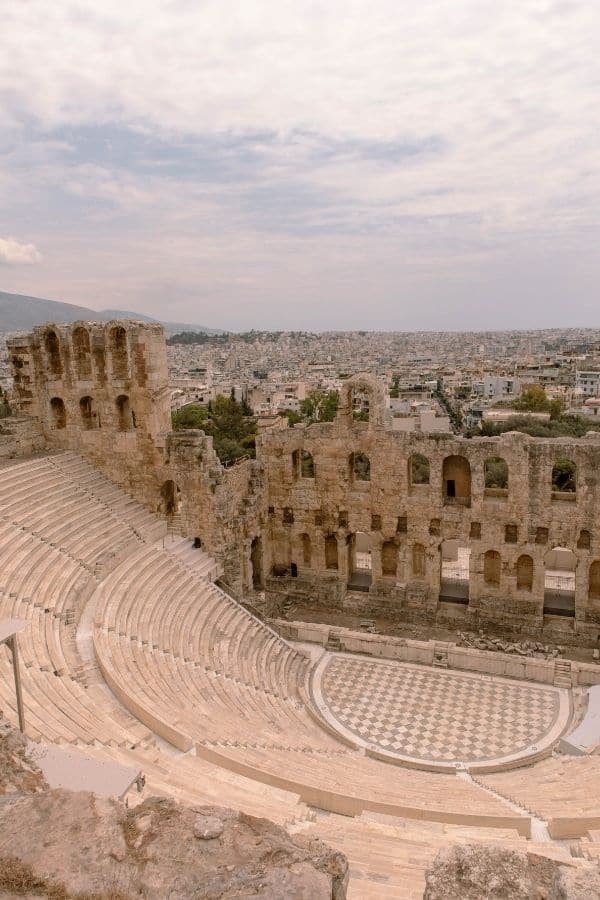 The most symbolic site in Greece is in the center of Athens, the Acropolis. A famous ancient citadel is situated at the top of the freestanding hill and due to that, it can be seen in several places around Athens. You can visit the Acropolis with an entrance fee for a single ticket of around 20€ (save money with a combined ticket).
But with that fee, you can look closer at the great Parthenon Temple, Temple of Athena Nike, Erechtheum Temple, Odeon of Herodes Atticus, and many other ancient landmarks. It's the leading site in Greece and should not be skipped. I highly recommend having a tour guide for a better experience and understanding of ancient history.
7. Hike up to Lycabettus Hill
A 277-meter hill is the highest point in Athens city. There are several myths and legends on how the hill got its name. The most believed story says that the hill was a refuge of wolves, and it is also supported by the fact that the hill Lycabettus means a hill walked by wolves. It is easily reached by comfortable hiking trails and on the top of the hill, you have 360-degree views around Athens metropolis. There are also Saint George's Chapel and restaurants to fill yourself with local cuisine. It's the best place in Athens to enjoy a romantic sunset.
8. Seek the Kerameikos Ancient Ruins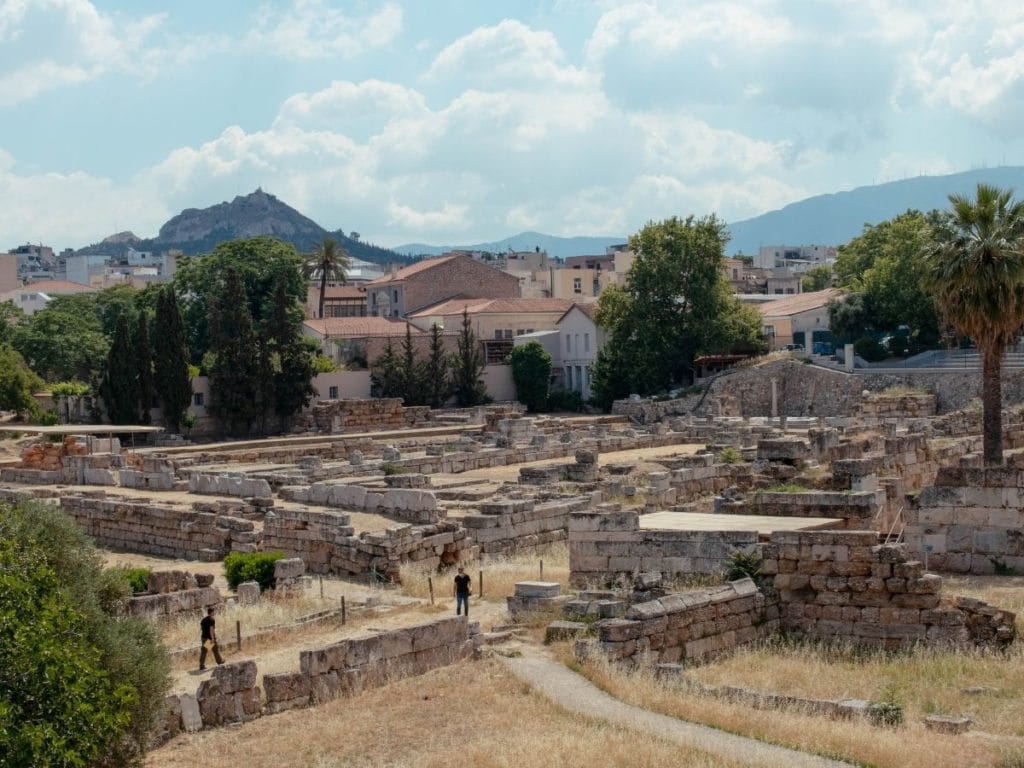 Kerameikos region was once a square of pottery workshops and due to that, it got its name from the Greek word "keramos" which means pottery. Kerameikos was separated by the walls, where inside were inhabitant areas and the other side of the walls was a cemetery. Nowadays there are mostly ruins, but a fascinating history behind them. Also a museum with ancient sculptures and potteries. Recommended is to take a tour guide to have better insights. A quiet archeological site where archaeological excavations still took place is less visited, but still, it's one of the best sites in Athens to learn about ancient Greece.
9. Koletti Street for Local Pubs
Koletti pedestrian street filled with pubs and restaurants comes alive when the sun sets, and local Greek people have a proper night out. It is not a very touristy area, and mostly you will hear Greek there. Also, bar menus are mainly in the local language. But as the surrounding area has different kinds of local pubs and restaurants, it's a great place to interact with local Greek culture.
10. Climb on the Areopagus Hill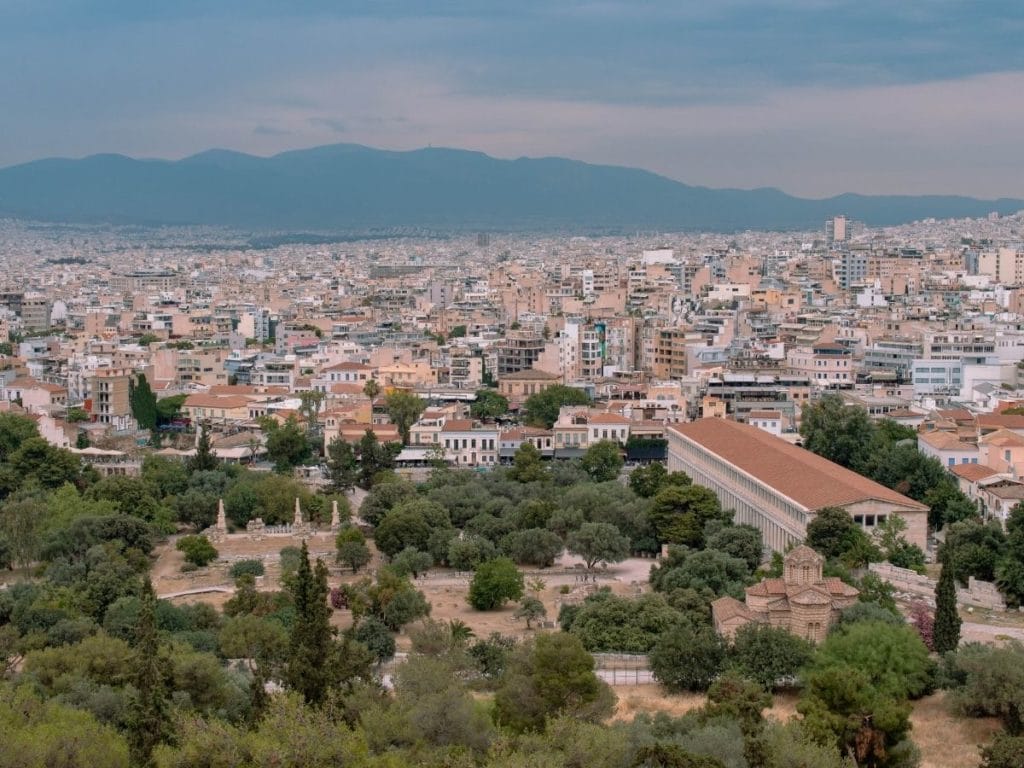 Areopagus Hill is located right next to the Acropolis entrance. It's just a hill with scenic views of downtown Athens, Filopappou Hill, and the Acropolis. However, it was a court location for severe crimes in old Greek times. Now, it's a rocky, slippery cliff with panoramic views of almost 360 degrees and you can do a quick stop after or before the Acropolis tour.
11. Local nightlife at Psyri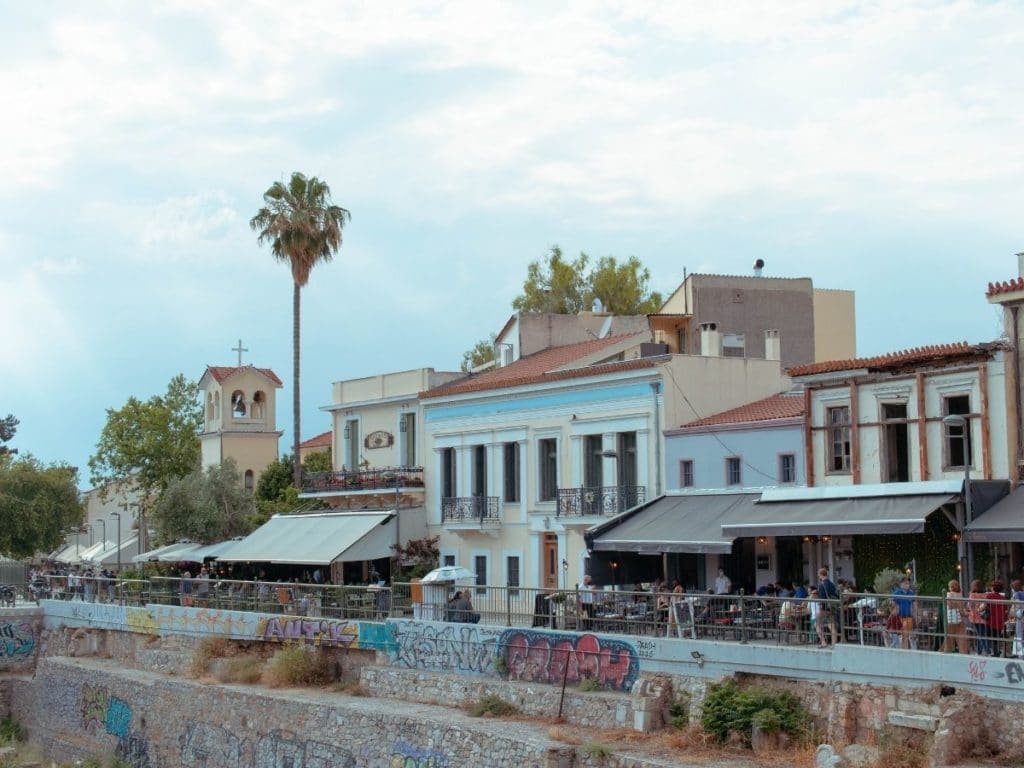 Psyri is a central Athens neighborhood where you can enjoy various food in restaurants, taste local drinks in bars, get something from artisan and antique shops, or enjoy live music in taverns. Besides entertainment, Psyri is also filled with colorful neoclassical buildings, so it's quite a pleasure to wander around there.
Read more: Best cities in Europe for solo travel.
12. Shopping around the Plaka region
Another neighborhood that is close to the city center is Plaka. You can find colorful neoclassical buildings and narrow streets. It's more peaceful because many pedestrian streets have various shops and restaurants. Also, don't forget to visit the Church of Panagia Kapnikarea at the beginning of the shopping streets.
13. Smell the Sea Breeze at Piraeus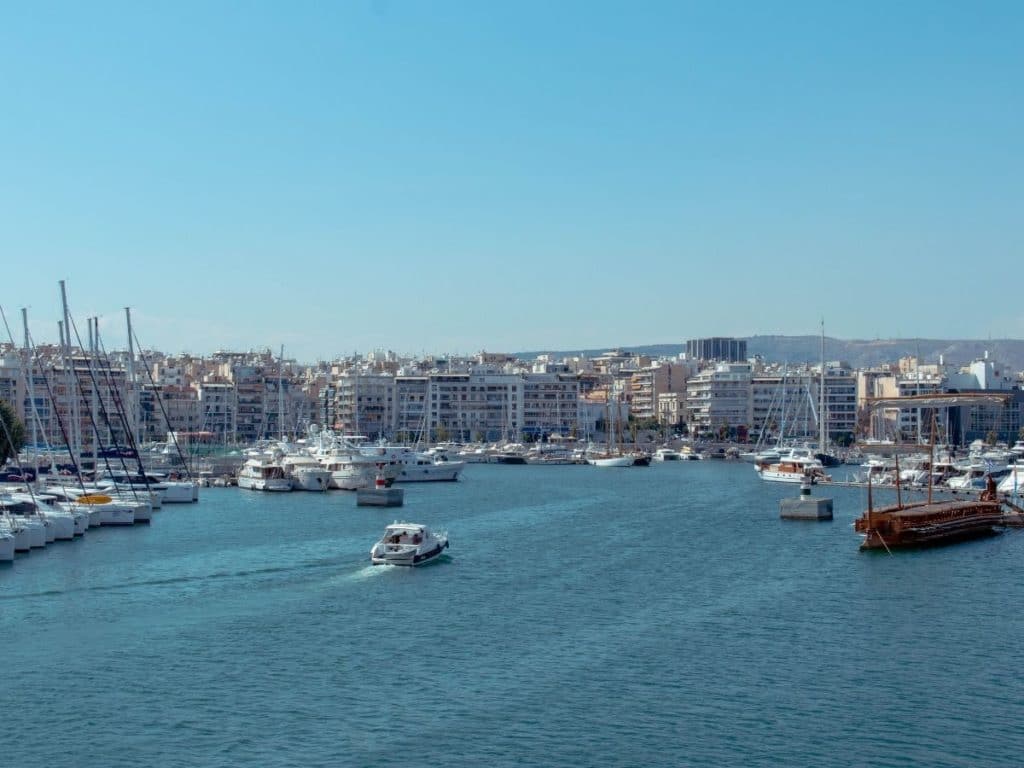 Piraeus is a seaside neighborhood that also hosts Athens departing port to several Greek Islands like Santorini, Mykonos, and Milos. The area is extensive, but I recommend strolling around the Pasalimani yacht port, with a long promenade. Also, there is no shortage of seaside restaurants. Piraeus is a bit away from Athens's central area, but it's reachable by a fast metro system.
Read more: Greece travel guide.
---
Backpacking Athens Travel Costs
Greece is a big tourist country, so it's not as cheap as neighboring mainland countries like Turkey and Albania. However, prices vary a lot, depending on the type of trip from budget to luxury. For a person who wants to get some local experience and at the same time keep a tight budget, it's like a mid-range European country.
Accommodation Costs
As everywhere, it's the same with backpacking in Athens that you must search for a hostel for cheap accommodation. Prices range from 8€ to 10€ for a bed in a shared dorm room. Low-priced hostels are already pretty good, with great location, clean, and, commonly, they have free wifi. The average price for a hostel stays around 15€ around the high-season period.
When backpacking in Athens, there isn't a shortage of housing opportunities. There is a great variety of budget 2 and 3-star hotels, where prices start from 30€ to about 50€ per night for two persons.
For a more luxurious stay, Athens isn't an expensive place to stay at all. For a 4-star hotel, the prices start from 50€. There are loads of options under 100€ per night for a comfortable stay in Athens.
Food Costs
Food costs are also around the same level as mid-range countries in Europe. For example, a typical meal for one in a regular restaurant is around 10 €. A 0.5-liter beer is 3€ – 4€, a glass of wine is around 2€, and classical coffees 1€ – 2€ in restaurants.
For a budget backpacking Athens trip, I also recommend taking a couple of takeaways from the street food section. A very delicious and well-portioned gyros costs depending on the location from 2.5 € to 4 €. For breakfast, pastry prices are around 1 €.
The cheapest way to budget when backpacking Athens is to get your food needs from grocery stores. There are a couple of discount food stores, but the best-known is international Lidl. A 0.5 beer costs from 1€ to 1.5€, and a cheaper bottle of wine costs 5€. If cooking by yourself then ingredients for a simple pasta or other meal for a week cost around 40€ – 50€.
Main Activities Costs
Athens has several archeological sites that have an entrance fee. However this is one of the main reasons it's visited, so it's nearly impossible to skip these ancient sites when backpacking Athens. Main attractions to visit:
Acropolis and slopes;
Ancient Agora;
Temple of Olympian Zeus;
National Archaeological Museum;
Panathenaic Stadium.
Money-saving TIP: A great travel tip when backpacking Athens would be acquiring a combined ticket with seven ancient sites over Athens. It includes the Acropolis, Ancient Agora, and the Temple of Olympian Zeus. The ticket is valid for five days, and each site can be visited once.
---
Getting Around Athens
There are a lot of landmarks around the city center area, so you can visit several sights on foot. However there is a need for transport when, for example moving to the city from the airport, accommodation is a bit away from the central area, or you want to visit some off-beat areas at a distance. Also, check flights to Athens from Kiwi:
Transport from Athens Airport to the City Center
The national airport of Athens is a bit away from the city center. The options to get to Athens are taking the bus, metro, taxi, or other shuttles. The fastest way (25min) and way more expensive are taxis and shuttles that cost around 40 euros.
A metro is the most comfortable way to get to the city through public transport. The ride takes about 50 minutes.
The cheapest way to get to Athens is using public buses. It takes about 55 minutes and one way costs 6 €. But keep in mind that the ride can take a bit longer when there is rush hour. A good thing about buses is that they operate 24/7.
Public Transportation in Athens
There are plenty of options to move around Athens: metro, busses, trams, trolley buses, and suburban trains. The quickest way to backpack around Athens is to use the metro system which includes 4 lines. Also, most of the sites are within the metro reach. If going more off-beat, you will find a suitable ground public transportation with the help of Google Maps.
Transportation costs: A single ticket for 90 minutes from validation costs 1.2€. My recommendation would be to buy an Athena transportation card for 5 days, it costs 8.2€. It's valid for all the public transportation options only within the Athens area (it doesn't include airport transfer). Another option is a 3-day tourist ticket with an airport transfer.
---
Where To Stay In Athens
---
Athens Cuisine
Greek Salad – The most well-known Greek cuisine is local salad. It is a famous light dish all over Greece with fresh vegetables like red tomatoes, cucumbers, shallots, and Greek olives. Also flavored with olive oil and feta cheese as a topping. A must-have salad in Greece.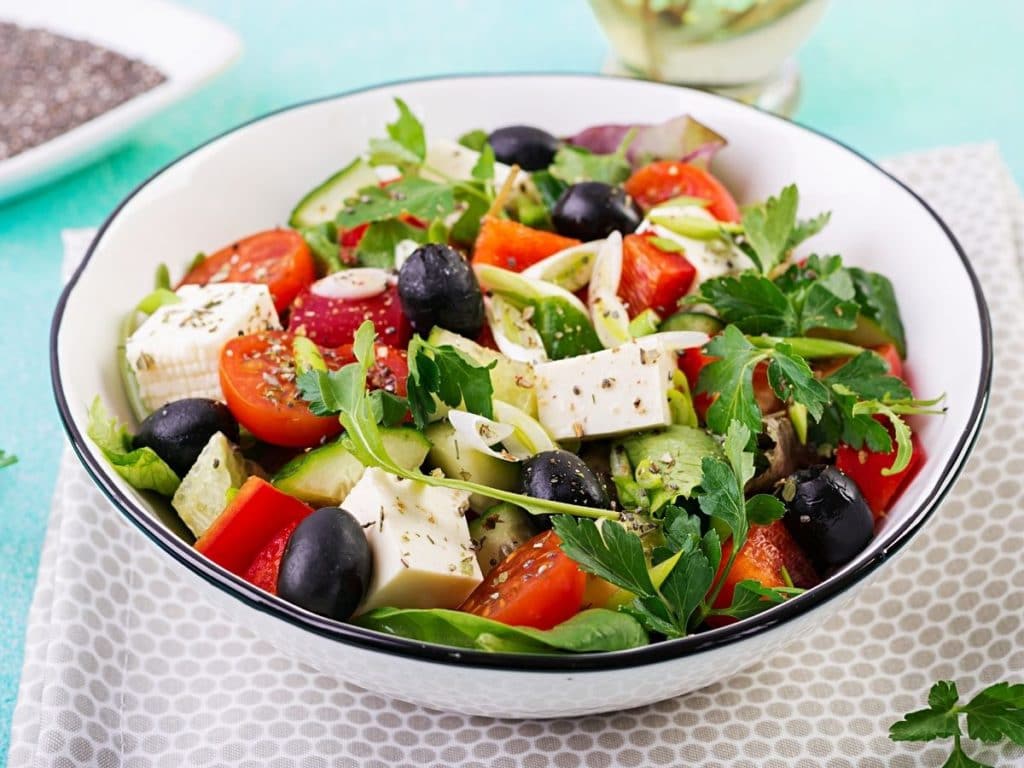 Gyros – Street food gyros are eaten in several places, and Athens is no exception. It's served with typical pork or chicken meat and is exceptionally high quality and delicious. In addition to that, it's a cheap takeaway.
Baklava – It's a sweet pastry dessert that classically includes honey, filo pastry, and groundnuts. Local Greek food to try out.
Frappé – If you are a person who starts a day with a coffee, then frappe is the local drink to try out. Including coffee, sugar, a blended mix of ice and milk. It is an all-day drink for local Greek people.
---
Budget For Backpacking Athens
When backpacking in Athens, the budget can vary from a tight budget to a more luxurious stay. There can be relatively cheap prices on accommodation, food, and transport. On the other hand, you can also splash cash everywhere. So, what would the average daily budget look like for various travelers?
A tight-budget traveler should consider having around 25 euros per day. On that occasion, a wanderer has to stay in a budget hostel or Couchsurfing. Making food by themselves or having traditional gyros and other street food. Backpacking Athens on foot or using public transport. Visiting free attractions or getting a combined ticket for archeological sites.
A rational backpacker in Athens who doesn't want to go too extreme with a limited budget I would recommend considering about 45 euros per day. On that occasion, backpackers would stay in a budget hostel, eat affordable traditional cuisine or street food, use public transport, and visit some tourist attractions.
A mid-range traveler who wants to have a bit more comfort and privacy should start with an average daily budget of 75 euros. Then the traveler can have a private budget hotel, eat in restaurants, move around with public transport, and visit several popular attractions when backpacking Athens.
| | | | | | |
| --- | --- | --- | --- | --- | --- |
| | Housing | Food | Transport | Attractions | Daily Budget |
| Tight Budget | 0 – 15 € | 10 € | 0 – 5 € | 5 – 10 € | 15 – 40 € |
| Backpacker | 15 € | 15 € | 5 € | 10 – 15 € | 45 – 50 € |
| Mid-range | 30 – 50 € | 20 – 30 € | 5 – 10 € | 20 € | 75 – 110 € |
NOTE! The prices vary significantly depending on how many days you are backpacking in Athens. The costs mentioned above are around for a 3-day trip. When staying less than three days, then the average daily budget can be a bit higher, and if longer, then vice versa. The difference comes in multi-day tickets for transport and attractions.
---
Best Time To Visit Athens
Athens is located in southern Europe, and due to that in terms of weather, it's nice and warm most of the year. The peak season everywhere in Europe is during the summer months (June to August). During that period it was extremely overcrowded, and the temperatures were mostly over 30 degrees (Celsius). The same thing as the temperature, the prices are also higher.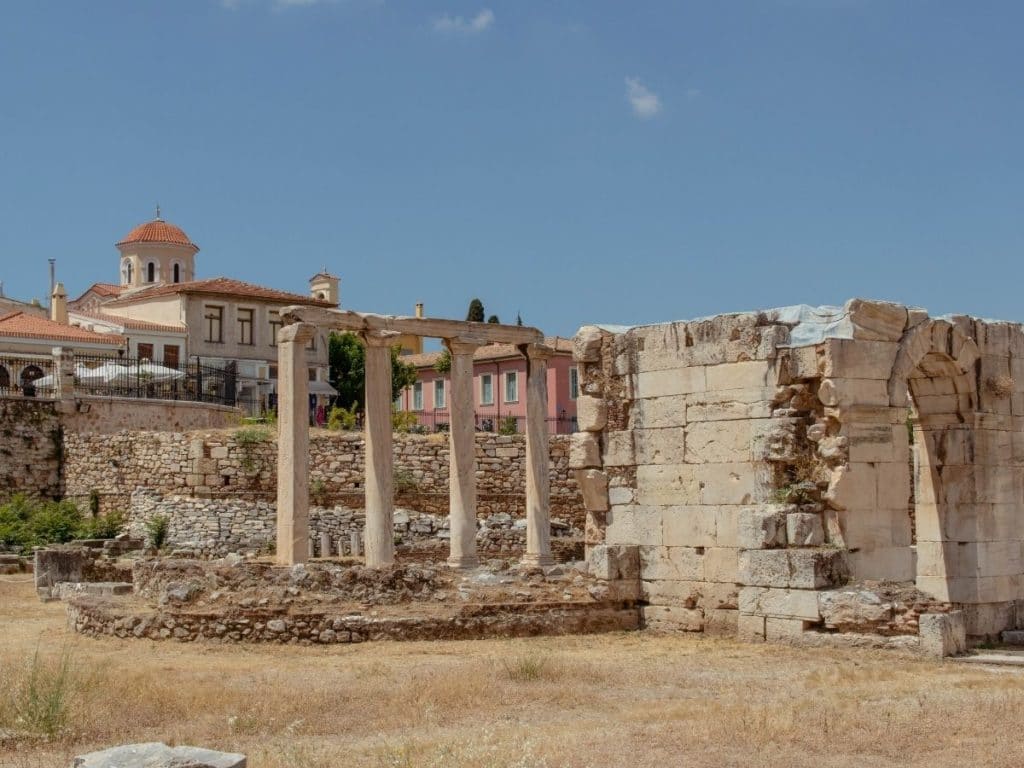 The best time for backpacking Athens on a budget would be on-the-shoulder seasons before (April to June) or after (September to October) summer months. As then the temperatures and prices are more tolerable.
Winter in Athens is pretty mild and cool. Temperatures stay around 10 degrees (Celsius) with some rainy days. It would be ideal to visit Athens' historic sites and other landmarks. Then there are fewer crowds and prices are typically lower.
---
How to Stay Safe in Athens
Athens is one of the most populated capitals in Europe. There are many people from different nationalities and cultures.
But is it safe for backpacking in Athens?
Athens people are pretty chill and welcoming, and mostly, they know English. One of Greece's most significant economic resources is the people who visit that beautiful country, so it's in their veins to be welcoming to tourists.
But as everywhere, pay attention to your things because there are still pickpockets to ruin your day (be extra cautious in the metro). Don't show off with your expensive jewelry, keep close to your valuable things when wandering around the area, and use common sense.
Traffic is also a bit chaotic. Be aware of passing cars and scooters when crossing roads or walking in narrow streets. Stay alert on high traffic streets.
Travel insurance is a must. Anything can happen when traveling abroad and backpacking Athens is no exception. I always have travel insurance, but luckily, I haven't used it yet. For me, it's okay to spend a little for my safety (if anything happens) and then pay for high medical bills afterward.
---
Backpacking Athens Travel Guide: Athens Travel Tips
Combined ticket for Archeological sites – Athens has several ancient sites with an entrance fee. Instead of buying single tickets from each site, a money-saving tip would be to acquire a combined ticket. The combined ticket includes The Acropolis, The Ancient Agora, Kerameikos, The Temple of Olympian Zeus, The Roman Agora, Hadrian's Library, and Aristotle's Lyceum (Lykeion). The ticket is valid for five days, and each site can be visited once.
Couchsurfing – That would be my first recommendation in any country. It's not about a free couch but more about the incredible people you met through that. In short, it's an app or more community where locals host travelers in their homes. It's a great way to meet new buddies when backpacking Athens.
Student ISIC Card – You can use it in any country. Transport, attractions, or even accommodation discounts will be available. Check out which discount options with an ISIC card you have.
Walk as much as possible – Athens is a walkable city. A lot of attractions are around the central area. It's also possible to see more surroundings and even crash into some hidden gems by accident.
Local food experiences out of the tourist area – In every city, the highest prices are around tourist hotspots (center and main attraction). One of the most incredible travel tips that work everywhere is to eat there where the locals do. It's already good when the menu is in the local language.
Be your chef – The easiest way to cut down expenses on food. Even though food isn't expensive, cooking yourself will save a ridiculous amount of money.
Free Walking Tours – Guided tours are the best way to learn about Athens. Most of the cities have free guided tours around the main sights. I recommend using that, but tip the guide in the end.
---
Read More About Greece
---
PIN IT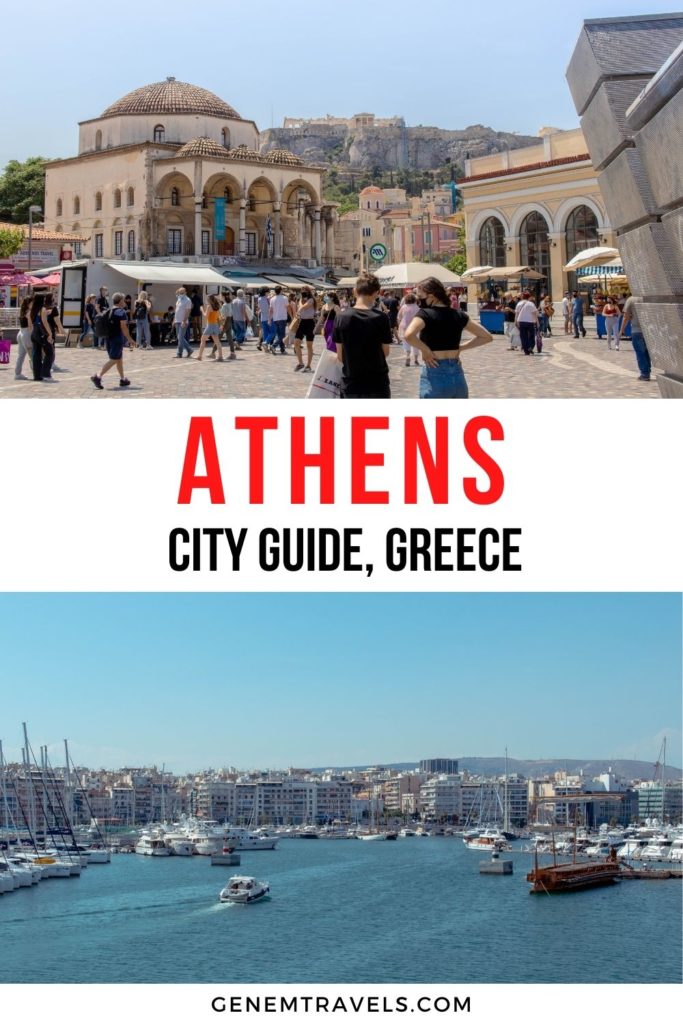 ---
Read more about Destinations in Europe: