Located on the western side of Greece, Lefkada is one of the greenest islands in the country. It's part of the Ionian Islands which are famous mostly for their turquoise waters. Apart from the attractive countless beaches, Lefkada is the perfect place for any kind of water sports, to chill in the charming fishing and mountain villages, or just enjoy the local Greek culture in different forms.
What can you find from this Lefkada travel guide? From here you can find what places to visit in Lefkada, how to get there, how to move around the island, Lefkada travel costs, and some travel tips.
Quick Facts About Lefkada Island
Country: Greece
Location in Greece: Ionian Islands, Western Greece
Highlights: Turquoise beaches, water sports, green nature, small villages
Fun fact about Lefkada: The island has derived the name from white cliffs – Lefkos rocks
Things to do in Lefkada
Lefkada island highlights are its charming capital town, endless beaches, fisher and mountain villages, and some water sports. What are the main things to do in Lefkada?
1. Wander around Lefkada town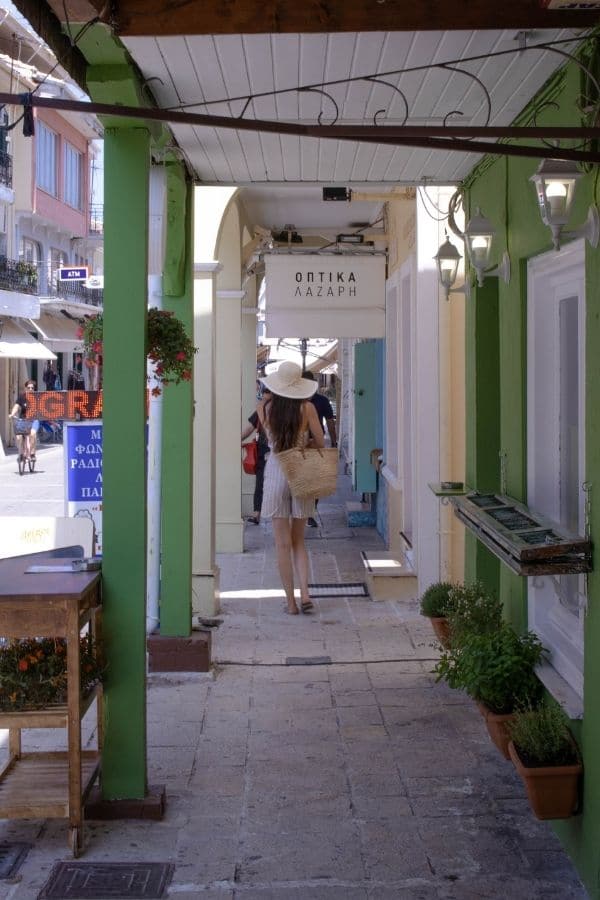 Lefkada town is the official capital of Lefkada Island. It's the starting point to explore the green island, simply because it's the first place you will see when reaching there by car. The Lefkada capital is a vibrant town with several souvenir shops, boutiques, cafes, restaurants, and has a wide range of accommodation options.
The best thing to do there is to just wander around Greek Island town, chill in restaurants, and feel that laid-back atmosphere. The main areas to discover are the shopping and pedestrian Ioannou Mela street and a narrow promenade by the sea.
2. Nidri and Waterfalls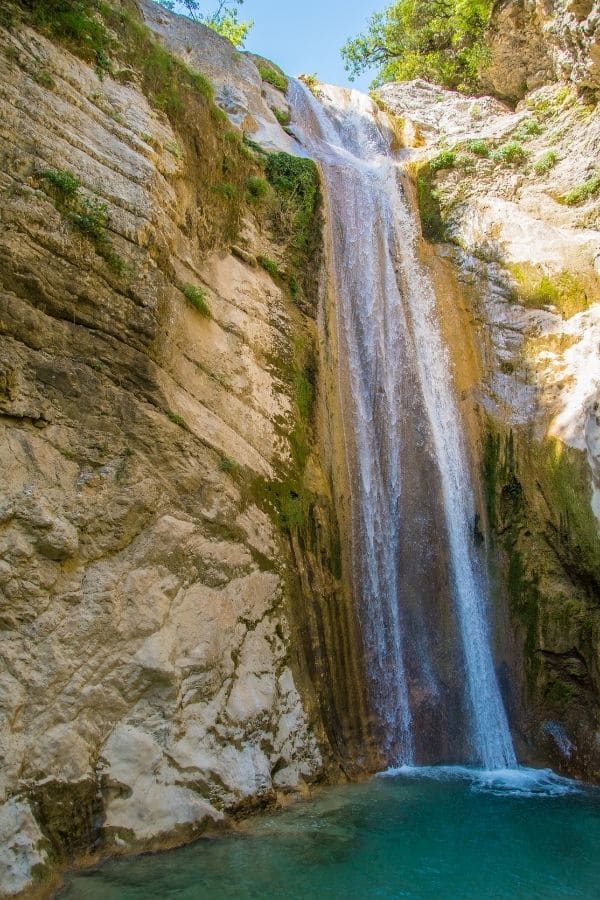 Nidri village is on the eastern side of Lefkada and gets extremely busy during the summer months. It's the most popular spot in Lefkada with countless taverns, bars, restaurants, and clubs. The reason why it gets so crowded with tourists each year is because of its location. It's a seaside village with beaches, a yacht port for boat cruises, and it's surrounded by stunning nature. About 3 km from the Nidri is also one of the main landmarks in Lefkada – Nidri Waterfalls (also known as Dimosari waterfalls).
3. Yacht Cruise around Lefkada Island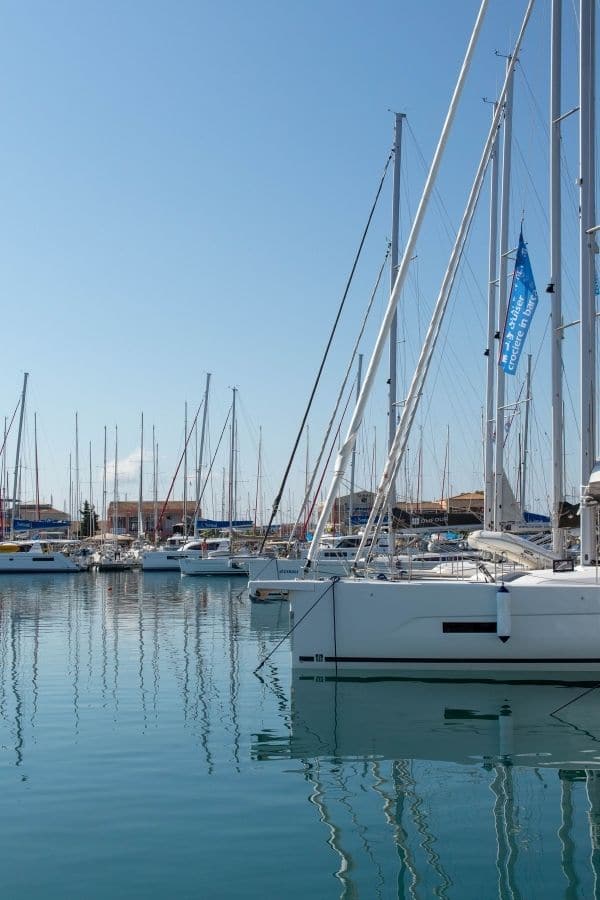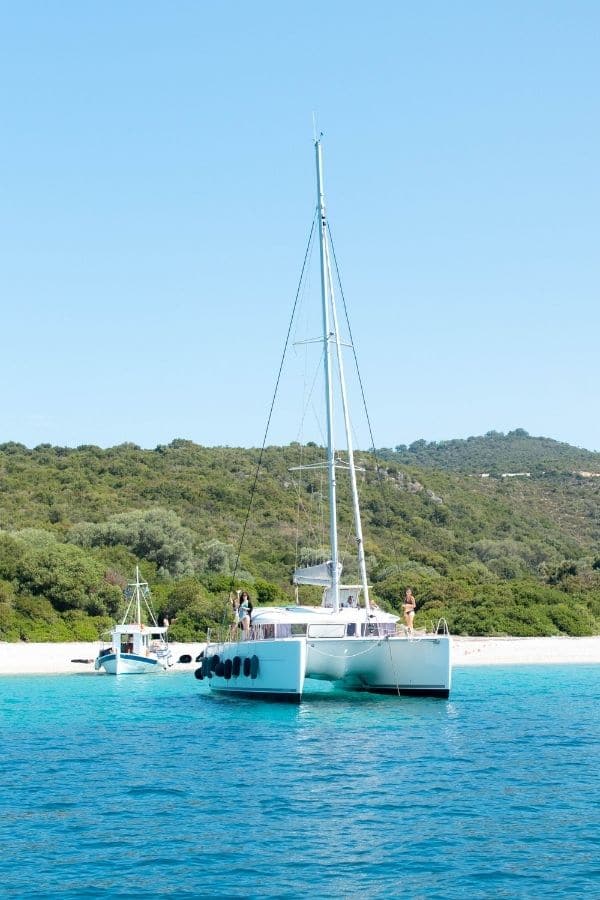 Yacht cruising is a popular activity in Greece among tourists. The three most common places for yacht cruises around the island are Lefkada Town, Nidri, and Vasiliki. It's a great way to spend a laid-back day cruising on the Ionian Sea. While sailing on the turquoise sea you will seek close-by smaller islands like Meganisi and can swim around hidden beaches.
4. Experience Kitesurfing and Windsurfing in Lefkada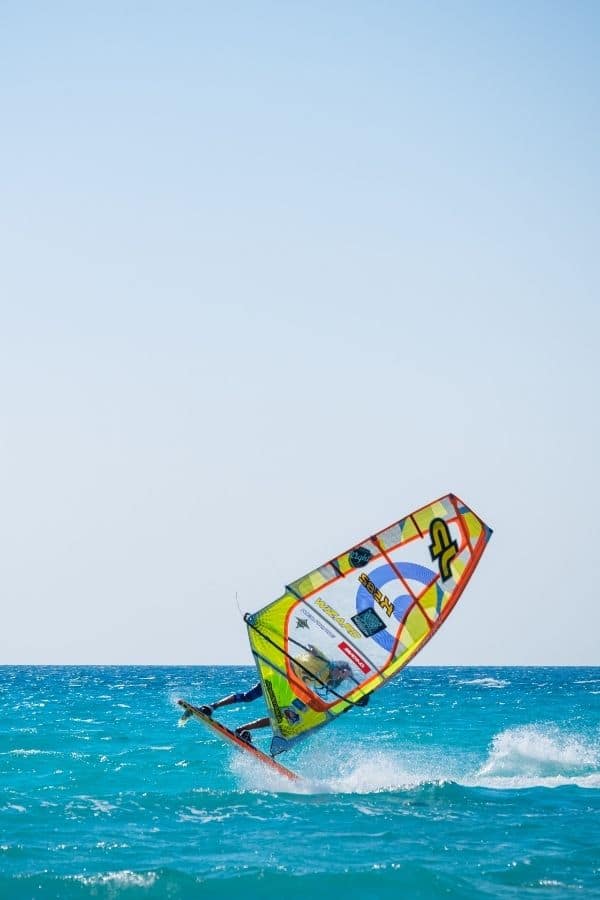 Windsurfing and kitesurfing are the most popular sports in Lefkada. Moderate winds throughout the summer make it the perfect place to try out these water sports from beginners to more advanced surfers. The two most popular Lefkada kitesurfing spots (and windsurfing) to try out these activities are close to Lefkada city Agios Ioannis and Vasiliki beach.
5. Seek the Endless Sea Views at Cape Lefkada
The southernmost point on the island is Cape Lefkada with a lighthouse, which is located in a narrow peninsula. From there you have views of the endless Mediterranean Sea and in the other way, if the weather is clear, are also seen islands Kefalonia and Ithaca. The 14-meter lighthouse is on the steep white cliffs, which makes it one of the must-see scenic spots in Lefkada.
6. Enjoy the mountain village vibe at Englouvi
Englouvi stands one of the highest points in Lefkada at an altitude about 700 meters above sea level. The charming village is famous for its agriculture traditions, specifically by growing lentils. There is even a special event dedicated to the lentils on the 6th of August each year. Also, from the village starts several walking paths with scenic views over the fields and Lefkada Island. For example, close by you can explore Saint George church, Anemómylos, and Ekklisia Profiti Ilias.
7. Get flexible with Yoga Retreat
One of the highlights in Greece is yoga. There are several retreats around the Greece mainland and on the Greek Islands. One of the places where you can try out yoga in Lefkada is Food Path Yoga Villa. There are hosted yoga retreats and courses with delicious healthy Greek food.
8. Soak in Endless Turquoise Lefkada Beaches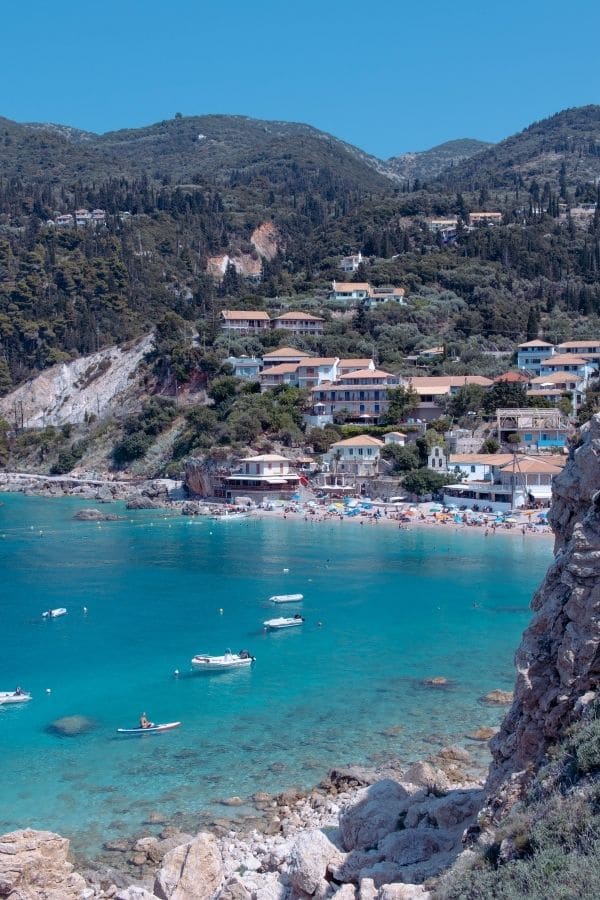 Ionian islands are known for their turquoise waters and one of the highlights in Lefkada are their beautiful beaches. Some of the best beaches in Lefkada are Egremni beach, Mylos beach, Kalamitsi beach, Agiofili beach, Agios Nikitas beach, Amousa beach, and Nikiana beach.
9. Explore the scenic Porto Katsiki beach
The most iconic and pictured spots in Lefkada. It's not just a beach, but also a natural landmark due to the photogenic steep white cliff. It's located pretty far from the Lefkada town, about 44 km away, but it is a must-see in Lefkada. If you have time for only one beautiful beach on the island, then that should be on your list for sure.
10. Fisher village Vasiliki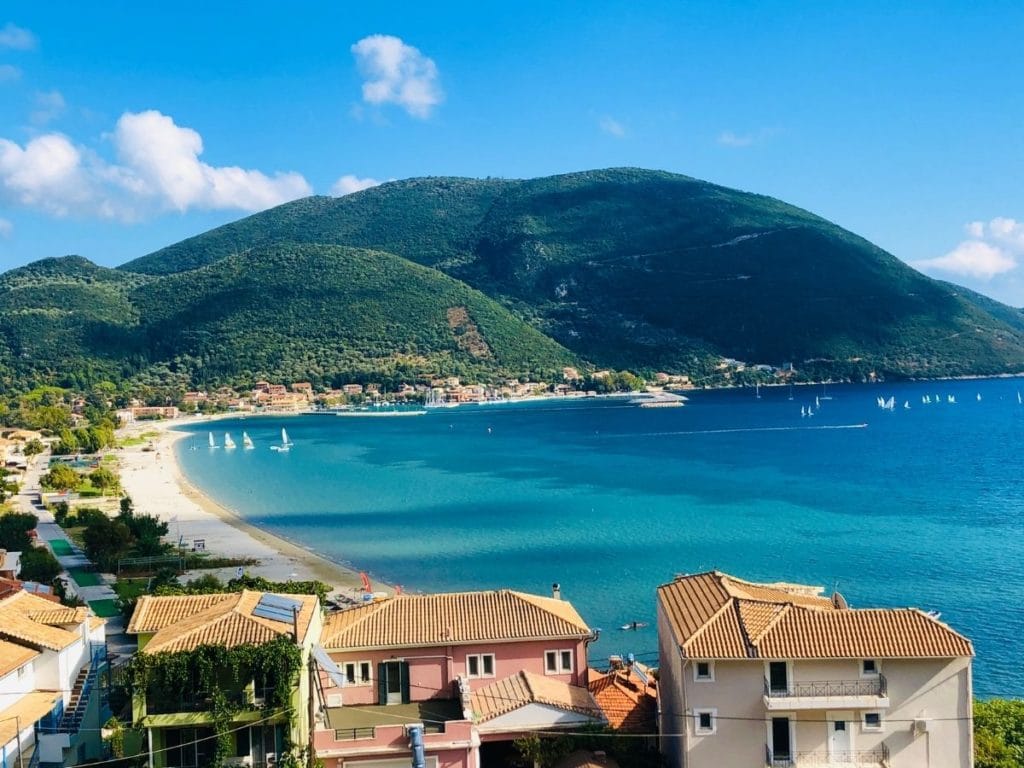 A small fisher village Vasiliki is located in southern Lefkada, which is surrounded by many local landmarks and it's a great place for a variety of sports. It's also one of the most popular places among the tourists in Lefkada, which means that there are loads of restaurants to try local Greek cuisine, taverns, and several housing options. Also, there are many things to do. The most popular activity in Vasiliki is windsurfing, as there are moderate winds for beginner level surfers. Other activities include hiking, mountain biking, sailing, and sea kayaking.
11. Be at the top of Lefkada at Ekklisia Profiti Ilias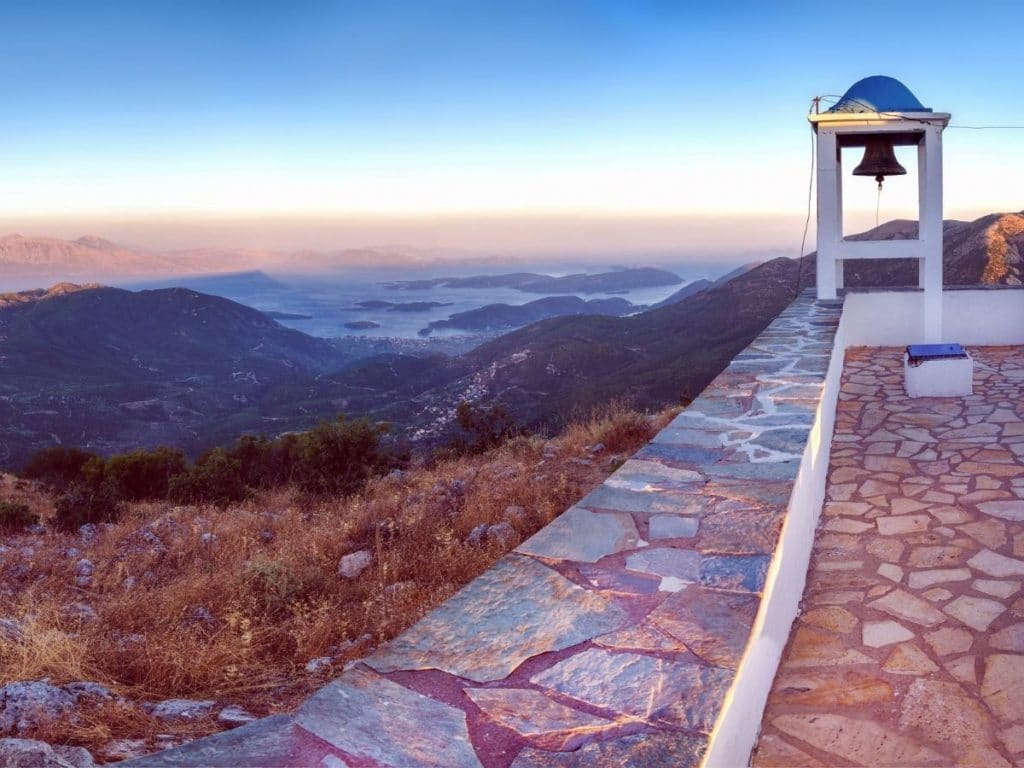 The Church of the Prophet Elias is located at one of the highest points on Lefkada. The temple itself is peculiar to Greek architecture with all white walls, light-blue domes, and a separate bell. If you are not so interested in local church temple architecture, then you can visit the place for the best views over Lefkada Island.
---
Lefkada Island Travel Costs
Prices are approximately the same in the whole of Lefkada Island. More expensive are tourist hotspots like Lefkada Town, Nidri, and Vasiliki. Still keep in mind the basic rule that applies everywhere, that in off-grid destinations the prices are a bit cheaper (away from tourist hotspots). But what are the average travel costs in Lefkada?
Food Costs in Restaurants
Usually, when sitting down in Greek restaurants, the first thing is to try out appetizers. That includes traditionally Greek salad, olives with feta cheese, saganaki, tzatziki, and many other options in local cuisine. The average price for appetizers is approximately 5€.
The main Greek dishes like moussaka, domates yemistes, papoutsakia or souvlaki average price stays around 10€. If taking a three-course meal for two in a mid-range restaurant with appetizers, main meal, and sweet, then the average cost stays around 25€. Usually, a 0.5l domestic draught beer costs 4€ on average.
Accommodation Costs
Prices can vary a lot throughout Lefkada Island. You will have a great option to get a room for two from 30€ to 50€. For example in Nikiana prices start at 30€, in Vasiliki from 35€, in Nidri from 40€, in Kalamitsi from 45€, in Lefkada town from 50€ (per night for two people).
NOTE! The prices mentioned above are for peak summer months. Other times of the year, the costs for accommodation in Lefkada are lower.
Lefkada Attractions Costs
As already mentioned, there are plenty of things to do on Lefkada Island. Starting from the water sports like windsurfing and kitesurfing, paddling with a kayak or SUP board, yacht cruising around the island, mountain biking, or taking different courses like wine tasting, local food workshop, or getting more flexible through yoga.
For example, a full-day boat cruise with a meal costs around 60€ to 70€ per person. Another popular activity is a full-day sea kayaking that costs around 70€ per person.
Car Rent
The best way to explore Lefkada Island is by car. If you don't have your car, then you should look for car rentals. When you can share costs with friends then it´s not that expensive
For a small 4-seater car expect to pay at least 50€ for a day. If you want to have more luxury and space then you should save at least 100€ for a car rental per day.
If you are on a budget and don't hesitate to travel without air conditioning, then the alternative option would be to rent a scooter and explore the island like a local. The prices stay around 20€ per day.
NOTE! These prices above are for a one day rent. If you rent a car for a longer period, then the average daily price will get lower. For example, a cheaper rental car is available for 50€ per day, but if you take the car for a week, then you pay 40€ per day.
Money saving TIP! To get cheaper prices for rentals, look also outside from Lefkada Island. For example in Paleros (30km away from Lefkada town) rental prices can be half cheaper than in Lefkada. Check car rental prices from Rentalcars.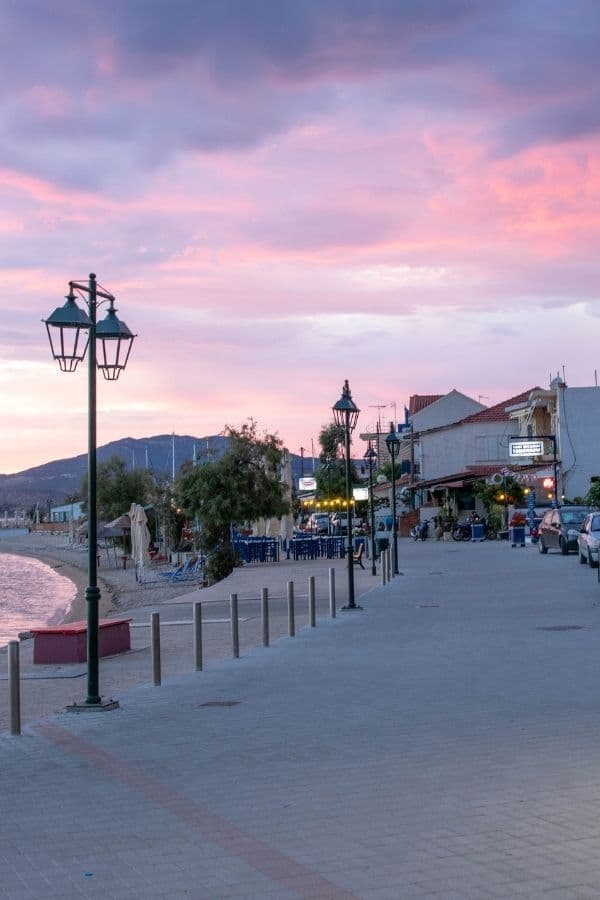 ---
How to get to Lefkada Island
Lefkada is one of the few islands in Greece that can be reached directly by ground transport by crossing the bridge. Other than ground transport, Lefkada can be reached also by boat and by plane.
Nearest airports
Close-by on the mainland and some of the Ionian Islands are small airports. The closest are in:
Preveza – 20 km away from Lefkada town.
Kefalonia – approximately 100 km from Lefkada
Ioannina – about 170 km from Lefkada
Corfu – 180 km from Lefkada
These are not the busiest airports but have some direct connections with a few international airports. The biggest one in Greece is Athens airport, which is 420 km away from Lefkada. Check flights from Kiwi:
By boat
Because Lefkada is an island, there are some options to move there by sea. For example, when you take a plane to either island Kefalonia or Corfu, then you can visit Lefkada by boat. The biggest ports to look for the schedules are in the north Lefkada town or on the east Nidri (check the schedules).
From Athens
The most convenient way to get to Lefkada from Athens is either by plane to Preveza or on the ground by car/bus. Domestic flights in Greece are pretty expensive, so expect to pay more for a short distance flight.
The cheapest way to get to Lefkada from Athens is by public bus. The 420 km bus ride takes about 4.5 hours. On the high season busses depart from Athens three times: in the morning, noon, and evening. One-way ticket costs about 40 €. If you buy a ticket in advance (online), then you will get a reduced price. Check out schedules and prices from the official bus site. 
---
How to Get Around Lefkada Island?
Lefkada is well connected by public busses with main places and villages. But when you want to see more off-beat places in a faster and more convenient way, then the best way it's done with your wheels.
How can you move around Lefkada Island?
Public transport in Lefkada Island
The island of Lefkada is well connected with public busses. Bus connections are between places like Lefkada town, Nidri, Vasiliki, Nikiana, Lygia, Vlycho, Karia, Kalamitsi, and some more. For more information and schedules, check out the official bus site.
By car or scooter
If you don't have a vehicle, renting a car or scooter is pretty cheap. Vehicle rentals are in bigger places like Lefkada town and Nidri. But I recommend renting a car away from Lefkada island, if possible. Prices are much cheaper outside of tourist spots, for example, in Paleros.
---
Where to stay in Lefkada Island
---
Best time to visit Lefkada Island
The busiest months are during the summer from June to August, when the weather is sunny and warm. The average temperature stays around 30 degrees Celsius (85 Fahrenheit) during the summer months. As the summer is the peak season for local tourism, then as temperatures, prices also reach their peaks.
The best time for a laid-back vacation in Lefkada Island is during the shoulder season. Before (May to June) or after (September to October) months. Then the weather is still decently warm and the prices are also healthier for your wallet. During the shoulder season, the average temperature stays around 25 degrees Celsius (77 Fahrenheit).
The rainiest months are in the winter period from November to February. It rains almost half of the month, this is why it's one of the greenest islands in Greece. The weather is mild as peculiar to the Mediterranean climate and the average temperature stays around 12 to 18 degrees Celsius (53 to 64 Fahrenheit). As the main attractions are related to the beach and sea, and several places (restaurants, taverns) are closed, it's not probably the best time to visit Lefkada to get a full feeling. If that doesn't hesitate you, then it's the least busy and cheapest period of the year.
---
Lefkada Travel Guide: Travel Tips
Fill your tank – There aren't so many gas stations over Lefkada Island. You will probably find these close to bigger places. To prevent the situation, where you need to stop your vehicle, because of empty gas, always fill your tank up.
Search cheaper alternatives out of the island in nearby villages – Everything in Lefkada island is a bit more expensive, due it's the tourist spots. You might find cheaper alternatives to stay a night or rent a car close to Lefkada Town. The beautiful seaside village Paleros is about 30 km away from Lefkada. If the budget is tight, then I would look at that place also.
Bring your water and snacks to the beach – Lefkada is filled with several beautiful beaches and each of them hasn't a beach bar to cool yourself down. Bringing water to the beach is a good idea for a warm day.
---
More about Greece
---
PIN IT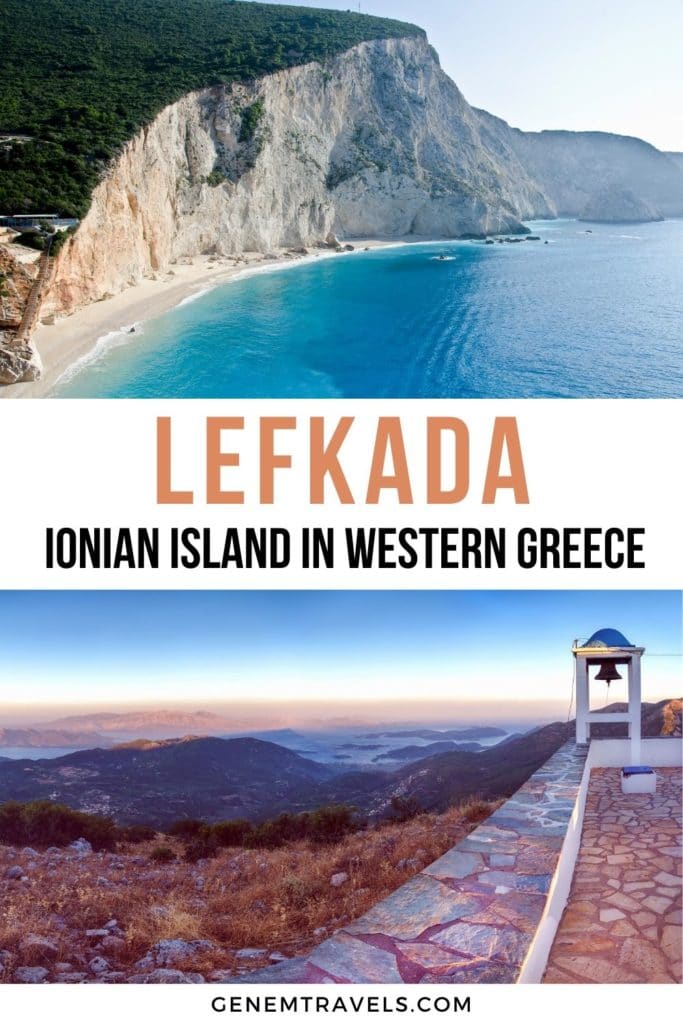 ---
Read more about Greece: