A wonderful country Greece is blessed with thousands of islands, around 200 of them are inhabited. These paradisiacal islands have been favorite destinations for couples, families, backpackers, solo travelers. So many options, but here we are going to find out the best Greek Islands for solo travel.
Typically you will find from the Greek Islands deep blue beaches and charming villages with white streets. A perfect combination for a lazy vacation. But when taking into account solo travelers, then from this list you will find islands for a variety of activities.
Are you more into parties, hiking, seeking ancient sites, exploring villages, or do you want to have slow beach days? Here you have the best Greek Islands for solo travelers for any kind of travel style.
Ferry tickets to Greek islands:
Crete
Recommended by Jürgen & Martina from PlacesofJuma
One of the best Greek islands for solo travelers is Crete. It is the largest of all islands in Greece and so you should plan some time for an unforgettable trip! Countless attractions are waiting to be discovered and there are plenty of new people you can get connected with! Especially in the larger cities, like Chania and Heraklion, many hostels are just perfect for solo travelers.
Crete is worth visiting! There are breathtaking beaches, sleepy mountain villages, historic sites, and wild nature discovered. Among the most beautiful highlights are the beaches of Balos and Elafonisi, but also the less touristy beaches of the east side of the island are recommended if you want to swim and relax!
Chania, the main town, is worth seeing, especially if you love sightseeing. From there, you will find historic, colorful alleys, where you can take amazing photos! Also, the best option for accommodation like Royal Sun.
Another place to visit is the Venician-style monastery of Agia Triada. From Agia Triada Monastery, it is worth taking a detour to one of the most beautiful beaches in Crete: The Seitan Limani Beach.
If the hustle and bustle on the coast becomes too much for you, retreating to Crete's mountain villages is best. You can still enjoy a wonderful authentic setting here, perfect for a quiet solo vacation.
Accommodation: Royal Sun
Lefkada
Lefkada is an Ionian Island in western Greece. The island is known for its turquoise beaches, water sports, green hilltops, and charming villages. You will find diversified things to do from Lefkada, even if you are a solo traveler.
The main places to see in Lefkada are the villages and beaches. The most popular places are Lefkada Town, Nidri, Vasiliki, and Englouvi. From villages, you will find typical boutique and souvenir shops, and restaurants to try our delicious Greek food. The most popular beach to see is Porto Katsiki, where you can admire the view of an iconic steep white cliff and deep blue water.
Other than the villages and beaches you can also visit the scenic Nidri waterfall, watch the sunset in Exanthia village or do some attractions like paragliding.
Also, it's one of the best Greek islands for solo travel, especially trying out wind- and kitesurfing. It's a watersport that is a popular activity around Lefkada Island. Two main places to try out are near Lefkada Town Agios Ioannis and Vasiliki beach. The moderate winds are perfect for beginners to advanced surfers.
Other things to do as a solo traveler are to enjoy the nightlife in Nidri and Lefkada Town, join a Yoga class, taste local wine on farms, hike near Englouvi village, or just chilling next to the turquoise beaches. Lefkada Town is also the best place to stay, for example Niriides is a great choice.
Accommodation: Niriides
Mykonos
Recommended by Martha from May Cause Wanderlust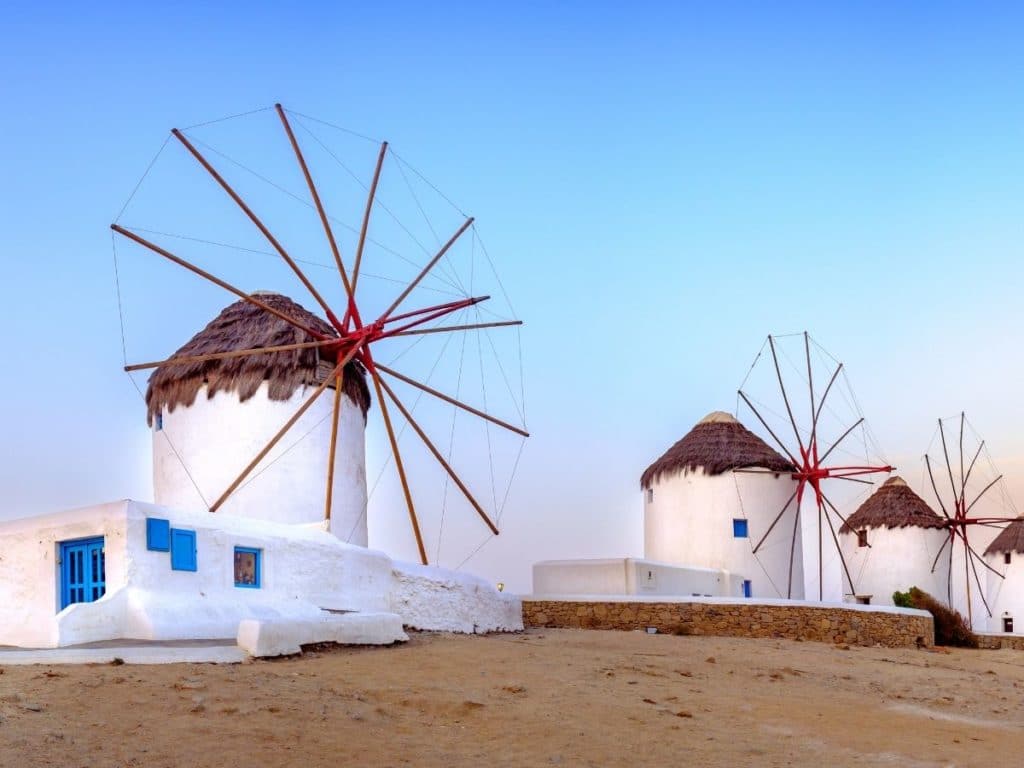 Mykonos is an island in the Cyclades chain and is great for solo travelers because it caters to a lot of different travel styles. If you are traveling solo and looking to meet people and party, Mykonos is a great option. Because it is a notorious party island and is popular with all kinds of people worldwide.
However, if you travel solo because you prefer your own company, Mykonos is also great. The main town of Mykonos is busy enough to explore without feeling conspicuous, and there are plenty of quiet spots on the island where you can find solitude. From Mykonos, you can visit nearby Delos, an uninhabited island with a huge collection of ancient Greek ruins.
Things to do in Mykonos include visiting one of its glamorous beaches, exploring Mykonos Town, which is famous for its windmills, and Little Venice, a row of houses right on the seashore. You can also admire the pure white Paraportiani Church near the harbor.
You could stay at Little Venice Villas to be close to the action – or even better, add Mykonos to an itinerary for island hopping in the Cyclades and sleeping on a boat!
Accommodation: Little Venice Villas
Naxos
Recommended by Chrysoula from Greece Travel Ideas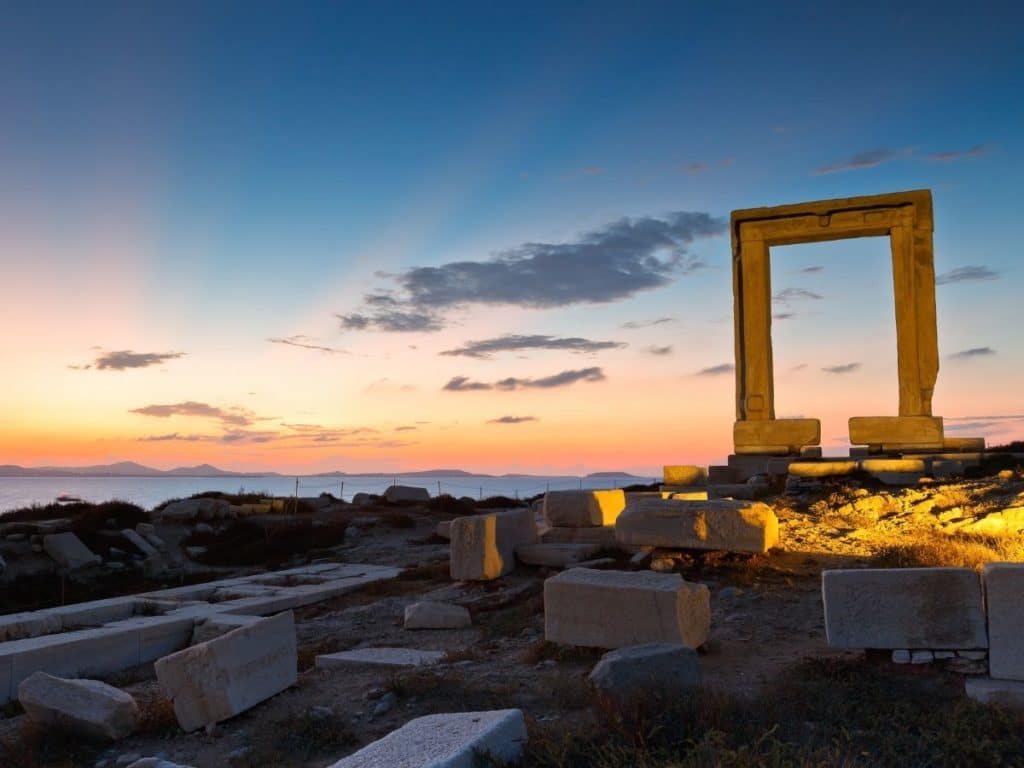 Naxos island is the biggest in the Cyclades Island group. It is one of the best islands in Greece to visit as a solo traveler as it has many activities to do and is very safe.
The best area to stay as a solo traveler is Chora, Galaxy Hotel is a great place to stay. In Chora, there is the Temple of Apollo, also known as Portara which is great to visit during the sunset. There is also a castle with winding alleyways and pink bougainvillea, a great selection of souvenir shops, restaurants, and bars.
In Chora, there is also St George beach, which is one of the best beaches on the island along with Agios Prokopios and Plaka which are only a short drive away.
If you want to explore the island as a whole, then it is best to rent a car. Alternatively, you can take the bus from Chora to most places.
Apart from the beaches, Naxos has some picturesque villages like Apiranthos and Halki, worth exploring. There are also many archaeological sites to see like the famous big statues of Kouros in two different locations around the island and the Temple of Demeter. Finally, Naxos is also great for hiking, watersports, and boat trips to secluded beaches and nearby islands.
Accommodation: Galaxy Hotel
Zakynthos
Recommended by Rai from A Rai of Light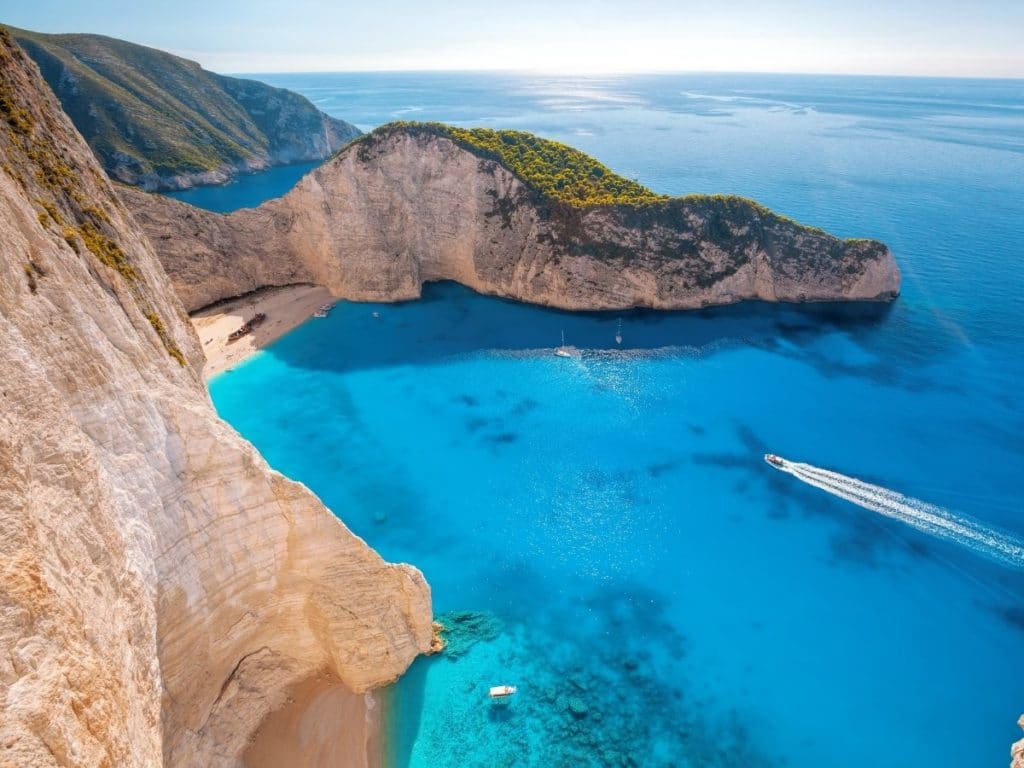 Located in the Ionian Sea, just off the west coast of the mainland, Zakynthos is sought after for its beautiful beaches with crystal clear water. It also allows the solo traveler to meet plenty of other travelers while exploring its unique landscapes, interesting history, and an abundance of things to do.
Top sights include the Venetian Castle, Marathonisi, the Blue Caves, Navagio shipwreck beach, Dionysios Solomos, and the Port of Zakynthos. The combination of great weather and beaches makes beach hopping an essential activity, with the best among them being Porto Limnionas, Kalamaki, Agios Nikolaos, and Laganas.
Laganas is also where you will find the best nightlife on the island. This strip is notorious for its parties with bars and clubs that stretch for miles and offer great nightlife options. Casa Del Mar is a place you want to crash after the night out.
Zakynthos is easily reached by a direct one hour flight from Athens or by ferry from the port of Killini. It is recommended to spend at least 3 or 4 days here to get a good feel of the island and all that it has to offer with the best areas to stay being Argassi, Tsilivi, or even Laganas. This cheap island to visit makes for a wonderful holiday spot and should not be missed.
Accommodation: Casa Del Mar
Milos
Recommended by Dymphe from Dymabroad
One of the best islands in Greece for solo travel is the island of Milos. Milos is an island that belongs to the Cyclades islands. Santorini, Paros, and many other islands are near it, and going to these islands as well is easy to do.
What's great about Milos is that it will give you a very authentic experience of a Greek island. That's because it is much less famous than, for example, Santorini or Mykonos. Fewer tourists go to Milos, and thus you can better experience local life here.
Milos is great to visit alone. There are many good hostels and hotels on the island, the public transportation network is great for exploring the island's sights and is a safe place. Furthermore, many beautiful places are even better to experience when completely focusing on them by seeing them alone.
One of the best things to do in Milos is going to Sarakiniko Beach. This is a beautiful beach with a unique landscape that looks a bit like that of the moon. There is a smooth white volcanic stone that got its shape from the wind and water of the sea. Relaxing on the beach and listening to some songs from a beach playlist, would be perfect.
Another highlight of the island is Plaka. This is a village with lots of picturesque Greek houses that are wonderful to see! Also, Klima is a lovely fishing village that is worth visiting, where you can find many small colorful houses next to the sea. A great place to stay on the island is Milos Bay Suites.
Accommodation: Milos Bay Suites
Corfu
Recommended by Dani from No Hurry To Get Home
Known as one of the best beach destinations in Europe, Corfu is a dreamy island perfect for solo travelers if you're looking for a mix of beaches, culture, nature, and nightlife. For such a small island, Corfu has a little bit of everything, making it the perfect spot to head to if you want to do many different things.
As for what to do on your solo trip, a day spent beach hopping is a must (Porto Timoni is a must!). Another incredible activity is to spend a few hours exploring the historical goodness of Corfu Town and end the day indulging in its nightlife. If you're feeling up for a hike, make sure to check out the Lakones Path Trail, which takes you on a circuit near Paleokastritsa through lush slopes of citrus and olive groves.
Even though there are many incredible places to stay in Corfu, as a solo traveler, the best spot to stay is in Corfu Town. Not only is it easier to meet fellow travelers to go on adventures with, but it's also the easiest place to start exploring the island further as many transportation options are available. Porto Demo Boutique Hotel is a wonderful choice if you're looking for a luxurious respite further away from the crowds.
Accommodation: Porto Demo Boutique Hotel
Kasos
Recommended by Elena from Passion for Greece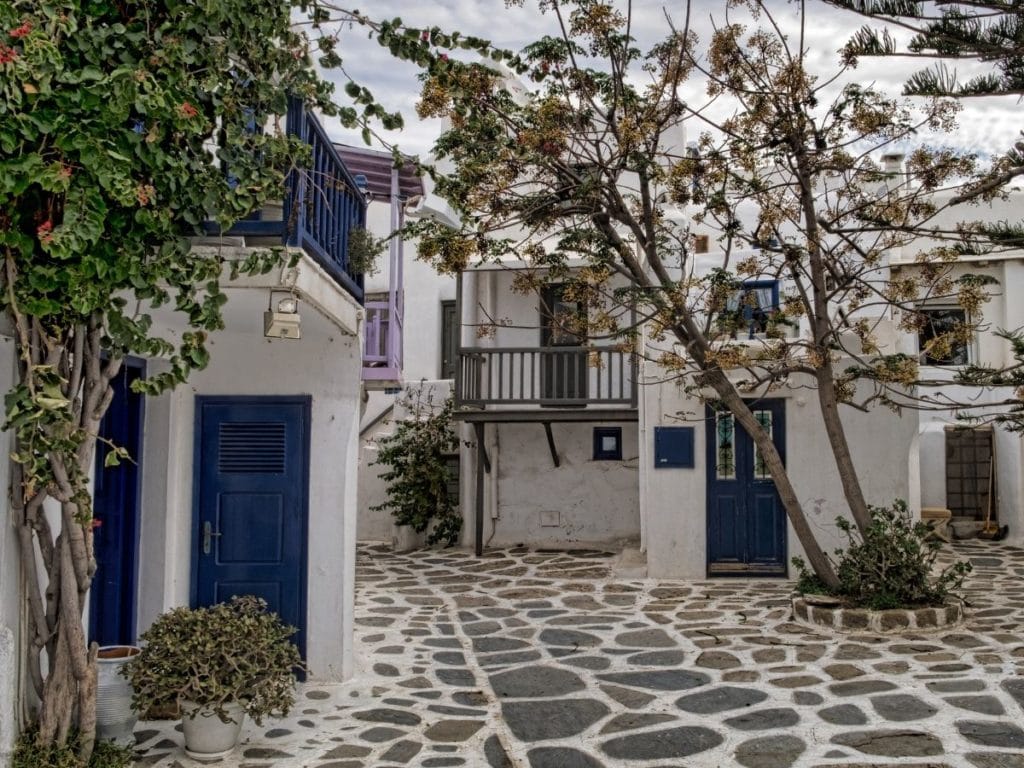 The little island of Kasos of the Dodecanese complex is one of the remotest, wildest, and few islands which remains largely untouched by tourism, tucked in the southernmost corner of the Aegean Sea, near Crete. Kasos, with less than 1000 inhabitants, is an ideal greek island for solo travelers, as all Kasiots are very welcoming and visitors can quickly and easily make new friends and become part of the community.
Kasos is an island where time seems to be stuck in the bygone era, rhythms are slow and the living is easy, which also means that it is a very safe place to be alone. This tiny paradise is dotted with cozy villages, elegant white-washed churches, traditional cafeterias, paradisiac beaches, summer traditional feasts and festivals, and delightful cuisine.
It is very easy to get around the island, it's recommended renting a scooter and you can always also ask someone for a ride, it's safe! Additionally, prices on the island are very reasonable, for accommodation, food, and tours. Expect locals to treat you to a homemade dish or a local raki.
An amazing accommodation option is the Theoxenia Kasos, located in a very convenient part of the island and they also offer fully-equipped apartments with breathtaking sea views, ideal for shorter or longer stays.
Accommodation: Theoxenia Kasos
Ios
It's a Cycladic island that is located between the Naxos and Santorini. If you are into lively nightlife, then it might be the best Greek island for solo travel. Ios has had a reputation of being a party island for young people for some years.
From the island, you will find several party hostels (some quiet too) to connect with fellow travelers and explore sightseeings together. Worth exploring are the sights like Skarkos and Tomb of Homer, a couple of peculiar windmills, Odysseas Elytis Theatre, and turquoise beaches.
As mentioned, the main thing that attracts visitors to Ios is it's famous and never ending nightlife. The most lively place is Chora where solo travelers can find beach bars, clubs, pubs, and bars to have fun till the early morning.
If you have enough for parties, then it's like other Greek paradisiacal islands with picturesque villages and beaches to have a proper vacation. Francesco's is a great place to stay as solo traveler.
Accommodation: Francesco's
Rhodes
Recommended by Monique from Trip Anthropologist
There are many breathtaking Greek islands, but some are tiny, and there's not a lot to keep solo travelers occupied after a few days. Rhodes is among the most famous Greek islands because it offers so much variety. Pristine beaches and rocky coves, exciting nightlife, and weeks worth of medieval and ancient history to explore. Enough is happening on Rhodes to keep a sole traveler happy for months!
In the heart of the island, you can find Rhodes Town with its Old Town. It's listed on the UNESCO site because of the number of medieval fortifications. You can just stroll around full of cobbled streets with interesting shops, bars, and restaurants. Then there are some incredible historical sites, like the place where the Colossus of Rhodes once stood and the spectacular sites of ancient Lindos atop the acropolis, and the charming old town below.
Rhodes is famous not just for its history, but also for its beaches and the sheer number of available watersports. Sailing, diving, kayaking, sea paddling, snorkeling, cruises, and day trips are available from every main town. The beaches of Lindos, Pallas, and St Paul's are a must to discover just how special this island is.
St Paul's Bay View Suites has one of the most incredible views in Rhodes and is a favorite of solo travelers.
Accommodation: St Paul's Bay View Suites
---
More posts about Greece and Solo Travel
---
PIN IT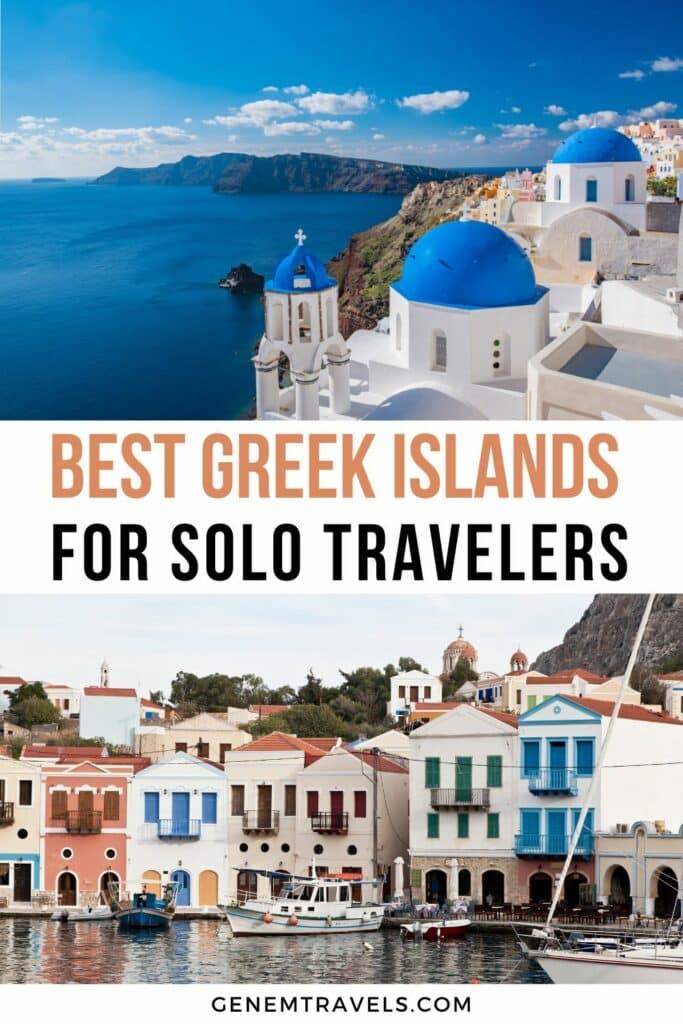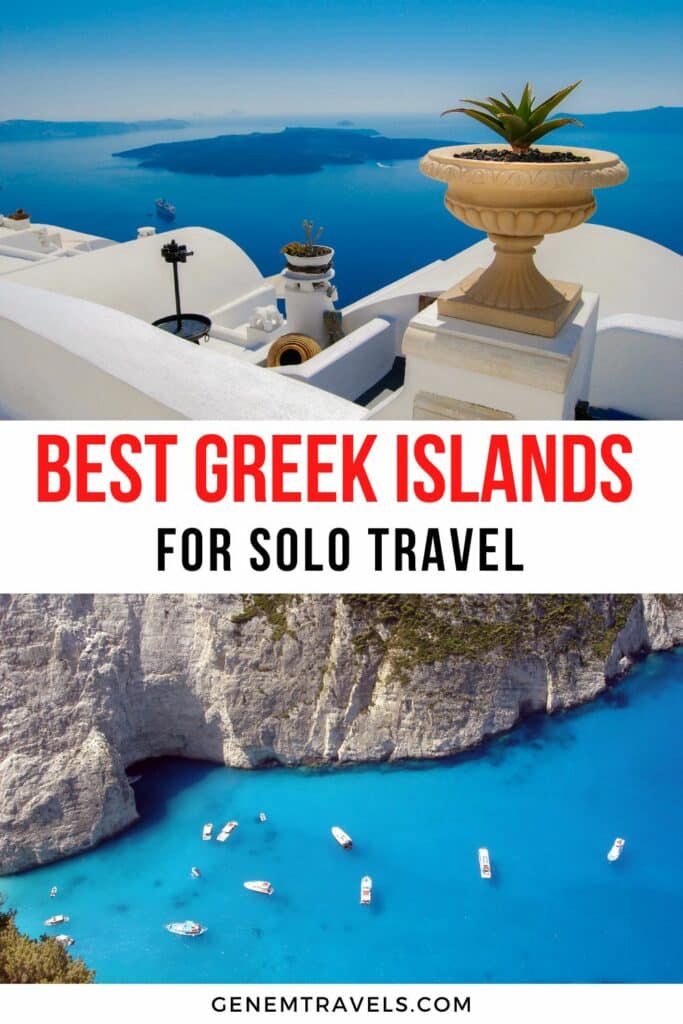 ---
Read more about Greece: