The best Greek islands for partying are like snowflakes — each one is unique, and they all have something special to offer the party-lover looking for an unforgettable experience. Whether you're into EDM festivals or traditional bouzouki nights, a party island in Greece can meet your needs.
Here, we've rounded up 10 of the best Greek islands to party to help you plan your next epic night out.
Read more: Greece travel guide.
1. Mykonos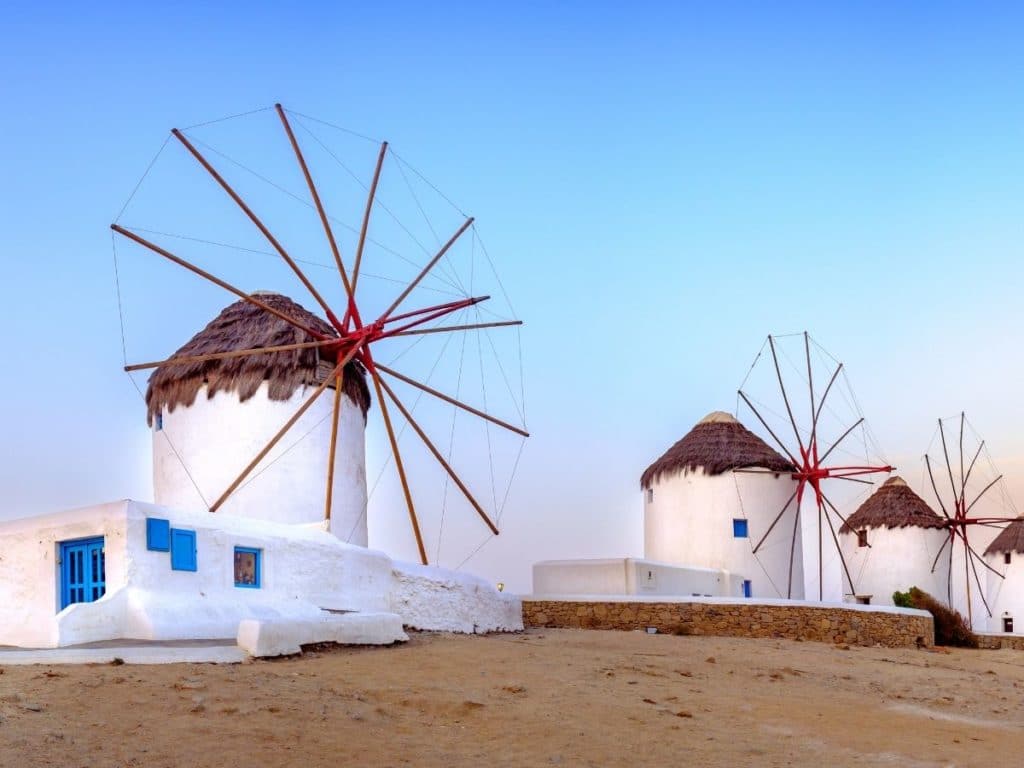 The best place to start is undoubtedly Mykonos — a.k.a, the party capital of the Mediterranean! Sun-drenched beaches, world-class DJs, and all-night dance parties make it an unmissable destination for any severe clubber.
Party in Greece's Mykonos! Having earned the title of "Ibiza of Greece," this lush Greek party island has become widely recognized for its nightlife, where you can enjoy mesmerizing dancing and be surrounded by many celebrity guests.
Disclosure: This article features affiliate links, including Amazon.com. If you decide to buy through one of these links, I'll earn a small commission at no extra expense to you. For more details, please see my disclosure policy.
Mykonos Island is the best place to party in Greece and is home to Paradise Club. This club hosts some of Europe's most epic party nights in the Aegean Sea.
Start your day on the beach if you just arrived by boat from Mykonos cruise port. You can soak in the sunshine on a beach blanket and splash in the waves. When night falls, embark on an endless journey of partying – no matter where you go! The combination of strolling through Mykonos' party scene and recovering under its sunny rays makes it quite unforgettable.
Where to stay in Mykonos
You can't go wrong with MyCocoon Hostel for those traveling on a budget! Just steps away from the old port and Chora, this beautifully decorated hostel offers comfort. Its private dormitories make it an ideal option for groups of friends who want to save money without compromising their travel experience. Another luxurious alternative would be Little Venice Suites.
2. Crete
If you're looking for something more traditional, then head to Crete. Here, you can experience true Greek culture with authentic tavernas, fabulous outdoor music concerts, and barbecues on the beach. No matter your tastes, there's something here for everyone!
Experience the wildest nightlife in Europe by heading to the resort of Malia! Flanked with beautiful beaches, crystal clear waters, and an array of vibrant nightclubs, bars, and pubs – you'll be spoilt for choice. There are booze cruises, paint parties, full moon parties, or boat parties – all guaranteed to give you memories that will last a lifetime. Also, check out Agios Nikolaos as an alternative partying spot!
Fortunately, Crete is a sizable island that offers more than just partying. It's also famous for its leisure activities and attractions – making it an ideal destination for those seeking relaxation or adventure! You'll never be bored with so many things to do on the island. Explore ancient ruins and find some trails on one of the best Greek islands for hiking.
There are countless ways to explore this beautiful place without breaking the bank or disrupting sleep from all-night parties.
Where to stay in Crete
Aegean Sky Hotel-Suites is a top pick for an unforgettable experience in Malia! Featuring promotional and superior studios, you can stay there for all the clubbing, beverages, delicious food, shops, and more. Located right off of Beach Road (Strip), it's a great spot near this city's heart.
3. Ios
Next up is Ios party island in Greece — the perfect destination for young adults! Stories of indulgent and carefree revelry from this paradise have circulated the world, making it one of Greece's most beloved party islands during the summertime. Chora and Mylopotas are one of the best party cities in Greece.
Between Naxos and Santorini, the island of Ios will fulfill your wildest partying dreams. With 24/7 music roaring on this lively island, you'll never run out of nightlife options. All kinds of electrifying bars and clubs await around each corner for a night that no one will forget any time soon – it truly is one of the best party islands in Greece for a good old-fashioned dance celebration.
Ios is a young person's paradise, focusing more on fun than luxury. For wild and carefree nights when the sun goes down – you can hear the beats of music from every hole in Ios! It's been renowned as an ultimate party destination since the 70s, so experience it yourself!
By day, expect a relaxed atmosphere where life moves at its own pace. Yet by night, be prepared to get your groove on with no restrictions.
Although it lacks some of the bling found in Mykonos, Ios is an idyllic island with genuinely stunning beaches and picturesque villages. So if you don't mind foregoing some of the glitz and glamour that comes along with its more renowned counterpart, then there's no doubt that you'll love what Ios has to offer.
Where to stay in Ios
Armadoros Hotel is a top choice for the younger crowd. This should be ideal if you visit Ios to partake in partying and fun with friends. Quad rooms plus accommodations that hold up to 7 beds make Armadoros perfect for backpackers or large groups of friends looking for a place to stay together!
4. Rhodes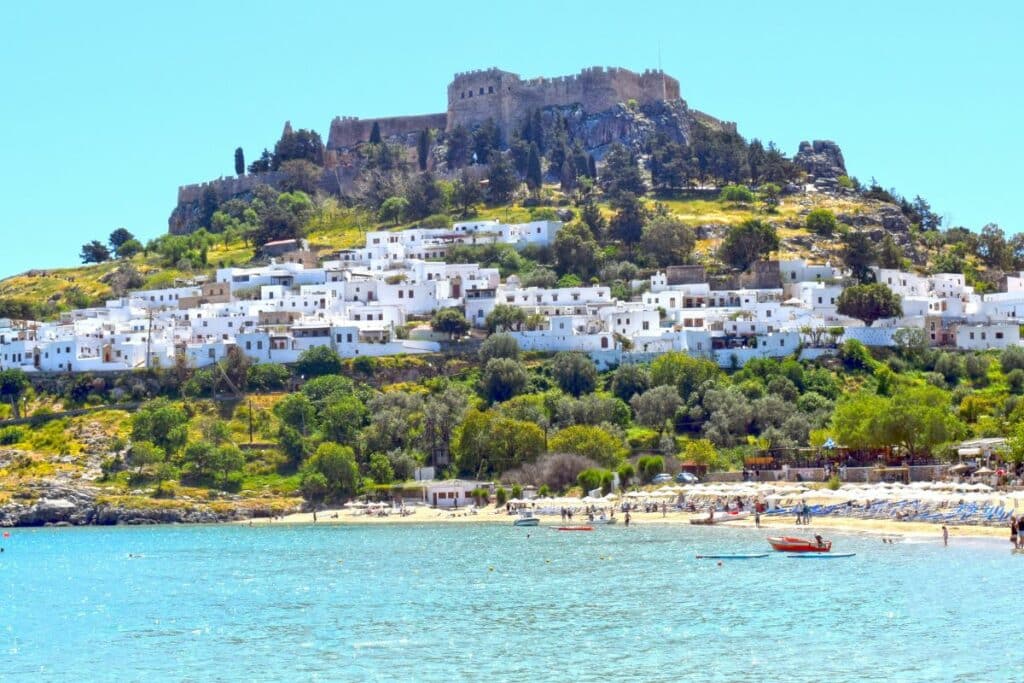 No Greek party island list would be complete without mentioning Rhodes! This stunningly beautiful island is home to some of the best beaches in the Mediterranean, and additionally, its bustling nightlife makes it a popular destination for party lovers.
Experience the ultimate relaxation and sophistication with Rhodes Town's exclusive beach clubs. Imagine sipping your favorite beverage as you take in the beautiful scenery, the sea breeze gently touching your hair while dancing to lively music. Don't forget to check out the Paradiso Beach Club – one of the most popular spots for partying!
Faliraki is ideal if you're eager to make the most of your nights out with serious partying. As soon as night falls in this vibrant destination, an array of bars and clubs come alive, spinning pumping tracks from renowned EDM artists – making it a dream haven for party people!
Featuring a UNESCO World Heritage Site, the charming island boasts over 40 breathtaking beaches. Also, gorgeous vistas and landscapes surround picturesque Greek towns and villages. Explore beautiful castles, stunning beaches, and the awe-inspiring Valley of the Butterflies. A lot to see after a night out!
Where to stay in Rhodes:
If you want the ultimate experience in luxurious treatment and comfort, look no further than Esperos Village Blue & Spa (Adults only). This 5-star gem sits on a grand 78,000 square meter area of lush greenery atop a hill with panoramic views of the Mediterranean Sea. But you can always budget in one of the hostels like Rhodes Backpackers.
5. Paros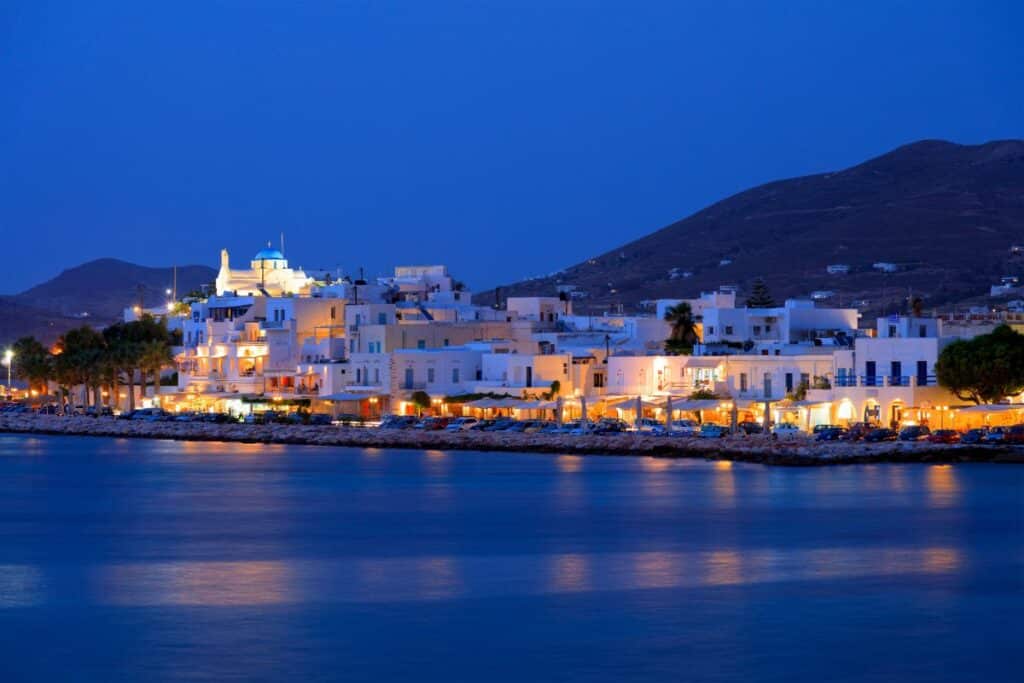 This one of the best Greek Islands for partying has something to offer after the sun drops. At its heart lies Naoussa, offering a fantastic selection of clubs and bars alongside delicious traditional tavernas.
In towns like Naousa and Parikia, the sky is your limit regarding nightlife in Paros. From its numerous bars and clubs ranging from Galea and Saloon D'or, there's something for everyone – no matter what genre of music you prefer!
Easily accessible by ferry from Athens in only three hours, take advantage of all this picturesque Greek party island has during the warmer months – especially if it's party time you seek!
Also, don't miss the best spots to sip on a cocktail – best enjoyed while watching the spectacular sunset over Paros right before the action starts. In the peak season, this magical island is packed with locals and tourists celebrating the night away!
Where to stay in Paros:
Located only one hundred meters from Naousa Old Port, Irini Rooms is the perfect place to spend a night. As night falls, you can quickly freshen up before heading out to enjoy the vibrant bars and nightlife — all within five minutes of walking distance! Paros electrifying energy is at your doorstep when you stay at this accommodation.
6. Corfu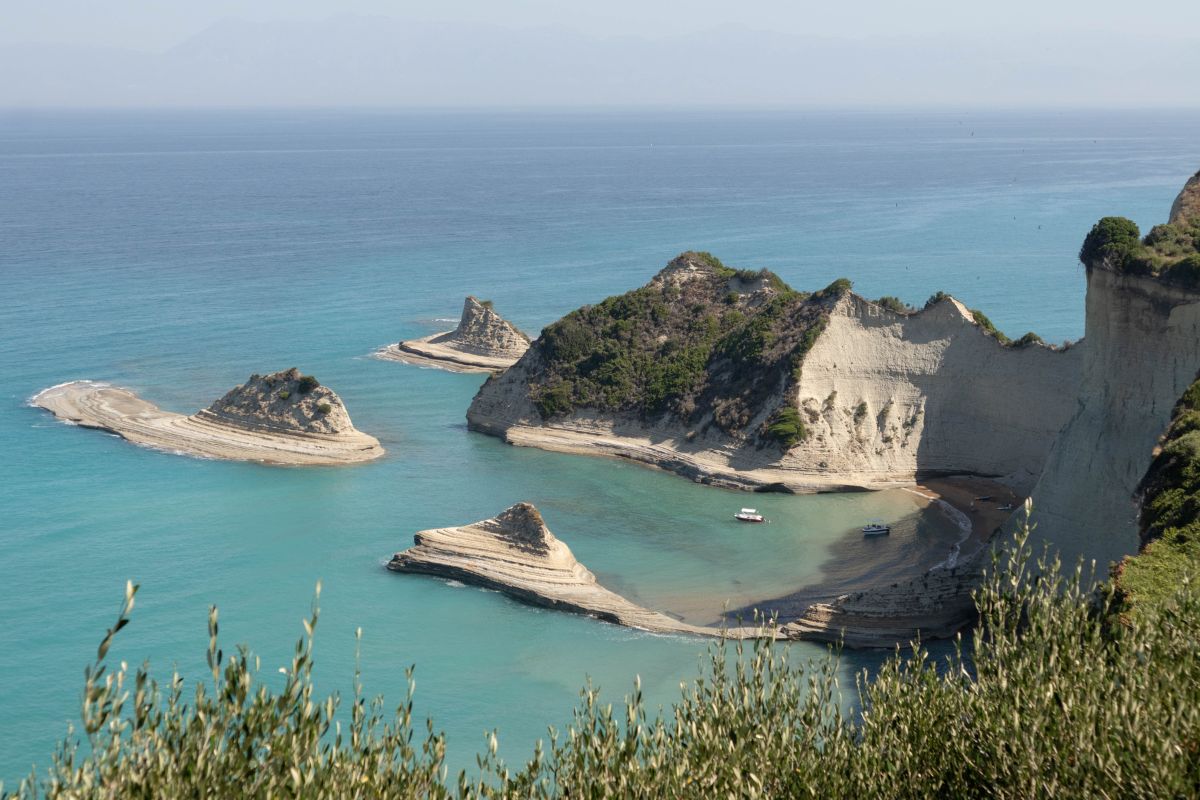 For a truly unique experience, head to Corfu. It's the perfect Greek party island for an unforgettable night out. With its stunningly picturesque coastline and vibrant café culture, this Greece party island has something for everyone. Explore its many bars and clubs, outdoor music festivals, and beach parties throughout the summer.
Begin your evening in the ancient Old Town with a refreshing cocktail and elegant ambiance. Then, go to Pazuzu Beach Club, where you can revel alongside renowned DJs while taking in breathtaking views of the Ionian Sea.
If you're looking for a perfect destination to bask in the sunshine, Corfu is your place, and hit up an exhilarating Greek party scene! Here, you can experience both sides of paradise – beach partying or lounging on stunning beaches. Enjoy all that this beautiful island has to offer with its sun-soaked shorelines, lively clubs and bars, delicious local food, and laid-back atmosphere.
Where to stay in Corfu
If you want to reside in the Old Town but have limited funds, check out Loc Hospitality. Corfu isn't well known for its abundance of hostels. However, this unique option fills that gap without compromising on any comfort. A mere one minute away from the famous Cafe Bristol, you'll find this place right within the heart of the town!
7. Kos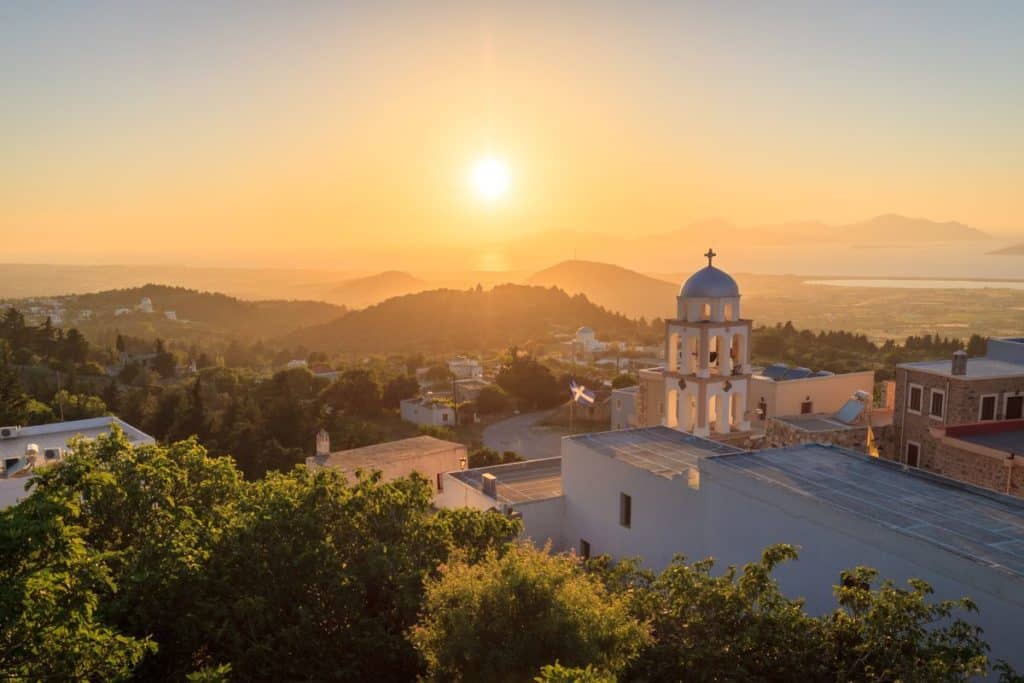 Kos is another grand Greece party island, best known for its beautiful beaches and never-ending nightlife. This buzzy island offers plenty of opportunities to grab a drink and dance the night away on one of its many outdoor terraces.
If you're looking for a lively night out, the narrow streets of Kardamena city host an array of bars and clubs. But if that isn't enough, take a short trip outside and discover even more fun in Tigahi or Agios Stefanos! This sizzling island will provide exciting entertainment throughout your holiday — make sure there's something left when it comes time to go!
Kos is renowned for its abundant, versatile venues, accommodating all styles and budgets – from hardcore EDM to chill-out jazz and Latin, even the most contemporary pop.
This picturesque Kos, also considered one of the cheapest Greek islands to visit, offers something for everyone, whether you seek to dip in the crystal-clear waters or discover ancient sites. During daylight hours and well into the night, visitors can enjoy activities such as beach volleyball while savoring local fare and drinks offered by street vendors.
Where to stay in Kos:
Leonidas Hotel & Studios is a 3-star hotel in Kos Island and is an ideal choice if you're looking for quality accommodation on a budget. Located 800 meters from the nearest sandy beach and 900 meters away from the bustling Kos city center. This popular spot offers peaceful respite with easy access to all your desired destinations!
8. Zakynthos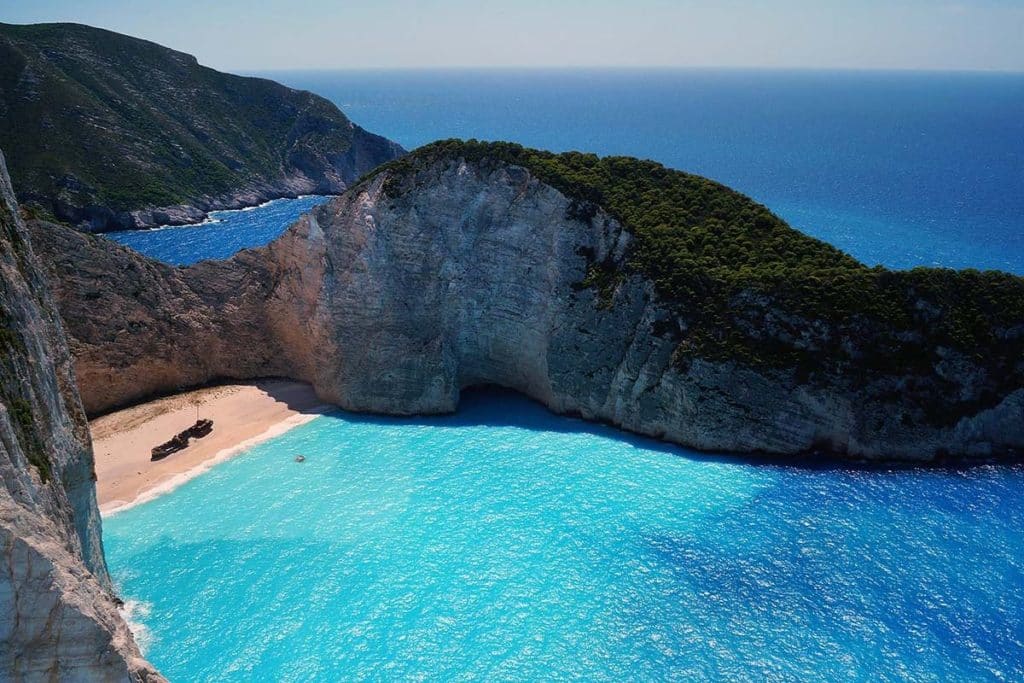 This Greek party island is best known for its incredible scenery, stunning beaches, and lively nightlife. As well as plenty of bars, clubs, and outdoor parties, this island also offers a range of cultural experiences, such as traditional Greek cuisine and music festivals.
From its stunning beaches to many bars and clubs, Zakynthos is the perfect destination for students looking to enjoy an unforgettable evening. History buffs can head to one of Zante's cocktail bars and savor the night-time heat in elegant surroundings.
For those looking for something more lively, Tsilivi, Argassi, and Laganas offer numerous spots with thumping music to keep your hips moving until sunrise. With its magnetic charm, it is no surprise why this Ionian island has become such an essential hub in the Mediterranean summer circuit!
Exploring the Blue and Keri Caves should be at the forefront of your itinerary when visiting these famous tourist destinations! If you're seeking an unforgettable experience, a must-see is indeed Navagio Beach with its renowned shipwreck. The turquoise waters will captivate all who behold them – there are countless water activities to participate in!
Where to stay in Zakynthos
Sunny Garden Hotel is a top choice in Tsilivi, where guests can enjoy pool and garden views or explore nearby Tsilivi Beach. Visitors can indulge in Happy Hour cocktails and evening entertainment at the hotel for added amusement.
9. Milos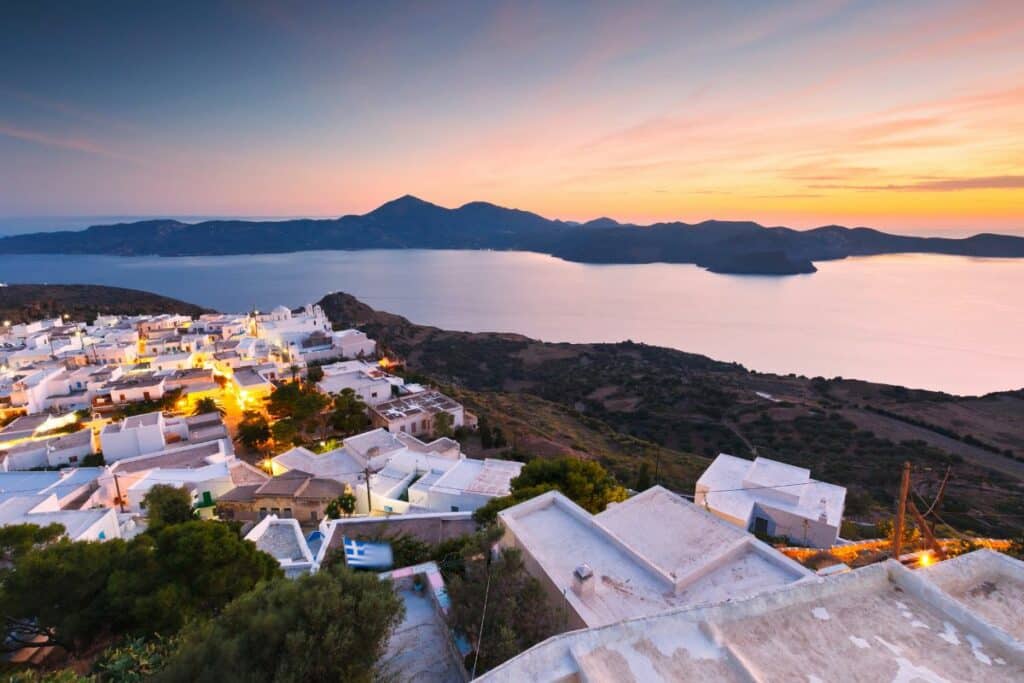 Don't forget about Milos! This party island has everything — from crystal clear blue waters and white sand beaches to lively bars and clubs. With its stunning landscapes and busy nightlife, this is the perfect place to let loose and have fun in the sun.
Milos, a small paradise in the Aegean Sea, has recently become quite the destination for tourists looking to explore and party. With its vibrant jazz bars, nightclubs, relaxing resorts, and stunning beaches of crystal clear waters – it's no wonder it is so popular! Just rent a car in Milos and explore the magical island.
And suppose that wasn't enough reason to visit this dreamy island. In that case, Milos's location near other tourist hot spots such as Mykonos or Santorini makes it easy to pop over by plane or ferry for some extra sightseeing.
Milos is also considered one of the best Greek islands for solo travel. So, if you travel alone, you can still find companionship.
Let the night out unfold on Milos! Get in the groove at Plōrē or Akri. Or, if you're looking for something a bit more mellow, take your pick from the beach bars and tavernas – where refreshing drinks await alongside breathtaking views of this beautiful Greek party island.
Where to stay in Milos
The Giannis Hotel Apartments, with its signature Cycladic style, is located in a tranquil section of Adamas. Just 3 minutes to reach the port and city center or 10 minutes to arrive at the sea's edge!
10. Skiathos
Last is Skiathos — one of the best Greek party islands! This beautiful island boasts some of the best beaches in Greece and a vibrant nightlife scene.
The most bustling of the Sporades islands is laden with captivating scenery, but when night falls, it's all about what goes on after sunset. With two major areas – Bar Street and Papadiamantis Street in Old Town's Trion Square – you can soak up the relaxed atmosphere that embodies local Greeks. The party usually starts at midnight.
Skiathos has been a favorite destination of knowledgeable travelers for quite some time. However, it recently experienced an enormous boost in popularity due to the movie Mamma Mia! People from all over have journeyed to visit the breathtaking filming locations on this island, making it one of Greece's most sought-after vacation spots.
Skiathos offers many activities, from wandering its charming villages and shops to basking on the sandy shores. Lalaria, Banana, and Koukounaries beaches are a few of its beautiful seashores — perfect for unwinding during the day and dancing your night away! This paradise is home to several clubs, which will make you feel as a dancing queen… or king.
Where to stay in Skiathos
Maria Studios offers an unbeatable location in the heart of Skiathos town, just a stone's throw away from the vibrant Papadiamantis street and bustling harbor. The hotel is ideal for budget travelers with its fully equipped rooms and balconies.
Round-up
So, there you have it – 10 of the best Greek islands to party! Now, all that's left to do is pick which suits you best and start planning! Whether you're looking for vibrant nightlife, cozy bars, or relaxing beach vibes – one of these islands will satisfy your needs. So throw on your best dancing shoes and prepare to let loose in paradise!
If you're feeling overwhelmed and searching for a peaceful getaway, check out the post about the best quiet Greek islands to visit.
---
PIN IT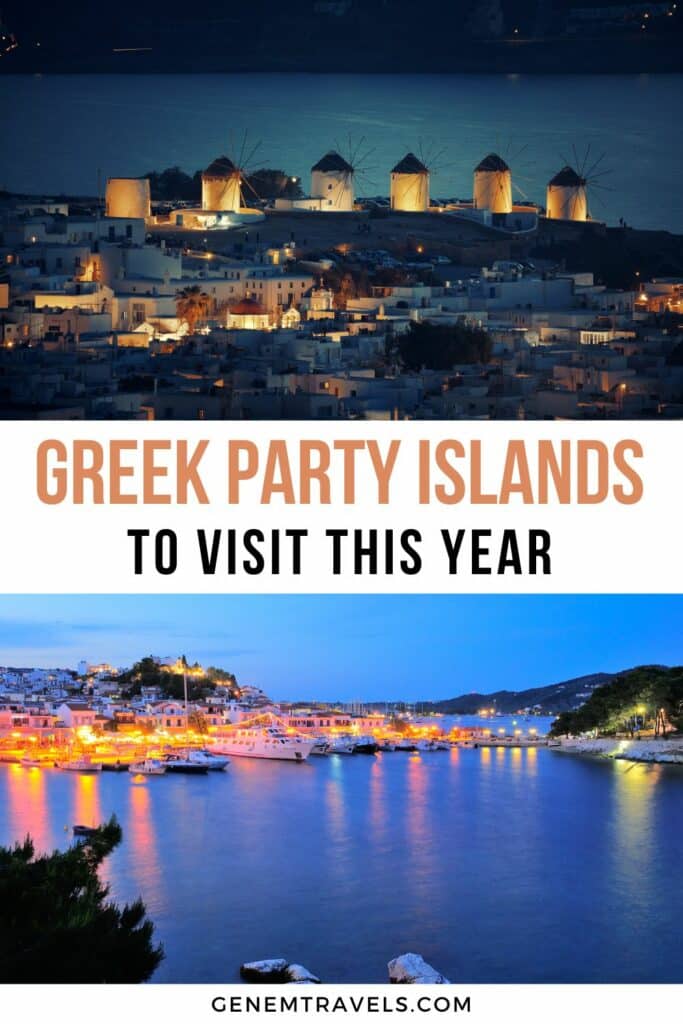 ---
Recent posts about Greece: