Greek islands are mostly known for turquoise waters, sunny beaches, yacht cruises, and other things that are connected to a beach vacation. However, you will find more things to do than just laying on the sand. Best hikes in Greece aren't just on the mainland, there are plenty of options also on famous Greek islands.
Here you will find a list of the best Greek islands for hiking! Check out below where to book your next hiking experience.
Ferry tickets to Greek islands:
Paros
Recommended by Paulina from Paulina on the Road
Paros is one of the best places for hiking as it offers a hiking trail network of nearly 35km. It is pleasant to hike on the trails of Paros because there is everything from beautiful small white houses, farmhouses, seaweed, clay, reeds, and more.
There's nature everywhere you look which is purely serene. Hiking in the Paros opens you to windmills, cisterns, wheel wells, threshing floors, and watermills even more than you expect.
Travelers can try various trail routes. There are a couple of routes to choose from for beginners and experts as well. Park Paros is the easiest and most considerable trail. You will find three well-mapped footpaths that pass through the most stunning views of the peninsula.
Another popular trail route that people choose is Lefkes-Prodromos, which lasts around one hour. It is also called the Byzantine path. The route is downhill and suitable for you if you travel with family or children. 
Choose the route from Aliki – Agairia – Monastery of Agion Theodoron – Aspro Chorio for medium-difficulty and beautiful routes. You'll see landscape views including lakes and narrow streets.
If you are wondering where to stay in Paros, consider Parikia or Naoussa for the best nightlife experience.
Zakynthos
Recommended by Paulina from the UK Every Day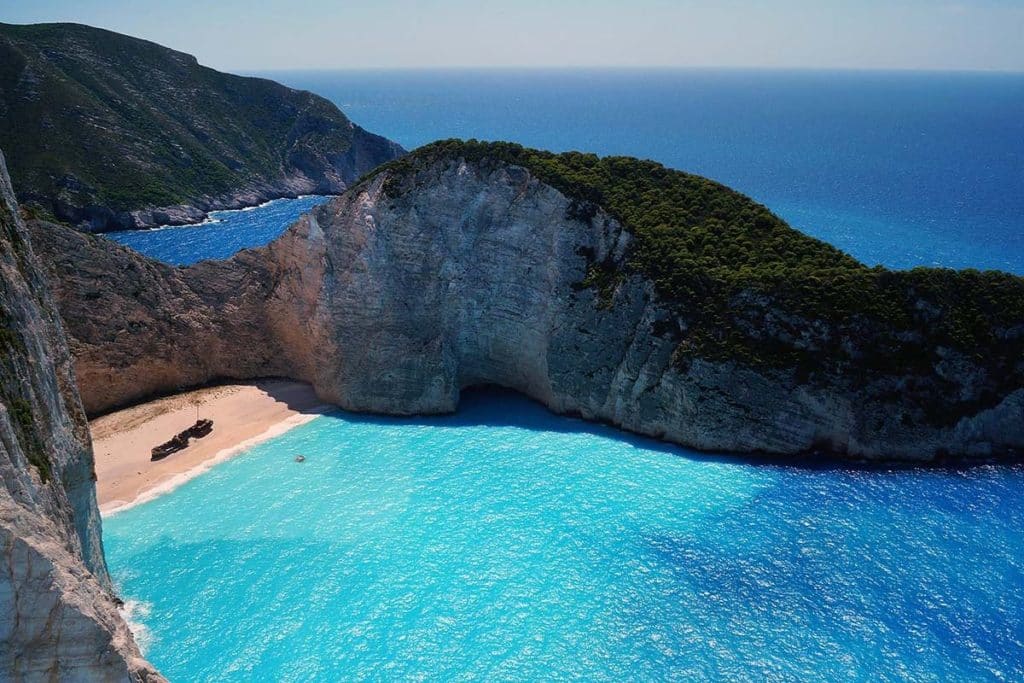 Zakynthos is one of the largest Ionian Islands which makes it abundant in many amazing hikes. It is also one of the greenest Greek islands with incredibly blue waters and stunning views that you can admire during one of the walks.
The top hikes include the Keri loop where you can see beautiful rock formations or trek to Cameo Island. On this small private island, you will enjoy panoramic views of Laganas bay and also get a chance to see Loggerhead sea turtles.
Laganas is one of the best places to stay in Zakynthos, just a 10-minute drive from the airport. Whether you want to do a hike in the southern part of the island or explore the north, this location is the perfect base to see the best of Zakynthos. It takes only a 1-hour drive from Laganas to the farthest point on the island.
The variety of landscapes on this beautiful Greek island including blue caves, sandy beaches, tall cliffs, and dense forests will make you fall in love with this place. With so many hikes for every fitness level, you will never run out of ideas on what to do in Zakynthos. Finding unique routes won't be difficult as there are still so many places unexplored by tourists.
Lefkada
Lefkada is one of the Ionian islands that is known for its green scenes, sandy beaches, and as one of the best Greek islands for hiking. It's also a pretty big island and from there you will find plenty of trails to wander around beautiful nature.
The most famous route is probably at the very top of the island. A 4.7 km long Mount Elati 5 Peak Loop is a relatively easy hike that concludes with the five highest peaks on Lefkada island. The ascent is just about 160 meters and from there you will have views of all parts of the green island.
Eglouvi to Profitis Ilias is another popular and scenic hike to try out. It starts in authentic Eglouvi village and a 2.2 km hike ends in an iconic church at the top of the hill. Even though it's a short hike, the ascent is still 300 meters, so be prepared for a steep hike. You will be pleased with stunning and photogenic views in the end.
For sure there are many other great hiking options! Go there with a company or even alone as it's one of the best Greek islands for solo travel.
Thassos
Recommended by Alina from the World of Lina
Another one of the best Greek islands for hiking is the northernmost island of Thassos. It's among the rather unknown and less touristy islands and thus perfect to admire the serene nature while hiking some of its great trails.
Probably the most famous and best hiking route is the one up to the island's highest mountain, Ipsarion. The trail starts from the small village of Potamia and is approximately 10 km long. Depending on your pace, it will take you around 4-5 hours to reach the peak at more than 1,200 meters. Although the way is marked clearly, most of the path is narrow and steep so make sure to wear proper hiking shoes!
Alternatively, you can start the hike from the village of Theologos or Marie's lake. The best time to hike mount Ipsarion is in the morning, especially if you go there in summer.
If you prefer an easier and shorter hiking route, you can walk from the old port in Limenas to the Acropolis of Thassos. On this hike, you'll have the opportunity to visit the ancient theater of Limenas, ancient temples, and other historically important sights. Plus, the view from the top is incredible!
Corfu
Recommended by Daria from the Discovery Nut
Located in the Ionian Sea, Corfu is one of the best islands in Greece for hiking thanks to its big size and many wonderful landscapes with green hills, mountain peaks, valleys, and quiet bays with turquoise water.
There are several popular hikes in Corfu like Mount Pandokratoras and Porto Timoni beach, but one of the best beach trails on the island is the Corfu trail.
The Corfu Trail is a 93-mile track that begins at the southern end near Kavos and brings you to Agios Spyridonas on the northern side.
This is a multi-day adventure that allows you to explore quiet villages, and stunning stretches of the Corfu coast including Lake Korission, Halikounas Beach, Paramonas, and Old Perithia, as well as many other gorgeous vistas.
The best time for hiking this trail is between June and late September when the weather is ideal for spending time outside. Since this trail essentially takes you around the island, you can find many accommodations along the way, or bring your camping tent with you.
And don't forget to bring plenty of water, sunscreen, and good hiking shoes to enjoy the trail. Plan your hiking for early morning and late afternoon and hunker down during midday when the sun can be intense before continuing your adventures in late afternoon and evening.
Naxos
Recommended by Elena from the Travel Greece, Travel Europe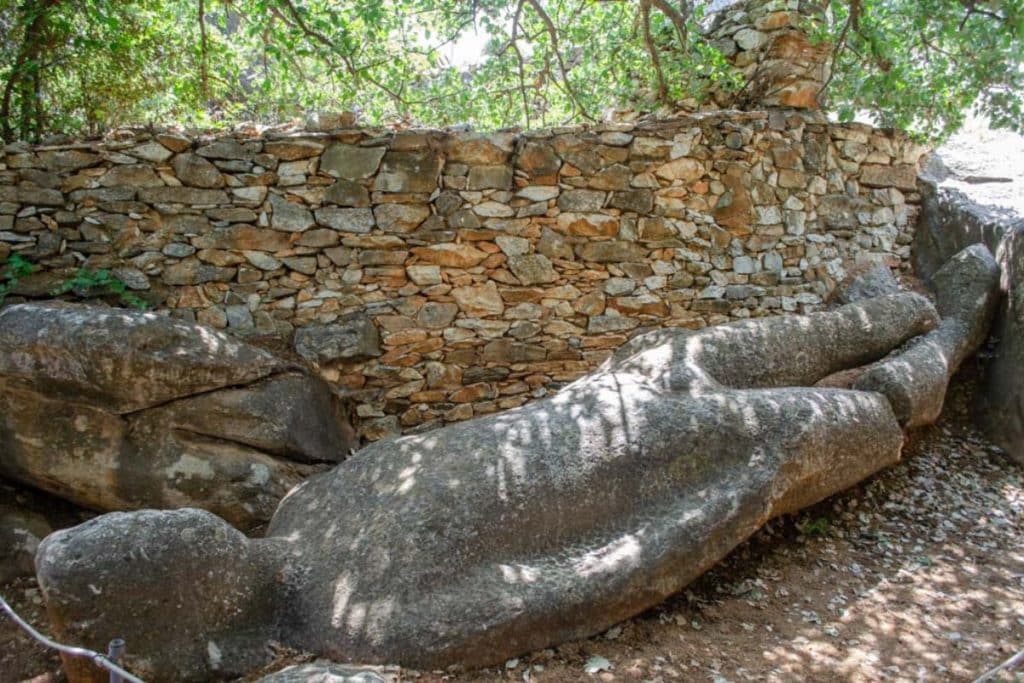 While Naxos is well known for its charming villages, beautiful beaches, and mouth-watering cuisine, those who enjoy spending time in nature – will want to hike on Naxos.
Naxos is blessed with a diverse terrain that passes along ancient marble paths, through fragrant olive groves and offers visitors a glimpse of ancient monuments which are found tucked between the picturesque villages.
Hiking trails vary in size and level of difficulty, the most famous ones lie in the heart of the island and the longest ones take about 5 hours to complete. History buffs will enjoy the combination of admiring nature and monuments – as one of the hiking trails leads to the white marble Temple of Demeter, while another takes you to the two famous marble statues of Kouros (Kouros of Apollonas and Kouros of Flerio).
The best time to embark on your hike is early in the morning, to avoid the midday heat, bringing plenty of water is highly recommended – and wearing sturdy shoes.
Getting to the starting point of the hiking trails will require transportation, thus renting a car is recommended, especially for those who wish to make the most of their time and explore the island, its many beaches, and villages.
Kefalonia
Recommended by Ella from Ella McKendrick Travel
Kefalonia is the largest island in the Ionian sea, home to gorgeous white pebbled beaches nestled between majestic cliffs and charming fishing villages. The island is bursting with natural beauty and as result hiking trails are abundant.
Hikers who can't get enough of fabulous views summit Mount Ainos, the tallest mountain in the Ionian islands with an elevation of 1,628 meters. There are numerous trails you can take through Mount Ainos National Park ranging from an hour to over four hours in length. The National Park is home to numerous endemic species of flora and you can even spot semi-wild horses in the dense forests.
But there's more to Kefalonia than just nature. One of the main draws to Kefalonia is the gorgeous villages perched upon the island's rugged coastline. One of the most scenic villages on the island is called Assos. From this village, you can take a 2-hour hike to a stunning Venetian castle on a peninsula adjacent to the village. The walk is peaceful, taking you through swathes of forest, and the views of Assos from the peninsular are simply spectacular.
Santorini
Recommended by Kerry Hanson from VeggTravel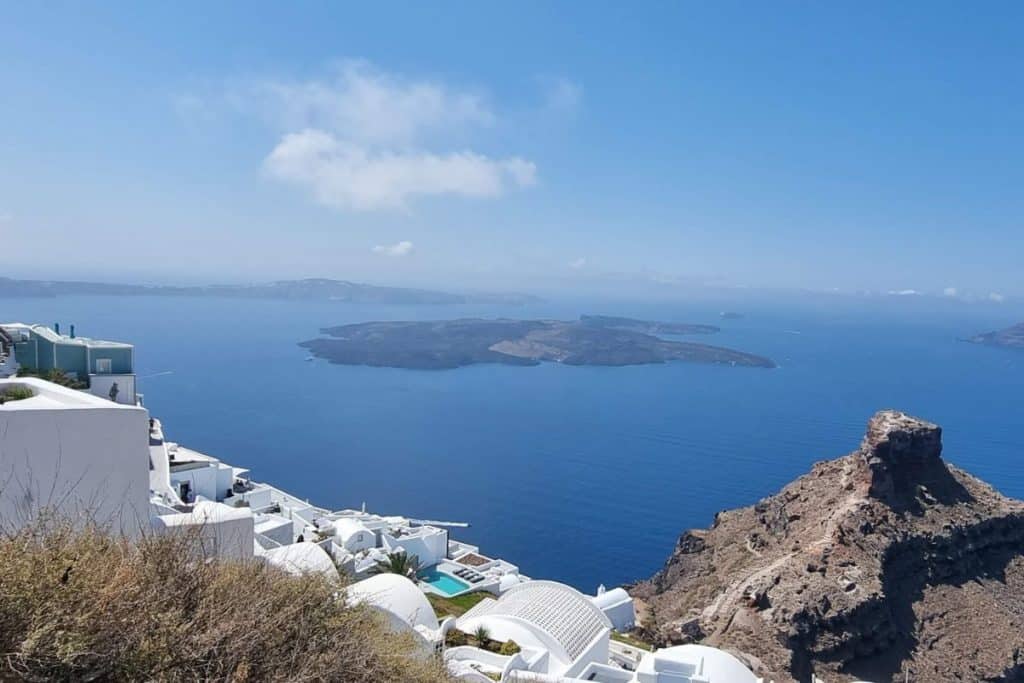 One of the best Greek islands for hiking is Santorini. Why? The whole island is made from the remnants of a volcano, or caldera as it is known locally. There are several different areas you can hike. The stunning upmarket area of Imerovigli is the highest peak on the island so if you're walking there from nearby Fira then this in itself provides a scenic uphill walk.
However, the main trail in this area is Skaros Rock created through historical volcanic activity. Its interesting shape looks similar to an old Mayan structure. A light hike to the top of the rock will provide some of the most breathtaking views of the island.
The main hiking attraction though is the two volcanic islands at the center of the famous caldera. You can take different types of boat trips to the crater, most of which also include snorkeling and a trip to the hot springs.
Entrance to the hiking trail on the crater costs 2.50 euros and it will take approximately 2 hours to hike to the top and explore. Watch as the gasses leak out of the crater center or take a moment to build a stone pyramid.
If you're visiting the island, make sure to add a hike to your Santorini itinerary.
Rhodes
Recommended by Jade from The Migrant Yogi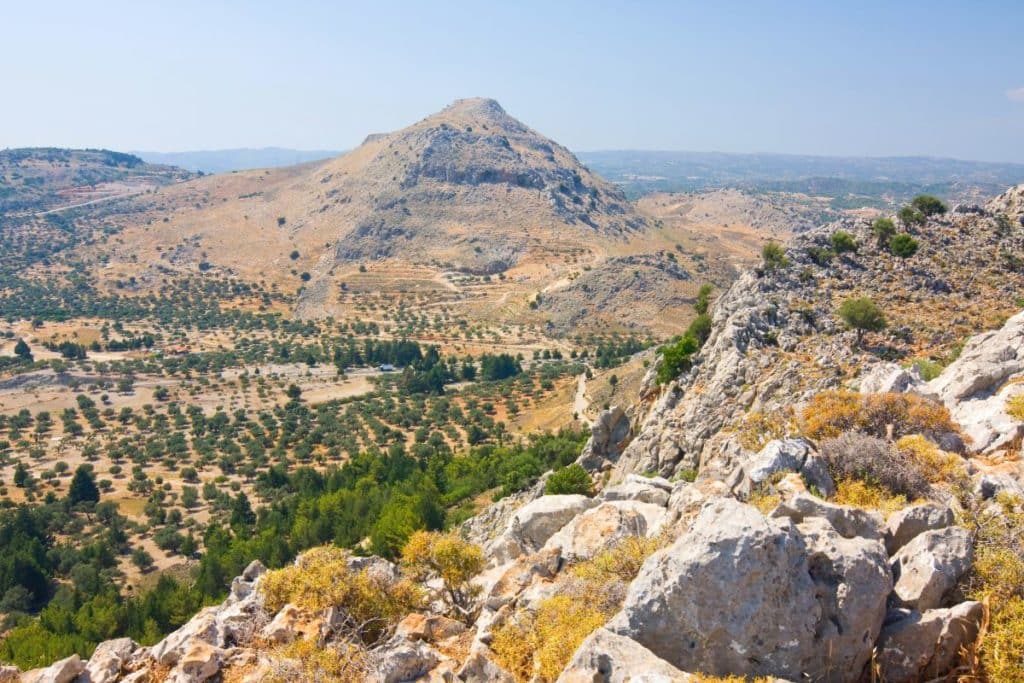 Rhodes is a great island for hiking, with plenty of trails to explore. The combination of the rugged pines, sea views, olive groves, and variety of trails make it one of the best Greek islands to go hiking.
The best place to start your hiking in Rhodes is at Tsambika Beach. This beach has a long hiking trail that takes you up to the top of a mountain. The hike is well-marked and not too difficult, but it can be challenging in parts. There are amazing views of the sea from the top of the mountain. Head down to Tsambika after your hike to enjoy one of the best beaches in Rhodes!
Prasonisi is a somewhat challenging hike, but the views of the Aegean Sea are worth it! It is still doable for most people and is just slightly more challenging than the hike at Tsambika Beach.
If you are looking for an easy hike, then you should check out the Butterfly Valley. This valley is full of beautiful flowers and butterflies. The hike is short and relatively flat, so it is perfect for those who are not looking for a challenge.
Hiking in Rhodes is a great way to see some of the most amazing views in all of Greece. These three hikes are just a few of the many great hiking trails that Rhodes has to offer. So get out there and explore! Who knows, you might just find your new favorite place.
Kos
Recommended by Alice from Adventures of Alice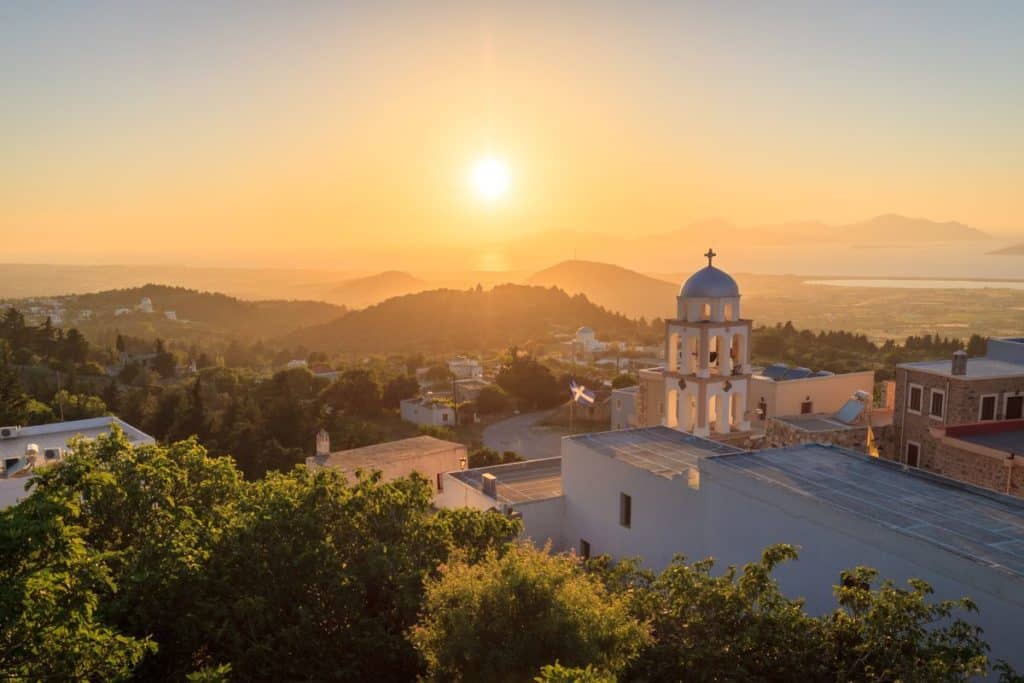 Kos is an amazing place to visit and is full of fantastic views. It has beaches, all-year sunshine, ancient ruins, and endless blue waters so it's no surprise that it's one of the best places to go for a great hike.
There are many areas that you can hike, including Mount Dikeos, which is the highest mountain in Kos (6.9km/2hr 53mins – 474m elevation gain). Also, another option is the fortress of Antimachia lookout which is a much shorter hike (3.1km/57 minutes – 118m elevation gain).
For a more relaxing hike or if you want to visit some historical sites at the same time you could try the castle of the Knights of Saint John. The castle took over 100 years to build and it is now in ruins. It is located on top of a hill (like most castles), so you have to hike to the top to reach it and have a look around. But from the castle, you'll be treated to some breathtaking views of Kos, the harbor, and of course the surrounding mountains.
You could also visit the Ancient Agora of Kos, which used to be an ancient market but is now a mass excavation site. They've revealed temples, baths, and houses full of mosaics plus other historical finds so it's well worth a visit.
Conclusion
There was a list of the best Greek islands for hiking. If you have more questions about where to stay, what to do, and how to move around the country, then you can find answers from the Greece travel guide!
---
PIN IT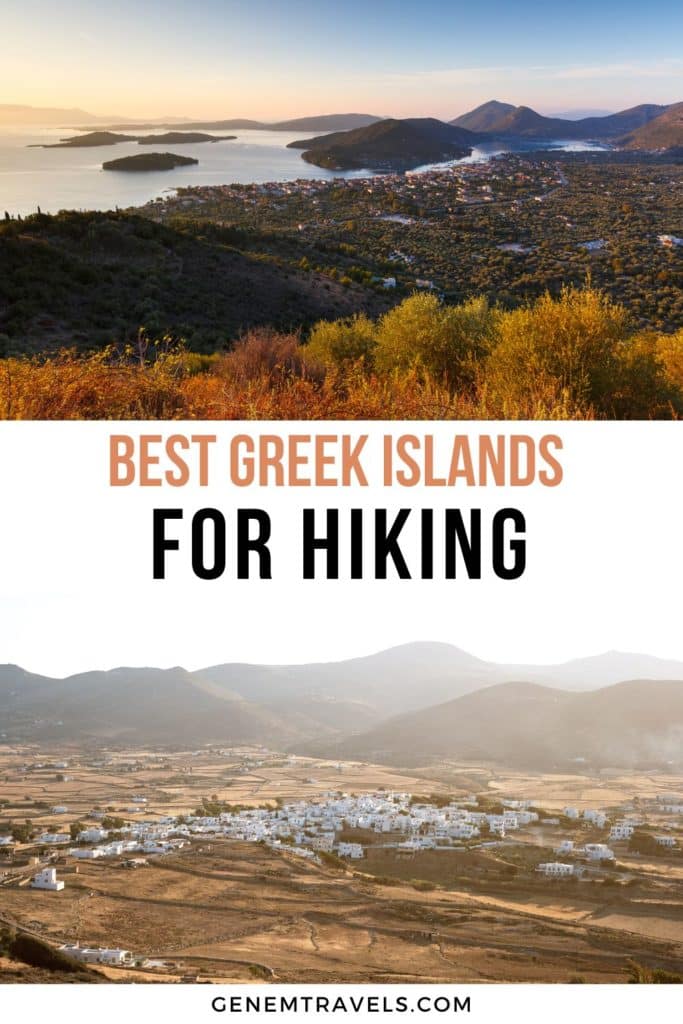 ---
Read more about Greek islands: