Have you seen the gorgeous, white-washed images of Santorini or Mykonos? They usually come with a luxurious vibe…and an expensive price tag. However, did you know that Greece has around 6,000 islands? Each boasts its unique cuisine and breathtaking sights. So, some of them have to be more affordable.
Yes, there are and here we have listed some of the best cheap Greek islands to visit. With the help of travelers who have visited these Greek islands before, we've created this list with incredible tips for budget travel. As it seems, there are many ways to stick to your budget!
Discover a plethora of breathtaking beaches, party hotspots, and delectable cuisine in the mesmerizing Greek Isles. Enjoy your vacation on these cheap Greek islands that won't break the bank!
1. Kos
Recommended by Lowri from Many Other Roads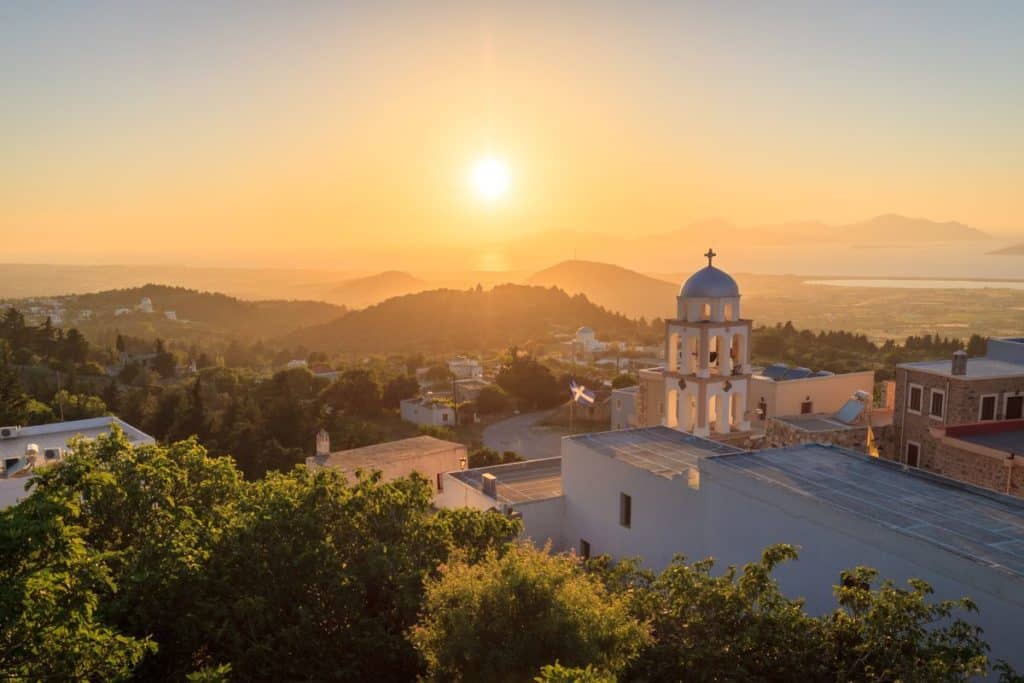 Kos is an affordable and beautiful island located in the Greek Dodecanese. It has white-sand beaches, stunning landscapes, crystal-clear waters, and a laid-back atmosphere that make it one of the best cheap islands to visit in Greece.
First of all, Kos boasts a variety of budget-friendly accommodation options. From cozy hostels to mid-range hotels, there's something for every traveler here. However, if you fancy treating yourself to a luxury stay, there are so many reasonable options too. Good option is Olympia Hotel.
When it comes to eating out, you can find plenty of delicious and affordable meals on the island. From simple tavernas serving traditional Greek dishes to beachside restaurants with stunning views, you can find plenty of delicious and inexpensive options for a memorable meal.
If you're looking for things to do on Kos, there's no shortage of activities here too. You can go exploring the ancient ruins or wander around the local village markets – all without breaking the bank. And of course, there's plenty of time to relax on one of Kos' many stunning beaches.
If you want to save as much money as you can during your trip, it's highly recommended you rent a car. It will allow you to explore the Island's many sites without paying for public transport which can add up.
Kos is a beautiful and affordable destination for any traveler looking for a budget-friendly getaway in Greece. With its white-sand beaches, delicious food, and laid-back atmosphere, you're sure to have an unforgettable time here.
2. Lefkada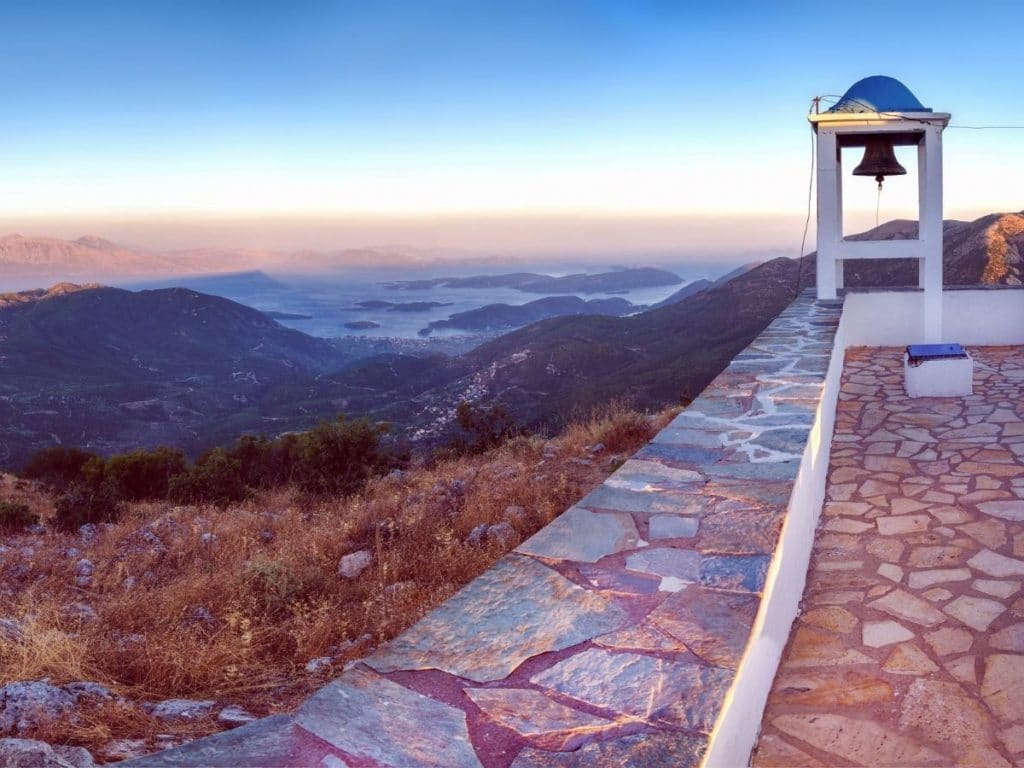 Lefkada is a much-beloved vacation spot for both Greek travelers and international sightseers. Even it's one of the best Greek islands for solo travel. With the island conveniently connected to mainland Greece by a bridge, you can save even more money without needing to pay additional ferry fares. Lefkada ought to be one of the cheapest islands in Greece to visit.
There are many free activities! The Ionian Islands are renowned for their dazzling turquoise waters, and Lefkada boasts some of the most spectacular beaches in Europe. From Egremni beach to iconic Porto Katsiki beach, each one is more awe-inspiring than the last.
Furthermore, I also suggest visiting some of the island's most spectacular sights – Cape Lefkada, the mountain village Englouvi, Nidri waterfall, and some of the towns like Vasiliki, Nidri and Lefkada Town. Hiking up to Ekklisia Profiti Ilias, which is also the highest point, offers views over the island that won't cost you anything.
If you want to unleash your wild side, then head on over to Nidri for a night of fun! For an even more thrilling experience, consider local water sports such as kitesurfing available near Lefkada Town and the south Vasiliki area.
For the ideal accommodation on the island, Lefkada Town is your best bet as it provides many choices. Hotel Lefkas offers exceptional value for budget-conscious travelers.
3. Naxos
Recommended by Ella from Many More Maps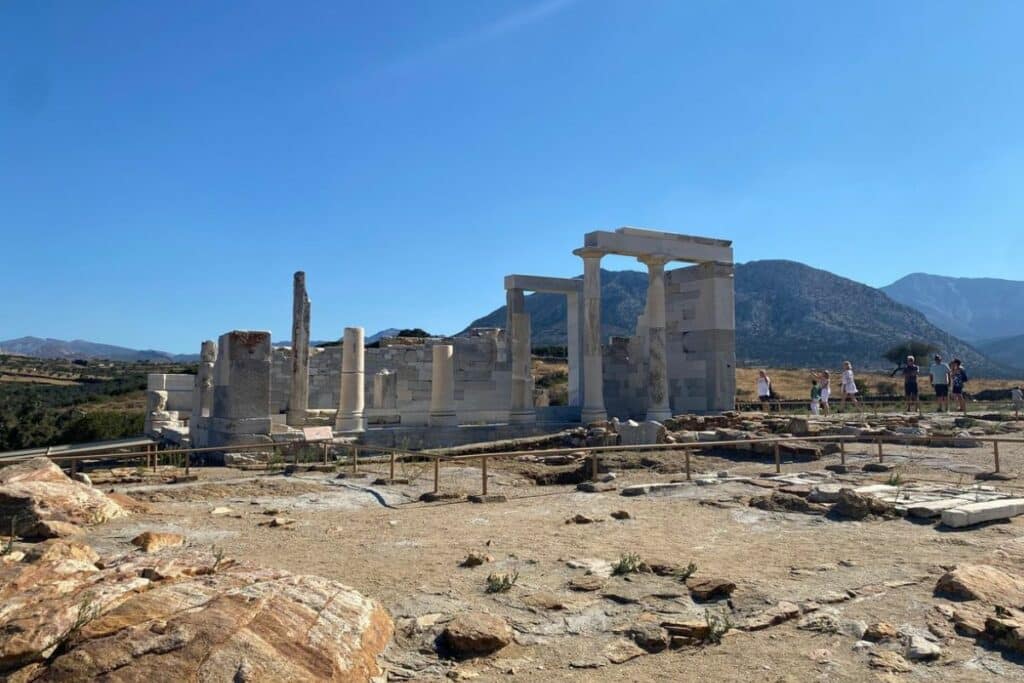 If you're looking for one of the cheapest Greek Islands to visit in the Cyclades Islands chain, look no further than Naxos!
Unlike its neighbors, the notoriously expensive Santorini and Mykonos, it's very easy to visit this Greek island on a budget. That's partly because tourism isn't the biggest industry on the island – it's actually agriculture. This self-reliance translates into cheaper prices and a more laid-back atmosphere.
Naxos has some of the best ancient Greek monuments in Greece, and you don't even need to hire a car to get to them. Full-day bus tours of the island's highlights run daily from the Naxos port bus station for just €25 per person. The tour is an essential addition to your Naxos itinerary!
Of course, eating out at restaurants on the Greek islands is going to be expensive no matter which island you visit, but it's noticeably cheaper on Naxos than on the other Cyclades Islands. A huge Greek Salad will cost you around €7 at a restaurant on the beach, with a 500ml glass of beer costing around €4. Like all Greek Islands, the best way to eat on a budget is by ordering Gyros, which cost as little as €2 and are very filling.
In terms of budget accommodation, Naxos doesn't have any hostels. Instead, all the budget travelers stay at Soula Naxos, a wonderful budget hotel just a stone's throw from the beach, and a 15-minute walk from the port. The hotel is basic but clean, and private rooms cost as little as €30 per night!
4. Ios
Recommended by Victoria from My Australia Trip
Ios is a small island in the Cyclades group of islands in Greece. It's known for its beautiful beaches, vibrant nightlife, and stunning sunsets. The island is a popular destination for budget travelers, as it offers a range of affordable options for accommodations, transportation, and activities.
Once you're on the island, transportation costs are minimal. There are no buses on the island, but you can rent a scooter or a quad bike for around €15-€20 per day. Taxis are also available, but they can be quite expensive. Walking or cycling are also great options for getting around the island.
Accommodation is one of the biggest expenses when traveling to Ios, but there are many affordable options available. There are plenty of budget-friendly studios and apartments for rent, which usually range from €20 – €50 per night. For even more affordable options, there are several camping grounds and hostels on the island, which can cost as little as €10 per night. For example Deep Blue Rooms & Apartments is a great value for a money.
There are plenty of things to do on Ios that won't break the bank. The island is home to several beautiful beaches, such as Mylopotas, Kalamos, and Gialos, which are perfect for swimming, sunbathing, and snorkeling. There are also several hiking trails on the island, which offer great views of the surrounding area.
The island is also home to several ancient ruins, such as the archaeological site of Skarkos, that you can explore. Also from one of the best Greek party islands, you can find many bars and clubs where you can drink and dance for a cheap price.
5. Rhodes
Recommended by Lucy and Dan from Thoroughly Travel
The largest of the Dodecanese islands, Rhodes is located in the middle of the blue waters of the Aegean Sea and is one of the cheapest Greek Islands you can visit. Nicknamed The Island of the Knights, Rhodes is packed with history, from ancient Greek to Medieval.
The capital, Rhodes Town, was ruled by the Knights of Saint John of Jerusalem from 1310 to 1522, and has plenty to see. Explore the city's charming Old Town, a UNESCO World Heritage Site, or visit Mandraki Harbour and see the site where The Colossus of Rhodes (one of the seven Ancient Wonders of the World) once stood.
Those looking for a unique location should base themselves in Lindos, a quaint village on the east coast. Featuring an impressive hilltop acropolis, Lindos is full of classically Greek white stone houses but is a fraction of the price of more popular islands. Simply walking around the cobbled streets, or hiking to the tomb of Kleoboulos, can offer great views and is completely free.
Lindos Gardens Resort Complex is a great place to stay with rooms for every budget. Featuring an infinity pool, games room, and stunning views, the hotel is located just outside of town, so it's quiet but still a short walk from bars, restaurants, and public transport.
Getting around the island via public transport is easy with the KTEL bus (tickets are around $5), while hiring a car gives you more freedom and is still very affordable. Relax on one of the many golden beaches or enjoy a traditional Greek meal in one of the many affordable, roof-top restaurants.
Rhodes Island is easily accessible by plane and ferry. Rhodes Diagoras International Airport is the main international airport, while ferries run to and from Athens, Santorini, Simi, Kos, Crete, Patmos, and Leros.
6. Kythnos
Recommended by Ruma from New England Cities.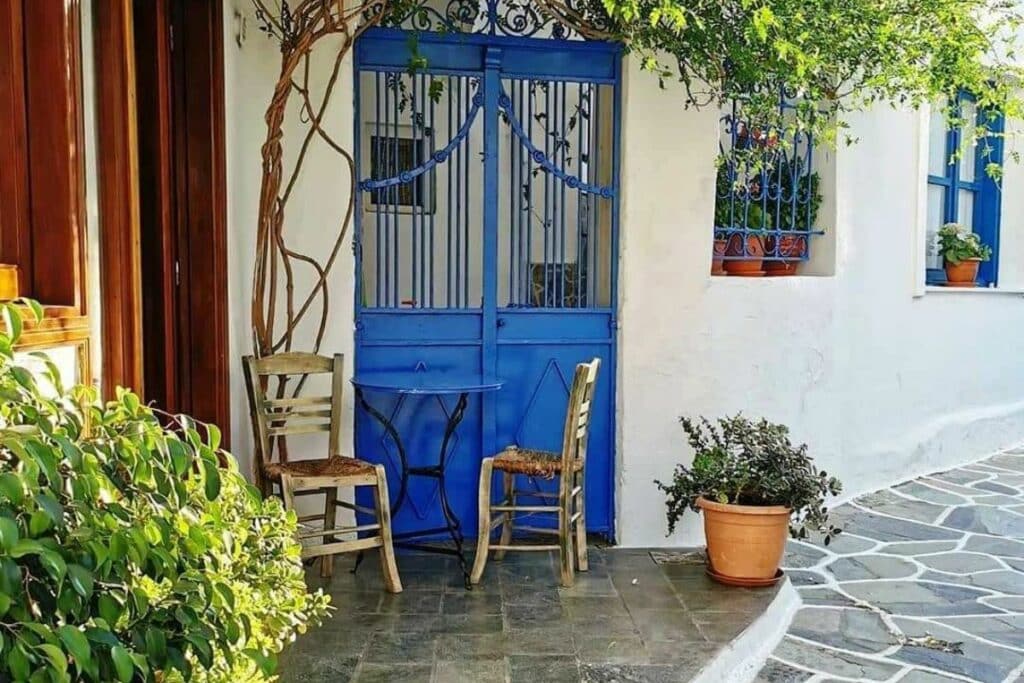 Greek Islands are the dream destinations of a traveler. The country's serene architecture, golden beaches, and fantastic nightlife attract tourists worldwide. Among the various islands, Kythnos is one of the cheapest Greek islands to explore.
It's located in the western part of the Cyclades archipelago between Kea and Serifos. The island's coastline extends up to 100 km and is divided into more than seventy exotic beaches. You can find whitewashed houses and cobblestoned ways, a similar view to Santorini.
The alleyways are decorated with a burst of color from the flowers placed here and there. Most villages here are located on the slope of rolling hills. With giant windmills and old-fashioned taverns, this island almost looks like something out of a postcard.
Kythnos's proximity to Athens has made it a cheaper travel option. As the island is located in the same archipelago as Mykonos or Santorini, it's a hidden gem. Thus the cost of food and lodging is also cheaper here.
You can explore the island by renting a car or public transport. Visit Driopida and Messaria village for a view of natural scenic beauty. Experience hot springs at Loutra.
Book the Kythnos Bay Hotel for a budget-friendly stay. The hotel is located by the beach and within walking distance of restaurants and bars. The average cost per person for exploring Kythnos is around $230 a day.
7. Hydra
Recommended by Chelsea from Adventures of Chels.
Among the Greek islands that are the cheapest to visit is the beautiful Hydra.
Hydra is about 2 hours away from Athens (Piraeus) by ferry. Multiple ferries run every day between the two destinations so it's easily accessible. (The price range for tickets is €30 – €44 each way.)
Something unique about Hydra is that it's an island with no cars. Thankfully this small island is very walkable. Spend time exploring the winding streets and taking time to appreciate the beautiful architecture. You could also spend a day at one of Hydra's beautiful beaches. A few of the most popular include Vlichos, Kaminia, and Agios Nikolaos.
If you're interested in going for a little hike, head to Eros View Point. This is the highest point in Hydra and it offers a beautiful view of the main harbor on the island. Pack a picnic if you'd like to enjoy a little snack while taking in the incredible view before making your way back down.
A cost-friendly hotel to consider for your stay in Hydra is Amaryllis Hotel for around €60 per night. Another option to consider would be Hydra Icons which is about €70 per night. Both of these hotels offer clean and simple rooms in beautiful buildings with gorgeous views. They're also both centrally located and easily accessible.
It's also possible to visit Hydra as a day trip from Athens (Piraeus) if you'd like to save on hotel costs altogether.
8. Aegina
Recommended by Megan from Megan Starr.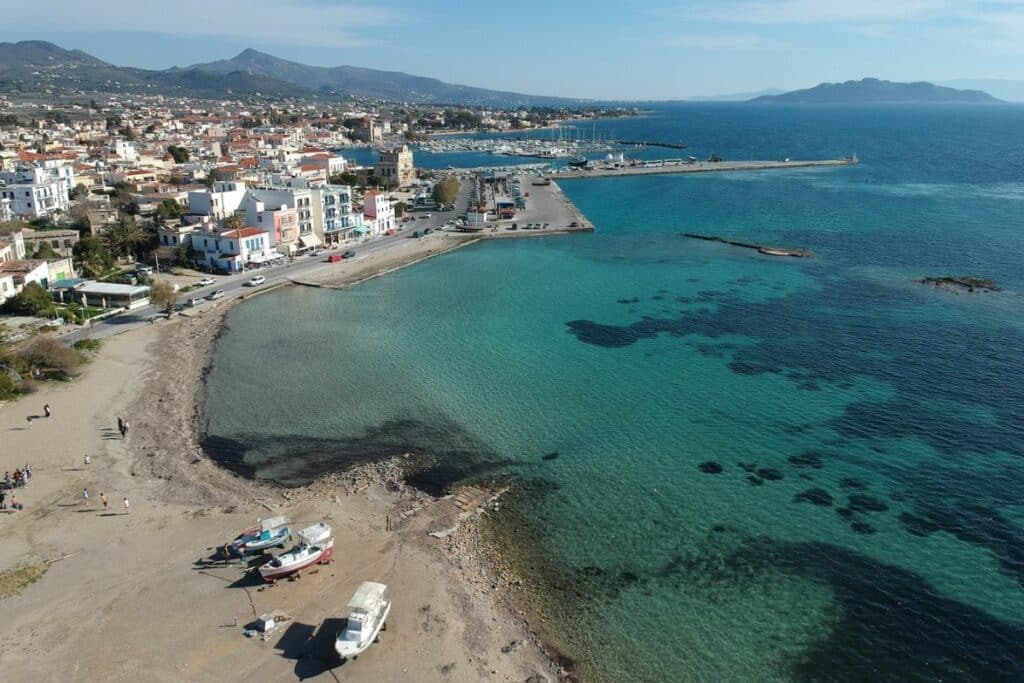 One of the most accessible and affordable Greek islands to visit is Aegina, one of the Saronic islands not too far from Athens. Ferries run regularly daily and can take anywhere from 40 minutes to 1 hour and 15 minutes and the price averages around €10 per person. Once you have arrived in Aegina, you will notice that you can book a place with sea views for a pretty respectable price! Prices for sea view accommodation can be as low as €50 during the low season.
There are many amazing things to do in Aegina, and due to the island's developed infrastructure, you can take public transportation around the island with ease. The Temple of Aphaia is a famous landmark that is easily reached by taxi or public transportation… but there is also plenty to keep one occupied in the city center near the port!
There are a plethora of restaurants located there and most are pretty affordable. Be sure to check out Dromaki and Ouzeri o Skotadis for delicious, local fare. Around the main harbor, you will have a chance to purchase the most famous local ingredient – pistachios! They are pretty affordable on the island, and you can even purchase ice cream, pistachio butter, and more. It is a great, cheap souvenir to take home with you.
During the summer months, there is also an outdoor cinema near the harbor that offers cheap tickets and a relaxing night away from spending money at the bars and pubs on the island!
A fantastic lodging option for budget travelers is Hara's Studio, a beachfront hotel in Perdika. Aegina is a must-visit destination for those traveling on a shoestring budget!
9. Kefalonia
Recommended by David & Intan of The World Travel Guy.
Kefalonia island may be one of Greece's best-kept secrets. It's not nearly as well known as places like Zakynthos or Santorini, although it deserves to be. Kefalonia is full of nice mountains and beaches, and it's not as busy or crowded with tourists as you'd expect.
Kefalonia (also spelled Cephalonia) is located in the Ionian Sea west of mainland Greece, and it's a pretty big island, so it's recommended to spend several days there if you want to cover all of the best highlights.
Bargain meals can be found for 5 Euros or less at some tavernas in Kefalonia. Studio rooms and apartments can be found for as little as 35 Euros, even in the high season. You can also save on costs by renting a place with two bedrooms and sharing the second bedroom of the apartment with friends or family. A nice budget-friendly place with studio rooms would be Mary's Studios & Apartment in Sami.
Any list of the top activities in Kefalonia would have to include the stunning Melissani cave. It has an underground lake with bright blue water, which is illuminated by the sun shining through the open ceiling of the cave. It's unique and wonderful and popular for paddleboat tours.
Nearby, you can spend a slow day at the relaxing Antisamos beach. It's free to visit, very accessible from Sami town, and there are restaurants, toilets, and everything else you might need for a fun day in the sun.
10. Milos
Recommended by Dymphe from Dymabroad
One of the least expensive Greek islands to visit is the island of Milos. This is a beautiful island that is part of the Cyclades island group. You can find Milos near much more expensive famous islands.
You can find many good hotels with a nightly rate of about €60 here. Moreover, you can find many of the most affordable hotels on the island in the town of Adamantas. This is the largest town on the island and the location where the ferries to Milos arrive. An affordable place to stay is Vythos in Adamantas.
A great way to save money when you go to Milos is by making use of the cheap buses on the island. These buses can take you to many of the island's towns. One of the best activities, when you are on a budget, is visiting Plaka Castle, which is a historic castle that you can visit for free. From this castle, you can get an amazing panoramic view of the island. You can visit this castle in the town of Plaka.
Furthermore, another great budget activity on Milos is going for a walk in Plaka. This is a beautiful car-free town with authentic Greek streets and architecture.
If you're looking for an affordable way to enjoy your time in Milos, Sarakiniko Beach is the place to be! This is a beautiful beach with a unique environment that looks like the landscape of the moon. Moreover, there is very beautiful blue water at this beach. You can get to Sarakiniko Beach by car and there is no fee to enter the beach.
11. Agistri
Recommended by Violeta from Offbeat Greece.
Agistri belongs to the Argo-Saronic islands group, which is a very short ferry trip away from Piraeus. The one-way ferry ticket price is 13.50 Euros for the 1.5-hour journey. Speedboat tickets cost 19.50 Euros and the ride takes almost an hour. To save money, take the slower ferries.
The peaceful and idyllic waters surrounding Agistri make it one of the best Greek islands to partake in inexpensive activities like swimming, snorkeling, and kayaking.
Skala, the primary port on the island and also its most bustling area, is connected to Megalochori -the secondary harbor- by a waterfront path lined with restaurants and hotels. Indulge in the bountiful and delicious seafood and Greek delicacies at Yialos Taverna, with prices beginning from as low as 10-12 Euros! Enjoy your meal in their beachfront area with complimentary sunbeds and parasols for all customers.
Laza Beach hotel guarantees economical prices for double rooms, ranging from 50 to 80 Euros per night. You won't find a better bargain!
12. Syros
Recommended by Milos from Happy Frog Travels.
Syros is one of the most beautiful and atmospheric Greek islands. Though it offers more than the nearby Mykonos it receives much less tourism throughout the year. The good part is you can fly to Mykonos, go to the port, take a ferry and arrive in Syros in no time. Flights are often cheaper than taking a boat from Athens. So this is your best option.
Syros is quite affordable. Its capital, Ermoupoli, is the only settlement in the Cyclades that feels like a real city. There is a thriving student community, and many of the city's bars and restaurants cater to locals. Thus the reasonable prices.
There are plenty of things to do in Syros if you are on a budget. A visit to Ermoupoli and the nearby Ano Poli should take a full day. Both places are stunning and there are great views everywhere. We strongly suggest visiting historic churches and touring the City Hall and the Apollo Theater. They are all free.
Though Syros has outstanding architecture, its main highlights are the beaches. All beaches in Greece are public, thus you don't have to pay for the entrance. Our favorites are those on the west coast like Galissas, Kini, or Delfini. In Kini, you should visit the small aquarium. It's free!
Some of the best places to stay in Syros are in the capital Ermoupoli. One of our favorites is the Afroditi, a few minutes away from the port. Their double rooms with private bathrooms cost just over 50 euros in the high season. If you want to stay close to the beach, Hotel Francoise offers wonderful rooms 5 minutes away from Syros' nicest beach Galissas. It costs about 50 euros in the high season if you book early.
13. Paros
Recommended by Roxanne from Faraway Worlds.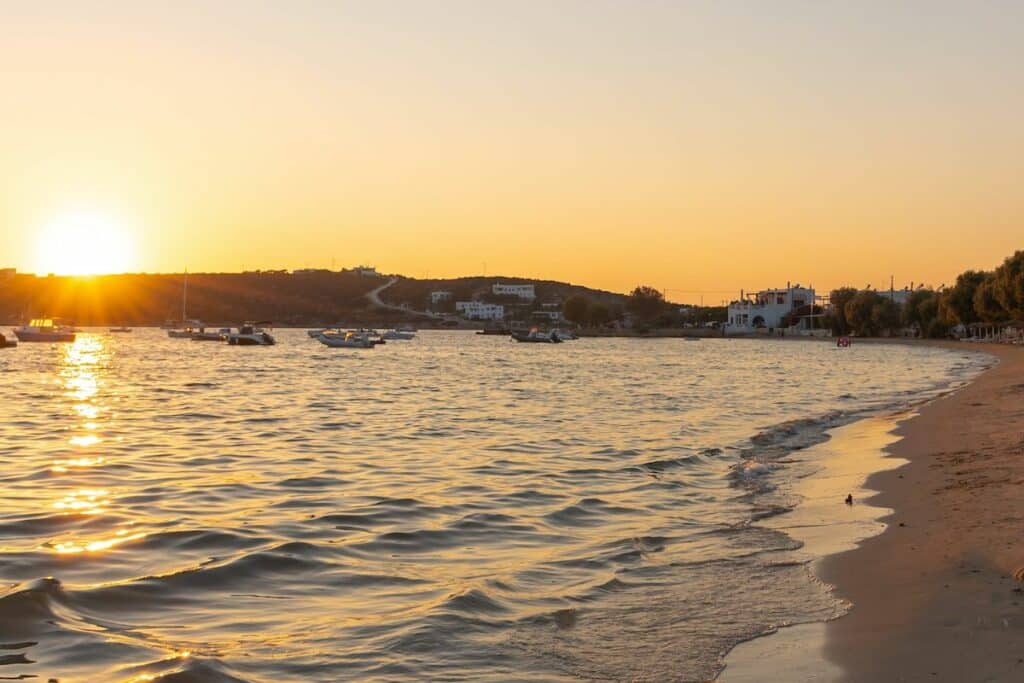 Only a few hours from Athens by ferry, Paros is a beautiful Greek island with white villages and sandy beaches. It's also an island that offers plenty of activities and attractions for visitors on a budget.
Once you've explored the charming towns, visit the 800-acre Paros Park, which is perfect for nature lovers. Known as one of the best Greek islands for hiking you will find there several trails, a pretty lighthouse (free to enter), and a gorgeous, rocky coastline. An open-air cinema with free admission is also available in the park.
For beach-goers, the island offers several great options, including Kolymbithres Beach, known for its smooth rocks and clear waters, and Lageri Beach, which is perfect for those looking for a quiet bay without the crowds (just note that there is a nudist section on the beach). Golden Beach is also popular, with soft white sand, and is easily accessible by the local bus system.
When it comes to accommodation, the traditional mountain village of Lefkes is one of the best places to stay in Paros on a budget. Located in the greenest part of the island, Lefkes offers incredible panoramic views and rich history. However, guesthouses and hotels in the area tend to offer cheaper rates because it's not as popular as an overnight destination. You will nice deal at Hotel Fisilanis.
Save money on food while you're there by trying out local tavernas and street food stands instead of expensive restaurants.
Overall, Paros is the perfect destination for budget travelers looking to experience the beauty and culture of Greece without breaking the bank. With so many activities and attractions to explore, visitors will not be short of things to do and see on the island.
Conclusion
There was a list of the best cheap Greek islands to visit from the stunning architecture of Syros to the sandy beaches of Paros. Whether you're looking for history, nature, beaches, or culture – these affordable islands will not disappoint. With so much to offer on a budget, you can easily enjoy the best of Greece without breaking the bank. Hopefully, you have the next Greek destination already decided!
---
PIN IT
---
Recent posts about Greece: