It was really really busy week! Why? I will let you know later but first of all, let me tell you a story…
Still a bit tired from last week's solo backpacking adventures from Naples, Amalfi Coast and exploring Castelmezzano, I started my Monday slowly. In the morning I felt a headache and it wasn't from alcohol but from a challenging week. Puglia was on my sights.
About Sassi di Matera
That area has a complex of cave dwellings carved into the ancient river canyon. It`s one of the oldest continuously inhabited cities in the world. There are indeed lot's of history and that "old town" looks really big and you can get lost easily. That unique city is listed in UNESCO world heritage. Worth visiting place in Puglia for sure.
I wandered around the city for half of a day and then by accident I found a little hiking track. I tried to rest there and not to go hiking, but I couldn't help myself and decided to go. The hiking trail took me to the other side of the city up to the mountain and there was a spectacular view to Sassi di Matera. It looked even cooler during the night with all the lights. That hike is easy peasy. It should be one place to hike when you visit that city.
Blablacar – a new app
Next day I decided to move on and for the first time, I used a backpacking app Blablacar. It's an app where different people offer you a ride for a small price. So that way they don't need to drive with an empty car and they can also earn small gas money. For me, it's also cheaper than other transportation.
I got my ride from Matera to more south on Puglia area- Taranto. There I started to look where I can do laundry (I wore my last clothes, so the need was big). It was a little more difficult than I expected. I searched for the right place for two hours. Many places were closed or they were chemical laundry. I finally found self-service laundry. It was fast and then I took all my stuff and continued on foot.
I walked about 15 km and tried to hitchhike in Puglia, but with no luck. I ended up my day next to the beach and of course, it looked like a perfect spot to do my sleeping. Close by were only small beach villages without any tourists. I had a mixed sleep because from the distance I saw lightning. But I already searched for the roof as well as a plan B, if it starts raining.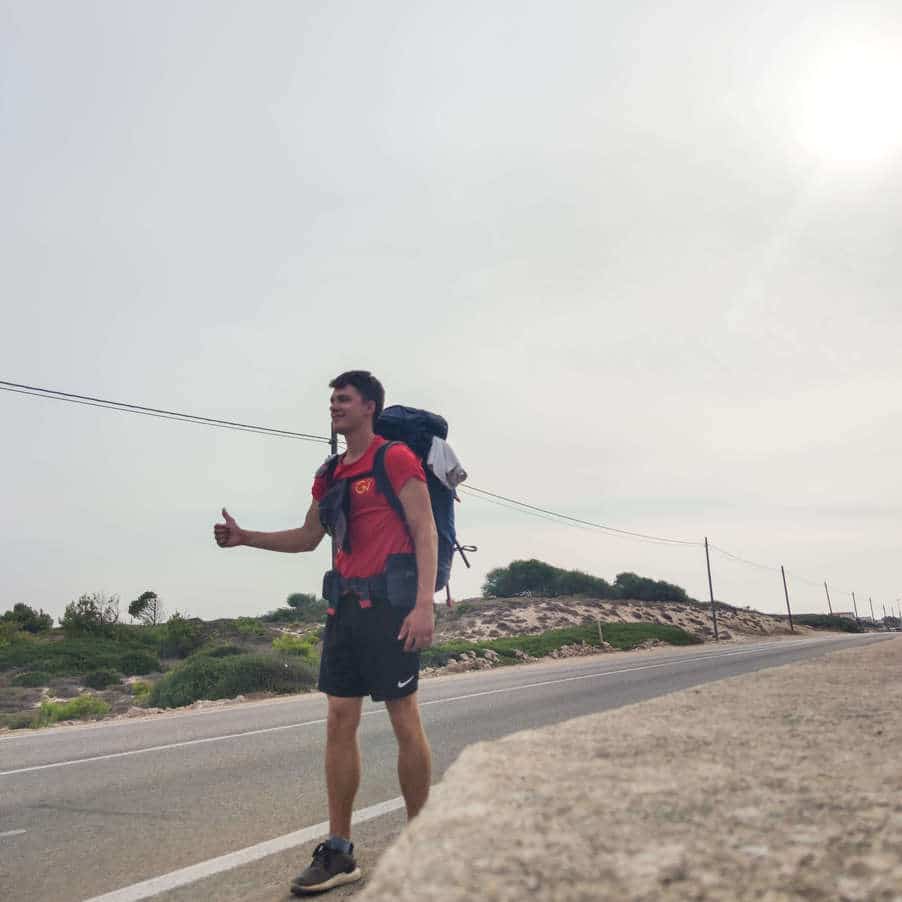 Changes in plan
In the morning I felt a bit sleepy and the first stop was Caffe americano (just a coffee, not a place name). Filled myself and my batteries and continued with my road. That day I knew that I needed to move fast and far. The only option was to hitchhike. First three hours I walked in a place that looked like an abandoned area. Without any traffic or tourists, but I was always next to the beach.
I walked about three hours without any hitchhike luck until one car stopped. From there I started to gain more luck and in the evening I arrived at Gallipoli after 6 hitchhikes.
It's a coastal city and one of the biggest in the Puglia area. It has a really cool old town and it's located on its own island. In the evening I found again a spot to rest and it was one of the greatest sleep I had in wild camping.
Saving legs
Next day I decided to travel a bit differently. I wanted to see lots of places just in one day. The first thing was to start early. I travelled by train and the first stop was Lecce. I heard a lot of good things about this city, so I had really high expectations. Even heard that it's the pearl of the Puglia. But I think my hopes were too high because I didn't see that it was something really spectacular. Still, I liked the old town, it was cute. The good thing was also that pizza and kebab were cheap.
Next stop was another city which was pinned in my Google Maps – Ostuni. It is also called a White city, well because most of the city was coloured in white. It was on the hill. Really nice views of the Adriatic sea. I liked that city, it was different than the cities I have seen around Puglia and Italy.
Arriving to Bari
The last city where I also stayed was Bari. The hostel was only five euros, so it was a great deal for me. In the evening I went out. Met so many people from all over Europe.
In coming day I had a really slow start and lazy day overall. I just looked around the Bari and also the weather turned really bad. It dropped below 20 degrees, rained, no sunshine. Unusual weather for Bari. I felt bad for those who came to the south to enjoy sunny and warm weather. Same weather was the whole weekend.
It also cancelled my plans and I needed to rearrange my plans. In the evening there was socialising with hostel guests. Again went out with others and this time there were mostly Spanish people. We ended up in a place where all the Spanish people were gathering. I heard some famous Spanish songs and learned some words.
Back to north
Next day I decided to leave Puglia region and do a longer trip by train. I set my sights to Pescara. I don't know why, but it looked like a place where to go, so I went there. Searched for the cheapest train tickets and found one. With four trains I managed to get there. It took about 1,5 hours longer than without changing trains, but on the other side, I saved 15 euros.
There I had no place to sleep and I didn't want to spend any money on accommodation. Also didn't have any luck with CS. The weather were still shitty and in the evening I just walked around the city with my backpack.
It was Saturday night and there were lots of young people around. It looked really busy. After some walking, I searched for another beach to spend my night. It was freaking cold and I needed to wear long pants. I got 1,5 hours of sleep because it was too cold. Italy on a budget for the last time.
I took my backpack and walked around to get some warmth. Almost all night. I watched the sunrise and searched for some coffee shop for double americanos. It was again a lazy day and I just looked around the city. There were also smaller events, I enjoyed them a bit, but mostly just waited for another Blablacar for the next destination – Bologna.
I have heard so many good things about that city, so I had no chance to skip it. The whole day was cloudy and chillier as usual and even in the evening it started raining. It was perfect weather to have a four-hour drive to the new city.
Exploring Bologna
In Bologna I wanted to have another CS experience, sent out about 20 requests, but surprisingly that wasn't enough. So I ended up in a hostel. Bologna is known as a university town and there indeed are many students from Italy and also abroad.
For the first time, I used a free walking tour with a local guide. It made me more curious about the city and I found out there are so many things to see. All that history and cuisine what the city has to offer.
It's a pity that I only had a few hours to discover that city. I felt that I need to come back to Bologna in the future and taste that city more, also cuisine. Many famous dishes are from Bologna. For example when you are thinking where is bolognese from, then the name might give a hint. I am not a city enthusiast, but that city would be one I recommend.
Why was I in a rush?
Well, it´s a bit of shame but…I need to confess that I am taking a break from budget backpacking trip. The situation worldwide isn't good for travelling (is one reason. I also want to go outside of Europe). Secondly, I have dwelled on different ideas on how to manage my life and what to do. I am also a bit tired from backpacking and of course, I don't have any Moneytree where I can pick the euros. To fulfil my ideas and goals I need to stay somewhere longer and I decided to do that in Slovenia.
Why that country?
I love nature, closeness to everywhere, small, but innovative and of course people. It would be a new chapter for me and for sure getting to know Slovenia even more deeply. It will be a great time!
Thank you, Italy!
A great experience!
My solo backpacking trip came to the end. I have to say my first solo travel experience was awesome. I did great work in planning my backpacking trip, had great memories, met cool people, and tried some things for the first time. Check out some benefits of solo travel, maybe you want to do the same thing.
Will do that again!
Check out my other Travel Stories
---