I woke up. Ate croissants and drank a cup of coffee for the breakfast and this time I already knew where my solo backpacking trip continued. Took a train. I was heading to the Naples and Amalfi Coast.
I have been warned about Naples's crime rate. People told me about pickpockets and also don't wear anything expansive (thank god, I didn´t have anything expensive).
When I arrived I noticed that the atmosphere was totally different than other Italian cities. It was a really hot day, there are people everywhere, really crazy traffic and noise and "beeping" all the time. That city looked like everyone were in the rush.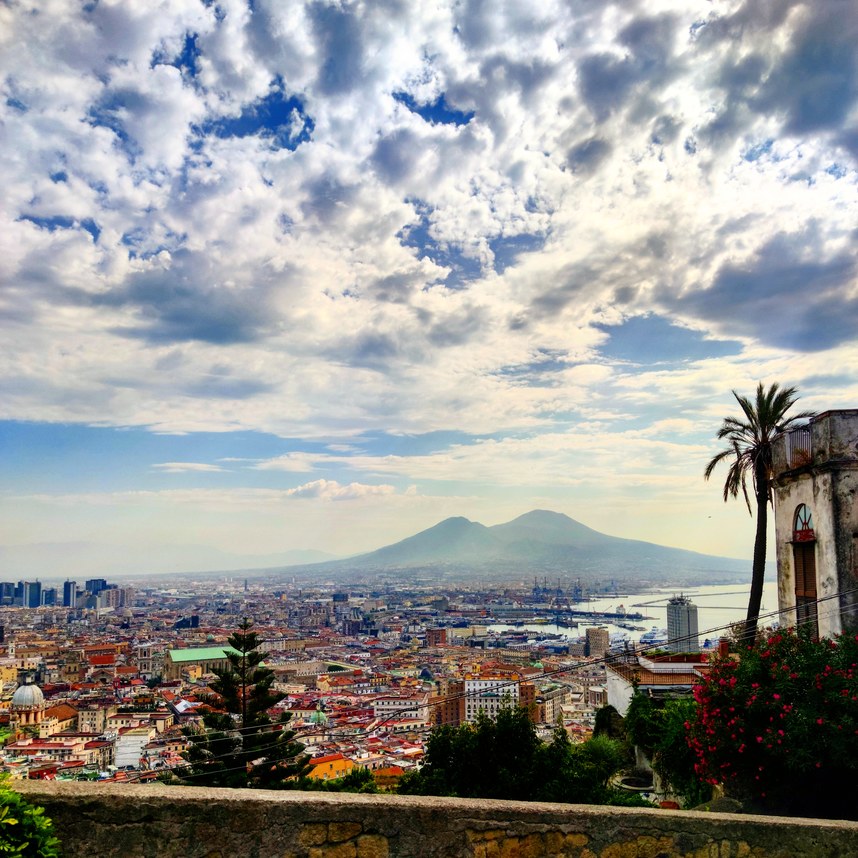 Another Couchsurfing story
I had another host from Couchsurfing and this time hosted me, Matthew. His everyday job is conducted with the US army and because of that, he travels every year. Every three years they have to change their speciality or workplace and usually they move to another country as well. He said that he has been over 50 countries.
I was really surprised when I at first requested him to host me, he accepted it and already gave me door code and left the key under the matt. Crazy trust. But he has hosted hundreds of people in his life during Couchsurfing, so maybe he had only good experiences with hosters. On the rooftop, he had an amazing view of Napoli and Vesuvius. We ate local pizza and talked about hiking.
Discovering Napoli
Next day I was on my own and of course, I went to discover Naples streets. At first, I climbed up to the castle and again amazing views to the city and Mount Vesuvius. Then I got lost and saw so many narrow streets with different markets. You can find restaurants, coffee shops, souvenirs, gelatos, little sculptures and many more different kind of things.
In these narrow streets was also busy scooter traffic. You need to be alert all the time because they didn't drive slowly. Matthew joked that there is only one rule about traffic, that there are none rules. Nevertheless, it's an interesting city. It's cheaper than the usual cities in Italy. For example, a big pizza was 4 euros and Aperol Spritz in some places just one euro.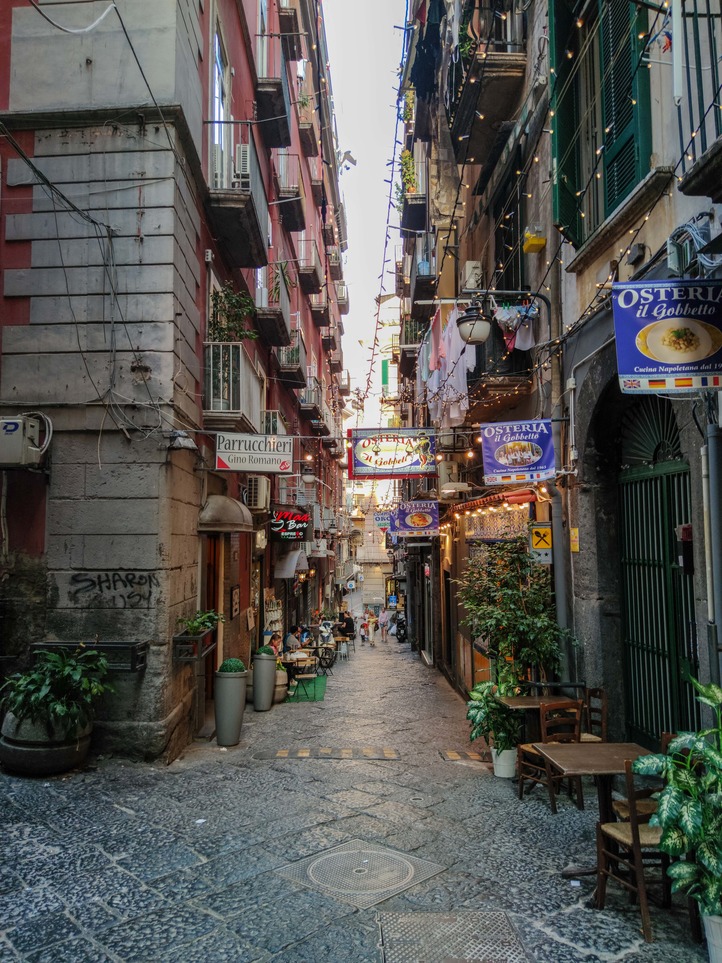 Volcano expedition
Next day I felt that I have been already too comfy with city life and missed some adventures. As mentioned before Naples is next to the volcanoes mountain Vesuvius. Even that hasn't erupted for years it's considered as one of the most dangerous volcanos in the world. Around Vesuvius lives about 3 million people and who know history then it had disastrous effects in a year of 79. You can see the results of the city, Pompei.
I went there with Manu, who I met from backpacking app CS hangouts. Fun fact about him is that he speaks fluently seven languages. To go there you need to avoid expensive tourist traps and use public transport. It's cheaper and also really smooth. If you are in Pompei you can take a bus there and go to Vesuvius. So the bus took us almost to the top, only needed to climb 300 meters.
My expectations were really high because I have never seen a volcano in my life. I don't want to say anything bad, but I was a bit disappointed. I saw only a crater and trail track was short. But I did saw it for the first time, so at least that was good.
Reaching to famous Amalfi Coast
We started our day early. I moved towards the coastal line and the first bigger city before Amalfi Coast was Sorrento. Another lovely small Italian town with markets and stuff. At first, we drank coffee, relaxed a bit in hammocks, took another tour in the city and finally I ate my first gelato in Italy. Too much budget backpacking. Then Manu went back to Napoli.
I started to search for the wild camping spot. I had one spot in my mind and marked it in my Google Maps and then went out to the city and walked about 40 minutes to my spot, Regina Giovanna Bath. There was also some ruins and the beach. There were also people, so I just swam, hide my backpack and went back to the city. Later when I went back it was dark, the beach was empty, so I just crashed somewhere.
It was a great sleep, I packed my things, went for coffee and charged my batteries. Then set sights to one of the most famous areas in Italy – Amalfi Coast. The first city what I visited is probably well known – Positano. It's indeed really beautiful, I made a quick tour there and then I went back to the activity what I truly love – hiking. When I was planning a backpacking trip I also searched for the best hiking trails in Italy. I found The Path of the Gods!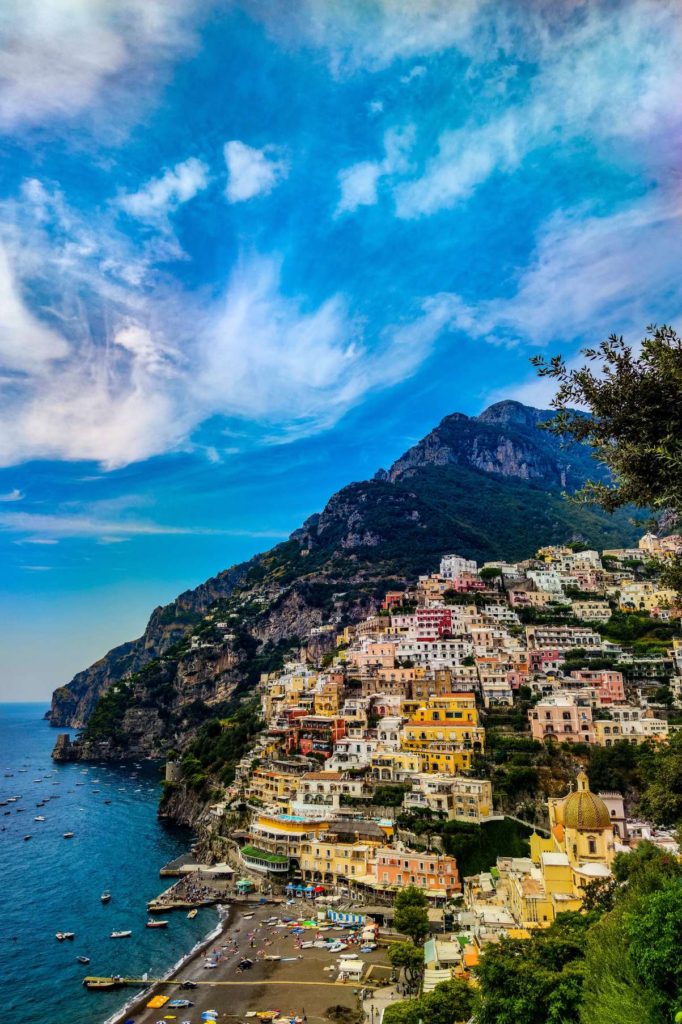 The Path of the Gods
At first, I needed to take another trail to reach there and it was really hard with my backpack. I climbed hundreds or even a thousand steps to just get to the hiking trail. I was sweating a lot and when I reached to the begging of the trail I felt, that I was already done. So tired, exhausted and my legs were burning. I took a break before the trail, drank and eat some good stuff and then hit the road.
This path was mostly just walking, there was some climbing. I saw so many spectacular views of the Amalfi coast. If you love hiking even a little bit, then you should also do this trail. You can also drive to the beginning of that path. This hike and climb was all worth it.
Next city was still 9 km away. So I grabbed my feet and off I went. This time I needed to go downstairs and as I reached to the bottom, I felt how my knees were shaking. I reached to the city Amalfi and again I had sleeping problem. Again I was hosted by the public beach in the busy Amalfi Coast. This time it was more public, so I needed to find some blind spots. I even managed to hide my backpack to rocks. A little bit of camouflaging and it was good to go. One of the benefits of solo travel is that you become more creative. But it was rocky soil, so I didn´t have a good sleep. Again this is just one way to travel around Italy on a budget.
I woke up at 6 am. Went on a hike. I had amazing views of the Amalfi Coast. After that, I did not feel good, but after some americano coffee, I already felt sharper.
So what to do next?
Move out from Amalfi Coast or visit another city. I heard that Ravello is also really beautiful, on the top of the mountain, soo I decided to go there by bus. Indeed just amazing views to everywhere, nice little town, many shops. After that, I hiked down to another city Minori. It was my last village from wonderous Amalfi Coast. I took a bus to Salerno and from there a train to Potenza. So it was a pretty long journey. It looked like Potenza was located higher altitude, because the weather was a bit chillier.
A true hidden Gem in Italy
In the morning I also had a train to closer to my next destination
I had about 10 km to walk, but I only walked about half of the km and then got hitchhiked to my destination Castelmezzano. I like these kinds of small towns where the landscape is connected. Surrounded by dolomite mountains. I started my day early at 6 am and had time to look around the city, also did some hiking.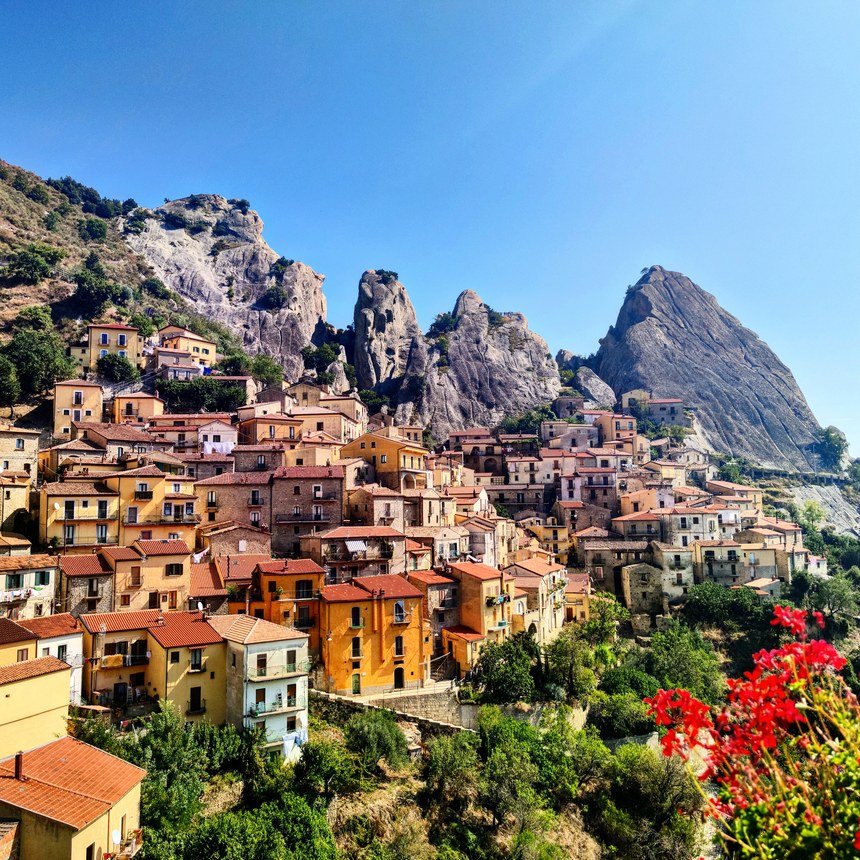 A long-long day
Then I had the next destination. Matera was about 80 km away. I hoped to get there fast, by hitchhiking, no problems. So I started walking towards my destination. I walked about 15 km.
One car stopped, but we were heading to different directions. Then I got lucky and one old guy stopped and of course, he didn't speak any English. I was so confused and didn't know where he was going, but I jumped in. He spoke a lot and I tried to understand and somehow respond in half English and Italian. Nevertheless, I got my ride couple of km. Walked again and about km later I got another ride to the next village.
Refilled my water and food supplies right before they closed the shop. Walked a bit and then I was picked up a got ride to the next villages. My phone battery was almost dead, so I had to use the coffee shop for charging.
Getting lost in the pushes
After that, I just walked, because hitchhiking in the dark doesn't work. I walked about 15 km and then looked at a map where to sleep. Walked again about 3 km and then Google maps took me on the shortcut road. It was a really random forest road without any markings or anything. Some places I went through bushes, jumped over the fallen trees. I was thinking how the heck there can be road, marked by Google Maps. How many people have been lost here? I crashed somewhere in the olive fields around 11 pm. It was a really long day with lots of walking.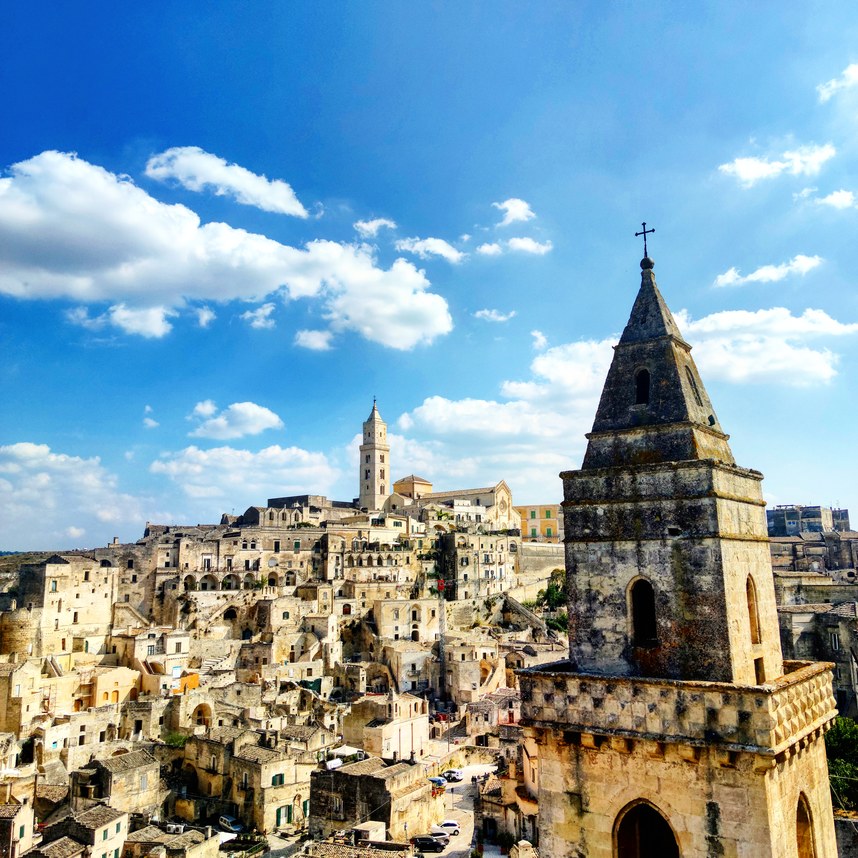 Arriving to historic Matera
I had about 15 km to go and of course, I walked there. In the morning I was so done. No power. Very sleepy and in overall tired as fuck. I needed something, which will make me a bit sharper, I drank americano coffee. I booked a hostel for two days, but I had about 5 hours to check-in.
At first, I relaxed in the park, listened to the podcast. Then went to see the city but after 30 minutes, I needed to rest and took a power nap. I got to the hostel, showered after a long time. Ate some pasta ( like an animal). It was getting darker and in the night this city is really beautiful – Sassi di Matera. I walked for about an hour and then felt I just can't walk anymore. It was 8 pm and I went sleeping.
It was one hell of a week. A rough week with lots of exploring, hiking and wild camping. After that week I feel that I need some rest and then again I will hit the road.
Check out my other Travel Stories
---