"I WAS OFFERED A FREE VILLA IN HOLLYWOOD, BUT I SAID NO THANK YOU, I PREFER TO LIVE IN ITALY." – ENNIO MORRICONE
On Sunday evening I started to search for the host in Genova from my main backpacking app CS and I had two "maybe" options. I got hosted by Alberto place and another option Davide told me that he can't tonight, but he can host me tomorrow (Monday). He said he is going to the countryside and have a sangria night with his friends and invited me as well. I am always open to these kinds of unexpected experiences, so I was down with this offer. My long waited Cinque Terre week started well.
Already on Monday morning, Davide picked me up from Genova city centre. First, we went by his house, where his mom made a great coffee, he showed me his room and pictures where he has been. What a traveller and adventurer! After that, we set our sights to the countryside, which was about 30 minutes to the north of Genova. It was in the mountains and this village was around 700 meters above sea level. The temperature felt chillier.
A bit different day
We started with sangria. We needed to cut a lot of fruits because we needed to feed 25 thirsty participants. While we were working we talked about travelling.
Davide is also keen on adventures and recently did a bicycle tour in Italy (giro d'italia). He did it within two months and it was about 3000 km.
After a while, we had more helpers and then I just looked at how well the Italians can cook. They knew exactly what and how much things they needed. Estonian food culture isn't that strong, so I just looked and learned a bit.
During the preparations, we had tournaments in petanque and volleyball and when it was already dark, food and official event were ready. Except I was the only one who did not speak Italian. But I still talked there with several people and I had a great day and night. All the people were very friendly, kind and funny, even though people were curious about how I ended up at their friends' party. But I guess that it's one of the benefits of solo travel, that you might get invited to parties. I´m super grateful for Davide, that he invited me to this event. I enjoyed my stay there.
New adventures on the way
Next day had a slow start, mostly because the party didn't end early. Davide took me to a little tour and showed me around a bit. We went to Monte Fasce, where we saw surrounding mountains, a view of Genoa and smaller cities and also to the sea. My goal was also to hike that day, so he took me to the beginning of the hiking trail to San Fruttuoso. I am glad that I met Davide, he is a super cool guy with adventurous dreams. Wish you all the best and sure we will meet again.
At the beginning of the hiking trail, there were warnings that it is a dangerous and very difficult road. That you need to be in good fitness form, well equipped, some food and drinks. I had most of them and went to the road with my backpack. At the beginning I looked like, pwhht that's dangerous? What the heck…
After some hiking, I saw why there were warnings. There were some parts, where I needed some equipment. But nevertheless, I survived and after about 2 hours later I reached this "secret" location to San Fruttuoso. There is an old church, bar and beach. It's reachable by hiking or by boat.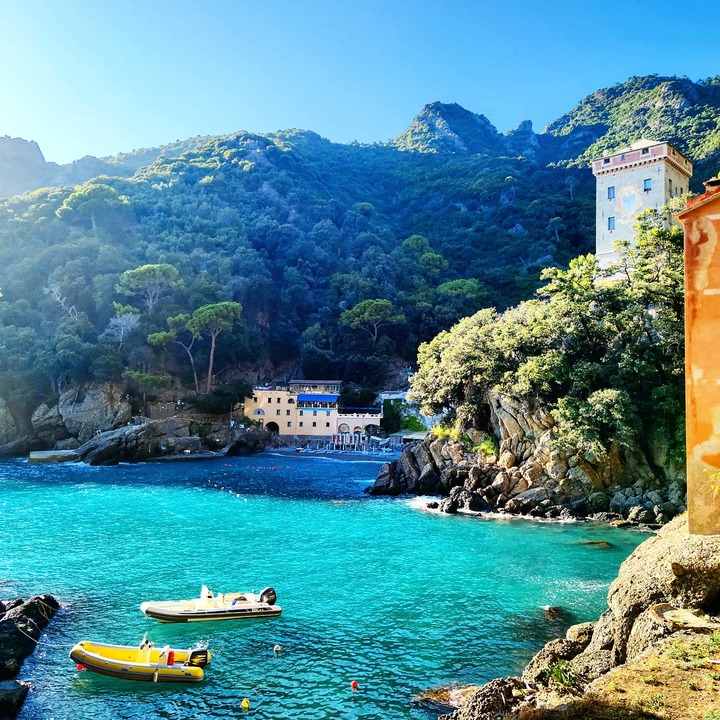 I looked at the prices to go by boat to Portofino. It was too damn expensive and after some rest and swim, I continued my hike to Portofino. This time it wasn't that dangerous, but I needed more energy. Before the dark, I reached my destination – Portofino. It's a really expensive city and there I saw many big yachts, beautiful properties and some restaurants with pictures of who has been there, likes of Elton John and many more.
So no cheap accommodation and neither Couchsurfing spot. So what you have to do when you have budget backpacking trip? I still wanted to sleep and then I searched for a place to do wild camping. I found one quiet beach and stayed there for the night.
Morning started with a rain
Next day I was woken up by raindrops before 6 am. Looking for the clouds I was sure that there is more to come. So I quickly packed my things and looked for some roof. I did get some rain but didn't receive any damage to my things. The sleep wasn't the greatest, because it was a bit rocky. To my luck, I still felt hiking in my legs. But I still wanted to continue my road. I walked some km, took a nap on the beach and continued my road.
After about 10 km and feeling a bit tired I looked for the map and I saw that there is one pin (my google maps location) close by.. It was far away by walking and looked for other options. There is also good transportation by trains and it was actually cheap. So I took that drive to the Sestri Levante. Again a small beautiful coastal city. I wanted to take some time off and looked for a place to hide my backpack. It wasn't an easy job at all.
Everywhere were houses and there was no hidden place at all. After that, I saw a beach which wasn't easy to reach. There was one spot to hide my things and it looked a decent spot to spend a night again. After the big achievement, I looked around the city, chilled and when it was already dark I went back to my sleeping place. This time it was a nice and quiet sleep.
I woke up and after two wild camping nights I needed somewhere to charge my batteries (mobile), so I needed to find a place somewhere. I thought that I haven't got coffee for a while. Perfect place for charging as well. I recharged my batteries and set my sights on Cinque Terre. I took a train and jumped off a village before Cinque Terre to Levanto. From there I did about a two hours hike to the first village of Cinque Terre – Monterosso al Mare.
Reunited with Slovenians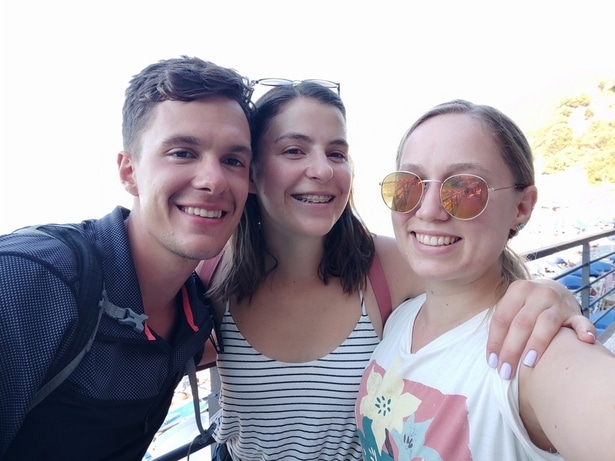 Cinque Terre is a region which belongs to five villages:
Monterosso al Mare

Vernazza

Corniglia

Manarola

Riomaggiore
Between them are hiking trails, very smooth train connections and also it's reachable by car.In this city, I was united by my travels with Slovenians Urška and Sara. They also wanted to do wild camping and so we did. Well fourth day in a row, but this is one way to backpack Italy on a budget. Again next to the beach with moonlight and unexpected company we did have a nice and safe sleep.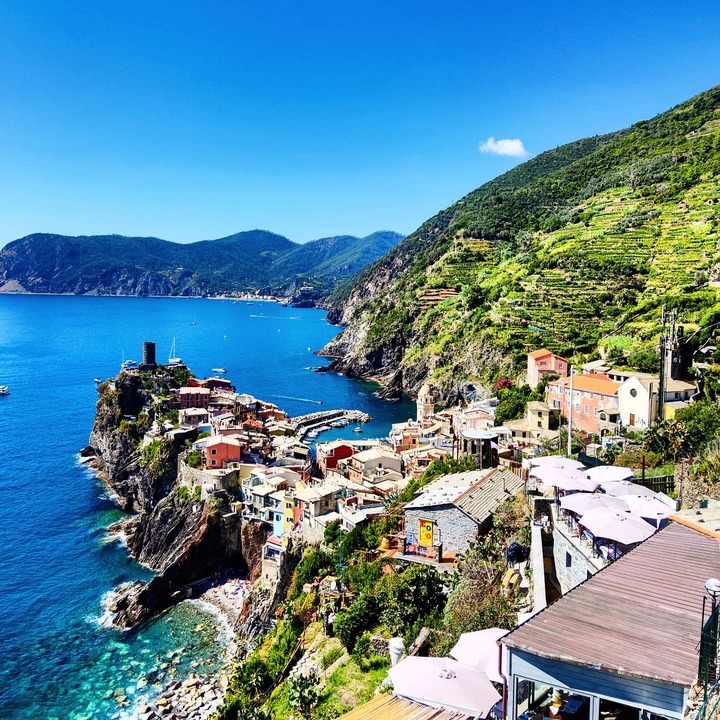 Our plan for the next day was to explore all five villages. Hiking in Cinque Terre is really popular and we did some hikes and in the end we saw every village. They were really beautiful coastal villages with lots of history. We saw why Cinque Terre villages are a UNESCO world heritage. Read more about the area in Cinque Terre Travel Guide. A day went fast and we set our sights on the next tourist hotspot – Pisa. We arrived there in the evening and spent our night there.
After some breakfast, we were really close to the Pisa tower, so of course, we went there.
We saw that people were doing this "leaning pose". We laughed and then did it the same.
It's difficult to find a spot, to pose correctly and even to take pictures. But we did get great pictures and my mobile is now full of those pictures. Our travels continued together because we had the same next destination – Firenze.
I took a quick city tour there. It's again an old city with lots of history and art. In the evening we stayed at the hostel (found the cheapest one). I have to say that so far it has been the best hostel where I have been. All the staff and the people were super nice. Also in the evening, we saw Firenze nightlife with Italian guys. It was really lively and we had a good time.
Just one more night
On Sunday morning I decided to stay there for one more night. It was hard to say no when in the evening they planned to do a little barbecue night. So I was sold! Again I looked around the city and went to the Uffizi gallery. Italian guy told me that I have to go there, it's the main place for art. I waited in the queue for about an hour and then I saw this one of the most visited places in Firenze. There were indeed lots of sculptures and paintings from the most famous artists like Michelangelo, Da Vinci and so on.
In the night as said in the hostel there was a little barbecue night, but I still went to bed early, because I have no idea where I will sleep in the next evening. That's how it goes!
From this week I have so many memories with different people and different places. Thanks to Davide I saw a local sangria night, he showed me around and gave me some spots to visit in Italy. Planning a backpacking trip in Italy is much more easier thanks to Davide. He is a super cool guy. Half of the week I spent time with super funny, cool, cute and spontaneous Slovenian girls Urška and Sara around Cinque Terre, Pisa and Firenze. I have to be grateful that they were my travel buddies for days. 
But now I have to move on and start to hitchhiking again.
Check out my other Travel Stories
---