My day started from bed in Firenze hostel. I had some heavy breakfast and still had any clue what new week is going to bring me. I set my sights to Tuscany area.
My first destination was the same as the Slovenian girls and we went to San Gimignano. It's filled with different olive, cypresses, grape trees and also with stunning Tuscany landscapes. The city itself is medieval-looking. There you can find different kinds of hand-made shops, restaurants and views to Tuscany countryside fields. We looked around, did some photos and ate some local pasta.
The time was already past 5 pm and it was finally time to go apart (me and Slovenian girls). It was fun, adventurous and spontaneous time with them. We had a great time and for sure I miss them. Thank you, Sara and Urška:)
Back to the basics
The time with the girls was like a vacation. I wasn´t so much time with my backpack. I had someone to talk with and didn't need to worry about anything. It was time to go back to my old roots: solo backpacking at it's best. I hit the road in Tuscany region with my thumb up, but it didn´t start like a was hoping.
I took a smaller village road with gravel. There was no traffic at all and I walked all the way to my destination, Colle di Val d'Elsa. There was a river park with some waterfalls. I arrived there in the dark and of course, I didn't see anything. So I decided to stay somewhere near and went into the dreamland.
A miracle in the morning
Next day, backpacking Italy on a budget again in the middle of Tuscany field I woke up exactly on the sunrise and I felt so good, relaxed and sharp over a couple of days. So I went to see this river park and it was truly beautiful. It was a blue colour river with some small waterfalls. It was a good walk in the morning. After some workout and reading, I hit the road again. I choose smaller roads and again there was no traffic.
But I found out that I walked in the road called via Francigena. It's an ancient road and mostly known as a pilgrim route.
So I hiked about 12 km and arrived at Monteriggioni. This small Tuscany village looked like a castle (what I think it was back in the days). Located at the top of the hill and inside that was this small village. An awesome little village with this medieval vibe. I felt some hiking in my legs and decided to take a bus to the next bigger city, Siena. One of the most historic cities in Italy.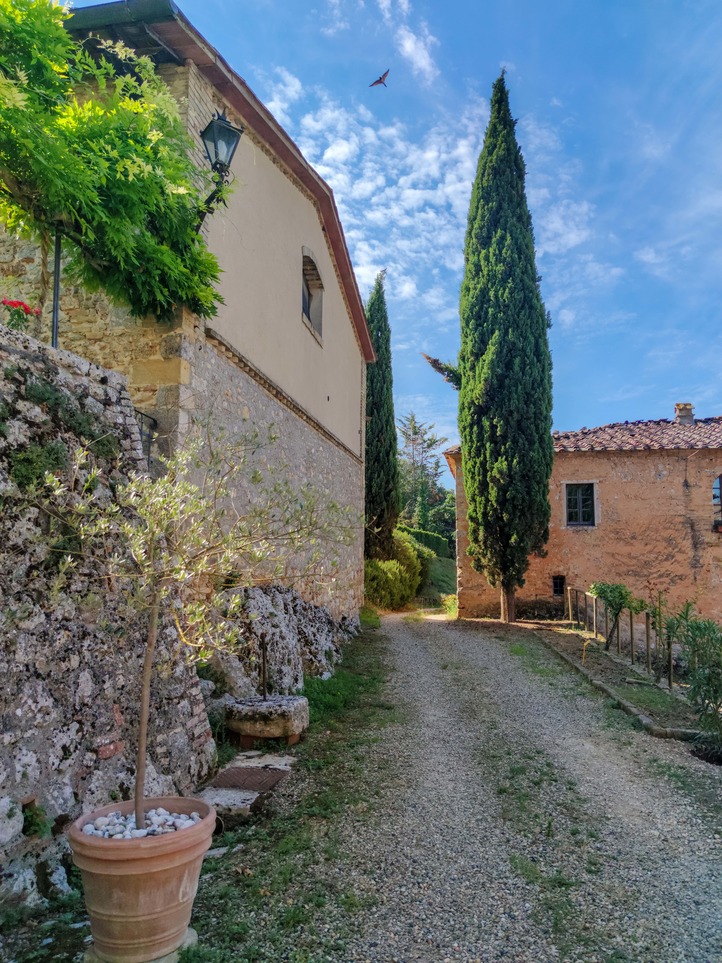 Quick stop in historic siena
I found a bus station and took a bus. The bus driver didn't have a chance to sell me the ticket, but I still took my seat and tried to figure out how to buy the ticket online. Didn't figure it out but I ended up in Siena anyways. I have talked a lot about historical and medieval towns, but Siena is like another level. You have to see it by yourselves. I didn't spend much time there, so I only saw the central area, but it looked interesting and the outside city offers a really good view of the medieval city.
Moving on!
Prices in Siena were a bit too high (for me), so I decided to go out of Siena. This time I got a ticket from online, went to the station, but it wasn't the right one. I was told that it's the other side of the railway station. Took my backpack and ran. Made it in the last minute. When I jumped out of the bus and took a look at the map, I was a bit shocked because I saw that my destination is 20km further away. It was already 6 pm. I saw a great spot to hitchhike. I tried it and the second car stopped. What lucky day. I got my ride closer to the spot and now I had only 7,5 km.
This spot was a really special place and there was also a lake. I happily continued with my journey. In my mind I was thinking about how I´ll jump on that lake, I was really excited.
A big disappoitment
I arrivedss there in the dark (near to the lake) and saw a prison-looking fence and sign that it is private property. What on earth?? I still slept there and looked around in the Tuscany village where I ended – San Quirico d'Orcia. Again a small cute village with beautiful cypress and olive tree fields surrounding.
I had a really good sleep and after charging my batteries I hit the road again… I did some trails in the via Francigena around Tuscany. Tried hitchhiking, but with this time I had no luck. Saw so many amazing views during my road…Finally, I arrived to my next destination – Bagni San Filippo.
finally a place to refresh myself
The village is known for its natural thermal springs. I missed the water and being totally powerless, I was the happiest person around there. Even though it was warm water I was still sitting there as you sit in the sauna after physical challenge. Then you know the feeling. I just relaxed and didn't even think about where I'm going to sleep.
After the relaxation I looked at the map, ohhhooo I don't have any food nor water, I need some bigger place to do shopping. The shop was about 10km away in the next village. It was already evening, so I need to be fast. Luckily there was a bus station and I waited for the next bus. I also tried hitchhiking.
Few cars passed and one guy stopped. He took me right to the shop in Abbadia San Salvatore. Absolutely non-tourist spot. After shopping, I had the same problem as every evening: Where am I going to spend my night? I found a random place that looked like a peaceful, safe and quiet.
DANGER DANGER…!
I set up my little camp and went to rest. At the beginning of the sleep, there was a really weird siren next to me. That kind of a sound like in the second World War when the enemy was going to do an air attack. I had a strange feeling, but I was tired and went to sleep.

After 1.5 hours of sleeping, I heard that something ran and it was close to me. I stood up as fast as possible. Stopped and listened. Heard some steps. Found a rock and threw it into the forest. Again I heard a running, possible that these were just some wild animals. But it was still close to me, animals should be afraid of people.

For my safety, I took my knife. I rearranged my camping spot, so I had a view of the "danger" area. Then I was awake for about next half an hour and then went to sleep with a knife in my hand. I turned to one side and just closed my eyes.

After some minutes I heard something running towards me from behind. Jumped up right away and I crashed into my bag what was next to me. I didn't see what was it. Threw a stone but that thing or animal didn't want to run away. Animals should be afraid of people. I packed my things and overall I slept just 1.5 hours.
After that great solo backpacking experience and another advantage of solo travel (+10 points for courage) I went to the city centre park and sat there. Used my internet. Reorganised my bag a bit and then had some sleep. Started at 5.30 am and I walked the first km like a zombie or drunk person, no power at all. I decided to do a power nap. Slept for about an hour and woke up again exactly seconds before sunrise.
Long day with a sight
I had beautiful views over the Tuscany fields. I felt so sharp and hit the road. That day I wanted to reach Bolsena. Next to that is lake Bolsena. By foot it was about 40 km, so that's the reason why I started early. I took smaller roads and I had few coffee breaks. I met other travellers who also took the via Francigena road.
Then after 25 km, I arrived at Acquapendente. Yes, again medieval town. It was about 17 km more to Bolsena. I sat there next to the shop, ate some croissants and thought I needed some transportation to that city, my legs were burning.
There was a bus and again I had no clue how to buy tickets. But somehow everything worked out and the bus ride was smooth…My eyes shined when I saw that lake, but mission numero one was to hide my backpack somewhere. With the help of google maps, I found a place to hide it. Then I went to see that beautiful city, yes it's a bit touristic. This city has a super relaxing vibe. Then I went to the beach and actually slept a bit. Then swam there like a kid, who just found out swimming is so refreshing. I was grateful after these kilometres with my backpack.
Getting already expert on wild camping
It was time to do wild camping and it was the fourth day in the row, a new record. I think I was sleeping again in someone's garden. That's what you have to do for budget backpacking trip.
Another peaceful night I set my sights closer to Rome. But the first stop was Viterbo. I took a bus and this time I explained to the bus driver that I had no ticket. He showed me where I can buy it, he waited for me a minute, said Grazie-Grazie and went to Viterbo. There I did another coffee break. Thank you Slovenians, that you implemented that habit into me.
But there are so many pros: like you actually get coffee, wifi, a toilet and have a chance to recharge. Usually coffee is about euro or euro and half. Good deal! I spend some time in Viterbo, looked around the city and then decided that I´m ready for Rome. This time I knew how to buy a train ticket and went with that.
Hello ROME
I decided to spend a couple of days in the hostel because I wanted to get rid of my bag and also a place to shower or maybe sleep a bit. Last days were rough. So I had some rest at first, showered, looked where to go and used my all time favorite backpacking app and went to my first Couchsurfing event. It was just for the local Couchsurfing community, where we just hung out. I met some locals, some other travellers. They showed a bit around, talked about everything and in overall it was a fun night.
Exploring Rome
Next day I explored the city. I saw places like Colosseum, Trevi fountain, Pantheon, Vatican City, churches and many more. In the evening I met some other travellers in the hostel and we went to see the city at night. It was really beautiful. Rome has so many antique histories with some ruins that have lasted over a thousand years. Lot's of history in that city. I thought that this city is so big and I need more time to see other places. So I decided to extend my stay for one more night.
Next day, the same thing: exploring the city and in the night we went to see with other hostel travellers a city in the lights. I would say that you need a couple of days more to explore that city, there is so much history in it.
What I have to say…
My week was rough in the beginning. I hiked in total over 100 km with a backpack. I felt tired, my legs were burning and I was alone most of the time. But looking back to that period: I saw many places and had some good and also some strange experiences. I can do wild-camping for a while and you can actually spend days with a backpack. You will get used to it. In Rome, I met so many different people with different thoughts and dreams. It was a great time there. Great week!
I planned my backpacking trip ahead and now it's time to see a "real" Italian life, as the locals say.
Check out my other Travel Stories
---