Lake Balaton in Hungary is known as a summer vacation hotspot in central Europe. There are several small villages next to the lake, which hosts tourists from all around Europe (but mostly you can hear there German). When you stay there longer, you find out that it's not just a relaxing hotspot in Hungary. Well, there is more to offer.
What are the different things to do when you are visiting the biggest lake in Hungary?
---
How to get there?
There is a convenient railway system from Budapest to Balaton. Because all around the lake is surrounded by train rails. So moving between your hotspots is easily and smoothly done thanks to the convenient transportation. You can find railway timetables and buy tickets online from MAV Start. Also, it's, of course, accessible to other transport like with your car.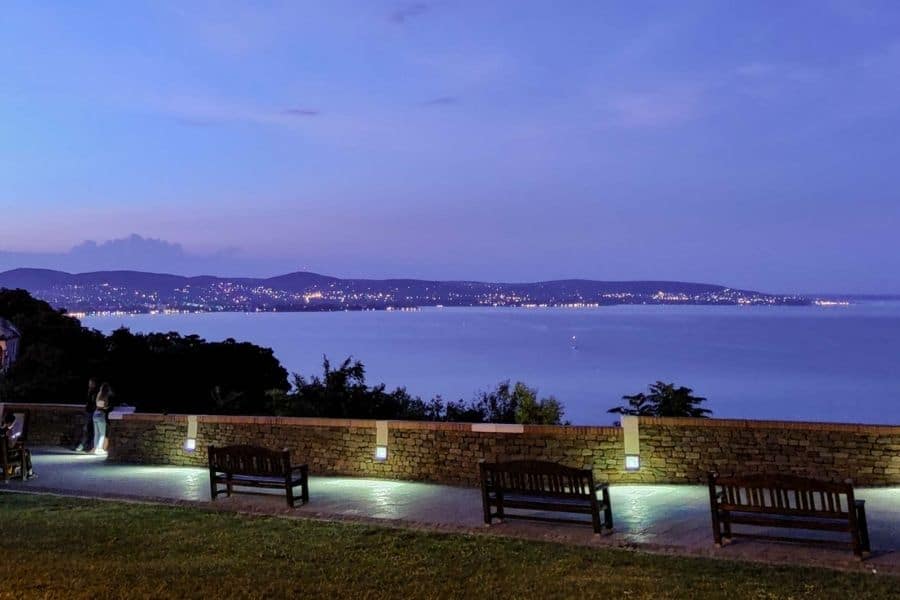 ---
Searching for the parties around Lake Balaton
When you are looking for parties, then the locals say that you have to go to Siofok. It's the first bigger place next to the lake when reaching there from Budapest. It's also unofficially named a Lake Balaton's party capital. There are many restaurants and pubs everywhere. But this place has even more than usual. You can find several clubs and even a party hostel (when you don't want to pay much for accommodation).
There are clubs like Captain Morgan Party Boat, La Siesta, Tesók, Palace Dance Club and you will find out more, when you are walking in the main street. I would recommend La Siesta, it was such a lively place, where bartenders kept the party up.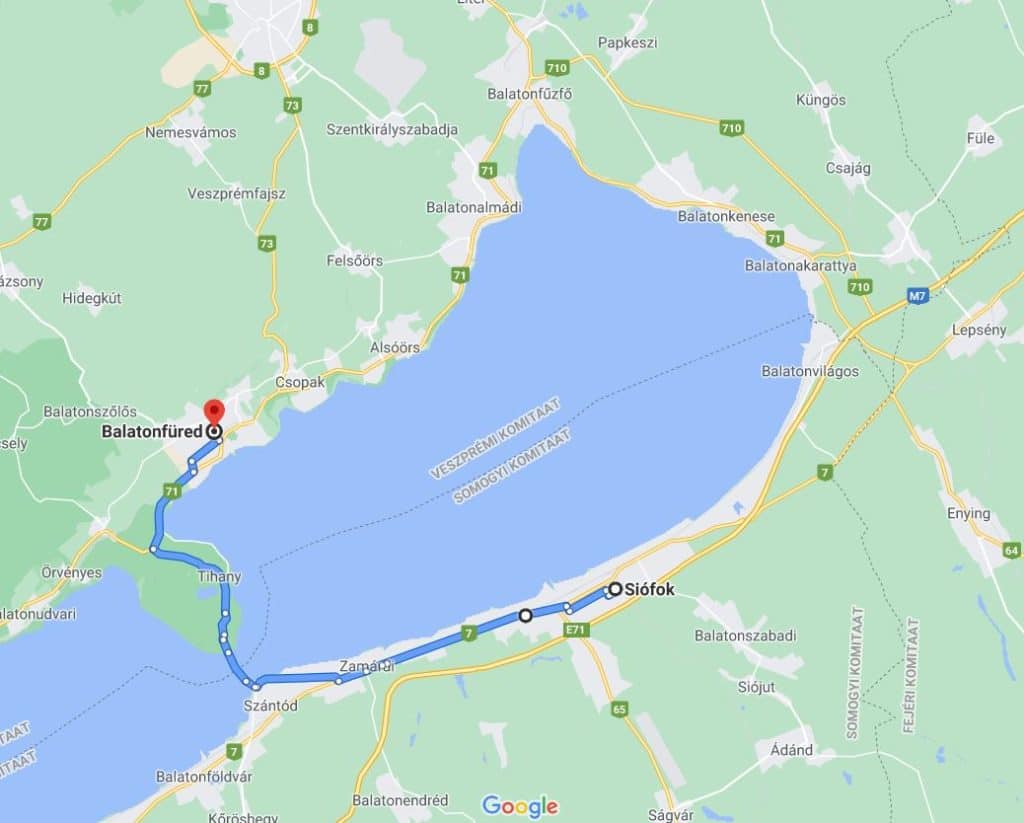 Another bigger place, just over the lake is Balatonfüred. You can reach there easily by ferry over the lake when you are in Siofok. There you can find party places like Club Helka and SunCity. Both cities are close by and you can visit them easily during your stay there.
Another party place next to Siofok is Zamardi. Biggest festival Balaton Sound takes place there. Lots of artists and DJs from all over the world come there. The festival is organized once a year and it's usually at the beginning of July.
Overall, when you are just looking for parties, stay on the northern shore of the lake.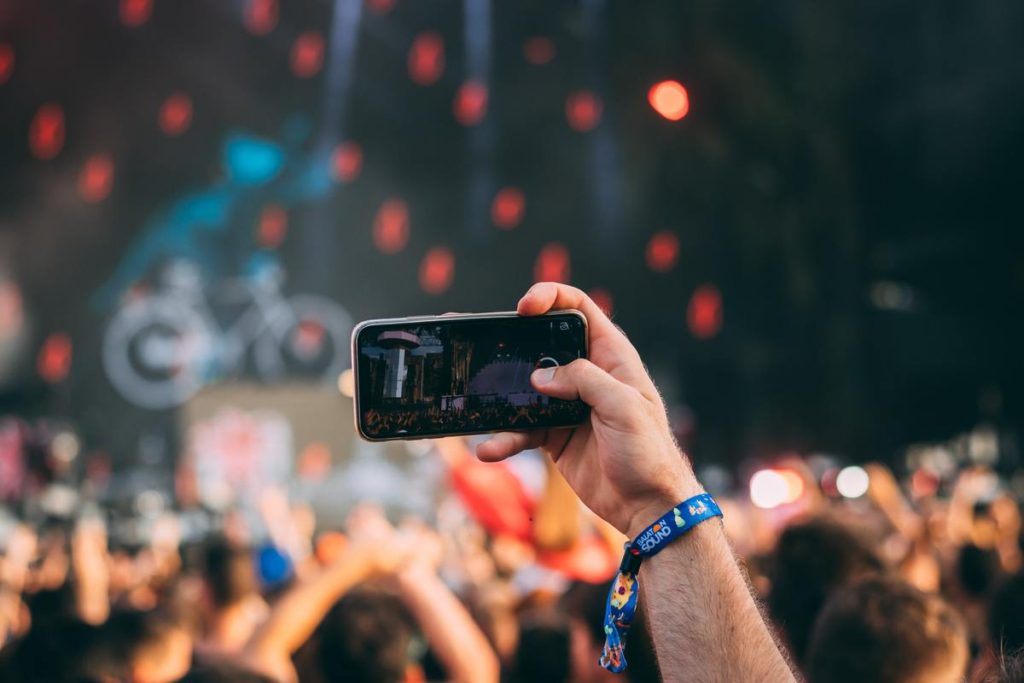 For the ferries, the timetables and fees are found from the official ferry site. Search for a route from Szántódrév to Tihanyrév.
---
Lake Balaton for relaxing and chill
The whole Lake Balaton area is built up for summer vacations and there are plenty of places to relax, sunbathe or just chill. You can enjoy your summer day on the beach, have some cocktails or beers and eat some local food like Langos.
During the night it becomes even more lively with all restaurants, pubs and even some clubs are open. You can hear some live music when you enjoy your drinks and Lángos Sajtos-tejfölös or something else traditional. Sounds like a perfect vacation.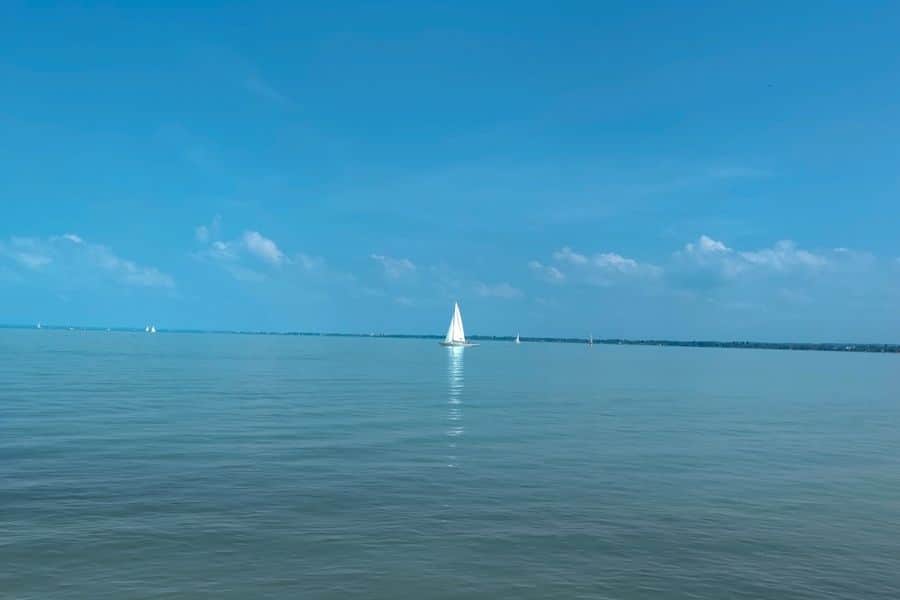 As already mentioned you can find relaxing spots everywhere, it's full of Lake Balaton's surroundings. If you are looking at tourist hotspots, then you can stay on the east side.
Some beautiful Lake Balaton beaches are in Siofok, Balatonföldvár, Balatonfüred, Zánka, Vonyarcvashegy, Balatongyörök and Keszthely. Pick the one you like the most.
---
Want to explore local culture?
One of the best places to visit in Hungary is Tihany. It's a small town with really cute small houses. There are many different shops, like lavender. From the top of the castle, there is an amazing view over the lake and to another a bit bigger city called Balatonfüred. You can enjoy their local culture, walk around the city and just chill there. Such a relaxing place.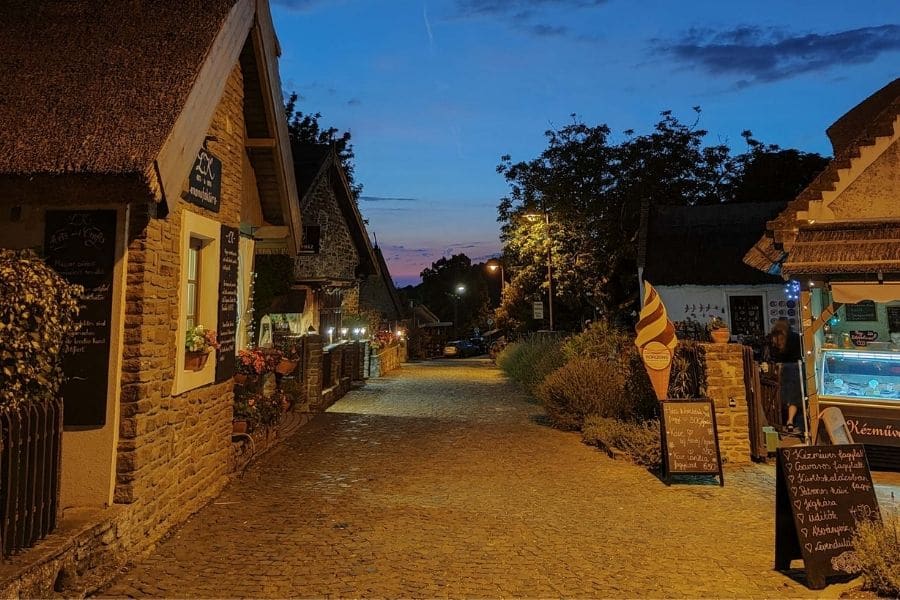 Another great place to visit is Szigliget Castle. It's a medieval castle and it has just recently been restored. Now is a good time to visit it. The most well-known Lake Balaton castle stands atop the 239m Várhegy hill and from there you have views to the lake and Bakony-Balaton Highland volcanic mountains. There is a small price for visiting, but worth it. You will enjoy your stay there even when you aren't the biggest castle enthusiast.
Keszthely have also some local culture to share. When other places around Balaton are more villages, then there you can feel city life. It's the biggest city in the southern shore.
---
Hiking around Lake Balaton
Luckily there are several hiking trails around the area, but mostly these are located in the mountainous side, also known as the Balaton Uplands. No worries! You do not need to be a professional climber or hiker to conquer these peaks. Everyone who likes to hike can go there. You can enjoy peaceful and great nature views almost everywhere.
Tihany peninsula area has rather easier hiking trails. From the trail, you can explore a bit of history, like Barátlakások caves or just magnificent field views.
Looking for more challenges?
Going a bit further to the Bakony mountains (Balaton Uplands) you can find a bit more challenging climbing. Million years ago the the area was formed by volcanoes. There are still many volcano look-alike mountains with marked hiking trails. You can hike around the mountain and can see views of the lake and the Bakony mountains.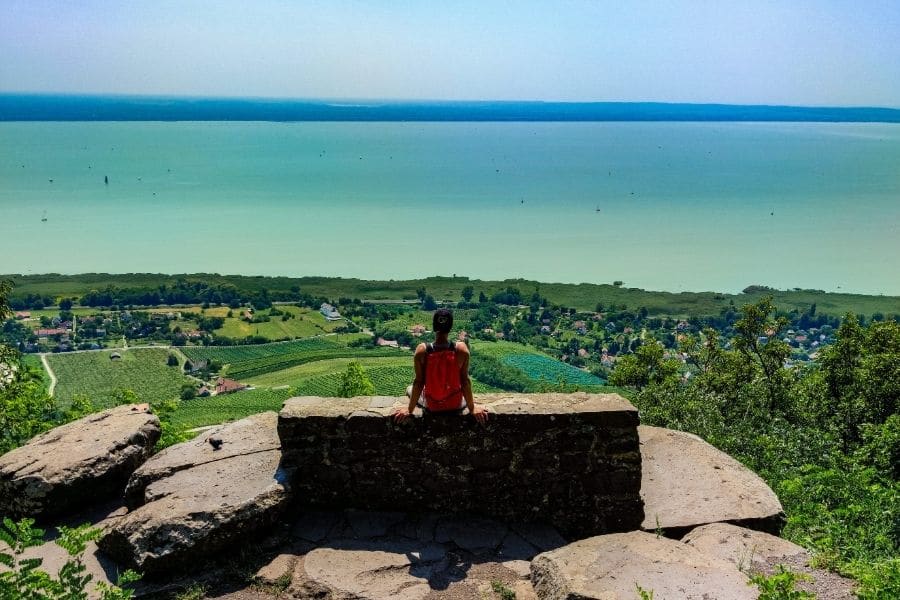 There are many great places where to hike and have good views. Afterward, you have stories to tell.
Also worth to mention places like Hegyestű, Gulács, Toti-hegy, Zalaszántói Sztupa. You will find more places for sure.
You can find more information and hiking trail options from the Outdoor-Active website.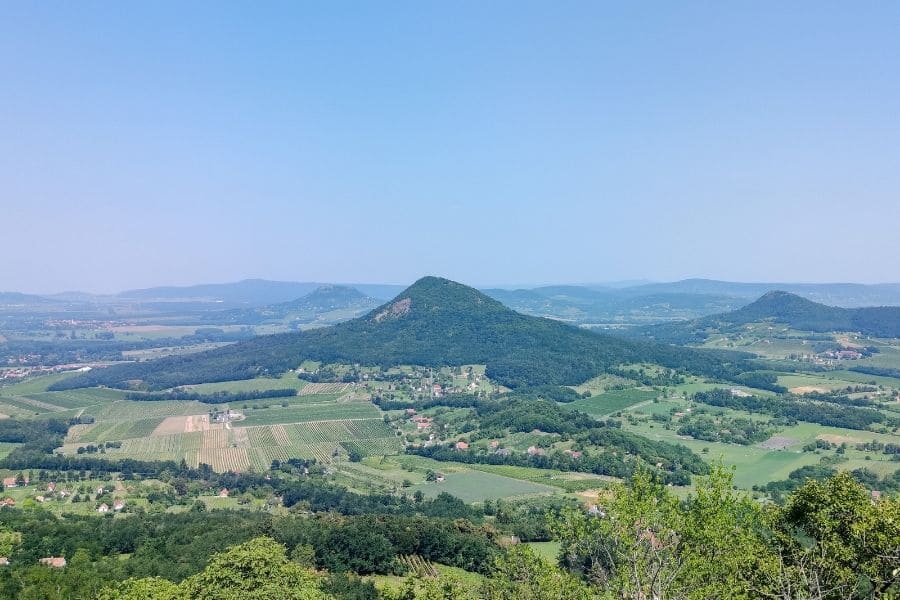 ---
Want to taste local wine around Lake Balaton
Volcanic areas are some of the best places to grow grapes. You can just eat them or use them more productively and make wine out of them.
wine regions:
Badacsony
Balatonboglár
Balaton-felvidék
Balatonfüred-Csopak
Balatonmellék
Somló
The most well-known wine region is in the southern shore Badacsony. I visited it because of hiking. But later I saw grape fields with farms that produce their wine. (I´m a big wine enthusiast) What can you do there? You can do wine tasting in Badacsony(It cost a little – starting from 300 forints). If you love wine and that small price is not killing you then try it. There are many farms to choose from.
Hungary is very well-known for its quality wine culture. Great place to visit if you are a wine friend.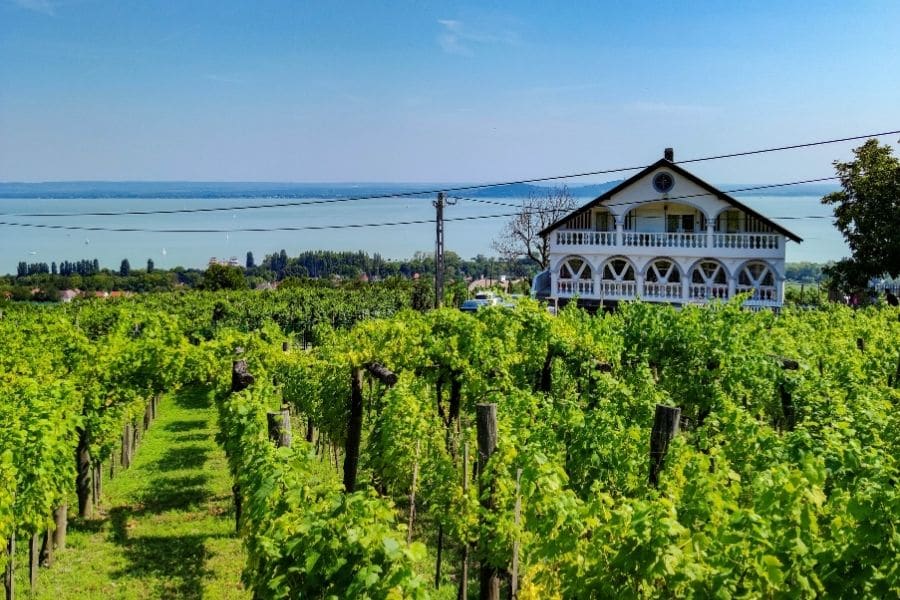 ---
For conclusion
The biggest lake in Hungary is full of different activities, leisure or whatever you can think of. With varied things to do in Lake Balaton, it's a place to visit with family, friends, girlfriend/boyfriend, or doing it alone. During summertime it gets busy and locals say that the population is 4 times bigger than for example in the winter. But still, I recommend visiting during the summertime, when you can exploit everything in that magical area.
---
Read more: Travel Guides about Hungary and Budapest.
---
PIN IT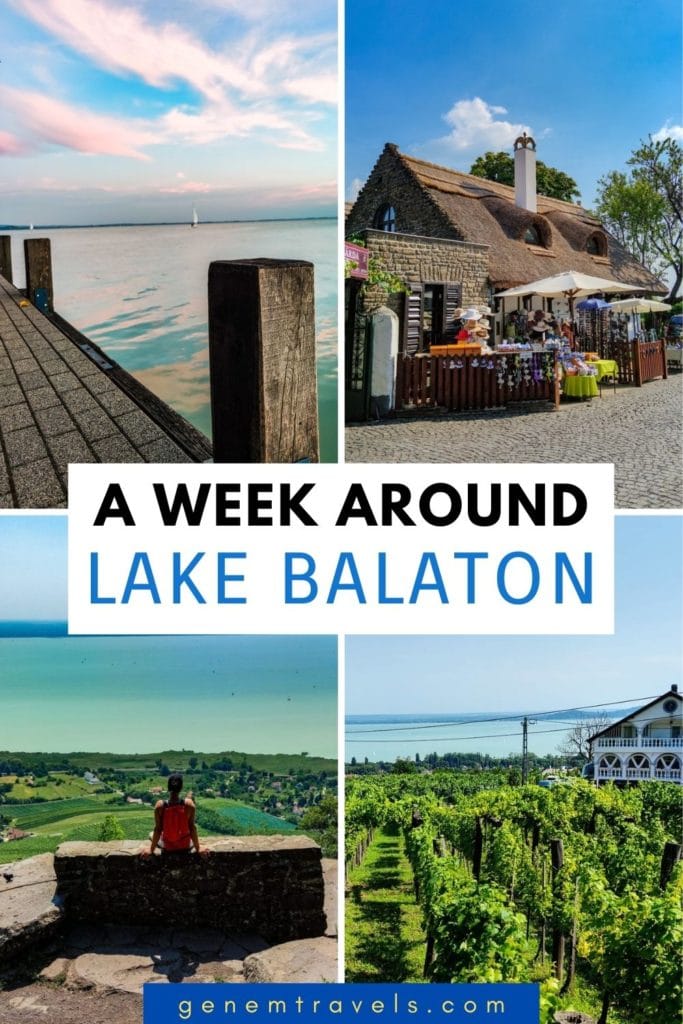 ---
More about Hungary: