Hungary is an easter European country full of history, traditions, and some interesting sights. Many people will know this country by the capital Budapest. But you will find many awesome places when going outside the city. The country is full of adventures. Thankfully it's also healthy for the wallet while backpacking Hungary.
From this Hungary travel guide you will find the main things to do and see, how the approximate budget looks like, traditional foods and drinks, how to backpack around Hungary, how to say hello in Hungary, and finally some extra tips for budgeting.
---
Quick Facts About Hungary
Language: Hungarian
Currency: Forints (HUF)
Capital: Budapest
Population: 9.6 mln (2021)
Highlights in Hungary: thermal baths, Lake Balaton, Budapest, ruin bars, agriculture.
What Hungarians like: soak in thermal baths, drink local wine, eat langos.
How Hungarians cure headaches? With local spirit Palinka.
---
Things To Do & See in Hungary
Backpacking in Hungary main keywords are the capital Budapest, magnificent Balaton Lake, loads of thermal spas, vineyards, and unique agriculture. What to do and what places to visit in Hungary? Let's dive in!
1. Explore Budapest Castles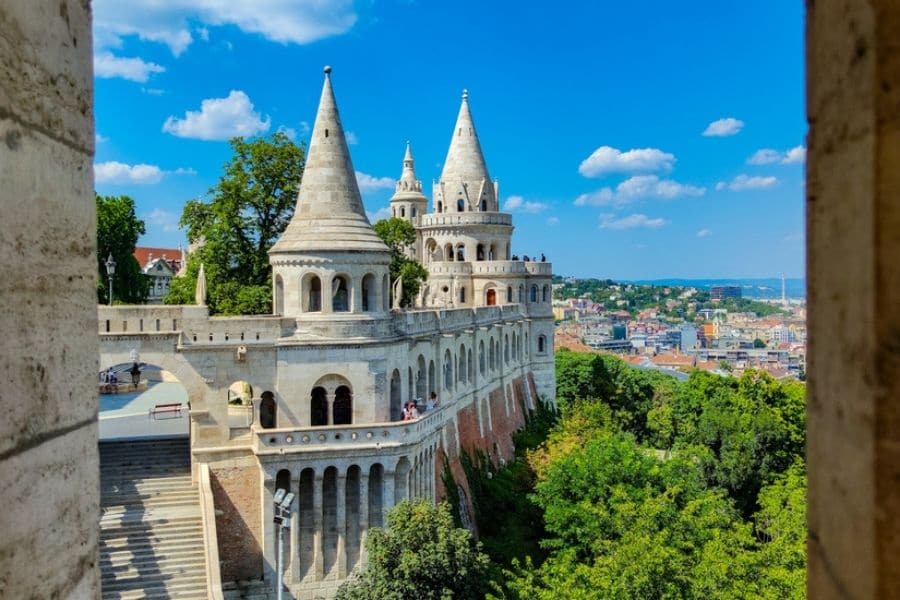 Budapest is full of beautiful architectural buildings, and one of the most prominent constructions is their castles. There is also a district called Castle District and a hill called Castle Hill. Everybody should visit three main castles. Buda Castle and Fisherman's Bastion are close to each other on the Buda side of Budapest. Vajdahunyad Castle is on the other side of the capital in City Park, right next to Heroes Square.
Read more: Budapest travel guide.
2. Look Over the Budapest from Citadel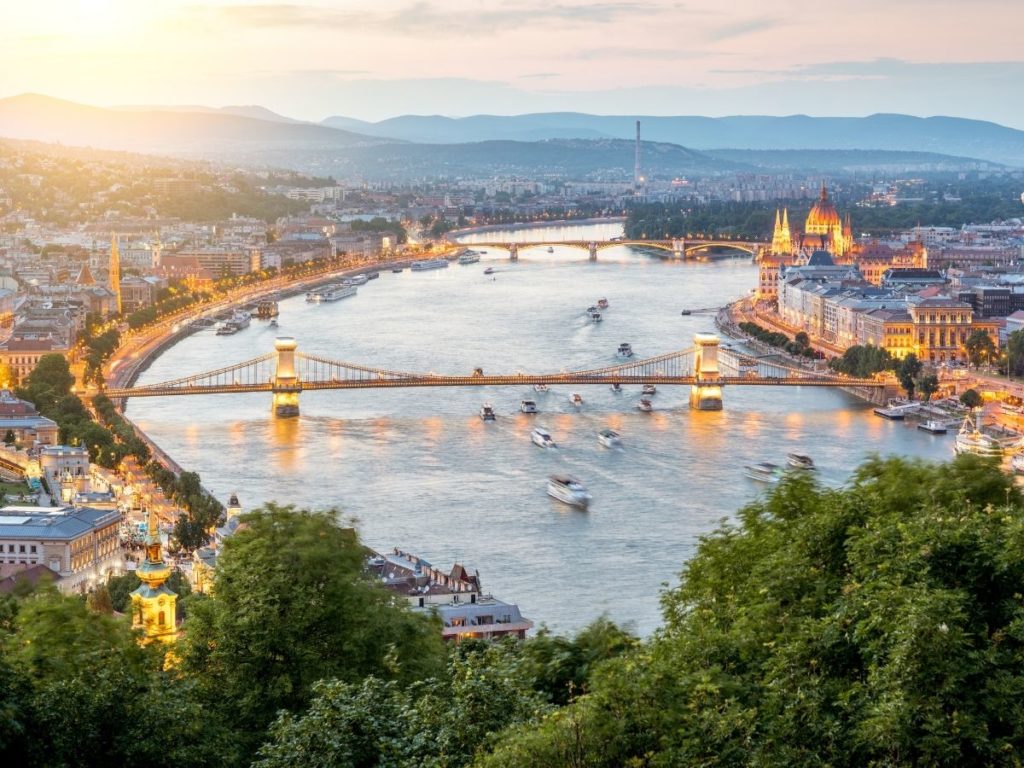 A place that you can't miss during your long weekend in Budapest. It's the main landmark of the city with the Liberty Statue. After some hiking, you will see Budapest and Danube river from the top of the hill. Recommended doing hiking in the daytime and also during the night to see Budapest city center full of lights.
3. Walk Along with the Bank of Danube River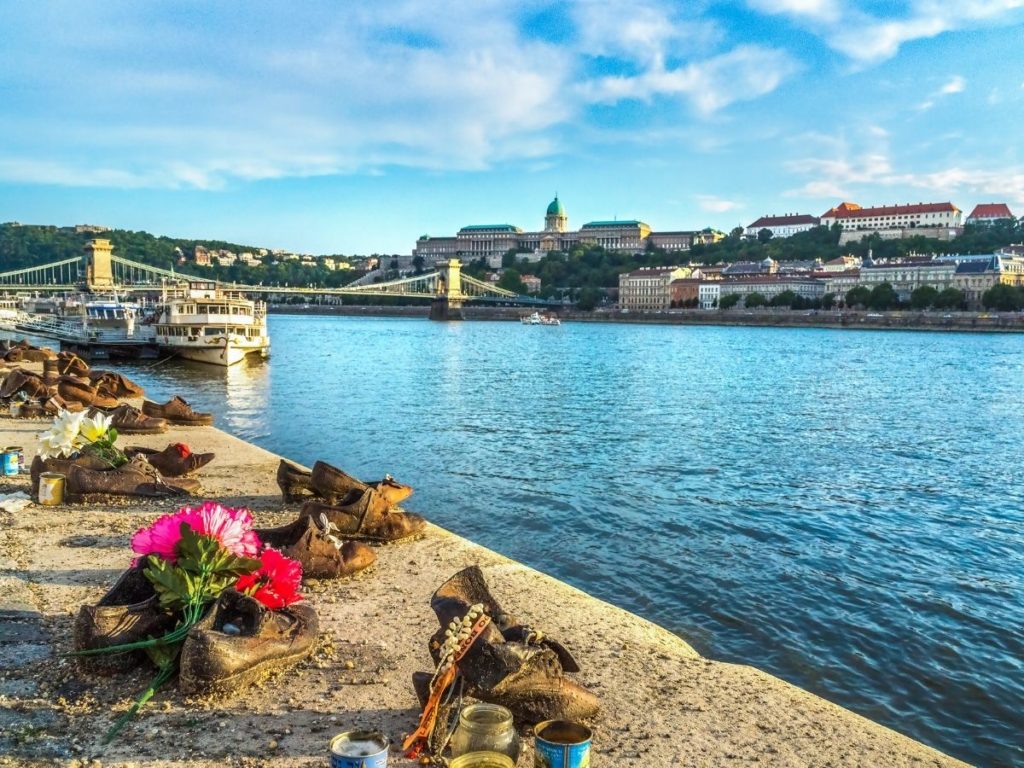 The Danube River flows through Budapest centrum and with that city is divided into two parts, known as Buda and Pest. The Danube is parallel with several important sights like Hungarian Parliament Building, Fisherman's Bastion, Buda Castle, and Citadel. Also, the capital has an island between the Danube River. Margaret Island is a great place to chill, there are parks, fountains, thermal spa, sports fields, and even a mini zoo.
4. River Cruises on the Danube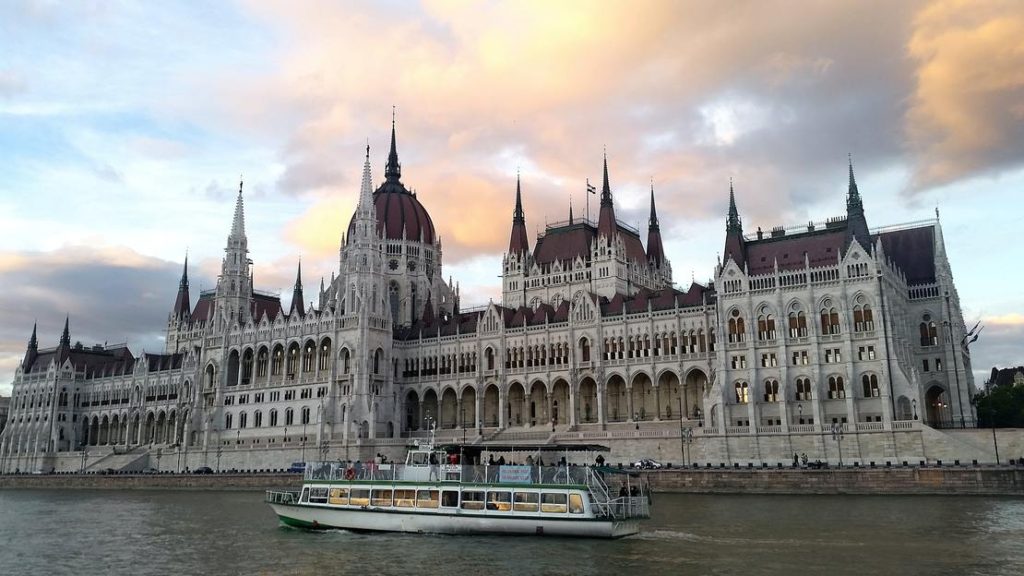 Danube river connects several close-by capitals with Budapest like Bratislava in Slovakia and Vienna in Austria. You can move between these cities with River Cruises, but it takes time and is quite expensive (when you are on budget). Luckily there is a possibility to do daily river cruises just in Budapest. Starting with Budapest Daytime Sightseeing Cruise, having a romantic Dinner Cruise with Live Music, or having fun with friends on Party Boat.
5. Soak in Thermal Baths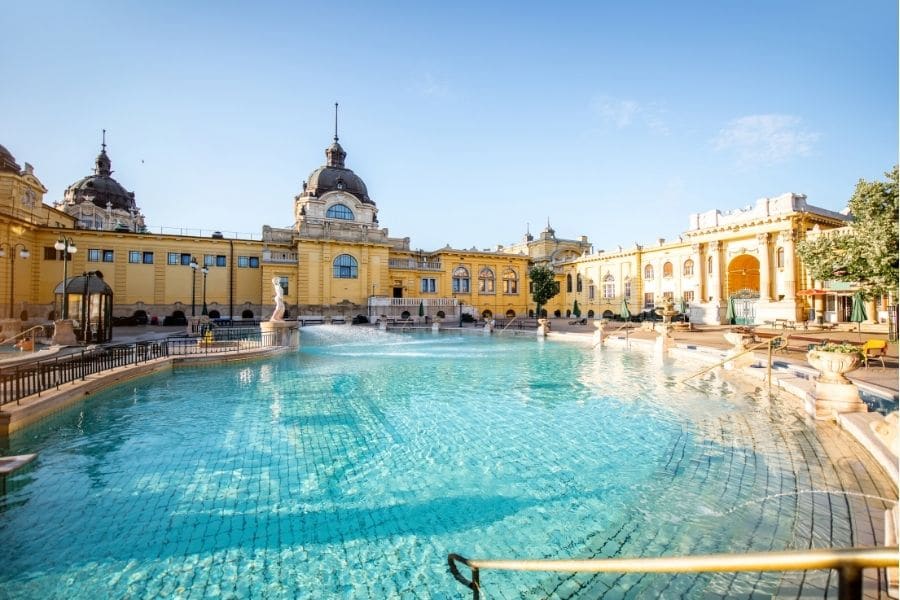 Hungarians are known for their thermal spa culture. The locals like to relax on paths after work, on weekends. They believe it has many healing effects and also that it's the best cure for the hangover. Who knows? Budapest especially is filled with thermal springs. One of the most largest and popular thermal baths also in Europe is Széchenyi Thermal Baths. Other notable baths are Gellért and Rudas Thermal Baths.
6. Try out traditional Hungarian food
Hungary has two main national dishes to try out. The first one is goulash and other langos. Goulash is something between a soup and stew, including potato, carrot, beef, paprika, and some spices. Langos is more like street food. A deep-fried flatbread with varieties of toppings. The most common toppings are cheese, garlic sauce, and sour cream.
7. Chill next to the Lake Balaton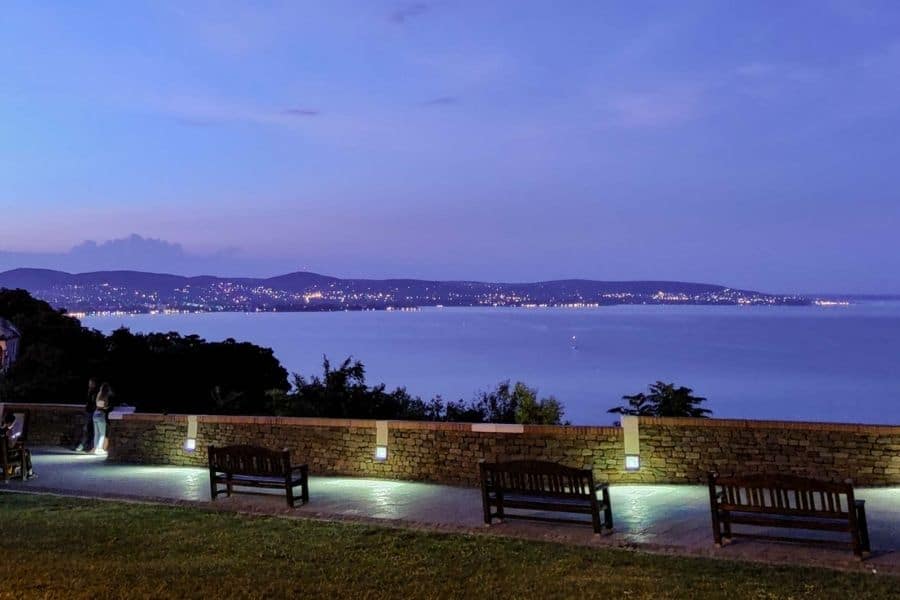 Lake Balaton is the biggest lake in central Europe and it's a very popular summer vacation spot for local Hungarians and close-by nations, especially Germans. Balaton is surrounded by several villages with bars, beach areas, accommodation, boat rental, or any other activity. The high season is during the summer months when it's filled with tourists. For the party spirit people, I recommend visiting Siofok or Balatonfüred. For local culture and history Tihany and Szigliget Castle. For wine tasting and hiking Badacsony. Endless options for backpacking Hungary travelers to chill and relax next to the Balaton.
Read more: What to do around Lake Balaton.
8. Check-In Ruin bars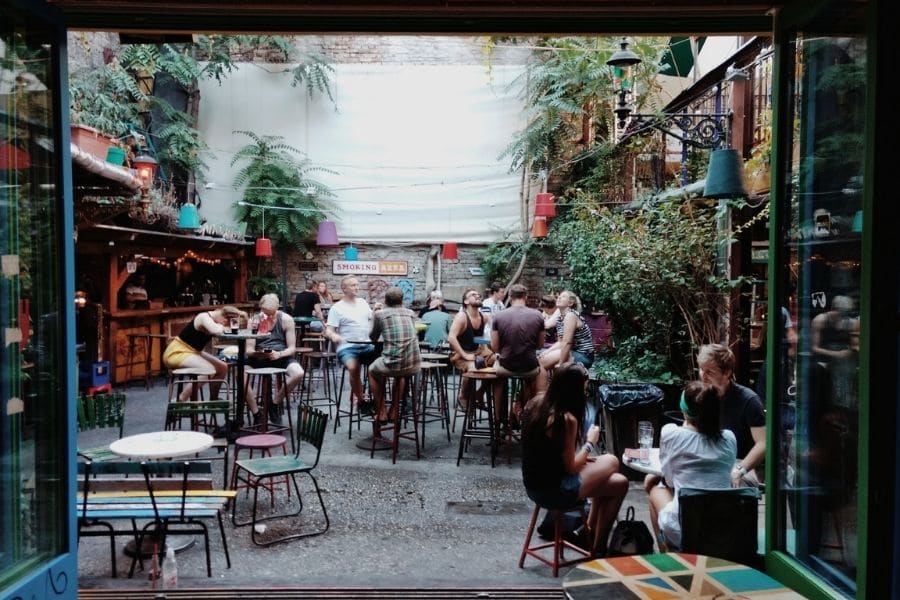 One of the top things to do when backpacking Budapest. It's a unique spirit for the capital. These bars are bizarre, and each of them has its unique atmosphere and theme. If not the biggest party spirit person, then I highly recommend just visiting the main ruin pub Szimpla Kert. It doesn't look at all like a random pub, but more like a designed building with art installations. Other great ruin bars are the biggest Instant & Fogas Ház, low-priced UdvarRom, or communist theme Red Ruin Bar.
9. Hike in Bakony Hills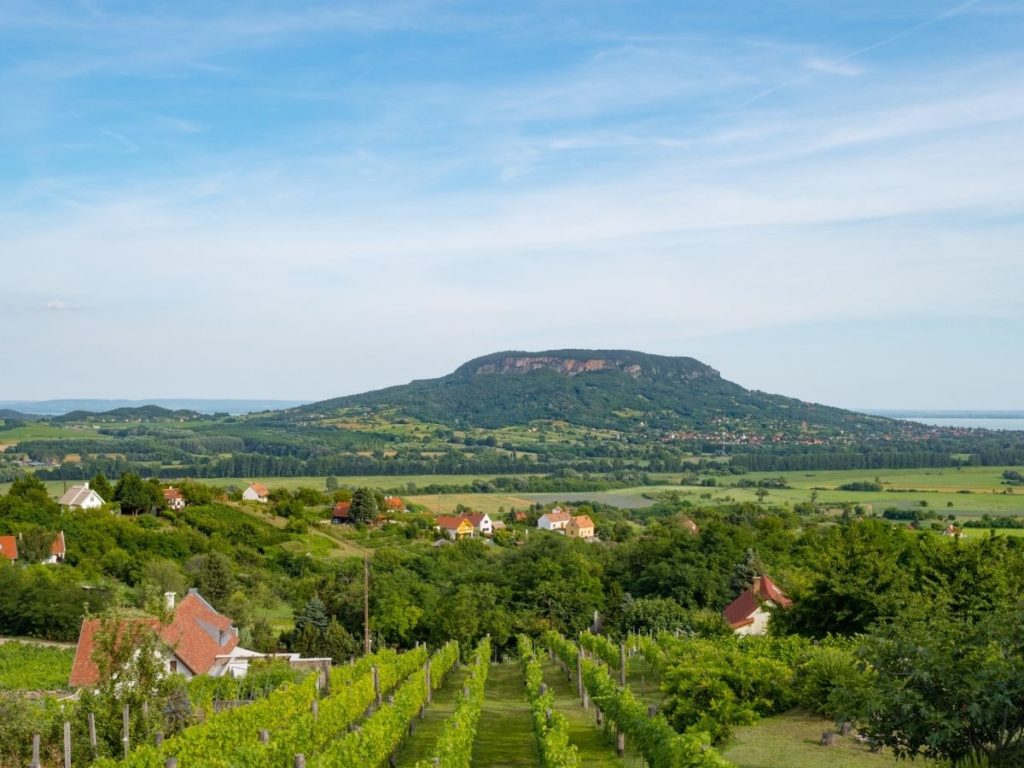 Hungary isn't that mountainous, but there are still some places to go hiking. One of the places is Bakony-Balaton Highlands, which were formed by volcanic eruptions thousands of years ago. These hills are close-by Balaton Lake and from there you have the best views of the lake itself and surrounding volcanic look-alike mountains. I recommend hiking in Badacsony Hill.
10. Attend Music Festivals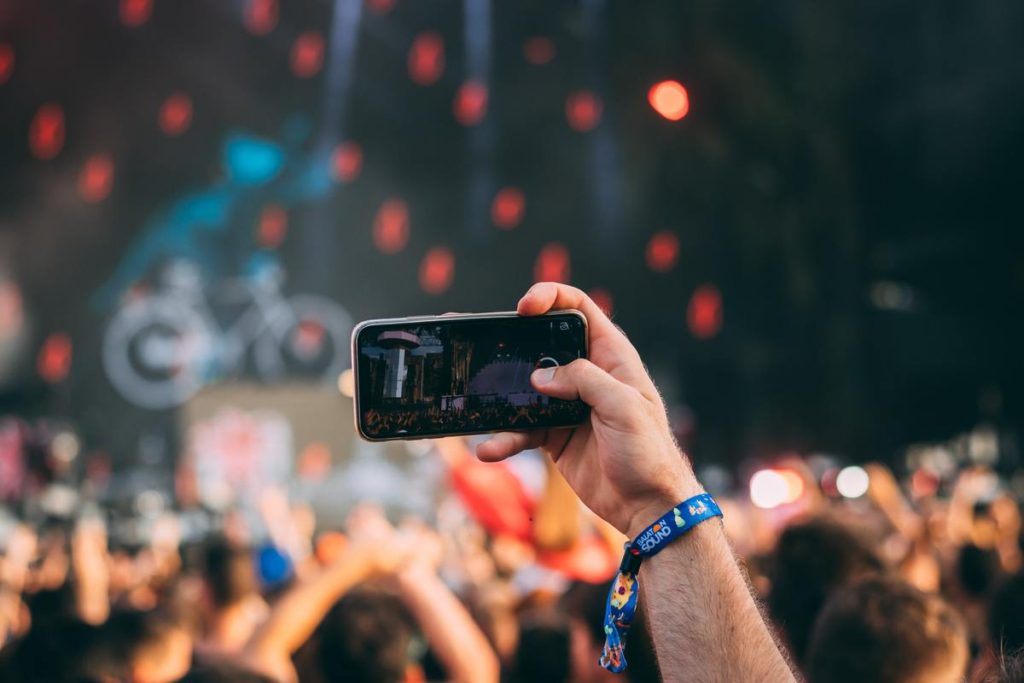 Hungary has several music festivals. Most known are the Sziget Festival in Budapest (approximately at the beginning of August) and Balaton Sound next to the Balaton Lake (beginning of July). Both are mostly dance music festivals. Other music styles are also represented like Ozora Festival for psytrance, Strand Festival for most pop music, VOLT festival for multi-genre.
11. Soak in Cave Bath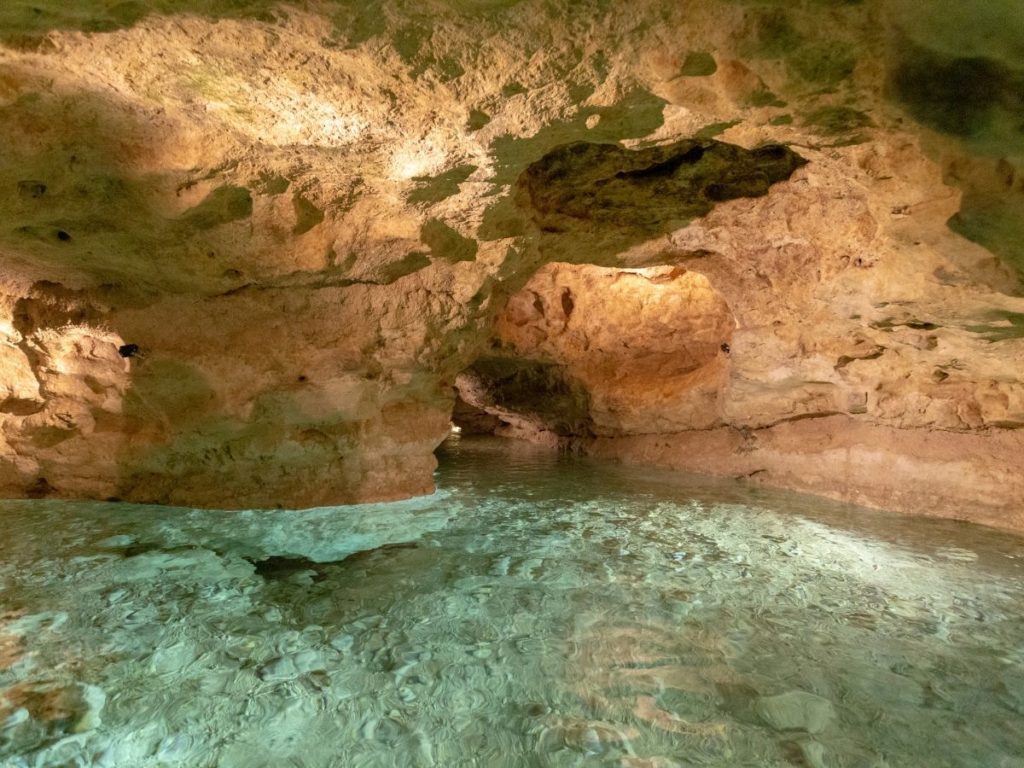 Another unique natural thermal bath is in Miskolctapolca. That thermal spring makes it special because it's in the cave. The water temperature is around 30 Celsius degrees. It has been said that a thermal spring also has a curing power, especially reducing joint pain. The Cave Bath of Miskolctapolca has a lower salt content (below 1000 mg/liter), so visitors have no time limit to relax in that thermal spring.
12. Visit Esztergom & Visegrád Royal Palace
Esztergom is a northern city along the banks of the Danube river. It's about 46 km from the capital Budapest. The most remarkable building there is Esztergom Basilica, which is also the biggest cathedral in Hungary.
About half an hour ride from Esztergom along the Danube is Visegrád. There is for history fans a Royal Palace and also close-by Danube Bend.
13. Explore the Bokod Floating Houses
Lake Bokod is an artificial lake, made for adjacent power plants to cool machines down with cold water. It has circular water, where cold water from the pond is for cooling down plants, and warm water is released back to the pond. Because of that the lake never freezes. But that's not a reason people go there. It also became popular among fishermen and over time the locals built floating scenic houses in the lake. Because of these unique floating houses this place is visited. There are two separate villages: Bokod and Oroszlány.
14. Discover Hungary local culture at Hortobágy National Park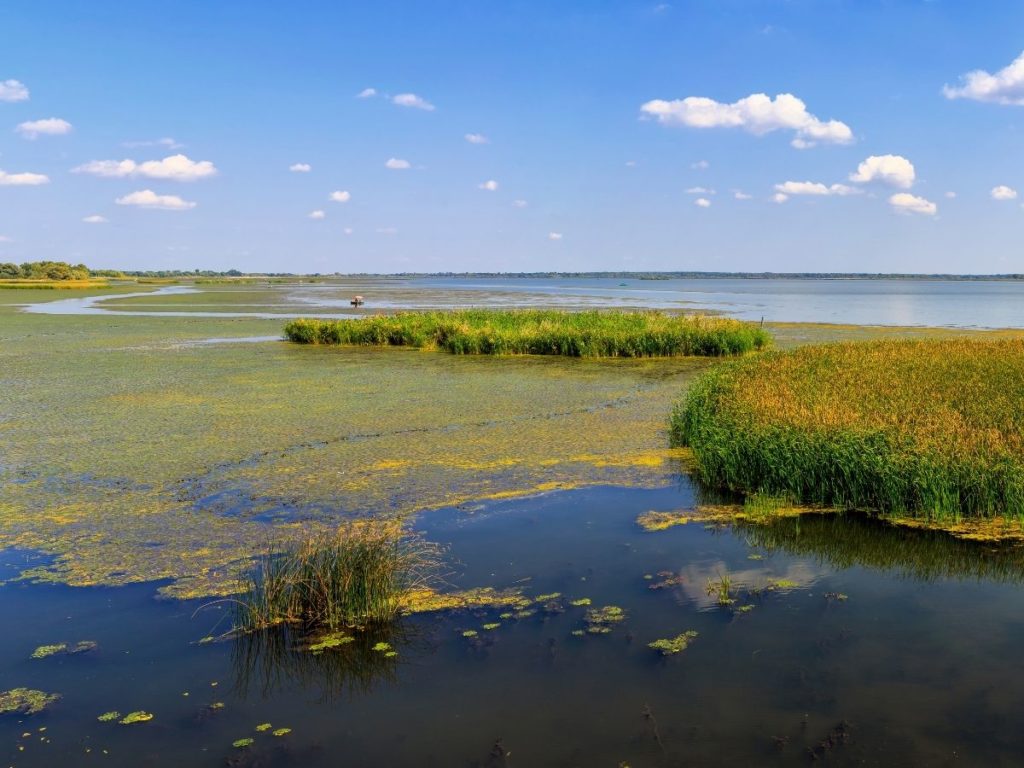 Hortobágy National Park in the eastern part of Hungary is the largest protected area and is also listed on the UNESCO World Heritage site due to maintained local agriculture. It's the right place to learn about Hungarian folklore and cultural history. Everybody can hike around off the beaten path and do some bird watching.
15. Hike around Matra and Bükk Mountains
When backpacking Hungary and wanting to do some hiking, then these two mountain ranges are close to each other in northern Hungary. Kékes mountain in Matra is also the highest peak (1014m) in Hungary. Bükk Mountain range has also an area for National Park with multiple caves, several peaks over 900 meters, and is also the main place for skiing.
16. Discover the Aggtelek National Park & Caves
The park is located right next to the Slovakia border in northern Hungary. It's an area where the sights are above and below ground level. Above the ground level has rich wildlife, castles, palaces, and hike trails. But when backpacking Hungary then the most amazing and unique are caves below the ground. Aggtelek Karst with about 280 caves is listed on the UNESCO World Heritage site.
17. Try Hungarian Wines in Local Farms
Hungarians are really into wine-producing, in fact, about a hundred years ago they were one of the most well-known wine producers in Europe. Nowadays there are several wine regions, for example, Tokaj, Eger, Villány, Nagy Somló, Balaton. Hungary is well covered with different smaller vineyard regions. In these areas are several farms, who are open to host guests and let them try out their wine. For example next to Balaton, a well-known region is Badacsony, where smaller farms have their small wine shops. A glass of wine starts at about 300 HUF (0.8 EUR).
18. Learn about Roman history in Pécs
Pecs in southern Hungary was founded in ancient Roman times which was named firstly Sopianae. Pecs has a rich history with architectural buildings like Pécs Cathedral, Mosque of Pasha Qasim, Synagogue. As already seen by buildings, Pecs has been over history multi-ethnic city with different cultures. To see Roman history, visit the Necropolis Early Christian Mausoleum.
19. Visit Eger
Eger is a northern Hungary city known for its castle, minaret, thermal spas, wine, and baroque buildings. The most prominent building in the historical town is Eger Castle, with a complex of houses and a museum. The 40-meter narrow circular Ottoman Minaret is also unique for this place because few minarets have survived from the Ottoman period. Also, close by is Bolyki Pincészet and Vineyards, where around the spectacular landscapes everybody can taste the local wine.
20. Paddle on Lake Hámori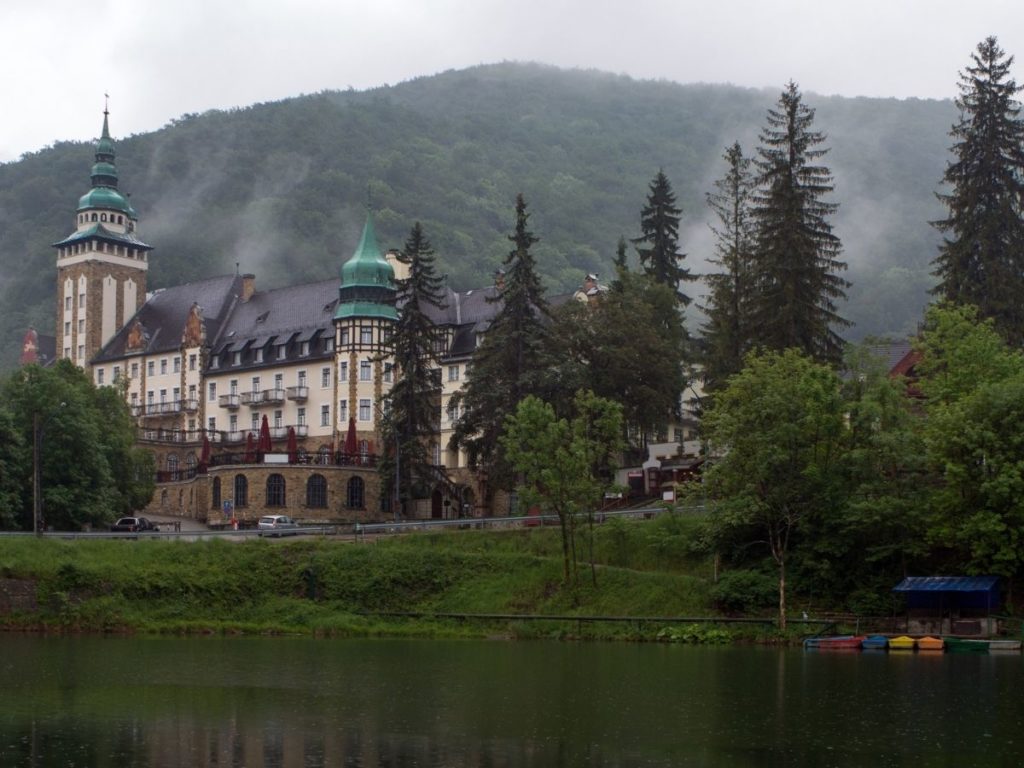 Lillafüred is located in Bükk National Park and is the most visited place in that area. The romantic place has several things to do. Chance to explore the neo-renaissance style Palace Hotel, paddle with a boat on artificial lake Hámori, explore natural caves Anna, István, and Szeleta, and also see the biggest waterfall in Hungary.
21. Soak in the biggest natural thermal bath: Lake Héviz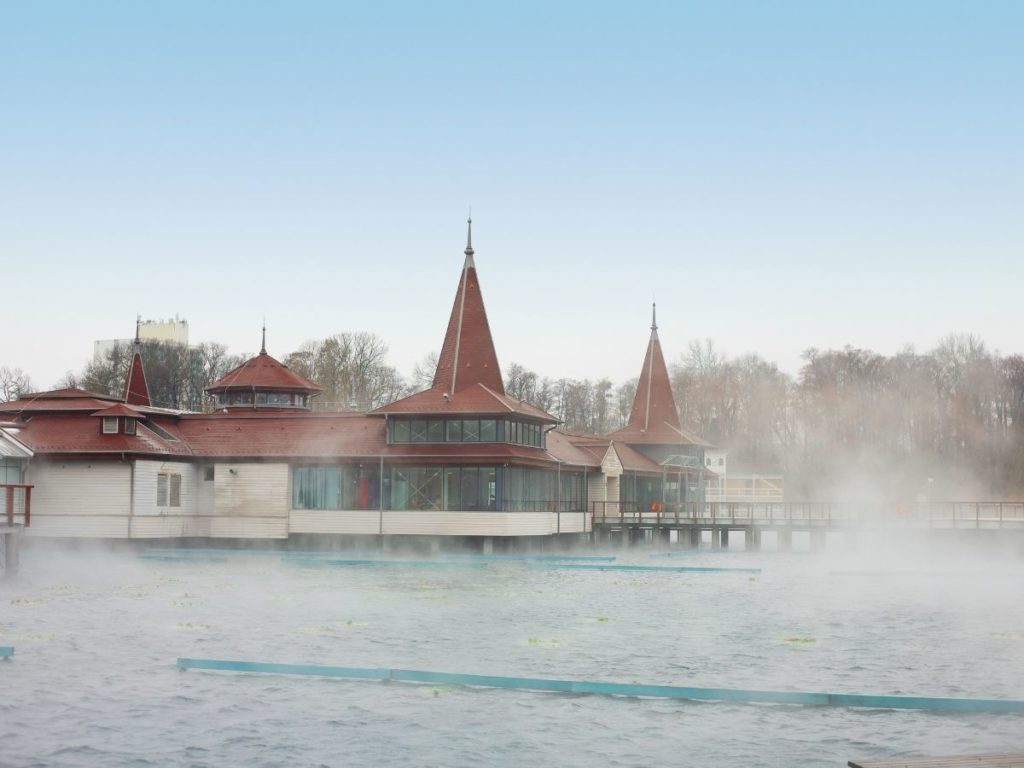 The largest natural swimming thermal lake in the world is located in western Hungary near Balaton town Keszthely. Apart from the lake bath, it's also a spa with different treatments and therapies like medicinal mud, healing massages, physiotherapeutic treatment, drinking cure, and more. Lake ticket costs 3500 HUF (9.5 EUR) for 3 hours and 4300 HUF (12 EUR) for 4 hours.
22. Walk around Tengerszem Nature Preserve
Until 1907 it was a stone mine operation, after that, the place was abandoned and nature started to form it into one of the most beautiful natural locations in Hungary. The Tarn of Megyer Mountain is the most popular place in the area where there are several walking trails along the cliffs. An exciting place to a quick stop while backpacking through Hungary.
---
Backpacking Hungary Travel Costs
One of the best things about backpacking Hungary is that it's incredibly affordable for any traveler. There aren't many places in Europe with that exceptional ratio between quality and cost.
Maybe because Hungary hasn't joined with euros yet. They still have their currency – Forints (HUF). To put into perspective:
1 EUR ≈ 360 HUF
1 USD ≈ 300 HUF
1 GBP ≈ 420 HUF
Accommodation costs
Hungary is a dream place for a budget backpacking trip because hostels are affordable. Prices start from 1800 HUF (5 EUR) and even for the ones that are in the center of Budapest. Most of the time you will get lower prices off-season or outside of the capital.
During the summer months, it's still low and stays around 3600 HUF (10 EUR). But still, I found a hostel for 1800 HUF during the high-season in the center of Budapest. It's pretty common that they also have a free wifi, a kitchen to cook meals and some even have breakfast included in the price.
Budget hotels start from as little as 5500 HUF (15 EUR) per night. For a 3-star hotel except to pay 11000 HUF (around 30 EUR) and a 4-star double for that.
Food costs
With the tight backpacking Hungary budget, the belly can be filled well with around 2500 HUF (7 EUR) per day. For example, in every Budapest corner, you will find several street food places. If kebab, burger, or pizza is good for you then you can have it around 1000 HUF (below 3 EUR).
In restaurants, the main dishes start at around 2200 HUF (6 EUR). Beer in restaurants or cafes is about 650 HUF (1.8 EUR), in pubs even cheaper. Traditional food goulash in the restaurant is about 1400 HUF (3.8 EUR) and street food langos around 800 HUF (2.2 EUR).
Main activities costs
When backpacking in Hungary then as everywhere are several activities found for fun, tours, sports, party, or any other leisure. For Hungary, it's peculiar thermal baths, so this should be on every Hungary backpacking bucket list.
The prices start for soaking in baths about 3000 HUF (8.2 EUR). Another popular activity in Budapest is river cruises, which prices start at 5000 HUF (13.5 EUR). Paddling with a SUP board in Lake Balaton for an hour is around 4050 HUF (11 EUR). Budapest authentic food tour with tastings is around 11000 HUF (30 EUR) per person. Budapest ruin pub crawls start at 5900 HUF (16 EUR) for more party spirit backpacking Hungary travelers. Find more attractions from Get Your Guide.
---
How to get around Hungary
Hungary has a great public transportation system, especially in the capital. Backpacking across Hungary has several transport options by trains, busses, planes, and even boats. You will find several cheap flight tickets to Hungary.
A single ticket in Budapest for any ground transport (metro, tram, bus) is 350 HUF (1 EUR) and a 24-hour ticket 1650 HUF (4.5 EUR).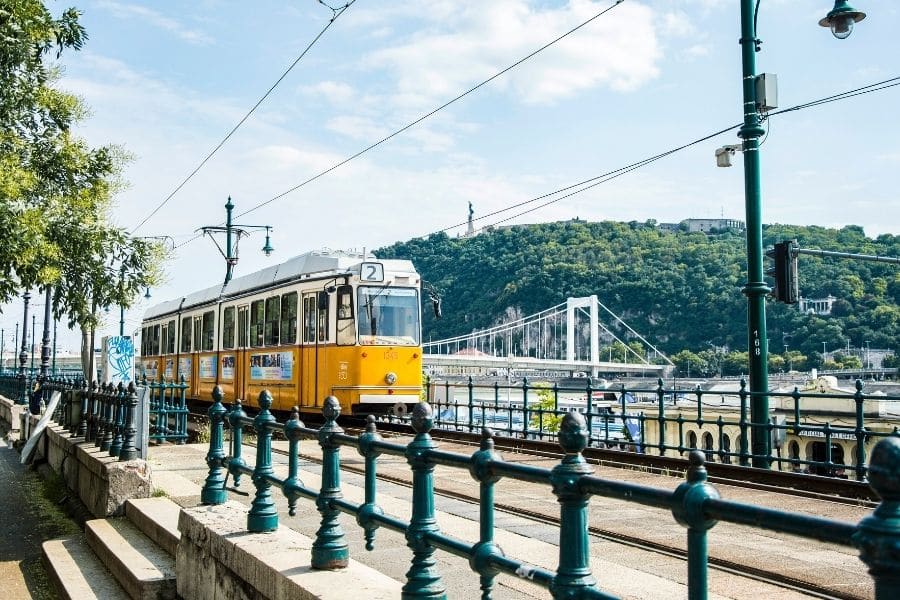 A local bus company, Volán, operates between Hungary municipalities, cities, and different hotspots. Schedules and tickets for domestic transport are found from Omio.
Hungarian State Railways MÁV START covers pretty much every corner in Hungary, from north to south and from east to west.
Any sea doesn't side Hungary but still has transport in waterways. Thanks to the big rivers some parts can be visited by boats. There are plenty of river cruises for tourist tours, however, these are also a bit more expensive.
Another alternative for transportation is to use the backpacking app BlaBlaCar for carpooling with strangers. You will search for the destination, and if the destination matches with a driving car, then you can have it at a small price. Although BlaBlaCar is used internationally, it isn't the most popular app to carpool when backpacking in Hungary. Hungarians have their app, Oszkar. It works the same way as BlaBlaCar.
Hitchhiking is also a way to backpack around Hungary. For example, it's an easy way (and free) to travel around Balaton. But make sure to check out these tips when hitchhiking in Europe.
If you want to avoid public transport and discover Hungary without transport limitations, then check the prices from Rentalcars.
---
Where to stay in Hungary
---
Hungarian Traditional Food & Drinks
Traditional Hungary dishes often include meat, bread, cheese, seasonal vegetables. Two of the main dishes as previously mentioned are Goulash and Langos. For drinks are well-known local wine Tokaj and spirit Palinka.
Goulash
A meat soup or stew with potatoes, paprika, carrot, and some spices. It's popular all around Hungary. There will be several varieties of goulash with small changes on the recipe, but the taste keeps mainly the same. Several restaurants will have that traditional cuisine on their menu with a price of around 1400 HUF (3.8 EUR).
Langos
Langos with deep-fried flatbread with varieties of toppings are considered street food. It's again a traditional food all around Hungary, but it's connected mostly as a local Balaton dish. You can get it in several street food sales boots and also in restaurants. The most common langos with topping cheese, garlic sauce, and sour cream (Sajtos-tejfölös lángos) price is around 800 HUF (2.2 EUR).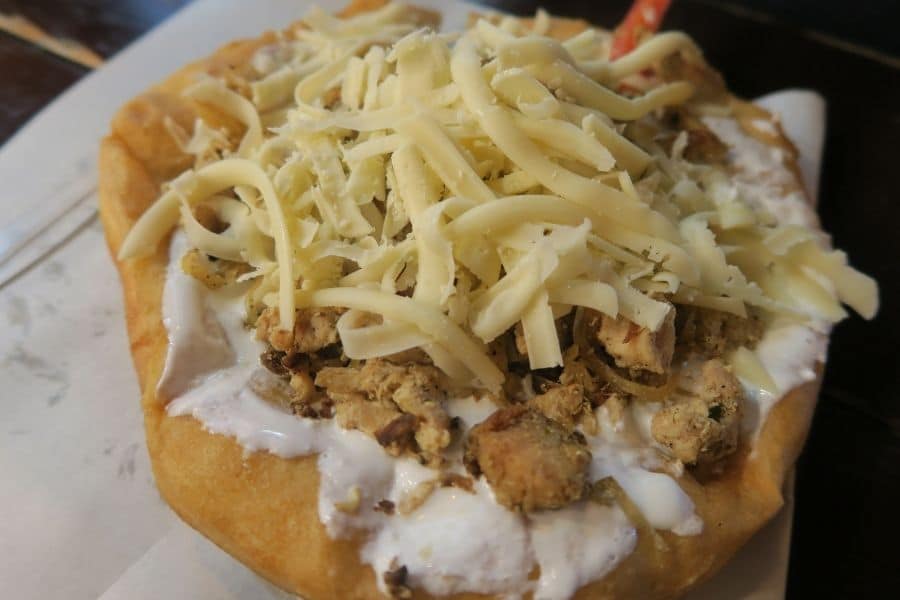 Tokaj
Hungary is a land with wine-producing traditions for centuries. The wine history starts already in the Kingdom of Hungary times and even about a hundred years ago Hungarians were one of the most important producers in Europe.
Over the years one signature wine in Hungary has been in wine enthusiasts mouths – Tokaj. It has been a favorite for many people starting with the Russian Tsar's back in history days to all kinds of wine friends like me.
Sweet wine is made by locally grown vineyards in the Tokaj region. It's located in northeast Hungary. A true golden standard to try out when backpacking around Hungary.
Palinka
If the wine taste is too soft for you, then palinka would level up your sense of taste. Hungarian traditional spirit ingredients are mashed, distilled, and bottled by different homegrown fruits. Palinka has a variety of tastes depending on the main ingredient – grapes, apples, plums, apricots, pears, or any other creative way.
Many farms produce their palinka, but to be called that way (palinka) you can't be too creative. There is also a palinka law that indicates that it has to be farmated from locally grown fruit, also all the producing cycle (from growing ingredients to bottling) has to be made in Hungary, and is at least 37.5%. If these all requirements are met then you can call it palinka.
---
Budget for Backpacking Hungary
It depends highly on your needs. It's possible to do a backpacking Hungary trip on a very tight budget like mostly everywhere in eastern Europe countries and also you can spend a lot.
For a tight backpacking budget, I would start about 20 EUR per day. On that occasion, you will stay in a very cheap hostel, getting hosted by locals, and doing some wild camping. Using carpooling or hitchhiking. Cooking own meals, cheap street food, or picnics everywhere. If you want to go wild and have some fun (drinks), then I would add another 10 EUR to the budget.
A convenient backpacker who wants to have more comfort and eat outside, I would start at about 40 EUR a day. Then you will get a nice hostel for about 10 EUR, have a meal in a restaurant, use public transport to move around, and some reasonably priced tours. But still have to track expenses to not go over the average daily budget. For the fun part again add at least 10 EUR to the budget, but be aware that it's easy to go over the budget limit when you have drank some wine.
For the short weekend getaway or short trip is better to have for comfort, experiences, and fun at least 100 EUR per day. Then you can have a private room in the hotel, try out all the traditional foods, tours, and other activities.
NOTE! It's an average daily limit and sometimes you can go over budget (thermal spas, tours, food experience), but then make sure that some days you will save additionally from daily budget goals.
---
Hungarian Language
Hungarians also have their language called Magyar. It's a Uralic language and it's spoken by around 13 million people. The Hungarian language is also known as one of the hardest languages to learn due to a variety of complex rules and vowels. Another helpful fact for Hungarians is that their names are written from the last name to first name. So don't get confused when a Hungarian is introducing themselves.
Nonetheless, the local language seems like tongue-twisting practice, it's still easy to learn some basic words and phrases.
Szia [see ya] – Hi!
Jó napot [yoh nah-poht] – Good morning!
Igen / Nem [eeghen / nehm] – Yes/No
Köszönöm [kew-sew-newm] – Thank you!
Hogy vagy? [hodj vadj] – How are you?
Viszlát [vee-slaht] – Goodbye!
---
Best Time to Visit Hungary
The high season as everywhere in Europe is during the summer months (June – August). Also, the most pleasant weather is approximately from April till the end of September. During the peak season, there will be more traffic everywhere especially in Budapest and around Balaton Lake. But still, it's time to consider your backpacking Hungary trip. Well because then most of the tourist attractions are opened. On the other hand, during that period prices have also reached their peaks.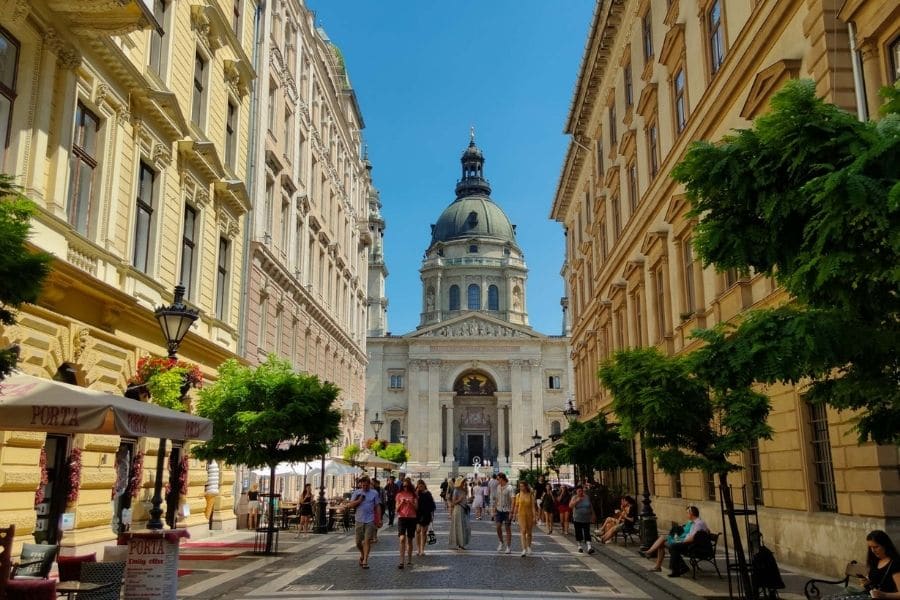 Anything from April to June or September are the best months for budget backpackers. The weather is still nice, there will be less hassle with crowds, and prices are cheaper.
During the winter times, degrees drop to near zero and some places aren't that attractive as in the summer. Especially around Lake Balaton, where the main spot is the lake itself. However thermal spas are mostly opened all year round if you're not down with winter swimming.
---
Hungary Visa Requirements
Hungary is a European Union country and also in the Schengen Zone. When arriving in the country by plane, there will probably be some checks. But if backpacking to Hungary from another European Union country then there will be no check and you can enter the country without a stop. Check out more information about visas from here.
---
Is Hungary safe?
Backpacking in Hungary is pretty safe, people are friendly and speak English well (if need to solve some problems). But as everywhere you must be aware of scams or other tricks (tourist traps). Especially it can be seen in bigger tourist spots like Budapest. Still, overall it's a safe country.
Anything can happen when traveling abroad and backpacking Hungary is no exception. Having travel insurance is a must (anywhere you go). I always have travel insurance, but luckily I haven't used it yet. For me it's okay to spend a little for my safety (if anything happens), then to pay afterward for extremely high medical bills. I recommend using trusted World Nomads.
---
Tips for Backpacking Hungary on a Budget
Hungary overall is an affordable eastern European country. Cheap food, accommodation, transport, and beer. But still, there are plenty of ways to spend less money with some basics. Here are some travel tips on how to save money in Hungary.
Couchsurfing – That would be my first recommendation in any country. It's not about a free couch, but more about the awesome people you met through that. In short, it's an app or more community where locals host travelers in their homes.
Student ISIC Card – Can use it in any country. With that will be found discounts in transport, attractions, or even on accommodation. Check out which discount options with an ISIC card you have.
Carpooling – It's cheaper than public transport. The most internationally used is BlaBlaCar, but when backpacking Hungary, then for better luck use local Oszkar.
Hitchhiking – A fun way to do backpacking around Hungary. Safe to do it, but don't forget to use your gut feeling when using that alternative way of traveling.
Walk as much as possible – For example, the capital is a walkable city. The main attractions are around Budapest centrum. It's also possible to see more surroundings and even crash by accident into some hidden gems.
Be you own chef – Easiest way to cut down expenses on food. Even though food isn't that expensive, cooking by yourself will save a ridiculous amount of money.
Free Walking Tours – The best way to get to know about the city is through the guided tours. Most of the cities have free guided tours around the main sights. I recommend using that, but make sure to tip the guide in the end.
Use the advantage of the Budapest card – Passes are from 24h to 72h. Including free public transport, some free attractions, and several discounts. Prices vary depending on which card to take from 22 to 65 euros. It will be money-saving if you aim to visit many attractions. Check out more about Budapest Cards.
---
Ready to go backpacking in Hungary?
Hopefully, you found some useful information and travel advice from that backpacking Hungary travel guide. For additional information about Backpacking, check out also these resources:
---
PIN IT
---
More about Hungary