Budapest, the capital of Hungary… is full of exploring. When you want to spend your long weekend in Budapest with your family or you want to chill and relax with your spouse or you are young & wild and live fully. All these types can find something on the Budapest weekend travel guide. Hanging out in that magnificent city for a couple of days and still won't get bored. It is truly one of the greatest cities in the World.
From that Budapest weekend trip guide you will find what things to see and do, how to get around, where to party, travel and budget tips, about traditional food, and where to stay.
---
What to see and do in budapest
When you have already been either or both in Vienna or Prague, then you can expect what is going to wait for you. You don't see fancy skyscrapers or modern new buildings. It would ruin the city's historical looks. So yes there are lots of buildings with medieval looks and it's truly magnificent. Your long weekend break in Budapest can flow fast if you are really into medieval architecture.
But what places to see on the weekend in Budapest? Well a lot, but it's better to navigate around the city when you split Budapest with the one of the longest rivers in Europe, Danube river. Officially there are two sides that way separated: Buda and Pest.
1. Fisherman's Bastion
Marvelous Neo-Romanesque style architectural building. It's a well-known landmark in the Castle District, because of the building's spires and turrets. It's parallel with the Danube river and from there you have panoramic views to the Pest side. Right next to the Fisherman's Bastion is beautiful Matthias Church. It's for sure "Instagrammers" dream spot to take awesome shots.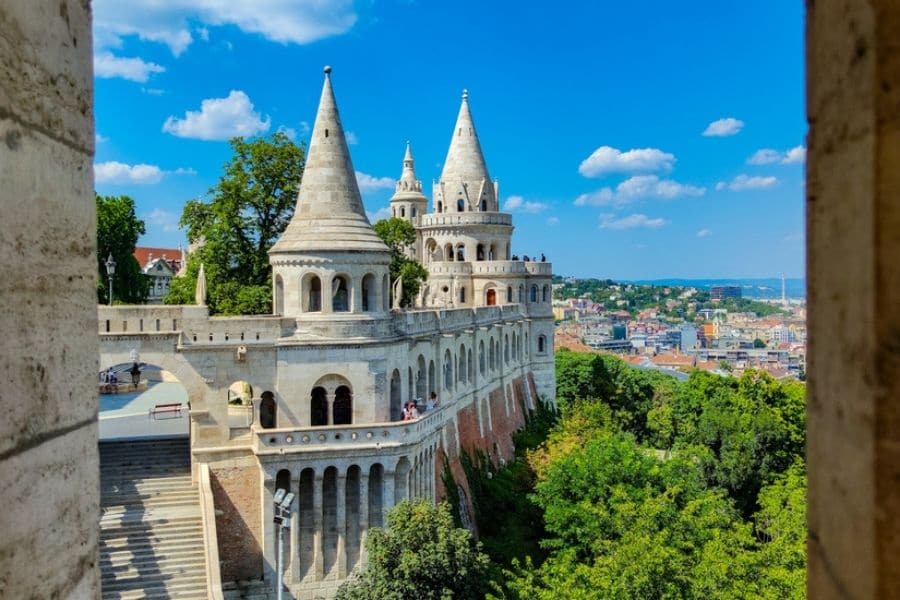 2. Buda Castle
Buda Castle with many other buildings are located on the Castle Hill. The historical building accommodated famous persons in Hungary's history. Right now Buda Castle houses The Budapest History Museum and Hungarian National Gallery. From the outside, it has peculiarly as Budapest many heroic sculptures and views atop the Danube river. In the Castle Distric area are many beautiful buildings, gardens and palaces which are great to just spend time.
Both are close to each other within walking distance right next to the Danube river. You can walk between Fisherman's Bastion and Buda Castle, and there are still many things to see. You either see something from the castle district or you can enjoy views to the Chain Bridge.
3. Hike up to Citadel
Liberty statue in Hungary's capital is the most popular tourist attractions in Budapest. It stands atop of the hill and it needs just some easy hiking. It's a must-visit place when spending weekend in Budapest if you skip that. Hikes start from different routes, but the main trail route starts from Elisabeth Bridge. Up from the top, you have the best view of the city. If possible and your legs are still working do it twice, once in the daylight and the other during the dark.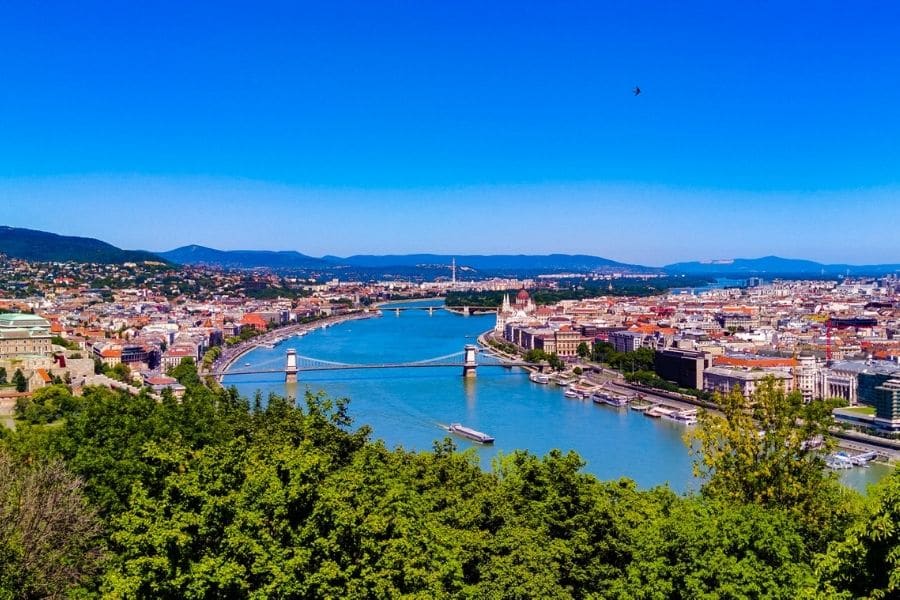 ---
4. Parliament Building
Hungarian Parliament building is probably the main place to visit on Budapest long weekend. Neo gothic styled Parliament building is parallel with the Danube river and the best way to see that huge building at its fullest is from the other side of the Danube (Buda side) or on the river (boat tours). I recommend visiting Parliament building during the night when you can witness that beauty with all lights on the building.
5. St. Stephen's Basilica
Saint Stephen Basilica is located in the city centre, but it's kind of a massive building in Budapest, so I needed to point it out. St. Stephen's Basilica is one of the city's highest in the centrum and you can see it from the liberty statue Citadel.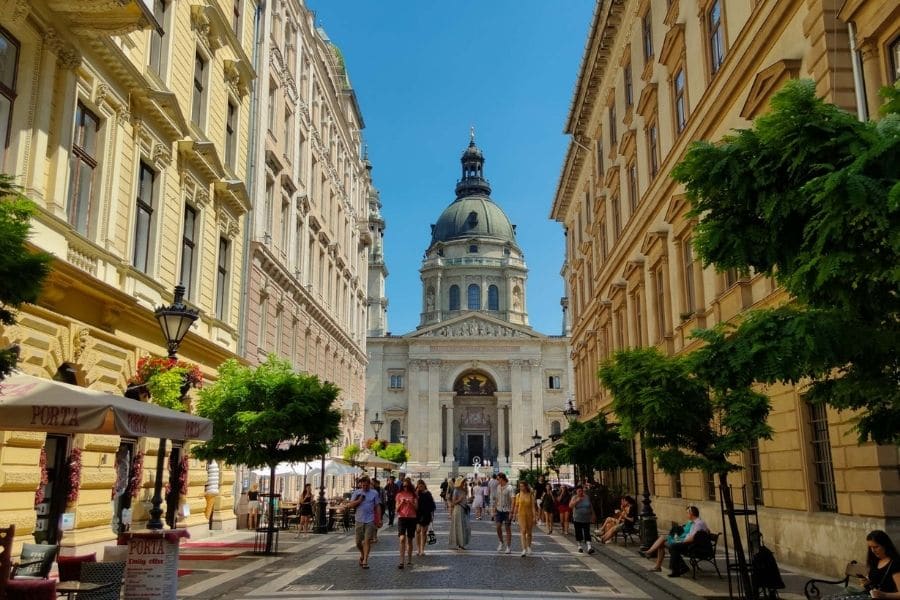 6. Heroes Square
It's a bit further from the centrum, but with smooth and fast city transport it's easy to be reached. As the name says it's a square with heroic statues. You need a tour guide who will explain to you about different sculptures. But also worth visiting to just stroll around and admire these masterpieces.
7. City Park With The Vajdahunyad Castle
Right behind Heroes Square is a city park. Wonderful place to just walk around in the fauna area. Also, there is a lovely Vajdahunyad Castle. That is what makes that city park so unique. Definately a place to hang out on a weekend in Budapest.
8. House of Terror
The eye-catching House of Terror building is next to the famous Andrássy Avenue. During World War II that building was the headquarters of the Hungarian Nazi Party. During that period these walls saw so many horrific crimes against Hungarians. Nowadays it's a museum with exhibits about the regimes of communism and fascism in Hungary.
9. BONUS: Day Trip From Budapest
Your long Budapest weekend doesn't need to be only in that wonderful city. Close-by is a little town called Szentendre. It has a kind of Italian village vibe with vivid buildings. It's also next to the Danube bank. Excellent place to have a break from the capital. If you have the chance, I would try there a local street food – Langos. Well connected with the train route.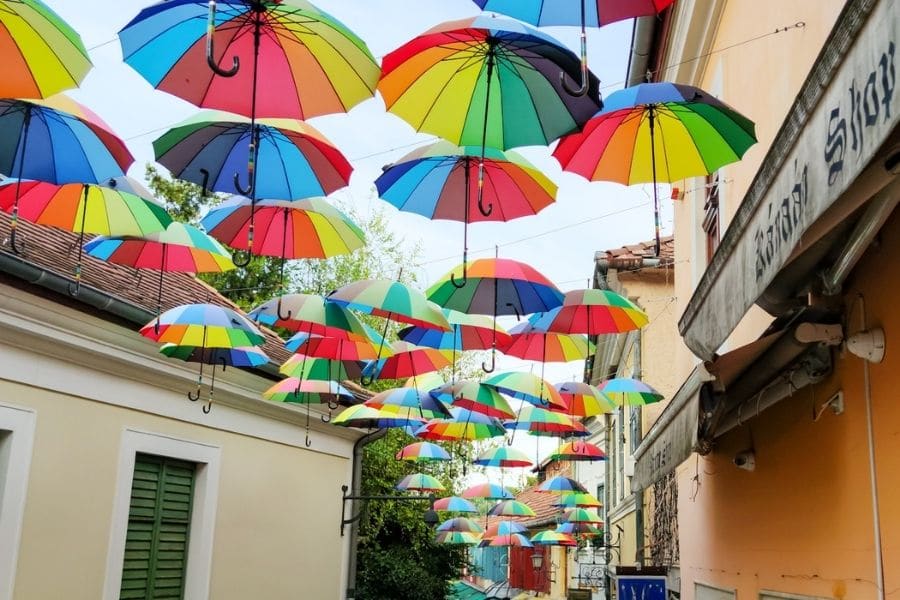 Of course, I can continue with a list because there are many things to see for every taste. Worth a visit is also Market Hall, Shoes on the Danube, Chain Bridge, Andrássy Avenue close to Heroes Square, Gellért Hill with Bird's Eye View. Many places in Budapest are also listed in UNESCO World Heritage site. The above-mentioned spots have some entrance fees when you are interested in that and want to take a closer look. Prices are reasonable and wouldn't break your budget. But when you stay outside, then everything is free.
10. Budapest River Cruise
The river flows right in the center of the city and along bank of the danube, there are some landmarks seen as previously mentioned: Hungarian Parliament building, Fisherman's Bastion, Buda Castle, Citadel, city center. So many things on each side (Buda and Pest), so you need to make sure that you don't hurt your neck, because of twisting it from one side to another.
There are regular river cruises during the day and night with prices starting around 9 euros. Even dinner cruise with restaurants and live music or for party spirit people have their cruises. Find out the river cruises prices and options here.
11. Stroll around Margaret Island
Hmm, there is no sea, how there can be an island. But there is the Danube river and surprise surprise it's in the middle of the Danube. The Island has a big park, sports fields, around the island 5.3km running track, outdoor swimming, mini zoo, thermal bath. All these things in the island district. A perfect place to hang out and chill. Also, you get away from the traffic noise.
12. Soak in Thermal Baths
"It's said that thermal spas have healing effects and some jokers even say that it's the best cure for hangovers. "
Hungarians are well known for their thermal bath culture. It's said that thermal baths have healing effects and some jokers even say that it's the best cure for hangovers. There are dozens of thermal baths and you will find something for you from likes: Széchenyi Baths, Gellért Baths, Rudas Baths, Lukács Baths, Király Baths, and so on.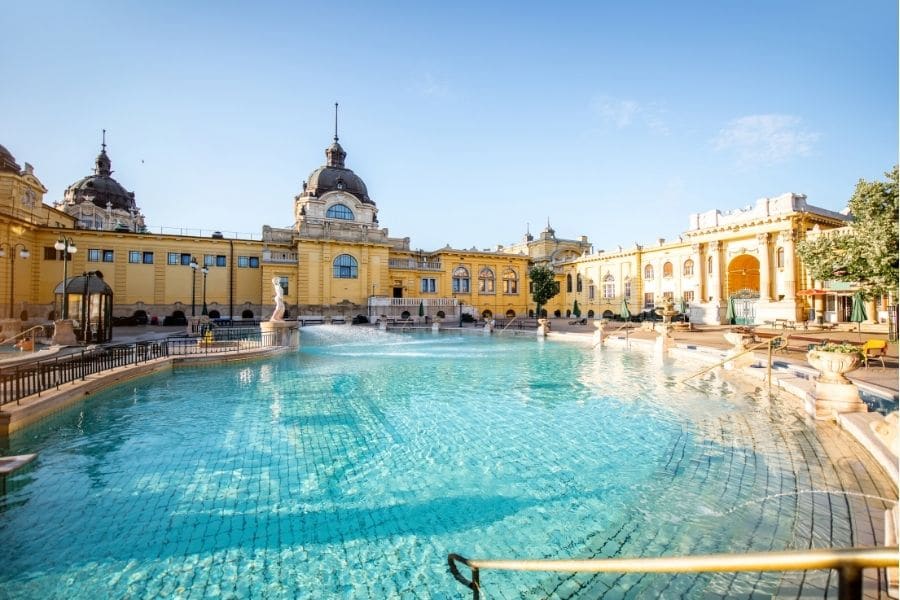 Prices vary between 10 to 20€ but include all pools and some of them have saunas as well. The cheapest option is in Margaret Island, Palatinus Strand Baths, where some discount prices are below 10€. I would recommend going there earlier because it's a popular relaxing spot among locals and tourists. One thing you can't miss during the weekend trip to Budapest.
13. Walk along the Danube Riverside
I would say that you have no option to skip that on your weekend in Budapest. Somehow you find yourself next to the bank of the Danube, sitting or just walking there and just enjoy the views. As said previously, the river flows right through the centrum area. I recommend walking there during the night. Stunning views over the lightened capital.
---
Budapest Nightlife
When you have wandered around the city the whole day and you still have some extra energy then the day hasn't ended for you. A friend from Hungary told me that this city never sleeps. There are parties every night (yes, even on Sundays). There are many pubs, bars, clubs and whatever you can find more. What would be weekend in Budapest without some party?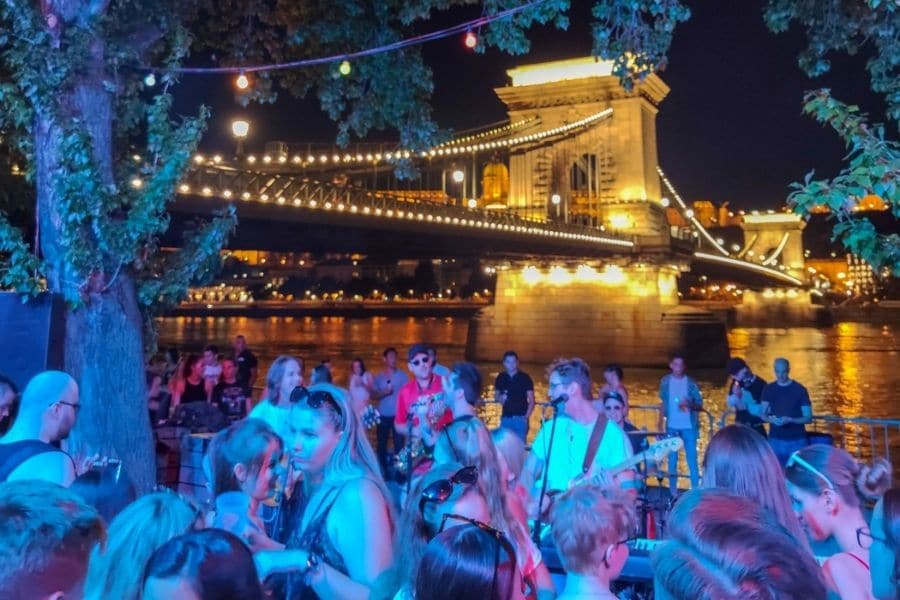 One thing what to do in Budapest is to visit ruin bars. Where every bar has its vibe and atmosphere. Good thing is that most of the bars are with free entrance. Of course, there are lots of clubs with different styles, but here I give out something from ruin bar sections because it's a Budapest thing and you don't find it everywhere.
Instant-Fogas
It's one of the most well-known and probably the biggest ruin bar complexes in Budapest. With bizarre decorations and an electric atmosphere, you have arrived at a special party place. There are different floors and rooms with music for every taste. This huge maze is open every night. That place never sleeps.
Szimpla Kert
The first ruin bar and the most popular of its own – Simple Garden. The atmosphere is just amazing. Nothing like a regular bar. It feels like you entered some magical land. Every room from each is differently decorated with gardens and different sculptures. It's hard to believe that you have entered a bar. Also, each room has specialized in some drinks. So you have beer, wine, cocktails, or shot rooms.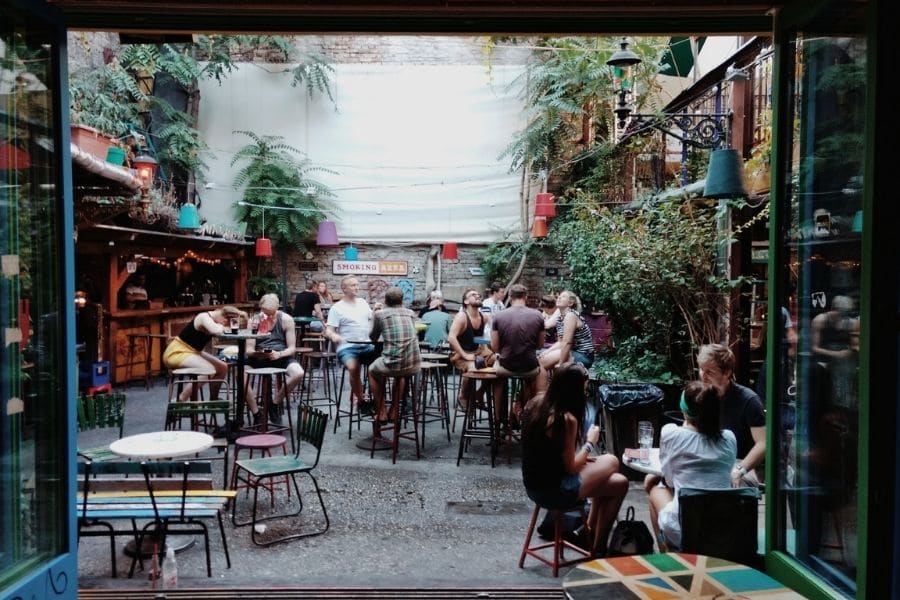 Red Ruin Bar
With that, you need to understand humor because it's a communist-themed ruin bar. It's making fun of its political past and there are many art installations with the main men in the communist time. It has red lights and the bar plays mostly rock music.
Find Out More Ruin Bars In Budapest
There are many more ruin pubs like Lámpás, Kisüzem, Úri Muri, Dzzs Bár, Nemdebár, and so on. You have a chance to participate in pub crawl events (local people will help you to find the right places).
If you are not there for a party I still recommend you to see these pubs. Ruin bars has its design and you will be amazed by its atmosphere. Your Budapest long weekend will be fun for sure.
---
Where To Stay In Budapest?
There are no shortage of great deals in accommondation when staying on the weekend in Budapest. From cheap party hostels to more luxorious hotels and apartments.
Hostels In Budapest
It's a budget traveler dreamland. Hostels start from 5 euros per night and To be honest… there are not many places to get this kind of ridiculous deal. It's not only one option, you have dozens of alternatives to spend a night below 10€. These are mostly party hostels, so if you are there for parties, it's like a paradise. If not, then it might get a bit noisy. These hostels are also in the city center. You can find reasonable deals from HostelWorld.
Where to stay on the weekend in Budapest on a budget:
Private Accommondation
If you are there with family, your girlfriend/boyfriend, or with friends who want a private room or whole apartment then you will find something reasonable there. Even some hostels offer some private rooms, so if you are strict with your budget then you have some other alternatives as well. The price range varies from 20€ – to how much you can spend.
It might sound that everything there is super affordable and you can save there a lot of money. But if you want to spend money on luxury and live like a king, then you probably find something for your demands. Spend as much you want on your weekend in Budapest.
Some private accommodation options:
---
What To Eat In Budapest?
When it comes to eating, then you can have dining experience from cheap street food up to Michelin star restaurants. Overall restaurant prices in Hungary's capital are reasonable.
There is no shortage of kebab, hamburger, pizza, or other fast food and you can fill your belly with 2 euros. Most of them are delicious and worth a try, but it would be better if someone local would recommend some places.
Hungary Traditional Food
Traditional Hungarian dishes are goulash and super delicious fast food langos. Goulash is a soup with meat and vegetables. Prices for goulash are around 5€ and for example, you can try traditional food from restaurants Gettó Gulyás, Kiosk Pest, Stand25 Bistro, Fricska Gastropub.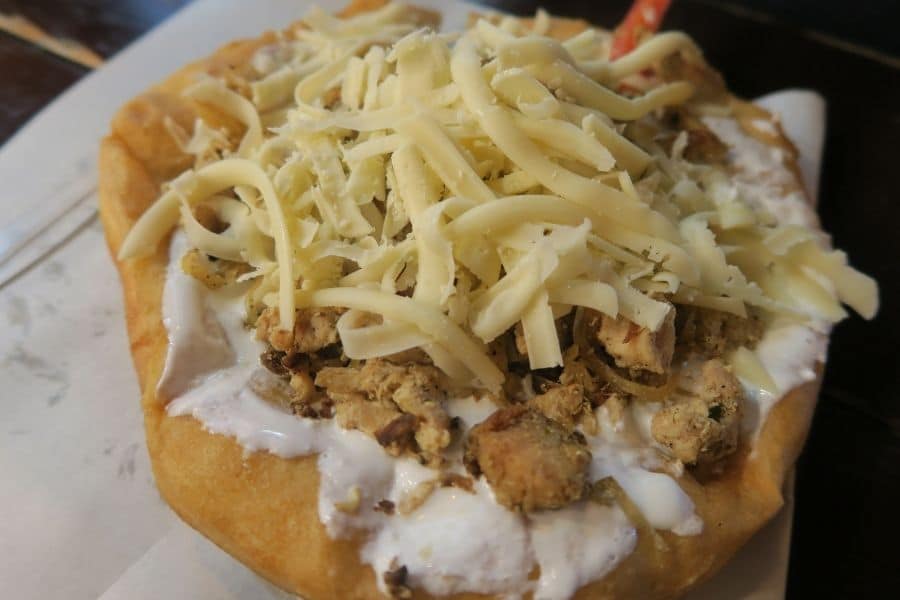 Langos is a deep-fried flatbread typically topped with sour cream and cheese. Langos is more known in the Balaton area, but it's also possible to try it out in Budapest. It's eaten fresh and warm and it melts in your mouth. One of the best street foods I have tasted and it's easy to get addicted. Langos prices are around 3€. But are worth trying out and will fill your eating needs on the weekend in Budapest.
Where To Eat In Budapest
It doesn't come as a surprise, but again restaurant prices are healthy for your wallet and your savings. You have a good range of options to try out some local food or just fill yourself with foodie stuff. Mazel Tov, Rosenstein, Café Kor, Szeráj, Menza are just some of the many restaurants I would recommend visiting.
Vegan Options
Veganism is getting popular worldwide, which is the same thing with that place. Luckily you don't have to change your dietary plans and you keep your healthy lifestyle while you are on your weekend in Budapest. Some vegan-friendly restaurants: Madal Food, Hummus Bar, Napos Oldal, Govinda, Napfényes.
---
How to get around Budapest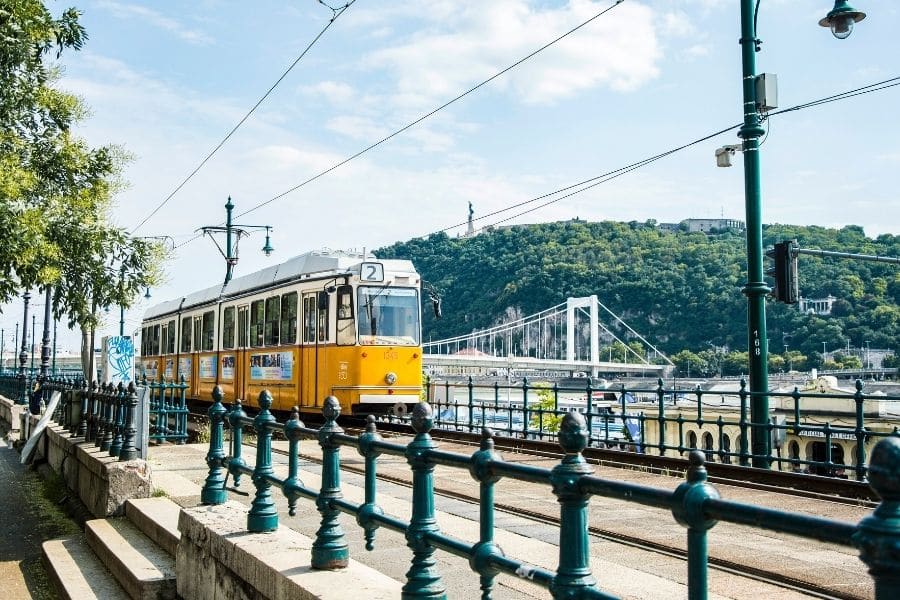 The city transport system is one of the greatest. On the long weekend in Budapest you can go everywhere fast and smoothly. With google maps, it shows which buses, trams, or metro to use to get from standing point to destination. To acquire a public transportation pass you have to buy a traveler pass from 24-hours to 72-hours. Pass prices respectively are 4.5€ (1650 HUF) and 11.4€ (4150 HUF).
With that pass, you can use every public transport: busses, trams and, metros. Over town are several ticket stations, where you can buy singular or this same traveller ticket. As said it's smooth and you can travel around fast. Trams can be a bit loud (because these are old), but you will survive.
---
Tips & Tricks for Budapest
For the best long weekend in Budapest experience is good to get to know about some perks, that might help every traveler to make trip easier and cheaper.
Budapest Card
If you want to go wild and take from the weekend in Budapest maximum then the city offers you a Budapest card. It has again a time limitation and you can have that card for 24h up to 120h. Prices for that card range from 22€ to 63€. It includes free public transportation, 20 museums with no entry fees, free entry to the Lukács Bath, free walking sightseeing tours, a cave tour. Also different discounts in restaurants, thermal baths and so.
Might be a great deal if you want to see all the museums, visit thermal baths, eat in restaurants. Investment can be a money-saving move afterward. If you are interested in that card, then you can find more detailed information here.
Hungary Forints
A friendly reminder, Hungarians have their currency. Don't collect too many coins, it's harder afterward to change it in your currency. Try to use all the coins on your long weekend in Budapest.
Free Walking Tours
Many cities have free walking tours and Budapest is no exception. With a travel guide, you understand more about city history with some funny stories and myths. A tour makes you more curious about that city.
Best Time To Visit Budapest
The High season is during the summer, but you can do many activities, visit places and walk along the Danube all year. For the Budapest itinerary, I would take at least 3 days.
---
Taking All Together
Overall Budapest has a really good ratio when it comes to cost and quality. You have reasonable prices in accommodation, restaurants and other food services, drinks at bars and so on. You have so many opportunities to spend time around that wondrous city and I am sure you don't feel great when you have to depart from that city.
If you feel that your Budapest long weekend wasn't enough and want to see Hungary more. Then I can recommend visiting Lake Balaton as a day trip from Budapest. Another special spot in Hungary.
A time in Hungary's capital is just wonderful and it still stays as my favorite city in the World.
---
Read more: Hungary Travel Guide and Things to Do Around Lake Balaton.
---
PIN IT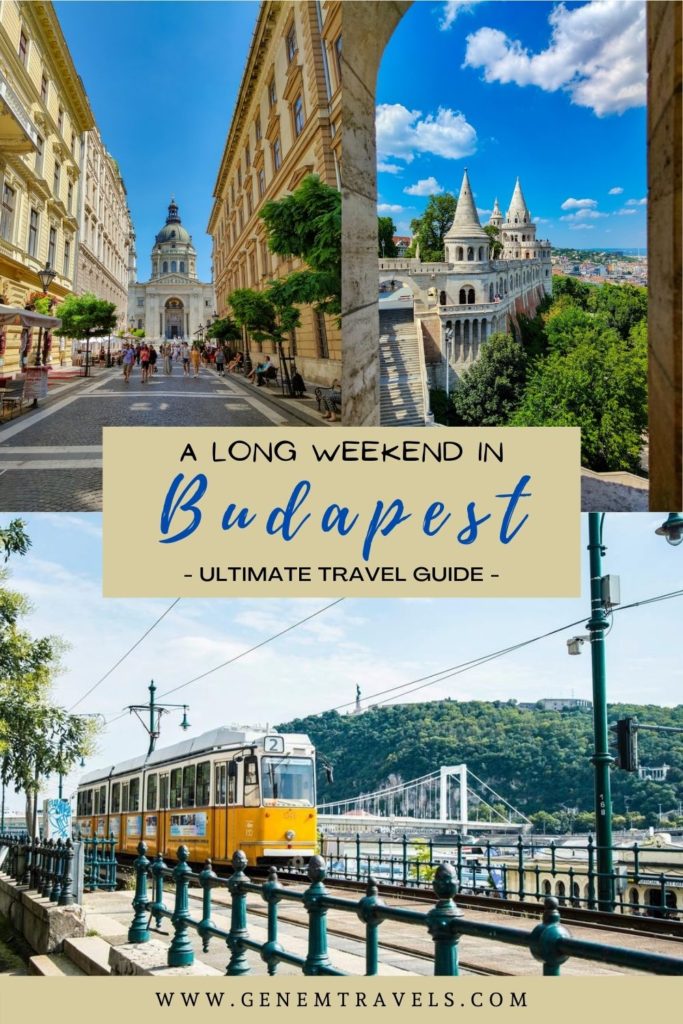 ---
More about Hungary: