Going on your first trip to London sometime soon? It's a large city with no end of things to do, so it can be hard to know where to start.
One thing's for sure: it's best not to try to fit too much in because you'll likely get overwhelmed and see nothing in enough detail.
Here are some tips for traveling to London for the first time.
Disclosure: This article features affiliate links, including Amazon.com. If you decide to buy through one of these links, I'll earn a small commission at no extra expense to you. For more details, please see my disclosure policy.
1. Best Things to Do & see when visiting London for the first time
If you've never been to London before, there are some classic attractions you're bound to enjoy. The good news is that most of them are fairly close together.
Take the District or Circle line to access Tower Bridge. If you're up for it, you can even climb the bridge and look down at the people and traffic crossing it from a glass bottom floor. 
Right on the doorstep, you'll find the Tower of London. This historic royal palace has also functioned as a fortress and a prison over the long course of its history. Now, it is home to the Crown Jewels and various ravens.
Head to Westminster on a clear day or evening for the best London Eye views. If you're feeling a little bit fancy, treat yourself and someone else to a champagne experience while enjoying the panoramic views. 
While you're there, see Big Ben and the Houses of Parliament, which you can see from inside if you take a guided tour. 
Round off your trip with a show at London's West End. Shows like The Lion King, Phantom of the Opera, and Back to the Future are among the delights you can see there. 
2. How Many Days Do You Need in London?
When considering how long to stay in London, especially if it's your first visit, you'll want to ensure you have enough time to see what the city truly offers. A 3 to 5-day trip is a good starting point. This gives you enough time to see the main sights, from historical spots to modern buildings, without feeling rushed.
London's food scene is diverse, with dishes from around the world. Spending a few days means trying out some of the best places to eat. And if you're looking to see more than just the city, London's location makes it easy to visit nearby places like Stonehenge or Windsor Castle. So, if you're planning a trip, 3 to 5 days in London will give you a great taste of what the city and its surroundings offer.
3. When is the Best Time to Visit London?
Summer (June to September):
Summer is the perfect season for those seeking sunny skies and pleasant temperatures. With highs averaging 23°C (73°F), it's an excellent time for outdoor adventures, festivals, and live performances. However, be prepared for occasional heatwaves soaring to 38°C (100°F). Notable events like Wimbledon in July and the Notting Hill Carnival in August add to the allure. But be mindful, that summer is also when tourist influx is at its peak, leading to crowded attractions.
Spring (April to May): Spring is a delightful time to experience London. The weather is milder, with temperatures ranging from 12°C (53°F) to 19°C (67°F). The city blooms with flowers like wisteria and cherry blossoms, especially in Greenwich Park. It's also a shoulder season, meaning fewer tourists and potentially lower accommodation prices.
Fall (September to November): As autumn sets in, temperatures drop, and there's an increased chance of rain. October, in particular, can be pretty wet. However, the city's fall foliage offers a picturesque backdrop, making it worth the visit.
Winter (December to February): Winter is cold, with average highs around 9°C (48°F) and lows of 4°C (40°F). While it's one of the wetter seasons, snow is rare. But when it does snow, the city transforms into a winter wonderland. December is especially festive, with Christmas lights, markets, and a strong holiday spirit. Attractions like the Winter Wonderland in Hyde Park and ice skating rinks pop up across the city.
A Few Tips:
Contrary to popular belief, London doesn't experience constant rain. While there's frequent drizzle in fall and winter, summer and spring are relatively drier.
Always carry an umbrella, as London weather can be unpredictable.
If possible, avoid school holidays to escape the heightened crowds.
4. Getting to London: Trains and The Best Airports
If you're traveling from another part of the UK, the easiest way to get in is usually by taking the train to London. 
London is served by six international airports, with Heathrow and Gatwick being the most popular choices for international travelers. Many have dedicated train services that can take you from the airport to the city. You can search for flight tickets here:
5. Best Way to Get Around London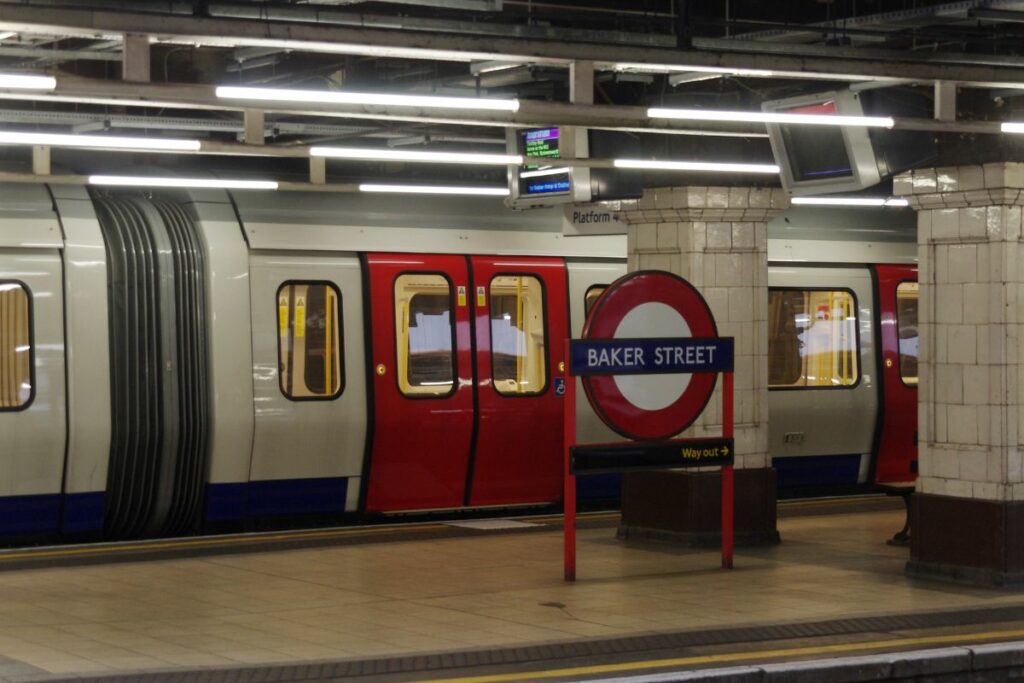 Make the most of London's excellent public transport system. You can get almost anywhere with the buses and the Underground. Even the DLR and various boats along the River Thames can take you to additional locations. 
For example, the Citymapper app offers first-time visitors real-time navigation and transportation options, making it a valuable tool. If you prefer a straightforward approach, Google Maps is also very effective for getting around London.
6. Save Money with a London Pass
The London Pass is a digital ticket to the city's heart, offering access to over 80 prime attractions, from the Tower of London to Westminster Abbey. Available for 1 to 10 days, it covers entrance fees and provides perks like skip-the-line access and a complimentary hop-on-hop-off bus tour.
To get the most value, cluster your visits to attractions covered by the pass over a few days. Besides saving money, the pass simplifies your experience, eliminating the need for multiple tickets or bookings. However, purchasing the Oyster Card (mentioned below) is often more cost-effective if considering transportation.
7. Look Right When Crossing the Street
Remember, traffic in London moves on the left. Pay attention to the instructions painted on the ground at crosswalks to ensure your safety.
8. Get an Oyster Card
The Visitor Oyster Card is a prepaid travel card designed specifically for those visiting London, acting as your ticket to the city's vast public transportation network. Unlike regular Oyster Cards, the Visitor version must be purchased before arriving in London, either online or through a travel agent.
The card's primary advantage lies in its cost-effectiveness: it's cheaper than buying individual ride tickets. You can seamlessly navigate London's buses, trams, and the famous Underground system using the Visitor Oyster Card.
9. Make Your Reservations in Advance
Avoid long queues and ensure a seamless experience by booking tickets to attractions and accommodations in advance. Consider your itinerary and evaluate if the London Pass aligns with your plans. You can search for attractions from Viator or GetYourGuide.
10. Where is the Best Place to Stay in London?
Accommodation in London can be pricey, especially if you stay somewhere central. But the best tip would be to choose your accommodation close to your main attractions to save time on transportation. Here are some areas.
Central London is often picked, mainly because it is close to everything. Hotels like the London Marriott Hotel County Hall offer unbeatable views of the River Thames and landmarks like Westminster Bridge and the London Eye. It's an ideal spot for first-timers, given its proximity to iconic sites and easy access to transport.
Covent Garden is trendy and known for its cobblestone streets and many shopping options. It's a shopper's paradise, from handcrafted local goods to high-end designer boutiques. Plus, it's within walking distance to attractions like the London Eye, British Parliament, Big Ben, and Trafalgar Square. If theater is on your agenda, this area is home to London's Broadway-style theaters, showcasing top musicals and plays.
Mayfair and St. James are perfect if you're keen on visiting Buckingham Palace or witnessing the changing of the guard. These neighborhoods exude luxury, with antique shops, historic architecture, and a display of some of London's finest cars. Don't miss out on a stroll in Green Park, a serene spot frequented by locals and tourists alike.
South Kensington offers a more local experience. It has beautiful gardens and tempting pastry shops and is close to Kensington Palace and Hyde Park. Meanwhile, Shoreditch is for those seeking a contemporary, artsy vibe. It's a hub for designers and artists, with art galleries and vibrant street art enhancing its trendy atmosphere.
Notting Hill is another picturesque neighborhood, known for its charming cobblestone streets and colorful Victorian townhouses. Film buffs might recognize it from various movies. The famous Portobello Road Market is a must-visit if you're into antiques.
Other notable mentions include Soho, known for its vibrant nightlife and theaters, Westminster for its iconic landmarks, and areas near Waterloo Station or London Bridge for their transport links and proximity to attractions like the Shard and Borough Market.
11. Apps, SIM Cards & Adapters
Upon your arrival in London, it's a smart move to purchase a local SIM card to ensure better connectivity and more affordable rates. Before making the switch, make sure your phone is unlocked. You can easily find SIM cards at airport kiosks or city stores such as Car Phone Warehouse. If you prefer to be prepared, consider ordering in advance from providers like Giffgaff.
When it comes to powering your devices, London uses Type G sockets. Therefore, you'll need a Type G adapter. If your device isn't dual voltage, remember to get a converter to avoid electrical mishaps.
A couple of apps are highly recommended for a smooth travel experience in London for the first time. For example, Citymapper offers seamless navigation through London's extensive transport system. Then, for those explicitly using the Underground, the Tube Map app is a dedicated guide that can be a lifesaver.
TIP: If you're coming from the US and use T-Mobile, it's worth checking if you have free roaming options in London. This could save you the hassle of switching SIM cards.
12. Some extra tips
Look out for deals on attractions like the London Pass, Go City Explorer Pass, and Merlin London Attractions Pass. Many of these give you unlimited access to attractions within a set number of days, (really handy to have in a city like London!)
Keep your wits about you and stow valuables in places hard for pickpockets to reach. London is a crowded place.
Don't underestimate the size of the city; plan your days so that the places you visit each day are close together. This makes it much easier to get the most out of your trip.
There's something for everyone in London. Don't worry if you don't see everything on your list; you can always return!
---
Final Thoughts
With its eclectic mix of history, culture, and modernity, London promises an unforgettable experience for every traveler. Equip yourself with these tips, and you're set to explore the city like a pro, making the most of every moment in this iconic metropolis.
I hope this article aligns with your expectations and provides valuable insights for first-time travelers to London.
---
FAQ
How many days are ideal for a first visit to London?
Aim for at least three days to explore the city's highlights.
What are the must-visit attractions?
The British Museum, Tower of London, Westminster Abbey, and the London Eye are iconic spots.
Is tipping customary in London?
Absolutely! In restaurants, it's a good gesture to leave a tip. And don't forget those helpful taxi drivers and the hotel staff who make your stay comfortable. A little appreciation goes a long way.