Petra is one of the most spectacular locations in the world. This ancient city carved into towering rocks is worth seeing, entirely deserving of its UNESCO World Heritage Centre status. It's an immortal symbol of Jordan and is the country's most-visited attraction.
This world-famous site was constructed as early as the fifth century BC. Whether studying history or planning the adventure of a lifetime, Petra is a destination worth considering. Knowing the most incredible reasons to visit this ancient place before is always worth knowing.
Disclosure: This article features affiliate links, including Amazon.com. If you decide to buy through one of these links, I'll earn a small commission at no extra expense to you. For more details, please see my disclosure policy.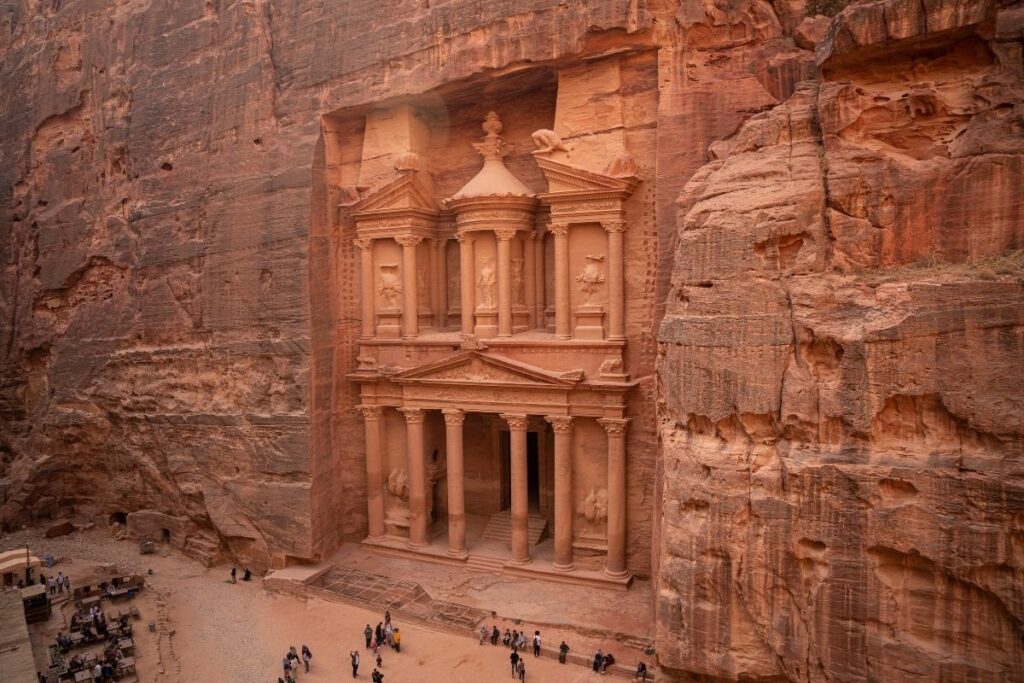 Why should you visit Petra?
1. The city boasts its history
There are no other cities in the world built into pink sandstone. This ancient place tells the tales of a lost civilization, initially established by the Nabateans – an indigenous tribe to the region now known as southwestern Jordan.
When you see the pink hues of the rocks against the dappled golden sunlight, you'll know precisely why this enchanting destination has earned 'Rose City' as a nickname. Petra is an important archaeological and cultural site and a must-see for anyone exploring the history of Arabia and the Kingdom of Jordan.
2. Petra contains hidden delights
Petra isn't limited to the awe-inspiring buildings and pillars on the sandstone's outer surface. Inside Petra, you'll discover so much more than meets the eye. Some of the wondrous sights to include in your Jordan itinerary:
The Siq: This incredible canyon walk is thousands of years old. Previously the main entrance to the city, this rocky landscape can be traversed on foot, by camel or mule, or even on a drawn cart. There's no entry fee, and the cobbled walkway is open from 6 am to 6 pm through the summer months.
The Treasury: As you head towards the end of a Siq tour, you'll find Al Khazneh. Standing just over 40 meters high, it's certainly bewildering by day – but even more so with a starry backdrop. You can't enter, but the facade will take your breath away.
The Monastery: Ad Deir, known as the Monastery, is a feature piece nestled amongst the rockface. After a steep, 90-minute hike or a ride on one of the local mules, you can spot carvings of crosses and the remains of a small courtyard.
3. There are so many ways to see Petra
Petra is accessible in numerous ways. It's suitable for solo tourism, family visits, and romantic retreats, and you can decide how you explore this wonderful destination. You can book package deals, organize your self-catered trip, or book tailormade Jordan tours for a memorable and hassle-free experience.
You could ride camelback, hire a mule, or walk with an experienced local guide. No matter which approaches you take, you'll discover one of the most awe-inspiring sites in the world. When planning your trip, consider the time of year you will travel to Petra. If possible, visit in March-May or September-November to avoid the intense heat of the summer months.
4. You can combine a visit to Petra with a bigger tour
If you're visiting Petra as part of a larger tour of Asia and the Middle East, combining your visit with a stop at Wadi Rum is highly recommended. With 300 square miles of desert wilderness, visitors have much to see, from fascinating history to magnificent rockfaces that are popular with scramblers and climbers.
Many visitors to Wadi Rum stay overnight in purpose-built camps, learning and experiencing the life of the Bedouin Tribes. Access to the different camps is via a 4×4 over the sand dunes. Camps vary from the traditional to the modern, offering something for everyone.
If you are looking for an authentic experience, there is Wadi Rum Quiet Village Camp, located at the very heart of Wadi Rum and built in a Bedouin style, and for a more luxurious experience, try Aicha Luxury Camp, which offers visitors private glass domed tents with private bathrooms.
In Petra, the possibilities are mind-blowing. Before you go, ensure you'll be fully insured for your trip – and don't forget to check the latest Jordan travel advice.