Albania is a small but vibrant country in the Balkans that offers a range of unique experiences for travelers looking to explore off the beaten path. From the stunning Albanian Alps to the pristine beaches of the Ionian Sea, Albania is a treasure trove of natural beauty and cultural heritage.
But beyond the typical tourist attractions, the Balkan country also offers a range of unique things to do in Albania that are sure to leave a lasting impression. From exploring the bunkers of the Cold War era to hiking in the stunning Theth National Park, it offers something for every kind of traveler seeking adventure, history, and culture.
In this guide, we will explore some of the most unique things to do in Albania, ensuring that your trip to this hidden gem is unforgettable.
Read more: Albania travel guide.
1. Cross the Ali Pasha bridge near Gjirokastër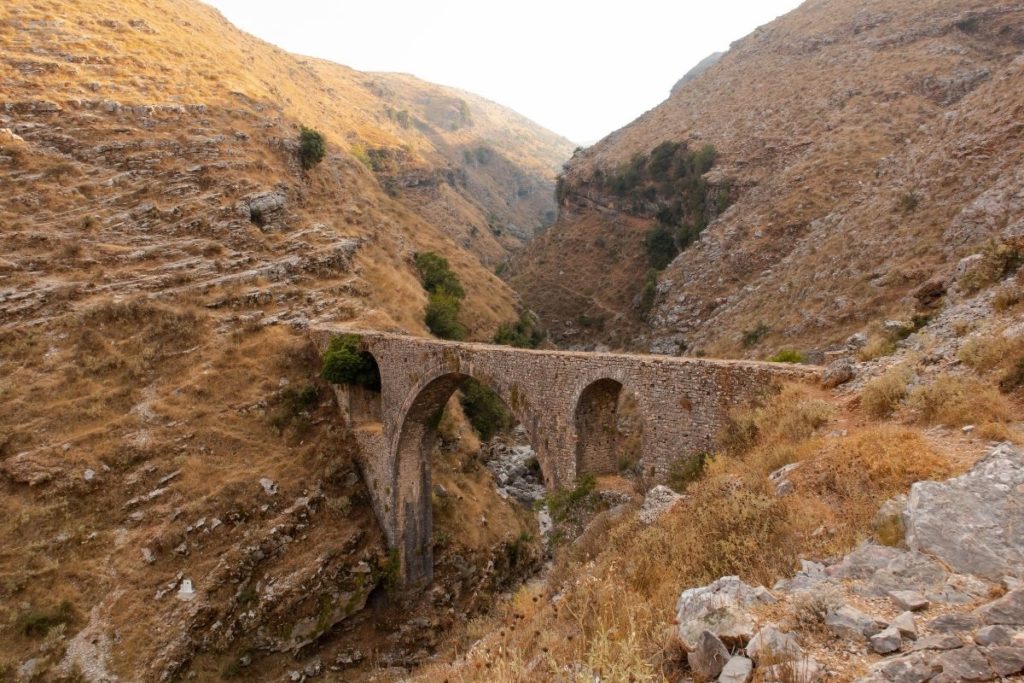 In the early 19th century, the Ali Pasha Bridge formed a component of a wider aqueduct system. Presently, while there is no water present, the site boasts a scenic canyon and the bridge itself. This bridge has gained popularity because local shepherds and their flocks use it regularly, typically crossing it about an hour before sunset.
However, even if you don't encounter the shepherds, the area remains a breathtaking destination worth exploring. It is conveniently located just 30 minutes away from the center of Gjirokaster.
2. Stroll around Gjirokastër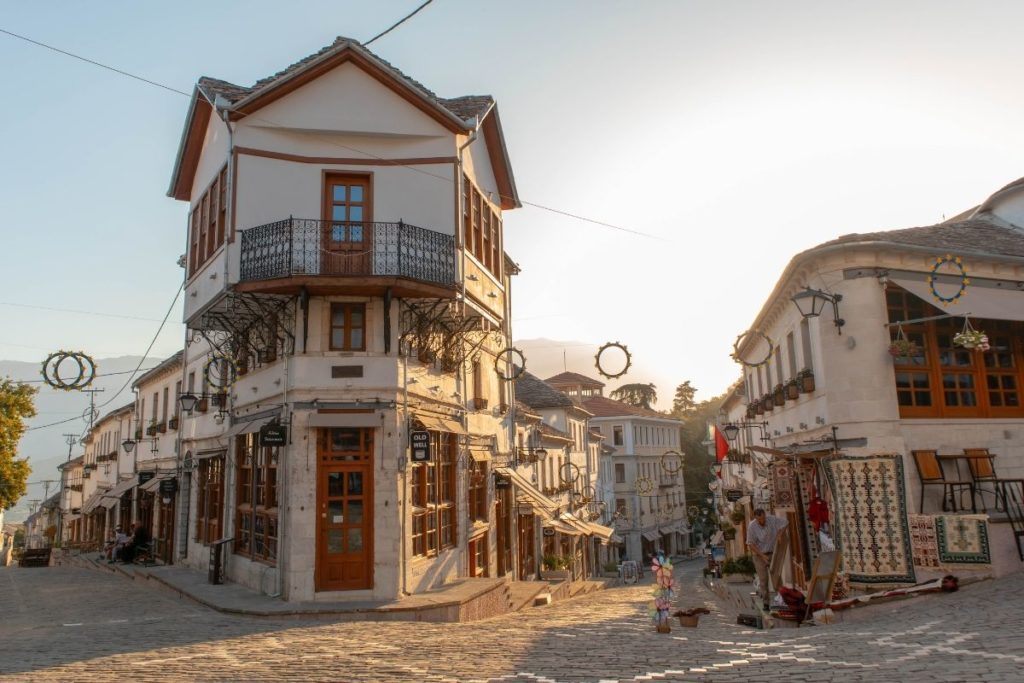 Located in the southern region of Albania, Gjirokaster is an Ottoman-era city that is also referred to as Stone City. Its old town area is particularly famous for its enchanting ambiance.
There are several unique things to do in Albania's Stone town. Visitors can enjoy a variety of activities in the area such as strolling along the UNESCO World Heritage-listed streets of the old town, perusing the artisan shops at the bazaar, taking in the breathtaking views from Gjirokaster Castle, and exploring the numerous fascinating museums.
Gjirokaster is considered a must-visit destination in Albania due to its well-preserved historical sites and relaxed lifestyle, as well as the hospitality of its locals.
Where to stay in Gjirokaster: Hotel Gjirokastra
3. Try hitchhiking in Albania
What would a trip to Albania be without any hitchhiking? The funny thing about that country is that hitchhiking is one of the main forms of transportation there. It's relatively easy to do and locals are super friendly, giving you a lift. You can also hear funny stories about local life, and get some insider tips on what to visit and what other unique things to do in Albania.
For me, it was also one of the main ways to get around Albania. Even though they might not understand you (the older generation), they understand what you want when you put up your thumb next to the road. You just show them the location on Google Maps and you're good to go.
Read more: Tips about hitchhiking.
4. Visit Keq Marku Tattoo studio near Shkoder
Between the 1960s and 1980s, Albania erected more than 170,000 concrete bunkers across the country. These bunkers were built under the notion that they would be used to fend off larger nations. However, they never served any practical purpose.
Today, the vast majority of these bunkers remain abandoned and can be found scattered throughout the regions and cities of Albania. This raises the question of what can be done with such a large number of unused bunkers. One creative solution came from Keq Marku, who transformed a bunker into a tattoo studio.
His studio is just a few minutes away from Shkoder and it can be seen from the road. One unique thing to do in Albania is to get a tattoo from his bunker studio.
Where to stay in Shkoder: The Wanderers Hostel
5. Try local spirit raki
Albanian raki, also known as rakija, is a popular alcoholic beverage that is deeply ingrained in Albanian culture. It is a strong distilled spirit made from various fruits, including grapes, plums, and apricots.
Albanian raki is traditionally served as a welcoming drink to guests in Albanian households, and it is often offered during festive occasions and celebrations. It is also a common drink to enjoy with friends and family during social gatherings or after a meal.
The production of raki in Albania is a longstanding tradition that dates back centuries. It is typically made in small batches by local producers using traditional methods passed down from generation to generation.
One of the most popular varieties of Albanian raki is grape raki, made from the remnants of the winemaking process. It is often enjoyed as an aperitif before meals or as a digestif after a heavy meal to aid in digestion.
You can taste it in several bars, restaurants, and even cafes. If your unique experience in Albania includes being an authentic local, then trying it out should be on your bucket list.
6. Soak in the thermal pools of Benja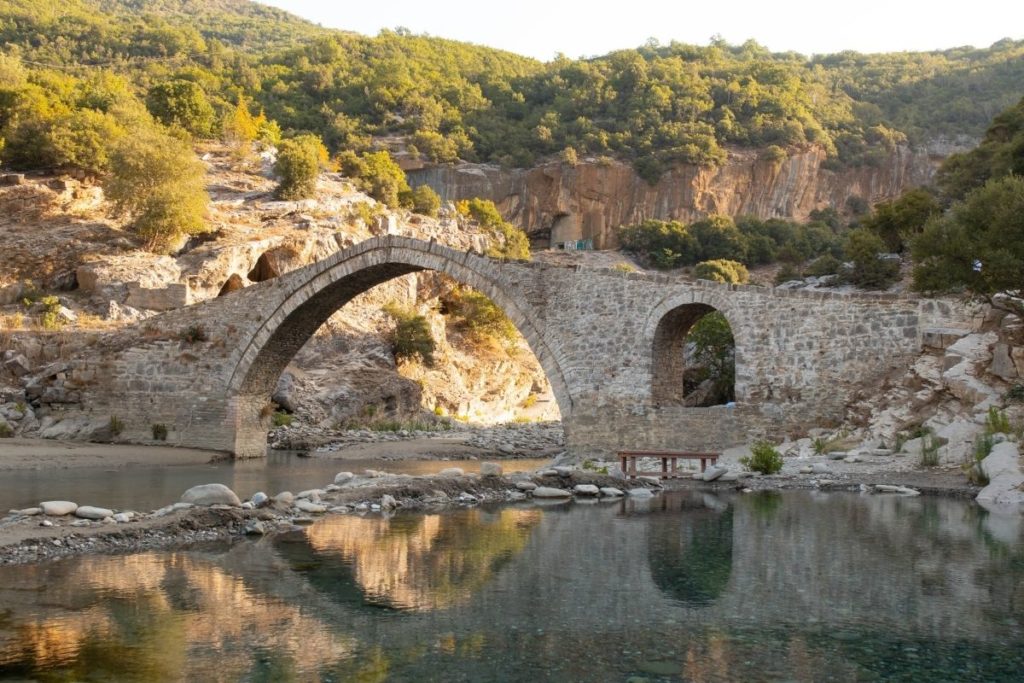 Nestled in a stunning natural setting, the Benja Thermal pools are situated off the beaten path from major roads. Accessible by car, a road leads to several man-made pools, where the geothermal water maintains a steady temperature of around 30 degrees Celsius throughout the year.
This serene location also doubles as a popular camping site, attracting numerous nature enthusiasts seeking a peaceful retreat. Recognizable by the iconic Ottoman-era bridge, visitors can also hike along the gorge and discover breathtaking spots such as cascading waterfalls.
Where to stay in Permet: Funky Guest House & Adventures
7. Hike between Valbona to Theth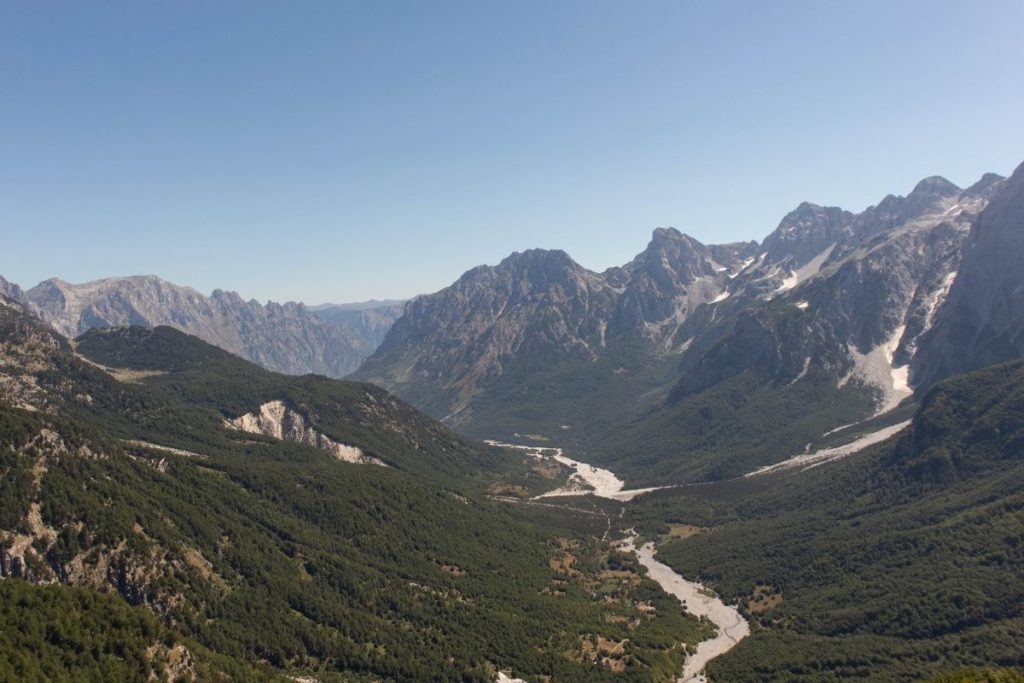 Hiking in Theth National Park is a must-do and unique thing to do in Albania, and the most picturesque and sought-after route is the trail that connects the mountain villages of Theth and Valbona.
This famous trail spans 12 kilometers and usually takes 6 to 9 hours to complete, with moderate difficulty and a peak elevation of 1800 meters. The hike can be done in either direction and doesn't require any specialized equipment.
The journey offers stunning mountain views over the Albanian Alps. Also, hikers can rest and enjoy cold drinks and hot food at numerous huts along the way.
Read more: Best hikes in Albania.
8. Take a ferry on Komani Lake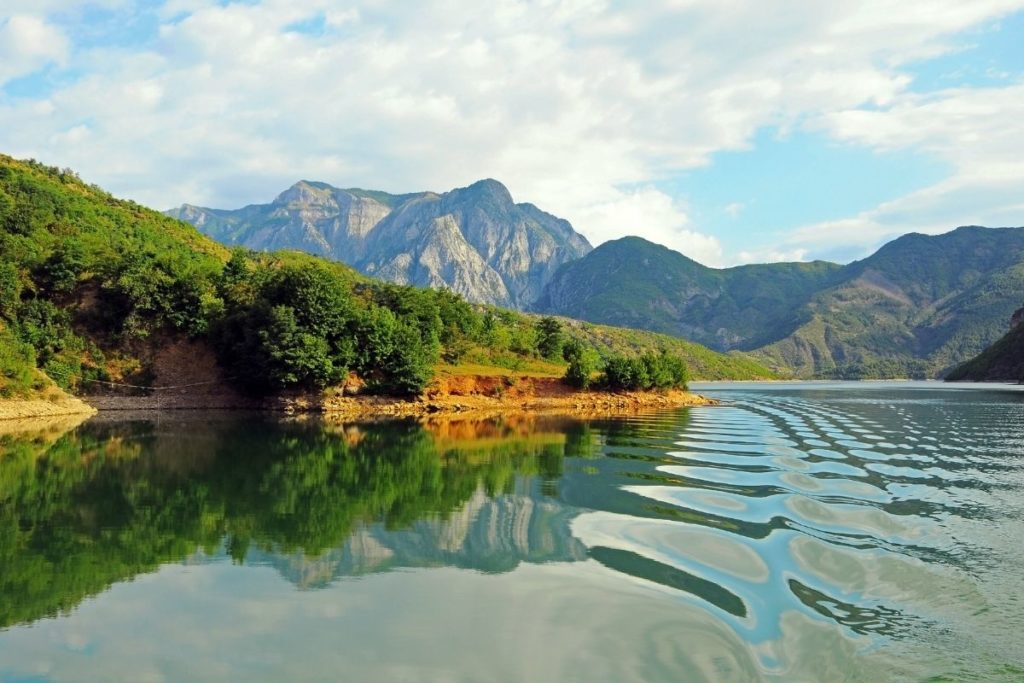 Tourists exploring Theth National Park often enjoy taking a ferry ride from Komani to Firenza (and back), which lasts approximately 2.5 hours and provides stunning views of the valley. This ferry ride is considered a must-do activity when backpacking through the northern region of Albania, and can easily be combined with a visit to Theth National Park.
To get there, most visitors take a bus from Shkoder to Komani, where they can board the ferry that departs twice a day for Firenze. After the ferry ride, a shuttle bus can take you to Valbone, where you can hike to Theth before returning to Shkoder by bus, usually taking around 2-3 days, although this itinerary can also be done in reverse order.
9. Visit a Blue Eye near Theth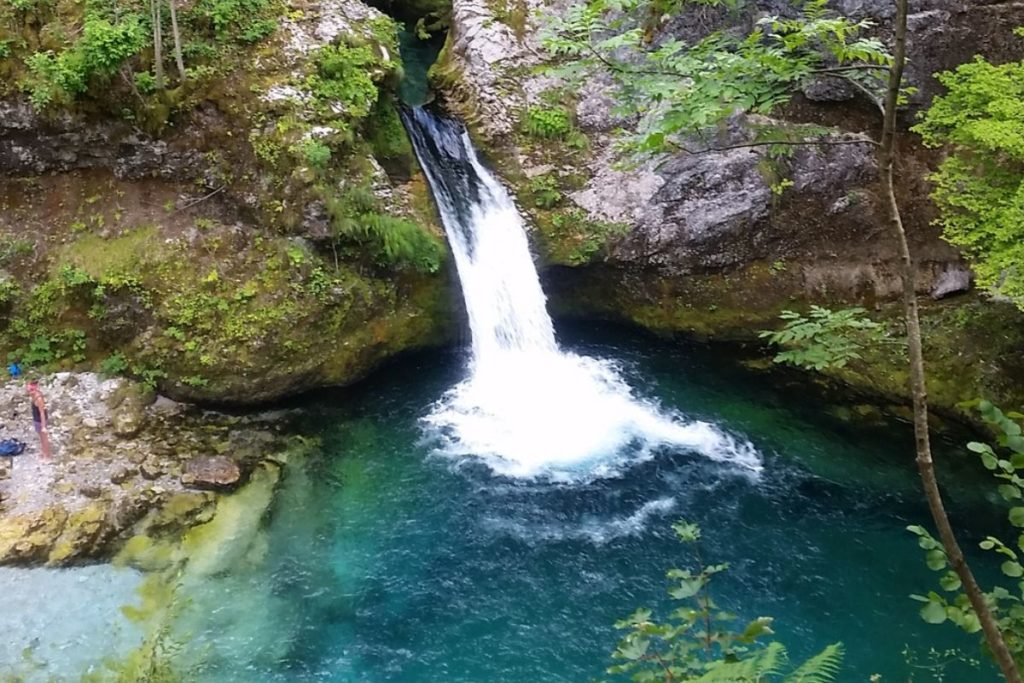 Albania features two Blue Eyes, with one being close to Gijrokaster and another one near Theth. However, if you have to choose just one, I highly recommend visiting the Theth Blue Eye.
The Theth Blue Eye is approximately 10 km from the heart of Theth village and is accessible on foot, taking roughly 2 hours each way. Alternatively, if you are tired after a long hike, several taxis are operating between two hotspots.
The hike from Theth to the Blue Eye is already an incredible experience, as longer trails take you along crystal-clear rivers and past stunning waterfalls, showcasing the beauty of nature. After the long hike, one of the unique things to do in Albania is to take a dip in the crystal-clear waters of the Theth Blue Eye.
Where to stay in Theth: Bujtina Terthorja
10. Hike around Lake Bovilla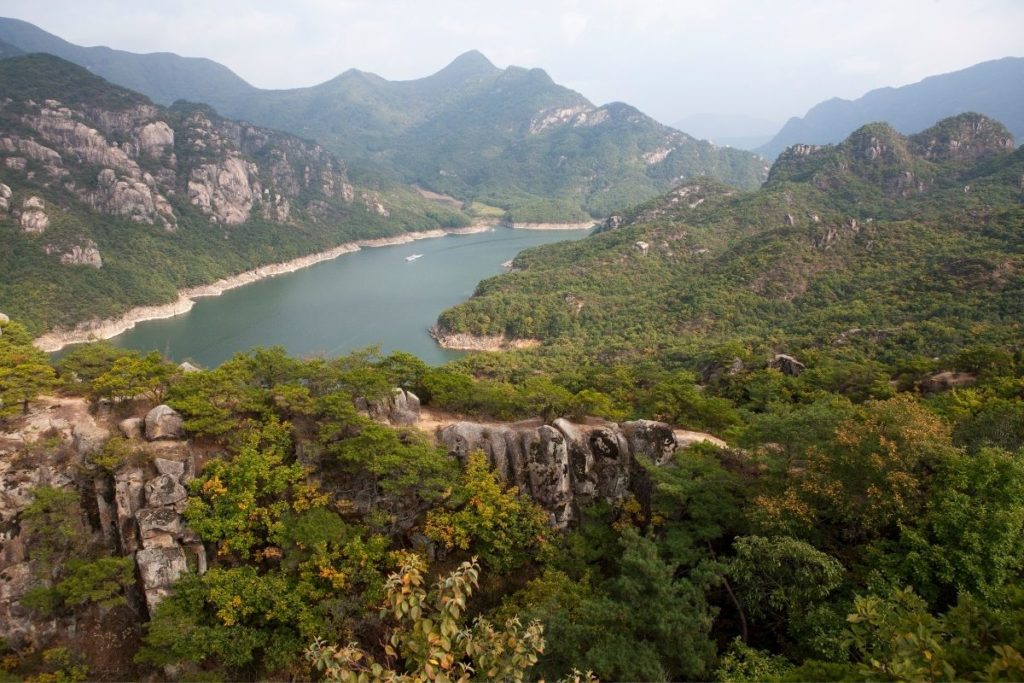 If you want to venture outside of the city, consider taking a day trip to Lake Bovilla reservoir, which is situated only 15 km from Tirana. Interestingly, this reservoir provides almost 50% of Tirana's drinking water.
The mountainous region surrounding Lake Bovilla is a perfect place to go hiking or mountain climbing. A well-known hiking trail takes visitors to Gamti mountain, where they can enjoy the breathtaking scenery of the water and mountains. This moderate trail takes about two hours to complete.
11. Visit the old military base on Sazan Island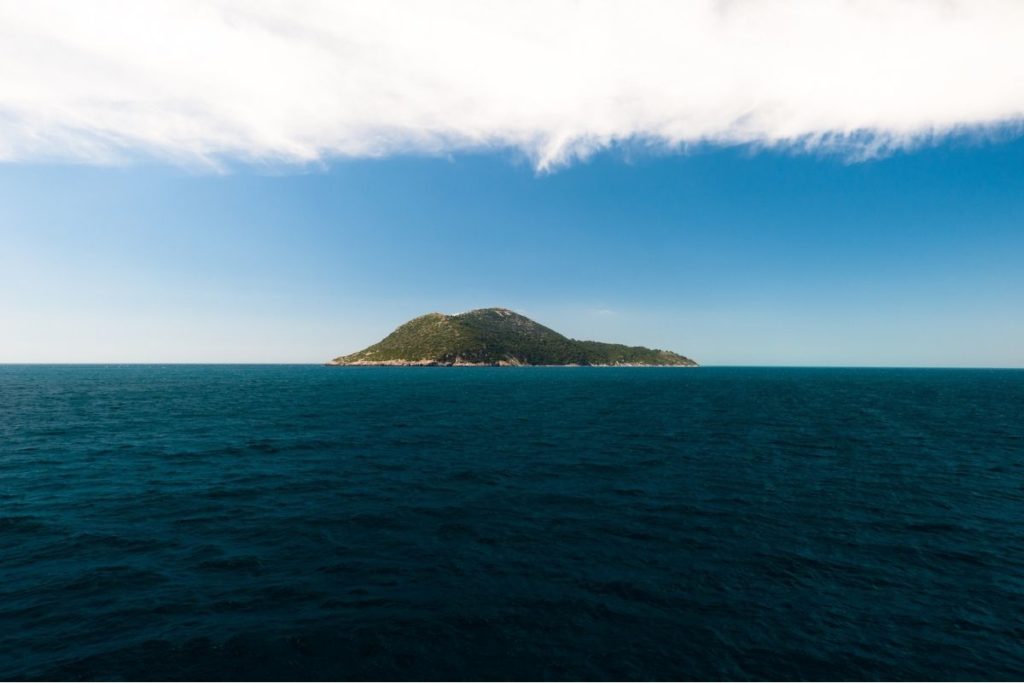 For years, the largest island in Albania was shrouded in mystery and off-limits to tourists. However, Sazan Island is now open to visitors and it's worth a visit. Here, you can explore an abandoned island that was once home to military buildings, designed to withstand nuclear attacks.
Despite being open to tourism, the island is still used as a military base by Albania. Nevertheless, most of the buildings, bunkers, and tunnels have been untouched and inactive for years. To reach this "secret" island, you can take a trip from Vlore, and it's definitely one of the most unique things to do in Albania.
12. Eat local food
Albanian cuisine is a unique blend of Mediterranean and Balkan influences, with an emphasis on fresh and locally sourced ingredients. From hearty meat dishes to fresh seafood, Albanian cuisine has something to offer every palate.
One of the most famous Albanian dishes is byrek, a savory pastry filled with meat, cheese, or vegetables. Byrek is often enjoyed as a breakfast food, but it can also be eaten as a snack or a main meal. Another popular dish is tave kosi, a lamb or goat casserole baked with yogurt and seasoned with garlic and paprika. Seafood lovers should try the traditional dish of grilled or fried squid, served with a side of freshly squeezed lemon juice.
Albania is also known for its delicious desserts. Baklava, a sweet pastry made with layers of phyllo dough, nuts, and honey syrup, is a popular dessert that is enjoyed across the Balkans. Another famous Albanian dessert is kadaif, a pastry made with shredded phyllo dough that is filled with nuts and soaked in sweet syrup.
13. Hike around Osum canyon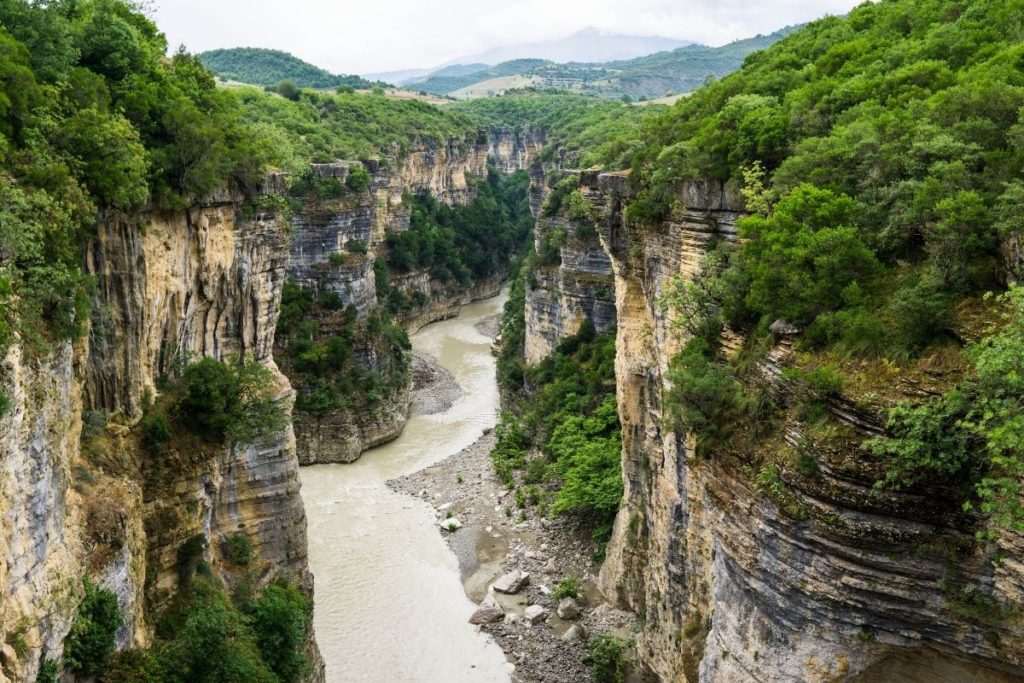 Osumi Canyon is a natural gem in Albania, offering spectacular gorge formations, picturesque hiking trails, and exciting adventure activities. It's located near the historic city of Berat and makes for a popular day trip destination from there.
There are numerous activities and sights to explore in Osumi Canyon that can easily keep visitors engaged for a full day or more. For stunning views of the canyon, the Bride's Hole viewpoint is a must-visit spot.
In summer, when the canyon river is at its lowest, you can stroll along the riverbed and take in the scenic trails. However, during the spring months, when the water levels are higher, rafting tours are a thrilling way to explore the canyon.
14. Stroll around Butrint National Park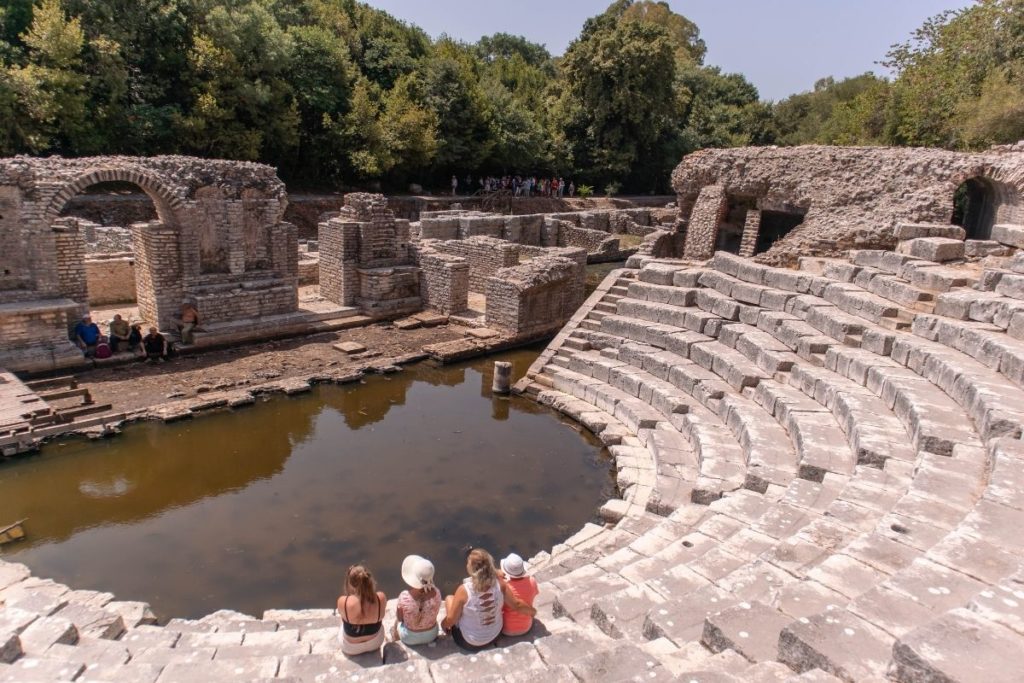 The charming Butrint National Park, located near the beautiful beach town of Ksamil, is an essential stop for anyone visiting Albania. The park is not only a crucial site in Albanian history but also a picturesque destination for nature enthusiasts.
Among the park's top attractions are the ancient Roman ruins, including the Roman Theatre, Roman Baths, Gymnasium, Fountain of the Nymphs, The Great Basilica, and Lion Gate. The Venetian Castle, one of the best-preserved ruins in the park, also houses an Archaeological Museum where visitors can learn about the Venetian civilization.
Apart from its historical sites, the park's natural surroundings are breathtaking. The park is surrounded by water and captivating hills, making it a delightful destination for strolls.
Where to stay in Sarande: Oceanic Overview Suites
15. Visit the Bunk Art museum in Tirana
Bunk Art is a unique and fascinating museum located in Tirana, Albania. The museum is dedicated to preserving the history and legacy of the Albanian communist regime, which ruled the country from 1944 to 1991. The museum is situated inside a massive underground bunker that was constructed during the communist era as a shelter for Albania's political elite in case of a nuclear attack.
Visitors to Bunk Art can explore the bunker's maze-like interior, which consists of over 100 rooms and tunnels spread across five floors. Along the way, they'll encounter a range of exhibits, artifacts, and multimedia displays that chronicle Albania's political history, from the early days of the communist regime to its eventual collapse in the early 1990s.
In addition to its historical exhibits, Bunk Art also hosts cultural events, concerts, and film screenings. The museum has quickly become one of the most popular tourist attractions in Tirana, drawing visitors from around the world who are interested in learning more about Albania's complex political history.
Where to stay in Tirana: Rooftop Tirana
16. Participate in free walking tours
The best way to get to know about the area is by joining numerous free walking tours in bigger places like Tirana or Berat. A guide will talk about local history, take you to the main sights and have really interesting stories to tell.
Not only does a free walking tour allow you to explore the local area, but it also allows you the chance to meet other travelers and potentially form friendships when you are backpacking solo. It's worth noting that while the tours are complimentary, it is customary to tip your guide in gratitude for their hard work.
17. Visit hidden Gjipe Beach
Gjipe Beach is a hidden gem located on the Albanian Riviera, nestled between high cliffs and accessible only by foot or boat. It is situated about 25 kilometers south of the town of Himara and 50 kilometers south of the city of Vlore.
To reach Gjipe Beach on foot, visitors can park their cars near the village of Ilias and take a hiking trail that leads down to the beach. The hike is approximately 30-45 minutes long and offers stunning views of the coastline and surrounding hills.
Aside from enjoying the beach itself, visitors can also explore the nearby Gjipe Canyon, a natural formation created by the Gjipe River flowing into the Ionian Sea. The canyon offers breathtaking views of the rocky cliffs and the turquoise sea.
Keep in mind to bring some cash, as in the summer months you can find mini restaurants with fresh drinks there. It's also a good idea to bring lots of water and food with you when taking a journey to this hidden beach.
If you want to experience wild camping, then one of the unique things to do in Albania is to spend a night on the beach. It doesn't need to be exactly Gjipe Beach, because in the area you will also find more private beaches.
18 Discover Berat Old Towns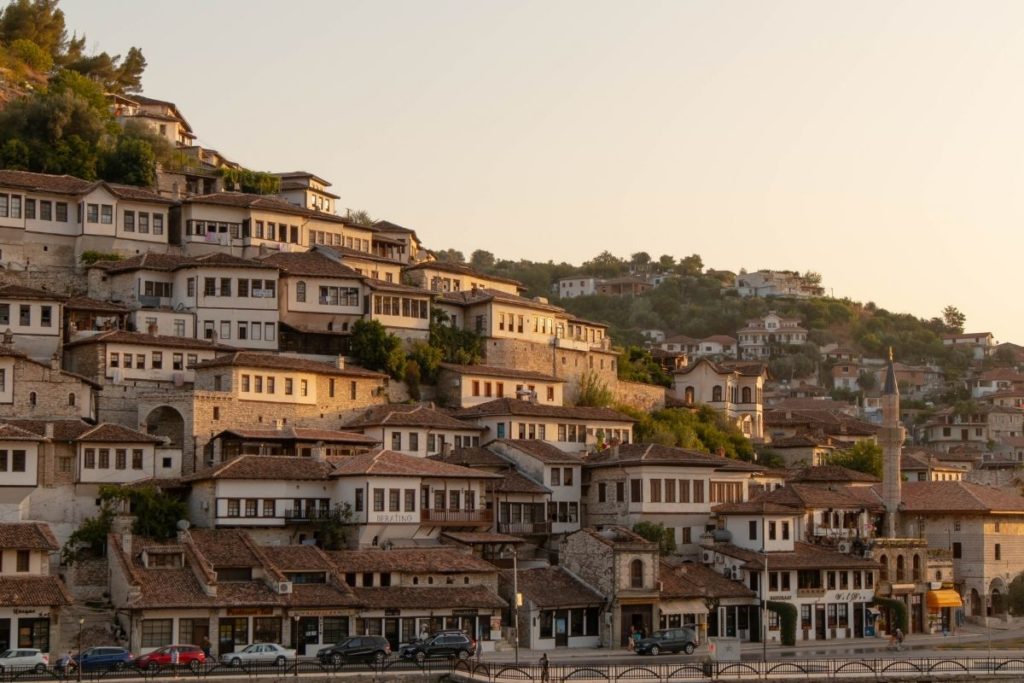 Also known as the "City of a Thousand Windows," Berat is a UNESCO World Heritage Site and one of the oldest continuously inhabited cities in the world. Its unique style of architecture and stunning mountainous setting make it a must-visit destination.
Also, there is several unique things to do in Albania's famous town. Explore the Old Town of Berat and stroll around its maze of narrow streets, stone houses, and historic buildings. It is a great place to wander and soak up the atmosphere.
Visit the Berat Castle, a well-preserved fortress that dates back to the 4th century BC, and offers panoramic views of the city and surrounding countryside.
Walking along the Osum River that runs through Berat is a great way to see the city from a different perspective, and taking a stroll along its banks is even better.
Where to stay in Berat: Hotel Klea
19. Drink Korca beer in Korce
Korce is a charming city located in southeastern Albania, near the border with Greece. It is known for its beautiful architecture, cultural heritage, and lively atmosphere.
One of the main attractions in Korce is the Old Bazaar, a vibrant market filled with traditional Albanian crafts and souvenirs. Visitors can stroll through the narrow streets, sample local delicacies, and admire the beautiful Ottoman-era buildings.
For nature lovers, the surrounding region offers plenty of outdoor activities, from hiking in the nearby mountains to exploring the Voskopoja Valley, a beautiful area dotted with ancient churches and monasteries. Visitors can also head to the nearby Prespa Lakes, a stunning natural area teeming with birdlife and scenic hiking trails.
Korce is known for its lively nightlife and entertainment scene. The city is home to numerous bars, cafes, and restaurants, many of which feature live music and traditional Albanian dancing. It is also home to the country's most famous beer, named exactly after the town itself. So what would be a more unique thing to do in Albania than drinking Korca beer in Korce?
Where to stay in Korce: Boulevard Boutique Aparthotel
20. Explore Krujë Castle
Krujë Castle, also known as the Castle of Krujë, is a historical fortress located in the town of Krujë in central Albania. The castle was originally built in the 4th century AD during the reign of Emperor Justinian I and was later expanded and fortified by the Albanian national hero Skanderbeg in the 15th century.
The castle served as the main stronghold of Skanderbeg's resistance against the Ottoman Empire and played a crucial role in defending Albania's independence. Today, it is one of Albania's most visited landmarks and a symbol of the country's rich history and culture.
Visitors to Krujë Castle can explore the castle's many towers, walls, and courtyards, which offer stunning views of the surrounding landscape. One of the most popular attractions within the castle is the Skanderbeg Museum, which displays exhibits and artifacts related to Skanderbeg's life and the history of the Albanian resistance against the Ottoman Empire.
In addition to its historical and cultural significance, Krujë Castle is also a popular destination for outdoor enthusiasts, as the surrounding area offers numerous hiking trails and scenic viewpoints. Visitors can take a stroll through the nearby bazaar, which is filled with shops selling traditional Albanian crafts and souvenirs, or sample local cuisine at one of the many restaurants and cafes located within the castle's walls.
Where to stay in Kruje: ROOMS EMILIANO Castle of Kruja
21. Drive through Llogara Pass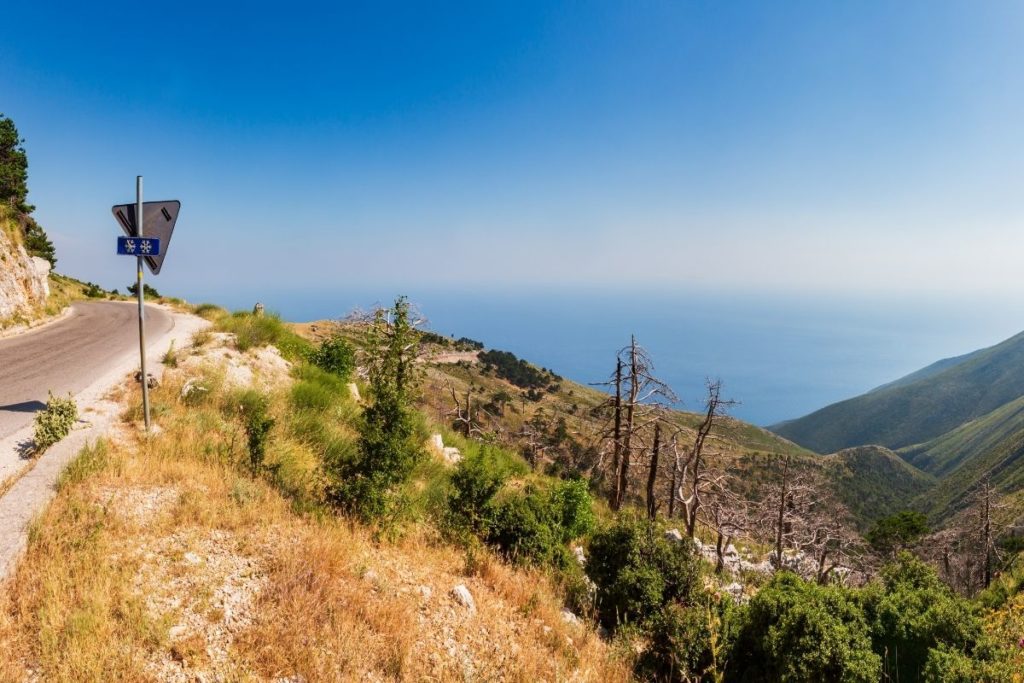 Located in southern Albania near the Ionian Sea, Llogara National Park is a highly popular destination in the country. The picturesque natural beauty of the park offers various hiking trails with stunning views of the mountains and the sea.
The Llogara pass, also known as the coast roadway, winds through the park, providing a thrilling drive with panoramic views of the stunning natural beauty and the Ionian Sea. The road stretches for about 23 km with a maximum elevation of 1043 meters above sea level.
22. Visit Rozafa Castle near Skhoder
Rozafa Castle is a medieval fortress located in the city of Shkodër in northwestern Albania. The castle sits atop a hill overlooking the surrounding landscape and is one of the most popular tourist attractions in the region.
The castle dates back to the 4th century BC, and its strategic location made it an important stronghold throughout history, with various rulers and conquerors occupying it over the centuries. The castle is named after Rozafa, a legendary woman who is said to have been walled alive inside the fortress during its construction.
Today, visitors can explore the ruins of the castle and enjoy panoramic views of the city and surrounding countryside. The castle complex includes several towers, walls, and courtyards, as well as a museum displaying artifacts and exhibits related to the castle's history.
One of the most popular attractions within the castle is the Venetian Tower, which offers breathtaking views of Lake Shkodër and the Albanian Alps. The tower was built by the Venetians during the 14th century and was used as a watchtower and a prison.
---
PIN IT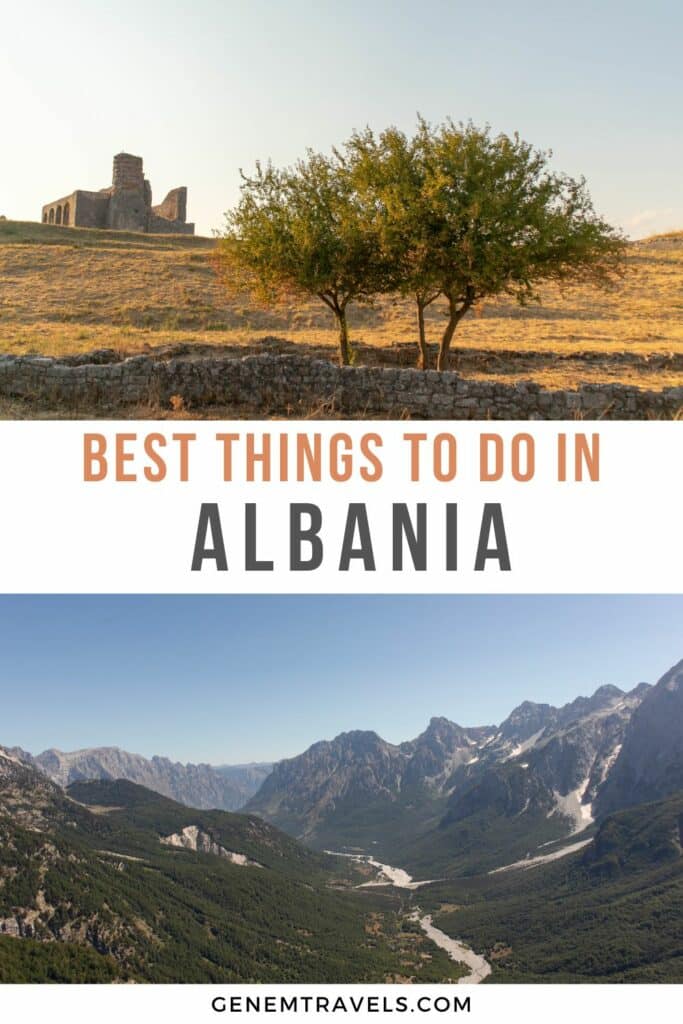 ---
Read more: