Ljubljana, the capital of Slovenia, is one of the smallest in Europe with a population of under 300,000. The city is compact in area, and fortunately, most of the attractions are centered around the city core. Thus, seeing most of it in just one day is feasible when visiting Ljubljana. So, what can you do and see in a day in Ljubljana?
---
What to do and see in Ljubljana in one day
Ljubljana is a charming, small capital featuring a well-preserved medieval old town, a castle offering panoramic city views, and several intriguing bridges.
1. Climb up to Ljubljana Castle
Located right in the heart of the city, the first thing you notice from a distance when wandering around the capital. It sits atop Castle Hill, offering nearly 360-degree panoramic views. A relatively short hike begins near the Vodnik Monument. Within minutes, the Ovinki trail leads to the top of the castle area. Once you reach the summit, you'll be treated to magnificent views of the city and the surrounding mountains.
Wandering around the castle and enjoying the city landscape from the viewpoint is free. However, if you wish to visit the castle rooms and towers, there are additional fees. Ticket prices vary depending on what you want to see in Ljubljana Castle. More information about the different ticket options can be found here. Without a doubt, it's the primary attraction to visit when spending a day in Ljubljana.
2. People watch at Preseren Square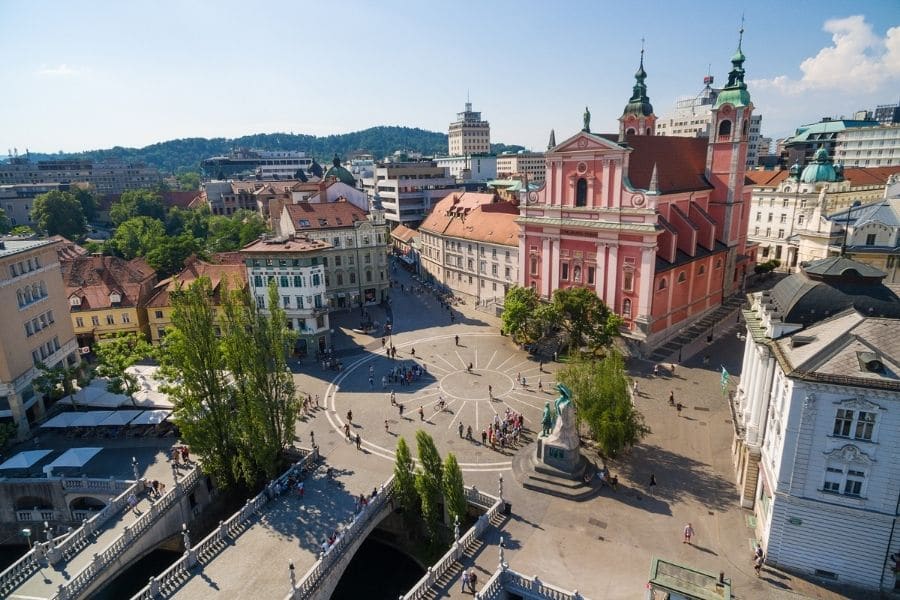 Located in the main square at the city's center, it's the starting point for virtually any destination in the city. In the square, you'll find the Franciscan Church, Triple Bridge, the Castle, Ljubljanica River, Prešeren Monument, and, of course, the old town. It's nearly impossible to miss this spot while spending a day in Ljubljana.
3. Seek the skyscaper – Nebotičnik
Standing at 70 meters with 13 floors, Nebotičnik is a prominent skyscraper in Slovenia. It's one of the most distinguished buildings and landmarks in Ljubljana. When it was constructed in 1933, it was the tallest building in the Kingdom of Yugoslavia. Currently, the first few floors house shops, followed by business offices and residential units. Restaurants occupy the top floors.
4. Cross the Dragon Bridge
Numerous bridges span the Ljubljanica River; one of the most renowned is the Dragon Bridge. It's named for the dragon statues that adorn it. Situated near Preseren Square, it stands as one of Ljubljana's landmarks.
5. Buy local ingredients at Ljubljana Central Market
Which capital doesn't have a Central Market? This might be the perfect place to start if you need local ingredients or ornaments. The open-air market is in the Pogačarnev trg and Vodnikov trg squares, close to the Ljubljanica river and right in the city's heart. During the peak season (from mid-March to the end of October), there's also an open kitchen where dishes from around the globe are prepared.
6. Take a picture at the Triple Bridge
The Ljubljanica River flows through the heart of Ljubljana and is spanned by various bridges. In addition to the Dragon Bridge mentioned the Triple Bridge is another well-known crossing in Slovenia's capital. Located adjacent to the main Preseren Square, it's called the Triple Bridge because it consists of three bridges side by side.
7. Explore the Metelkova Mesto
The Metelkova area once served as the headquarters for the Yugoslav National Army in Slovenia. Now, it's known as the Metelkova City Autonomous Cultural Centre, home to various cultural organizations and clubs, pubs, and street art. While it's slightly removed from the main city center, it's a must-visit spot when spending a day in Ljubljana.
8. Visit Congress Square
The square features a park and several notable buildings. Important structures surrounding the square include the Slovenian Philharmonic, the Casino Building, the Ursuline Church of the Holy Trinity, and the main building of the University of Ljubljana. It's also conveniently close to the city center and the Ljubljanica River.
9. Stroll around Ljubljana's old town
The old town is well-preserved, and there are many sights to see, such as the Town Hall, Ljubljana Cathedral, and Robba Fountain. You can wander around the quaint old town without the interruption of traffic. Stroll along the streets or by the banks of the Ljubljanica River, where numerous cafes, restaurants, and bars are located.
10. Ride on Ljubljana Castle funicular railway
A modern-looking funicular transports visitors from the base to Ljubljana Castle. From there, one can enjoy stunning views of the old town and the surrounding mountains. The ride takes about one minute one-way.
11. Rent a bike from the bike-sharing station
You might often hear locals say, "Bicycling… It's a Ljubljana thing!" Indeed, the city offers excellent conditions for cyclists. Many roads feature dedicated bike lanes, the city center is car-free, and there are numerous bike rental stations throughout the city. On the streets, you'll notice many similar-looking bikes. These are part of the BicikeLJ bike-sharing system, which boasts 51 metro stations where bikes can be borrowed.
This system is convenient for those staying longer in the capital but affordable for those spending just a day in Ljubljana. More information about the bike-sharing system can be found here. Remember, each bike can be used for only one hour. If you keep it longer, additional charges apply. However, once your hour is up, you can swap the bike at a new station, and your one-hour timer resets. In short, ensure you don't use the same bike for more than an hour continuously.
12. Hike to Šmarna Gora
Šmarna Gora is the most popular hiking spot in Ljubljana. Located about 8 kilometers from the city center, it's easily accessible by bike, car, or public transport. A relatively easy hike begins at Šturmova Ulica and takes about half an hour to reach the summit. Šmarna Gora stands 664 meters above sea level, offering breathtaking views of the mountainous Kamnik and Julian Alps and the capital itself.
At the summit are cottage houses where hikers can indulge in food and drinks. From this vantage point, you can truly appreciate the beauty of Slovenia's nature and outdoors.
13. Stroll around Tivoli park
If you're overwhelmed by city noise, a city park is always an excellent place to clear your mind. Tivoli Park, the largest in the capital, is conveniently close to the city center. It offers spaces for walking, engaging in sports, riding a bike, or having a picnic. There's no shortage of activities in Ljubljana in just one day.
14. Have lunch next to the Park Špica
In the heart of the capital, alongside the Ljubljanica River, several restaurants and cafes are perfect for a midday meal. While the city center often bustles with locals and tourists, just a short walk away, Park Špica offers a much quieter atmosphere. It's situated where two river currents converge. You can enjoy lunch at local cafes or picnic by the river at this spot. The choice is yours.
15. Be part of the Slovenian Coffee Culture
This is worth noting if you want to experience the local lifestyle. Slovenians rank among the top coffee consumers. The numerous coffee shops will attest to this if you're spending a day in Ljubljana. Unlike Italians, who might quickly down an espresso and leave, Slovenians take their time, savoring their coffee, enjoying some toast, and chatting with companions for hours. This ritual might even be repeated several times throughout the day. The city offers a plethora of coffee shops to kickstart your day.
Read more: Slovenia travel guide.
---
How to get to Ljubljana
Slovenia is strategically located in a highly advantageous region, surrounded by Italy, the Balkans, Central Europe, and Eastern Europe. This proximity offers travelers several options to reach Ljubljana by plane, bus, or train.
Getting to Ljubljana by Plane
The nearest airport to the capital is Ljubljana Jože Pučnik International Airport, 26 km from Slovenia's capital. There are shuttle transfers, taxis, car rental services, and public buses between the airport and the city. You can find flight details and tickets on Kiwi.
Getting to Ljubljana by train or bus
Ljubljana is well-connected by buses and trains to neighboring countries and their major cities:
Trieste in Italy is approximately 95 km away.
Zagreb in Croatia is roughly 140 km away.
Venice in Italy is about 240 km away.
Graz in Austria is around 190 km away.
You can find schedules and tickets for both trains and buses on Omio.
---
Where to stay in Ljubljana?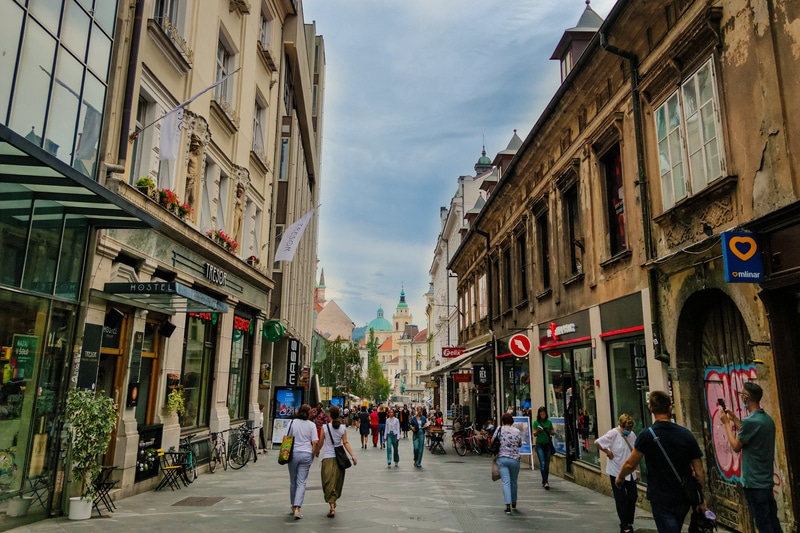 Hostel Tresor is located in the city's heart, just a few steps from Prešeren Square. It's recognized as one of the most unique hostels in the world due to its distinctive style. Before its transformation into a hostel, the building served as a bank. Unique features include a spacious atrium and dining inside a former bank vault. Like most hostels, it offers a range of accommodations, from two-bed to ten-bed shared rooms. A stay in Hostel Tresor promises a unique experience during your day in Ljubljana.
Hotel Lev is an excellent choice for those seeking a more private and luxurious experience. It offers numerous amenities, including breakfast and sports facilities, and is centrally located in the capital. It's one of the most sought-after hotels in Ljubljana, with many attractions nearby.
Hotel Nox is a great option if you prefer accommodations outside the city center. While it's situated away from the hustle and bustle, it's well-connected to the city center, ensuring easy access. Nearby amenities include a supermarket, and the popular hiking destination, Šmarna Gora, is also close. Hotel Nox boasts a modern design bright interiors, and is located in a peaceful area.
---
Best Time To Visit Ljubljana
The high season in Ljubljana, as in much of Europe, is during the summer months (June – August). The most pleasant weather typically spans from April to the end of September. During the peak season, there's more foot traffic, but the city doesn't become overly crowded. It's still an excellent time for a Ljubljana trip, as the city is vibrant and most tourist attractions are open.
The shoulder seasons are ideal for fewer crowds, more affordable prices, and still enjoyable weather. The months leading up to summer, from April to June, and September, are also fantastic times to visit Ljubljana.
In the winter, temperatures often hover around or even drop below freezing. Rain becomes more frequent during these months. However, a winter visit isn't bad for a weekend getaway, as the main attractions remain open year-round.
---
Ljubljana Itinerary for One Day
Here's an itinerary for one day in Ljubljana, including all the main attractions. Everything listed is within walking distance.
Morning
Begin your morning with a short hike or take the funicular to Ljubljana Castle, the city's most prominent landmark. From there, admire the magnificent views of the city and the surrounding mountains. There's also a small park behind the castle.
After visiting this primary attraction, head back to the medieval old town. Wander through the streets and explore the central market, the Triple and Dragon Bridges, Prešeren Square, and the Robba Fountain. Near the central area, you'll find Nebotičnik. Atop this building, there are several restaurants offering views of the city.
Noon
The largest green space in Ljubljana is Tivoli Park. It is located close to the city center and boasts gardens, sports fields, a botanical garden, and a small pond. It's also an ideal spot for a picnic.
Afterward, venture further from the central area to Metelkova Mesto, a must-visit in Ljubljana. If you approach from Miklošičeva Street, consider grabbing a kebab or a slice of pizza from Nobel Burek on the way. It's the most popular street food hub in Ljubljana and is open 24/7.
Evening
After a full day of exploration, it's time to unwind. Head back to the central area and stroll along the Ljubljanica River, starting from Prešeren Square and continuing to Park Spica. It's a serene spot to relax by the banks of the Ljubljanica or take a short break at Spica Caffe.
Near the old town and along the Ljubljanica River, there are several restaurants where you can conclude your day in Ljubljana with a delightful dinner. Consider places like Pop's Place, Restavracija Most, and Ala Pršuterija.
If you have more time
It's highly recommended to hike up to Šmarna Gora. Located about 8 km from the city center, it offers scenic views of Ljubljana and the surrounding Kamnik mountains. The one-way hike takes approximately half an hour.
---
Is Ljubljana safe?
Ljubljana is generally safe, with friendly locals who typically speak English well. However, as with any destination, you should be cautious of scams or tourist traps. Nonetheless, it remains one of the safest capitals in Europe.
While unexpected events can occur during international travel, and Ljubljana is no exception, it's essential to have travel insurance wherever you go. I always carry travel insurance, though I've been fortunate not to need it. It's worth spending a bit upfront for peace of mind and protection against potentially high medical bills later.
---
Ljubljana Travel Budget Tips
Ljubljana Card: Most cities offer cards with various benefits for tourists. With the Ljubljana card, you'll receive unlimited public bus rides, a guided city tour, a funicular ride, a boat cruise on the Ljubljanica river, a 4-hour bike rental, and more.
Couchsurfing: This would be my top recommendation for any country. It's not just about finding a free couch; it's more about the incredible people you meet. Couchsurfing is a community where locals host travelers in their homes. Ljubljana is one of the best cities in Europe for solo travel, and this application is a great starting point for finding a new buddy.
Student ISIC Card: This card is valid worldwide. With it, you can access discounts on transport, attractions, and even accommodations. Check out the specific discounts available with an ISIC card in your destination.
Walk as Much as Possible: Ljubljana ranks among the most walkable capitals in Europe. Many attractions are centered around the central city area. Walking allows you to explore the surroundings and perhaps stumble upon hidden gems.
Local Food Experience Outside the Tourist Area: In every city, prices are highest around tourist hotspots, like the city center and main attractions. A universal travel tip is to dine where the locals do.
Be Your Chef: The most straightforward way to reduce food expenses is to cook for yourself. While Ljubljana's food isn't expensive, preparing your own meals can lead to significant savings.
Free Walking Tours: One of the best ways to familiarize yourself with a city is guided tours. Many cities offer free guided tours around major sights. I highly recommend taking advantage of these but remember to tip your guide at the end.
---
Day Trips from Ljubljana
Judging Slovenia based solely on a one-day visit to Ljubljana doesn't do it justice. Slovenia truly shines when you venture outdoors to explore its natural beauty. Whether hiking up to Ljubljana Castle or Šmarna Gora, you'll notice the city is nestled among mountains, notably the Julian Alps.
Numerous day trip options from Ljubljana immerse you in fresh air and stunning landscapes. In just an hour, you can visit the enchanting Lake Bled, the picturesque village of Kranjska Gora with its surrounding mountains, or head to the seaside town of Piran. Slovenia's natural beauty is sure to captivate any visitor.
Read more: Day Trips from Ljubljana
---
Taking it all together!
Twenty-four hours in Ljubljana might fly by, and you might need another day. It's not just because of the landmarks you haven't seen but also the city's laid-back vibe, friendly locals, and the charm of a small capital. Slovenia, as a country, remains a somewhat hidden gem in Europe, and the same goes for its capital. Visit Slovenia; it's worth seeing firsthand!
---
PIN IT
---
Read more about Slovenia: