Ljubljana the capital of Slovenia is one of the smallest in Europe with a population below 300 000. Also, the city by area is pretty small and luckily most of the sights are around the centrum. So it's possible to see most of it within one day when visiting Ljubljana. What to do and see in one day in Ljubljana?
---
What to do and see in Ljubljana in one day
Ljubljana is a small charming capital with the highlights of well-preserved medieaval old-town, a castle with panoramic views over the city and some interesting bridges.
1. Climb up to Ljubljana Castle
It's located right in the heart of the city and basically, it's the first thing that is seen afar when strolling around the capital. It's atop of the Castle hill with panoramic views almost 360 degrees. A relatively small hike starts near Vodnik Monument. Within minutes from Ovinki trail to the top of the castle area. When you reach the top of the hill you will have magnificent views of the city and to surrounding mountains.
Wandering around the castle and enjoying the city landscape from the viewpoint is free. However when visiting castle rooms and towers, then there are some additional fees. There are different variations of tickets, depending on what to see in Ljubljana Castle. Fees are in-between 10 to 13 euros per adult. Additional information about different tickets is found here. It's for sure the main place to visit when being one day in Ljubljana.
2. People watch at Preseren Square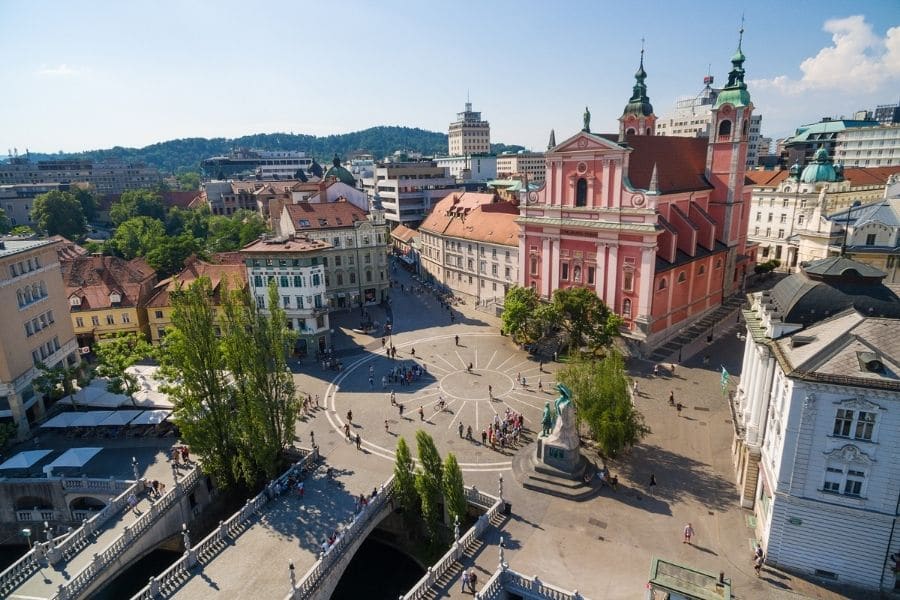 It's located in the main square in the center of the city. The starting point to go particularly anywhere in that city. In the square will be seen Franciscan Church, Triple Bridge, the Castle, Ljubljanica River, Prešeren Monument, and of course the old town. It's hard to miss that place while strolling around one day in Ljubljana.
3. Seek the skyscaper – Nebotičnik
13 floors and 70 meters high Nebotičnik is a Slovenian Skyscraper. It's one of the most prominent buildings and landmarks in Ljubljana. By the time it was built (in 1933) it was the highest building in the Kingdom of Yugoslavia. Right now it hosts shops on the first floors, then some business offices next floors, residential floors and on the last floors restaurants.
4. Cross the Dragon Bridge
There are many bridges over the Ljubljanica river and one of the most famous ones is the Dragon bridge. It's called that way because it's decorated with dragon statues. Located near Preseren Square. It's one of the landmarks in Ljubljana.
5. Buy local ingredients at Ljubljana Central Market
What kind of capital doesn´t have any Central Market? If needed some local ingredients or ornaments then this place might be the right place to start. An open-air market is located in Pogačarnev trg and Vodnikov trg squares near to Ljubljanica river. Also in the heart of the city. During the high seasons (mid-march to end of October) there is also an open kitchen, where there are prepared various dishes from all around the globe.
6. Take a picture at the Triple Bridge
In the middle of the Ljubljana flows the Ljubljanica river which is crossed by various bridges. Like previously mentioned Dragon Bridge then Triple Bridge is another well-known overpass in Slovenia capital. It's right next to the main Preseren Square. It's called the triple bridge because there are three bridges next to each other.
7. Explore the Metelkova Mesto
The Metelkova area was headquarters for the Slovenian Yugoslavia National Army. Now it's called Metelkova City Autonomous Cultural Centre, where there are different cultural organizations, also clubs, pubs, and street art. It's just a bit away from the city center area, but it's a place to see when being one day in Ljubljana.
8. Visit Congress Square
A square with a park and many famous buildings. Important buildings that face the square: Slovenian Philharmonic, Casino Building, Ursuline Church of the Holy Trinity, and The main building of the University of Ljubljana. Also really close to the city center and the Ljubljanica river.
9. Stroll around Ljubljana old-town
Old-town is well renovated and there will be a lot of things to see, like Town Hall, Ljubljana Cathedral, Robba fountain. Just wandering around small old-town without getting interrupted by traffic. Strolling on the streets or next to the banks of the Ljubljanica river where there are several cafes, restaurants, and bars.
10. Ride on Ljubljana Castle funicular railway
A modern-looking funicular takes visitors from the ground up to Ljubljana Castle. From there will be stunning views to the old-town and to the mountains. The ride takes about one minute and the one-way cost for adults is 4 euros.
11. Rent a bike from the bike-sharing station
It's possible to hear from locals that: "Bicycling, it's a Ljubljana thing". There are indeed great conditions for cyclists. Many roads have their bicycling lines, the city center is car-free and around the city several bike renting stations. In the streets, there will be a lot of similar bikes. These bikes are from the BicikeLJ bike-sharing system. It has 51 stations over the city, where bikes can be borrowed.
It's convenient if staying longer in the capital and it wouldn't break a bank when being only one day in Ljubljana. It has a yearly subscription for 3 euros. More information about bike-sharing is here. Keep in mind that a bike can be used only for one hour, if keeping it longer (longer than an hour), then it charges extra. But the good thing is that after the time is up, it's possible to change a bike in the new station and one hour starts ticking again. In short, make sure that you aren't with one exact bike for over an hour.
12. Hike to Šmarna Gora
The most popular spot for Ljubljana hikes. It's about 8 kilometers away from the city center, but well accessible by bike, car or public transport. A relatively easy hike starts from Šturmova Ulica and takes about half an hour to reach the summit. Šmarna Gora is 664 meters above sea level. Offering stunning views to the mountainous Kamnik and Julian Alps and also to the capital itself. At the top is also cottage houses, where every hiker can spoil themselves with food and drinks. From there you will see the beauty of Slovenia nature and outdoors.
13. Stroll around Tivoli park
When being overwhelmed with city noise, then city park is always a great place to clear your head off. Tivoli Park is the largest in the capital and is close to the centrum. There are places where you can just walk, do some sports, ride a bike or have a picnic. Many things to do in Ljubljana in one day.
14. Have lunch next to the Park Špica
The center of the capital and next to the Ljubljanica river has several restaurants or cafes to fill a belly when having regular lunch. When the city center has big traffic by strolling local people and tourists then some steps away Park Špica is a much quieter area. It's a place where two river flows are connected. There you can have lunch at local cafes or have a picnic next to the river. Just pick one.
15. Be part of Slovenian Coffee Culture
It needs to be pointed out when wanting to experience the local lifestyle. Slovenians are one of the highest coffee consumers. When visiting one day in Ljubljana, then several coffee shops might hint at that. Slovenians are not like Italians who take their quick espresso and leave. They take it slow, having their toast and talking with companion hours. Maybe even a couple of times per day. There are several coffee shops around the city to start your day.
---
Ljubljana Travel Costs
Slovenia is a European Union country with the currency euro (€). Prices are relatively affordable, but vary and are more expensive around the peak season.
Accommodation costs
For the budget, the best option would be a hostel. There are a variety of hostels in and outside of the central area. Prices range in shared dorm rooms from 10€ to 20€.
Budget hotels and B&B prices start around 30€ up to 50€ euros per night.
3-star hotels range between 50€ to 80€. 4-star hotel prices start from 60€.
Food costs
The typical meal in Ljubljana centrum restaurants is around 10€. A regular cappuccino is about 1.7€. A glass of beer costs 2.5€ and wine 2€ in restaurants.
There are some cheaper street food options. The most well-known in Ljubljana is Nobel Burek. It's opened 24/7. There are very affordable prices for a slice of pizzas, kebabs, and burgers.
Public Transportation costs
Ljubljana has an efficient public transportation system. With public transport, you also need to claim an Urbana Card, which costs you 2€. Then you need to transfer money to that card. A single ride (90 minutes) costs 1.3€. The price for a public transport bus from Ljubljana airport to the city is 4€.
Ljubljana is a green city and they have a well-maintained cycling culture. Another way to move around the city is by renting a bike from BicikeLJ stations. You have to register on the BicikeLJ website with a subscription of 1€ for a week. After that, you can rent bikes anywhere from one of the bike stations and cycle one hour for free.
Attractions costs
There aren't many sights with a fee. You can even visit Ljubljana Castle without paying anything. But if you want to explore the castle rooms and climb up to the high tower then it costs an additional 13€. There are several things to experience like pub crawls, guided city tours, river cruises, and several day trips outside the city. Find more tours, attractions, and their costs from Get Your Guide.
---
How to get to Ljubljana
Slovenia is located strategically in a really good area. Close-by are Italy, the Balkans, Central, and Eastern Europe. Surrounded by lots of interesting places. Several options to get to Ljubljana by plane, bus, or train.
Getting to Ljubljana with a plane
The closest airport to the capital is Ljubljana Jože Pučnik international airport. It's 26 km away from Slovenia's capital. In between the airport and city are operating shuttle transfers, taxis, you can rent a car, and use public bus. Find flight details and tickets from Kiwi.
Getting to Ljubljana by train or bus
Ljubljana is connected by busses and trains with neighboring countries and their bigger cities. 
Trieste from Italy is about 95 km away,
Zagreb from Croatia is about 140 km away,
Venice from Italy is about 240 km away,
Graz from Austria is about 190 km away.
You can search schedules and tickets for both trains and busses from Omio.
---
Where to stay in Ljubljana?
Hostel Tresor is in the heart of the city, just some steps away from Prešeren square. It's listed among the most unusual hostels in the world, because of its style. Before it became a hostel in Ljubljana, it was home to the bank. For example, it has a spacious atrium, dining in a former bank vault. Like all the hostels there are multiple rooms from two to ten-bed shared rooms. A day in Ljubljana will be well spent if looking for something unique.
When looking for a more private and luxurious stay, Hotel Lev is a good option. It has many benefits like breakfast, sports facilities and it's in the center of the capital. Many things to see and do around Hotel Lev. One of the most popular hotels to stay in Ljubljana.
Hotel Nox is a good fit when looking at something out of the centrum. Otherwise, it's well connected with the centrum, so it's easy to get there. Around there is a supermarket, a well-known hiking spot Šmarna Gora is also near. Hotel Nox is modernly designed, luminous, and in a quiet zone.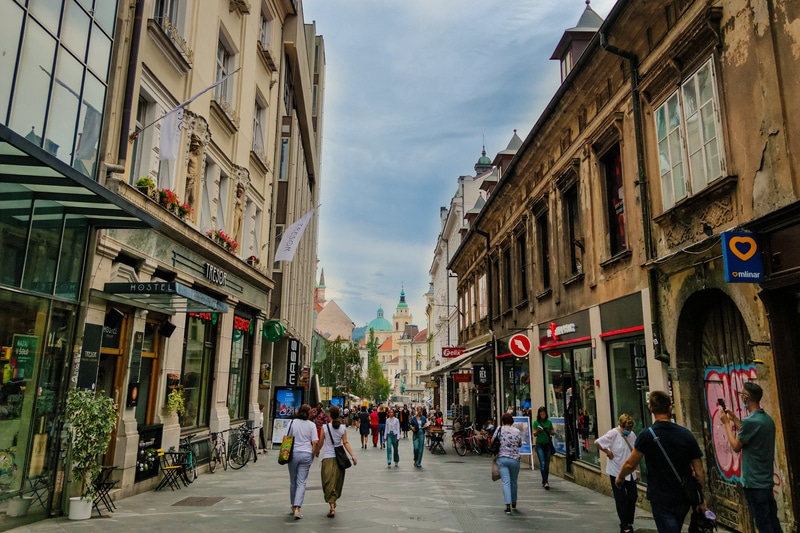 ---
Best Time To Visit Ljubljana
The high season as everywhere in Europe is during the summer months (June – August). You will get the most pleasant weather from April till the end of September. During the peak season, there will be more traffic, but it's not too overcrowded. It's still a great time to consider your Ljubljana trip because then the city is lively and most of the tourist attractions are open.
The best time for less crowd, cheaper prices, and still pleasant weather are during the shoulder seasons. Before the summer, April to June or September are also great times to visit Ljubljana. 
During the winter times, degrees drop to near zero or even below that. Then there are more rainy days. But still wouldn't be a bad idea for a weekend getaway, because the main sights are opened all year round.
---
Ljubljana Itinerary for One Day
Here is a one day in Ljubljana itinerary including all the main places. Everything mentioned is within the walking distance.
Morning
Start your morning with a little hike or a ride with the funicular to Ljubljana Castle, the city's most prominent landmark. From there admire the magnificent views over the city and surrounding background mountains. Behind the castle is also a small park.
After visiting the main landmark, set your sights back to the medieval old town. Stroll around the streets and seek the central market, Triple and Dragon bridges, Prešeren Square, and Robba fountain. Close by to the central area is Nebotičnik. On top of the building are several restaurants with views over the city.
Noon
The biggest greenery area in Ljubljana is Tivoli Park. It's close to the centrum and from there you find gardens, sports fields, a botanical garden, and a small pond. Also would be a great idea to do a small picnic.
After that, set your sights a bit further away from the central area to Metelkova Mesto. It's a must visit in Ljubljana. If you are going there from Miklošičeva street, then for a takeaway have a kebab or a slice of pizza from Nobel Burek. It's the most popular street food hub in Ljubljana and it's also opened 24/7.
Evening
After a long day of exploring, it's time to cool down a bit. Take your sights back to the central area. Walk along the Ljubljanica river from Prešeren Square all the way to Park Spica. It's a nice place to chill at the banks of Ljubljanica or have a little break in Spica Caffe.
Closer to the old town and along with the Ljubljanica river are several restaurants to end one day in Ljubljana with a nice dinner. Like Pop's place, Restavracija Most, and Ala Pršuterija.
If having more time
Highly recommended is to hike up to Šmarna Gora. It's about 8 km away from centrum, but from there you have scenic views of Ljubljana and the surrounding Kamnik mountains. The one-way hike takes about half an hour.
---
Is Ljubljana safe?
Ljubljana is pretty safe, people are friendly and speak English well. But as it is everywhere, you must be aware of scams or other tricks (tourist traps). Still, overall it's one of the safest capitals in Europe.
Anything can happen when traveling abroad and Ljubljana is no exception. Having travel insurance is a must (anywhere you go). I always have travel insurance, but luckily I haven't used it yet. For me it's okay to spend a little for my safety (if anything happens), then to pay afterward for extremely high medical bills. I recommend using trusted World Nomads.
---
Ljubljana Travel Budget Tips
Ljubljana Card – Every city has cards with several benefits for tourists. With a Ljubljana card, you will get free unlimited public bus rides, a guided city tour, a funicular ride, a boat cruise on the Ljubljanica river, 4-hour bike rent, and more. For example, a one day Ljubljana (24h) card costs 31€.
Couchsurfing – That would be my first recommendation in any country. It's not about a free couch, but more about the awesome people you met through that. In short, it's an app or more community where locals host travelers in their homes.
Student ISIC Card – Can use it in any country. With that will be found discounts in transport, attractions, or even on accommodation. Check out which discount options with an ISIC card you have.
Walk as much as possible – Ljubljana is one of the most walkable capitals in Europe. A lot of attractions are around the centrum. It's also possible to see more surroundings and even crash by accident into some hidden gems.
Local food experience out of the tourist area – In every city, the highest prices are around tourist hotspots (centrum and main attraction). One of the greatest travel tips that work everywhere is to eat there where the locals do.
Be your own chef – Easiest way to cut down expenses on food. Even though food isn't that expensive, cooking by yourself will save a ridiculous amount of money.
Free Walking Tours – The best way to get to know about the city is through the guided tours. Most of the cities have free guided tours around the main sights. I recommend using that, but make sure to tip the guide in the end.
---
Day Trips from Ljubljana
It's harsh for Slovenia by judging it by only being one day in Ljubljana. Slovenia is something different when going outdoors and exploring the true beauty of nature. When hiking up to either Ljubljana Castle or Šmarna Gora, there you can see that it's surrounded by mountains. Known as the Julian Alps mountains.
There will be plenty of options to do day trips from Ljubljana in one day to feel the fresh air. In only one hour it's possible to visit magical Lake Bled or beautiful village, Kranjska Gora, with surrounding mountains or to the seaside to Piran. Everybody will be amazed by the nature of Slovenia.
Read more: Day Trips from Ljubljana
---
Taking it all together!
24 hours in Ljubljana might pass by fast and the next day you have a feeling that there is a need for another day. Not because of the unseen landmarks, but that slow vibe, friendly and kind people, and small capital aura. Slovenia as a whole country is still a bit of a hidden gem in Europe along with the capital. Visit Slovenia it's worth seeing with your eye!
---
PIN IT
---
Read more about Slovenia: