Albania is a beautiful and wild country, full of hikes that can take you from seaside hikes to the highest peaks in the region. Whether looking for a stroll through lush forests or challenging hikes up towering mountains, Albania has something for everyone.
With its rich history and stunning views, it's no wonder that hikes in Albania are some of the most popular activities for visitors. Here are the best hikes in Albania to explore this year.
Read more: Albania travel guide.
Hiking northern Albania
1. Theth to Valbona hike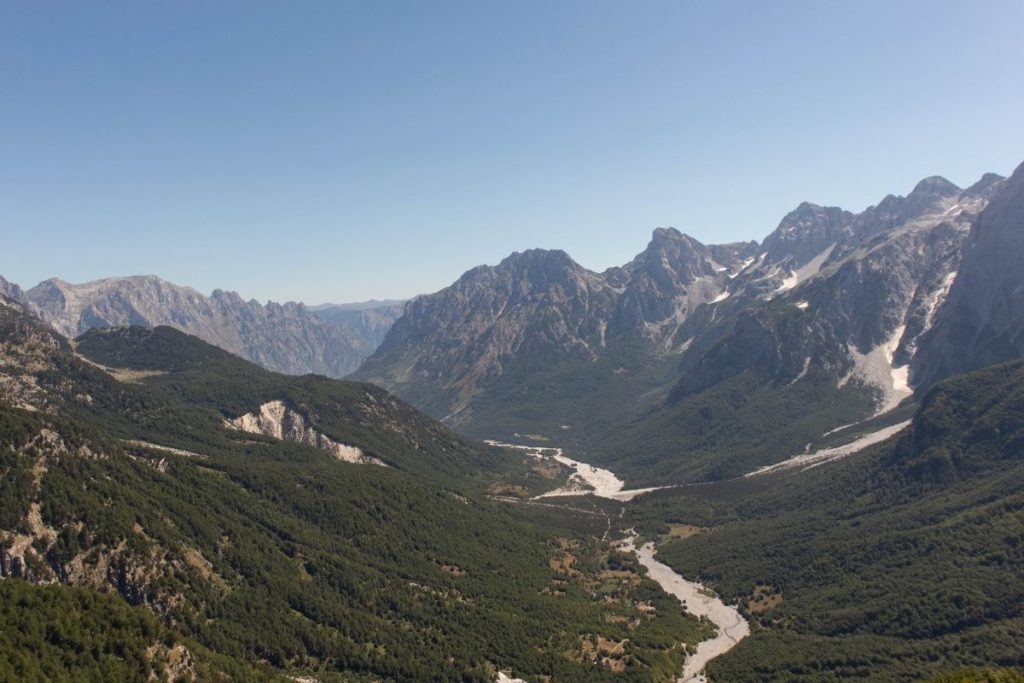 Valbona and Theth are one of the most popular hiking destinations in Albania that offers a variety of trails through the park's stunning mountain landscapes. The Valbona Valley is a must-see for any nature lover, with its glistening lakes, rushing rivers, and dense forests.
The Theth to Valbona hike is a popular trek in Albania that takes you through some of the country's most beautiful mountain landscapes. The route is approximately 17 km long and takes 6-8 hours to complete.
The popular hike in Albania starts in Theth National Park, known for its traditional Albanian villages and picturesque mountain scenery. From there, you'll hike through the park and cross the Albanian Alps, taking in breathtaking views of the surrounding peaks and valleys.
As you continue on the trail, you'll pass through several high mountain passes before reaching the Valbona Valley National Park. The Valbona Valley is a stunning area of natural beauty, with glistening lakes, rushing rivers, and dense forests.
The trail from Theth to Valbona is a challenging hike, but doable for any fitness level, with some steep and rocky sections, but the reward is well worth it. The hike offers a unique opportunity to experience the natural beauty of Albania and to see some of the country's most stunning landscapes up close.
On the way, there are several huts where you can rest your legs, drink cold beverages, fill up with good food, and fill your water bottles.
Additionally, if you are looking for a multi-day hike in Albania, then you should look at the options from the Theth-Valbona area. This same track is part of the Peaks of the Balkan trekking trail that passes through neighboring countries Kosovo and Montenegro. More information about Peaks of the Balkan can be found here.
2. Hike to the Blue eye from Theth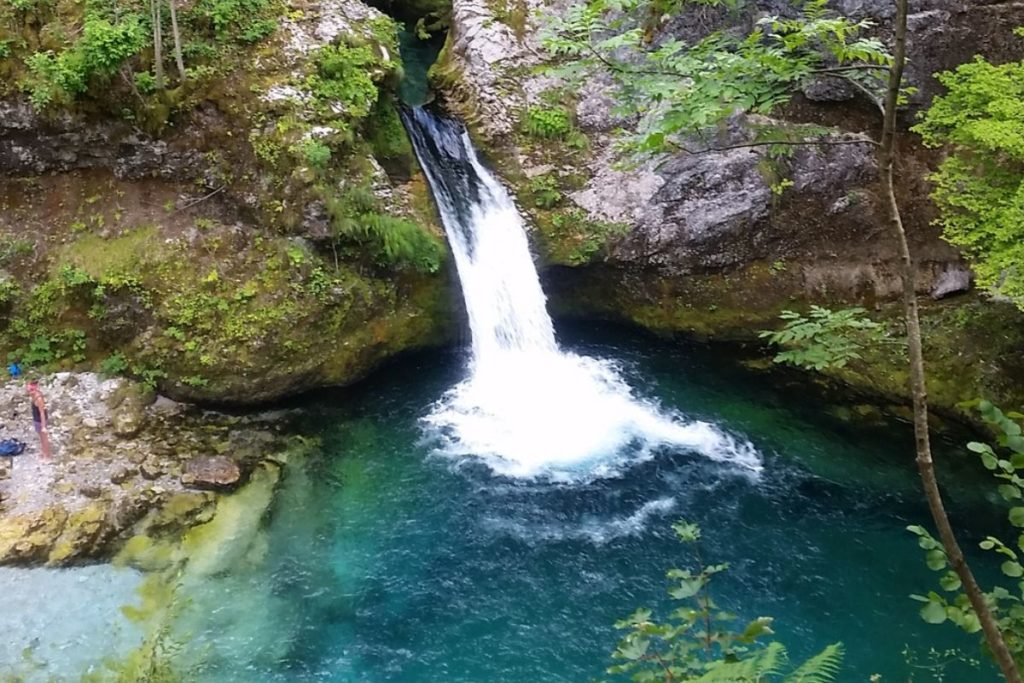 The hike to the Blue Eye from Theth is a popular hike in Albania that takes you to one of the country's most unique and captivating natural wonders. The Blue Eye is a deep blue spring located in a remote valley near the town of Theth and is one of the most famous landmarks in Albania.
The hike to the Blue Eye starts in Theth National Park and takes you through some of the country's most beautiful mountain landscapes. The trail is well-marked and takes one-way about 2-3 hours to complete, although the time may vary depending on your pace and the trail conditions.
The hike to the Blue Eye is a relatively easy trail, but it does have some steep sections and rocky terrain, so be prepared and wear proper shoes. Along the way, you'll pass by rushing streams and dense forests, and enjoy stunning views of the surrounding peaks and valleys.
Once you reach the Blue Eye, you'll be able to admire the stunning deep blue waters of the spring and take in the unique and peaceful atmosphere of this special place. The spring is surrounded by lush vegetation and is a truly magical place to visit.
I recommend doing it as a loop. Firstly, start your hike on the left side of the river, where you can admire the beautiful forest trail and some beautiful waterfalls. When coming back from Blue Eye and then strolling back along the road on the right side of the river, try to hitchhike your way back to Theth.
It's important to note that the trail to the Blue Eye can be quite crowded, especially during the summer months, so it's a good idea to get an early start if you want to avoid crowds. And, as always, be prepared for the changing weather conditions and bring plenty of water, food, and appropriate clothing for the hike.
Read more: Unique things to do in Albania.
3. Mount Gjallica Trail
A challenging hike in Albania! Embark on a journey through the 30.9-km back-and-forth trail close to Kukës, an invigorating route made for backpackers, hikers, and runners alike! This path is perfect for those looking to escape from crowds – it's rarely visited so you can bask in its tranquil atmosphere. The best time to visit is between May and November!
Your journey up the mountain starts with a strenuous ascent on narrow and dual paths, then continues onto centuries-old rustic dirt roads that may have eroded sections. You'll cross a handful of streams without getting soaked if you stay alert about where the trail winds. While it can become obscure in certain spots, never fear – your path will reveal itself again just after several hundred meters or so! As you advance, you'll pass by an isolated village only accessible via this route before stumbling upon another deserted hamlet further down the way.
As you ascend to the summit, a sparse selection of structures appear along your path – some with roofs still intact. With each step comes more stunning sights of the nearby mountain range – views that can't be seen from Kukës and surrounding villages. During your journey through remote valleys and open pastures, watch out for guard dogs which may become hostile when provoked but most are generally peaceful animals.
Start your trek in the village of Mustafe, easily accessible by van from Kukës to Bicaj and then a short walk away. When you arrive in Bicaj, direct your steps towards the mountain located on the right side of the canyon until you reach Mustafe. Follow its single road, always choosing an uphill route when available – soon enough you will find yourself at "Shkalla Keq", the starting point for this incredible journey!
4. Mount Korab hike
The Mount Korab Track is a hiker's dream. Every step along the way greets you with a breathtaking landscape of vivid colors and soaring peaks, from wildflowers in bloom to cool coastal breezes sweeping over rugged cliffs. Not only will you get your daily exercise, but also an adrenaline rush like no other – culminating at the summit where all of Albania lies below!
Mount Korab straddles the border between Albania and Macedonia, giving you two options to begin your climb. For those looking for lodging before or after their trek, Radomirë in Albania is the more convenient option with plenty of places to rest up at night!
If you're looking for a trail with a bit of mystery, then look no further! Right by the Hotel Radomira is your starting point – just watch out at first as it may be tricky to work out which route to take. Download those GPS tracks in advance so that even without a signal along the way, you can stay on course.
Make sure to get in your trail-blazing strides before tackling a mountain hike! Have some experience with navigating difficult terrain, and take time to shape up physically so you can enjoy the adventure of reaching new highs.
While you won't need any extra equipment, make sure to get some reliable boots that offer great stability and grab yourself a pair of hiking poles. Also, be aware that weather can change quickly in the mountains – what's happening down low isn't always indicative of conditions higher up-so dress accordingly with outfit options ready to go regardless of the season.
5. Mount Gamtit hike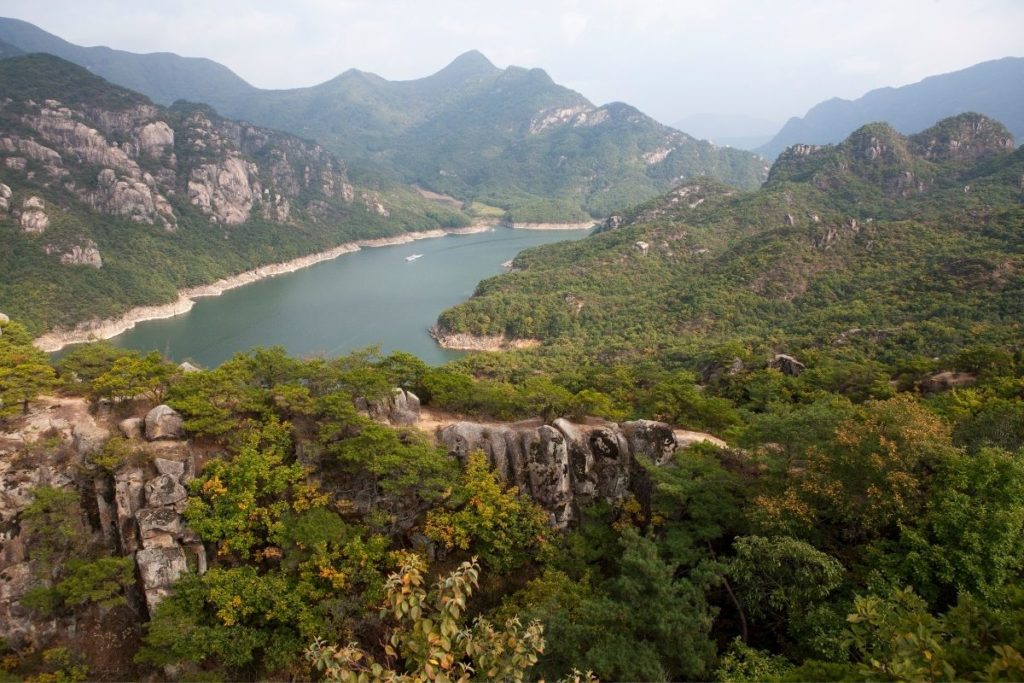 A loop trail next to Bovilla Lake is one of the best hiking spots in Albania to avoid crowds. It is even quite close to Tirana, only an hour and a half away by car. It is about 13 km/8.2 miles long and takes approximately 5-6 hours to complete.
Just outside of Kruje in Durrës lies a moderately challenging path with an exquisite mountaintop view over Lake Bovilla. It takes about three hours to climb up, and your efforts will be rewarded tenfold! Although the way down is slightly more difficult due to limited trail markers and dense forestation, it's worth the effort for such a stunning vista at the end.
At the top, you will be rewarded with views of the beautiful Lake Bovilla and the surrounding mountainous area. It is a perfect day trip option from the capital of Tirana if you are drawn to nature and mountains.
Hiking southern Albania
6. Hike to Ali Pasha bridge from Gijrogaster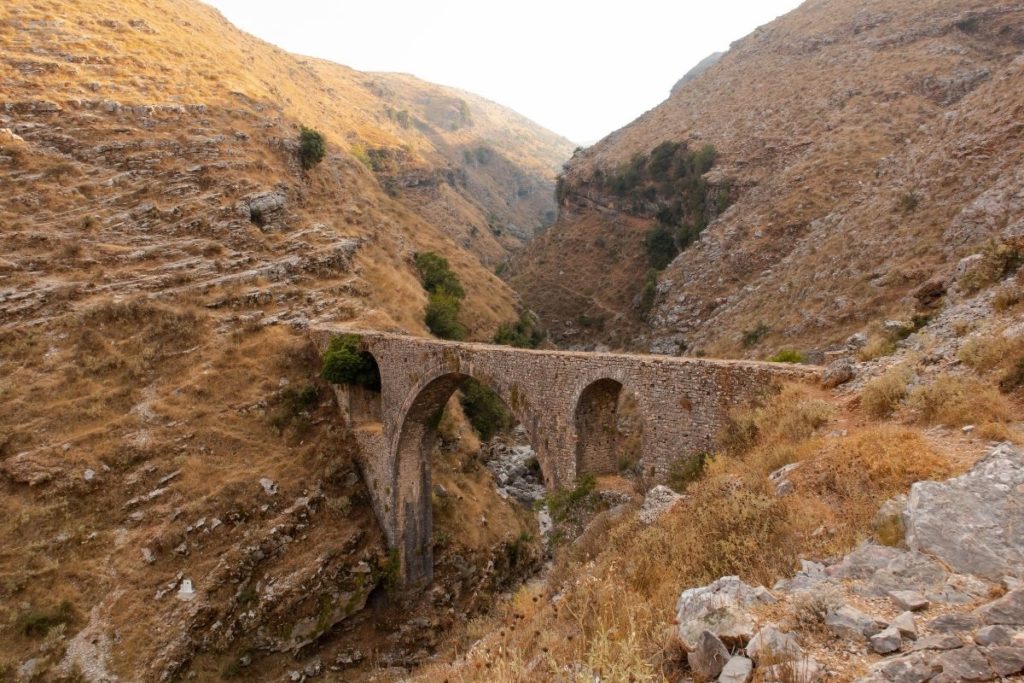 If you're staying in Gijrogaster then you can't miss out on one of the most scenic hikes in Albania. It's a relatively short and easy hike, that takes about 30 minutes to reach from the town center.
Follow the signs to the aqueduct, as they will guide you through a winding network of houses and eventually reveal an open valley. When it seems like a short hike, it is still recommended to leave your sandals for city tours. It's recommended to wear more proper shoes because most of the trail consists of scattered rocks and gravel which can certainly tire out your ankles if unsupported.
After arriving at Ali Pasha's Bridge, I highly suggest spending some time exploring the surrounding area. The bridge is far larger in person than it appears from afar and crossing it can be very humbling. Additionally, you will have a stunning view of its grand archways when looking up from below the valley floor!
I highly recommend planning a hike right before sunset. Firstly, because it can be pretty warm during the peak seasons in the middle of the day and secondly, you can expect to see an old tradition. This old aqueduct bridge is used by local sheep herds who, about an hour before sunset, will cross the bridge.
7. Maja Thanasit hike
With low footfall, this short trail is ideal for hikers and those who wish to explore the picturesque nature of Albania's coast and sea. It caters easily to any kind of hiker, from beginner to advanced!
It starts near Hotel Keshtjella Llogara and takes about one to two hours in one direction. Since it is close to Vlore, it is often visited by many people, but if you visit off-season, you will have plenty of space to explore nature.
The landscape is unforgiving, making it essential to bring along plenty of liquids and even a hat for protection against the sun. As you traverse this wild terrain in late spring, encounter vibrant flocks of birds, buzzing bees, and colorful butterflies!
8. Hiking around Benja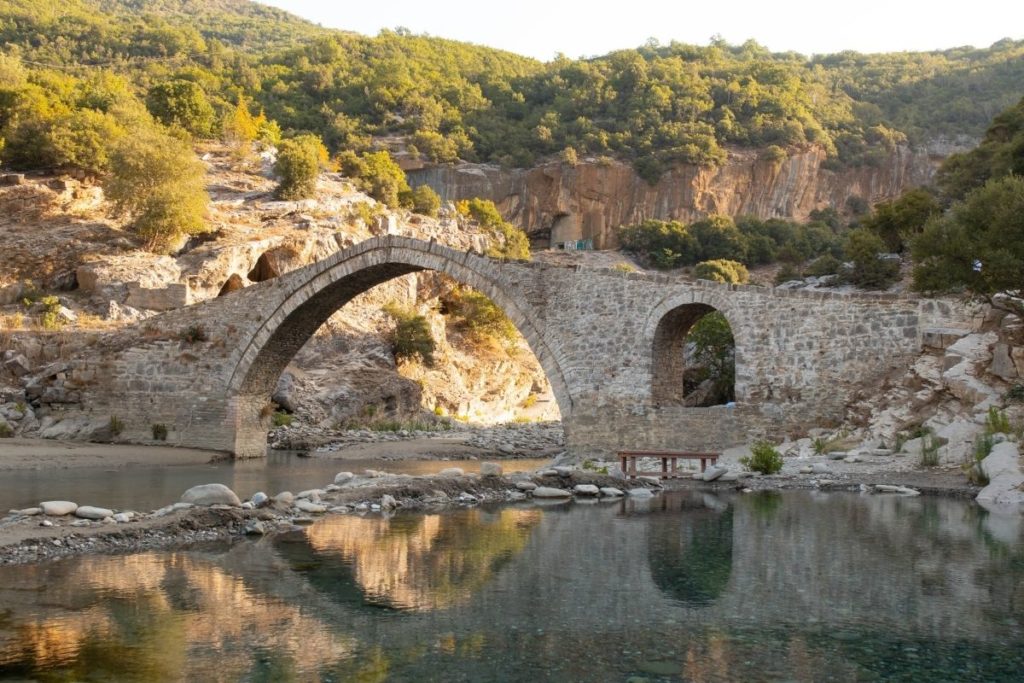 At Benja (Bënjë), visitors can explore 6 different sulfur springs that extend from deep within the earth, bubbling their way up to form naturally-formed stone baths on both sides of Lengarica Canyon. The most renowned of these thermal baths are found next to the beloved Kadiut Bridge and are also often cited as the busiest. However, five additional smaller hot springs can be discovered further into this stunning canyon!
There are several unique options for hiking around the canyon. Firstly, you can start your hike from the thermal baths under the Kadiut Bridge and wind along the bottom of the canyon. Along the way, expect some river crossings, so wear something that is also water-resistant. Additionally, you could find some extra thermal pools for privacy.
The second option could be a loop around the steep canyons. It's a bit more challenging due to the length of 12 km / 8 miles and some steep parts, but it is nothing too serious and can be handled well by hikers of every level.
It's a more offbeat destination and would be an amazing place to hike in Albania. After the long walk around the canyon, what would be more rewarding than soaking in one of those thermal baths?
Conclusion
From hikes that span the entire country to more tranquil trails, Albania is full of incredible hikes. Whether you're a beginner or an experienced hiker, there's something out there for everyone! Most of the hikes in Albania offer stunning views of secluded nature, while also providing a vivid and adventurous experience. If you're looking for hikes in Albania, these are certainly the ones you'll want to start with!
---
PIN IT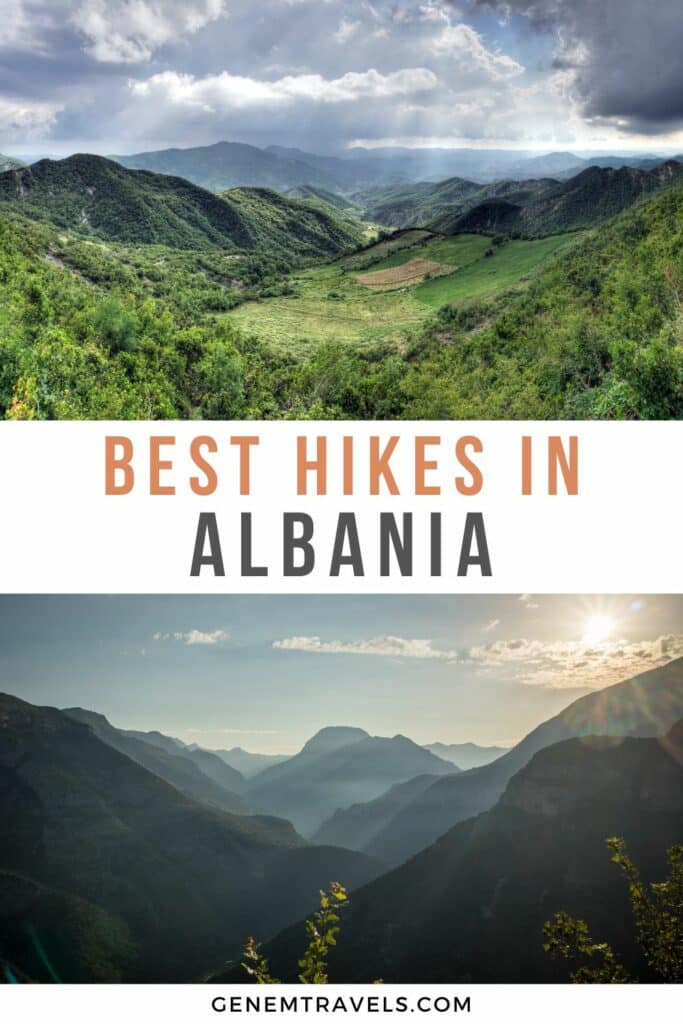 ---
Read more about hiking destinations: