Slovenia is a small country located in central Europe. It is known for scenic mountainous landscape, magical lakes, and magnificent coastal area. All the great things and landmarks packed into one small country. Backpacking Slovenia trip is a dream for any traveler.
Its perfect geographical location is a curse to attract incoming tourists. On the south is summer vacation hotspot Croatia, on the north mountainous Austria, on east budget travellers dreamland Hungary, and west world-famous Italy.
This is why it's one of the biggest hidden gems in Europe and also one of my favorite countries. It's simply because there are an extremely variety of places to see and things to do in a very tight area.
Disclosure: This article features affiliate links, including Amazon.com. If you decide to buy through one of these links, I'll earn a small commission at no extra expense to you. For more details, please see my disclosure policy.
From that backpacking Slovenia travel guide, you will find Slovenia's best places to visit, average travel costs, how the daily budget looks like, how to get around, budgeting tips, and how to say hello in Slovenian.
---
Quick facts about Slovenia
Language: Slovenian
Currency: Euro (€)
Capital: Ljubljana
Population: 2.1 mln
Highlights in Slovenia: the Julian Alps, lakes, rivers, caves.
What Slovenians like: hiking, cycling, ski jumping, coffee, wine.
Slovenians get annoyed when you confuse them with Slovakia
How to become a real Slovenian? – Climb up to the highest peak Mt. Triglav.
---
Things to do and see in Slovenia
Backpacking Slovenia highlight is it's absolutely stunning nature. There is no shortage of crystal clear lakes and rivers, high peaks, waterfalls, and unique underground cave systems. Including beautiful cities and the seaside. Seems like the country has a bit of everything. What to do when you decide to backpack in Slovenia?
1. Visit Slovenia capital Ljubljana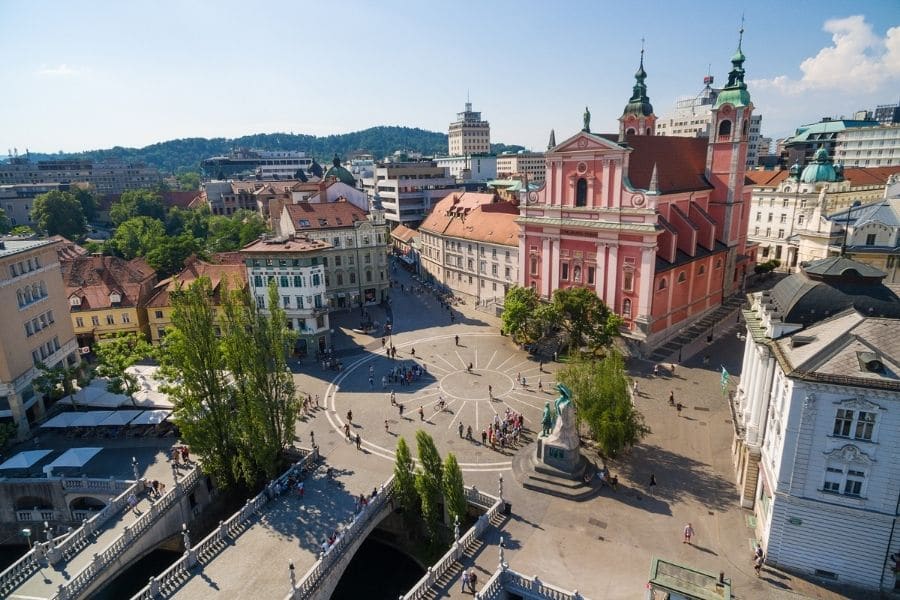 Ljubljana is one of the smallest capitals in Europe, with a population of a bit over 300 000 people. It's a charming city with a medieval old town, loads of bridges, and a lot of greenery. The most famous landmark is Ljubljana Castle. It's located at top of the hill right next to the center of the city. It's also recommended visiting the unique Metelkova Mesto, Slovenia "skyscraper" Nebotičnik, and just to chill in a cafe and to be part of Slovenian coffee culture. Every sight in Ljubljana is within a walking distance.
Read more: One day in Ljubljana.
2. Admire the beauty of Lake Bled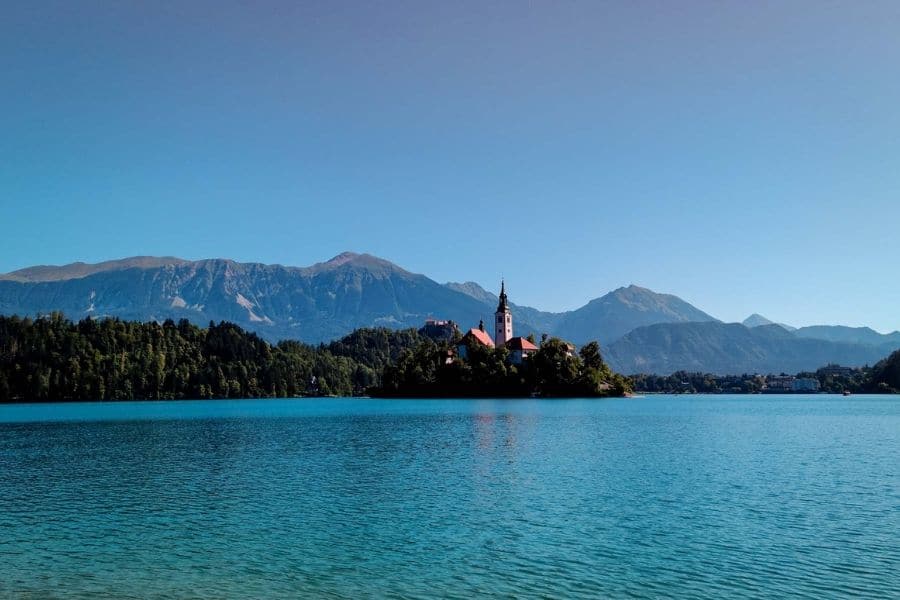 Lake Bled is one of the most magical spots all over the World. It seems like sometimes Lake Bled is even more known than the capital itself. What makes it so unique? Firstly the crystal clear greenish lake, picturesque surrounding mountains, and many attractions.
When wandering around the area, hike up to the Ojstrica viewpoint right before sunrise. Take a wooden boat pletna to the Bled island and visit a church. Explore the oldest castle in Slovenia. Have a dip in a crystal clear lake. There are so many things to do in the summer and you will also find Lake Bled in winter beautiful.
3. Walk behind the Peričnik Waterfall
Peričnik waterfall is one of the biggest in Slovenia by volume. It's a 52-meter downfall that is easily reached after a small walk. It is such a cool nature destination to seek because visitors can walk behind the waterfall. There is also another smaller waterfall. It's located at the top of the bigger one, which is reached by a marked hike trail. That one is a 16-meter high, where it is also possible to walk behind the natural wonder.
4. Smell the Mediterranean air in Piran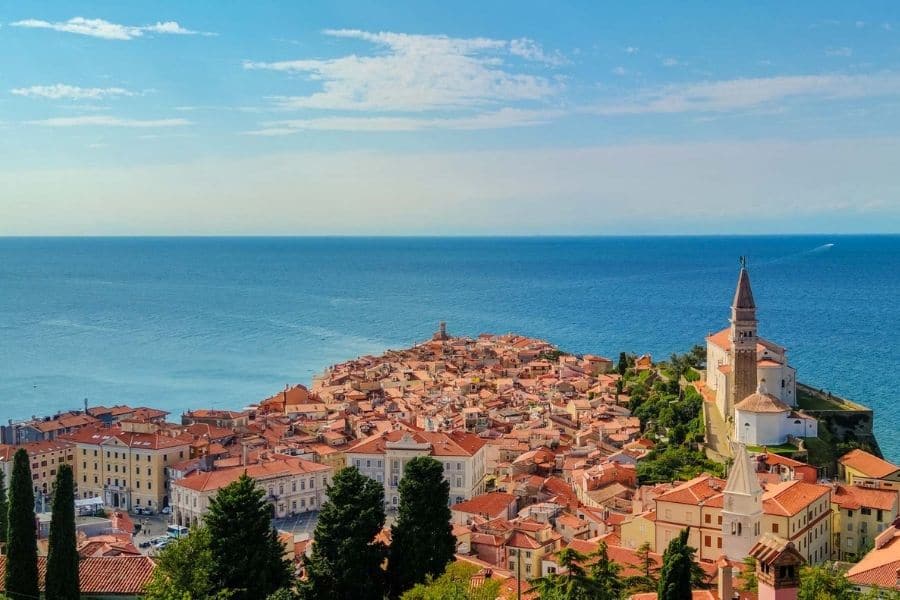 Slovenia has only 46 km of coastline. The small seaside stripe is squeezed by big summer tourist countries – Italy and Croatia. In that small area are several coastal towns like Koper, Izola, Portorož, and Piran. The last one is the pearl of Slovenia seaside.
Piran is a small charming town with colorful and red brick roofed buildings, filled with Mediterranean cuisine and air. If Slovenia is more known for its lakes, caves, and mountains, then Piran is like visiting a new country. A different lifestyle and climate as it's in Slovenia mainland.
5. Find dragon babies in Postojna Cave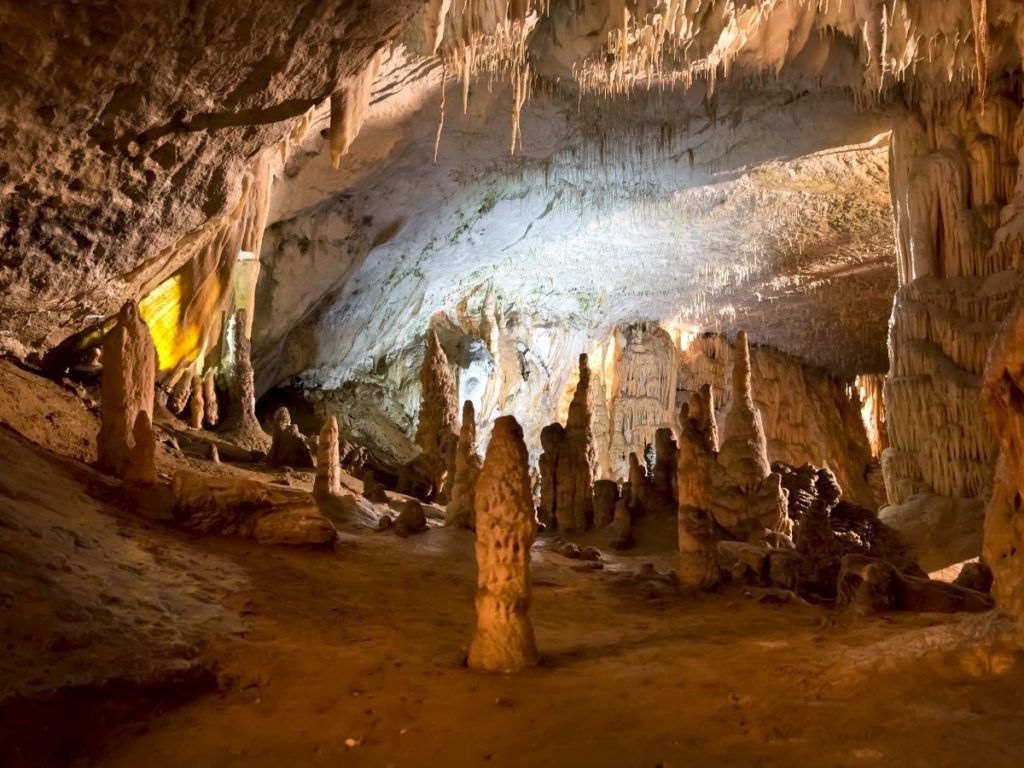 Another natural wonder in Slovenia is Postojna Cave. In the 24 km long karst cave system, there is still operating the first underground railway, has astonishing cave formations, and is home to very rare olms (baby dragons). Also, the cave is connected by tunnels close by (9 km away) Predjama castle. Postojna cave is one of the most unique places in the World and should be included in a must visit place when backpacking Slovenia. There are several tour options and tickets, for which prices start at 26€.
6. Feel the Slovenian vibe in Maribor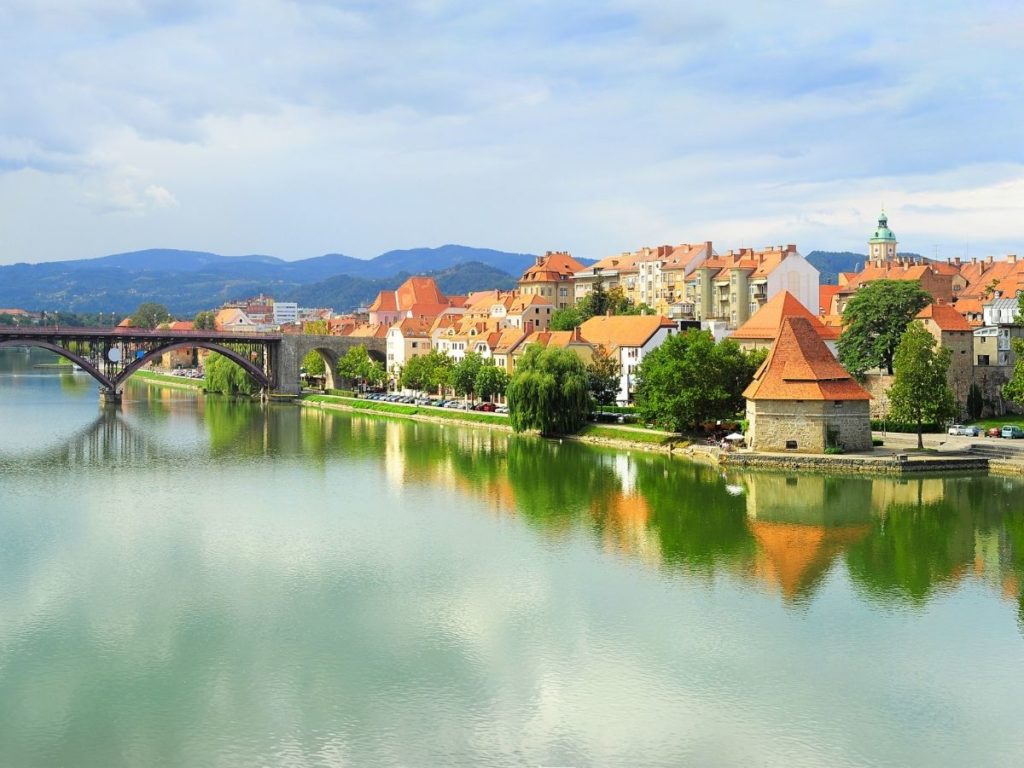 Maribor is the second-largest city in Slovenia after the capital. A charming city is filled with history, a laid-back atmosphere, beautiful architecture, and a long wine-producing tradition. It's a perfect place to feel a vibrant local Slovenian lifestyle because it is often overlooked by tourists. It's recommended to visit the main square Glavni Trg, Maribor Cathedral, Maribor Castle, stroll around Mestni Park, and have a river cruise on the Drava river. One day is enough to discover Maribor.
7. Pose with Golden Horn next to Lake Jasna
The scenic Julian Alps mountains surround Lake Jasna. Also, it's a calm place to just walk around the artificial lake and have a nice cooling dip. It's a crystal clear lake and it illustrates the fact that the name Jasna is derived from Slovenian, which means clear. Next to the lake is the popular symbolic statue Zlatorog (Golden Horn). A legendary chamois, who you can find from the mountains, is there to guard the lake. Make sure to take a picture together.
8. Go hiking around the Julian Alps
Slovenia is a paradise for hiking enthusiasts. Julian Alps mountain range offers a variety of trails from little walks to multi-day trekking. The ones who are looking for the highest peaks in every country, then in Slovenia it's Mt. Triglav (2864 m).
Mountaineering and hiking are one of the main activities in the country and it's a must thing to do when backpacking Slovenia. A few off-beaten path hikes around the Julian Alps: hike trail to Martuljek waterfalls, Viševnik trail, hiking through Seven Lakes Valley, Slemenova Špica trail, and many-many more.
9. Check out the biggest ski jumping hill in the World in Planica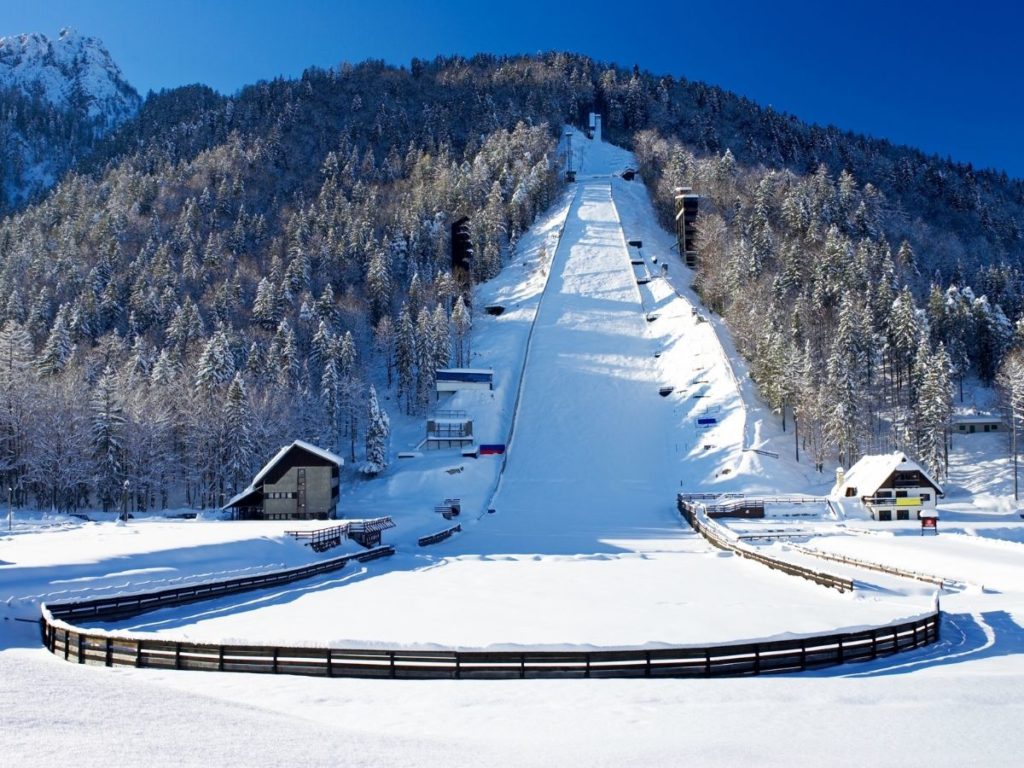 Slovenians are one of the top performers at ski jumping. It's because of the Planica which holds a long history in that sport. There was the first ski jump over 100 meters in 1933 and the ski flying hill is still the biggest one in the whole World to perform a ski jump. There are several ski jumping hills and athlete's training takes place all year round. During the summer, the biggest hill is closed, but it's opened for visitors to "fly down" with a high-speed zip line.
10. Walk along the Vintgar Gorge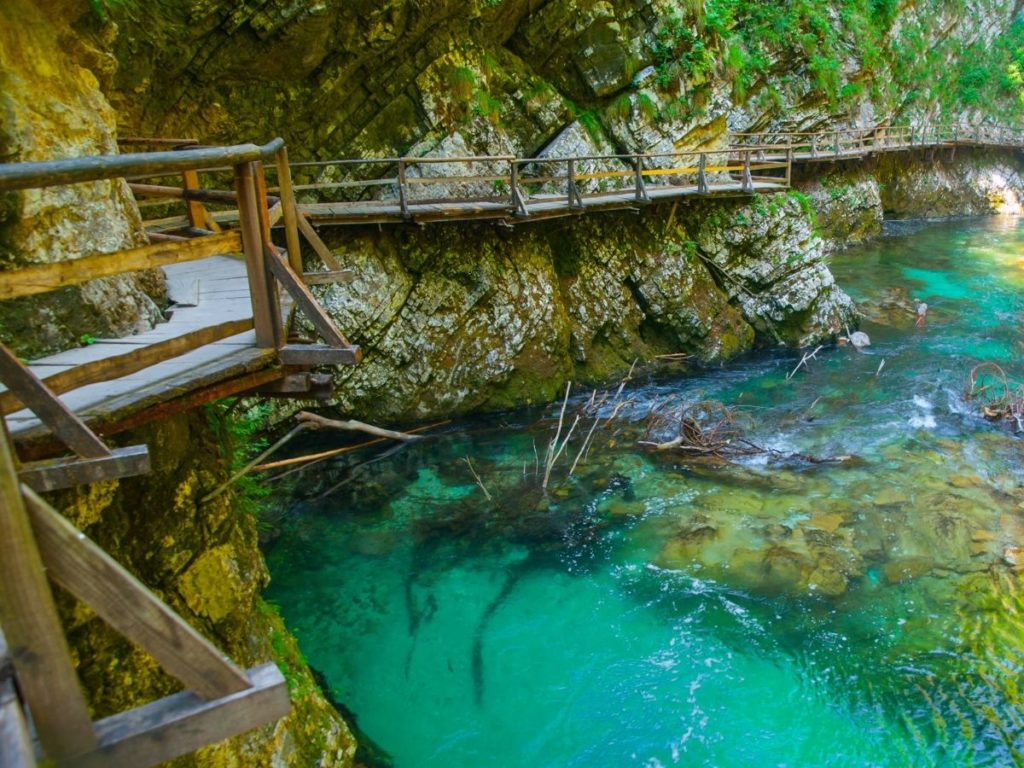 Vintgar Gorge is located near marvelous Lake Bled. A peaceful one-way walk along the mountain river is something you should not miss when backpacking Slovenia. An extremely beautiful greenish mountain river is squeezed between cliffs and along the way are several smaller falls. A well-maintained 1.6 km long walking trail will lead visitors along the river to scenic Šum waterfall. The entrance ticket for the trail is 10€ for adults.
11. Views over the Bohinj Valley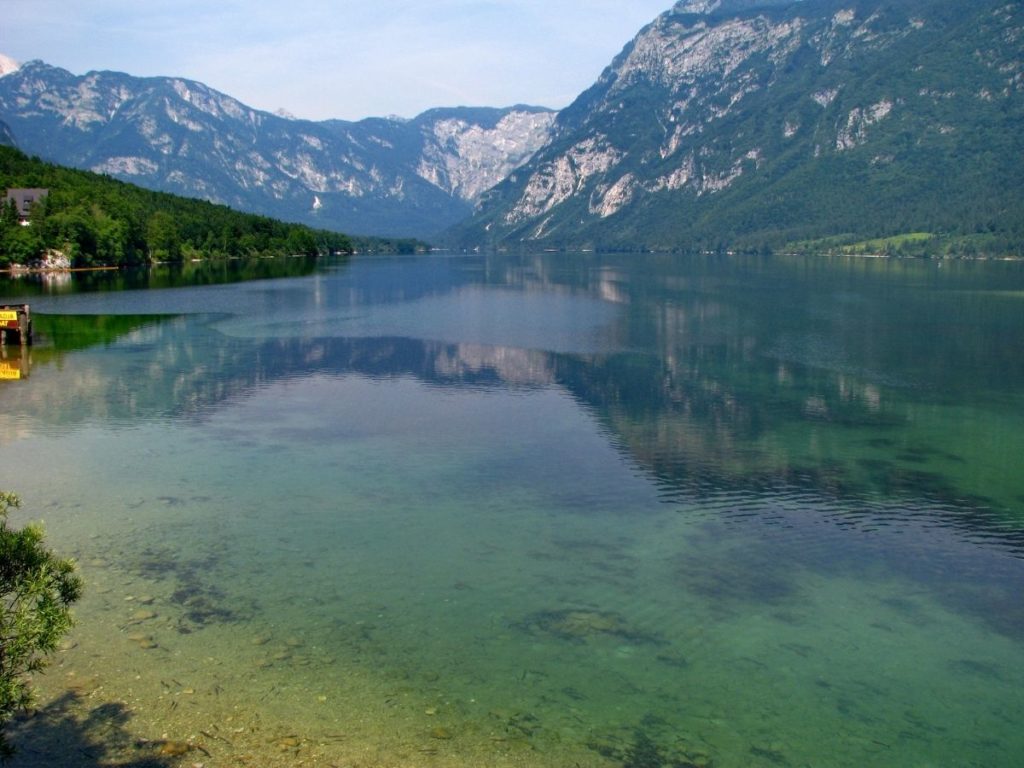 Bohinj is a bit isolated area, which can be visited surpassing Bled on a one-way road. There is the biggest lake, which lies at the center of the valley, and it's the starting point for loads of hiking and trekking trails. For example, hikers can do trekking around the Bohinj with exceptional views of the valley. Other than hiking there are several water sport activities like kayaking, SUPing, scuba diving, and swimming. Also, the lake itself is crystal clear.
12. Explore the biggest cave castle in Predjama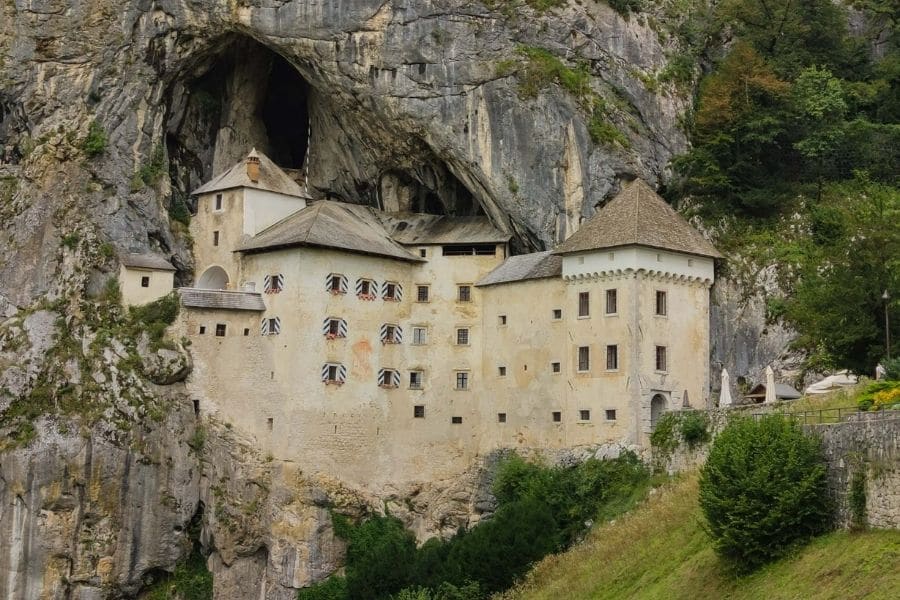 In that small country, there are so many wonders and one of them is Predjama Castle. It's the biggest cave castle in the World. It was constructed in a cave about 800 years ago. Under the cave are several secret tunnels, which are believed to be connected with Postojna caves (9 km away). It seems that these defending abilities were worth it because it's a very well-preserved castle. Tickets for Predjama castle start from 14€.
13. Have a beer from a fountain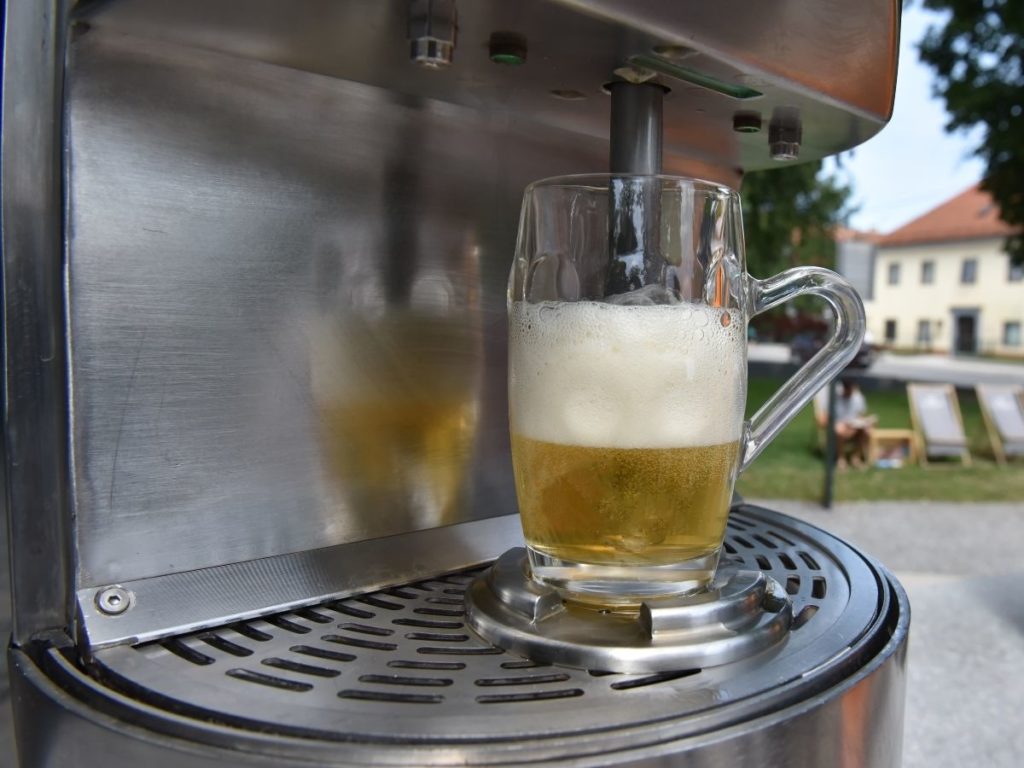 In a little town called Žalec is a fountain that beer fans all over the world have been dreaming of. The first beer fountain in the World, Green Gold Fountain was opened due to the long beer traditions around the area. The local beer is produced from flavor hops. In fact, Slovenia is the fifth biggest hops beer producer in the world. The fountain is positioned in the center of the town at Žalec.
So visitors can pitch up a camp and drink beer as much as possible? Unfortunately, it's not exactly that kind of wild dream, but you can buy a beer mug for 8€ and taste 6 different flavors of hops beers.
14. Trekking through Seven Lakes Valley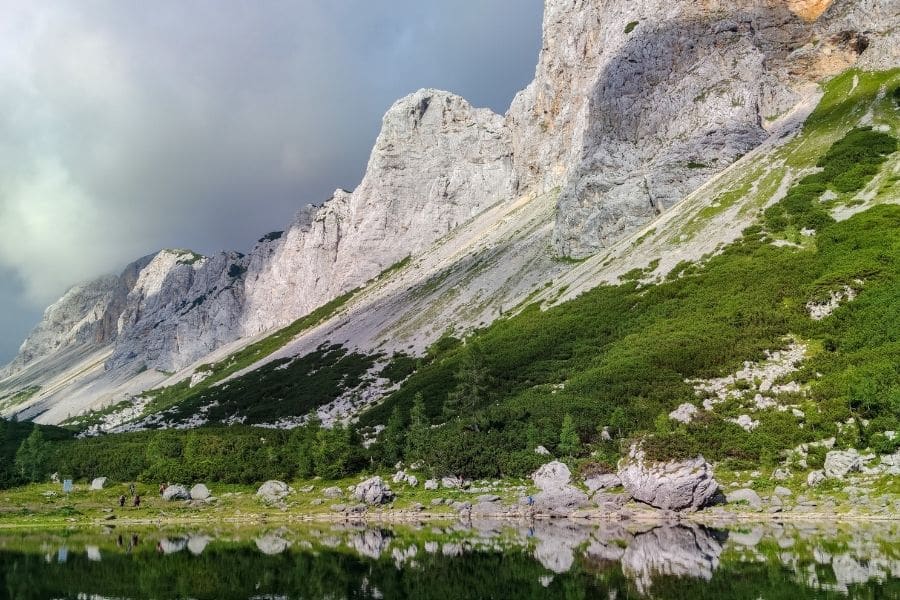 As already mentioned, Slovenia is blessed with several scenic trails from small walks to longer trekkings. Seven Lakes Valley is one route that can be done as a day hike and multi-day trekking. The trail to the Seven Lakes starts from Bohinj and takes about 4 hours one-way to reach the beautiful valley with several lakes. It's also a popular route to do hut-to-hut hikes on multiple days. On the way are different lakes, breathtaking nature views, and from the route, it's also possible to climb up to the highest peak in Slovenia (Mt. Triglav).
15. Find the Savica Waterfall
Savica Waterfall is one of the most visited landmarks in Slovenia. It's on the edge of Bohinj valley and it's reachable with a small hike from Koča pri Savici hut near to Ukanc. The one-way walk through the marked trail takes about 30 minutes to a 78-meter high A-shaped waterfall. There is also a small entrance fee – 3€ for adults.
16. Stroll around Kranjska Gora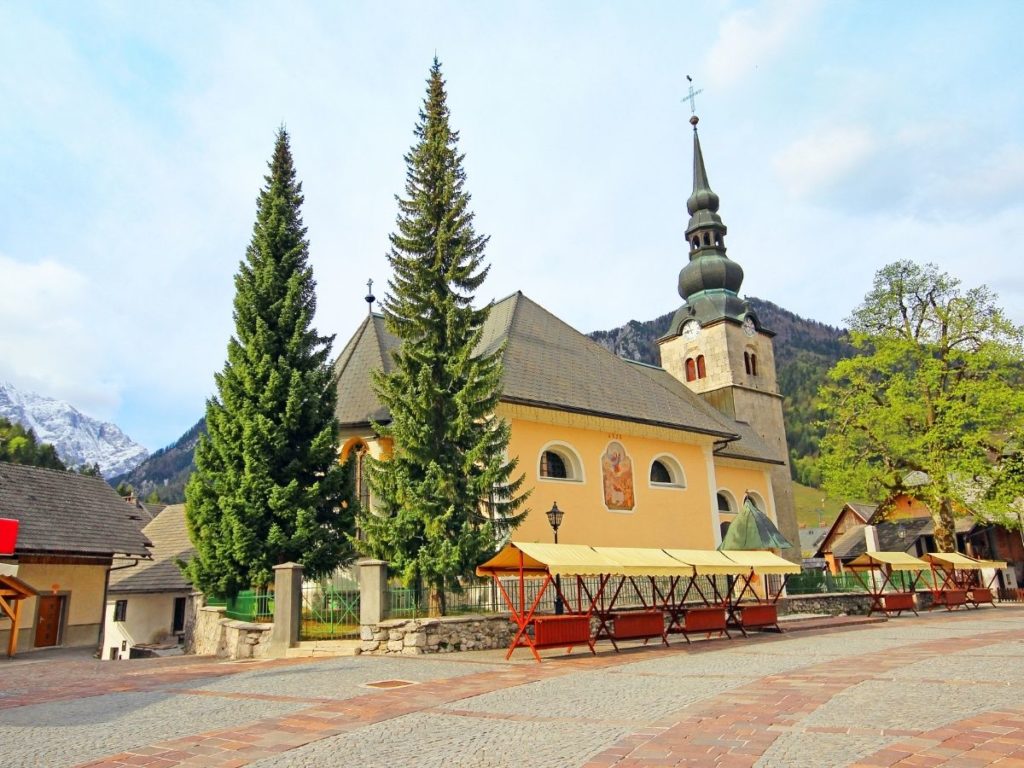 Kranjska Gora is a charming town with a laid-back atmosphere. It's a huge hotspot during the winter because it's surrounded by several ski resorts and close-by is also a Planica ski jumping area. However, Kranjska Gora is vibrant all year round. During the summer it's also filled with sports enthusiasts. For example, there is a big golf field, cycling tracks, and mountain bike trails. It's an extremely beautiful area with scenic landscape views.
17. Visit emerald green Zelenci Lake
Zelenci Nature Reserve is located between Planica ski jumping resort and Kranjska Gora. A quick walking path to emerald green Zelenci Lake starts at Parkirišče. Another lake in Slovenia is delivered cleverly from their language. Due to zelenci means in Slovenian green. Another fact about the lake is that it never freezes. The water temperature stays constantly 6 degrees all year round.
18. Go for underground cycling and kayaking
If cycling and kayaking above the ground isn't your thing, then in Slovenia you have the option to do it underground instead. The underground tunnels were used years ago under Mount Peca for mining. Now, these tunnels are used for guided tours to cycle and kayak. With a bike, the track is about 5 km and takes two and a half hours. Visitors can also experience kayaking tours about 700 meters below the ground. Underground kayaking costs about 42€.
19. Explore the Velika Planina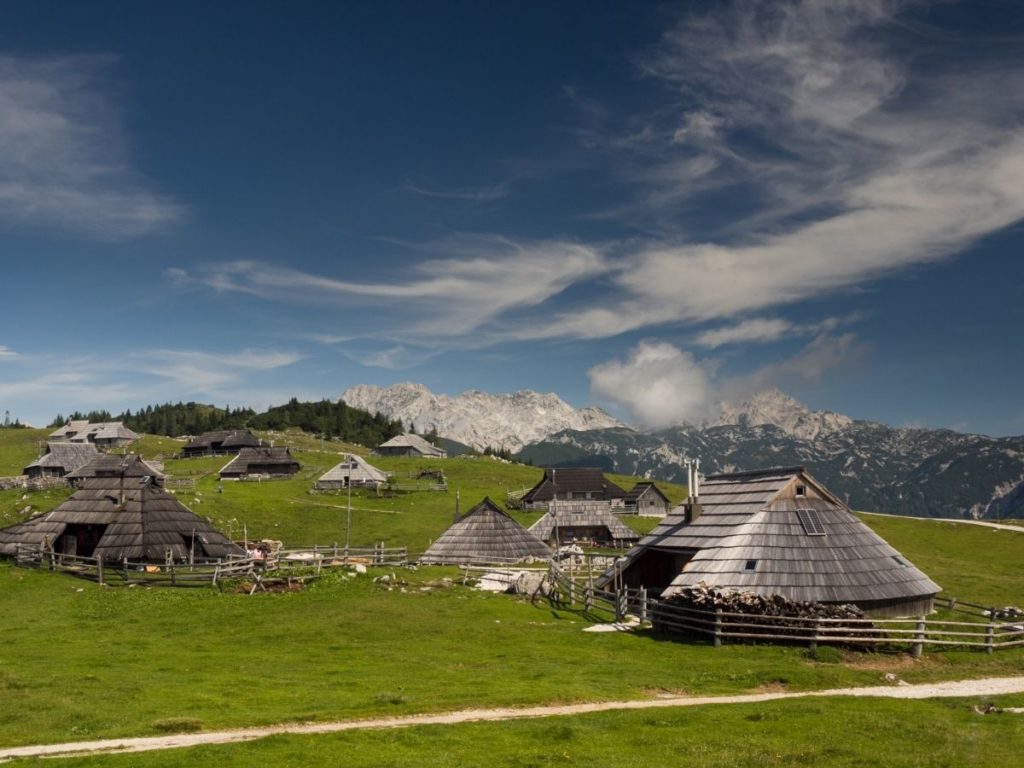 On the Kamnik mountain range is one of the few settled mountain herdmen's villages in the World, where the locals still keep up their Alpine herdsmen's traditions. The little village on an elevation of 1600 meters comes alive each year from June to September. There are several huts where locals show visitors their traditions, sell their craft, and let them experience their herdsmen cuisine. A peaceful and unique place is reachable by cable car or by several hike trails.
20. Wine tasting in Maribor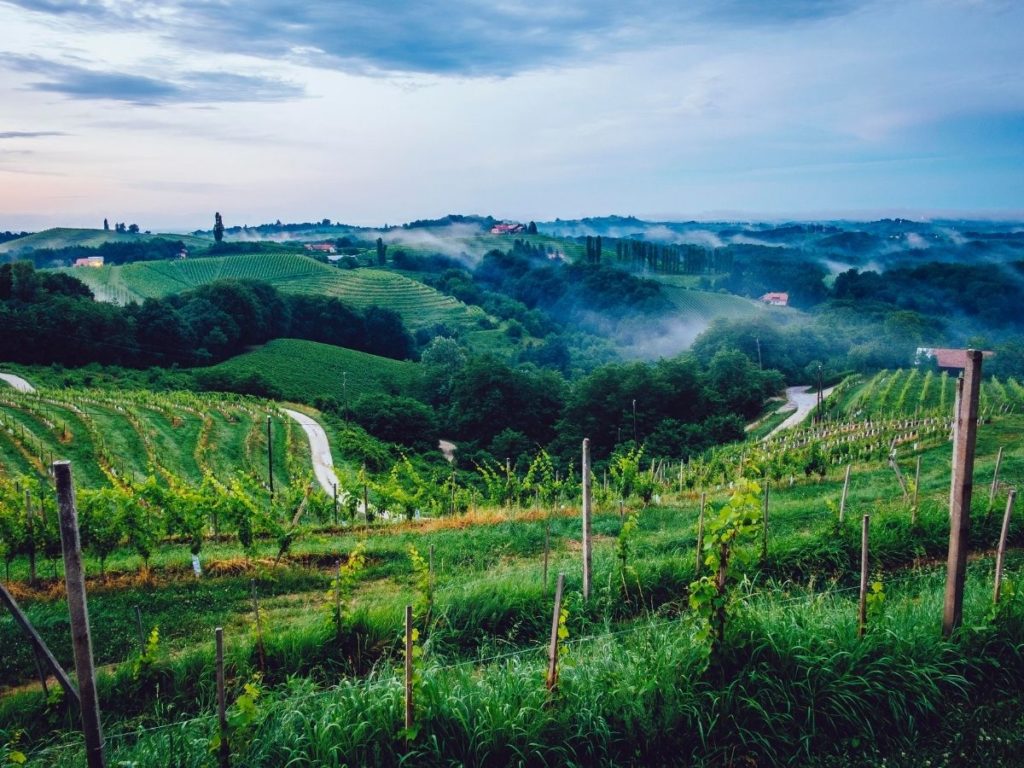 Slovenia isn't so well-known as wine producers, however, their traditions go back to the 5th and 4th centuries. Another reason why it's not known internationally is that the wine produced in Slovenia is mainly consumed domestically and only about ten percent of total wine production is exported. Slovenia has surprisingly over 28 000 vineries and one of the most popular places to do wine tasting is around Maribor.
21. Drive through the Soca Valley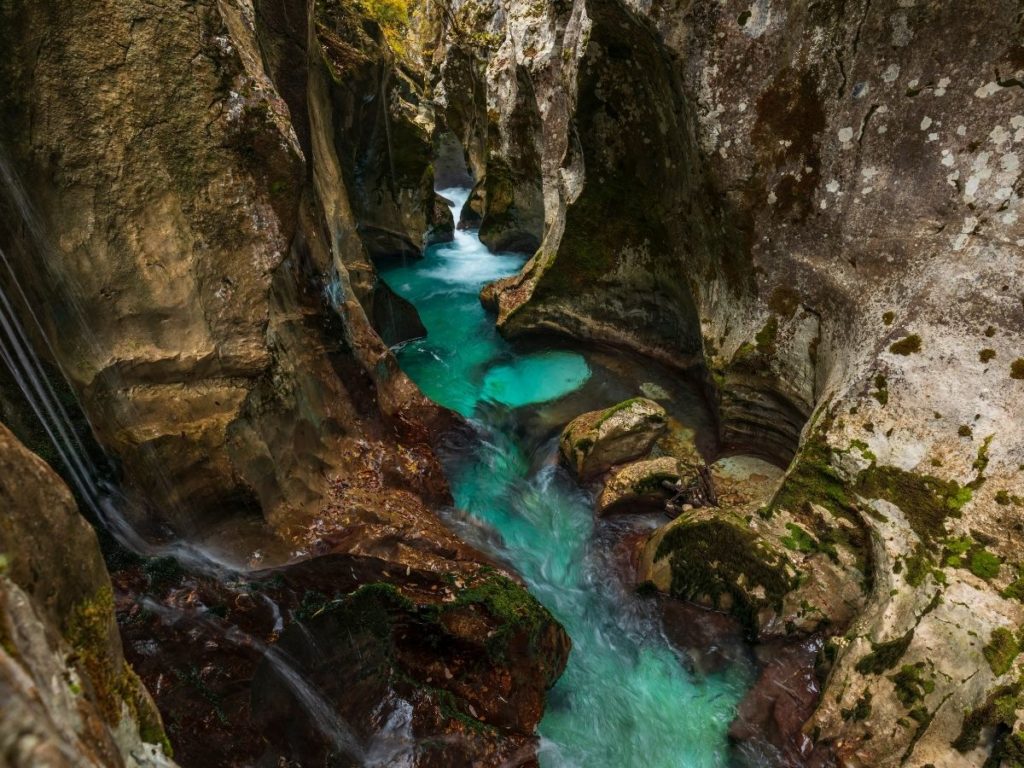 Soca Valley is the home to one of the most beautiful rivers in Europe – the Soca River. Around the area there are so many things to see and experience. There are several peaks like Mt. Mangart, waterfalls like Boka Waterfall, gorges like Tolmin, and many more. Including all the activities like endless hike trail options, water sports, and fly fishing. Driving through the scenic valley is one thing to do when backpacking Slovenia.
---
Backpacking Slovenia Travel Costs
Backpacking Slovenia is pretty affordable in bigger cities like Ljubljana and Maribor. There are some cheaper accommodation options and you don't need to pay for transportation. However, Slovenia is packed with different tourist hotspots like Bled, Kranjska Gora, Piran with more expensive average prices, especially for housing.
Accommodation costs
The best option for backpacking Slovenia on a budget would be staying in a hostel. There aren't loads of hostels in Slovenia to choose from over the country. You have better luck in Ljubljana and Maribor, but also have some options in smaller towns like Bled.
The price for a bed in a shared dorm starts in Ljubljana from 11€, in Maribor from 15€, in Bled 10€, in Mojstrana from 15€, in Portoroz from 13€, in Kobarid from 16€, in Postojna from 15€.
Budget hotels and B&B prices vary around Slovenia. For example in Ljubljana expect to pay around 30 – 50€ per night. The price range stays the same in other bigger cities like Maribor. In smaller and more touristy places like Bled, Piran, Kranjska Gora, the average housing cost is a little bit higher.
Food Costs
The typical cheaper meal in Slovenia restaurants costs around 10€. A traditional cappuccino is about 1.5€. A glass of beer costs 2.5€ and wine 2€ in restaurants. Again in touristy places expect to pay a bit more. For example, beer in Bled restaurants costs 4€.
For takeaway street food, there will be some options in Ljubljana. From a local Nobel Burek (Ljubljana) you can get a nice slice of pizza for under 2€. Kebabs and burgers are around 3€.
If cooking on your own, then a week's food supplies from groceries for simple meals cost about 40 – 50€ per week.
Attraction Costs
Slovenia has several sights and landmarks that are free of charge like most of the hiking trails, cities, rivers, waterfalls, and lakes. However, still many places are worth visiting which have an entrance fee.
When backpacking Slovenia then places worth visiting are for example Postojna Cave (26€), Predjama Castle (14€), Savica Waterfall (3€). There are loads of other attraction alternatives like kayaking, zip line, guided tours, and so on. You can find several activities and tours from Get Your Guide.
---
How To Get Around Slovenia
Slovenia is strategically well situated between countries Italy, Austria, Croatia, and Hungary. So travelling to Slovenia by plane, bus, or train you have options inside the country, but also look for neighboring countries and their bigger cities.
Getting to Slovenia by plane
From the air, Slovenia is connected for international flights with their Ljubljana Jože Pučnik International Airport. It isn't the biggest airport, but still, it's well connected with main direct flights from bigger destinations, like Munich, Frankfurt, Amsterdam, London, Helsinki, Moscow.
For more direct flights search options also include Vienna (250 km away from Maribor), Zagreb (140 km away from Ljubljana), or Venice Airport (180 km away from Koper).
All flight schedules and times can be found from Kiwi.
Getting To Slovenia by busses and trains
Slovenia is well connected by busses and trains with neighboring countries. Getting there on the ground is the same easy as it is with planes. A train connection is with Budapest (Hungary), Vienna (Austria), Trieste (Italy), and Zagreb (Croatia). For ground transportation search schedules and tickets from international Omio.
Slovenia City Transportation
All Slovenia's bigger cities are walkable, so there is no need to spend money on city transportation. But if there is a need then in Ljubljana you need to buy an Urbana Card and one ticket (lasts 90 minutes) costs 1.30€. Also, Ljubljana has a high cycling culture and I would recommend looking around the city by bike. There are several bike-sharing stations, which are run by BicikeLJ. One week subscription costs 1€ and renting bikes is free if you don't use one exact bike for over one hour.
Getting around Slovenia
Domestic trains operate between bigger places in Slovenia. From Ljubljana travellers can visit Maribor, Koper, Celje, Pivka by train. It's operated by Slovenian Railways.
Domestic busses have several options to get around Slovenia hotspots. Schedules and tickets can be found on Avtobusna Postaja.
Car rent would be perfect option if looking more privacy and freedom to discover this beautiful country. In fact it's the best way to see all the corners. Check out the prices from Rentalcars.
Ridesharing is pretty popular in Slovenia. Internationally BlaBlaCar is well-known, but to have more luck domestically, then Slovenians have their ridesharing app Prevoz. It's cheaper than public transport.
Hitchhiking is the greatest way to save some bucks when backpacking Slovenia. People are friendly, open to help you, and speak English well. But before you want to try that way of traveling, make sure to check out these tips for hitchhiking in Europe.
---
Best places to stay In Slovenia on a budget
---
Slovenian Traditional Food & Drinks
Trout – It's the most common fish dish in the country. Trout are caught from Slovenia mountain rivers and it's known that the best trout comes from the Soča River region.
Kranjska klobasa – It's a sausage dish that is eaten all over the country. Filled with pork and with several flavors.
Prekmurian Layer Cake – A layered cake, filled with seeds, cheese, apples, and walnuts.
Jota – One of the most traditional and easiest dishes. With ingredients of potatoes, cabbage, beans, sausage, and turnip.
Kremšnita – A cake which was invented in Bled. Many locals will say that it's the best local dessert in that country. A cake that melts in your mouth includes loads of vanilla and whipped cream.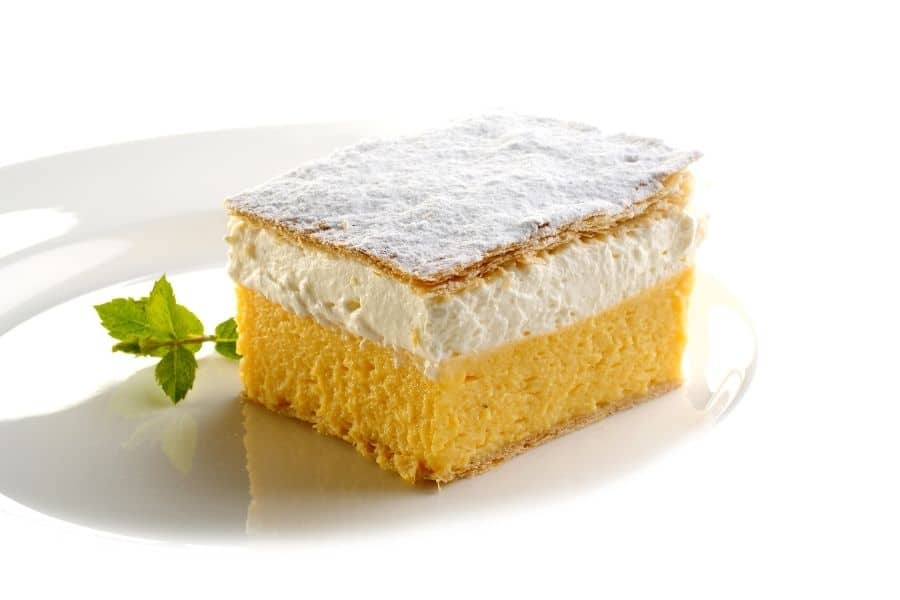 Local beer – Two biggest local beer breweries are Laško and Union. There is a saying that you either like one of them, but not both at the same time.
Local wine – Most of the produced wine in Slovenia is white. Local winemakers have received loads of prestigious international honors and medals for their quality. From a great variety of over 28 000 vineries, you have many options to choose from. Most popular and expensive are with long traditions Slovenian Dessert Wines.
---
Daily Budget for backpacking Slovenia
Slovenia is kind of a mid-range country in the eyes of Europe. It's not as cheap as Eastern Europe and not as expensive as Western Europe. Prices vary in different locations. In cities like Ljubljana and Maribor, the average budget is lower than for example in touristy Bled and Piran.
A tight budget traveler should consider having around 25 euros per day. On that occasion, a Slovenia backpacker must stay in a budget hostel, Couchsurfing, or wild camping. Making food by themselves or having something from street food. Many sights can be discovered on foot. For longer distances use ridesharing apps, or hitchhiking while backpacking around Slovenia. Visiting free sights like strolling around Ljubljana, hiking in the Julian Alps, or swimming in lakes.
A rational backpacker who doesn't want to go too extreme with a tight budget I would recommend about 40 euros per day. On that occasion, travelers would stay in a budget hostel. Have a chance to eat affordable national dishes or street food. Uses public transport or ridesharing apps. Look out for some tourist attractions, while backpacking Slovenia.
A mid-range traveler who wants to have a bit more comfort and privacy should start with an average daily budget of 75 euros. Then the traveler can have a private budget hotel, eat in restaurants, move around with public transport, and visit several attractions.
| | Housing | Food | Transport | Attractions | Daily Budget |
| --- | --- | --- | --- | --- | --- |
| Tight Budget: | 0 – 12€ | 10€ | 0 – 5€ | 0 – 10€ | 10 – 37€ |
| Backpacker: | 15 – 20€ | 10 – 15€ | 5 – 10€ | 10€ | 40 – 55€ |
| Mid-range: | 30 – 40€ | 20 – 30€ | 10 – 15€ | 15 – 25€ | 75 – 110€ |
---
Slovenian Language
It's always good to know some basic phrases in local languages. Everybody feels better when you can greet local people in their language. Also will be more respected by local eyes, because you have invested some time to learn basics in their language. Here are some Slovenian phrases:
Hello – Zdravo
Goodbye – Nasvidenje
How are you? – Kako se imate?
My name is … – Ime mi je …
Good – dobro
Bad – slab
I would like to have beer/wine/juice/water – Rad bi pivo/vino/sok/voda
Have a nice meal! – Dober tek!
Cheers! – Na zdravje!
When there is a need to learn more foreign languages, these travel apps will help you reach new heights.
---
Best Time To Visit Slovenia
Slovenia has nice weather from May to September. The peak season is during the summer months from June to August. These are the warmest months and several tourist attractions are open. On the other hand, then there will be more crowds and prices are higher.
The best time to visit Slovenia is during the shoulder seasons. Before (May) or after (September) the summer months. Then there are already fewer tourists and prices are also more affordable. There isn't a huge difference in the prices (summer months vs shoulder season months), as it is not a popular tourist destination in Europe. So visiting Slovenia during the summer months is still okay if your budget isn't that tight.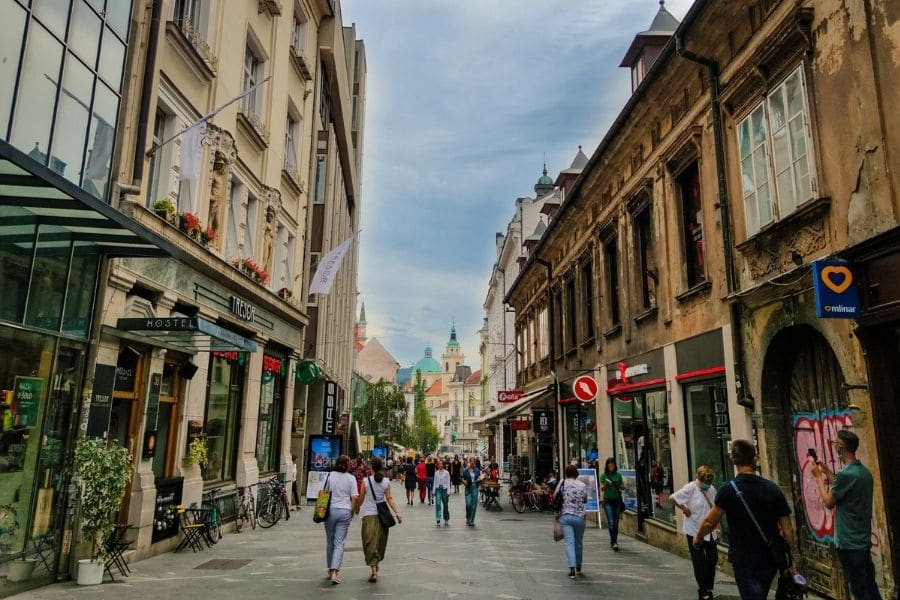 During the winter, the degrees drop to zero, even below that. Also during that period, there will be more rainy days. Many landmarks can still be visited all year round, but for example, it's not the best time for hiking in Slovenia.
---
Slovenia Visa Requirements
Slovenia is a European Union country and also a part of the Schengen Area. If backpacking to Slovenia from another European Union country then there will be no check and you can enter the country without a stop. Slovenia also has a tourist visa, but before planning a backpacking trip, check out more information about visas from here.
---
Is Slovenia Safe to Travel?
First of all, I need to let you know that backpacking Slovenia is one of the safest countries in the World. The local people are super friendly and speak English well. But as everywhere you must be aware of scams, keep your things safe or avoid any other tourist traps. If there is a need for help, the official police number is 113. But still, it's in the top ten of the safest countries in the World.
Anything can happen when traveling abroad and backpacking Slovenia is no exception. Having travel insurance is a must (anywhere you go). I always have travel insurance, but luckily I haven't used it yet. For me it's okay to spend a little for my safety (if anything happens), then to pay afterward for extremely high medical bills. I recommend using trusted World Nomads.
---
Travel Tips For Backpacking Slovenia On A Budget
Ljubljana Card – Every city has tourist cards with several perks. With a Ljubljana Card, you will get free unlimited public bus rides, a guided city tour, a funicular ride, a boat cruise on the Ljubljanica river, 4-hour bike rent, and more. For example, a one day Ljubljana (24h) card costs 31€.
Couchsurfing – That would be my first recommendation in any country. It's not about a free couch, but more about the awesome people you met through that. In short, it's an app or more community where locals host travelers in their homes.
Student ISIC Card – Can use it in any country. With that will be found discounts in transport, attractions, or even on accommodation. Check out which discount options with an ISIC card you have.
Carpooling – It's cheaper than public transport. The most internationally used is BlaBlaCar, but when backpacking Slovenia, then for better luck using a local ridesharing app Prevoz.
Hitchhiking – A fun way to do backpacking around Slovenia. Safe to do it when backpacking Slovenia, but don't forget to use your gut feeling when using that alternative way of traveling.
Walk as much as possible – For example, Ljubljana is one of the most walkable capitals in Europe. A lot of attractions are around the centrum. It's also possible to see more surroundings and even crash by accident into some hidden gems.
Local food experience out of the tourist area – In every city or town, the highest prices are around tourist hotspots (centrum and main attraction). One of the greatest travel tips that work everywhere is to eat there where the locals do.
Be your own chef – Easiest way to cut down expenses on food. Even though food isn't that expensive, cooking by yourself will save a ridiculous amount of money.
Free Walking Tours – The best way to get to know about the city is through guided tours. Most of the cities have free guided tours around the main sights. I recommend using that, but make sure to tip the guide in the end.
---
Additional articles about Slovenia and backpacking
---
PIN IT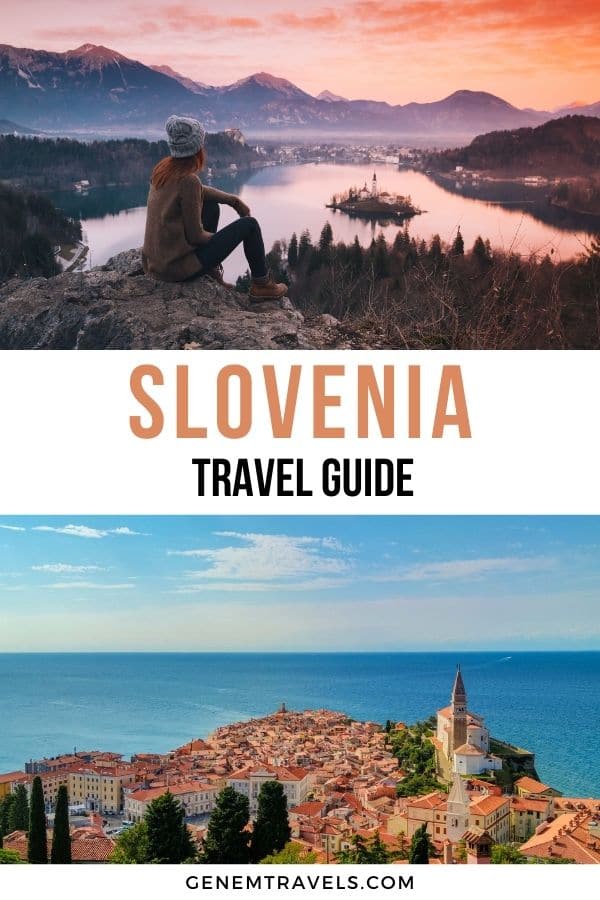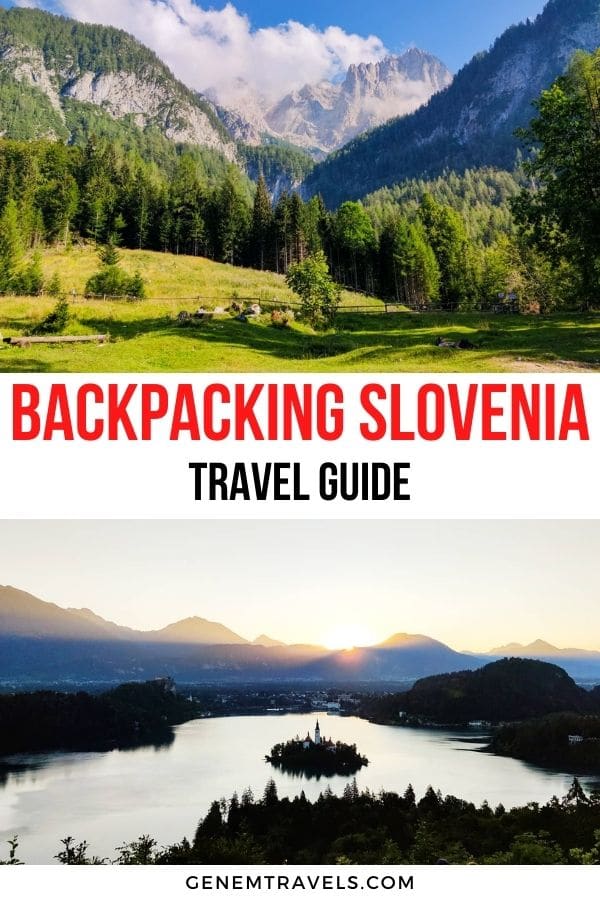 ---
Read more about Slovenia: