Albania is a unique and special country in Europe. Its laid-back lifestyle is distinct from that of other developed and organized European nations, which is what makes it so special. Backpacking through Albania should be on every adventure seeker's bucket list.
While backpacking in Albania, you'll encounter friendly locals leading simple lives, idyllic beaches perfect for relaxation, charming historic villages, mountains to hike, and numerous other opportunities to immerse yourself in the Albanian way of life.
What can you learn from this backpacking Albania travel guide?
I will show you the best places to visit in Albania, provide approximate travel costs, explain how to enter and navigate around Albania, offer travel tips for exploring on a budget, give an average daily budget, teach you how to say "hello" in Albanian, and much more.
Quick Facts About Albania
Language: Albanian.
Currency: Albanian lek (L).
Capital: Tirana.
Population: 2.9 mln (2021).
Highlights in Albania: historic villages, Albanian Riviera, Theth National Park.
Fun fact about Albania: More Albanians live outside than inside the country.
Things to Do and See in Albania
Albania is a diverse country with many historic sites, sandy beaches, mountains, charming villages, and unique traditions.
1. Explore the stone city Gijrokaster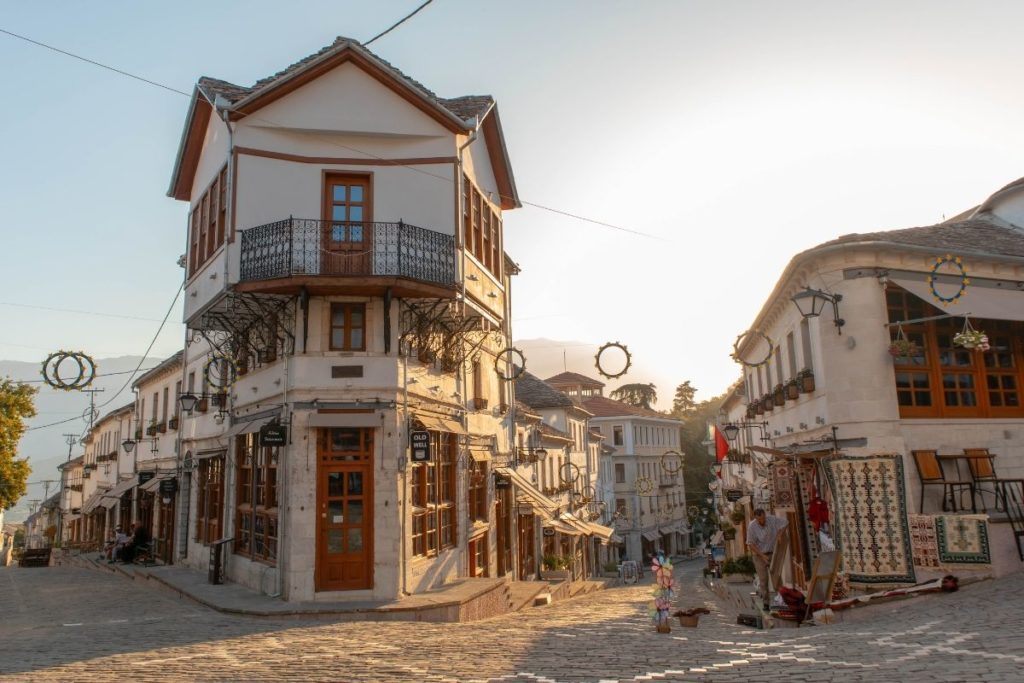 Gjirokaster, located in the south of Albania, is an Ottoman-era city also known as the Stone City. It is primarily recognized for its charming old town.
Strolling through the UNESCO World Heritage-designated Old Town streets, exploring artisan shops in the Bazaar, admiring views from the Gjirokaster Castle, and visiting fascinating museums are some of the activities to enjoy in Gjirokaster's Stone City.
Gjirokaster is a must-visit location in that captivating country. It boasts a wealth of well-preserved history, complemented by a laid-back lifestyle and friendly residents.
2. Soak in Benja Thermal Baths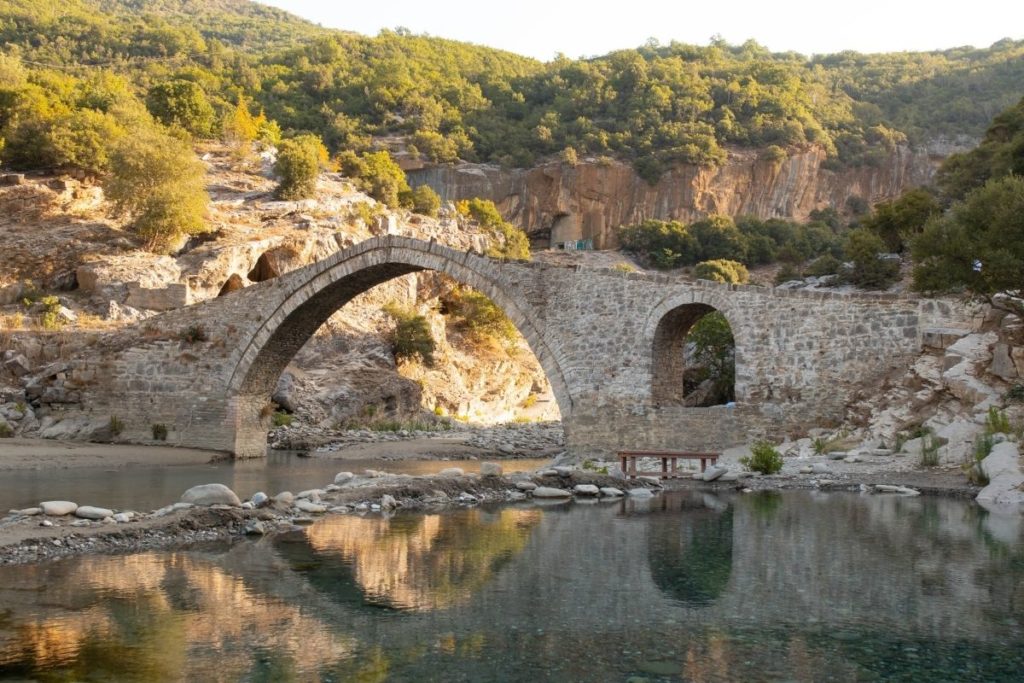 The Benja Thermal pools are situated off the main roads, nestled in a beautiful natural area. The road leading there is accessible by any car. Once there, you'll find several man-made pools where the geothermal water maintains a temperature of around 30 degrees Celsius throughout the year.
It's a serene camping area, and you'll often encounter other campers who appreciate the natural surroundings. The location is easily identifiable by a picturesque, iconic Ottoman-era bridge. Additionally, you can hike along the gorge to discover scenic spots, including some waterfalls.
3. Blue waters at Ksamil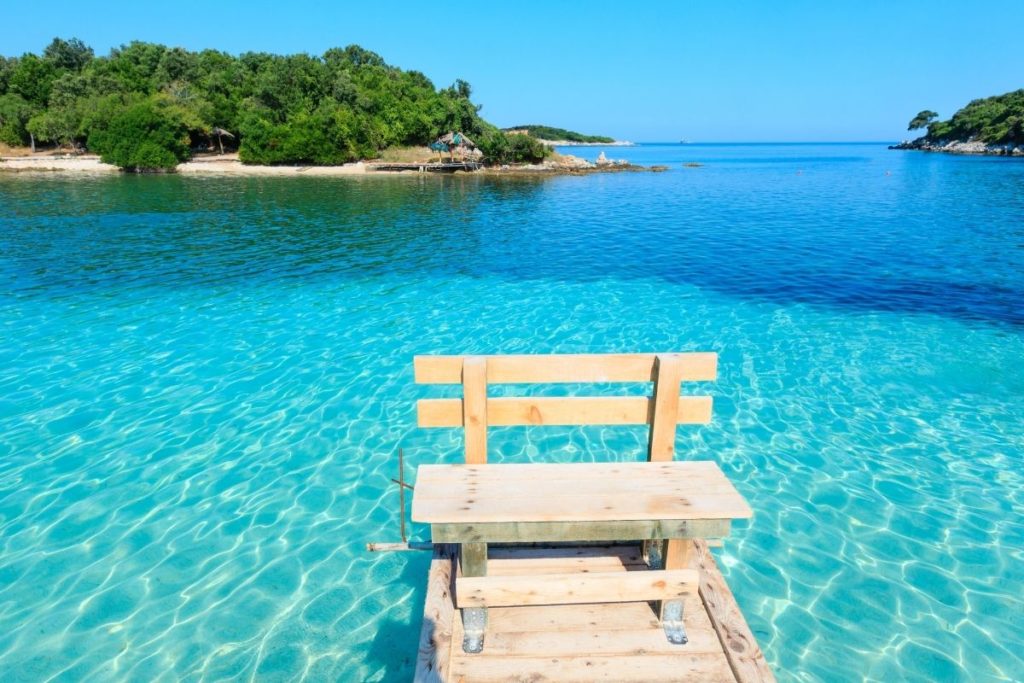 The most popular beach vacation spot in Albania is Ksamil, often referred to as their "pearl." With its turquoise waters and beautiful beaches, it's an ideal location for leisurely sunbathing. However, it's important to note that it becomes extremely crowded during the high season.
This Mediterranean gem marks the beginning of the Albanian Riviera. The primary activity here is to relax on the pristine, sandy beaches that resemble paradise. You can either unwind or engage in activities like jet skiing, paddling on a SUP board, scuba diving, and more.
The location is also ideal, being in close proximity to the larger city of Sarande and the historic Butrint National Park.
4. Stroll around Butrint National Park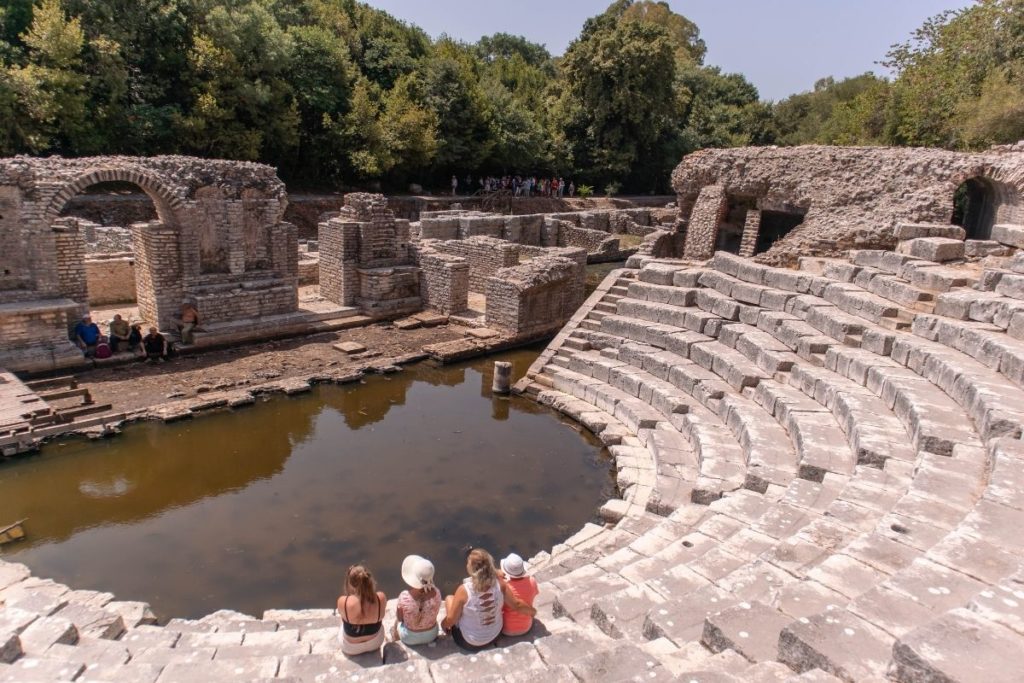 Butrint National Park is situated near the picturesque beach town of Ksamil. It holds significant importance in Albanian history and is a must-visit in the country.
Within the park, you can discover ruins such as the Roman Theatre, Roman Baths, Gymnasium, Fountain of the Nymphs, The Great Basilica, and the Lion Gate. The Venetian Castle is particularly well-preserved, and within it, you can delve into the history of that powerful civilization at the Archaeological Museum.
Beyond its historical ruins and sites, the park is also a stunning natural destination. It's enveloped by water and captivating hills, making it a delightful place for a leisurely stroll.
5. Party at Sarande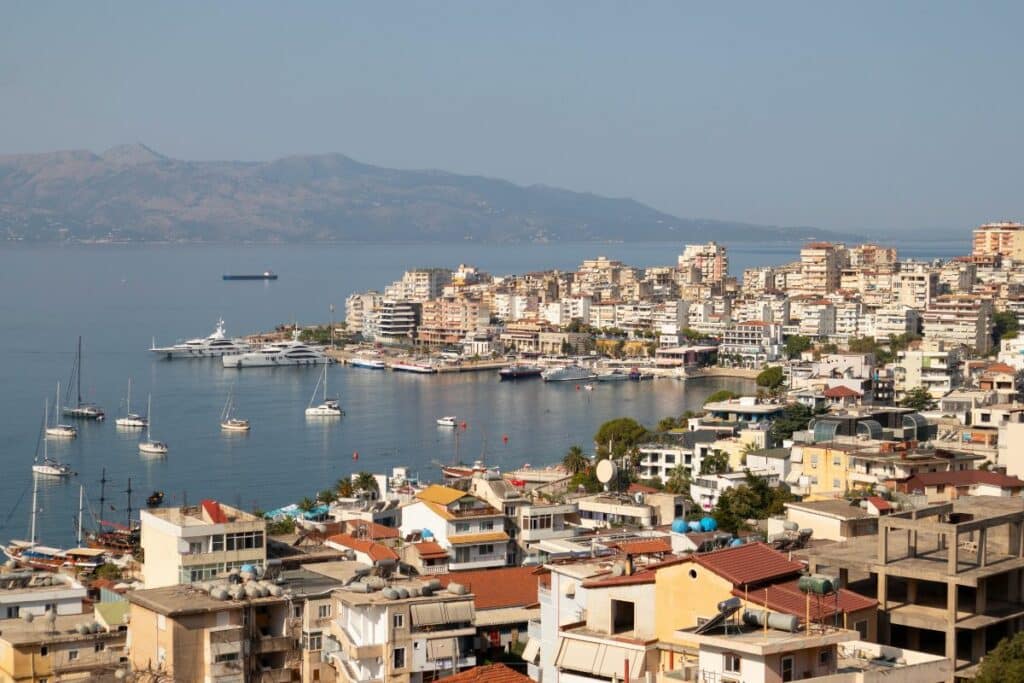 Sarande is situated near the Greek border in southern Albania. Its popularity grows each year, establishing it as a key destination along the Albanian Riviera coastline.
Like its neighbor Ksamil, Sarande is a sought-after summer destination for beach holidays. While the city may not boast as many pristine beaches as Ksamil, it offers a more diverse range of activities. There's a vibrant atmosphere with parties, cruises, restaurants, and other live events.
This location is also renowned as the primary hub for summer parties in Albania. Numerous party venues line the seaside, and there are even boats that host nighttime festivities.
6. Berat – the City of a Thousand Windows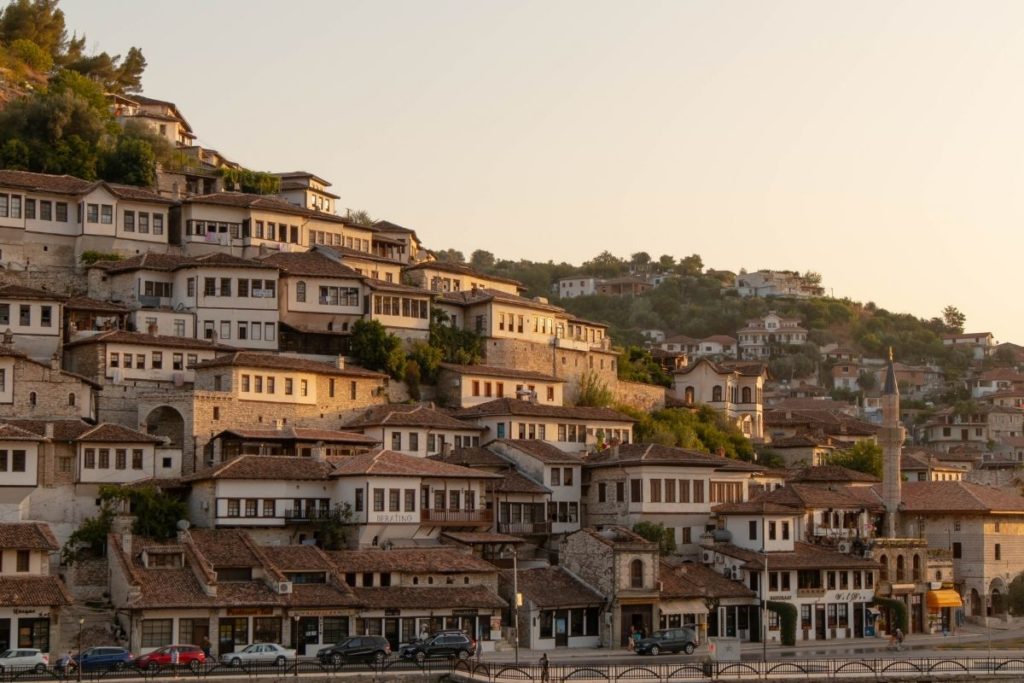 Berat is one of the main and recommended places to discover in Albania. A place that is also known as the city of a thousand windows is a destination that cannot be skipped.
The UNESCO World Heritage city is recognized for its unique style of architecture. Gorica and Mangalem neighborhoods are the main places to just wander around the historic city. Other than that there is also a castle on top of the Mangalemi quarter, where it opens views over picturesque Berat.
7. Seek the modern Tirana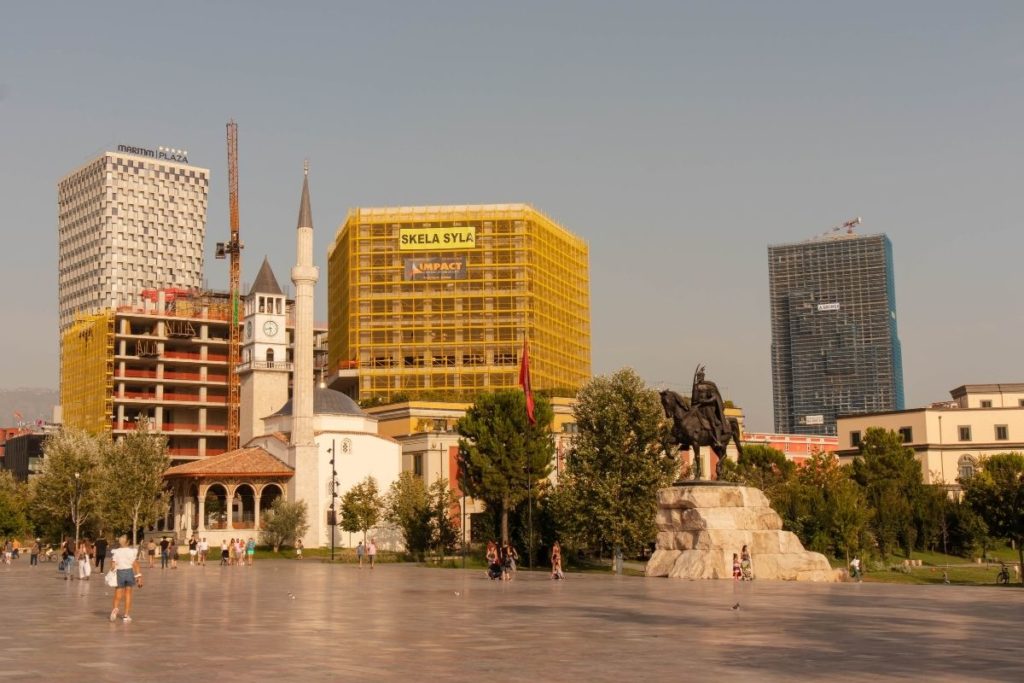 Tirana is the capital of Albania, where about one third of the Albania population lives. It's so much more organized and developed than other low-key places in the country.
Tirana is surprisingly a very lively city with a beautiful city center, live events, and many things to explore. From Albania's capital, you can find the main gathering place Skanderbeg Square, The Et'hem Bej Mosque, Pyramid Of Tirana (currently under construction), Resurrection Of Christ Orthodox Cathedral, Bazaar with the main market, and more.
One thing to not miss in Tirana is visiting Bunk'Art underground tunnels. It's located in Tirana's suburbs, where visitors can stroll around the tunnels and learn about intriguing history.
8. Hike between Valbona and Theth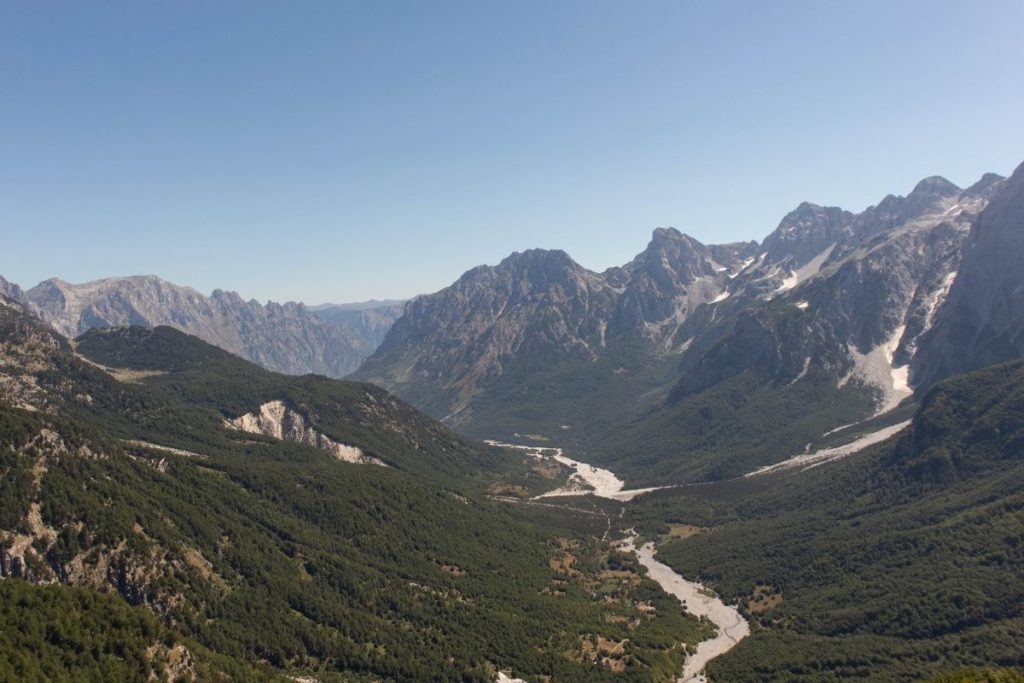 One of the main things to do in Albania is hiking through the picturesque Theth National Park. There will be found several trails, but the most scenic and popular is hiking between mountain villages Theth and Valbona.
The distance of the famous trail is 12 km and takes about 6-9 hours to complete. It's a moderate hike with a maximum elevation of 1800 meters. It's doable in both ways and you don't need any extra hiking equipment.
The whole road is mostly scenic with stunning Valbona valley and the Albanian Alps views. There are several huts to rest your legs and treat yourself with cold drinks and warm food.
Read more: Best hikes in Albania.
9. Cross the Ali Pasha bridge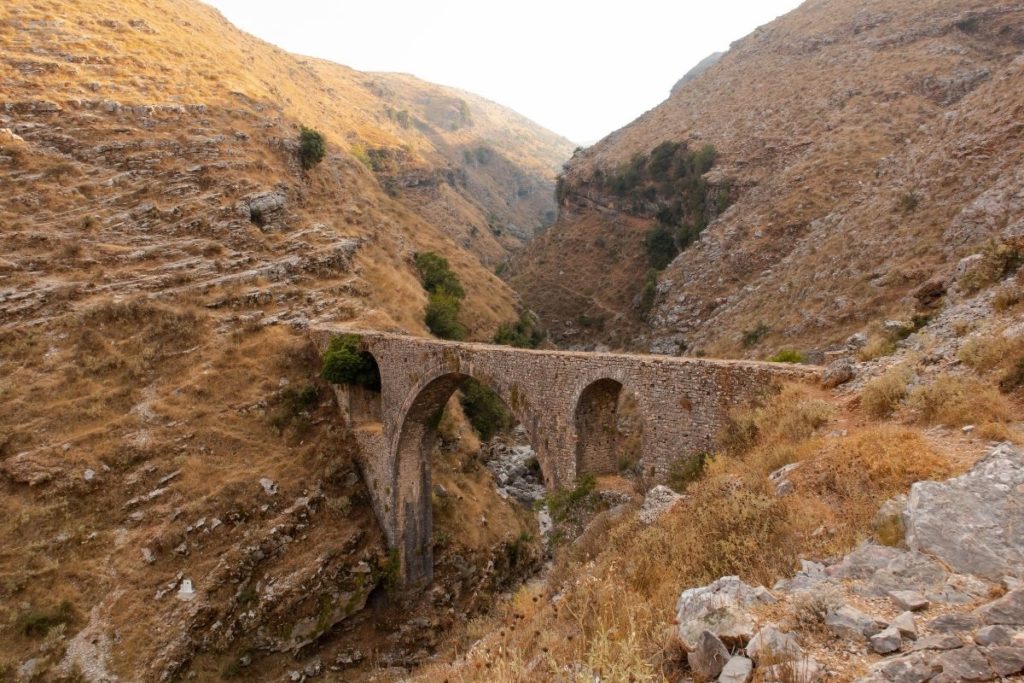 Ali Pasha Bridge was part of a larger aqueduct complex at the beginning of the 19th century. Nowadays, there isn't any water, but a picturesque canyon and that bridge.
The bridge got its fame due that the same bridge was and still is used by the shepherds and their herd. They cross the bridge approximately an hour before sunset. If you don't catch the shepherds, then it's still a beautiful place to discover. It's just 30 minutes away from Gjirokaster center.
10. Take a ferry on Komani lake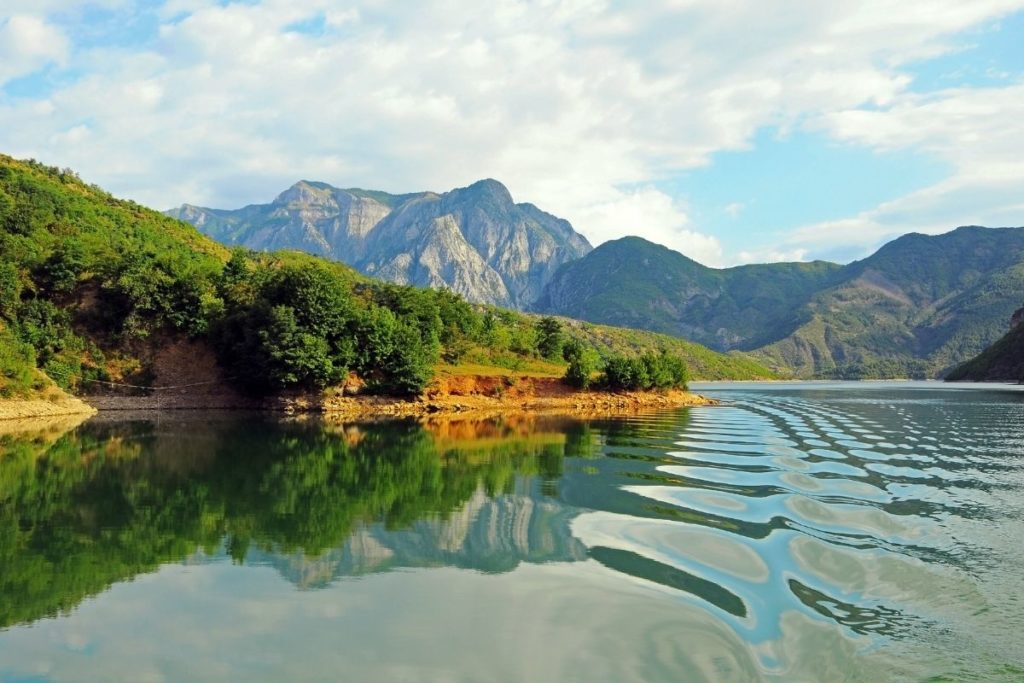 Near to Theth National Park is another thing that is popular among wandering tourists. A ferry ride from Komani to Firenza (and vice-versa) takes about 2.5 hours, which leads you through a beautiful valley.
The exceptional ride is one of the main things to do in the North of Albania. You can connect this activity when backpacking Albania Theth National Park.
The most convenient route that is done in North Albania is to take a bus from Shkoder to Komani. From there takes a ferry, which operates twice a day to Firenze. There you can take a shuttle bus to Valbone, do the hike to Theth, and from there back with the bus to Shkoder. That trip usually takes 2 to 3 days. You can also do the whole trip vice versa.
11. A quick dip at Blue Eye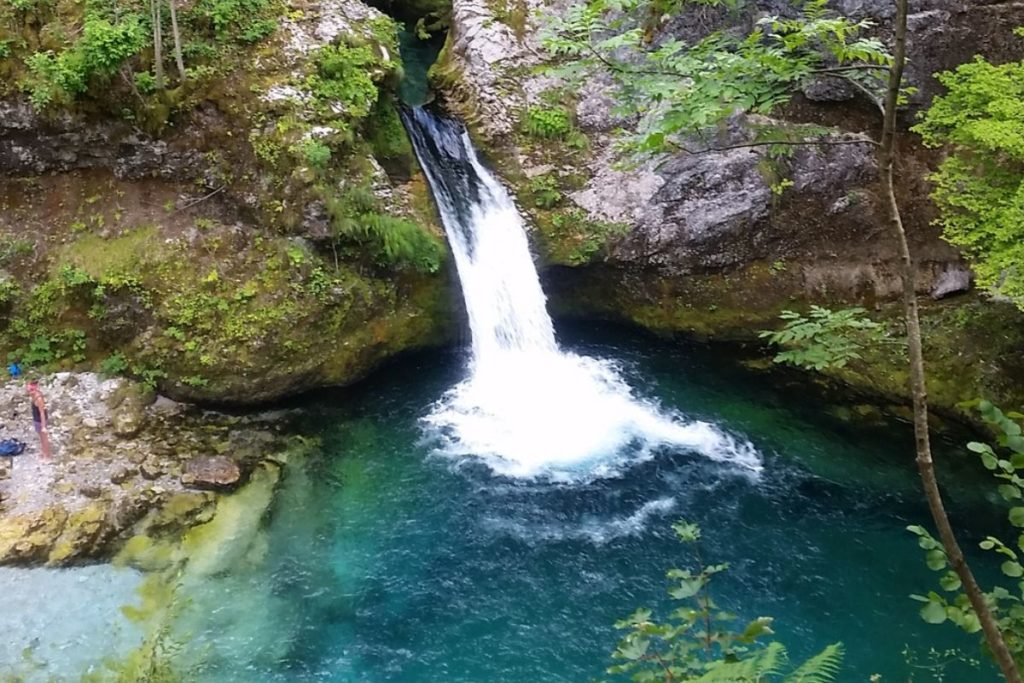 There are two Blue Eyes in Albania. One is between Sarande and Gijrokaster, and another one is close to Theth village in the north. Both The Blue Eye near Sarande and the second option near Theth are popular destinations among visitors.
The second option is about 10km from the hearth of Theth village and takes about 2 hours on foot one-way. If the legs are too sore after a long hike, then you can also take a taxi from Theth to Nderlysaj.
The hike from Theth to Blue Eye is already exceptional. You can take longer hiking trails, walk along beautiful crystal clear valley rivers, seek some waterfalls, and admire the beauty of nature. One cooling dip on a crystal clear Blue Eye is one thing to do while backpacking Albania.
Also, if visiting this famous mountain village is too crowded, and you're looking for a more peaceful village, then consider these Theth villages alternatives like Razëm and Bogë.
12. Hike around Lake Bovilla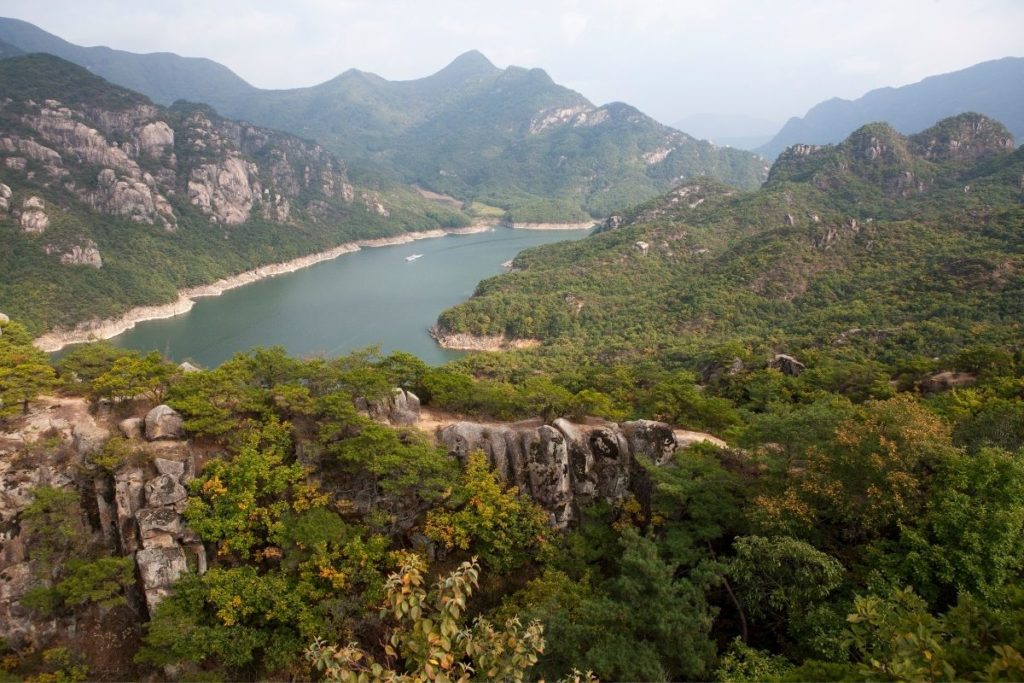 if you want to see more than just the capital then Lake Bovilla reservoir is just 15 km away from Tirana and it's a perfect day trip option. Another fun fact is that about 50% of Tirana's drinkable water comes from this reservoir.
As the Lake Bovilla area is mountainous, it's a great place for both hikes and mountain climbing. The most common hike trail takes visitors to Gamti mountain, where you can admire the colors of the water and surrounding mountains. The complete trail takes about 2 hours and it's a moderate hike.
13. Drive through the Llogara Pass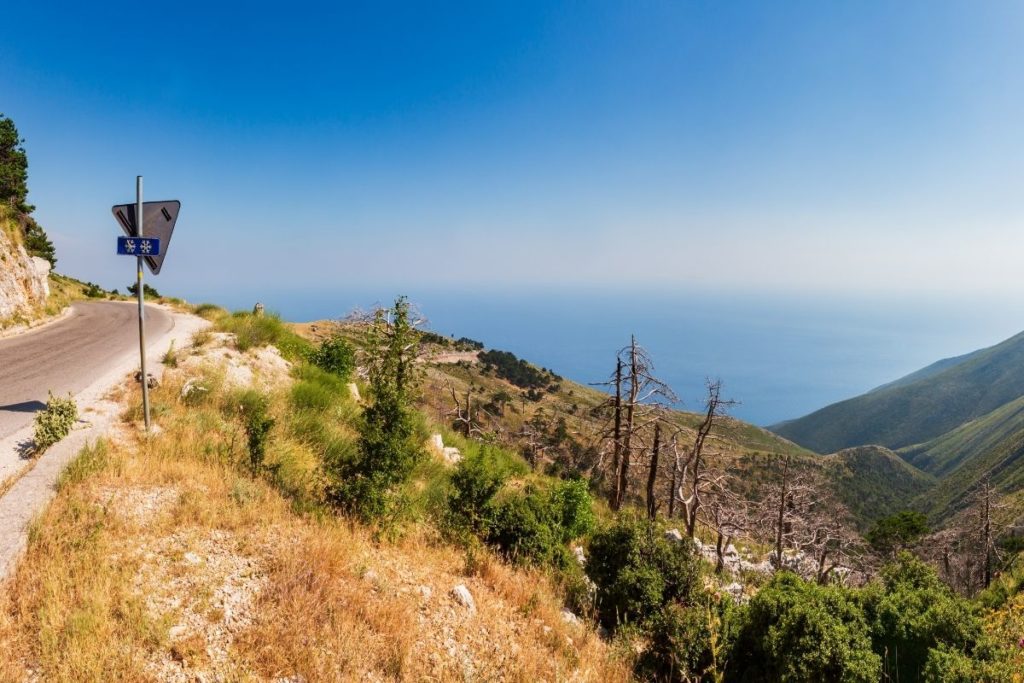 In the south of Albania and next to the Ionian Sea, you will find one of the most visited places in the country, Llogara National Park. A picturesque natural destination with trails and beautiful views over the mountains and even a sea.
Through National Park winds along the coast roadway, also known as the Llogara pass. It's a curvy mountain road with views over the stunning nature and to the beautiful Ionian Sea. The exact road is about 23 km long and the maximum elevation rises to 1043 meters above sea level.
14. Himarë and the Albanian Riviera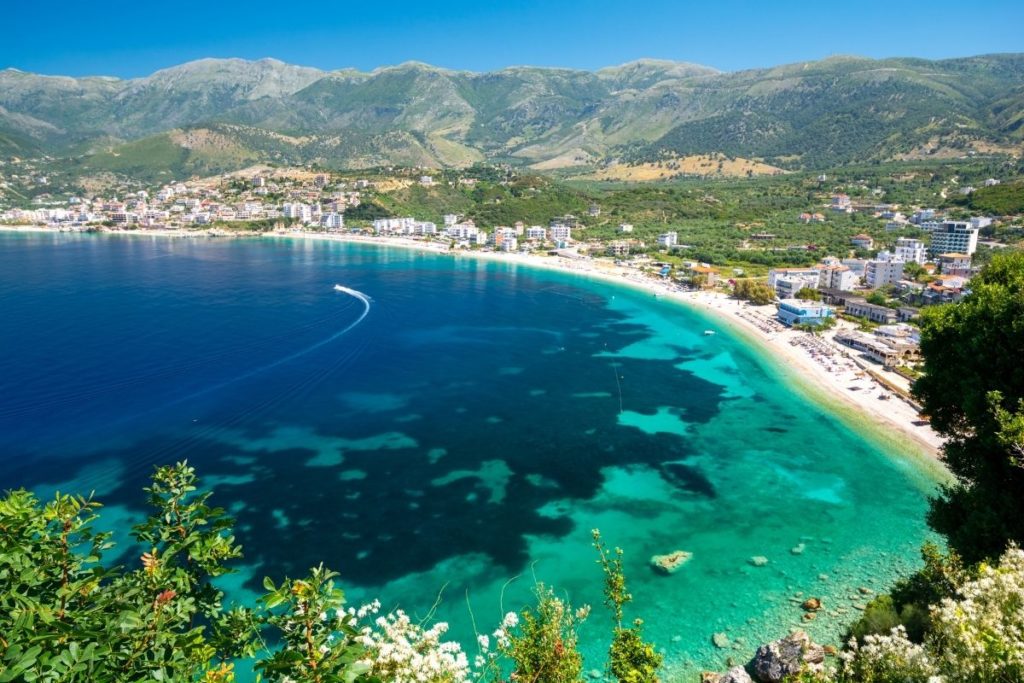 Himare is a small place in Albania where you can do everything you can expect on the Albanian Riviera coastline: deep blue sea, full of beaches, and low-key vibe. Everything you need for a sea holiday.
From the Himare you will find several beaches to get a tan, restaurants to eat local sea dishes, hiking paths to walk in nature, and boat trips to cruise on the Albanian Riviera waters. The Himare is a great place to escape from a fast everyday routine to just relax.
15. Pogradec and Lake Ohrid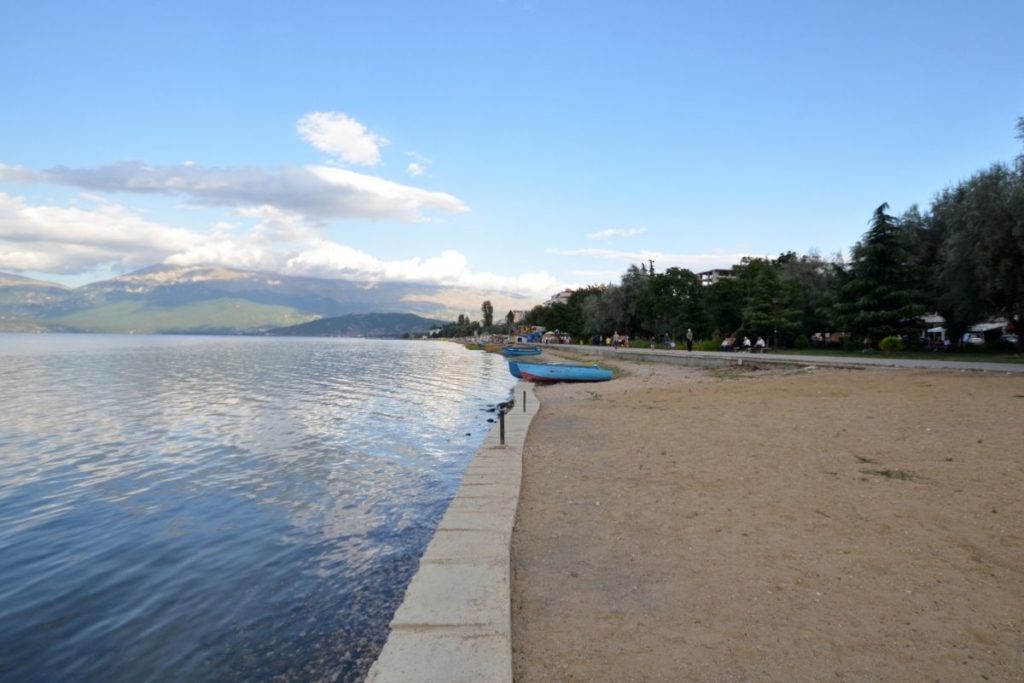 Pogradec is a city which is located next to the shore of iconic Lake Ohrid. The low-key city is a nice place to have a pleasant stay because the people there are very hospitable. You can find there Pogradec Castle, nearby Kamje rock, and beautiful Ohrid lake.
Picturesque Lake Ohrid is the deepest lake in the Balkans. It's also protected by UNESCO, because of its rich flora and fauna system. It houses several rare animals like Koran fish. Lake Ohrid is such a wonderful natural object that you cannot miss on your Albania backpacking trip.
16. Adventure at Osumi Canyon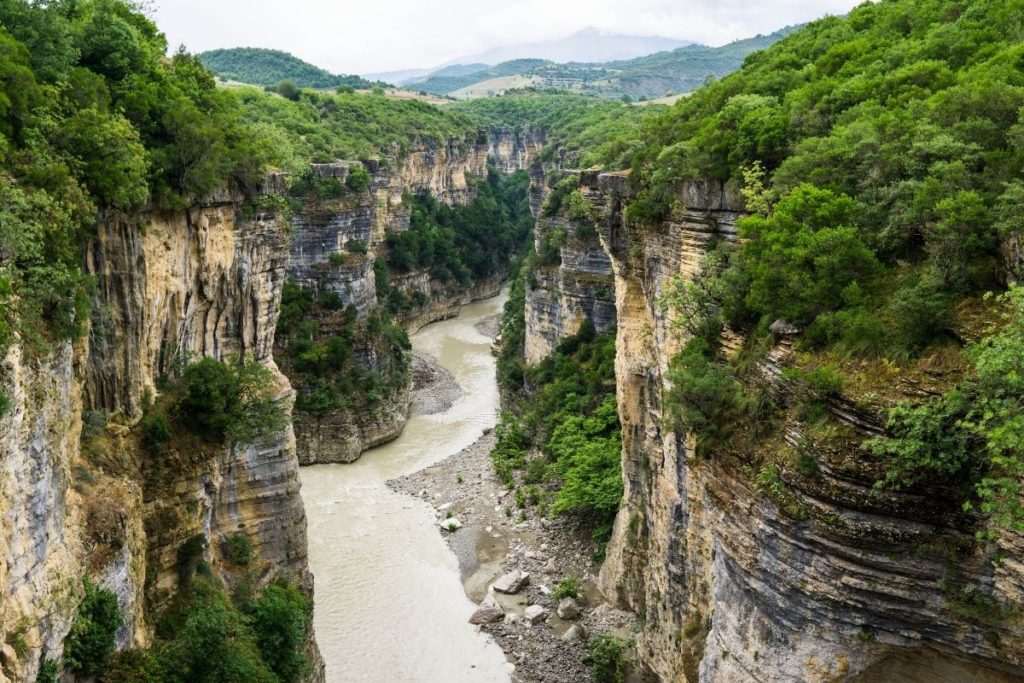 Osumi Canyon is another natural wonder in Albania with beautiful gorge formations, hike paths, and adventure activities. It's located near historic Berat and it's visited from this place as a day trip.
From there you will find activities and places to see for a full day or even days. You can admire the canyon from The Bride's Hole viewpoint. Swim next to the Ura E Vjeter E Zaberzanit bridge, and more.
During the summer, when the canyon river isn't too high you can walk along with the river down to the gorge trails. During the spring months, when the river is higher there are many options to do rafting tours.
17. Krujë District – The home of national hero
The home of the national hero Skanderbeg is full of interesting history and places to see. A charming mountain village is located about 30 km north of the capital.
From Kruje you can learn about a national hero from the Skanderbeg Museum, stroll around Kruje Castle, visit Dolma Teqe, buy crafts from Kruje Bazaar, and much more. A village where you can find hosting and nice people, lots of craftsmanship, and feel the nice village vibe.
18. Sazan Island – An old military base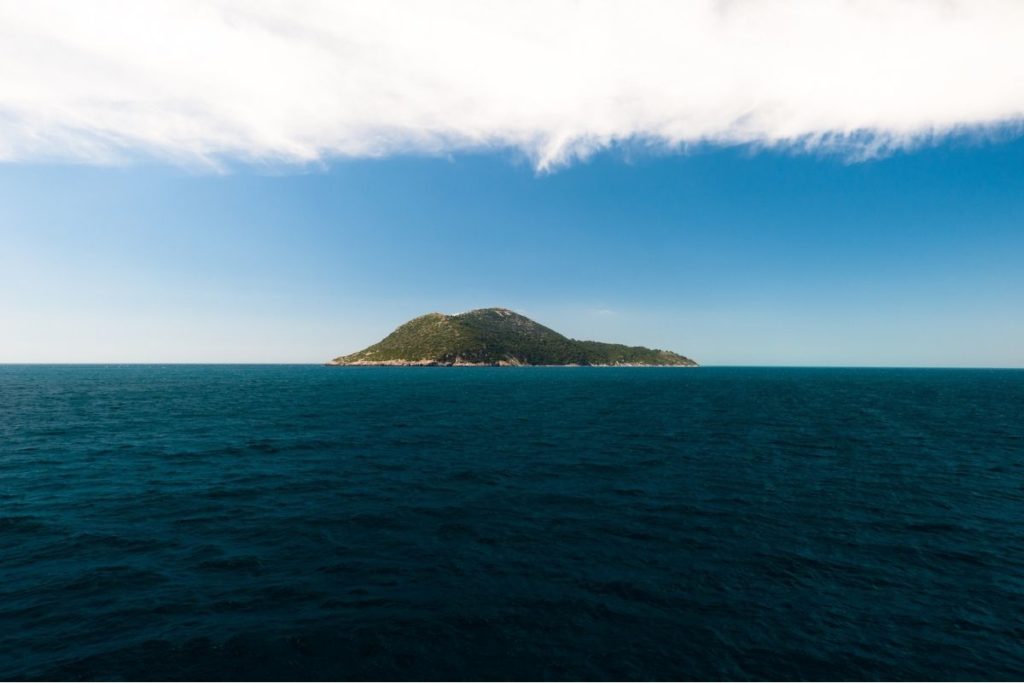 The largest island of Albania has been mysterious for years because it wasn't open for tourists. Now it's open and from there you can find an abandoned island with old military buildings. The main purpose of Sazan island was to withstand nuclear attacks.
Although it's opened for tourism, it's still used as one of Albanian's military bases. Still, most of the buildings, bunkers, and tunnels have been left untouched without activity for years. The "secret" island is reachable from the Vlore and should be on your list when backpacking Albania.
19. Keep counting endless bunkers
From the 1960s to the 1980s over 170 000 concrete bunkers were built all over Albania. A local "leader" thought that with these bunkers they could fight against big nations. Well, these bunkers never found a proper use.
Nowadays, the bunkers are still there and most of them are abandoned. You can find them in every region and even in the cities. So what to do with so many bunkers? For example, one guy, Keq Marku, decided to open a tattoo studio inside the bunker.
Read more: Unique things to do in Albania.
---
Backpacking Albania Travel Costs
Albania is one of the poorest countries  in Europe.g. Because of that, it's an extremely cheap country to travel to. Albanians have their currency: Albanian lek (L).
Keep in mind to withdraw a considerable amount of cash, because there aren't many businesses that accept card payments.
Accommodation Costs
When backpacking Albania on a budget, then the best option for accommodation is to stay at hostels. You will find plenty of these around the main Albanian tourist destinations. Would be already enough if saving throughout Albania 10 – 15 € (12 – 17 $) for a bed in a shared dorm per night during the high season. Usually, breakfast is also included in the price.
Hostel prices can also go down as 6 € (7 $) per night everywhere around Albania. Keep in mind that most of the hostels require you to pay in cash.
If you want to have privacy, then budget hotel prices start at around 20 – 30 € (23 – 35 $) per night for two during the peak season.
The Albanian Riviera towns and Theth National Park (Theth, Valbone) are the two most expensive areas. These are more touristy, so expect to pay in those places a bit more. 
Food Costs
As in the whole Balkans, the Albanian cuisine is more kind of heavy with different meat dishes. Typically the main dish is already pretty large and even with a dessert like crepes and drink you have to pay below 10 € (12 $).
The prices in restaurants are ridiculously cheap mostly anywhere in Albania. For example, a full pizza Margherita costs around 2.5 to 3 € (3.5 €). A beer in a bar is 1.2 to 2 € (2 $). The main dish that consists of meat can be even around 5 € (6 $) or below.
You can also get something from the Albanian street food section. Hamburgers and gyros stay around 1 to 2 € (1.7 $) and the portions are pretty big.
Attraction Costs
In the Albania mainland, the most common attractions are castles, national parks, and other historic sites. For example, castle visits are mostly below 5 € (6 $). Another popular activity is a Komani Lake ferry cruise in the north of Albania. It costs 6 € (7 $) per person on foot.
On the Albanian coast, you will find more activities that are connected with the sea. Like yacht cruising, renting kayaks, SUP boards, jetski, or other water equipment. Prices vary depending on the location. The pricey areas are in the south Sarande and Ksamil.
---
How to Get Around Albania
Albania is not a well-developed country with sufficient transport. However, the airport in Tirana is one of the busiest in the Balkans. There are some convenient and adventurous ways to backpack around Albania.
Getting to Albania
When getting to Albania by plane, the only option to look for flights is to the main international airport in the capital Tirana. It's one of the busiest airports in the whole Balkans, where you can find connections between London, Italy's cities, Vienna, Istanbul, Frankfurt, and many others. Check flights and schedules from Kiwi.
Another option is to reach nearby Albania by public transport on the ground. Around Albania are many popular routes with the likes of Eurail trains and other busses. Check schedules from Omio. However, keep in mind that when backpacking Albania, there is no use of train because the connections within the country is really bad.
As Albania is a coastal country, there is also an option to get there by boat. The most common connections are between Corfu (Greece) – Sarande, and Bari (Italy) – Durres.
Getting around Albania
Backpacking through Albania is certainly a fun thing to do. You can travel around safely and fast by renting a car, traveling with locals in public transport, or by being adventurous and trying hitchhiking.
Public transportation
Albanians and also travelers on a tight budget use public transport to move around. The most used vehicles are busses and furgons. When busses run between the main destinations and are for longer distances, then furgons are from another "class".
Furgons are privately owned and without a license. These run most commonly between villages and these minibusses are mostly packed up with people. It's a super fun traveling experience to try out when backpacking Albania.
Car rent
As everywhere, the best option (also most expensive) way to travel around Albania is to rent a car. Then you have the freedom to make stops anywhere you want, visit those places that aren't connected with public transport, and also win time by moving around. Find your wheels from Rentalcars.
Hitchhiking in Albania
You can also visit these hidden spots when not having money for a car rental, the only thing to do is to put up your thumb next to the road.
Hitchhiking in Albania is extremely popular even by locals. It's unofficially one way to move around in that unique country. People are friendly and you don't have to wait long until somebody stops. Check out tips for hitchhiking in Europe.
---
Where to Stay In Albania on a Budget
---
Daily Budget for Backpacking Albania
Albania is one of the most affordable countries in Europe. The prices for accommodation, transport, food, and other leisure activities are pretty low compared to the average prices in Europe.
As everywhere in Europe, prices slightly differ in high and low seasons. Also keep in mind that, when backpacking Albania you will find higher prices in the Albanian Riviera area and around Theth National Park.
A tight budget traveler should keep Albania's travel budget around 17 € per day. On that occasion, you have to stay in a random hostel, do Couchsurfing, or wild camping. Make meals by yourself or have some street food gyros. Many cities or other tourist places can mostly be discovered on foot. Between longer distances use public transport, or hitchhiking while backpacking around Albania.
A rational backpacker who wants to have a bit more comfort should start with a daily budget of 30 €. On that occasion, you would stay in an average hostel. Have Albanian cuisine experience in restaurants for a while. Also eating street foods like gyros. Using reasonable public transportation. Also, have a budget to enjoy some attractions while backpacking Albania.
A mid-range traveler who wants to have even more comfort and privacy with private rooms should start with a daily budget of 45 €. On that occasion, while backpacking Albania you can have a private room in a mid-range hotel, experience some local cuisine in restaurants, move around with public transport and seek attractions daily.
| | | | | | |
| --- | --- | --- | --- | --- | --- |
| | Housing | Food | Transport | Attractions | Daily Budget |
| Tight budget | 0 – 10€ | 7€ | 0 – 5€ | 0 – 5€ | 7 – 27€ |
| Backpacker | 10€ | 10€ | 5€ | 5 – 10€ | 30 – 35€ |
| Mid-range | 20 – 30€ | 10 – 15€ | 5€ | 10€ | 45 – 60€ |
---
Albanian Language
It's always good to know some basic phrases and words in local languages. Obviously, it depends where you are traveling, but there might be some places where there aren't so many English speakers. So it would be nice if you know some essential local words and phrases. Albanian isn't easy to speak, but here you will find some of the basics in Albanian:
Hello! – Përshëndetje!
How are you? – Si jeni?
I'm fine – Un jam mir
Thank you! – Faleminderit!
Yes – Po
No – Jo
You're welcome – Ju lutem!
Have a nice day – Ditën e mirë!
Excuse me – Më falni
How much is it? – Sa kushton?
Cheers! – Gëzuar!
Do you speak English? – Flisni Anglisht?
---
Best Time to Visit Albania
It depends on what you are looking for in Albania, but weather wise, the best time is from May till the beginning of October. The peak season is in July and August when the weather is best for a beach vacation. Then the prices also reach their peaks.
The best time for backpacking Albania is during shoulder seasons before (April to June) or after (September – beginning of October) the summer months. These are usually off-vacation months and you will find more space on beaches, cities, and on different sites. Prices are also more affordable. Temperatures stay around 20 degrees Celsius and above (68 Fahrenheit).
After all, there isn't any "bad time" to backpack across Albania. If you intend to discover Albania as a whole including all open attractions, soaking on the beach, hiking, then the months close to summer would be the best fit. But if you are looking for short getaways and exploring interesting cities like Tirana, Berat, Gijrokaster, then it's better to visit Albania in the off-season months.
---
Albania Visa Requirements
As a tourist, visiting Albania is like another European country. It's not in the European Union nor Schengen Area, but you will mostly get to the country after a short passport check. Tourists are allowed to stay in the country for 90 days. But before planning a backpacking trip, check out more information about visas in Albania.
---
Is Albania Safe to Travel?
Albania is not an average tourist destination in Europe. It's visited less and people from other nations don't know the area nor local people well. As the whole Balkans, they might not have the best reputation due to the influences of the media. But as soon as you visit that unique country by yourself, you will paint a different picture.
Albanians are one of the friendliest, welcoming, and hostable peoples I have ever met. They are curious about foreigners and want to give visitors the best experience with their excellent service. You just need to be open minded and as everywhere, use common sense.
Anything can happen when traveling abroad and backpacking Albania is no exception. Having travel insurance is a must (anywhere you go). I always have travel insurance, but luckily I haven't used it yet. For me it's okay to spend a little for my safety (if anything happens), then to pay afterward for extremely high medical bills.
---
Backpacking Albania Travel Tips
Couchsurfing – That would be my first recommendation in any country. It's not about a free couch, but more about the awesome people you met through that. It's not so common in Albania, but worth a try. But still, It's an easy way to interact with local Albanians and have fun together with them.
Hitchhiking – An easy way to travel around the country. Also safe to do it when backpacking Albania, but don't forget to use your gut feeling when using that alternative way of traveling.
Walk as much as possible – Loads of attractions are mostly around the centrum area of bigger cities like Tirana. It's also possible to see more surroundings and even crash "by accident" into some hidden gems.
Local food experiences out of the tourist area – Even though food prices aren't anywhere expensive, then still you will save some amount of money when eating out of tourist areas.
Be the chef – Food in Albanian restaurants is pretty affordable. But if you don't have deep pockets, then the easiest way to cut down expenses on food is cooking by yourself. Get your ingredients from markets and for example cook meals in the hostel kitchen.
Free Walking Tours – The best way to get to know about the city is through guided tours. Most of the common destinations in Albania have free guided tours around the main sights. I recommend using that, but make sure to tip the guide in the end.
---
Find out other Travel Guides and Backpacking Tips
---
PIN IT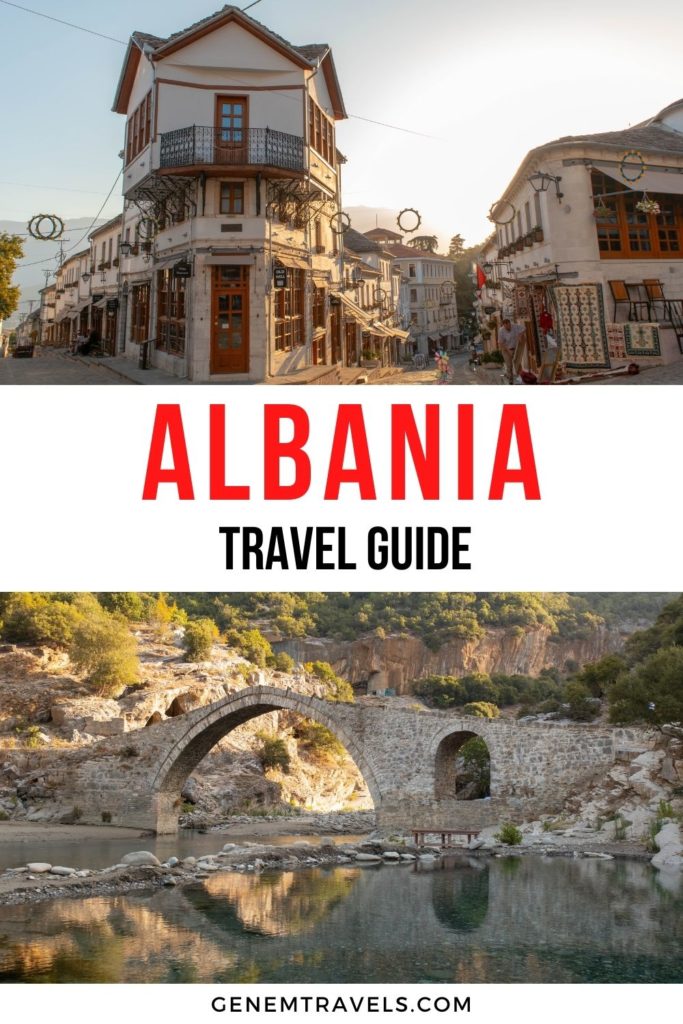 ---
Recent posts about Destinations: