Last week I added a new member to my countries list – Slovenia.
After a long period of backpacking Hungary, especially in Budapest and around Lake Balaton, I decided that the best option would be Slovenia. Taking into account the current hazy situation in the world (corona, if you don't get it). There was particularly no other option.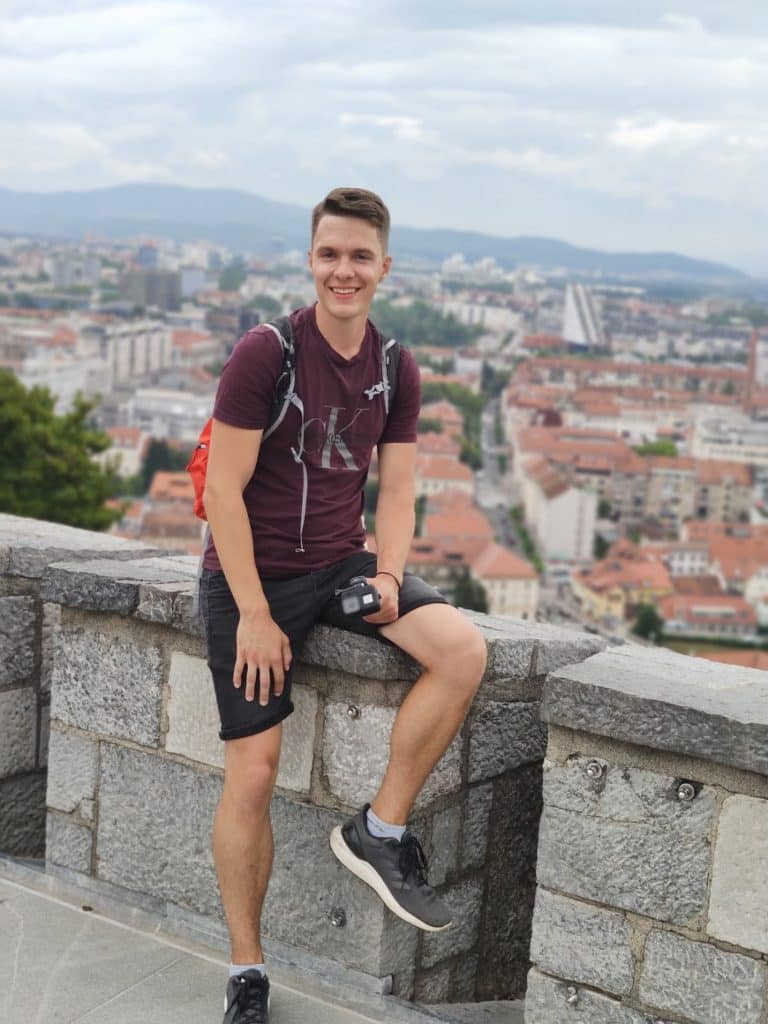 It took me a five-hour train ride to get from Hungary to Ljubljana (Capital of Slovenia). During the train ride, I already saw so many promising mountains and I was sure that it's going to be a great country. There is no secret that I love mountains and hiking. When I finally arrived, my first mission was to find a place to stay.
Soo again I tried to find a host from backpacking app Couchsurfing and I was thinking: "If I don't find a host and I have no luck then I´ll go to a hostel or when the weather is good, then outdoors."
I sent out about 15 Couchsurfing requests and I had no luck. Okay, that's cool, then I searched for the cheapest hostel option. With a little negotiation, I got my price and spent my night there. It was the strangest hostel I have ever been to. I got to the room straight from the street and it looked like the people who were there have lived in this Hostel for a while. But with budget backpacking trip, I wasn't complaining. I got my bed and wifi (all I need).
First day in Slovenia
I had some time before I went to bed and so I went exploring. Firstly, I went to Ljubljana castle and I had amazing views. You could see the whole city and I was surprised that the city was surrounded by many mountains. After that, it was already dark, but it was a great time to see the city centre. Lovely city.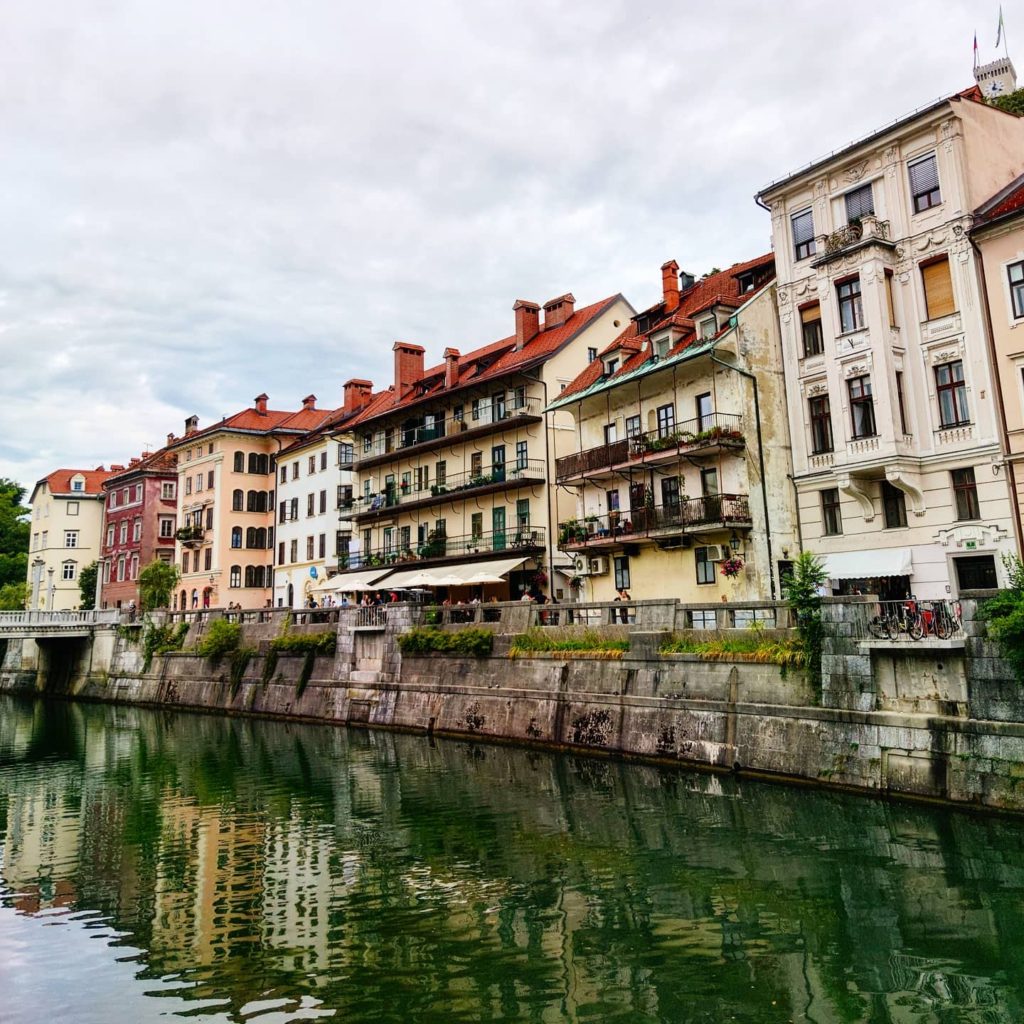 For the next day, I got a host from Couchsurfing. Marko approached me differently. He wrote to me on Instagram, that he saw my profile from CS and offered help in Ljubljana if I need it. Well, I still didn't have any place to stay, so this kind of help was most needed. After a quick talk, I managed to get a roof at Marko´s place. It turned out that he has several friends in Estonia, have visited many places there and knew some basic words in Estonia.
I wish I was there longer, but I had a busy day and so was he (he is finishing his final thesis). I went to a host place in the evening and before that, I explored different kinds of places in Ljubljana.
Last day in the capital
Next day turned out to be even busier. I met Urška. Actually, I met her on the first day and we started writing (a Couchsurfing hangout). Idea is that people have a chance to meet, chat, or whatever they want to do. It's a nice way to find and meet new people. She was local and showed me some places. Last day in Ljubljana we also went on a small hike to Mount Saint Mary aka Šmarna gora. Even though she was a night before (in a nightshift, nurse) she managed to go hiking with me. What a superwoman! She's a very open-minded, fun and awesome person. I felt that we have already known each other for a longer period.
Tinder works everywhere
I use many different apps to meet people and one of them is… yes, of course, Tinder. No need to explain this. There I met Katja (who is a big mountain expert/enthusiast) and we started to talk about that. I was wondering about climbing and going to the biggest peak in Slovenia – Mt. Triglav. So better download Tinder as well when planning a backpacking trip.
Lake Bled
She laughed when I told her that I planned to climb there without proper equipment. But she still offered me a lift to my next destination – Bled. It was basically on her way home. So I was lucky with this opportunity and got my ride to Bled. We also picked up her best friend Ana from her home village. They hadn´t seen each other for 14 days (for them it was unusual), so they had so much to talk to each other. They also have one Instagram account together about their hikes and travel and they needed to upload their feed.
But still, they had time for me. They both are super fun and I had a good time with them. They warned me again about mountains and they said we can hike to Triglav together when I have the proper equipment.
First wild camping in Slovenia
It was late in the evening and I was still without a roof. I had some "maybe" options from Couchsurfing, but these options didn't work out. Weather was good so I thought let's do another outdoors. I searched around Lake Bled for a comfy place to do another wild camping. It was dark and I found one place. I took my sleeping bag and off I went to the dreamland. This time without a knife in my hand, because I felt safe. I guess one of the benefits of solo travel is that you gain some extra courage.
When I woke up before sunrise I realised that I slept in someone's garden. I packed my bag fast and started one crazy day. There is saying by a random logical guy, that when you start early you can do more than usual.
Okay first thing first, I hiked up to the mountain to see the view of Lake Bled. I arrived to the viewpoint seconds before sunrise and I got some awesome pictures and of course, I had some time to enjoy this moment. After that, I went for a swim to crystal clear Lake Bled. Nice cooling dip and it was also my shower, which I missed last day. I promise the lake is still clear, I didn't use any chemicals there, only watered myself.
About Bled, it's lake and surroundings.
It is a really beautiful and touristic place. You can see this clear lake, the castle on the top of the mountain, in the middle of the lake is an island with a church and the city. This city has a different atmosphere. Something you can see from mountain towns. Really beautiful. Of course, it's surrounded by the mountains. This location is worth visiting, but prepare your wallet for it, because it's a bit more expensive than other areas in Slovenia. Or just travel like me and you don't feel a lot of difference.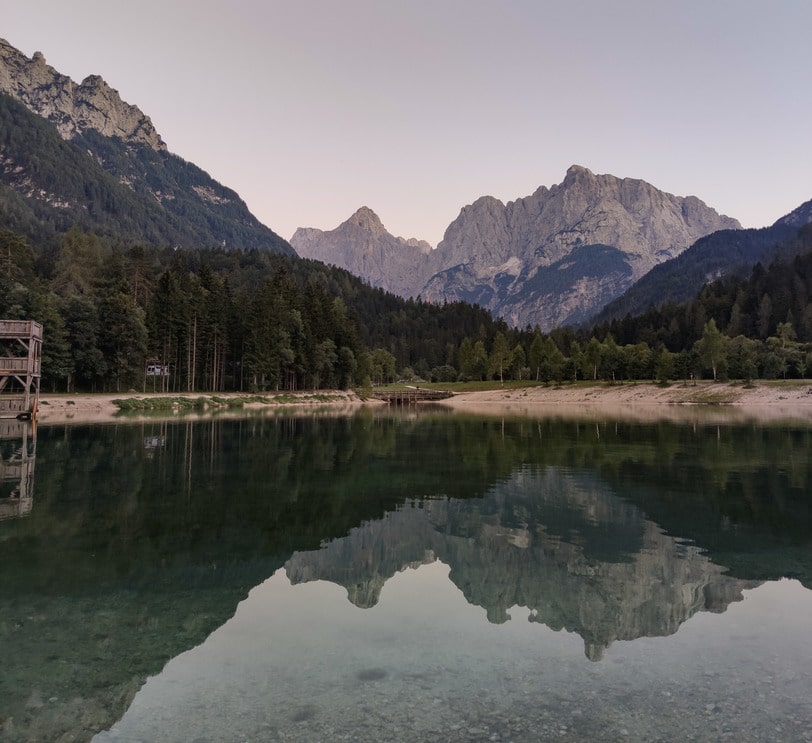 Lake Bohinj
The solo backpacking continued and I tried to hitchhike to another lake – Bohinj. This place is known as a starting point to hiking trails. Lake is already 526 meters above sea level and when you reach there you can see that it's one big valley. On my way to Bohinj (about 30 km to go), I was next to the road with my thumb up only around 10 minutes and I got lifted by a german couple. They took me straight to the area because it was also their destination.
I thought that I would go there for a small hike and then move back to Bled. Bohinj was in the middle of nowhere, so I needed to go back to continue my travels.
Slovenia's third most visited place – Savica waterfall.
It needed some hiking and I saw a waterfall, nothing spectacular, but still nice to see. I had so much time left (I started early) so I thought that I needed to go hiking on a longer route, where I can also enjoy surrounding views from the top. I asked for recommendations and there were many options and I chose the hardest, but still the best option when it comes to views.
Explore the Black lake.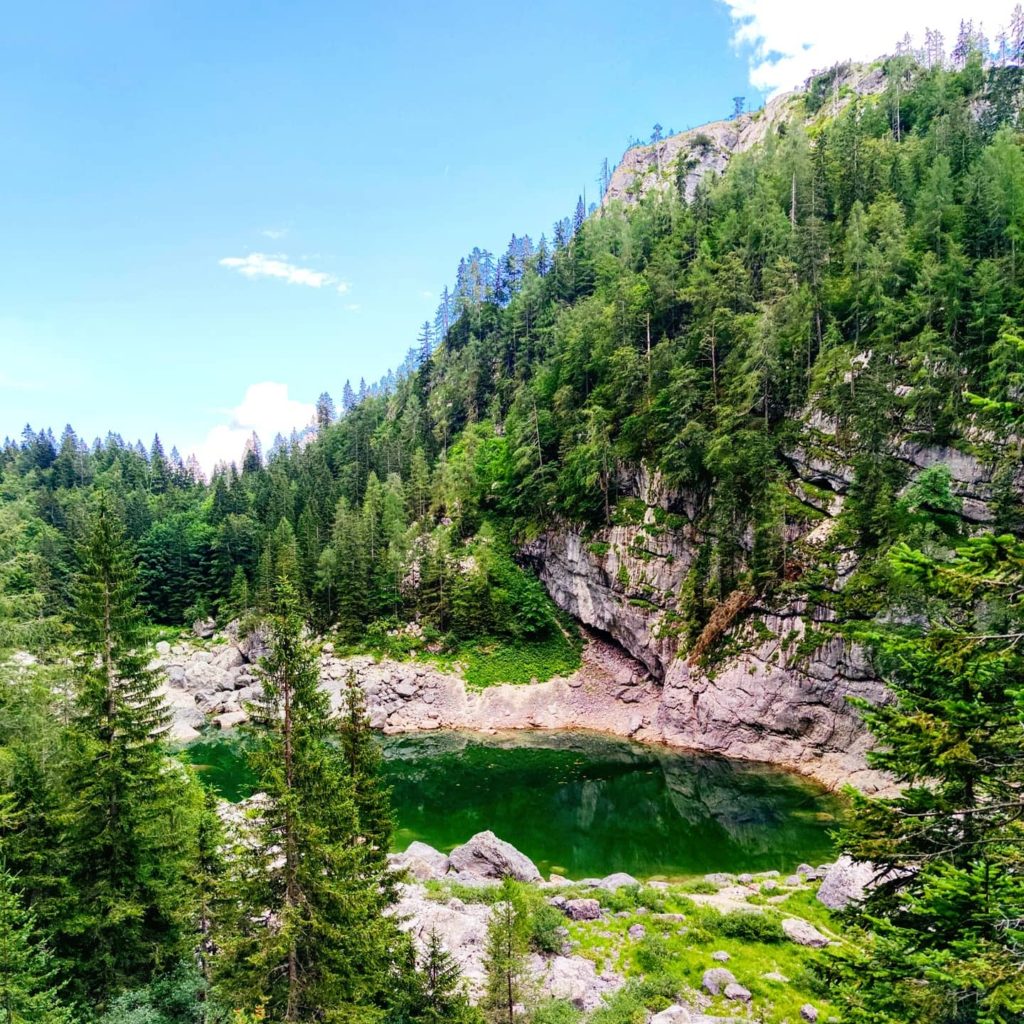 The road was super steep and challenging. I never had that kind of a hike before. Only going upwards. Nevertheless, I made it to the lake and I saw this magical lake. It was 1319 meters above sea level. I was sitting there and heard that another lake, Seven Lakes Valley, is nearby and about 1,5 hours away. I still had enough time left and I thought maybe I won't come back here and I would regret it if I don't go there, NOW.
After being exhausted I felt a new energy and continued my hike. This time it was easier and I reached there pretty fast. I was lucky that I made that decision and I saw such beautiful views. This time the lakes were over 1600 meters. Amazing views. There was an option to continue my hike, but I was without my whole backpack and without a proper supplement (mostly food). I went back to the beginning.
Searching for a place to sleep
It was 7.30 pm and I was still searching for options to go back to Bled and I did get there by hitchhike and bus before 9 pm. Again with the last minute CS request, I managed to get a host. This time Miloš was hosting and I was so lucky because Miloš was such a great person. He wanted their guests to feel great at his home. Super host!
Next day I had a slow start. In the morning I still felt hiking steps on my legs. After rest, I went to visit Vintgar Gorges. It was about 20 minutes from the host place. I have to say that I have seen many of these beautiful "greenish crystal" clear rivers and this was another one. Just amazing.
After that, I took my backpack and went on the road again. This time I chose smaller roads with lighter traffic. There were few cars, but I still managed to reach my destination after two hitchhikes. Slovenia is known for its multiple waterfalls and most well-known after Savica (Pernicki waterfall). This one was huge and more spectacular than Savic. There was also an option to go behind the waterfall. Nice cooling place.
Getting lucky with hitchhiking
It was a really lucky day with hitchhiking and only with three rides I got to my last destination, Kranjska Gora. I got my final ride to Kranjska Gora with Ani. She asked me where I am going to stay. For me, it's normal when I don't know where I am staying. So she offered me a home to stay. I was lucky again because Ani and her husband Zoran were nice. Keep in mind that hitchhiking tip to be open to ask a place to sleep when getting a lift.
She showed me a beautiful small town and also Lake Jasna (what was pinned on my Google Maps). I took my clothes off (on my speedos) and I was the only one who swam (the water temperature is about 14 degrees). It was a nice cooling swim.
Next day we went hiking with her small dogs. They have to walk about 10 km per day and so do the owners. We visited another lake at Zelenci nature park. Wow, this was again such a greenish and clear lake. We were also very close to Slovenia's biggest ski jumping resort. There were many different jumping tracks and also managed to talk with one Estonian ski jumping prospect. On our way to Kranj, we jumped through from another hiking trail and this time I saw two waterfalls.
Back in Kranj again
Arrived to Kranj area and I stayed in a smaller village at her mom's place. I went back there because these same girls who took me to Bled were on their way to Piran. I also went with them because I managed to leave my hat in her car. It's one part of me and I did miss it. But accidentally I stayed in the same village as she. What a tiny country, I had no idea where she actually lived.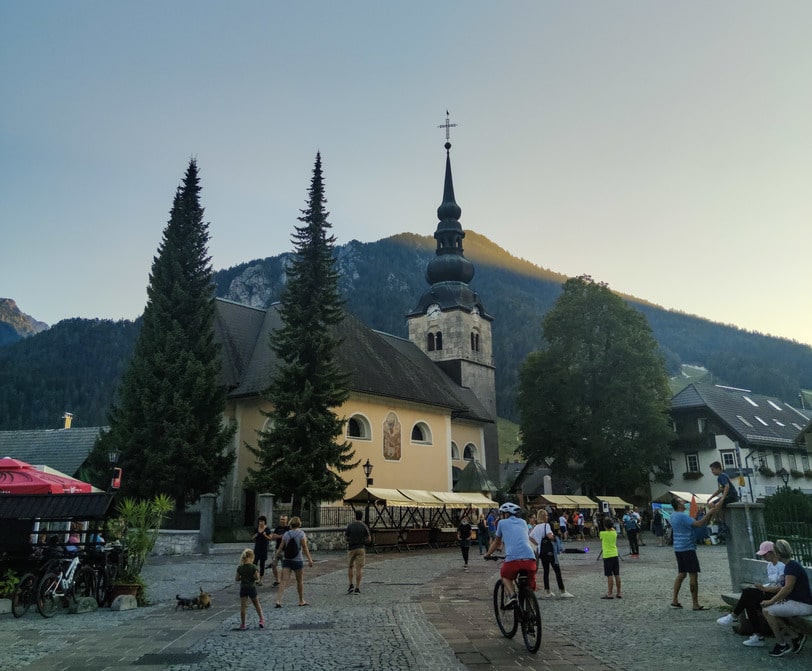 Slovenia seaside & piran
Next morning I just needed to walk about 2 minutes to catch Katja and Ana. As Slovenians have high coffee culture, they started their day with a coffee in a local pub. After some break, we started our trip to Piran. The trip was about a one and a half hour and during our ride, I heard some Slovenian and Balkan music and their weird meanings. Not going specific, but alcohol, ladies and parties were included.
Nevertheless, our first stop was at Predjama castle. Unique castle built right onto a cliff. Girls already felt a need for another coffee, so we did a stop right before Piran in Koper. It's the Slovenians main port.
After some coffee stops, we made it to piran
After some stops we reached Piran. Slovenians seaside resort with lots of historical buildings. It's a small town, but worth visiting. Nice chill place. The day overall was just chilling and relaxing, it was also good for me because I had a super busy week with lots of hiking.
After a relaxing day, we went our ways. Girls went back to their home village and I stayed there, at Koper. With the help of Google Maps, I found my next Couchsurfing spot, Karavan, inside of Koper. Another unique Couchsurfing experience with lot's history inside. That caravan has hosted nearly a thousand surfers.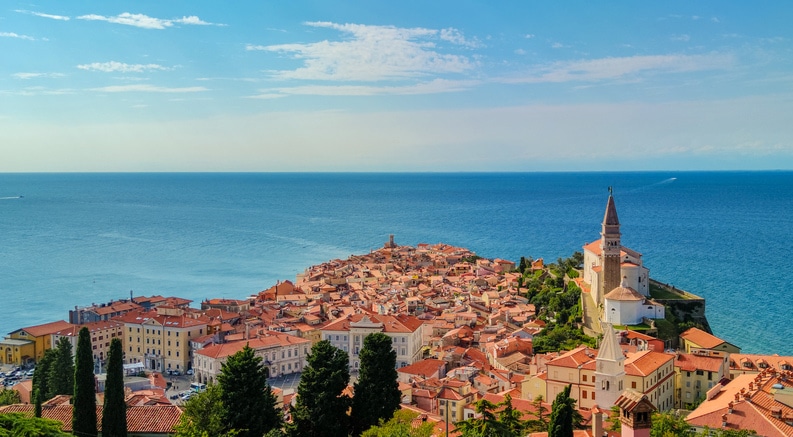 About the week
Slovenia is a small country (as the situation with Katja showed), but still much to offer. I only explored the west side of the country and still haven't explored every corner. But I understood that Slovenia is full of beautiful places.
In short: visit Slovenia and see it with your own eyes. Super nature. My first solo travel experience in Slovenia was awesome and I continue my travels and setting my sights to a new country: Italy!
Stay tuned!
Check out my other Travel Stories
---